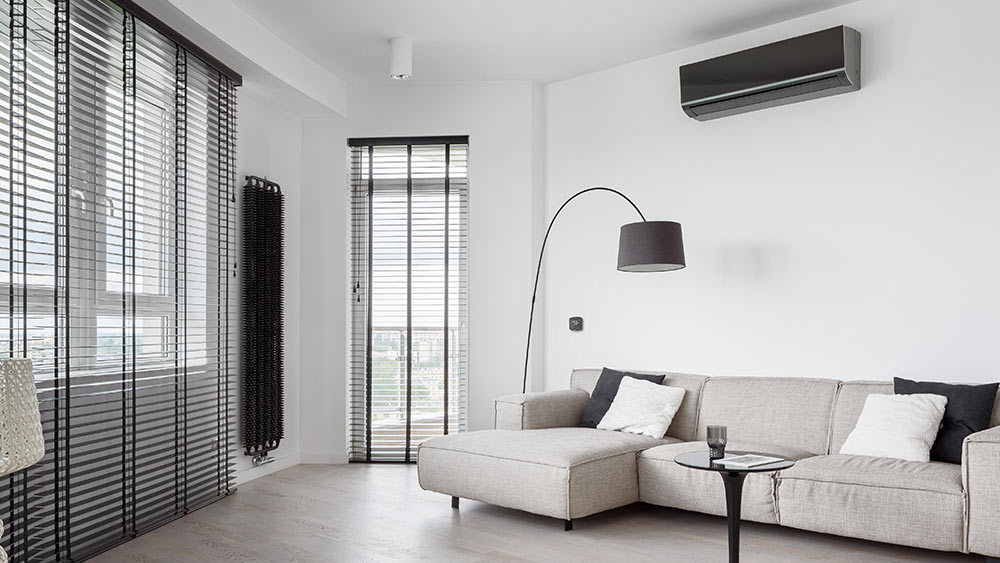 Mini-split heat pumps are becoming increasingly popular because of their efficiency, precise temperature control and reduced costs. One drawback they bring along is that their conspicuous appearance can sometimes clash with your interior or exterior design. Is your home aesthetic making you feel self-conscious when people come over? Believe it or not, this is a feeling shared by 69% of American homeowners. If you're like most of these homeowners, the last thing you want is for your huge mini-split AC unit to be a prominent visual feature of your home.
Don't worry, though; we've got you covered! Fortunately, there are several great ways to easily camouflage your mini-split AC unit while still ensuring it operates properly and efficiently.
Concealing Your Ductless Mini-split Unit
Things to Keep in Mind Before Hiding Your Mini-Split Unit
Before we explore unique strategies to hide your mini-split heat pump, let's unlock the secrets behind how mini-split units operate, ensuring you don't compromise its effectiveness when concealing it.
How Does a Mini-Split Work?
Your ductless mini-split consists of two main body parts, an indoor air handler, and an outdoor compressor. The indoor unit is connected to the outdoor one by a mass of power cables, electric lines, copper tubes, and a condensation drain line passing through a three-inch hole in the wall.
The indoor unit is responsible for introducing the conditioned air into your room. The outdoor unit is where the heat transfer takes place via the refrigerant coils.
The indoor unit is usually mounted on the wall, and it is important to ensure that there is at least a 6-8 inches distance between the top of the unit and the ceiling. In doing so, you can ensure proper airflow.
Cielo Smart AC Controllers
Your best choice to make any mini-split, window,
or portable AC smart. Enhance your comfort and savings.
Shop Now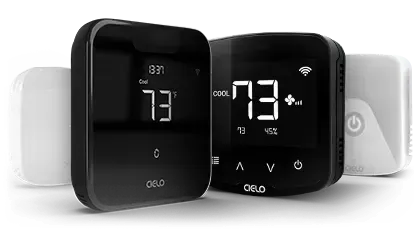 Rules to Follow When Hiding the Mini-Split Unit
Ensure that nothing is placed on top of the unit. It would hinder the way air enters the indoor unit through the top.
Make sure you don't block the mini-split vents in any way. It would otherwise impede the heating or cooling of your home.
Make sure to maintain the six inches gap from the top.
When concealing the outdoor unit, ensure an optimal space around the outdoor unit for proper airflow.
9 Ways to Camouflage Your Indoor Mini-Split Unit
Here are 9 creative ways you can say goodbye to unsightly indoor mini-split unit and hello to a visually appealing space!
1. Built-in Bookshelf
Surrounding your mini-split with a bookshelf is a great way to hide it. You can DIY the shelf yourself or buy a custom-made one. The AC unit can be hidden within the topmost shelf with a grill covering to hide it.
With the focus on the aesthetic decorative design of your home, the attention on your bulky indoor unit will be minimized. Keep an eye out to ensure that nothing blocks the main vents of the mini-split; otherwise, you'll find that the airflow is obstructed, which can cause problems for your home climate.
2. Custom Cabinet
Like the built-in bookshelf, custom cabinets can be the perfect solution! Not only will your indoor unit be hidden away in a cabinet, but you'll also have extra storage space. With the right design, your new cabinets will blend seamlessly with your existing decor. Ensure there are ventilation panels so that your unit has enough airflow.
3. Floating Shelves
Floating shelves are sleek and minimalistic shelving boards that create a floating effect on your walls, instantly adding a touch of sophistication to any room.
Installing a floating shelf under your indoor unit and adding more below it allows you to create a stunning display for your favorite decorative items. It's a plus that you can effectively draw attention away from the air conditioner and to the stylish interior design of your home.
4. Decorative Screen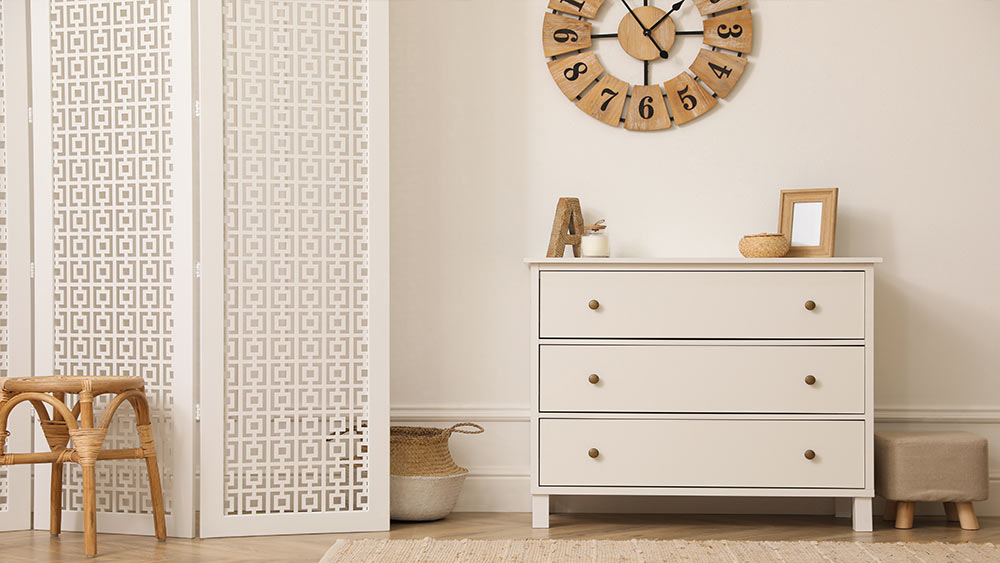 If you're want an easy-to-go solution to camouflage your mini-split AC unit, look no further than decorative screens! Using this item, you can easily hide your indoor unit and add a stylish element to your home. These screens come in various designs and materials, so you can find one that matches your style. The good thing about them is that they can be easily moved around depending on your needs.
5. Wall Art
Wall art can be a perfect solution to disguise the  indoor unit. By strategically placing a piece of art on the wall directly below or adjacent to the unit, you can effectively hide it from view and enhance the overall aesthetic of your space.
For example, you can get 3d or simple wall stickers and paint a story around your unit. You can also place framed black-and-white photographs can make the unit blend seamlessly into the background. Or, if you prefer something more vibrant, a colorful abstract painting can become the focal point of the room while hiding that mini split in plain sight.
6. Use Corners
Utilize the hidden corners of your rooms. The corners often go unnoticed, making them the perfect hiding spot. Just be sure to check that the AC's cooling paths are not obstructed. With this small placement trick, you can keep the AC functioning efficiently while keeping it out of the sight.
7. Paint the Unit
If you're not afraid to make a bold statement with your room aesthetic, then painting your unit is a great DIY activity. Applying a fresh coat of paint over the mini-split lets you stylishly blend it into the wallpaper adorning your wall.
But why stop at just blending it in? Let your imagination run wild and turn your AC unit into a true work of art. Paint it with abstract themes or a design of your choice, transforming it into a captivating centerpiece that adds flair to your home's interior.
8. Hanging Plants
If plantscaping is your go-to choice for an interior theme, then a convenient way to camouflage your AC unit is to hang potted plants in front of it. Not only does it effectively hide the indoor machine, but it enhances the interior of your home by adding a splash of color and freshness.
Make sure the plants are sturdy and at a distance from the AC unit. This is so that they do not needlessly hinder the airflow of the mini-split. You can also use artificial plants to hide the chords.
9. Follow Other Furniture
If your room has tall shelves and cabinets, a seamless way to blend in your AC unit is to align its top with the top of your furniture. The unit will quietly disappear into the background, leaving your room looking sleek and fabulous!
How to Hide Your Outdoor Mini-Split Unit?
Now, let's go through ways to disguise and hide the outdoor unit of your mini-split AC.
1. Build a Fence
A great way to camouflage the bulky outdoor unit is to build a fence around it. You could go for a traditional wooden or lattice fence that adds a touch of rustic charm or opt for a more modern and sleek design using materials like aluminum or steel.
It can blend seamlessly within your yard, creating a functional and attractive barrier around the unit. Either way, your mini-split unit will be tucked away from prying eyes, and you'll be able to enjoy your outdoor space without any visual distractions.
2. Cover with Landscaping
Utilize landscaping strategies to create a barrier of plants around the outdoor unit with tall bushes or trellis covered in climbing plants. This hides the mini-split and adds a green touch to the scenic beauty of your outdoor yards. However, don't plant the shrubs and bushes too close to the unit or it will impact the air circulation.
3. Use Decorative Screens
Add a stylish touch to your home! Decorative screens are a great way to camouflage your mini-split condenser unit. By strategically placing these screens around the outdoor unit, you can create the illusion of a natural backdrop or even turn it into a statement piece.
4. Install a Trellis
A trellis is a great solution to say goodbye to the eyesore in your yard. Not only does this ingenious framework of wood or metal support climbing plants, but it also doubles as a stunning decorative cover. Practicality and aesthetics come together in perfect harmony. However, don't forget to ensure that it doesn't block the airflow of your mini-split unit.
5. Build an enclosure
Another foolproof way to hide the outdoor unit of your AC is to build an enclosure around it. You can carefully select and match the enclosure's materials to aesthetically complement your home's exterior design.
Ensure that ventilation gaps allow for adequate airflow for your outdoor unit. If you're in an especially creative mood, you can paint the enclosure to suit your taste and enhance your outdoor space.
Here's a detailed article on hiding the outdoor unit of your air conditioner.
Takeaway
If you put your mind to it, camouflaging a mini-split AC unit can be an interesting and enjoyable activity. You can employ many techniques to hide away your mini-split indoor and outdoor units. You can paint over your indoor unit or incorporate it into custom-made shelves and cabinets. If you're feeling particularly creative, you can seamlessly blend the machine into the background with wall art or hanging plants.
There are many strategies you can use to disguise the outdoor unit of your home as well. From utilizing plants to using decorative screens, you can add to the backdrop setting of your home in an attempt to hide the outdoor unit.
So what are you waiting for? Go ahead, and try some of these tips to enhance your home aesthetic successfully!