Cielo smart Wi-Fi air conditioner controllers help convert your mini-split, window or portable ACs to smart air conditioners. Control your new or old AC from anywhere through your smartphone.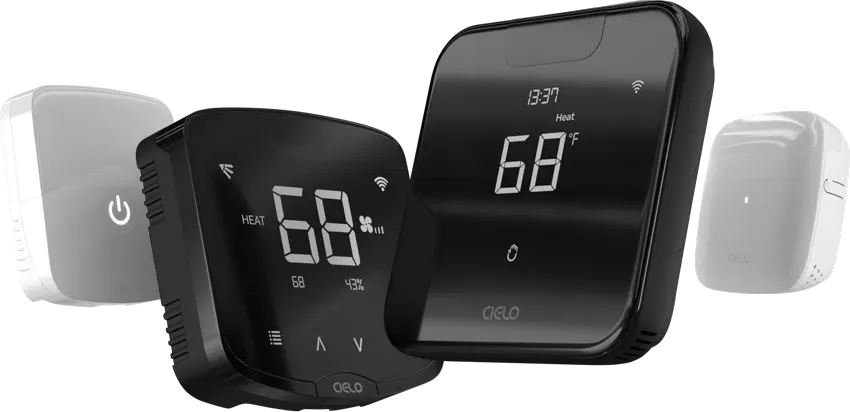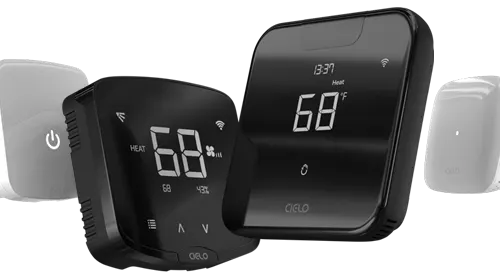 Revolutionize Your Home Climate
with Features Beyond the Norm
Experience unmatched comfort and control with our innovative
& powerful next-gen features.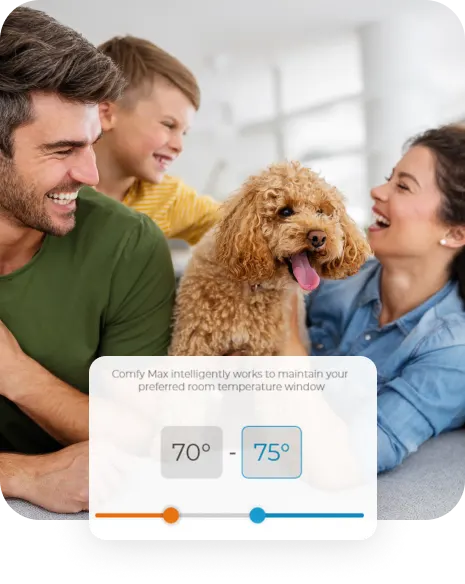 A revolutionary feature that intelligently adjusts your AC settings to create the ultimate smart home experience. Automated temperature controls to keep your space just the way you like it.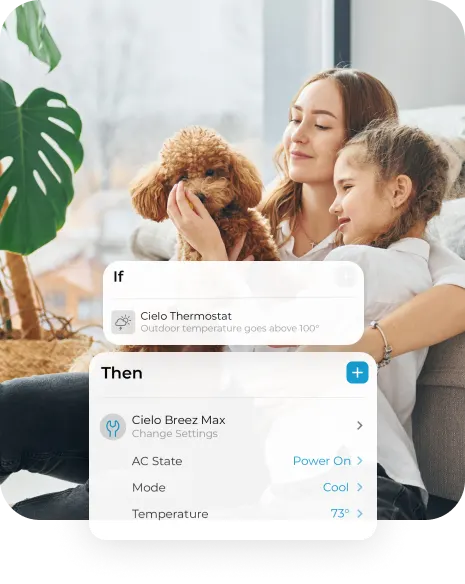 Make Comfort Rules
Using Cielo Linked
With Cielo Linked you can link all your room air conditioners and define rules for automated control. Moreover, intelligently switch between your central & room ACs based on weather & your preferences.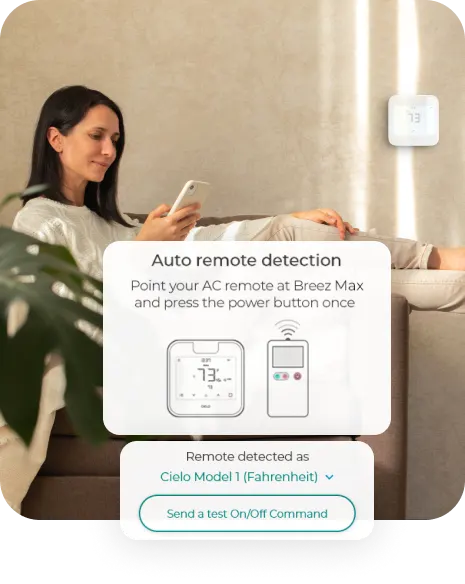 With an auto-detection algorithm for universal compatibility, Cielo smart controllers can detect any AC brand and model automatically! They are compatible with 20,000+ models of mini-split, window, or portable air conditioners.
Effortless Smart Air Conditioning
Comfort & savings with smart thermostat for mini-split, window & portable air conditioners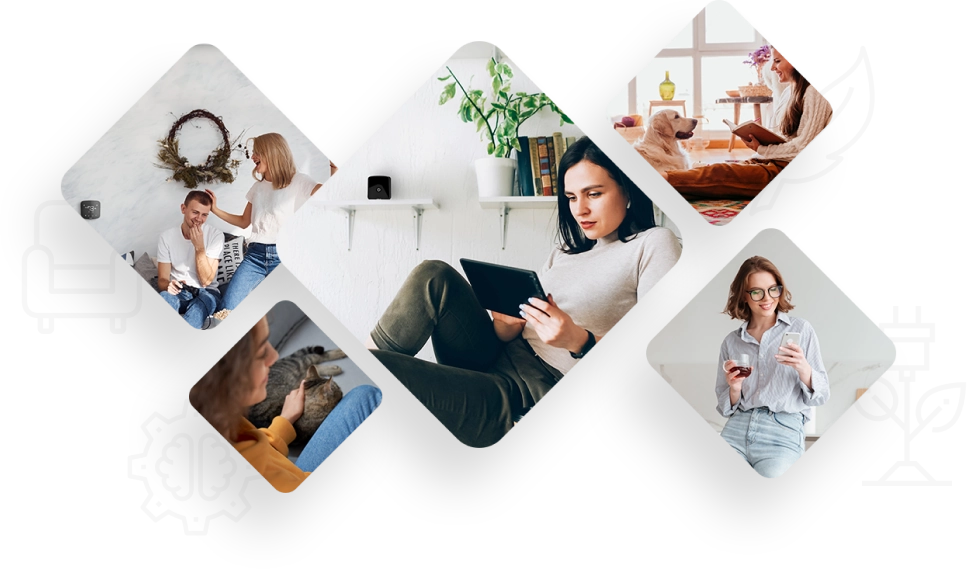 Automatically Senses, Intelligently Adjusts
Perfect temperature where it matters with built-in temperature & humidity sensors
Comfort Like
Never Before
Powerful set of features to take your comfort to a whole new level
Engineered For
Energy Saving
Tune in to smart air conditioning & save up to 25% energy
Free Apps, Exceptional Controls
Control your AC from anywhere, anytime, with free apps
Cielo Breez
Smart AC Controllers
Make any remote-controlled air conditioner smart
Experience the Power of
Smart Temperature Control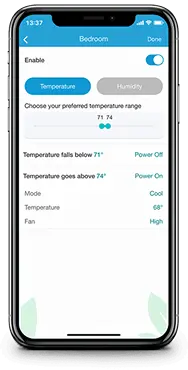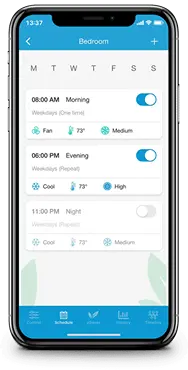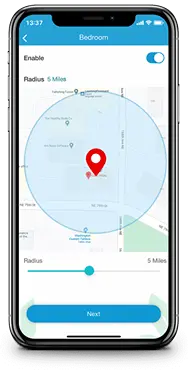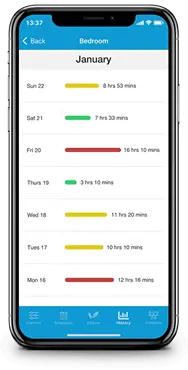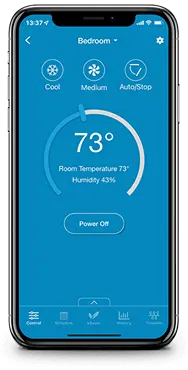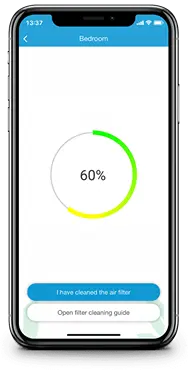 Global Control
Control your air conditioner from anywhere, anytime right from your phone & more.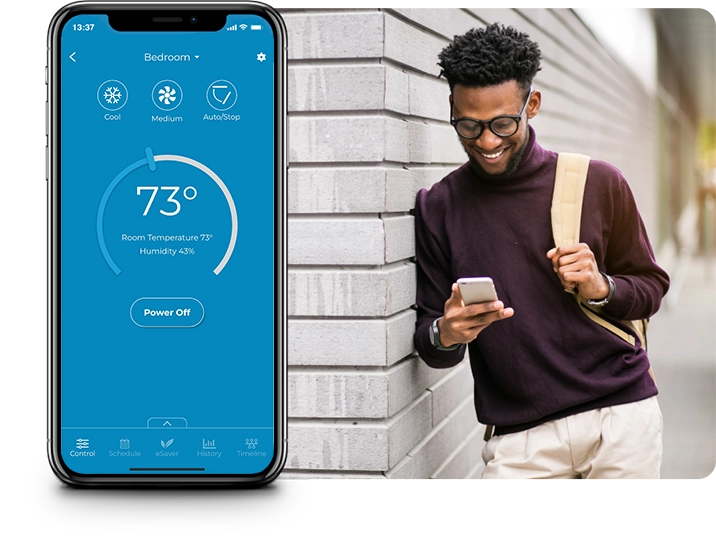 Weekly Scheduling
Set schedules to let your cooling or heating operate automatically as per your routine.
Comfy Mode
Automate your room environment with intelligent temperature or humidity triggers.
Geofencing
Automatically turns AC on/off based on your location
Usage History
Detailed air conditioner usage statistics to manage your bills
Air filter status
AC filter cleaning notifications so your loved ones always breather clean air
Cielo Breez smart AC controller makes your air conditioner smart by connecting it to the internet using your home's Wi-Fi connection. It lets you control your cooling or heating using the free Cielo Home app (available for iOS, Android, and web) and communicates with your AC using infrared signals (just like your AC's remote).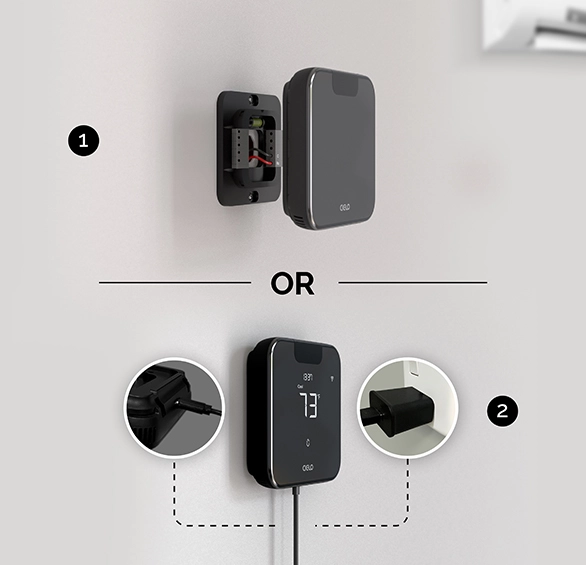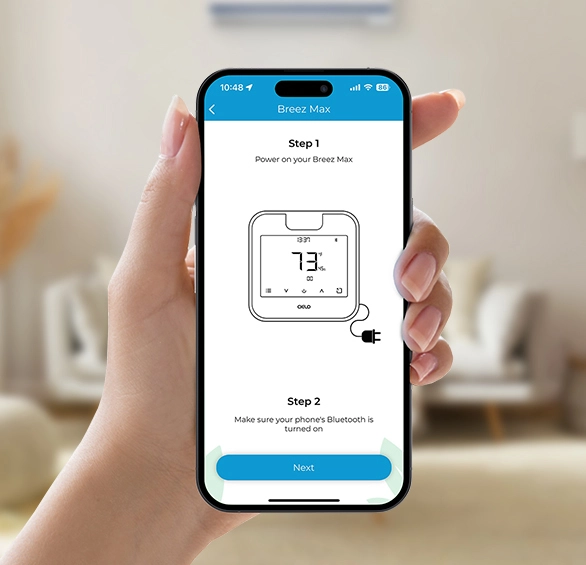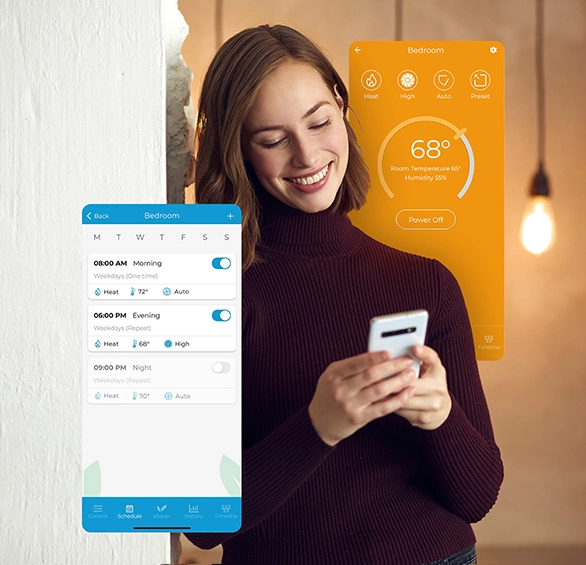 Making your AC smart has
never been easier:
Power Up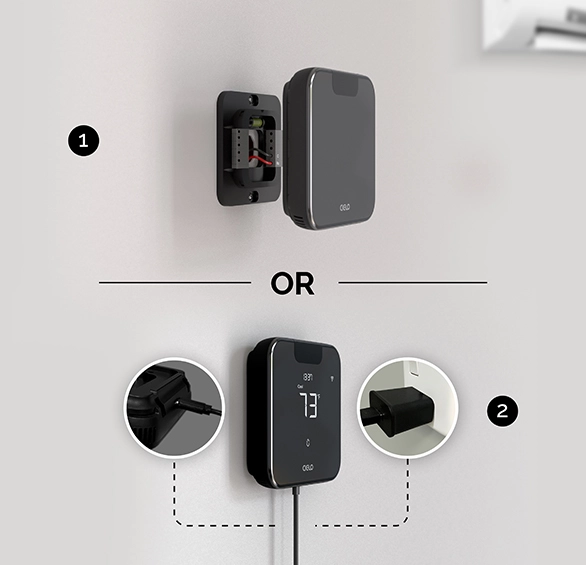 Select a placement for your Cielo Breez device in the line of sight of your AC and plug it in using the provided USB cable & adapter or hardwire (if your model supports it).
Connect to Your AC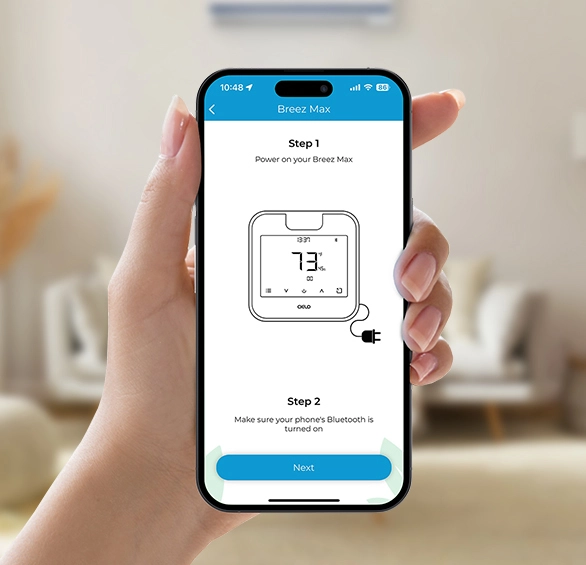 Download the free Cielo Home app & follow the on-screen instructions to set up WiFi on your device & connect your air conditioner model using auto detection or manually.
Enjoy Smart Climate Control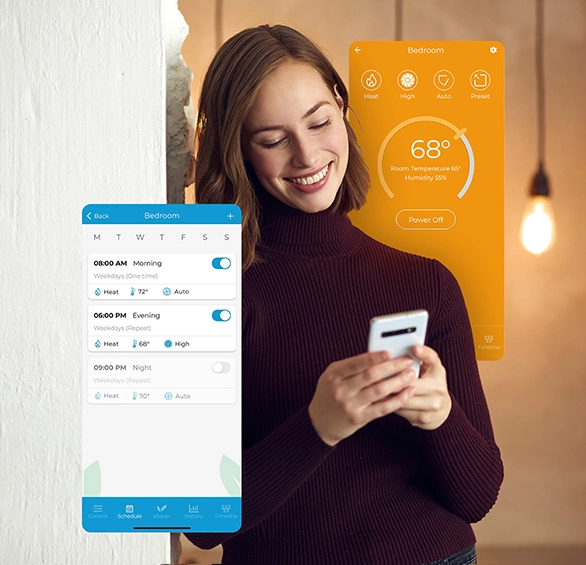 Manage your home temperature settings from anywhere, anytime. Using the app, set up your AC schedules, Comfy Mode, geofencing, and more for an automated home climate.
More Options - More Control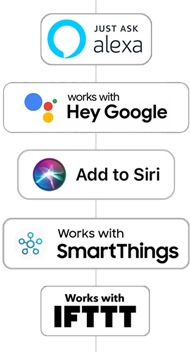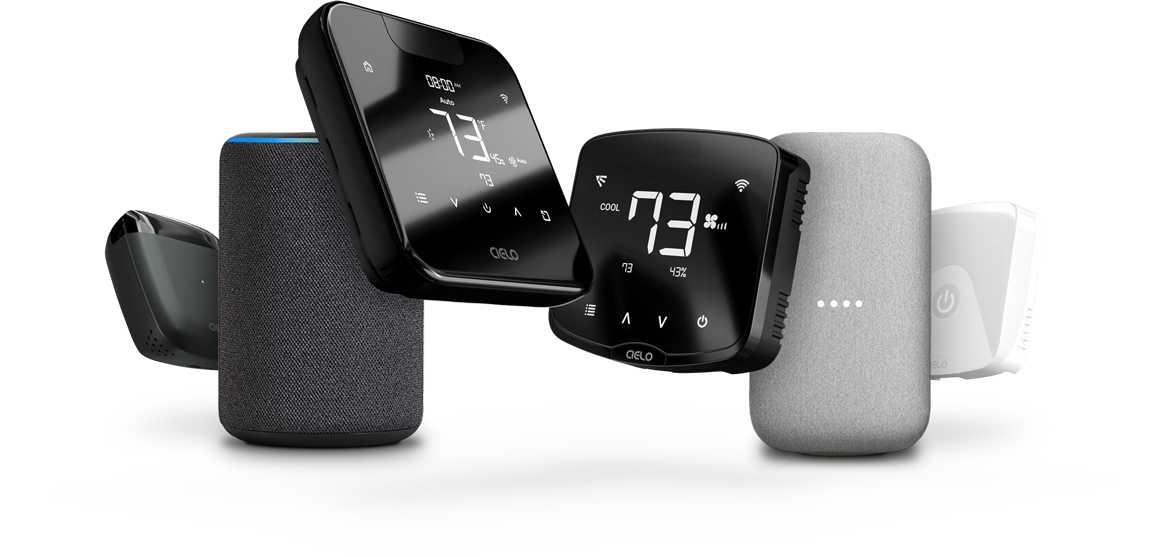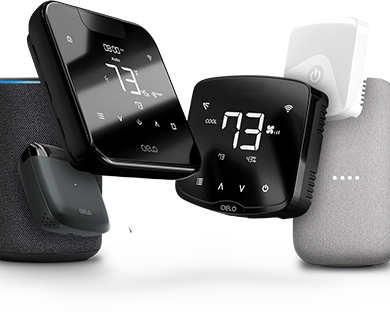 Cielo smart AC controllers work with any type of air conditioner that comes with an IR remote control. (Mini-split, window or portable ACs)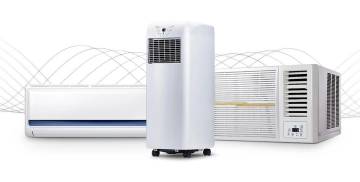 These accolades are momentous for Cielo as they acknowledge innovation, and our commitment to providing the best smart home products to our customers.





Compare Smart AC Controllers
Cielo Breez Max

Buy Now

Cielo Breez Plus

Buy Now

Cielo Breez Eco

Buy Now

Cielo Breez Lite

Buy Now

Compatibility

Refers to the types of HVAC systems that will work with the product.

Works with any mini-split, window, or portable AC with an IR remote

Works with any mini-split, window, or portable AC with an IR remote

Works with any mini-split, window, or portable AC with an IR remote

Works with any mini-split, window, or portable AC with an IR remote

Power Option

You can either hardwire or connect your device to a power source. Devices do not run on batteries.

5V Adapter
(included in the box) or
12/24V AC/DC

5V Adapter
(included in the box) or
12/24V AC/DC

5V Adapter
(included in the box)

5V Adapter
(included in the box)

On-device Controls

On-device buttons that allow you to adjust AC settings, with or without WiFi.

Power on/off button, temperature settings, swing position, fan speed, mode, Presets

Power on/off button, temperature settings, swing position, fan speed, mode

Power On/Off button

Display

Equipped with a sharp LCD display, showing live room temperature & humidity, set temperature, fan speed, AC mode & more.

Table Stand

Device comes with a free table stand, allowing you to easily place device on a desk and hide dangling wires.

Wall Mounting Kit

Easily mount your device on the wall with a free kit that comes in the box.

Global Controls

View and manage your AC or heat pump settings from anywhere using the free Cielo Home app for iOS and Android.

Weekly Schedules

Set schedules for your heating and cooling to automatically run on your desired settings as per your routine.

Comfy Mode

Set preferred temperature or humidity triggers to automate your climate for perfect room conditions.

Comfy Max

Automatically adjusts your AC settings with intelligent AI triggers to achieve your desired temperature for ultimate comfort.

Presets

Predefined comfort settings for different situations including Home, Away, and Sleep.

Geofencing

Location-based triggers to automatically turn your AC on or off as you enter or leave an area.

Turbo Mode

Activates fast cooling or heating to quickly achieve your set temperature.

Freeze Protection

Prevents freezing temperature in extreme cold weather conditions by running your AC at minimal power.
* Your AC model must support this feature.

Follow Me

AC relies on your smart controller's in-built sensors to detect the temperature of the area where it is installed.
* Your AC model must support this feature.

Timer

Allows you to quickly set the run time of your AC.

Range Control

Lock minimum and maximum temperature set point values. This restricts unnecessary temperature changes & is ideal for rentals to save energy.

Cielo Linked

Link your central air with room air conditioner using Cielo Smart Thermostat and AC controllers

Smart Home Compatibility

Seamless integration with Alexa, Google Assistant, Samsung SmartThings, Siri, & IFTTT.

Alexa, Google Assistant, Siri, SmartThings, IFTTT

Alexa, Google Assistant, Siri, SmartThings, IFTTT

Alexa, Google Assistant, Siri, SmartThings, IFTTT

Alexa, Google Assistant, Siri, SmartThings, IFTTT