In a home, the heating or cooling preferences of the family members always differ. Similarly, different rooms in a building have different temperature requirements. You might want it a bit cooler, while your parents may want it a bit toasty. Your basement is always colder than you like, while the loft is just perfect. These are examples of heating and cooling challenges that a standard HVAC can't always handle, thus necessitating HVAC zoning systems.
An HVAC zoning system, for both ducted or ductless systems, provides personalized heating and cooling that caters to every individual's needs in a household, so everyone has the perfect room temperature.
The applications of a zoning system are not limited to residential locations only though. Commercial establishments can also benefit from HVAC zoning systems, providing comfort, convenience, and energy savings at a minimal AC zoning system cost.
What is an HVAC Zoning System?
Be it ducted or ductless, a multi-zone heating and cooling system splits your home up into clusters. Each cluster has its own temperature set point and operating mode. A dedicated thermostat for the zone or, in the case of ductless air conditioners, a smart AC controller provides controls for the zone. This gives you greater control over each specific part of your home, increasing your comfort and reducing energy bills.
Take for example, a two-story house; with the living room, kitchen, and hallway located on the ground floor, while 3 bedrooms, and a smaller living room are located upstairs. The upper portion of the house is mostly occupied during the night only. It makes sense then to establish zones in such a situation.
Considering this scenario, the living room, kitchen, and hallway can be turned into one zone; the upper portion can be a whole different zone in itself. The first zone is in continuous use throughout the day, hence a user can set its temperature to be as desired, while the other two zones can be switched off for the majority part of the day since they are not in use. They will only be turned on when it gets closer to bedtime in the evening.
Cielo Smart AC Controllers
Your best choice to make any mini-split, window,
or portable AC smart. Enhance your comfort and savings.
Shop Now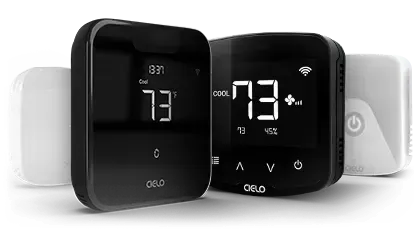 In this manner, you utilize air conditioning only when you require, and not throughout the whole day. This prevents unnecessary usage and ends up saving energy!
Advantages of an HVAC Zoning System
Energy savings associated with HVAC zoning
The primary advantage of a multi-zone heating and cooling system is the energy-saving it provides. According to the U.S. Department of Energy, HVAC zoning systems can reduce air conditioning costs by up to 30%.
This is achieved by using your air conditioning according to your needs and not keeping it running unnecessarily in areas where there is no need.
Air conditioning zones result in greater comfort for occupants
An HVAC zoning system gives you unparalleled control over the operating modes and temperatures of your air conditioning. The desired temperature and air conditioning mode can be set for each zone.
If one part of the home is too cold and you need to ramp up the heat only in that particular room, you can quickly achieve this with HVAC zoning. In this manner, other rooms of the house do not get extra heat, avoiding uneven temperatures.
Through a zoned HVAC system, you can control which parts of your home are ventilated and which are not. If you have elderly or people with respiratory problems in one part of the home, you can zone that off so that allergens and other such particles do not venture into the sensitive rooms. This keeps everyone safe and in their preferred environment.
Do You Need Zoning?
A zoned HVAC system does seem pretty appealing, and the benefits are worth a look. But do you really need a zoned HVAC system for your home? Do the costs justify the end result? Let's see who can benefit from HVAC zoning and get the most out of it. If you check any of the categories below, then this system is right for you!
Your home has multiple levels
You have separate living and common areas
The house has elderly people
You have an area designated for pets
Your home is unevenly heated/cooled (One part of the home is in the shade, other in direct sunlight)
Using the attic as a living space
Your home has large unused indoor spaces
Members of your household are often in conflict about the temperature settings of their rooms
This list is by no means exhaustive, and there are a few other cases in which a zoned HVAC system can be applicable. You can have a detailed HVAC energy audit conducted to get a detailed overview of your zoning requirements.
How Many Zones Do You Need?
Decided HVAC zoning is the best option for you? Let's determine how many zones you'd need. The exact number depends on your home arrangement, living preferences, number of occupants, and other factors such as pets and outdoor environment.
The most common zoned system is where the upper and lower floors are a separate zone as the temperature greatly varies between the two floors. Other variations include separating the home into living and common areas. Moreover, each room can be made a separate zone as well, providing completely personalized HVAC controls.
Zoning for Ducted HVAC Systems
A central HVAC system is a prime contender for HVAC zoning. The reasons for this are multiple:
Central HVAC systems have a single thermostat for the whole house
Conventional ducted systems use a single thermostat to control the temperature of the entire house. It cannot be used selectively for a specific room, spelling trouble for your energy consumption, especially for times when your home isn't fully occupied. Not to mention, this is incredibly inconvenient for the occupants. A zoned system removes this problem and lets you have individual room control so that only the desired area can be heated or cooled.
2. Separate the living and working areas
If you have some rooms in your home earmarked for special activities, such as a carpenter's shop, or a home gym, then you would want to keep the air separated from the rest of the home. With a conventional HVAC system, this is not possible.
A zoned HVAC can come in handy here. By making these special rooms a separate zone, you can ensure that the air from these rooms does not drift to the other areas of your home.
How Can You Make a Ducted HVAC System a Zoned HVAC System?
To make your central air conditioning system a zoned one, you need to install dampers and louvers against each HVAC duct for each room. These dampers function as gates, which can either block the incoming air or let it pass.
Take for example, a two-story house. When you have created a zone for only the home's upper floor, the lower floor's dampers will close, preventing air from cooling or heating this portion. Now, heating/cooling is only performed on the upper floor. Furthermore, your HVAC system utilizes a reduced amount of energy.
Other components of a ducted zoned HVAC system include thermostats and sensors. The most common approach is to have a thermostat installed in each zone. A more modern and innovative approach is to have a multi-zone thermostat installed, either in each zone or at a central location in the house.
A multi-zone thermostat can control all the zones from one place. Sensors placed in each zone relay information back to the thermostat, allowing the user to know individual zone temperatures accurately. With a multi-zone thermostat, a single control panel gives you complete home control. On the other hand, you can control only one zone with a simple thermostat.
Point to Ponder: Zoning With Single Stage Central HVAC Systems
At the end of the day, the purpose of zoning is to reduce the power expenditures in your home. But is it the case across the board? Let's have a look.
A single-stage HVAC system will run at 100% capacity all the time it is 'On.' A dual-stage HVAC system, on the other hand, has two power settings. It can run at full power and a reduced power setting, usually around 65%.
In a single-stage system, the blower is working at 100% capacity and moving air to a single zone only, and there will be excess heating or cooling. The HVAC system will now short cycle, i.e., run at full power for shorter durations, but frequently. This leads to increased power consumption and also wild temperature fluctuations between the cycles.
If you have a single-stage HVAC system, consult an HVAC professional beforehand and thoroughly plan it out.
Zoning for Ductless HVAC Systems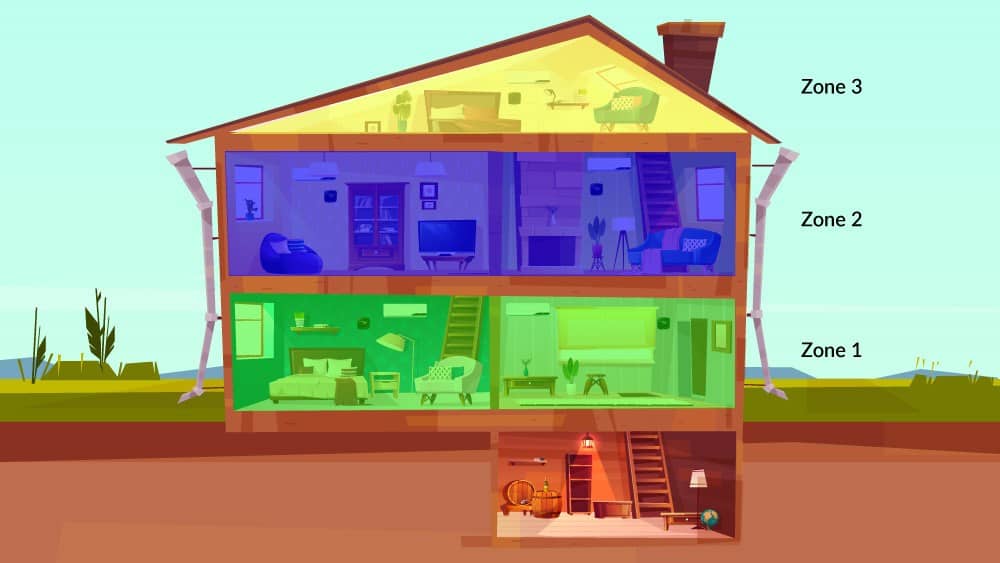 A ductless HVAC system, in comparison, is easier to convert to a zoned HVAC system. With a ductless zoned HVAC system, all your ductless units (mini-splits, windows, portable ACs) in a single zone can be controlled with the tap of a single button, rather than turning each unit on or off individually. If there are five different AC's in a zone, you need to press a single button to turn on all five at once. How easy is that!
To make a ductless HVAC system into a zoned HVAC system, you do not need additional equipment like louvers or dampers. All you need are smart AC controllers. Smart AC controllers help to connect each unit to another and make a zone. With Cielo Breez smart AC controllers, you can achieve the ultimate comfort of a zoned HVAC system, all from the convenience of your smartphone or desktop device.
Cielo Breez HVAC Zoning System for Ductless Systems
Cielo products provide you with a complete zoning solution with smart capabilities. Zoning within the Cielo ecosystem can be accomplished either from the Cielo Home mobile app itself or through the Cielo World web app, which can be accessed from your desktop browser.
How to create ductless zones using the Cielo Home mobile app?
With the Cielo app, adding zones to the HVAC of your home or workspace is made convenient. Multiple devices across your home can be grouped in a few easy steps, as illustrated below:
Select the device you want to move to a zone, and tap on the 'Settings' icon as in Step 2. Tap on 'Device Preferences' and then 'Move to Zone.'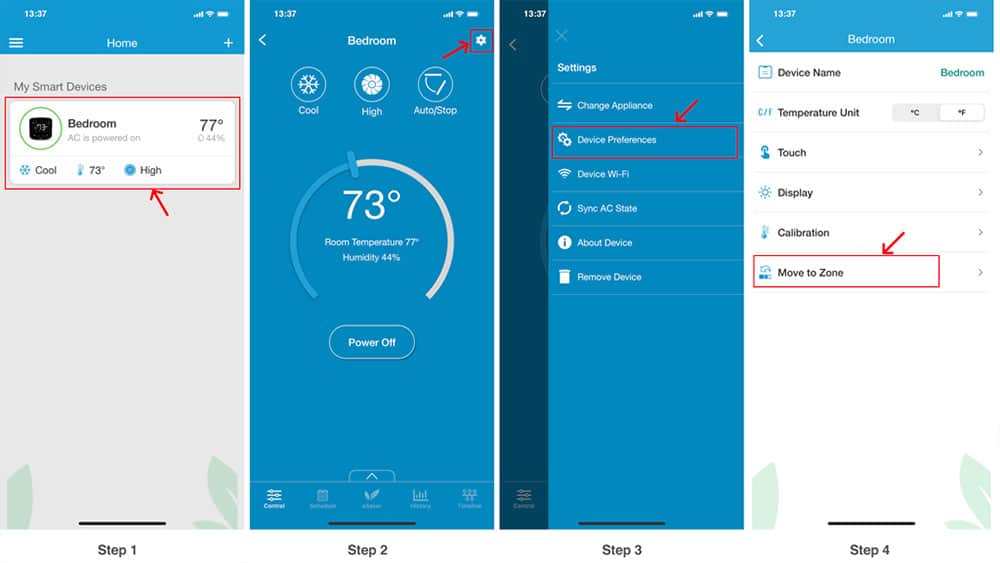 Click on the "Add" icon on the top right of your screen and make a new zone. You can give it an icon appropriate to the location of the zone. It can be of your home, office, kitchen, living room, bedroom, or a larger building.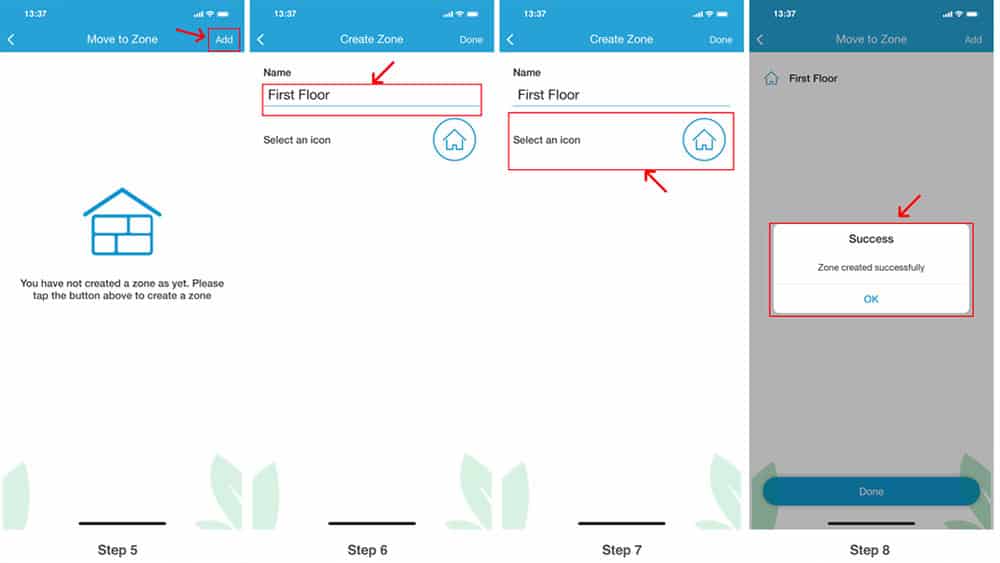 Once created, the zone will display on the screen. Tap on it and a check mark appears next to it. Tap on 'Done', and your device has been successfully added into the zone.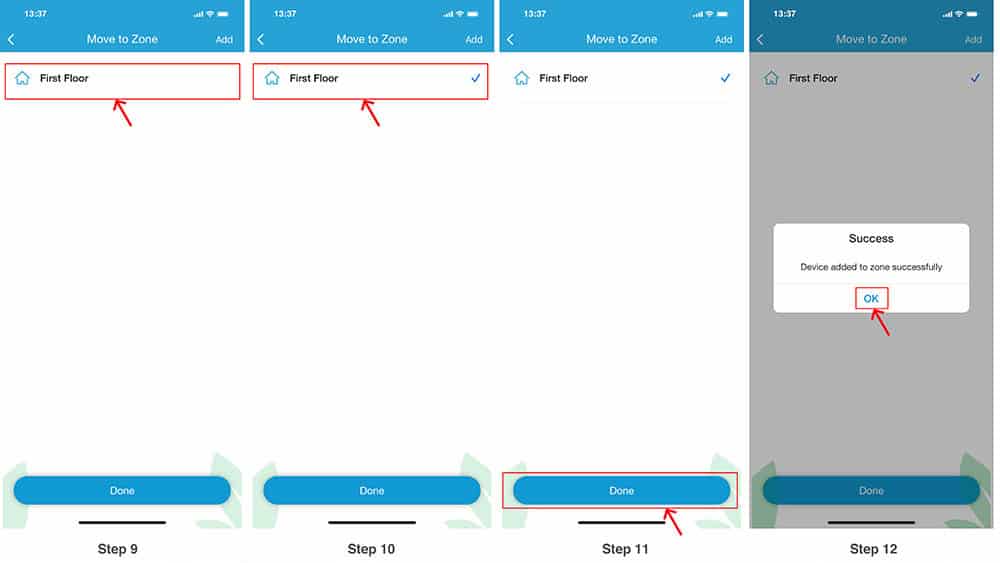 After adding the zone, your app screen will look something like this. Tap on the 'Zone' you want to move your device to, and you are done. As simple as that!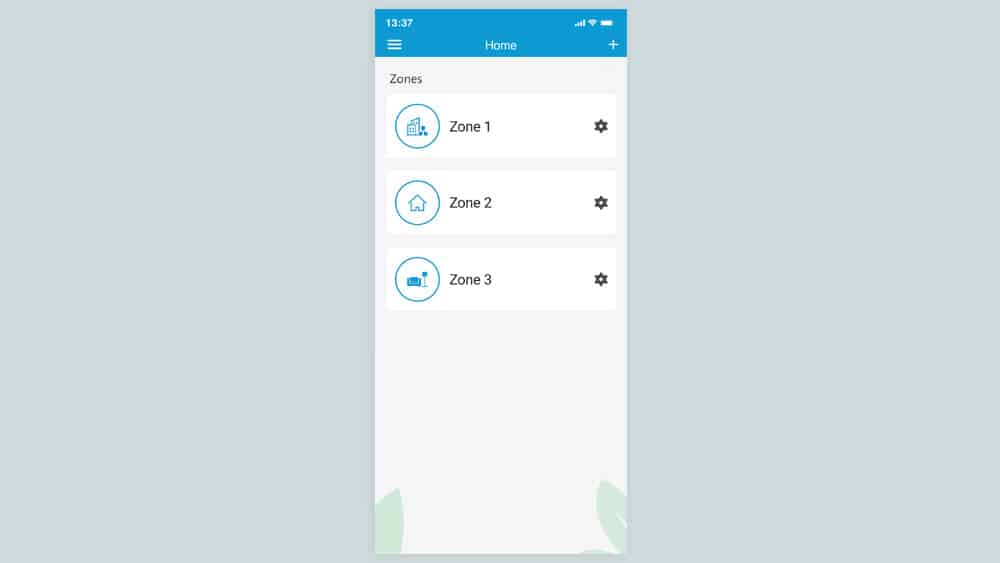 You can tap on the zone to view the settings of each AC. Advanced features such as Comfy mode, schedules, geolocation, and much more can also be set from here for each AC by tapping on the 'Settings' icon. Furthermore, you can turn your HVAC zone on or off with a simple tap of a button, as shown in the black circle. You can also turn your units on or off separately if required.
Cielo World Enterprise Web App for Desktops
Cielo World web app gives even greater functionality for your HVAC zoning system than the mobile app. Advanced features such as scheduling, zone temperature control, temperature range control, and zone mode control can all be conveniently accessed from the Cielo World dashboard.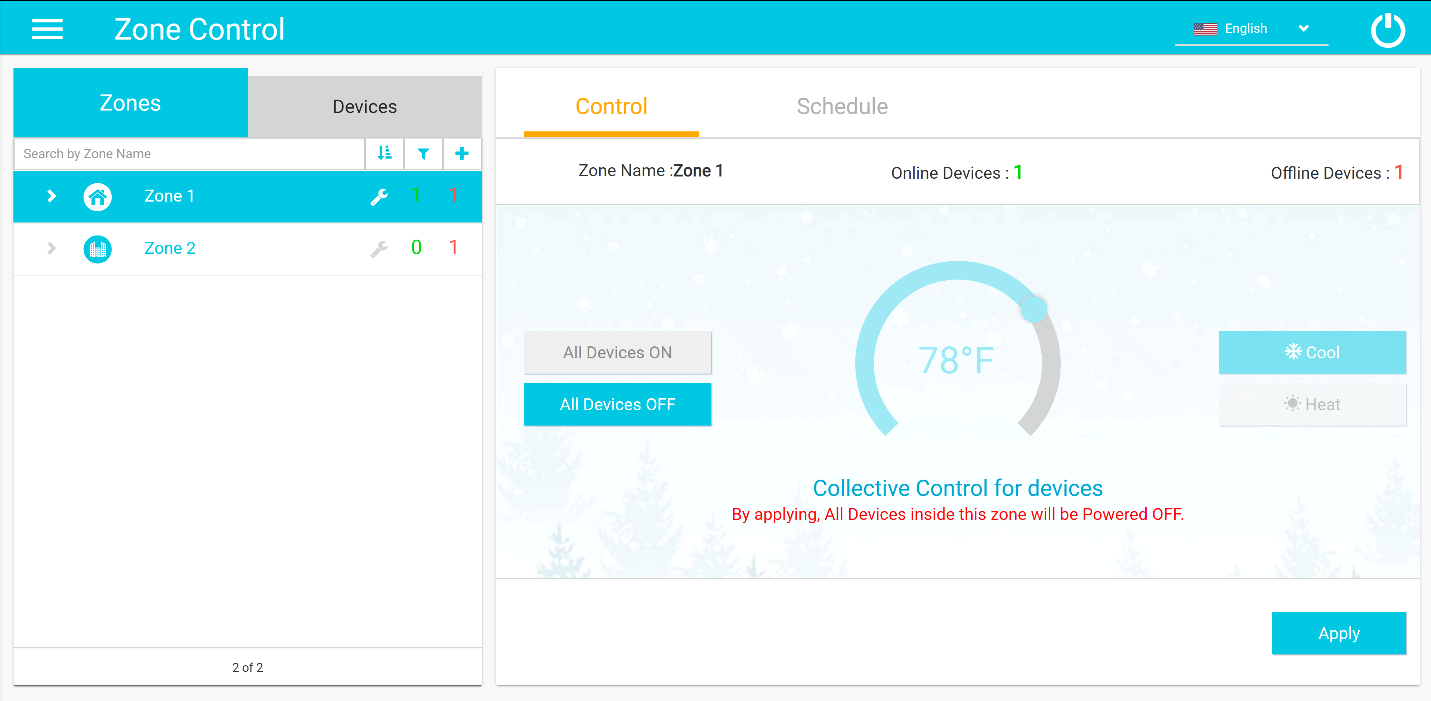 HVAC zones are listed on the left window, with the associated active mode listed on the right side. HVAC zone controls such as temperatures for all the air conditioners within the zone, operating mode, and on/off setting can be changed with just one click.
Moreover, you can set schedules for the whole HVAC zoning system with user-specified operating modes.
By clicking on the arrow next to the zones (as shown in the red circle), individuals air conditioners within the zone will be listed. By clicking on any AC, you can view the individual AC settings and change the operating conditions. You can also set temperature range control from the 'eSaver' section.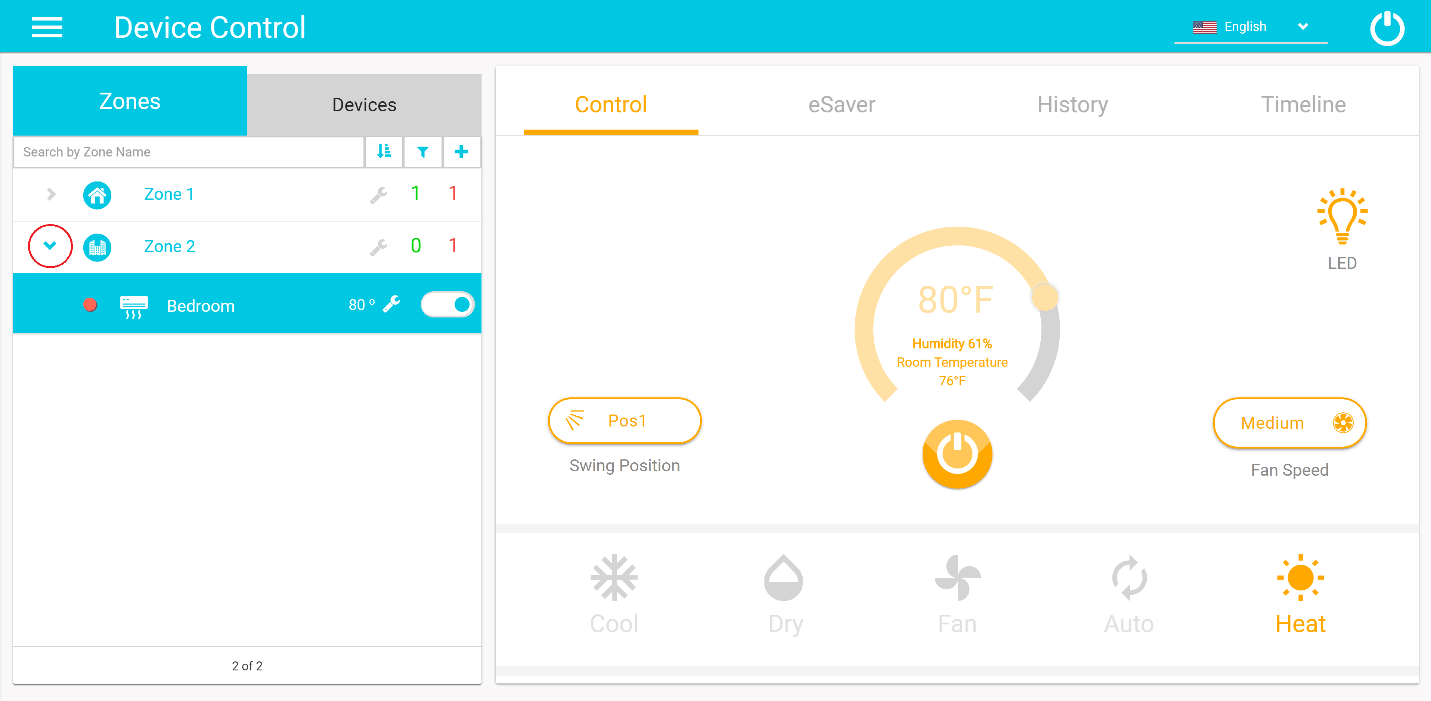 The Cielo World app provides a complete package for one-click convenience. It is especially useful for building owners who have more than a few dozen air conditioners that need to be controlled at any one time.
For more information about zone controls, head out to our support section for the mobile apps and Cielo World!
Get Into the Zone!
Zoned HVAC systems make the indoor environment comfortable and personalized. Furthermore, the energy savings achieved through a zoned HVAC system give you the peace of mind you need. Keeping all these factors in mind, if you have a large or multi-level home with separate living spaces, then a zoned HVAC system is most definitely worth a look, taking you to the next level in air conditioning!