Imagine coming back to your home after a long hot day outdoors. You open the door, drop your keys, and say "Ok Google, turn on lounge AC". Seems like a scene from a futuristic short film, doesn't it? Well not any longer. With Cielo Breez devices, you can now control your air conditioner with Google Home, and do much more.
Cielo Breez offers smart controllers for your air conditioners, which are linked via the IoT cloud-based ecosystem. These WiFi-enabled smart devices are compatible with any air conditioner that has an IR remote control. If you have a ductless air conditioner at home like a mini-split, portable, or window air conditioner, then you can enhance it with a smart feature set. You'd be able to control your air conditioner with your phone by connecting it with Cielo Breez & perform numerous functions such as controlling it via voice commands or setting intelligent triggers.
Cielo Breez devices are capable of communicating to your air conditioner with Google Home or Google Nest smart speaker and work in sync to provide you the complete smart home experience. Google's smart speakers are a vehicle for Google Assistant and while you can use it as a virtual assistant or entertainment platform, you can connect and operate your various smart home devices using it. 
You can also set shortcuts by just a tap! Create daily routines like checking the weather, listening to the news and turning smart home appliances on or off through one simple voice command.
With multiple smart home appliances functioning throughout the home, it can become cumbersome to keep track and control of each one. This is why Cielo Breez devices integrate your air conditioner with Google Home smoothly and let you enjoy the full benefits of your air conditioning with voice commands.
Google Home Air Conditioner Control
Air Conditioning Controls With Google Home
Through Google Home, you can utilize a variety of functions that are available through the native Cielo Home app, available on both Google Play Store and Apple App Store. The AC can be turned on or off, modes can be switched between cool mode and heat mode, and the AC's temperature can be increased or decreased. But this is just the most basic functionality, for which you have to use the Google Home app. There are many more extraordinary things that you can pull off quite easily with this smart home masterpiece.
You can give commands to your air conditioner by just relaxing on your couch and let your voice be heard by your smart assistant.
Following is the list of voice commands you can give to your air conditioner through Google Assistant:
To switch on or off your air conditioner "Hey Google, turn on/off Bedroom AC."
To increase or decrease the temperature "Hey Google, increase/decrease Bedroom AC by 2 degrees." 
To set temperature "Hey Google, set Bedroom AC to 72 degrees."
To ask about the current set temperature of the device "Hey Google, what is Bedroom AC set to?"
To know the current temperature reading or ambient temperature detected by the device "Hey Google, what is the current room temperature?"
To ask the current humidity reading or ambient humidity detected by the device "Hey Google, what is the current room humidity?"
To change the AC mode between Cool & Heat "Hey Google, change Bedroom AC mode to cool."
Setting Up Your Air Conditioner With Google Home
To set up Cielo Breez with Google Assistant, you need to go to the Google Home app and set up a new device. This prompts you to enter the name of the app and enter your credentials for the Cielo Home app. Once done, the currently connected devices show up, and you can then assign them specific rooms. For example, one Breez device could be named "Bedroom", another can be "Lounge", and so on as you prefer. These are the names that will then be used for voice commands.
Cielo Smart AC Controllers
Your best choice to make any mini-split, window,
or portable AC smart. Enhance your comfort and savings.
Shop Now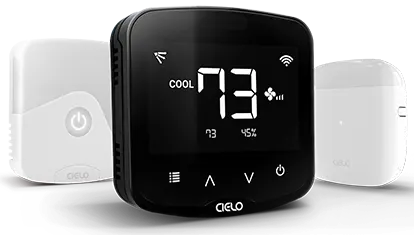 It is to be considered that Google Assistant will not identify the device if there are any spelling mistakes. "Bedroom" cannot be used as "Bed room" or "Bedrooom". Similarly, numeric characters are also prohibited like "b3droom" or "bedr00m".
For a more detailed walkthrough, check out the Cielo Support page, and make your air conditioner Google Assistant compatible!
Setting Up Routines with Google Home
Routines are an easy way to operate multiple smart home devices with one simple command, such as "Good Morning". By saying this phrase, different devices can spring into action, such as your AC, lights, and other smart appliances that you may have set up. Moreover, Google Assistant can be set up to inform you of your schedule, today's weather, next week's forecast, and much more.
Check out our detailed guide on setting up routines for your air conditioner with Google Home.
A smart home system provides comfort, ample control, and convenience by saving your time, efforts, and energy. A technology that can help you manage things from anywhere, anytime. A science that lets you schedule things for the future in advance. A machine that senses the surroundings and makes intelligent actions and decisions on its own.
The Internet of Things has provided unmatched convenience to a host of different smart home appliances. Air conditioning is no exception. Want an air conditioner that works with Google Home, but don't want to splash the cash on a new unit? No need to worry. Cielo Breez devices can help you control your old or new Air Conditioner with Google Home but at a fraction of the price. So, what are you waiting for?