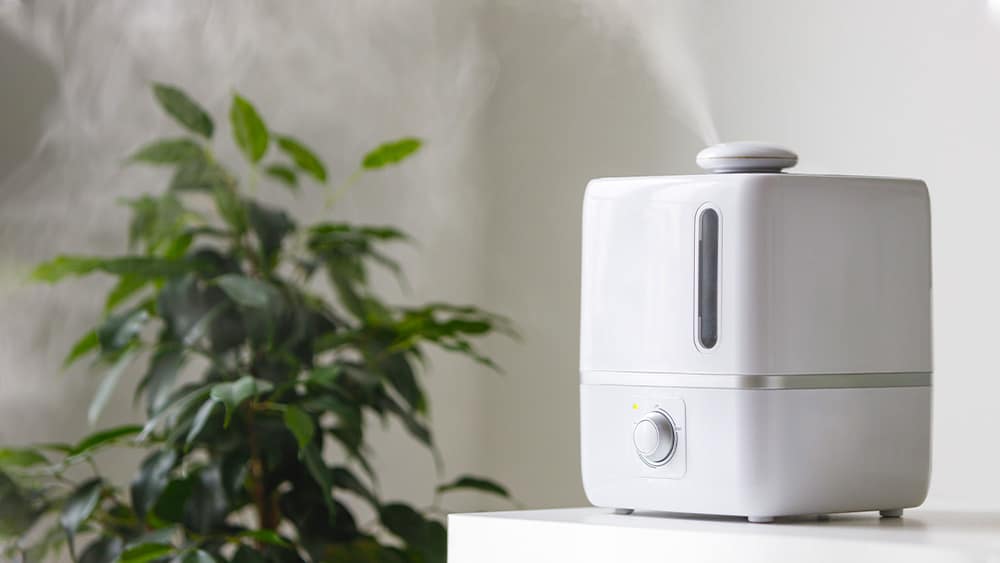 Struggling to decide whether you need a humidifier or a dehumidifier? The terms can get a little confusing, but we're here to clear the difference.
Read on to discover the difference between humidifier and dehumidifiers, how they work, their various available types, and which one is the best suited for your needs and climate.
Humidifier and Dehumidifier: What's the Difference?
If you're tired of listening about humidifiers and dehumidifiers in random conversations because you struggle to find the difference between them, this article is for you.
Both a humidifier and a dehumidifier are used to maintain the humidity levels inside the living spaces. While a humidifier increases moisture, a dehumidifier decreases the moisture level. Ideal indoor humidity levels range between 30% and 50%, but this can vary.
Let's dig deep and see what the actual difference between the two devices is.
What Is a Humidifier?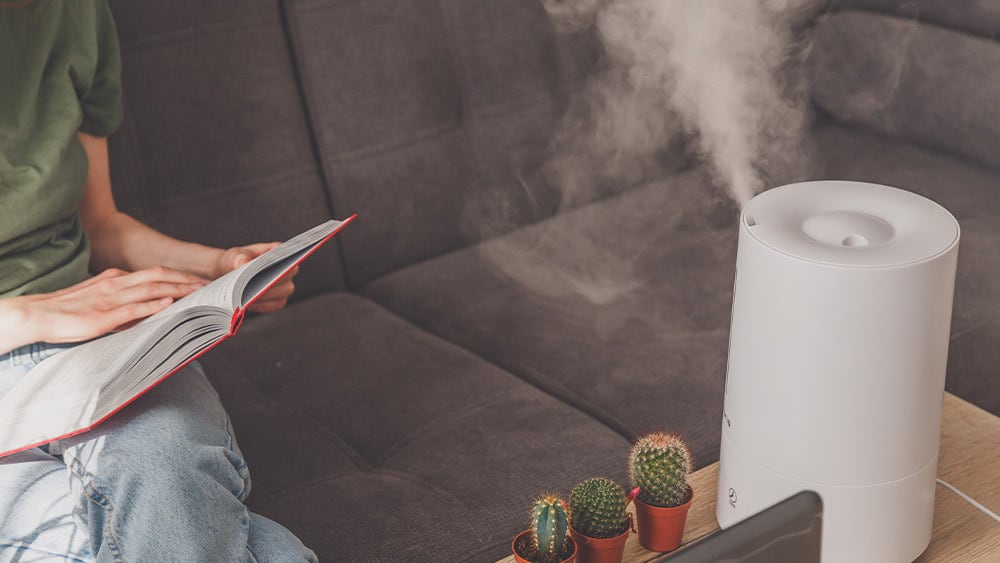 A humidifier is a device that adds moisture to dry air by emitting water vapor or steam. It helps prevent issues related to the lower humidity levels like dry throat, lips, nose, and skin by increasing the dampness in the surrounding air.
All humidifiers work on a basic pattern. A sensor placed inside the device senses the humidity level of your room. If the humidity is low, a humidifier will switch on. The water from its reservoir is evaporated into the dry air to bring up the humidity levels.
Cielo Smart AC Controllers
Your best choice to make any mini-split, window,
or portable AC smart. Enhance your comfort and savings.
Shop Now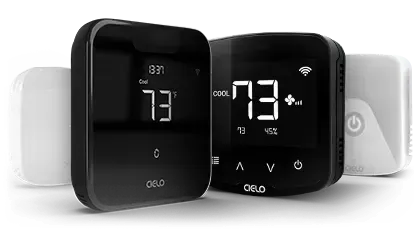 Types of Humidifiers
Humidifiers have different types that work a bit differently when compared to each other. Let's have a look at different types of humidifiers and how they work.
1. Central Humidifiers
Central humidifiers or whole-house humidifiers are hardwired to your home's heating or cooling system and directly linked to the home's plumbing. Though the most expensive option of all types, it is designed to humidify your whole house. Instead of humidifying a particular room, they maintain the humidity levels of your entire home.
2. Evaporators
Have you ever noticed the water level in an uncovered glass drops after a certain period? An evaporative humidifier works on the same principle, i.e., evaporation. It consists of a wick filter and a fan. The wick is a mesh made using paper, cloth, or foam that acts like a sponge. It draws water from the bottom, where the water reservoir is located and brings it to the upper end, where the fan is present. It is then evaporated into the air by passing air steam through the wet source to bring up the humidity level. They are also known as cool mist humidifiers.
This type of humidifier self-regulates the process because the higher the humidity level in the surrounding area, the harder it is to evaporate the water.
The wick filter needs to be changed regularly as it collects minerals and other substances from the water before it is evaporated.
It is a widely popular type of humidifier that comes in various shapes and sizes.
3. Ultrasonic Humidifiers
An ultrasonic humidifier consists of a diaphragm that vibrates at a very high frequency. It vibrates at an ultrasonic frequency, i.e., above the range of human hearing. They, too, are referred to as cool mist humidifiers since there is no heat involved to introduce water droplets into the air. They introduce a cool fog to increase indoor humidity.
Unlike evaporative humidifiers, ultrasonic humidifiers release water droplets in the air through vibration. The droplets are tiny and light in weight to be suspended in the air for some time.
EPA recommends using distilled water in ultrasonic humidifiers because water droplets can carry harmful minerals present in tap water, and there's a risk that someone could inhale them.
They are small and compact, hence, suitable for small and constricted areas.
4. Steam Humidifiers
Steam humidifiers or otherwise known as vaporizers or warm mist humidifiers, use heat to humidify any area. These consist of a heating element and a water reservoir. The water is boiled, and the steam formed as a result is released into the air. This steam increases the humidity level of the area.
Like other humidifiers, they also have a sensing device called a humidistat to measure the surrounding air's humidity. When the humidity readings are lower than your desired settings, it sends a signal turning it on and vice versa.
They are the least expensive option available in the market. However, you should not be getting it for your kid's room since the steam is really hot and can burn if it comes in direct contact with the skin.
5. Impeller Humidifiers
Impeller humidifiers use a rotating dish with comb-like fins that carry water and are broke down into tiny droplets as they pass through a mesh screen. These minute water droplets are then released directly into the air to increase the humidity. You see a cool fog coming out of the device spreading into your room.
This type of humidifier is less popular because they're less efficient and a bit noisy.
What Does a Dehumidifier Do?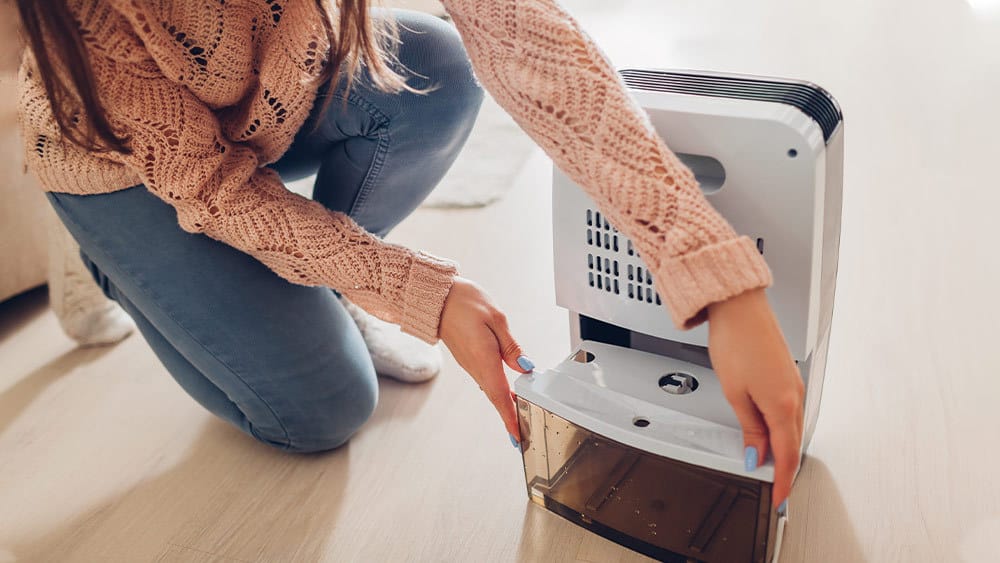 A device that eliminates excess moisture from the air lowering the humidity level from the surrounding air, is called a dehumidifier. Removing the extra amount of water vapors eases the allergy symptoms by preventing the growth of triggers like mold, bacteria, and dust mites.  
A dehumidifier uses a refrigerator-based or a heater-based system and a coil to draw moisture from it in simpler terms. The moist air is drawn into the device through a fan. It is then run through a refrigerant coil that cools it down and condenses the moisture from it. The result is cold, dry air.
This cold, dry air is then run through a heat-based coil to bring it up to your room's temperature. This air is then released back into your room through a duct using a fan.
Types of Dehumidifiers
Similar to humidifiers, dehumidifiers also come in various types. Their working also differs from one another. Let's take a look at them one by one below.
1. Whole-House Dehumidifiers
If you face a lot of humidity issues in your area, then this might be the solution to your humidity-related problems. In a high humid area, you'd probably need to maintain the humidity of your entire house. For that, buying a separate dehumidifier for all rooms would be costly and require more effort.
Central dehumidifiers, on the other hand, are connected to your heating and cooling system. If you already have ductwork installed in your home, then it would be installed using those ducts.
However, due to their large dehumidifying capacity, they are costly. So, you should assess the need for dehumidification before getting your hands on a whole-house dehumidifier.
2. Desiccant Dehumidifiers
A desiccant dehumidifier uses a chemical substance to pull out the excess moisture from the air. It has a desiccant wheel that pulls the air from the room into the device. The desiccant wheel has silica gel to keep the air dry. Almost 75% of the air that enters the device leaves it after being processed as warm, dry air. The rest 25% of the air is used as the reactivation air. This air is heated to very high temperatures using heat boosters to extract the moisture from the silica gel and keep it going for a longer time.
This type of dehumidifier doesn't have a water reservoir since it does not use the process of condensation to remove moisture. The wet reactivated air is the by-product and is released outside of the room or building through an air-outlet.
Large sizes of desiccant dehumidifiers also have a generator that can run on fuel and can benefit in the case of power fluctuations.
3. Thermoelectric Dehumidifiers
Thermoelectric dehumidifiers pull damp air through a fan and pass it through a cool heat sink. The air condenses passing through the cold surface. The water accumulates through the process of condensation and then collects in the water reservoir. The dry air releases back into your room.
4. Refrigerated Coil Dehumidifiers
Refrigerated coil dehumidifiers are also known as compressor dehumidifiers. The process is similar to how your refrigerator works. They use a built-in compressor as opposed to thermoelectric dehumidifiers.
The hot air draws into the device using a fan. It runs through cold coils initiating the process of condensation. The water produced as a result drips down to the water reservoir. The dry air reheats and releases back into your room.
Why Is It Important to Maintain Indoor Humidity?
Extreme humidity levels in your home can become a cause of great discomfort for you and your family. Even if you do everything to maintain the ideal room temperature, it still may not feel comfortable because your home's humidity isn't right. Both high and low humidity levels can become a cause of dehydration as they interrupt your body's cooling mechanism, i.e., sweating.
Other than that, various health-related issues relate to poor humidity levels. If your home has a lot of wood material used in its construction, bad humidity can even harm your home's outlook. Read our guide to achieving the ideal home humidity levels.
Problems Indicating the Need for a Humidifier or a Dehumidifier
You might be wondering why you even need a device to control the air's moisture in the first place. Well, to answer your question, the following are some of the problems related to high and low humidity levels.
| | |
| --- | --- |
| Problems Related to High Humidity | Problems Related to Low Humidity |
| High humidity in rooms can become a significant source of condensation on walls and furniture. | The static electricity build-up due to low humidity can interfere with the proper functioning of your electronics. |
| Mold, bacteria, and dust mites multiply in very humid areas. | Your skin and lips can get extremely dry in low humid areas. |
| High humidity can also cause bad rotten or musty smells in your room due to mold and other harmful organisms' growth. | Symptoms of people already suffering from eczema and dermatitis can worsen. |
| High humidity can trigger allergies and cause a respiratory problem if not tackled timely. | The dry air can cause irritation while you breathe. |
| Snacks like cereals and crisps can quickly become stale in high humidity levels. | The eyes become dry due to the high amount of evaporation of tears from the eyes. |
| Your clothes will take longer to dry and may not even dry properly. | The books in your home can become dry and brittle, making them lose their shape. |
Do You Need a Humidifier or a Dehumidifier?
The optimal indoor humidity ranges between 30% and 50%. Before buying a humidifier or a dehumidifier, you should first check the humidity levels inside your home. Monitor those levels for at least a week to get an exact picture. If the numbers are near or below 30, then you should be buying a humidifier. If the numbers hit 50 or above, then you need to buy a dehumidifier. Generally, in summers, the humidity levels are high, and in winters, they drop low. Hence weather also plays an important factor in the final decision.
Pairing your humidifier or dehumidifier with a smart device is preferable to control your unit using your phone and automatically maintain ideal humidity levels. Smart controllers such as Cielo Breez can work with both as long as they come with an IR based remote control.
Can You Use an Air Conditioner Instead of a Dehumidifier/Humidifier?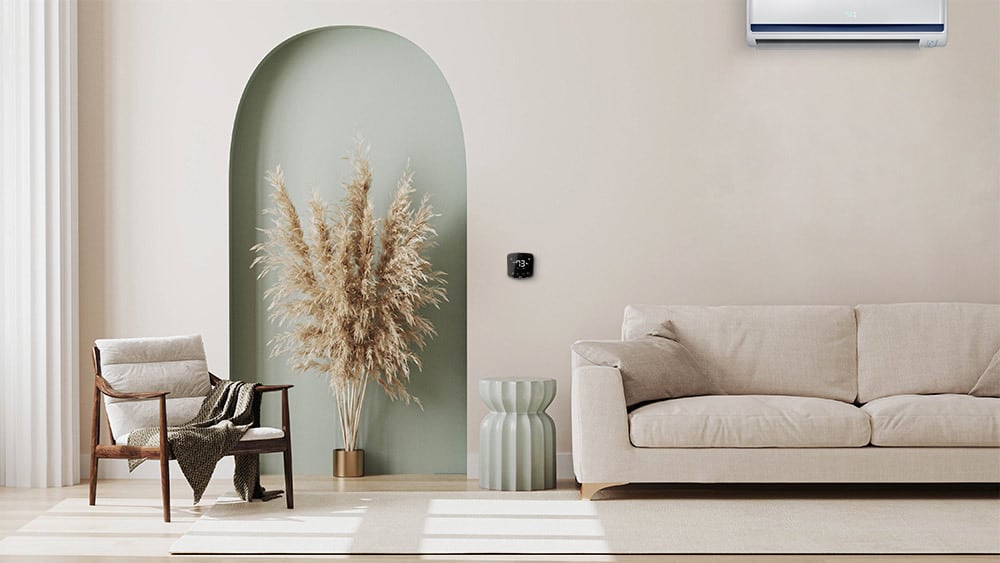 An air conditioner's primary function is to introduce cool air into the room and remove the hot air. A reversible heat pump can do the opposite as well, i.e., it provides both heating or cooling. During the process of removing the hot air, an air conditioner can slightly reduce indoor humidity. But its capacity to reduce humidity is much lower than a dehumidifier. Read our blog to learn more about air conditioner vs. dehumidifier.
When it comes to humidifying the air, an air conditioner cannot do so since it is cooling down the air by removing moisture.
However, if you don't want to invest in either a humidifier or a dehumidifier, it is best that you use a smart AC controller with your air conditioner. With Cielo Breez, you can control your AC based on the humidity levels inside your home. You can use Comfy Mode to set your desired humidity levels, and the air conditioner will run to maintain your preferred settings. This is an excellent option if you don't face severe humidity problems.
After reading this article, we hope the confusion between a humidifier and a dehumidifier is now clear, and you're ready to decide the best option for your home.