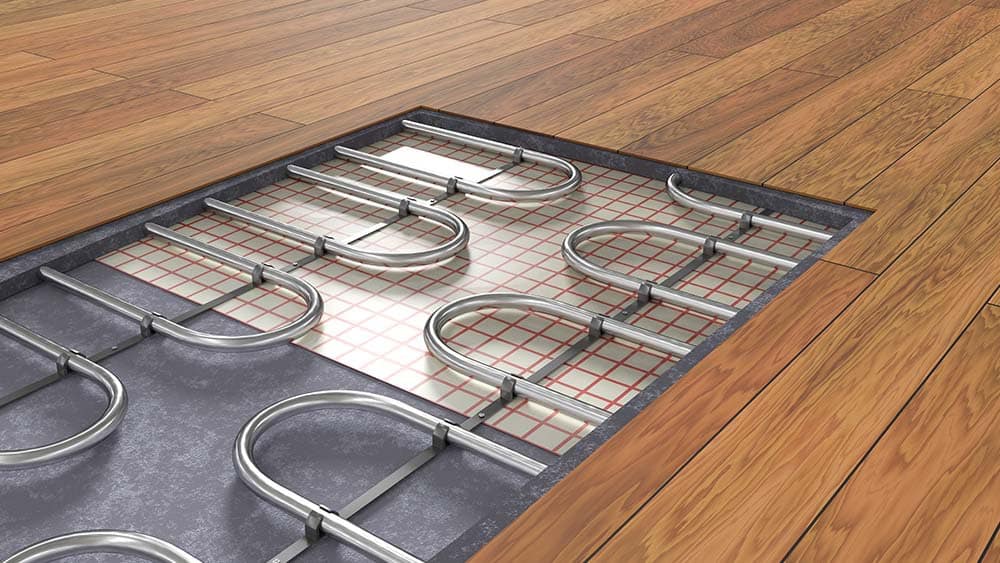 Modern houses are equipped with latest technologies, one of them being radiant floor heating. It is a luxurious home feature and is becoming a trend in new housing.
Imagine, the sensation of walking barefoot on a heated floor? Even Santa won't refuse the offer!
If you're planning on renovating your house or are thinking of building a new one, installing radiant floor heating would be a great option to keep in mind. Also known as underfloor heating, this system is an energy-efficient way of keeping warm through the cold winter months.
Radiant Floor Heating Technology & Options
What is Radiant Floor Heating?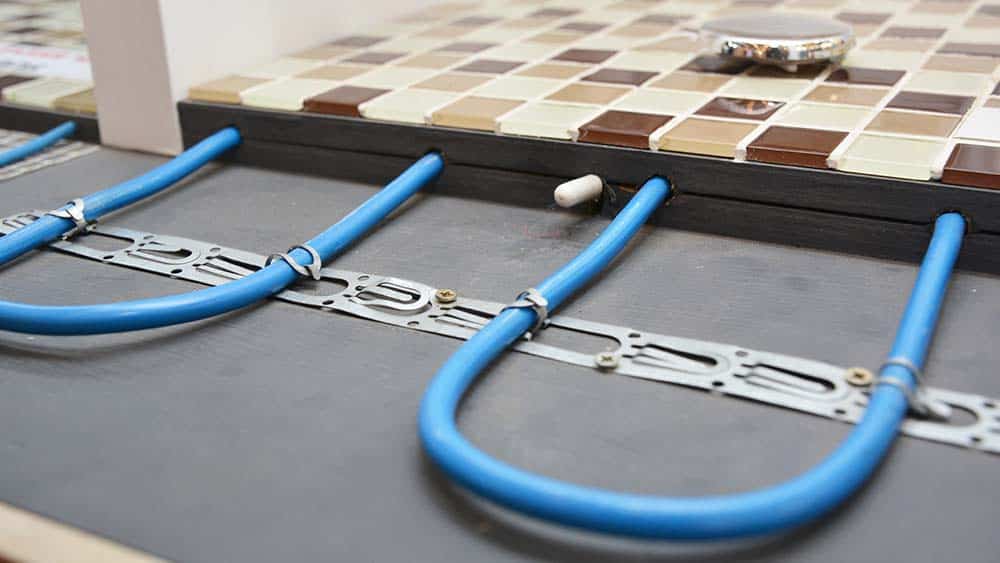 Radiant heating systems provide heat to the indoor environment using infrared radiation. It does so by delivering heat directly from a hot surface, such as resistive wires or hot water pipes, to the indoor air. These pipes or wires can be embedded in floors, walls, or even ceilings.
If you are still confused about what is radiant heating, think of when you place your hand near a hot metal surface, and can feel the warmth even though you aren't touching it. The heat you feel is due to infrared radiation.
As compared to other traditional heating systems, radiant heating is not a direct form of heating. In the sense that it does not heat from a direct flame, like a space heater, neither does it blow hot air like a furnace. So, if you are someone who loves to huddle around a heater and get a cozy spot, you might find a radiant heating system just a bit different to your taste. Nevertheless, you may still love the consistent heat!
When considering radiant floor heating, the heat is supplied directly to the floor. The exact mechanism may differ in how this heating system works (as we shall see below), but the general principle is that a heating element under the floor radiates heat through the floor and into the room. The heating is done much more evenly than traditional heating systems. The underfloor heating elements can either be electrical resistance wires or pipes which carry hot water.
Types of Radiant Floor Heating Systems
Radiant floor heating comes in three types. Let's have a closer look at all of them:
Electric Radiant Floor Heating
Hydronic Radiant Floor Heating
Air-Heated Radiant Floors
Cielo Smart AC Controllers
Your best choice to make any mini-split, window,
or portable AC smart. Enhance your comfort and savings.
Shop Now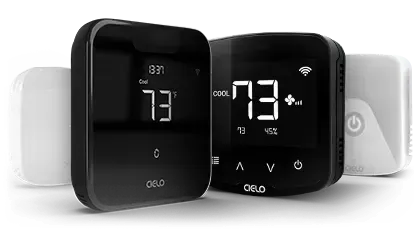 1. Electric Radiant Floor Heating
An electric radiant floor heating system consists of electric wires running under the floor surface. These electric wires heat up when electricity is passed through them. The heat then transfers through the floor and heats up the room.
Electric systems usually come in square tiles, which can be fit together like a big jigsaw puzzle. Some electric systems can also be used in the washroom since they are waterproof.
The temperature of the wires, and consequently the room, can be changed through a thermostat controller. Advanced thermostats can even give scheduling capabilities, allowing you to run the heating system at specific times of the day.
2. Hydronic Radiant Floor Heating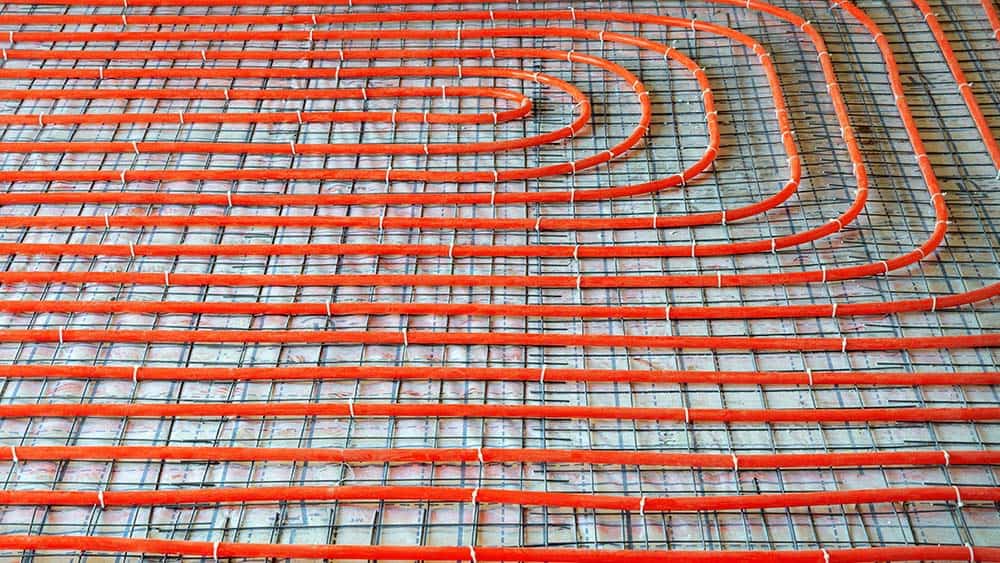 The other type of floor heating is through hot water pipes embedded underneath the floor, like a geothermal heating system. This type of system is called a hydronic heating system. These pipes are connected to a hot water boiler and a pump, which keeps on circulating the hot water in this closed system.
The water used in a hydronic radiant floor heating system is separate from the water which you use for other household needs, and there is no mixing between the two of them. The pipes to carry water are made of different materials. A popular option is PEX, a type of plastic, or EPDM, a type of rubber. The radiation characteristic and the water temperature for both these pipes can vary. The exact choice for which one to go for depends on a lot of factors. Consult your installation professional to choose the best system for your needs.
3. Air-Heated Radiant Floors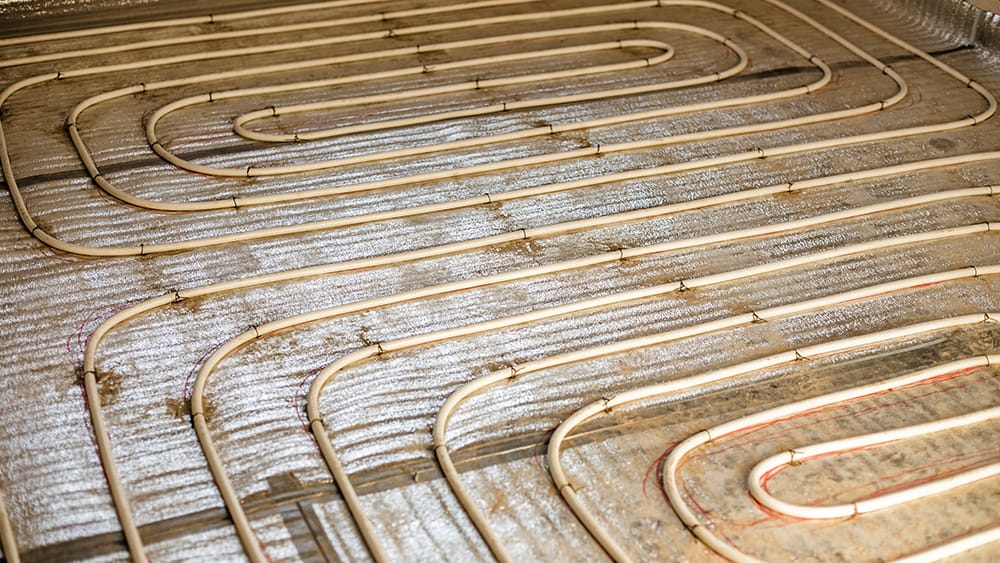 The third type of radiant floor heating, albeit a less common one, is air floor heating. As opposed to the other two types, air heated flooring uses hot air channeled through tubes embedded underneath the floor. A furnace is used to heat the air and then circulate it through the piping networks, similar to how it is channeled through ducts in a ducted heating system. An alternative is to use solar air heaters, but the obvious disadvantage is that they can only be used during the day.
A drawback of air heated radiant flooring is that air does not hold heat very well. The result is that it loses its temperature very quickly, necessitating the constant use of the furnace, thus consuming more energy. This system is thus not a very efficient method.
Radiant Floor Heating Cost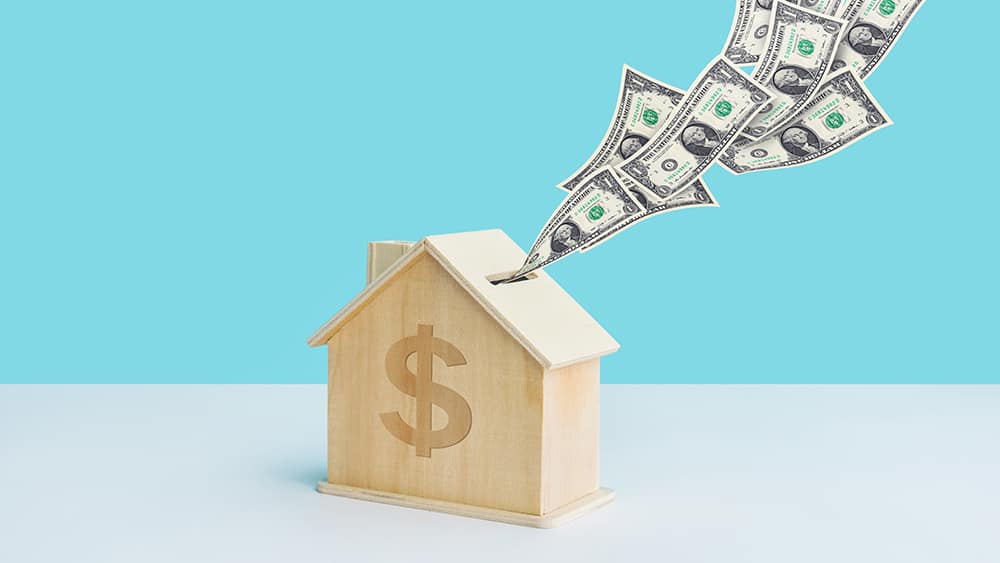 These systems generally tend to be a bit on the higher side of the cost scale. This is not only due to the actual components being expensive but also due to the laborious installation process.
Even though there are three main types of radiant floor heating systems, as discussed above, the insulation materials, pipe material, and type of floor can fluctuate the costs very much.
According to Fixr, for electric radiant floor heating systems, the national average for single room installation stands at around $11 per square foot. For the whole house, the cost can be in the range of $20,000 to $36,000, depending on your location, exact home features, and service provider.
Hydronic floor heating costs, on the other hand, can be $13 per square foot for a single room and $14,000 to $40,000 for a full house. With a hydronic floor heating system, there is an additional cost of the water heater. This can set you back anywhere around $1,500. If you opt for a larger boiler, the price can double or even triple.
An electric radiant heating system is cheaper to install because it can be installed as a jigsaw puzzle, with ready-made mats able to be put in place. A hydronic radiant floor heating system needs a much more detailed installation process, with the pipes having to be guided through the floor individually.
But the operating cost for a hydronic radiant floor heating system is less than its electric counterpart. The reason for this is that water retains heat very well. Once the water is heated up, the boiler or water heater can turn off, and the water will still be hot for a considerable period. Hence the boiler/water heater needs to be operational for a lesser amount of time.
Pros and Cons of Radiant Floor Heating Systems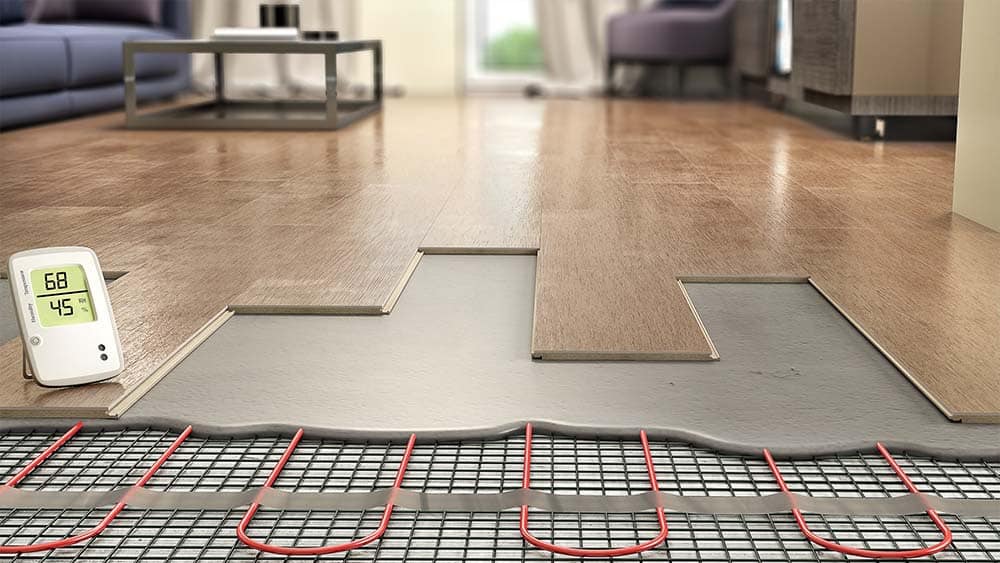 As with all things good, there is a little catch. Let's see the advantages and disadvantages of radiant floor heating systems in detail.
Advantages of Radiant Floor Heating
Radiant floor heating systems are much cheaper to operate than conventional heating systems, such as a furnace, heat pump, or radiator. The water in a radiator needs to be heated to a scorching 150 degrees, while with radiant heating systems, 85 degrees is more than enough to keep the room warm.
These systems heat up the room much more uniformly than conventional heating systems. With a forced-air system, or a radiator, only a part of the room is heated, and the hot air rises. When it cools down, it drops back to the floor level, giving a cool feeling. With an underground heating system, this problem is non-existent because the heat rises from the floor and spreads evenly across the whole floor area. This eliminates any cold spots.
The unobtrusive heating arrangement makes it pleasing to the eye. There are no indoor units, vents, or radiators sticking out of walls. Everything is hidden from view.
Minimal periodic maintenance is required.
Radiant floor heating systems are much safer to work with than other heating systems. There are no electrical outlets or hot water pipes that may leak (as in the case of a radiator). There are no sharp edges or hot surfaces. Moreover, the air quality is also not compromised with dust and dirt particles, as it can be with ducted heating systems.
Room humidity levels can be maintained at healthy levels since there is no dehumidifying effect, as is the case with a fireplace or space heaters.
Disadvantages
Radiant floor heating systems are comparatively difficult to set up if your floor is already installed. The old floor would need to be torn apart, and a new floor would have to be laid over the underground heating system.
Their installation costs and time can be pretty high.
An additional cooling appliance is still needed for the summer months since radiant heating systems do not provide cooling.
Making Radiant Systems Smart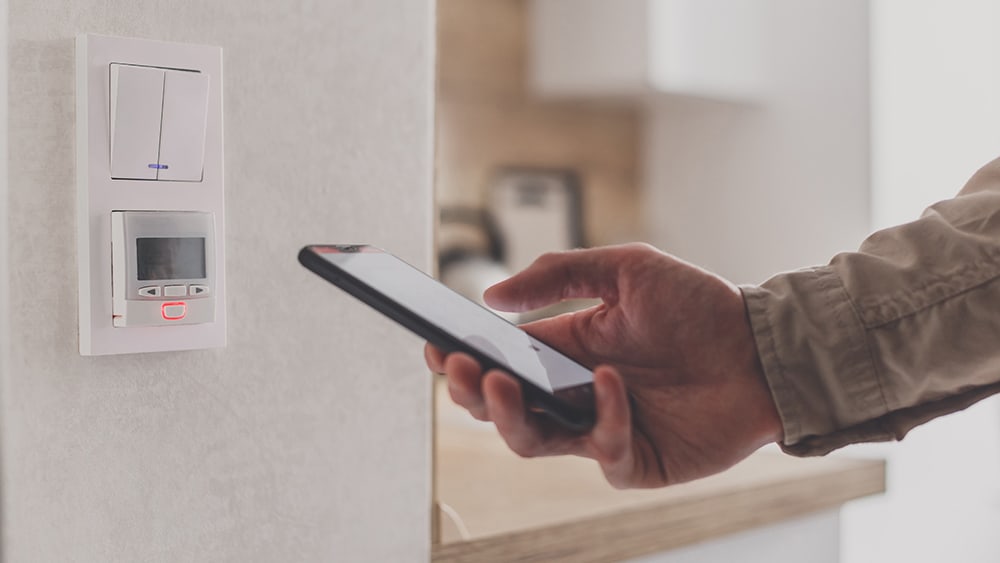 This is the era of smart home automation, and radiant floor heating systems aren't left behind.
Smart thermostats can be fitted onto the floor heating systems, allowing you to control them through a smartphone app. Now you can browse your social media, keep in touch with your friends and family, and change the heating temperature, all at the same time using your smartphone.
Schedules can be set up so that the heating turns on and off automatically at pre-set times. You can set the heating to turn on an hour before you wake up in the morning so that you don't have to wake up to a cold and chilly room.
A Silent Heating System!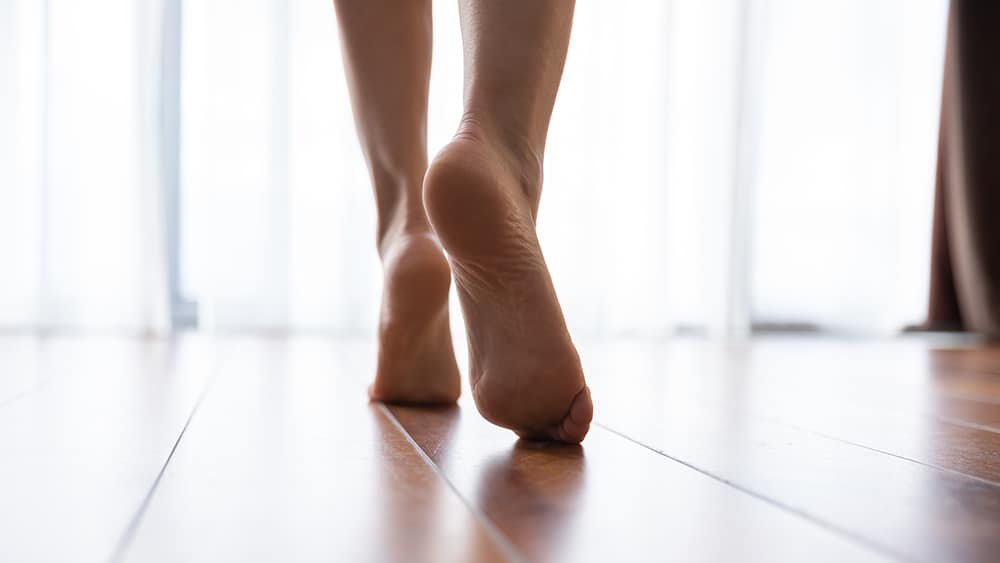 This underground heating system is an energy-efficient method to keep your home warm. Even though the initial costs can be a bit high, they are well worth it due to their high efficiency.
If you are remodeling your home, or even a single room, a radiant floor heating system is worth a good look. Make it smart for additional comfort and savings.