When the winter chill sets in, there's nothing quite like the comfort of a warm home. Home heating systems play a crucial role in keeping your living space cozy. 
A heating system works by harnessing thermal energy from a fuel source such as gas or electricity and distributing it throughout your house. There are various types of heating systems available, each with its unique features and benefits. From forced-air systems that push heated air to radiant floor systems that provide warmth from the ground up, there's a heating unit perfectly suited for you. 
You can also have more than one heating system for your home, depending on your requirements. Perhaps you have a chilly basement that needs extra heating, or you want a heater in your garage where the ducts for central air don't run. 
Related: Best Basement Heaters for a Warm and Cozy Winter
Whether you're a homeowner looking to upgrade your existing system, a renter curious about the options available, or simply someone interested in the mechanics of staying toasty, this blog is your ultimate resource.
Let's break down some of the most popular types of heating systems and explore how they work, their pros and cons, and their price ranges to help you find the best fit for your home.
1. Furnaces
Furnaces have proven their worth over time and continue to be the go-to choice for heating systems in the US. According to a 2015 Residential Energy Consumption Survey, natural gas furnaces are the most commonly used type of heating system throughout the country, with the exception of the hot-humid Southeast region. In fact, a staggering 47% of US households rely on natural gas as their primary heating source. And it's not just older houses – even newly built homes prioritize gas as the most common heating type, as reported by Statista. Other than natural gas, furnaces can also be powered by electricity or fuel oil. 
A furnace works by burning a fuel source to heat air, which is then distributed through the home's forced-air system. The hot air is circulated using a blower fan through a series of ducts located throughout your home, where it is delivered via vents or air registers or in each room. Any combustion byproducts are vented to the outdoors, usually via a chimney. A thermostat is used to set the desired temperature for the furnace to operate at. It controls the operation of a furnace and switches it on or off to maintain the desired home temperature. 
Furnaces come in various types and efficiency levels, so it's important to choose one that fits your specific needs. Generally speaking, a furnace should be sized appropriately for the size of your home and climate – too small or too large can cause problems with energy efficiency, performance, and comfort. 
Furnace efficiency is regulated by AFUE (Annual Fuel Utilization Efficiency) – the higher the AFUE, the more efficient your furnace is. 
AFUE measures how well your furnace utilizes fuel throughout the year. By comparing the heat output to the fuel consumed, AFUE calculates the efficiency of your heating system. For example, an AFUE of 90% means 90% of the fuel energy becomes heat, while the remaining 10% is lost through chimneys and other sources. AFUE doesn't take into account heat losses through ductwork, which can be as high as 35% if the ducts are installed in an unconditioned or partially conditioned area such as the attic.
Furnace cost: The average cost to purchase this unit is between $5,000 to $1,000. This may vary depending on the furnace type and the square footage of your home. The price will increase for bigger houses where high-efficiency furnaces will be required.
| | |
| --- | --- |
| Pros | Cons |
| Highest AFUE (Annual Fuel Utilization Efficiency) rating when compared to other heating units | Requires installation of extensive ductwork |
| Forced air systems can be combined with a cooling system to cool in summer | It can be inefficient due to heat leaking out of holes or tears in the ducts |
| Less maintenance required than other types of heating systems | Can blow dust around if filters aren't regularly replaced |
| Forced air systems are inexpensive to operate | Gas furnaces can pose the risk of fire or carbon monoxide poisoning |
2. Boiler Heaters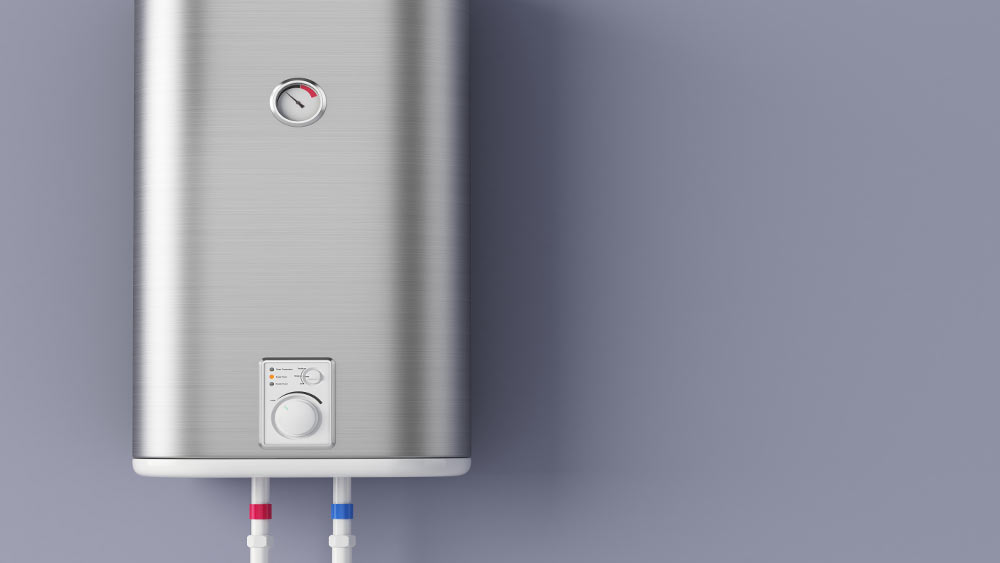 The main difference between furnaces and boilers is that furnaces generate heat using warm air, while boilers are a type of heating systems that generate heat using hot water. Moreover, they don't blow dust or indoor air pollutants as opposed to furnaces, making them safe for people with allergies.
Boilers are hot water systems that distribute heat in water. The water is heated in a central boiler and circulated through a network of pipes to the radiator units installed strategically around your house. The water releases its heat at the radiators, which is then distributed around your home, and the cold water is returned to the boiler for reheating. 
These hot water systems are also known as hydronic systems and use natural gas, propane, or electricity as a fuel. Most older homes and apartments in the US are equipped with these heating systems.
There are mainly two types of boilers: 
Steam Boilers – They circulate steam instead of water through pipes to the radiators. The steam is condensed to water after giving up heat and flows to the boiler for reheating.
Modern Boilers – They circulate hot water using electric pumps to the radiators.
Boiler controls include thermostats, aquastats, and valves to regulate water circulation and temperature. Boiler systems allow better control of heat distribution through HVAC zones. Thermostats can be installed with each radiator, allowing you to adjust the temperature for each separate room based on individual preferences. 
Boiler cost: $3,100 to $13,500
| | |
| --- | --- |
| Pros | Cons |
| Boiler heaters do not dry out the air like types of heating systems | Pipe leakage can pose issues |
| They don't move dust or allergens into the environment | Radiators can look unsightly and interfere with your home décor   |
| New models are highly energy-efficient | Cannot be combined with air conditioning system |
| Allows better control of heat distribution through zones  |   |
3. Heat Pumps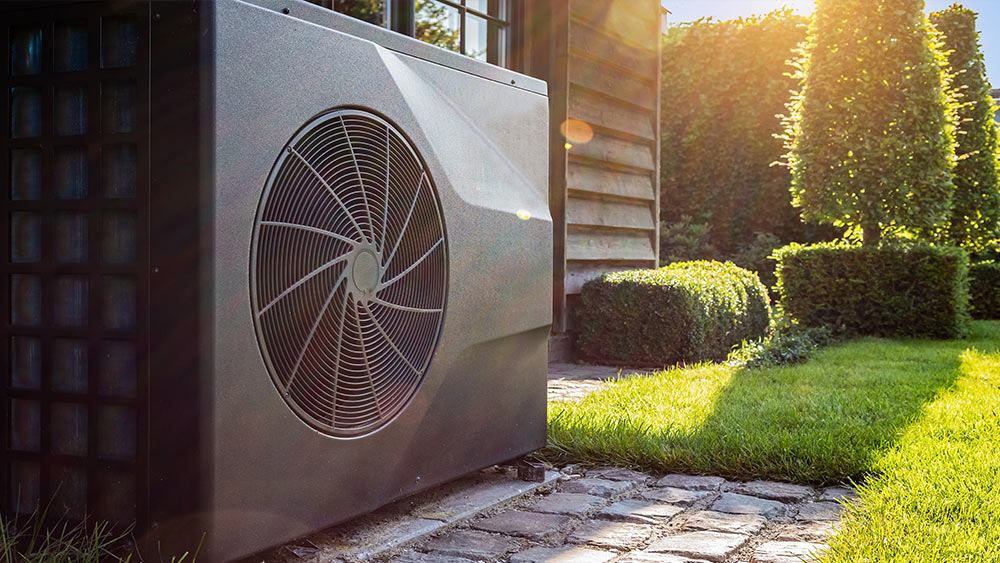 Heat pumps are becoming an increasingly popular choice for homeowners. They offer the benefits of efficient heating and cooling, thus keeping you warm during the winter and cool during the summer. What's more, they can decrease heating electricity use by 50% when compared to electric furnaces and baseboard heaters!
In residential settings, air-source heat pumps are commonly used. They work by extracting heat from the outside air using a refrigerant and transferring it indoors. In the summer, they reverse the process, expelling heat from your home.
These heating systems usually use electricity, but you can also get some models that run on natural gas.
Heat pumps use a ducted network to distribute air around your house. If you are looking for a unit that does not require length ductwork, you can opt for a ductless mini-split heat pump. They deliver air directly where it is required through indoor air handlers. Their main advantage is that they are more energy efficient as there is no heat loss typically associated with the ductwork of central units. For greater flexibility, you can also control them with your smartphone using smart AC controllers such as Cielo Breez.
Cielo Smart AC Controllers
Your best choice to make any mini-split, window,
or portable AC smart. Enhance your comfort and savings.
Shop Now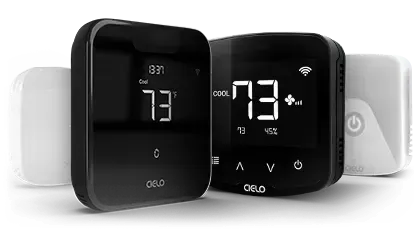 In addition to air-source heat pumps, there are other types of heat pumps available. Geothermal heating and cooling systems extract heat from the ground, while water source heat pumps draw in heat from ponds or lakes.
Heat pumps are known for their efficiency, as they transfer heat instead of generating it. They are best suited for moderate climates, as temperatures below 40 degrees can hinder proper heat exchange. In such cases, a secondary heating system like a furnace may be utilized for optimal comfort – more on hybrid heating systems below.
Read this article to find out more about furnaces vs. heat pumps and which one is the best for you!
Heat pump cost: $3,500 to $8,800
| | |
| --- | --- |
| Pros | Cons |
| High energy-efficiency | Not suited for extremely cold weather |
| Can work as both home heating and cooling system | Higher upfront installation cost |
| No ductwork required in case of ductless mini-split heat pumps | |
4. Hybrid Heating Systems
Now, we know that heat pumps are extremely energy efficient but on the downside they cannot operate in extremely cold temperature. This is where hybrid of dual fuel heating systems come into play. 
The hybrid heating system type is a combination of two systems. It has an air source heat pump, which is backed by a gas furnace to ensure optimal home climate even in extremely cold weather conditions. 
At moderate temperatures, your heat pump will run to maintain your desired home climate. When the outdoor temperature drops below 40 degrees a hybrid system shifts to the furnace – you will see Aux or EM Heat on your thermostat. 
This switch can be automatic depending on your thermostat settings, or you can manually switch over to a furnace when the cold hits. Smart thermostats such as the Cielo Smart Thermostat take into account outside weather conditions to decide if secondary heating is required or not. 
Cielo Smart Thermostat
Equip your HVAC system with smart features and achieve the perfect balance between comfort & savings.
Shop Now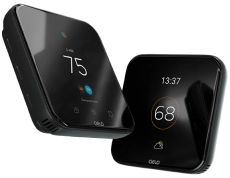 Related: What Is Auxiliary Heat? Explore Why Aux Heat on Thermostat Is Vital for Keeping You Warm!
In hybrid systems, both heat pump and furnace work together, so there's less strain on either of the units, ensuring longevity and fewer repairs. 
Hybrid heating system cost: $500 to $6,000
| | |
| --- | --- |
| Pros | Cons |
| More efficient than traditional heat pumps and furnaces | Not necessary if you live in a warmer environment |
| Maximizes energy savings | Requires regular maintenance |
| Highly suitable for extreme temperatures | |
| Requires fewer repairs and can last for a long time   | |
5. Gravity Air Furnace Systems
Also known as an 'Octopus furnace,' this type of house heating system is hardly seen nowadays, but you will still find it in older homes from the 1900s or before. They are not very energy efficient but easy to maintain and long-lasting, which makes them still standing in some homes! 
This heating system is a furnace, but it works slightly differently than traditional furnaces. 
Instead of forcing hot air into your home, gravity air furnaces make use of natural convection currents to heat up your home. Natural convection refers to the tendency of most fluids to become less dense when they are heated, and as a result, they rise. 
The heart of the gravity air system is a furnace, typically installed in the basement, which heats up the air. This hot air then naturally rises into your rooms, while cool air returns to the furnace through cold-air return ducts. The best part? No need for electrical fans or blowers, as the hot air is distributed throughout your home via metal ducts.
However, on the downside, the temperature will take time to adjust because this furnace relies on the natural phenomena & physics of hot air rising & cool air sinking. 
Gravity air furnaces traditionally relied on coals, but modern systems use natural gas, propane, oil, or electricity as a fuel. This heating unit requires little maintenance since it has fewer parts and can last quite a long time.
| | |
| --- | --- |
| Pros | Cons |
| Requires little maintenance | Takes time to reach your set temperature |
| | Less energy-efficient than newer furnace models   |
| Quiet operation | Large size that takes a lot of space |
| Can last a long time | |
6. Electric Resistant Heating Systems
During colder months, many homeowners look for supplemental heating systems for areas such as garages, basements, or sunrooms where primary heating systems may not be available. Electric resistance systems are the sought-after house heating systems in this category. 
Related: Best Sunroom Heaters: Cozy Up Your Space During a Cold Spell
These heating units have a simple installation process; you just have to plug them directly into the electric socket, and you can start using them right away. They are portable, which means you can easily carry them around. Another great advantage of electric heaters is that they do not require any ductwork or any other equipment, which means little to no maintenance.
There are two common electric-resistant heating units:
Electric Baseboard Heaters –They are installed at the bottom of the wall, hence the name baseboard heaters. These are not simple 'plug and play' electric heaters but are rather hardwired on the wall, making them more permanent. Electric baseboard heaters consist of a thin metal rod with fins, and as electricity is passed through, the fins heat up and warm up the surrounding air. The hot air slowly rises from the bottom and heats up your entire room.
Electric Radiant Heaters – These work by radiation process, warming the objects in your room rather than the air. These heating units are installed near the ceiling so heat is directed toward the occupants of the room. They provide more focused heating and are more efficient than baseboard heaters.
Despite their convenience and ease of use, these electric home heating systems are not typically used as primary heating sources due to their relatively high electricity costs.
Related: Keep Your Heating Bill in Check With These 13 Tips
Electric resistant heating cost: $450 to $1,200
| | |
| --- | --- |
| Pros | Cons |
| Portable – can be taken from room to room | Use a lot of electricity and can result in high bills |
| No major installation required | |
| Affordable  |   |
7. Active Solar Heating
Active solar heating is a renewable energy technology that uses mechanical or electrical equipment to capture, convert, and distribute solar energy for space heating or water heating. It collects solar energy from the sun to heat a fluid (liquid or air) and then transfers the heat to your home directly for hot water heating or space heating. You can also have it transferred to a storage system for later use.
Active solar heating systems comprise of collectors, controls for collectors, a heat storage tank, and a distribution system. Flat plate collectors are mostly used to absorb the heat. They can be filled with water, antifreeze, or any other liquid that has heat-absorbing properties. After the heat is collected, the controller sets the circulating pump to move the fluid to either the storage unit or a distribution system if immediate use is required. You can use a radiant floor heating unit, baseboard heater, or a furnace to distribute the solar heat.
One issue with active solar heating is that it may not be enough in cold weather, and you will have to rely on a backup system such as radiant heating systems, boilers, or heat pumps.
Active solar water heater cost: $2,000 to $4,000
| | |
| --- | --- |
| Pros | Cons |
| Eco-friendly way to heat your home   | Rely on traditional heating systems to function  |
| Helps to save on bills | Higher initial cost |
| | Requires backup power source |
8. Electric Space Heaters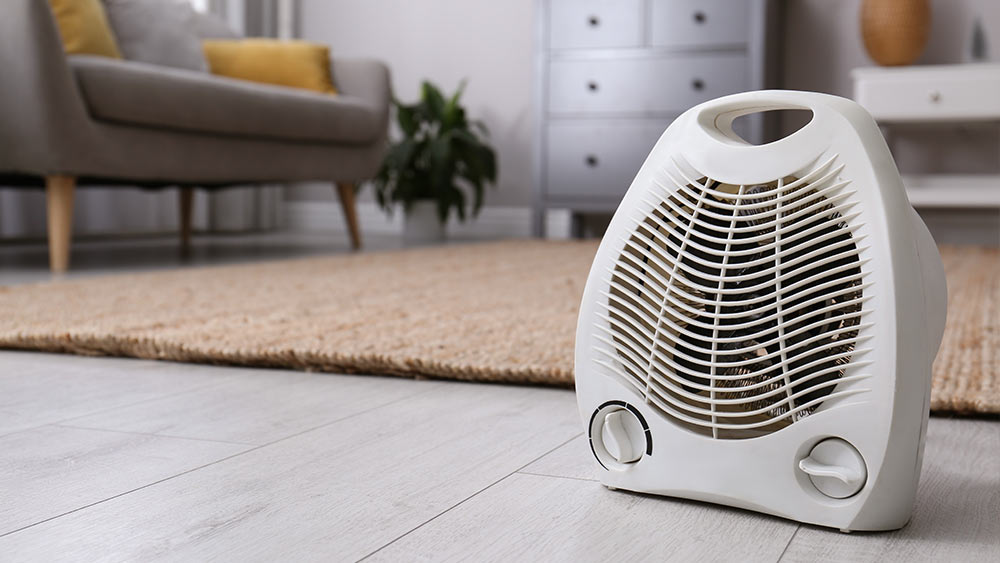 Whether you're looking to supplement your existing heating unit or heat up a small space electric space heaters are an affordable choice to keep you warm and cozy throughout the chilly months.
Also known as plug-in or portable heaters, they convert electricity into heat and start working instantly when you plug them in. They're easy to install and don't require any gas or venting, making them a convenient choice for those who want to avoid the hassle of dealing with complex heating systems.
Safety can be a concern with this type of heating system. It's best to opt for the models that automatically shut down over tipping and provide overheating protection. Here are some important heating safety guidelines you should follow in winter.
Electric space heater cost: $40 to $200
| | |
| --- | --- |
| Pros | Cons |
| Instant heat source | Won't heat your entire home   |
| Portable heating system for your home | Safety can be an issue if the unit accidentally tips over |
| Great option for small spaces | |
| Easy to install | |
Related: What Is a Space Heater? 8 Types With Their Pros & Cons
9. In-Floor Radiant Heating Systems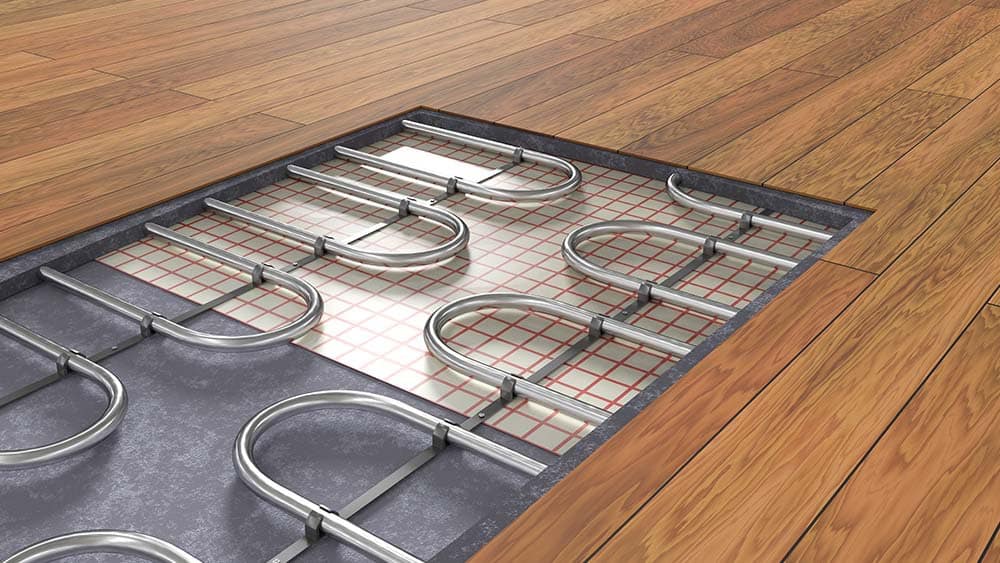 Imagine leaving your bed on a chilly morning and feeling a warm floorboard beneath your feet. Well, with radiant floor heating, you can!
The in-floor radiant heating system involves the installation of special tubes inside the concrete floors, sometimes in walls or even ceiling. Hot water is heated in a boiler or a hot water heater and is circulated through the pipes, providing even warmth from the ground up. Unlike traditional types of heating systems that heat the air, radiant heating uses thermal radiation to directly heat the floor. The source of the heat can come from oil, gas, propane, or electricity, leaving you with a choice that fits your lifestyle and budget.
Related: Radiant Wall Heating – Why It's The Perfect Solution
There are also radiant systems that have electric wires installed underneath the floor installed of water tubes. However, they are not as efficient as hot water systems and only work to keep your feet home instead of the whole area. You will mostly find them as a bathroom heating option.
Radiant heating takes longer to heat up your house as compared to a forced air system, but it provides a more consistent temperature throughout your space. This also helps to eliminate any cold spots in your home. On the downside, installing and maintaining radiant floor systems can be difficult due to underfloor pipes.
Related: Air Balancing: 16 Ways You Can Fix Hot & Cold Spots And Maintain Even Temperature
Radiant floor heating cost: $1,800 to $6,000
| | |
| --- | --- |
| Pros | Cons |
| Provides uniform heating | Expensive installation |
| Highly energy-efficient | Difficult maintenance and installation due to the underfloor piping system |
| | Takes time to heat up your home |
10. Hot Water Baseboard Heaters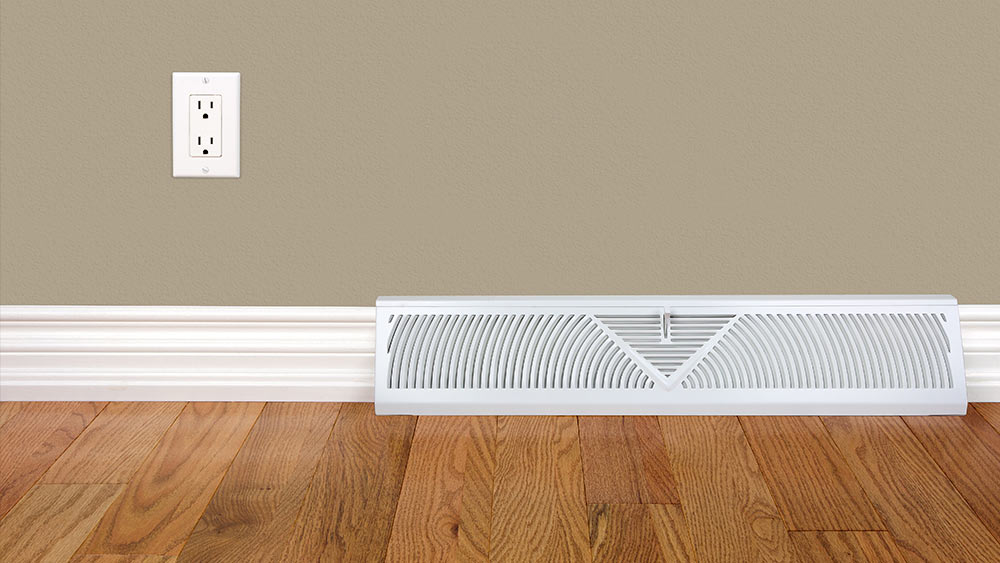 Baseboard heaters, also known as hydronic heaters, are a modern version of the traditional radiator units. These use a central boiler to heat the water, which is then circulated using water pipes to baseboard heating units mounted along the walls. The baseboard heater radiates heat into your room via thick metal fins made of steel. It works by natural convection as the hot air rises from the heater and cold air falls downward toward the baseboard heater.
The boiler used in the baseboard heating system can be powered by gas, propane, oil, or electricity. As separate baseboard heaters are installed in each room, this house heating system offers precise temperature control.
Hot water baseboard cost: $200 to $400
| | |
| --- | --- |
| Pros | Cons |
| Energy-efficient | Cannot be combined with air conditioning unit |
| Precise temperature control | If boiler stops working, your home pipes are at risk of freezing |
| Quiet operation | |
11. Fireplace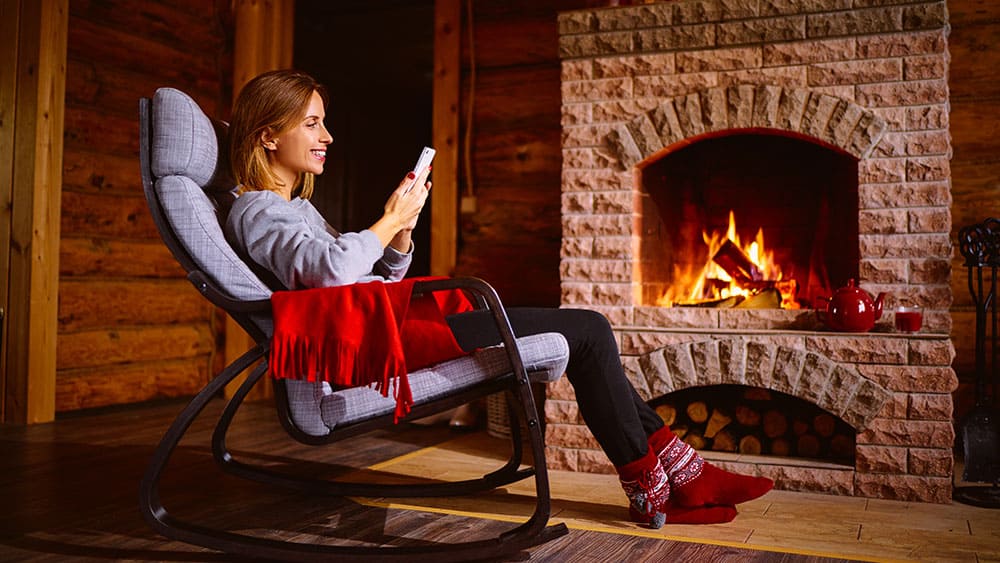 There's something special about snuggling up with a warm blanket next to a crackling fire. Indoor fireplaces not only add warmth to your living space but also offer a calming and relaxing ambiance.
In addition to the classic wood-burning fireplace, you can also opt for gas or electric fireplaces. The gas fireplace uses natural gas or propane. It burns cleanly without leaving any ash residue. Electric fireplaces are a modern alternative to wood or gas fireplaces. They are enclosed in a box and have coils that are heated when electricity is passed through them.
While fireplaces look great in your home, they are not the most efficient house heating system as much of the heat is lost to the chimneys. Also, wood-burning fireplaces can release harmful chemicals into the air which can impact your indoor air quality. 
Fireplace installation cost: $889 to $3,999
| | |
| --- | --- |
| Pros | Cons |
| Calming ambiance | Wood fireplaces release indoor pollutants |
| Easy installation in case of electric fireplace | High installation cost (wood and gas fireplaces) |
| | Wood fireplace cannot be left unattended |
12. Wood Heating
As winter approaches, homeowners are looking for cost-efficient ways to keep their homes warm. Wood is generally cheaper than other fuel sources and is quite readily available depending on where you live. Outdoor wood furnaces, boilers, wood stoves, pellet stoves, and masonry heaters are all options for wood burning.
Concerns over air pollution have led the Environmental Protection Agency (EPA) to implement strict regulations to limit smoke emissions from wood-burning heaters. Fortunately, technology has progressed to offer a solution, and pellet stoves have become a popular alternative. Pellets are made from recycled material and have less moisture content compared to wood. Dry fuel creates more heat and also emits fewer harmful pollutants. Their clean-burning properties make them a great choice for households who still want to enjoy the comfort of a wood-burning heater without the negative environmental impact.
Pellet stove installation cost:  $1,000 to $5,000
| | |
| --- | --- |
| Pros | Cons |
| Cost-effective heating system for your home | Can cause safety issues |
| Pellet stoves provide clean burning | Won't work for whole house heating |
Choosing the Best Type of Heating System for Your House
Choosing a home heating system is not a decision that should be taken lightly. This decision is an important investment that will affect your comfort and energy bills. With countless options available, it is crucial to take the time to compare different types of heating systems to find the one that best fits your needs and preferences. Furnaces and boilers are traditional options, while heat pumps work all year round and are ideal for moderate climates. For uniform heating, consider radiant floor systems, and for targeted warmth, electric space heaters are a great option. Before installing any system, insulate your home to maintain an ideal climate and prevent wasted energy. And of course, always prioritize safety by following installation and usage guidelines.