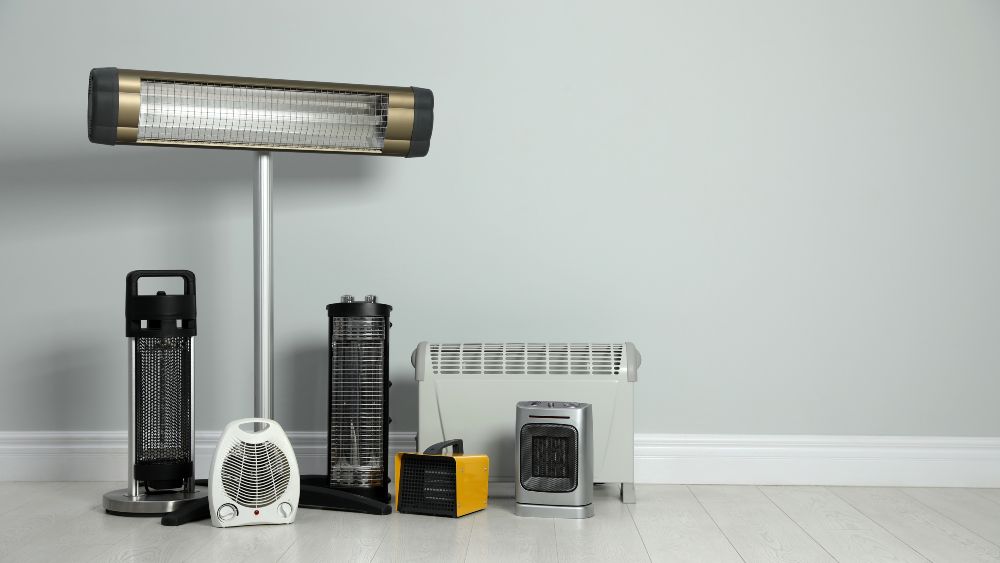 When it comes to staying warm in the winter, space heaters have become increasingly popular due to their convenience and affordability. They are designed to heat targeted areas or small rooms in your home.
These heaters offer mobility and flexibility, so you can easily carry them around and place them wherever you want heating. You can use them as standalone heaters or in conjunction with your main heating system, such as heat pumps or furnaces, to avoid cranking up the thermostat.
It's recorded that 117.74 million houses in the US use some form of space heating equipment. There are various types of space heaters, including convection, radiant, or combination, that you can consider depending on your requirements.
This blog explores various types of space heaters and key factors to consider when selecting one and other frequently asked questions.
All You Need to Know About Space Heaters
Types of Space Heaters
Space heaters mainly use convection and radiation heating mechanisms to provide heat. However, newer models use a combination heating method involving multiple fan speeds and heater settings.
Convection Heating
Space heaters that utilize the convection method work by warming up the air instead of objects or people around it. The hot air rises to the ceiling, pushing cooler air down to the floor, causing the circulation of air in the room.
The following space heaters operate on the basis of convection heating:
1. Ceramic Heaters
These heaters feature ceramic plates attached to metal coils. As electrical current flows through the coils, these plates absorb and emit hot air, creating a cozy atmosphere in your space.
Ceramic heaters are lightweight, and you can easily carry them around. They have a compact design but can quickly heat your room.
| | |
| --- | --- |
| Pros | Cons |
| | |
| Quickly and evenly heat the room | It can dry out the air in your room, leading to stuffiness |
| | |
Related: Is Dry Winter Air Affecting Your Comfort? Here are 21 Genius Ways to Humidify Your Home
2. Oil-Filled Radiators
They are referred to as radiator heaters as they resemble the radiating units found in older houses. These space heaters are filled with oil and have long, thin metal fins to radiate the heat. You just have to insert these plug-in space heaters into an electrical source, and they will start heating your space.
They take time to heat your space; however, they remain hot for a longer period. On the downside, they are hot to touch, and pets or kids can accidentally burn themselves. Plus, they can be tipped over, but newer models have an automatic shutdown feature that activates in case of tipping. They are also a fire risk as they are filled with oil, which is flammable.
| | |
| --- | --- |
| Pros | Cons |
| When heated, they stay warm for a long time | |
| | They work by utilizing oil-based fuel, so there is a danger of fire |
Related: Top 6 Air Conditioning Options for Radiator Heated Homes
3. Fan Heaters
The fan space heater works by heating the metal coil and blowing the hot air across the room. Its upfront cost is more affordable than other options, making it a great buying choice. However, you need to consider that these devices might increase your bills over time because they need to stay on to keep your room warm and cozy.
| | |
| --- | --- |
| Pros | Cons |
| | Heat stops transferring as soon as it turns off |
| | |
| | Constant running can be costly |
4. Propane Heaters
Propane heaters can be used both inside and outside. They are also known as blue flame heaters as they utilize natural gas as fuel. Burning propane produces carbon monoxide, which can be harmful, so it's best to open a window for ventilation when operating this heater in a confined space. Also, for safety purposes, make sure your carbon monoxide detectors are functioning.
Newer models have oxygen depletion sensors that automatically turn off when the oxygen levels drop in your room. As they do not run on electricity, they are an excellent choice to keep your home heated during winter power outages.
| | |
| --- | --- |
| Pros | Cons |
| Modern heaters have automatic low-oxygen shut-off system | Risk of carbon monoxide poisoning due to propane burning |
| | |
5.    Panel Heaters
Panel heaters have a slim, sleek design that won't take much of your floor space. They use electricity to generate heat and circulate it throughout your room.
| | |
| --- | --- |
| Pros | Cons |
| Stylish and modern design | These cannot produce as much heat as other heaters |
| There is minimum risk of fire | |
Radiant Heating
Radiant heaters are designed to warm up people and objects directly rather than heating the air. This means that you can feel the heat almost instantly when you're sitting in front of the heating unit.
One disadvantage of radiant heaters is that they can cause burns to people or animals who come into contact with it. Also, it can pose fire hazards if placed too close to flammable or combustible materials. To avoid these risks, it's important to always keep the heater at least three feet away from anything that could potentially catch fire.
Related: Radiant Floor Heating: Efficient Solution for Your Heating Problems
6. Infrared Heaters
Infrared space heaters offer a soft orange color, which can also serve as an ambient light. They operate by a radiant heating mechanism and warm up the objects in their surrounding instead of simply blowing hot air. You will start noticing the heat as soon as they are turned on; however, once they are off, the heat won't linger on for long.
They utilize lower wattage compared to radiators, which can help you save on electricity bills. In addition to being energy-efficient, infrared space heaters are also much safer, as they don't require any combustible materials to operate.
| | |
| --- | --- |
| Pros | Cons |
| It can target specific spots | Heat goes away as soon as it turns off |
| | Prolonged usage may cause skin discoloration |
| | |
7. Quartz Heaters
Quartz heaters are similar to infrared ones in the sense that they both use electricity to produce heat, but the difference lies in the materials they use. Quartz heaters use a quartz element to heat a room, while infrared heaters employ other materials like carbon fibers or tungsten to do the same.
They are energy-efficient as they use less energy as compared to ceramic heaters. They heat the objects in straight lines, so you have to be in the path of the heater to get the maximum warmth.
| | |
| --- | --- |
| Pros | Cons |
| | You'll have to sit closer to feel the warmth |
| | |
Combination Heating
Space heaters that work by combination method use a fan and a heating element to maintain warmth in your area.
8. Combination Fan and Heater
When it comes to finding the perfect appliance to keep you comfortable all year round, a combination fan heater is an excellent choice.
Myles Robinson, the head manager at Boiler Central, explains that combination fan heaters are typically made of electric heating components combined through a fan. When you turn on the heater, the fan will begin to blow hot air by passing air through the heated element."
As fan heaters provide both a fan and heat option, "They are a great solution for seasonal changes. In winter, you can use them to heat your space, while in summer, you will have the cooling fan option without the heater," Robinson adds.
Some models even boast a unique mode that allows the heater and fan to operate simultaneously, resulting in improved warm air distribution throughout the room.
| | |
| --- | --- |
| Pros | Cons |
| | |
| Works in both summer and winter | |
| Pet-safe space heater as it does not pose a burn risk | |
| Multiple fan speeds and heat settings | |
10 Best Space Heaters for Your Home
We have compiled a list of the 10 best space heaters that you can purchase from Amazon.
1. Vornado VMH600 Heater
The Vornado VMH600 Heater is a striking, durable machine that effortlessly blends into any space.
With Vornado's signature vortex technology and intelligent auto climate control features, this heater circulates warm air throughout the room, eliminating cold spots and quickly bringing your living space to a toasty, consistent temperature.
Take control with the adjustable thermostat, ensuring precision in maintaining your desired warmth. It also boasts quiet operation, perfect for those moments when you need to focus or catch some sleep.
Safety is paramount with the VMH600 Heater, equipped with a cool touch exterior, overheat protection with a 2-stage automatic safety shut-off, and a tip-over switch for your peace of mind.
2. Vornado AVH10
It is an electric space heater that circulates the warm air in your room without using intense heat. This is comparable to how forced air heaters work, just on a smaller scale. This space heater has an automatic climate control feature that intelligently assesses the room's needs and makes temperature and circulation adjustments accordingly without requiring any input from your side.
Vornado AVH10 ensures safety with features like tip-over protection and automatic shut-off, providing peace of mind, especially in households with children or pets.
The AVH10 operates almost silently, with its 2 quiet settings  – Low/750W and High/1500W. You can also run it in fan only option to reduce energy consumption.
3. Lasko 754200 Ceramic Heater
The Lasko Ceramic Space Heater is one of the top-rated ceramic space heaters on Amazon. Its compact and portable design makes it easy to move around, and it operates quietly so you can enjoy warmth without any distractions. It produces a direct stream of hot air, warming the area in front of the heater so it's only suitable for small spaces.
Thanks to the adjustable thermostat and 11 different temperature modes, you are sure the settings perfectly fit your needs. The Lasko space heater has overheat protection and a cool-touch exterior, but it lacks an automatic tip-over safety switch.
4. Dreo Atom One Space Heater
The Dreo Atom One Space Heater is a versatile, efficient heating solution perfect for your home or office. Its compact yet powerful design delivers rapid and even heating up to 1500W working power, allowing you to combat the cold in your immediate vicinity. The exclusive trackball system ensures smooth and quiet oscillation, so you can enjoy uniform heating coverage throughout the room, even reaching those hard-to-reach corners.
Not only is the Dreo Atom One effective, but it also focuses on lowering your energy consumption levels with its ECO mode. Plus, you can enjoy worry-free operation with its safety considerations, including overheat protection, an enhanced safety plug, and a tip-over switch.
Related: 10 Best Office Space Heaters for a Cozy Workplace
5. Honeywell HeatGenius Ceramic Heater
With its intelligent and powerful ceramic heating capabilities, this air heater can warm up any room or floor area with just the touch of a button, ensuring comfort all winter long. It also has a programmable thermostat, making it simple to control its settings.
The smart savings it offers are a bonus; it claims to save up to $276 in heating costs. Safety is a top priority with the Honeywell HeatGenius; with tip-over and overheat protection, you can rest easy knowing it will automatically shut off in case of accidents. Other safety measures include 3x Overheat protection and thermal insulated wiring.
6. Atomi Smart WiFi Tower Heater
The Atomic Tower heater utilizes energy-efficient ceramic technology to warm the air in seconds. It has an Eco function that automatically adjusts the heat and power settings to save energy once the desired temperature has been reached. With 45° oscillation, it distributes the heat evenly around your room.
This sleek and modern heater has smart functionality, allowing you to control it with ease from your smartphone or through voice commands using Amazon Alexa or Google Assistant.
With its electronic tip-over mode, it automatically turns off the heater when activated and sends a quick message to your phone to keep you in the loop. It also includes automatic overheating protection and cool-touch housing.
7. Lasko FH500 Fan & Space Heater Combo Tower
With its sleek, vertical design, this Lasko Tower heater is perfect for small apartments with limited space. It works by convection method to swiftly and consistently warm up any room. The digital control panel and remote control make it super easy to use.
This space heater is a two-in-one appliance with a fan and heater combined. You can use it in heat mode in winter and fan mode in summer to create better air circulation. Thanks to its tip-over safety switch and overheat protection, you can use this heater worry-free for long periods.
8. Vornado Vheat
This vintage-inspired space heater combines timeless design with modern technology to bring comfort and charm to your living space. It gently heats the air in your room without using intense heat. As it delivers a stream of hot air to heat the object right in front of it, it is not good at spreading that heat around the room. Vornado Vheat has safety features like tip-over and overheat protection for peace of mind.
9. Amazon Basics 1500W Oscillating Ceramic Heater
The Amazon Basics 1500W Oscillating Ceramic Heater is a reliable and cost-effective heating solution designed to warm up any size of living space efficiently. With its powerful ceramic heating elements, this heater works by convection method to deliver a steady flow of warm air, ensuring a comfortable environment. Its oscillating option ensures the heat is distributed in multiple directions.
The adjustable thermostat settings allow you to fine-tune the temperature to your liking. The Amazon Basics heater also features overheat protection and a tip-over switch, automatically shutting off in case of overheating or accidental tip-over.
10. DeLonghi Oil-filled Radiator Heater TRD40615T
The De'Longhi radiator heater boasts an easy-to-use control panel that allows users to select temperature power levels and even program a 24-hour timer. However, what sets this heater apart from others is its design, which offers 75% more radiant surface area. This translates to more heat being transferred to your environment.
Additionally, the De'Longhi heater has a quick heat-up time, with warm air being rapidly distributed thanks to the increased convection heating effect. This heating device delivers gentle warmth and doesn't dry out the air, making it safe for those with sensitivity to dust. It has an ECO Plus function that regulates power and temperature to manage energy consumption, thus reducing your bills.
Buying Considerations
Choosing the right space heater requires considering your specific needs and the size of the area you want to heat. If you need quick warmth for a specific spot, go for a radiant heater. If you want to heat an entire room, convection heaters are the way to go. You can also consider the following when making your choice of purchase.
For a reliable and efficient heating solution throughout the day, opt for a convection or a combination space heater. These models effectively warm up the air in your room.
Radiant space heaters are the perfect solution for rapidly heating smaller spaces. You can place a radiant heater in front of you while relaxing in your favorite lounge chair or cozying up on the couch for instant warmth.
Heating Capacity & Room Size
The heating capacity of a space heater determines the amount of heat it can produce and the size of the room it can effectively heat. For instance, a small space heater with a heating capacity of 500 watts can heat a small room, while a larger heater with a capacity of 1500 watts can heat a larger room. Determine your room's square footage, then check your heater's capacity to ensure it can work effectively in your space.
Infrared heaters can quickly warm up a space, so they are suitable for larger rooms with open concept. For small rooms with lots of furniture pieces, ceramic heaters and fan heaters are ideal as they help to circulate the warm air evenly.
The cost of running a space heater will vary depending on how often you use it. If you only use it for a few hours per week, the price will be less than using it as your primary source of warmth each day. Also, the wattage of the heater directly impacts the amount you pay on your utility bill.
You can calculate the cost by multiplying the wattage by the electricity cost in your area.
When it comes to selecting a space heater, many factors come into play. The brand and the heat output can significantly affect the final price point. Convection heaters typically range from $40 to $200, and radiant heaters are priced between $50 to $150. Combination heaters can range between $60 and $120.
Waiting until the onset of winter to purchase a space heater can put a damper on your budget. Therefore, it's a good idea to consider shopping during the spring or summer instead. You may be able to secure a great deal on your heater of choice before the cold weather arrives.
Space heaters pose a significant fire risk, resulting in 1700 residential fires each year, as reported by the U.S. Consumer Product Safety Commission. Fortunately, modern models are equipped with essential safety features to address these concerns.
It is essential to select a heater that includes a built-in thermostat and overheat protection to ensure the safety of your home. This enables you to set your preferred temperature while providing automatic shut-off in case of overheating. Additionally, many heaters now incorporate tip-over safety switches, instantly turning off the device if accidentally knocked over.
Warning: When purchasing a plug-in space heater, ensure heating safety by remembering to check the plugs and cords thoroughly. Avoid the potential fire risk by plugging your space heater into an open outlet. Never plug them into an extension cord.
FAQs
Here is a list of the most frequently asked questions about space heating:
Are Space Heaters Safe to Leave on All Night?
Space heaters are safe to leave on overnight as long as they have safety features such as overheating protection and automatic shutdown in case they are tipped over. Also, make sure to place heaters on stable surfaces, away from anything flammable. And above all, meticulously follow the manufacturer's instructions and safety guidelines.
Do Space Heaters Use a Lot of Electricity?
Although they can warm up small spaces effectively, they tend to gobble up a significant amount of electricity. Boost your energy efficiency by opting for a space heater with adjustable thermostats and energy-saving features—and only use it in occupied rooms.
Using a space heater to supplement heating in a targeted area might save you money compared to heating your whole house.
Can You Plug a Space Heater Into a Surge Protector?
To minimize the risk of fire, it is important to always plug your space heater directly into a wall outlet. Avoid the use of surge protectors or extension cords, as these can overheat and increase the potential for fire hazards.
Can You Get Carbon Monoxide Poisoning From a Space Heater?
Space heaters are a leading cause of carbon monoxide poisoning. If you choose a kerosene or natural gas-powered heater, make sure it has built-in safety features that automatically shut off when oxygen levels in the room are low, preventing CO exposure.
Can Space Heaters Trip the Breaker in Your Home?
Space heaters can trip your circuit breaker. This signals an overload on the circuit. To prevent this, always remember to turn off and unplug the heater when it's not in use.
Final Word: Are Space Heaters A Good Idea?
Whether you aim to reduce your heating bills, add warmth to a chilly room, or use them as a supplementary heating system, space heaters offer a flexible and efficient heating solution. There are various types of space heaters you can buy. Convection heaters work by heating the air in the room and circulating it, while radiant heaters emit heat directly to objects in the space. A combination fan heater can work in both summer and winter.
When buying a space heater, it's crucial to carefully weigh factors such as energy efficiency, performance, and design to find one that suits your specific needs. Additionally, prioritize safety when making this significant purchase. By considering these factors, you can make an informed decision and enjoy the many benefits that a space heater can offer while keeping your space cozy.