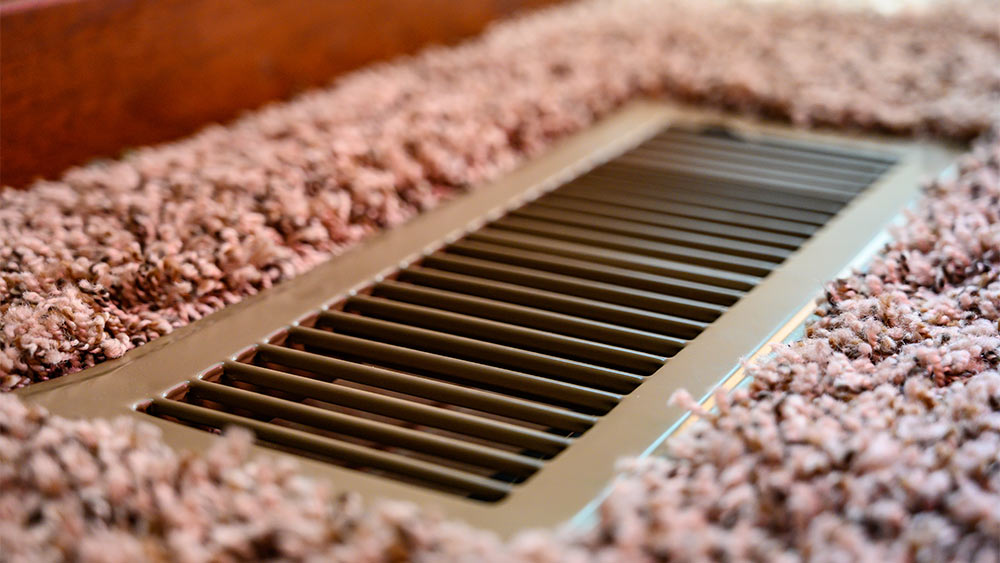 Forced air heating is, without a doubt, the most popular heating option for many homes around the country. Whether people opt for this system for its low cost, convenience, or some other reason, there is no denying that forced air systems have become almost synonymous with home HVAC systems.
Yet, despite its popularity, you might still find yourself wondering, what is forced air heating, and is it the best option for you? Let's find out!
What Is Forced Air Heating?
As the name implies, forced air heating systems use air as a heat transfer medium. These systems typically have a furnace that helps heat the air up, ductwork, and vents that disperse the air throughout your home. Forced air systems can be of many different types like forced air furnaces, heat pumps etc.
Head over to this link for a comparison between a heat pump and a furnace.
How Does a Forced Air Heating System Work?
Forced air furnaces can heat air in various ways, such as burning natural gas, heating oil or propane, or even electricity.
In the case of gas furnaces, gas ignition warms up a heat exchanger. Cold air from home is sucked in, which then absorbs this heat. For electric furnaces, moving air absorbs heat from high-resistance wires.
The heated air is then pushed into your home's ductwork that circulates throughout your home with the help of a fan or blower.
Components Of a Forced Air Heating System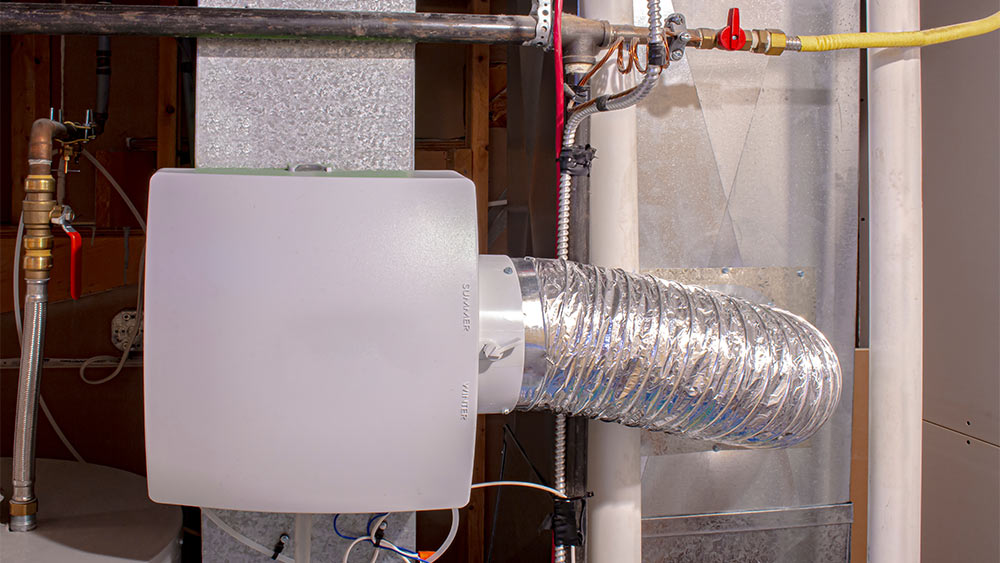 Different types of forced air units can have slight variations in how they're made up. But they all have a thermostat to regulate temperature along with some common components as follows:
Blower fan – The blower fan draws in air for the system to heat. This air passes through a filter that removes indoor air pollutants such as pollen, pet hair, dust, and other contaminants.
Heat source – A heat source is necessary to warm air up before it's sent to the rest of your home. This heat source can be a fuel-burning furnace that uses natural gas, oil, or propane. It can also be an electric furnace that uses electricity and a metal heating element.
Heat exchanger – The heat exchanger transfers heat from the heat source to the air. This element also holds back combustion gasses such as carbon monoxide.
Air ducts – Air ducts are how conditioned air gets to various parts of your home. These ducts are tubes made of stainless steel, fiberglass, or insulated plastic and are located in either the ceilings, walls, or floor of your attic or basement.
Air registers – Air registers are the part that connects the ducts to the floor, wall, or ceiling of your rooms. The registers are often protected with slats or metal covers.
Return air vents – As conditioned air enters your home, the existing air needs a place to escape to balance air pressure. This air can exit through return vents that suck air from your home back into your HVAC system. You can tell return vents from supply vents by checking for an outward airflow or comparing the size since return vents are slightly bigger than air registers.
Air plenum – If your forced air heating system is connected to a network of ducts, it will likely have two plenums. This box connects to the main HVAC system and brings in, distributes, or removes air.
The Pros and Cons of Forced Air Heating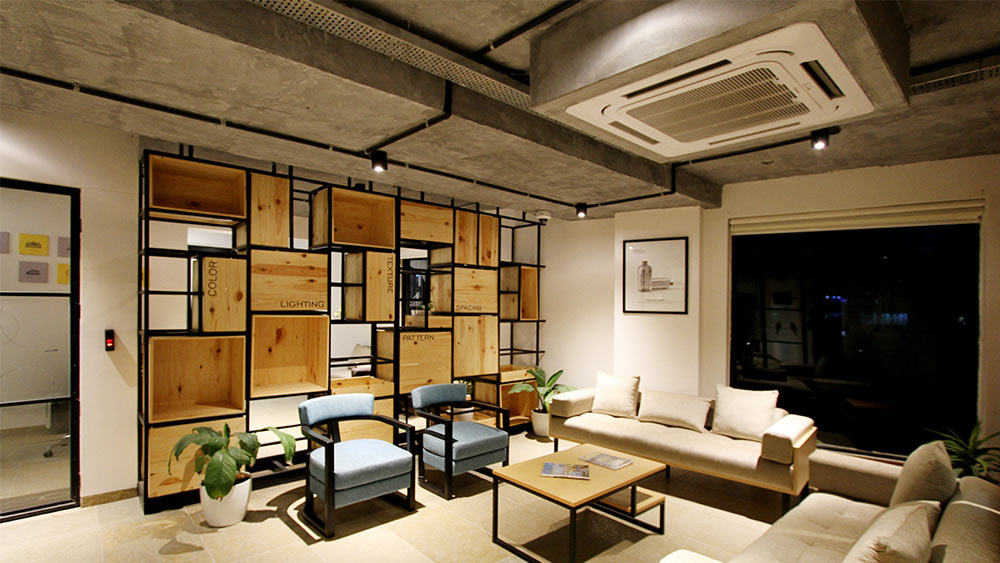 Now let's move on to whether or not forced air heating systems are ideal for your home. To answer that, we need to look at the pros and cons of forced air heating.
Pros of Forced Air Units
Forced hot air heater comes with lots of benefits. Here are some:
Energy Costs
Forced air heating systems are cost-effective to run. These systems normally use natural gas as a fuel source, which is affordable and easily available. Additionally, forced air furnace systems have undergone improvements that make them much more energy-efficient than systems in the past.
2. Heating Time
If you're looking for a quick way to heat your home on the coldest of days, look no further than forced heating systems. Not only does air heat up faster than water, but the system forces this air into your room so that it travels faster and warms the room quicker.
3. Easy to Install
Forced air heating systems can be added to existing ductwork, lowering their installation charges. On the other hand, radiant heating systems require extensive refurbishing of the house, which can be quite costly.
4. Reliable
Forced air heating systems are durable and can last a long time, especially if the system uses furnaces. The parts in this system are also easy to find and replace; hence aren't very costly.
5. High Indoor Air Quality
One of the major perks of forced air systems is that they can help improve indoor air quality. Air filters remove any contaminants from the air, making it cleaner and healthier. Also, having a furnace gives you the option to add an air purification system or a humidifier to the system itself instead of having these as separate smaller systems for each room.
6. Compatibility with Smart Devices
Smart AC controllers and smart thermostats can save you a lot in energy costs. Forced air heating systems are compatible with these climate control devices. You can have a single thermostat for your entire home or multiple ones to create HVAC zones around your home.
Cielo Smart AC Controllers
Your best choice to make any mini-split, window,
or portable AC smart. Enhance your comfort and savings.
Shop Now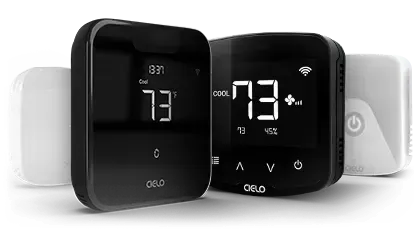 Cons of Forced Air Heating
Forced heating systems also have some downsides. Listed below are some of them:
Noisy
Forced air heating systems are notorious for being noisy. While this issue isn't as bad as it used to be, it still exists and is one of the biggest downsides of having forced air systems. However, noise rarely ever discourages anyone from getting these systems since there are numerous ways to curb annoying air conditioner sounds. 
2. Health Concerns
Dust and mold can accumulate in air ducts over time. As the system pushes air through ducts, these contaminants can spread to your home. Mold also poses serious health concerns. You can mitigate this issue by replacing air filters often, performing routine duct cleaning, and by removing the mold from your home's air ducts.
3. Lowered Efficiency
As air passes through long ducts, it can cool down or leak out from gaps or cracks in the ducts, causing energy loss. Leaky ductwork can also lead to pollutants getting into your house or cause ductwork sweating that can ruin your home's insulation.
4. Centralized Control
Most forced-air heating systems have a central HVAC unit that then controls the temperature all over the house. Since the entire home is controlled by one thermostat, there is no room for personalized climate zones and causes a waste of money by heating rooms that aren't occupied. One possible solution to this is to use HVAC dampers to close off areas that don't need heating.
5. Costly Installation
While forced-air heating units aren't very costly, installing new ductwork can make it very expensive. Since installing ductwork isn't an easy DIY project, you'll need to hire a professional, and costs can quickly add up.
6. Extensive Upkeep
Since most forced air heating systems use ducts to deliver air to the farthest part of your home, you can expect much more costly maintenance. For example, ducts need cleaning every three to five years, air filters need replacing more often like every two or three months, and other mechanical parts might need regular servicing.
Is Forced Air Heating the Right Solution for You?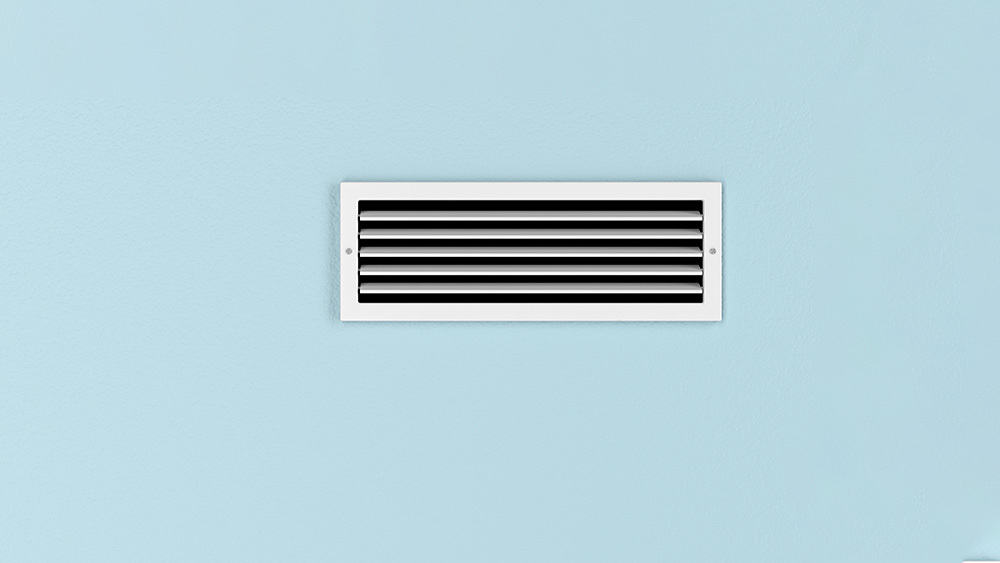 Forced air heating comes with many perks, such as easy installation into existing ductwork, low operation costs, quick heating time, and better indoor quality. However, like all other heating systems, forced air heating also has some downsides, such as low efficiency due to air leaks or long ducts, noisiness, and high installation costs if you don't have ductwork. So, the answer to whether or not you choose this system comes down to whether or not you have existing ductwork and your overall budget.