Have you cleaned your air conditioner's ducts in a long time? They might have skipped your mind since they're out of sight. Some of you might be thinking of conducting a thorough HVAC duct cleaning process after seeing multiple advertisements going on. It might be intriguing considering the ongoing COVID-19 situation and the talk around breathing clean air. Even if you have not found any physical evidence of the dirt, it just sounds logical to do it, right?
But you might not actually need air duct cleaning!
Read on to find out why unnecessary air duct cleaning can be a waste of money and a health hazard. Should duct cleaning be a part of your routine HVAC maintenance? Is it beneficial, or does it pose any health concerns? 
What Is Duct Cleaning?
Air duct cleaning refers to the cleaning of various components of the ducted system and, precisely, ducts. If you have central or ducted heating or cooling system, then ducts are spread all over your home. It includes cleaning of supply and return air ducts, coils, drip pans, fans, and air handling unit. In simpler terms, duct cleaning involves removing dust, vermin, and mold from all the components that are connected to the air passageway.  
Do You Need Duct Cleaning?
Now, you must be wondering that your ducts definitely need cleaning since you probably have never done it before, and a lot of filth may have accumulated inside. Well, the answer is no!
You don't need to clean your air ducts just because you've never done it, and it's been years of dust lying in there. This might come as a surprise to you, but this is what the US Environmental Protection Agency suggests. Also, there is no evidence to back any of the benefits of duct cleaning. Since there are no benefits and the service costs a fortune, it's advisable to drop the idea for air duct cleaning.
Cielo Smart AC Controllers
Your best choice to make any mini-split, window,
or portable AC smart. Enhance your comfort and savings.
Shop Now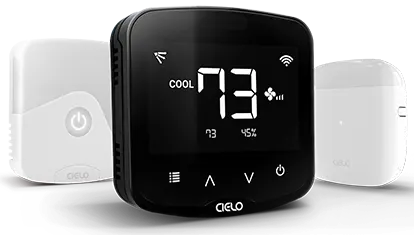 However, in some cases, duct cleaning can become essential; let's take a look at these.
Signs Your AC Ducts Need Cleaning
Although AC ducts do not require cleaning, at times, duct cleaning should not be avoided. During the maintenance schedule, just examine your ducts. Following are the important considerations for anyone who thinks their AC ducts need to be cleaned.
If you see mold growth in any of the components of your HVAC unit, then you definitely should be prepping for a duct cleaning process. To test the particles collected in suspicion of mold, they need to be tested from a laboratory to confirm that it is not any other substance that resembles mold. The test can cost around $50.
If rodents or insects invade your HVAC ducts, then it's a big yes for duct cleaning. They not only become a source of bad smell from your HVAC unit but also spread germs.
If you see debris and dust particles released into the air from supply vents, you should not delay duct cleaning. It indicates that the ducts have been clogged with an excessive amount of scrap.
Preventive Measures to Keep Your AC Ducts Clean
While there is no evidence that clean ducts provide better indoor air quality, you should still be taking preventive measures to keep your HVAC air ducts clean. If you eventually do need to clean them, it will be a costly and difficult process. Hence it is always a good idea to be on the safer side. Let's take a look at the steps that you can take to keep your ducts as clean as possible on a regular basis.
Change Air Filters Regularly
Use high-efficiency air filters and clean them on a regular basis. When the air filters become clogged, change them on priority. During routine maintenance, check that all filters are in place and there are no gaps through which air can escape. If you have a smart thermostat, then you can set reminders for when the next filter change is due.
Dirty air filters do not filter any airborne particles and keep on circulating them indoors. It is therefore recommended to wash them twice a month and change them after every three months. If you have pets at home, it is advisable to change them after two months.  
Clean Drain Pans and Cooling Coils
When getting your HVAC unit checked by a professional or during routine maintenance, get your drain pans and cooling coils thoroughly cleaned. The water through the process of condensation can get accumulated in certain parts of ducts. If left for a long time, it can become a source of mold growth.
Seal Supply Ducts During Construction
If a construction or renovation is going on in your home, then make sure you seal the supply vents. If left open, dust can enter the ducts through supply registers and settle in there.  
Vacuum Regularly
To keep the concentration of dust particles in your home to a minimum level, you should regularly vacuum carpets, rugs, sofas, and curtains.
Keep Your Ducts Dry
The presence of a high level of moisture inside the ducts can lead to mold growth. Therefore, moisture control is the only thing that'll keep the biological contaminants away from the ducts. Look for leaks and fix them if you can.
Maintain in-Duct Humidification
Some HVAC units come with in-duct humidification equipment. If your system has one, use it appropriately to maintain the moisture level recommended by the manufacturer inside the ducts.
Seal and Insulate Properly
Your home must have many non-air-conditioned spaces that might often go neglected. You should seal the attics and crawl spaces adequately to prevent water condensation. Also, it'll prevent moisture from entering the ducts and damaging the surface.   
Are There Any Health Concerns Linked to Dirty Air Ducts?
No evidence supports or gives a conclusive relation between duct cleaning and health concerns. However, as mentioned above, certain contaminants like mold or vermin may spread contaminated air throughout your house. In that case, cleaning your ducts becomes necessary. On the other hand, dust particles do not pose any threat when lying inside ducts.
If someone in your home suffers from allergies and you see a visible amount of dust inside your ducts, only then it is advisable to consider a duct cleaning project.
Is Duct Cleaning a Waste of Money?
Since duct cleaning costs a lot with no evidence of any benefits, we'd say yes! The dust particles accumulated inside ducts settle on the surface and do not enter the living spaces.
However, cleaning your ducts is not a threat unless done properly. On the other hand, if the service provider does not follow guidelines during the procedure, it can result in indoor air quality problems. In that case, you'd end up being at a loss than getting any benefit.
What to Expect from a Duct Cleaning Service?
If your final decision lands you with a duct cleaning service provider, then make sure that they are well equipped to conduct the procedure.
They should be able to open the access ports to examine the entire system easily. Before starting the cleaning process, they will inspect the system and see if there is any indication of asbestos. Asbestos is a fiber that forms a durable, flexible fabric to serve as duct connectors. While people commonly use them, you should avoid them due to high toxicity levels. The presence of asbestos requires specific cleaning procedures. Also, you should not remove asbestos or clean them yourself. Ask trained contractors who have the needed equipment for this job.
The vacuum used by the contractor should exhaust the dirt and dust particles outside of your home. Additionally, check if they are using HEPA filter vacuums during the process. Even if the waste material is exhausted outside your home, the contractor should protect your household items (like carpets, furniture, and so on).
If your ducts are lined with fiberglass, then the service provider should be using well-controlled soft-bristled brushes. They should be following NAIMA's suggested practices when dealing with fiberglass ducts.
At the end of the procedure, they should check for any holes that they have caused inside the ducts accidentally and repair them. Moreover, they should try to prevent the sealing from any damage. You should check all the access and make sure they are airtight at the end of the procedure.
The service provider should be following the global standard for the assessment and cleaning provided by NADCA.
How Much Does It Cost to Have Your Air Ducts Cleaned?
Duct cleaning is very costly. It can range from $450 to $1,000, depending on the things included in the service. The cost is calculated considering the size of your HVAC unit, the level of contamination, how accessible the unit is, and the climate conditions of your area.
Always lookout for an experienced service provider because some inadequately trained professionals might ask for less money and leave your HVAC unit for other costly repairs. 
Clean Air Conditioner Ducts – DIY
If you've no experience of cleaning on this big a scale and are not good with tools, then we'd recommend not to DIY.  The reason is that it might take a lot of your time than you'd expect. Also, if you don't have enough knowledge, you'd struggle to put together the pieces you'd have to open during the cleaning process.
Let's take a look at the tools you need and a step-by-step guide if you decide to start a DIY duct cleaning project.  
What Tools Do You Need?
Duct cleaning is a comprehensive process and consumes a lot of energy. It is best to collect all the tools that you need before you start the actual procedure.
You need to have heavy-duty gloves and masks to protect your skin. A vacuum cleaner helps in sucking all the dust particles. It is preferred to have the one with a longer hose for easy accessibility inside ducts. A power drill to open and close screws. Paper towel, soft cloth, and a soft-bristled brush to clean the surface during the process. At the end of the process, you'd need a furnace filter to replace the old one. Make sure to get one of high quality.
Step by Step AC Air Duct Cleaning
After you've gathered all the tools required during the process, you're all set to start your DIY duct cleaning project. Let's take a look at all the steps involved in the process.
The first step in the process is to identify the different vents. You can use a simple test to do so. Place a tissue inside the duct. If it sticks to the surface, then it's a return duct, and if it doesn't, then it's a supply duct.
The next step is to open all the screws from duct covers using a screwdriver or a power drill.
Cover all the supply vents using a paper towel to keep the dust particles from entering your rooms.
Set the thermostat to fan only so that the dust particles keep moving and do not settle at a place.
If you see any dampened deposits of dust and debris stuck to the duct surface, use a brush to tap the duct slightly. This will loosen the dust buildup.
Now, turn the vacuum on and place its hose inside the supply register. It'll suck all the dust particles. After that, you can also use mild soapy water to clean the inner surface with the help of a cloth.
After that, use another cloth to dry the wet ducts.
Then move on and clean the return ducts repeating the same process.
Now, turn off your thermostat and the power button. Make sure to cut all the electric supply before moving on.
Use a vacuum to clean the blower compartment as well as return the air boot. You can remove the panels and, using a vacuum hose, remove the dirt particles stuck inside its components. Also, clean the fan using a soft cloth.
 The final step is to replace your furnace filter with a high-quality air filter.
Even though these steps sound super easy, they are complicated to do in practice because of the complex components of the HVAC system that you'd be dealing with. Also, remember that this is a pretty basic cleaning procedure. If you suspect the presence of mold, vermin, or other bacteria during the cleaning process, leave it as it is and contact a professional.
After reading all the facts about duct cleaning, we hope you'd not be worrying about it anymore!