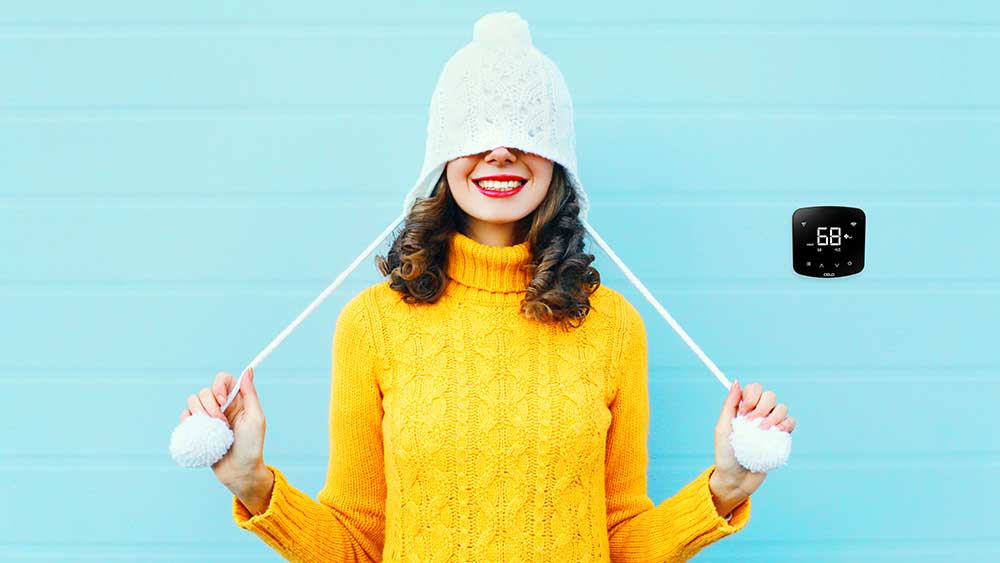 Cozy evenings, soft sweaters, pretty coats, snow angels, hot chocolate, and an overdose of coffee and soup, that is the vibe of winters. On the other hand, so is the feeling of extreme cold and a runny nose! Here we uncover 21 tips on how to stay warm in winter in the most economical way.
With summers over and bidding farewell to the 'Cool Mode' let's welcome the heat mode on our ductless ACs. You can always crank up the temperature of your heating and make your home warm and toasty. But then, you are likely to have an unkind surprise while opening up your next heating bill.
Wondering what would be the best way to stay warm in winters without turning up the thermostat? That's the question. Apart from heating, there are some other tips and tricks that can help you stay warm without getting stuck with an astronomical heating bill. So, what are those? Let's have a look!
1. Smart Heating Instead of Conventional Heating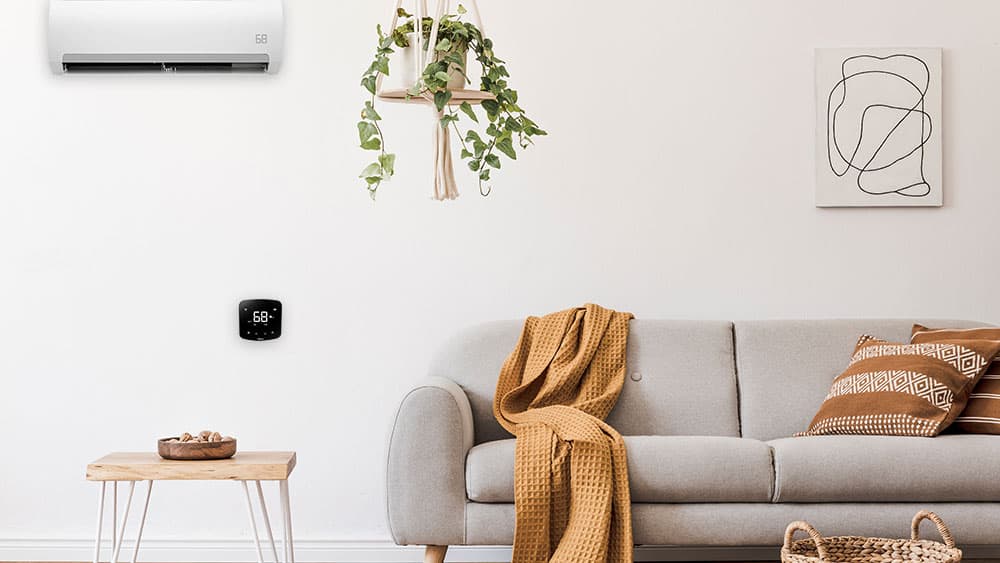 The first thing that we all turn to as soon as winter approaches is an HVAC system. Whether you rely on a heat pump, space heater, fireplaces or central ducted heating – this is the most convenient method to heat up the house. While you crank up your HVAC system, it's best to use a 'smart' solution to make it as energy efficient as possible and maintain the best possible temperature!
You can either use a programmable thermostat for a ducted system or a smart AC controller for a mini-split, window or portable heat pump. Smart AC controllers such as the Cielo Breez Plus have built-in temperature and humidity sensors that sense the current room temperature and adjust the air conditioning automatically to maintain the perfect room temperature. These devices can be controlled through smartphones, or web app, from anywhere in the world, at any time.
Other modes within these devices come in the shape of schedules and intelligent trigger-based modes. Through weekly schedules, you can set up a routine for your air conditioner. Using comfy mode, you can set a preferred temperature range and your AC can automatically maintain the temperature of your choice! Apart from having a perfect temperature and keeping warm, you get to save on your energy bills as no energy is expended on needless heating.
Cielo Smart AC Controllers
Your best choice to make any mini-split, window,
or portable AC smart. Enhance your comfort and savings.
Shop Now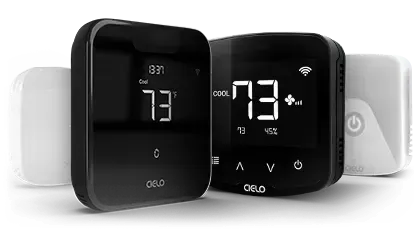 2. Special Gadgets Designed for Winters
If you're into tech or a gadget geek you're going to love this! While you start that fireplace, turn the temperature up a notch, seal off your windows, and hunker down you may want to look at some tech savvy solutions. 
Rechargeable foot warmers are heated in-soles intended to be placed in your shoes. When you are out in the woods or skiing, these little gadgets are a great help in keeping your feet warm. If you are at home and use your computer a lot, a heated mouse or mousepad would be a great tool to keep you comfortable without spending an extra amount on your utility bills. Heated jackets, heated gloves and caps, and smart duvets are all other technological innovations that give you 21st-century heating and a lot of convenience!
3. DIY Heating Equipment
If your area experiences unexpected power shutdowns or if you're tired of high energy bills, then you can try out DIY heaters.
For starters, you can make your own flower pot heater. All you need are a few tea lights and foil and terracotta flower pots. Other great DIY heating options involve a solar heater using tin cans, or a heating pad. Of course, these won't heat as good as an energy-powered heating source but would be a fun project. Also, you won't freeze when the power goes out!
But you need to be extremely careful when burning something indoors thus take all the necessary precautions and be careful!
4. Use of Humidifiers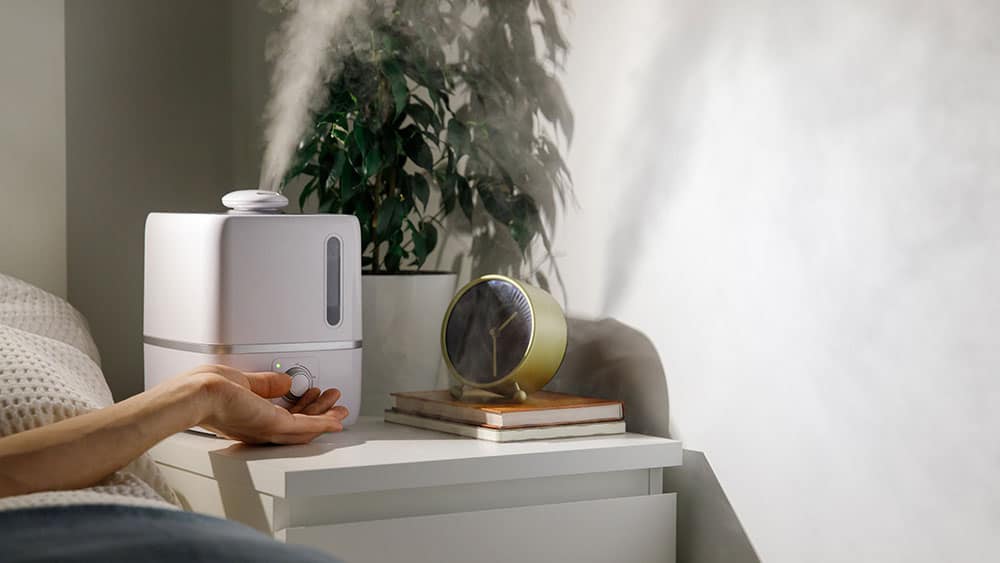 It is a well-known fact that humid air gives off a warmer feeling as compared to dry air. This is why it is a good practice to use a humidifier during the winter months and maintain a comfortable, warm environment. But there is a downside. Too much humidity, above around 50%, can actually be detrimental and contribute to growth of mold and bacteria.
Using heating appliances and fireplaces can suck out the humidity from the air. This can greatly dry up the atmosphere in your house. Dry air can give rise to irritability, dehydration, and respiratory problems. A humidifier can easily prevent these problems while maintaining the perfect level of humidity. It will keep the indoor environment sufficiently humid.
5. Economical Use of Appliances
Be it winter or summer, the choice of right appliances and how you use them contributes a lot to the temperature at home. The stove and oven both help in heating your kitchen space. If you're interested in trying out a slow cook recipe, winter is the best time to bring out the chef in you! Heat escaped from the stove or oven will help heat up their surroundings.
If you plan to bake during winter, leave your oven open for a while after you are finished (be careful if you have pets or children at home). This tip will allow the warm air to escape in the room and will help you stay warm!
6. Reverse Your Fans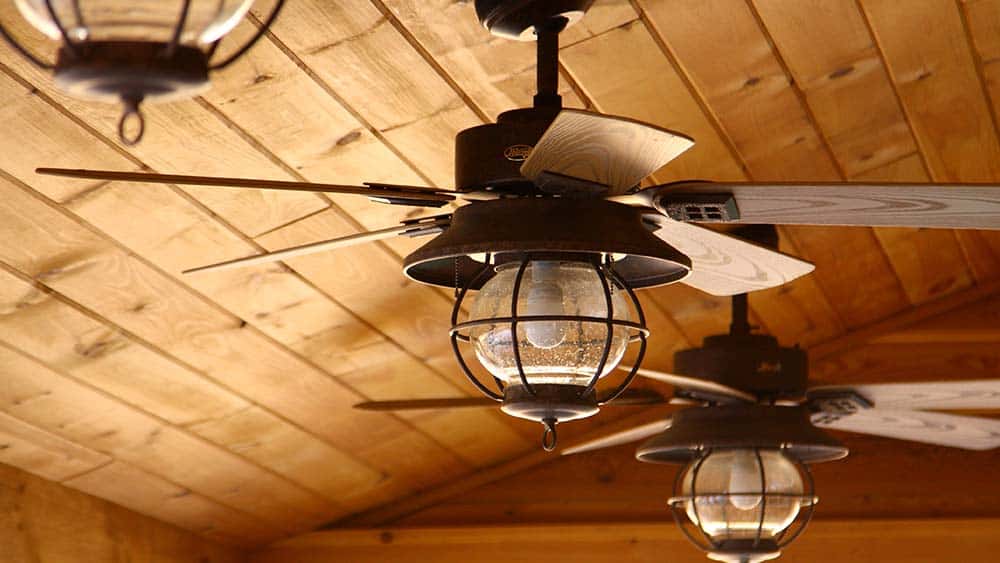 If you know the science, you'd know warm air rises while cold air settles at the bottom. In the summer months, a ceiling fan pushes air down and creates circulation, keeping you cool.
During the winter, it is a good idea to reverse the direction of the fan. Usually, there is a switch located on the fan, which allows you to do just that. If you cannot find it on the fan, consult the user's manual. In the reverse direction, the fan pulls the cold air up and pushes the warmer air down through the edges of the room, keeping you nice and comfortable in winter.
7. Run an Energy Audit
It is difficult to assess and know the changes that we need to make at the start of any season. These changes are essential and can help you lower your bills. If you cannot do it on your own, call your local electric company. They can help you assess your lifestyle, needs, and patterns of energy use. A professional will go through your home to check the home structure, appliances survey, and measurement of your home insulation.
Once you are done with the energy audit, the company can help you suggest and implement changes for more efficient energy consumption. This tip can help you lower your energy bills significantly.
8. Insulate Home Walls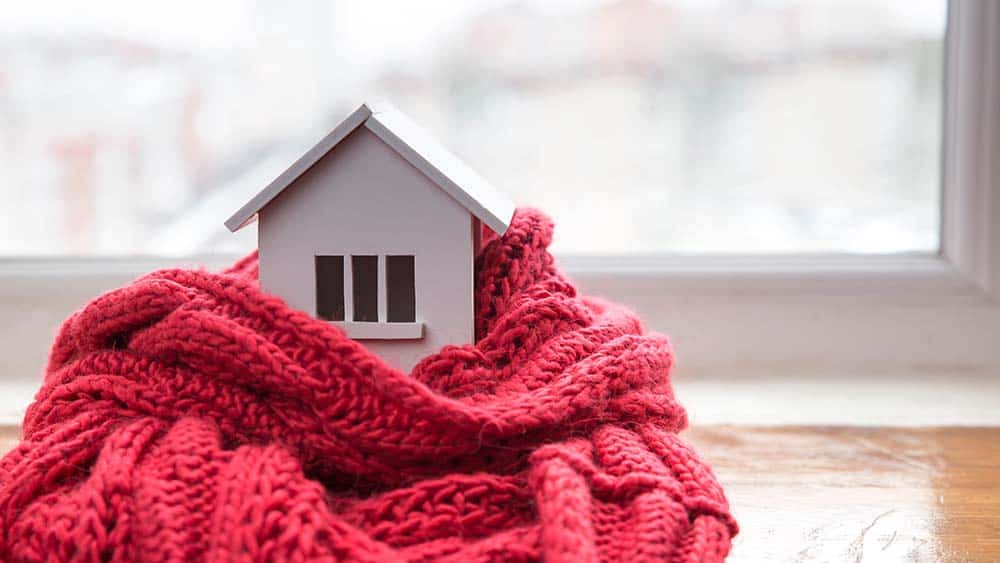 As an estimate, nearly half of all heat produced in a home is wasted through walls, doors, and windows. It is thus a good idea to insulate your walls and keep all the heat in, reducing your energy expenses and also keeping it toasty inside.
Polystyrene beads are becoming increasingly common as an insulation material, with expanding foam also being used previously. This material can be fitted in between the wall cavities. If space and construction do not permit the installation, they can also be placed either on the interior or exterior of the wall. The insulation serves as a barrier between the inside and outside, not letting heat escape. Further materials are also used on top of the insulation to ensure that the weather elements and moisture do not degrade the insulation over time.
9. Insulate Windows
Windows are also the surfaces from which you can quickly lose heat. As with walls and floors, you can insulate your windows to keep the warmth in and the cold out. Apart from putting up thick curtains, there are other options too.
Window films can be applied on top of windows to provide an insulating layer on top of the window. These films are made up of insulating material and closely resemble bubble wrap in appearance
10. Seal Any Leaks – Make the Room as Airtight as Possible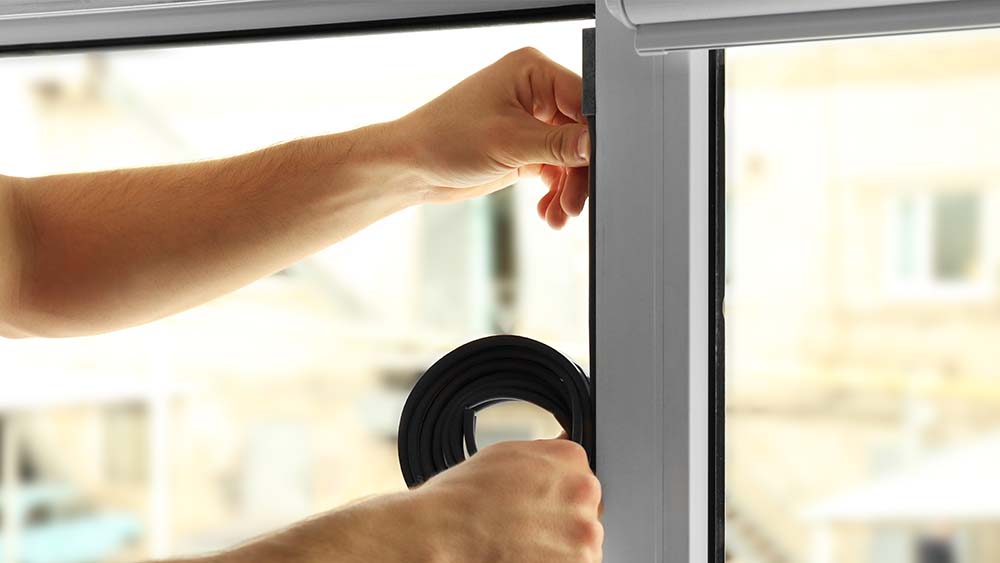 Introducing warm air in your room is one thing; keeping it inside is another. You should be doing everything possible to keep your home as airtight as possible during the winter months. So that not only does the warm air not escape, but cold air also stays outside. Doors, windows, cabinets, cracks in the flooring, and roofs are all common avenues through which the air can escape.
It is a very sound investment to draught-proof your home and seal up those holes and cracks. For starters, use a door snake to attach to the bottom of your door. Other useful items are weather sealing tape, door and window seals, silicone sealant, and caulkers. These are all DIY, 5-minute jobs that can easily be performed without any hassle, but they make a world of difference in keeping you and your home warm.
11. Rearrange the Furniture
A little rearrangement does not only give a nice feel to the room, but it might also help you stay warm during winter. Winter season is the time when you need to get strategic on where the furniture sits to avoid cold air hitting you from windows and the walls.
Move your sofa, dining table, or the armchair near a sunny window to take in the sun's heat. If you work from home, you can also place your desk near the window. Move your furniture away from a drafty window or poorly insulated warm to stay cozy in winter. Make sure to move your sofa or other pieces of furniture away from heating ducts or radiators so that the heat flows freely in the room.
12. Let the Sun Shine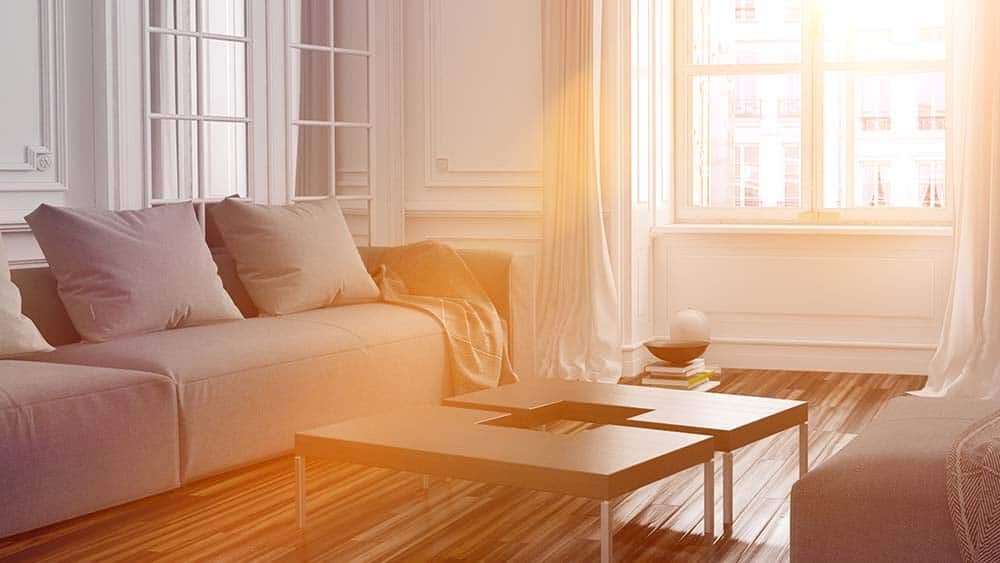 Although the sunlight in winters is not as intense as in summers, you can still benefit from it. If you are lucky to get natural light coming in directly from the sun in your living room, then open the curtains and welcome the sunlight. Make the most out of free heat! The rays will help you stay warm on the coldest of days.
When it starts getting dark, shut the curtains. Curtains also serve as an added layer of insulation over your windows and help you stay warm in winter. Look out for the gaps in curtains and make sure no cold air can seep through!
13. Rug Up!
Wooden floors or tiles might look fancy and sleek, but they do not warm up your house as well as a soft and cozy rug might. Most of our body heat is lost through our hands and feet, and a cold floor will only speed up this process.
Wondering how you can stay warm in winter if you have a concrete or wooden floor? One of the quickest ways is to invest in a fluffy rug! You can opt for bold colors to bright up your home too! These rugs can prove to be aesthetically pleasing, and they also bring a cozy feel to the room while adding a layer of insulation for your feet.
14. Hot Beverages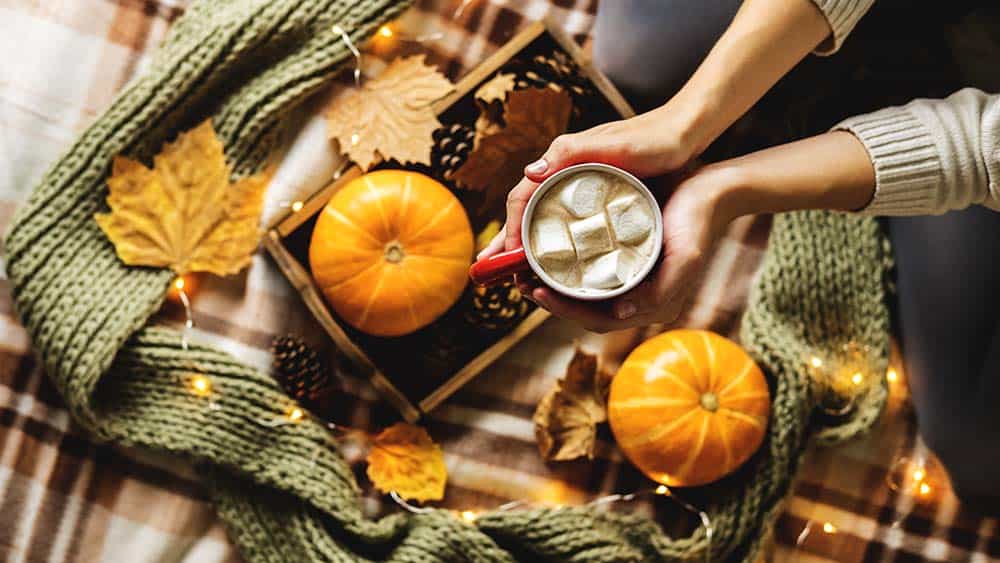 Who doesn't love hot chocolate, especially in winter? It's hot and warms you up on a chilly day. It does not only taste good but has been proven to be healthy. Research shows that chocolate increases oxygen saturation and microcirculation in your skin that helps you stay warm in winter. Moreover, the components of chocolate can help in increasing the feeling of calmness and contentedness. If you need an excuse for an extra dose of hot chocolate, this is it!
15. Eating Habits
Eating healthy is very important during winter to fend off flu and colds. Did you know that right choice of food can actually help you stay warm during winter? Eating food rich in fats during winter can help you stay warm in winter. A layer of body fat acts an insulation layer and protects you from cold.
16. Layer It Up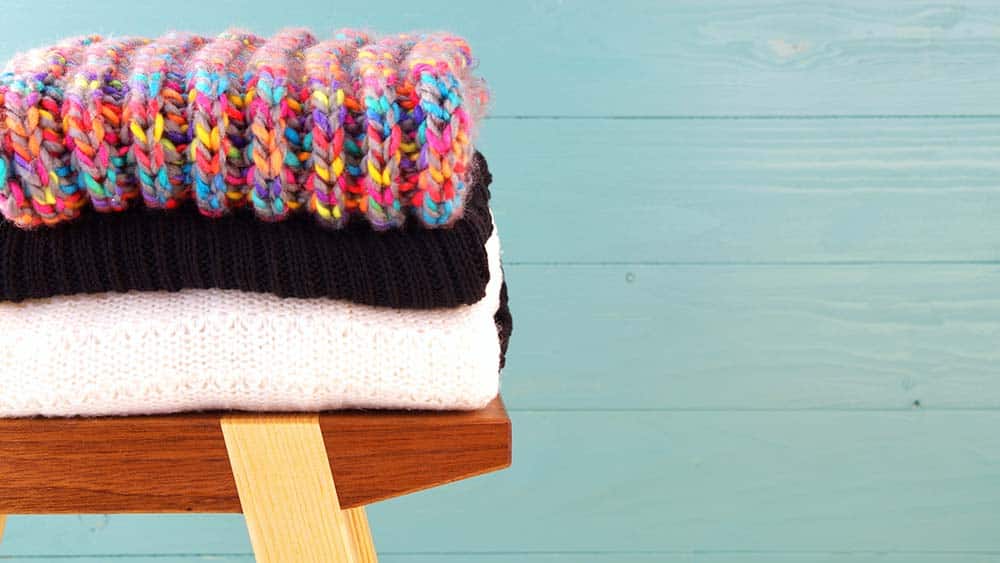 Ever wondered how to dress warm for winter? This is one of the trickiest questions because if you overdo the layers, you feel hot. If you loosen them up, you feel cold. What is the best strategy here?
The answer is Layers. Bundle up! Start with the thinnest layer, and keep adding heavier ones until you feel warm. You need to focus on three layers to help you stay warm during winter:
The Base:
The first layer should be made of silk, polyester, or some other material that can wick sweat away from your skin. Never use a material that will absorb the moisture but won't let it evaporate, leaving your base damp.
The Middle:
This layer is called the insulating layer. It is the workhorse in keeping you warm. Sweaters, hoodies, and fleece, etc. act as an insulating layer. Down coats can also serve as a middle layer in the coldest of temperatures.
The Outer:
This outer layer is less likely to keep you warm. This layer mainly blocks wind and rain. Your outer layer should act like wind and waterproof shell to stay warm in winter. Clothes made out of cotton, wool, or fleecy fabrics are recommended during the frosty weather. Wear warm socks or double layers of socks to keep your feet cozy on any chilly day.
17. Dry Your Socks and Clothes
As mentioned before, wet surfaces transfer cold more quickly as compared to dry ones. Make sure your clothes are absolutely dry before you wear them! Wet or damp clothes can be very uncomfortable to wear, and apart from leaving you cold, they can also lead to a foul odor.
Moreover, in winter months, damp clothes will not dry off for a long time when you are wearing them, leaving you uncomfortable and soggy throughout the day.
18. Hot Water Bottle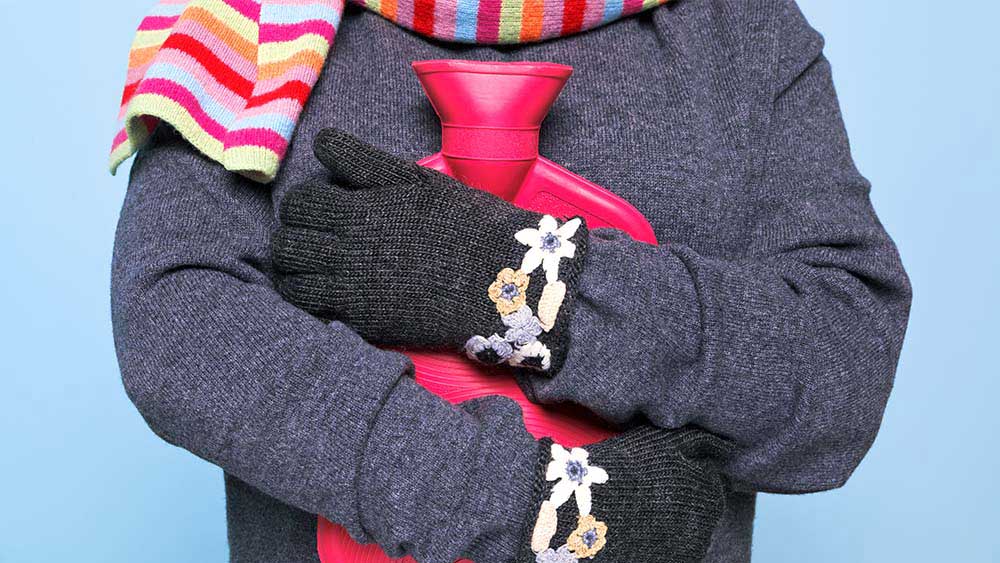 A hot water bottle can be a Godsend in the winter months, especially when you get into bed. This insulated bottle can be filled up with boiling water and be kept close to your body for heat. Due to the effective insulation of these bottles, they can remain hot for long periods and be highly effective in keeping you comfortable and cozy.
Hot water bottles can summarize all tips on how to stay warm in winter! Keep them close to you while lounging around, or pop them in the bed half an hour before sleeping. It's pretty easy to prepare a hot water bottle and the best part is that it has no dent on your energy bill.
19. Do Not Venture Out with Wet Hair
This should come as no surprise. After taking a shower or getting your hair wet, do not go out into the cold unless you have completely dried yourself, especially your hair. Wet surfaces transfer cold much more quickly than dry ones, and your head is especially sensitive to cold. Be sure to give yourself ample time to take a shower and dry off before you head outdoors.
20. Stay Active – Stay on Your Toes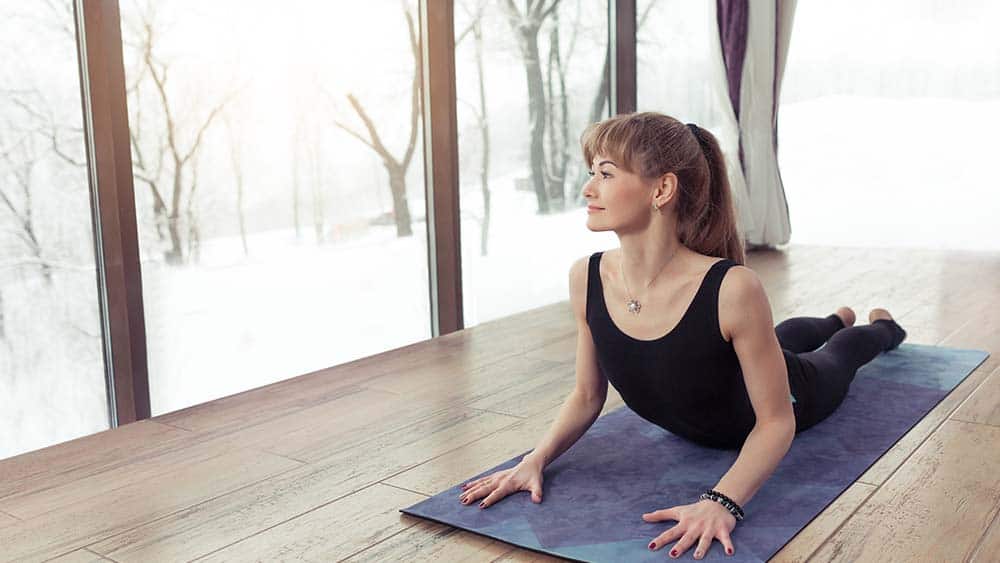 You should be staying active if you're concerned about how to stay warm in winter in a budget! Being energetic and moving around significantly boosts your blood circulation and helps to keep your extremities such as feet and hands warm.  It is recommended to keep on moving at least once in an hour. If you work at a desk job or sit around often, get up after every sixty minutes or so and stretch a little, take a short walk, and switch positions. A bit of light exercise will also help you keep warm.
21. Retain the Heat
In winter after a hot bath, let the water sit in the tub till the time it reaches room temperature. It would not only help you keep your bathroom warm but also help in balancing humidity at home. This tip will also help prevent dry skin problems in winter
Hot showers can build up steam and once you're done you can even open the door to allow the steam to escape and warm up your room! In fact, instead of using the heating in the bathroom, you can turn on your hot shower a minute or two early to warm up the space. 
Final Say on How to Stay Warm in Winter!
Winter months can be especially tricky if you want to keep warm without spending a fortune. These are some tips and tricks that can help you stay warm during winter, no matter how frightful the cold weather is. Not only do you remain warm, but also reduce energy expenses through the use of innovative technology such as smart AC controllers, and best practices such as sealing your home and dressing in layers. Follow the above-mentioned simple tips to enjoy a comfortable winter!
Here is to a start of the season that is going to lead us to a cozy, wonderful winter!