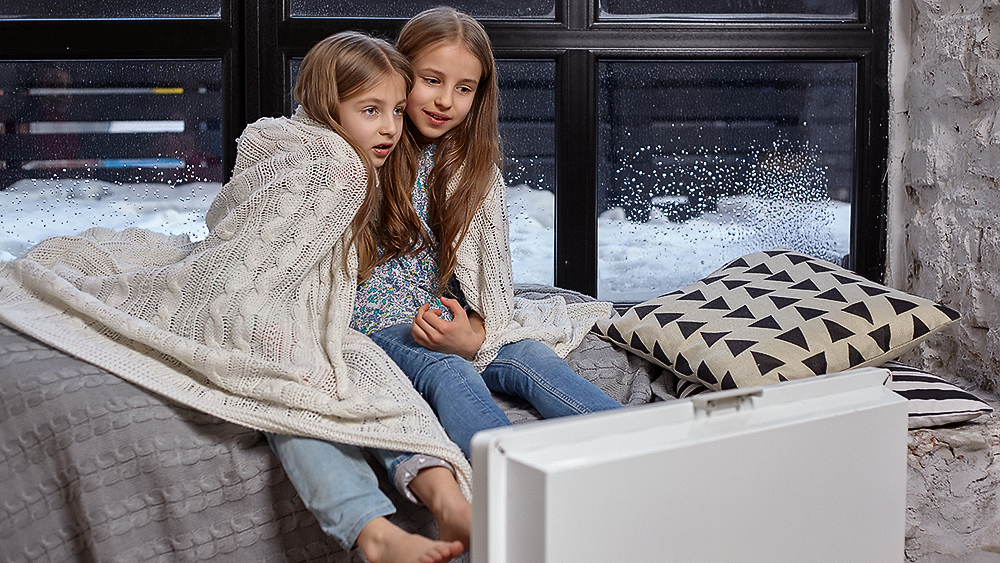 There's nothing cozier than curling up in front of your heating spot, reading a nice book, or watching your favorite show on a chilly evening. 
But did you know that heating equipment is the second leading cause of home fires and home fire injuries?
According to the American Red Cross, house fires increase between the fall and winter months, peaking in December and January. National Fire Protection Association reported that in 2020, the residential structure fires resulted in 2630 deaths.
But fret not! Most house fires are preventable, and therefore every homeowner should follow the heating safety guidelines. Whether you are using a space heater, a wood-burning fireplace, or a combination of different heating systems, you can safely heat up your home by taking precautionary measures. 
We have put together this guide to help you stay safe and relaxed in front of your nightly fires without having to worry about burning down your house. 
All the Heating Safety Precautions
General Heating Safety Rules
To make this winter season a smooth sail, keep an eye on these 10 home heating safety rules: 
1. Install a Smoke Detector & Carbon Monoxide Alarm
Once a fire has started, it spreads astonishingly fast. You need to know ASAP if a fire has begun, and for that, you require a smoke detector. According to National Fire Protection Association (NFPA), almost three out of five home fire deaths occurred in homes with no smoke alarms or with smoke alarms that didn't work.
So, don't just put on the alarm and forget about it. Test your alarms and detectors once every month to ensure they are working fine. If your smoke alarm uses a backup battery, install a new battery at least once a year. If you live in a multistory home, have a smoke alarm on every level of your house.
2. Avoid Flammable Objects
The Consumer Product Safety Commission advises that heating equipment be placed at least three feet away from flammable items.
Items such as curtains, pillows, books, papers, carpet, furniture pieces, bedding, paint, electronics, aerosol sprays, and fire matches should not be in a close range of your heating equipment.
3. Call a Fire Department in Case of Leaking Gas
If you smell leaking gas from your heating unit, do not try to turn it on or light a fire near it. Take your family and move out of the house. Then call the fire department immediately. 
4. Ensure Proper Ventilation for Heating Safety
Ventilation is highly important when using wood-burning fireplaces, water heaters, or fuel-based heaters. Carbon monoxide is a colorless and odorless gas that can go completely unnoticed yet cause serious illness or, in severe cases, death due to poisoning. 
You should have a source of fresh air; open a door or a window at least one inch when using fuel heaters.  In the case of fireplaces, make sure that the vents and flue are working fine. A water heater needs breathing room for the pilot assembly to burn properly. If the airflow is cut off, it can result in a fire. Ventilation helps to keep flammable fumes away from the water heater.
5. Keep the Heating Unit Away from Kids & Pets
Kids and pets should not be allowed anywhere near the heater. Try to place the portable heating equipment a little higher for safety and to keep it out of their reach. Don't leave them alone in a room with the heater on, especially if you use an open fire source for heating.
6. Do Not Use Oven to Heat Your Home
Ovens and stovetops are designed for cooking and cannot heat your home efficiently. Plus, there is a high fire hazard that can put your life in danger. 
7. Never Use a Heating Appliance with a Damaged Cord
With wear and tear from use, the cords of your heating unit can become frayed and can end up being exposed. A damaged cord can make you vulnerable to electric shock and can also lead to a house fire.
Avoid turning on the unit with a frayed cord under any circumstances. Do not touch the damaged cord or try to wrap the electrical cord in PVC tape; it's not a permanent solution. Instead, contact the professionals and let them fix it for you.
8. Do Not Leave Your Heater on Overnight
Some heaters can be left on during the night, but it's always a good idea to turn them off, especially fuel-based heating units.
When you turn on your heater overnight, the levels of toxic carbon monoxide can exceed the safe levels. As a result, you may experience suffocation, chest pain, headaches, and other problems. The absence of oxygen and excessive carbon monoxide in a room can also lead to sleep death. People with heart-related or lung diseases are at more risk.
So, make a habit of turning off all your heating units before going to bed.
9. Always Go for Professional Installation
When installing a water heater, wood-burning fireplace, or other heating equipment, always call a qualified professional. Ensure the installation is according to the local codes and manufacturer's instructions. For fuel-burning equipment, check that it is properly vented outside to prevent carbon monoxide poisoning.
10. Do Not Bring an Outdoor Heater Inside Your Home
Outdoor heaters put out a lot more carbon monoxide than indoor units, thus not suitable for enclosed spaces. The harmful gases spread in the air outside while they have nowhere to escape when used indoors, putting you at risk.
Cielo Smart AC Controllers
Your best choice to make any mini-split, window,
or portable AC smart. Enhance your comfort and savings.
Shop Now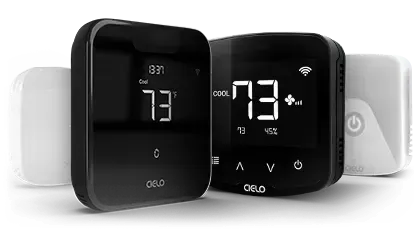 Heating Equipment Safety Guidelines
By following safety instructions when using your home heating systems, you can stay comfortable all winter without worrying about heating safety.
11. Space Heater Safety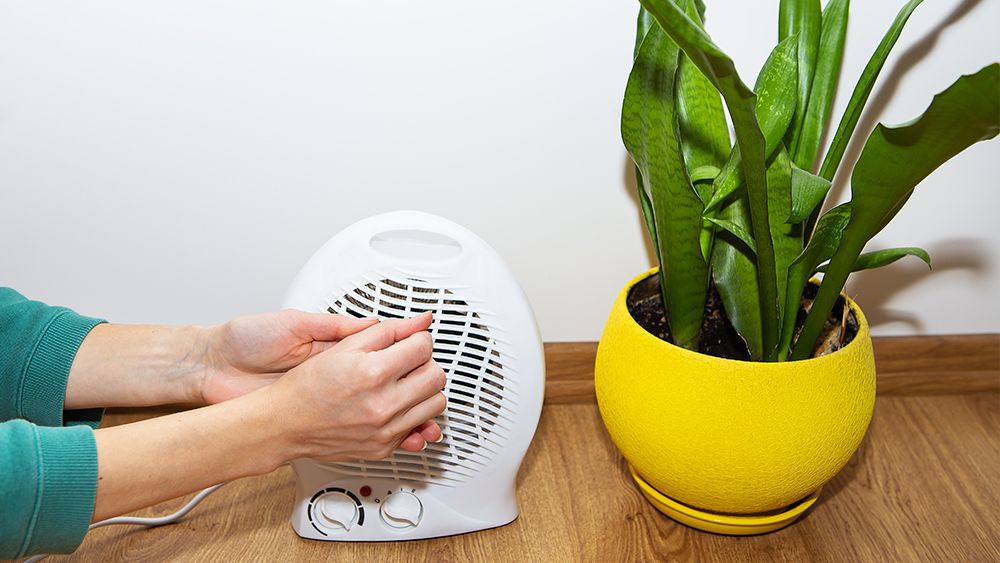 Space heaters are a great way to warm up your house in the winter season as long as they are used safely.
According to the U.S. Consumer Product Safety Commission, an estimated 25,000 residential fires are associated with the use of space heaters every year, leading to more than 6,000 trips to the emergency room for burn injuries.
However, there is no need to go into panic mode. Newer models are quite safe compared to older ones, and as long as you follow all the guidelines, space heaters are completely safe to heat your home. 
Let's look at some of the space heater safety tips that you shouldn't ignore:
1. Keep It on the Floor
You might be tempted to put your space heater on a table while working or on a shelf, but there's a greater fire risk. However, you should only place your space heater on the floor. The heater can accidentally fall or tip over, resulting in a fire if placed on a higher surface.
It is recommended that you place your heater on a smooth, flat surface to avoid any mishap. Also, buy a heater that comes with a tip-over safety switch as it automatically shuts down in case of a fall.
2. Do Not Use Extension Cords with Space Heater
You should always plug the electric space heaters directly into the wall outlet. Surge protectors, extension cords, and plug timers are a big no. These added items can overload the circuit that allows the heat to build up, resulting in a fire.
Also, when using the wall outlet, keep the heater a few feet away from the wall to avoid overheating.
3. Keep It Away from Water
Water and electricity make a deadly combination, so keep your electric space heaters away from kitchens and bathrooms. You can check this article for some bathroom heating ideas.
4.  Never Leave the Heater Unattended
The best way to prevent a fire is never to leave the heater alone, especially if you have kids and pets. They can knock over the heater, which can cause a fire. Even if the heater is switched off, the curious toddlers can start playing with the plug and cord, which can be dangerous.
Moreover, instructions on space heaters also warn not to leave them on while sleeping.  
12. Indoor Fireplace & Wood Stove Heating Safety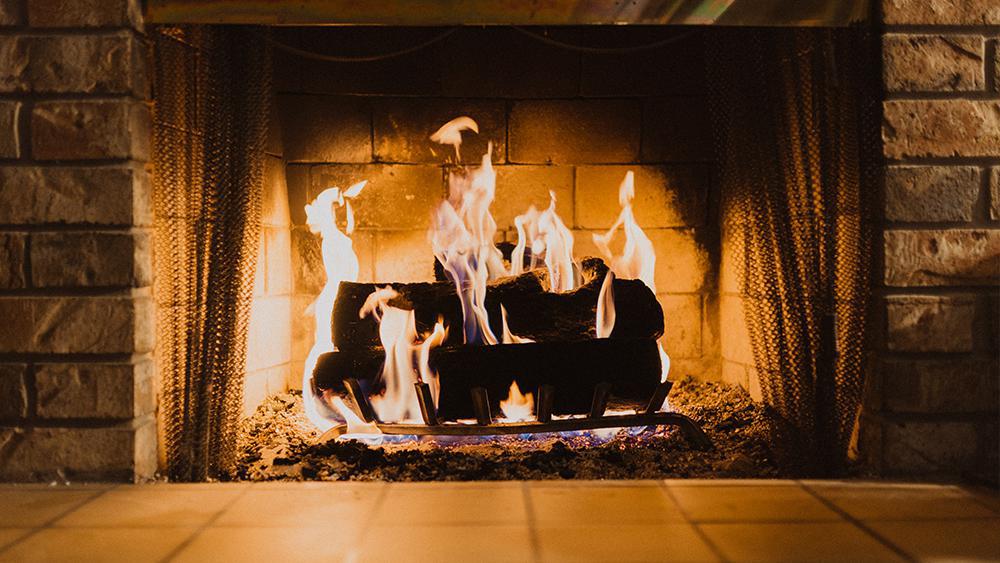 The ambiance of an indoor fireplace makes it a popular winter heating option. However, when using a wood-burning fireplace or wood-stove, you have to take precautions due to the risk posed by an open fire. 
Follow these heating safety tips to continue enjoying the crackling sound of burning wood without any concern: 
1. Choose the Right Type of Wood
The wood that is allowed to dry and seasoned well produces the best results. Never use freshly cut wood as it contains moisture, which releases a high amount of creosote, a toxic, flammable residue. Oak, birch, and ash woods are preferable options, while driftwood, greenwood, and rotten wood should be avoided at all costs.
2. Check for Creosote Build Up in Chimney
If the creosote is not removed from the chimney, it can build into a layer of debris. Most chimney fires start due to high creosote buildup combined with high temperature.
So, it's highly crucial that you have your chimney inspected and cleaned at least once a year.
3. Never Use Flammable Materials to Start a Fire
Always use clean, seasoned wood for the fire. Do not use paper, twigs, or any flammable liquid such as kerosene to start a fire.
4. Keep the Wood Stove Doors Closed
Unless you are loading the wood or stoking the fire, make sure to always keep the door of your wood stove closed.
5. Use a Diffusion with Fireplace
A diffusion screen will prevent sparks from jumping out of wood logs and falling out of your fireplace. Install a screen made up of glass or metal screen as a safety measure.
6. Put the Ashes at a Safe Distance
Let the ashes cool, then put them in a container made of glass or metal. Never use a plastic box to put on ashes. After collecting the ashes, keep the container at least 10 feet away from your house.
13. Water Heater Safety Guidelines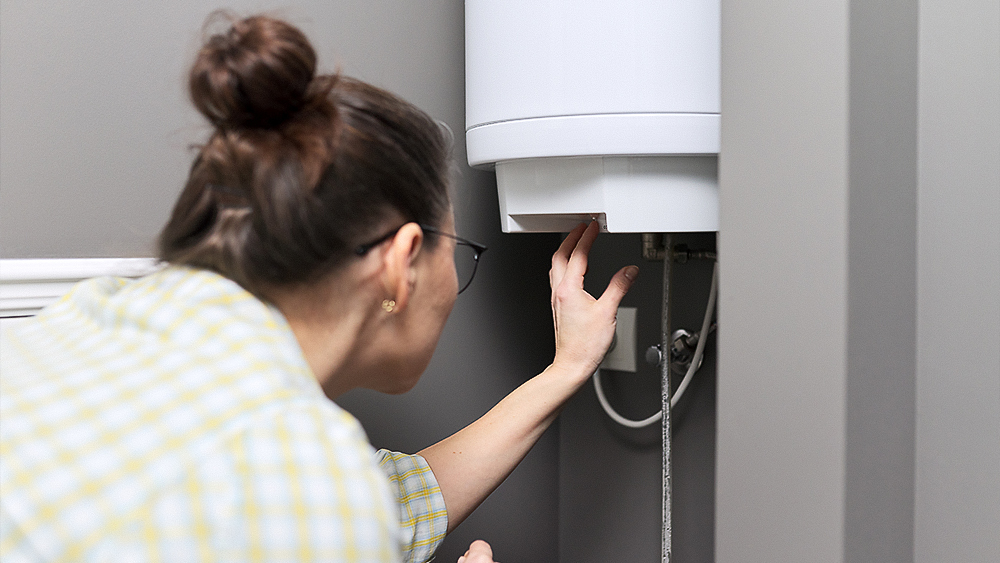 Water heater safety often gets ignored; however, it can cause a fire explosion if not maintained properly. The water heater is a device that involves high temperature, water, and electricity simultaneously, which increases the chances of a mishap. 
Be it an electric or a gas water heater; you must always take the following precautionary measures:
1. Inspect Your Water Heater
As your water heater gets older, the thermostat and the heating element inside will start to deteriorate, which causes the flame to become inconsistent. This can cause a fire, particularly if your water heater is in an area where it is susceptible to wind or changes in air supply.
2. Set the Correct Temperature
To prevent hot water burns, you should not set the temperature above 120F.
3. Do Not Store Combustible Items Nearby
Always extinguish the pilot before using flammable liquids near the water heater and keep combustible items such as paint or fuel away from it.  
14. Fuel Burning Heater Safety Tips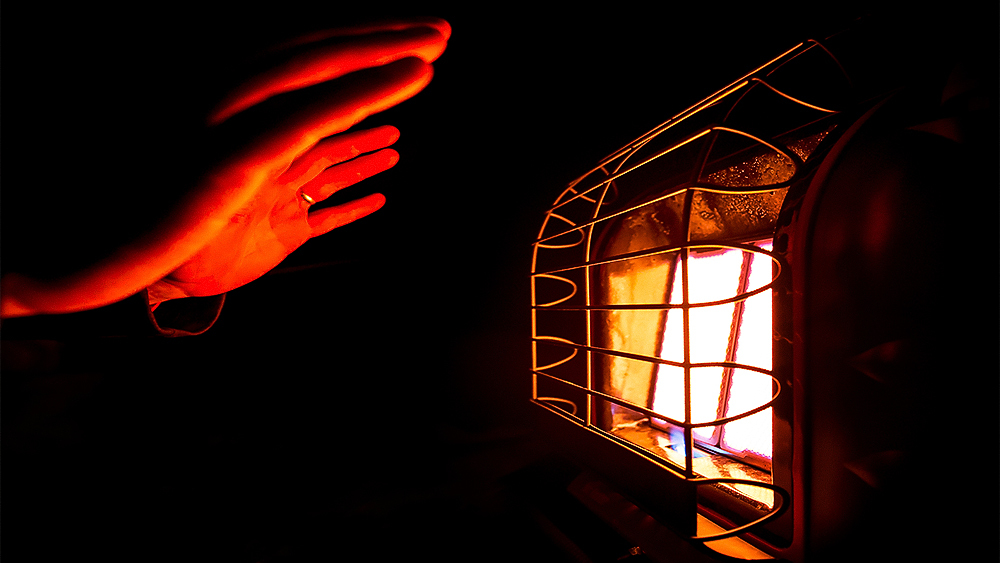 When the temperature drops, a fuel-based heater can be a convenient supplemental heat source for your home. Make sure you're using yours following the recommended guidelines: 
1. Focus on Routine Maintenance
When using a fuel-based heater, staying on top of maintenance is crucial.
Check the wick of your heater every week and clean it according to the manufacturer's guidelines. If there's any spillage of kerosene oil during usage, clean it immediately. Go for professional inspection every two years. The technician will clean out your heater and identify any faults or damage.
2. Use Top Quality Fuel
Ensure that the kerosene oil you are using is of top quality. Do not use the one stored from the previous season, as it could have been spoiled. Kerosene heaters require 1-K grade kerosene. When colored or muddy kerosene is burned, it will give off an odor, smoke and can cause increased indoor pollution levels because of high sulfur content. Also, never try to use a substitute fuel such as stove fuel or gasoline in kerosene heaters as it can cause an explosion.
3. Ensure Your Heating Unit is Recognized by Testing Laboratory
If not operated properly, fuel heaters can pose a huge fire risk. To avoid any damage, make sure your heater is safe to operate and is recognized by a reliable laboratory. 
15. Candles & Fire Heating Safety
Candles add ambiance and aroma to your room. You can use them to DIY your own heater to save on heating bills or to keep yourself warm in case of a power outage. 
Candles may look benign, but their soft glow can turn into a blaze if left to burn unsupervised. Here are some heating safety tips for you to consider:
1. Don't Leave it Unattended
If you are using candles to lighten up your area or to provide warmth in case of a power outage, you should never leave it without supervision.
Always make sure that the candle is completely blown out, and the wick is no longer glowing before leaving the room.
2. Avoid Cold Drafts
If you notice your candle flickering in any other direction other than straight up, there is a draft. It will cause the candle to burn unevenly, and the wax will drip excessively. Moreover, inadequate oxygen will cause it to smoke more.
Prevent drafts by placing the candles away from open windows and vents.  
3. Avoid Handling a Burning Candle
Don't touch the candle while it's burning or try to move it from one place to another. Also, don't try to touch the spilled wax while it's still hot.
4. Keep the Wick Trimmed
Before burning, always trim the wick to ¼ inch. If a candle wick is allowed to get bigger, it tends to burn faster and produce more smoke.
5. Use a Proper Candle Holder  
Your candle holder should be sturdy as it will help to prevent your candle from falling over. Your candle holder should also be fire-resistant.  If you use a holder made from plastic, it can melt pretty quickly, which can be dangerous.
6. Keep Candles 3ft. Apart
If you are burning more than one candle, keep them apart; at least maintain 3 feet distance. This will ensure they don't melt each other or create their own draft.
Always keep the heaters in sight and out of reach of pets, children, and away from flammable items. Ensure proper home ventilation to avoid the buildup of harmful gases, and always install a smoke alarm and carbon monoxide detector. Always call a professional to install your heating system and never leave it on overnight. Following these heating safety tips will keep your home safe while you enjoy the holiday season to the fullest.