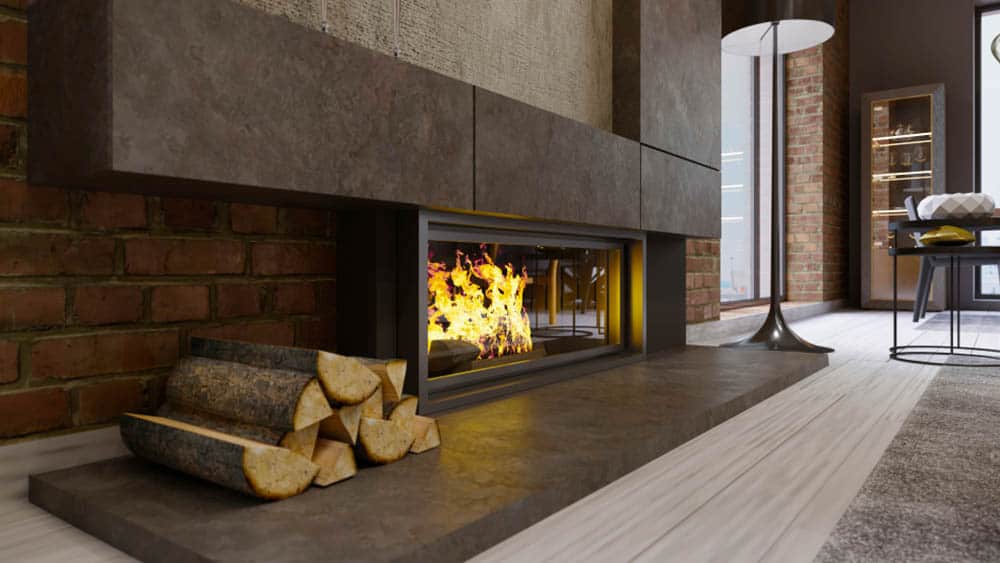 Wanting to add a classy heating option for your house but not sure where to start? An indoor fireplace can be a perfect addition to your living room, home office, bedroom, or any area really!
Indoor fireplaces do more than adding warmth; they add a vintage look and a pleasant ambiance to your living space. And, of course, nothing beats the aroma combined with the crackling sound of burning woods in your living room!
Nowadays, you are not just limited to traditional fireplace options; from indoor mantle fireplaces to standalone fireplaces, there are many varieties to choose from.
If you're someone looking for an A-Z guide about fireplaces, then you've landed on the right page. Read on to find out which type of fireplace best suits your home.
Indoor Wood Fireplaces
When imagining a luxurious indoor wood-burning fireplace, the first thing that comes to mind is an image of burning logs and their strong aroma. These are the classic types of fireplaces, and people choose them for the aesthetics and the cozy experience they offer.
If you have an ample supply of firewood and can handle the maintenance, these make a great addition to any house. Indoor wood fireplaces mainly consist of a firebox, flue, and chimney.
Advantages Of Wood-Burning Fireplaces:
They greatly liven up the interior of your home and serve as an excellent focal point.
They add value to your home in terms of price as buyers are willing to pay more for a house with a traditional fireplace.
Besides the aesthetic, using a wood fireplace can lower your energy costs. Wood-burning fireplaces are less expensive to use than a gas fireplace or electric resources.
They work during power outages, providing you a backup heat source.
They are low maintenance and mainly require disposing of the ash.
The downside of using wood fireplaces:
They require annual inspections by professionals, and if not done, it can affect your home insurance.
Wood, when burns, release harmful air pollutants such as benzene, formaldehyde, and acrolein.
The open-hearth options are a big no if you have children or pets at home due to safety concerns. And you cannot leave it unattended at any time.
There can be problems with the damper. If it doesn't close properly, drafts can enter through the chimney, thus affecting your electric bills.
You require a good supply of wood along with proper storage to keep it dry.
Types of Wood Fireplaces
Ranging from the open hearth to enclosed ones, there are many wood fireplace options out there. Some of them include:
The Classic Ones – Open Wood Fireplace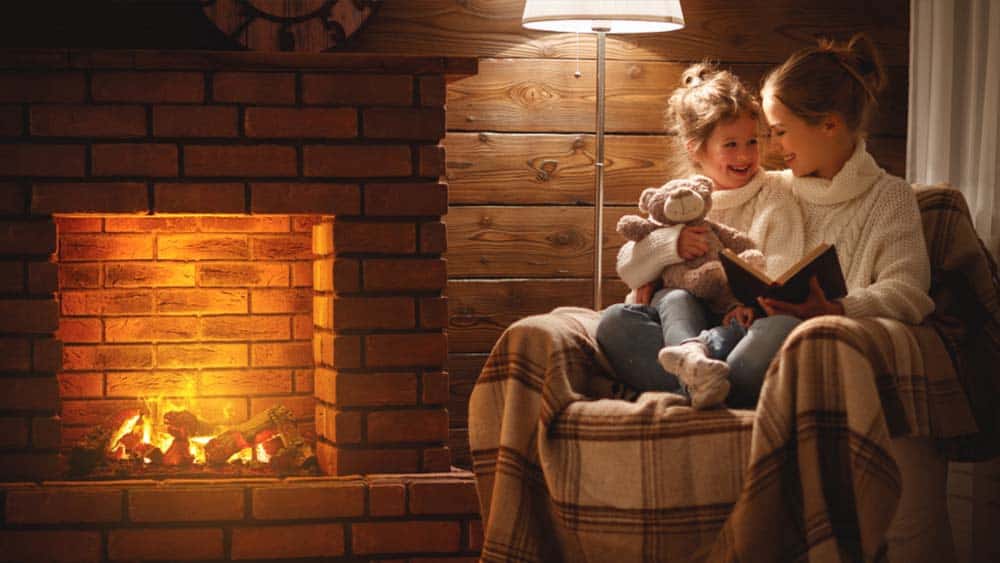 These are old-fashioned indoor wood-burning fireplaces made of stones, bricks, or masonry. They are entirely open, with no glass or covering. These make a great addition if you wish to enjoy the direct flame; however, they can be dangerous and inefficient. The heating is minimal, and they may emit fine particles, which can deteriorate indoor air quality.
Cielo Smart AC Controllers
Your best choice to make any mini-split, window,
or portable AC smart. Enhance your comfort and savings.
Shop Now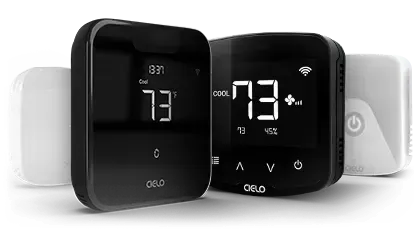 The Complete Powerhouses – Wood Stoves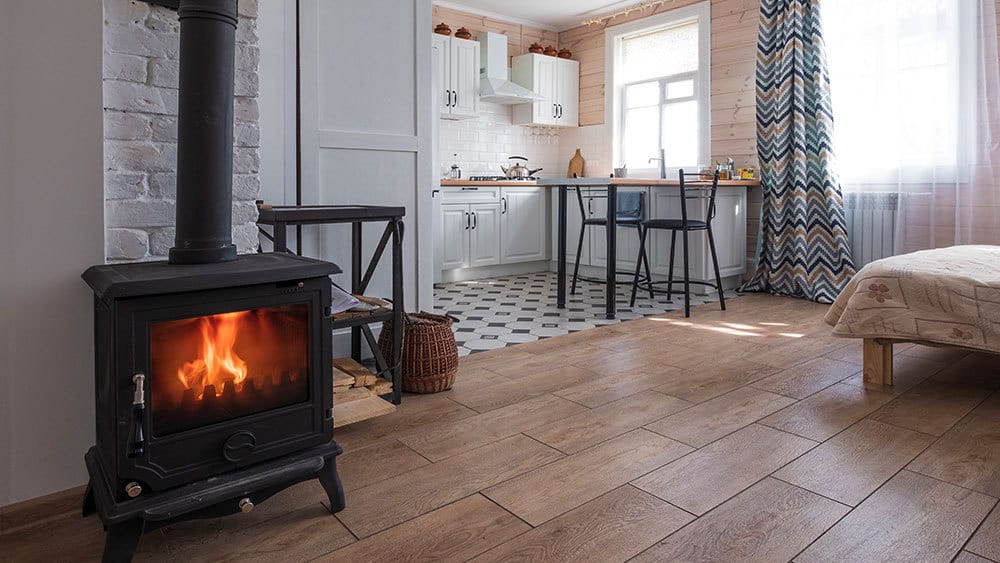 These standalone fireplaces are powerhouses as they can heat large spaces with cheap fuel. You might be thinking that they work the same way as the one used by your grandparents or great-grandparents. Actually, no. New EPA-certified models are energy efficient, with 60% efficiency, and have low emission levels.
Wood stoves are suitable for those homes that frequently get hit by power outages due to the harsh winter climate. The working of the wood stove depends on its installation. Wood stoves rely on the movement of natural air to heat a house. You must take this into consideration to achieve maximum efficiency.
What Kind of Wood Should You Use for an Indoor Fireplace?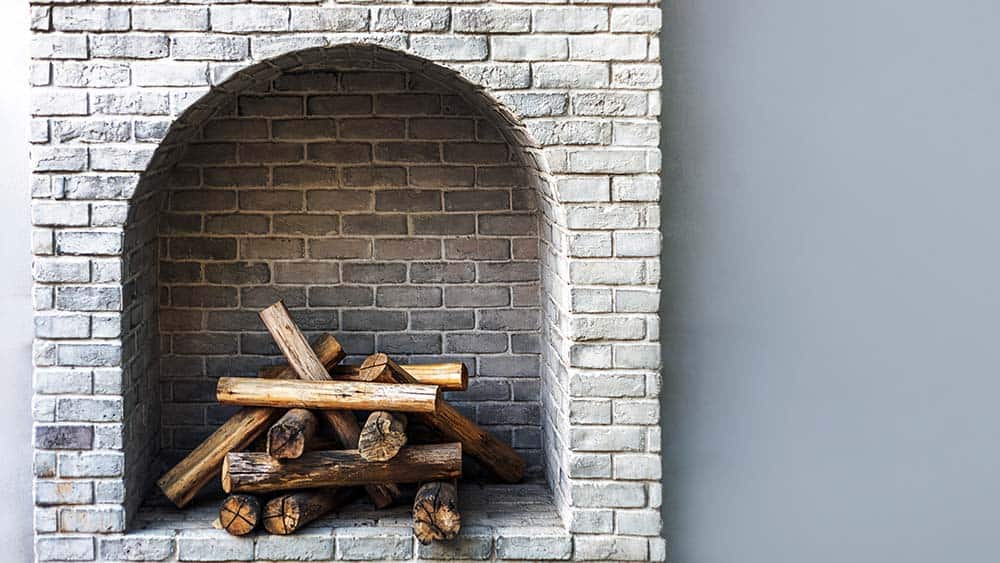 As Scientific American recommends, wood pellets are your best option for an indoor fireplace. They are modern wood alternatives and are great for the environment as well as your health.
If you opt for wood, seasoned wood produces the best results as freshly cut wood uses heat to remove the existing moisture. This, unfortunately, leads to wastage and increased smoke content. A good rule is to cut the wood this season and use it the next year. 
Moisture is an essential factor to consider when using wood for an indoor fireplace. If you store your own wood, make sure it's completely dry before use, or have a professional look at it to avoid any accidents.
Choose firewood for a fireplace that produces less creosote while providing more burn time. Creosote is the toxic, flammable residue left after wood burn. It can get stuck to the sides of a chimney, and the residue can come together to ignite, causing a chimney fire.
Before burning wood, do have a look at EPAs best practices. Let's get to the types of wood you can consider for an indoor fireplace:
It takes a long time to season, approximately two years. Therefore, it is not a good fire starter but is clean and, once dried, it gives maximum burn time.
Black Birch is the most sought out in the Birch family as it produces more heat due to its dense fibers. It is also a good fire starter. In addition, it is considered a clean wood as it does not emit a lot of smoke. It even seasons faster than other birch woods if split and stacked correctly.
One downside of Birch firewood is that it rots faster if left unsplit for long.
Ashwood is mostly considered the best wood for fireplaces. It is a hardwood that burns clean and has a high burn time. As far as seasoning is concerned, it takes six months to season after splitting.
The disadvantage of this wood is that it's expensive to buy, and its ash leads to more creosote buildup in the chimney.
Cherry wood is also considered one of the best wood for fireplaces as it has a high heat output, maximum burn time and gives off a lovely aroma. You can also use Cherry wood strips as a fire starter.
Beechwood is preferred because of its high heat value. However, you need to be patient with this one as it takes three years to season. Its disadvantage is that it tends to emit sparks.
Which Type of Wood to Never Burn Indoors
Wood needs seasoning before use; woods with a higher moisture content utilize more heat for burning, leading to wastage. Some types of wood that you should avoid:
Also known as wet lumber, green rood refers to wood that has recently been cut. As a result, it will not burn properly, leading to excess smoke.
Rotten wood is certainly not dry and may have mold making it a big no. In addition, it may release dangerous chemicals and germs due to its condition; thus, you should avoid them at all costs.
Driftwood is a wood that has been washed on a beach or sea is mixed with salt.  When burnt, it causes dioxins to be released, which can become a cause for cancer when inhaled.
Wood from Poisonous Plants
It would be best to remain cautious of the burning wood from poisonous trees. For example, never burn woods from poisonous trees such as poison ivy, poison oak, and such as release irritants.
Indoor Gas Fireplaces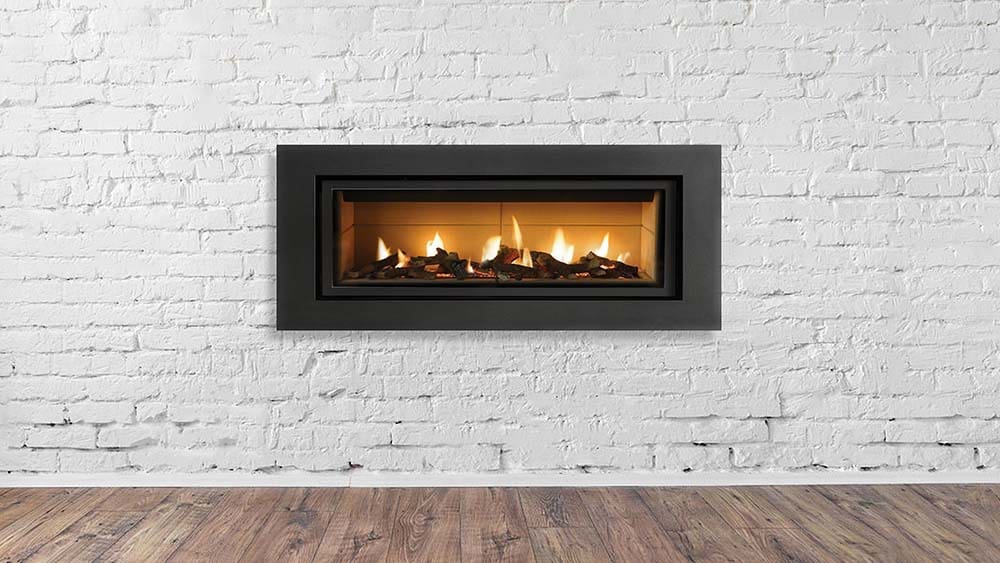 Do you like the warmth and glow of a traditional wood fireplace but cannot deal with the hassle that comes with it? Well, try opting for an indoor gas fireplace. Instead of burning woods, gas fireplaces work by burning gas like natural gas or propane. Natural gas is cheap and produces more heat than propane. Many gas fireboxes are available in the market that looks quite similar to a wood fireplace and provide a higher energy output with less maintenance. 
People nowadays are switching to gas fireplaces because of the numerous benefits they offer. The main advantages of indoor gas fireplaces are:
No purchase of expensive wood every season.
Easy to operate, the fire starts instantly.
A thermostat can be used to control the flame and temperature setting in the case of smart fireplace.
Panels covering the vent ensure heat doesn't quickly escape up the flue.
Low maintenance as no chimney cleaning is required now and then.
No ash or creosote buildup.
Easy installation.
On the other hand, you also have to deal with some of the disadvantages that come with using a gas fireplace:
You are not getting the fireplace's actual experience as there is no aroma and the crackling sound of fire logs.
High installation costs, especially if a gas line is required.
If you are using propane gas, it will cost a lot in the long run.
Types of Gas Fireplaces
Vented gas fireplaces consist of two vents that take in fresh air while another exhausts harmful substances or emissions outside. This can be through a chimney if you're replacing an existing fireplace or a hole in the wall through which combustion fumes will travel outdoors.
On the other hand, ventless gas fireplaces do not exhaust anything and the entire heat, along with the pollutants though, travels inside your home. They are more efficient and can quickly heat a room. They are portable so can be placed anywhere in a room.
Unfortunately, these fireplaces can affect your indoor air quality and thus are banned in some US states such as California. Modern ventless models come with carbon monoxide detectors and an oxygen detector. When the oxygen level drops too low, the built-in oxygen detector shuts down the fireplace.
Various Style Options for Gas Fireplaces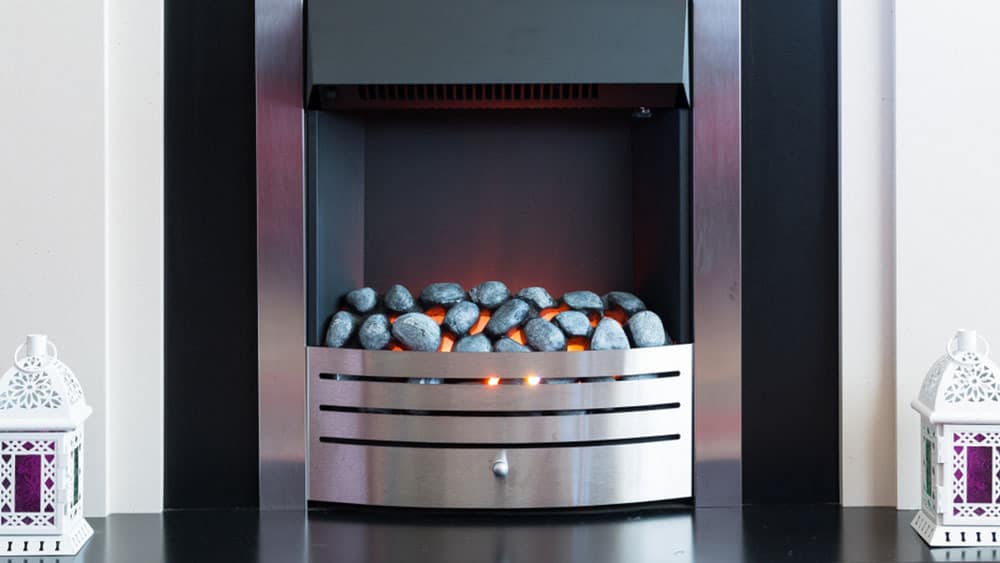 There are various types of gas fireplaces, and you can get the perfect look that you like for your house décor! Imagine the glow of burning logs without having to deal with the ash and maintenance. You can opt for a ceramic or cement log set.
Other than logs, you can also go for a modern option such as glass or stones. Stones can be colorful and add ambiance to your fireplace. In case you're going for a Victorian theme, gas fireplaces also come with coal sets!
Indoor Electric Fireplaces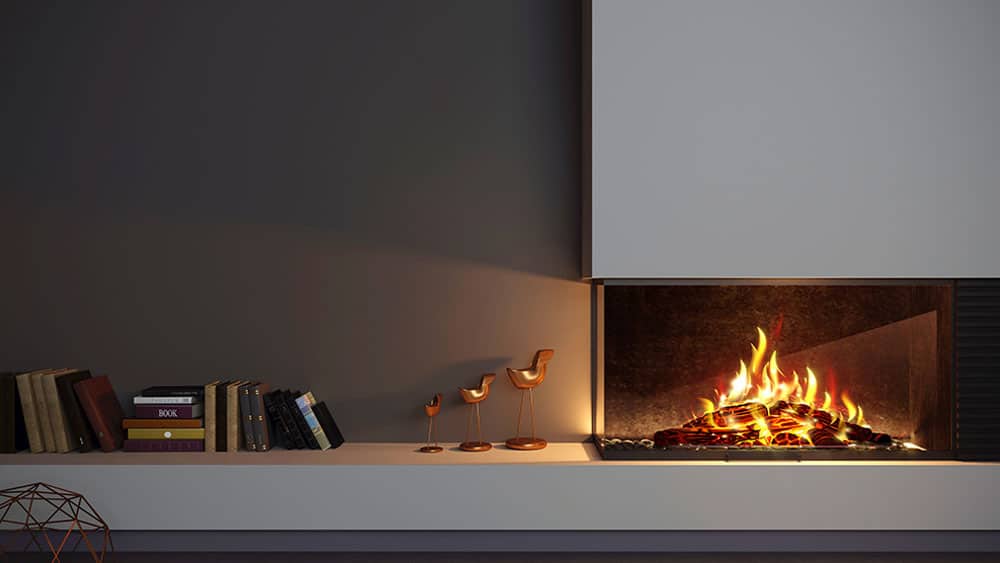 Looking for a ZERO maintenance fireplace? Indoor electric fireplaces are just for you. Just turn on the switch, and your room gets heated in minutes!
Electric fireplaces are heating systems that use electrical components to imitate the look and warmth of classic wood or gas indoor fireplaces. They have coils that are heated when electricity is passed through them.
Electric indoor fireplaces come in various designs and sizes. Modern fireplaces perfectly mimic real flames, they come with different LED lights allowing you to change colors, and some even have a sound system emitting crackling sounds!
Advantages of Electric Fireplaces:
Easy installation as some just need to be plugged in.
They do not require vents or emit smoke – so no hassle at all.
No maintenance is required.
They are inexpensive as compared to the gas fireplace in terms of installation and operational costs.
The flame in the electric fireplace can be controlled, and there is no heat loss through chimneys. 
The latest models come equipped with a remote or thermostat so you can change the heat according to your preference and even set timers.
Lack of actual fire makes them pet and children friendly. Disadvantages Of Electric Fireplaces:
Electric fireplaces won't work in case of a power outage due to heavy snowfall or other issues.
They fail to create the same atmosphere as that of wood fireplaces due to fake fire.
Types of Indoor Electric Fireplaces:
Built-In Electric Fireplace
Built-in fireplaces can be installed when constructing a house or when renovating. They can be installed with or without a frame. These fireplaces go inside your wall or an existing fireplace like an insert and are not exactly simple to install. No venting and maintenance is required. The exterior is cool to touch, so it is safe for pets and children. 
Wall Mounted Electric Fireplace
Looking for something simple to install yet provides all the benefits of a classic fireplace? Wall-mounted fireplaces are an excellent choice and you can simply hang them on a wall! They are perfect for tricky places or apartments. This small indoor fireplace option is also great if you're likely to change houses as you can easily take it with you. With a sleek, modern look, these are available in many sizes with a wide range of features, including remote control and LED lighting.
Free Standing or Portable Electric Fireplace
These small indoor fireplaces are just like the wall-mounted ones, except they do not need to be placed on the wall and can be placed anywhere! Some come with a stand, while some work just like an electric fireplace space heater. They can be moved around without much effort, just like a portable heater.
Mantel Electric Fireplace
If the traditional fireplace look appeals to you, you can go for a mantel fireplace. Mantel fireplaces mimic the look of a conventional fireplace, but they don't need any installation. They are suitable for areas where venting isn't an option. With remote control options and a variety of designs, they surely make winters a lot more enjoyable.
Fireplace Inserts
Looking to make your traditional masonry fireplace energy-efficient? Fireplace inserts are an excellent option. You can simply insert these units into your existing fireplace for an upgrade.
Fireplace inserts are those types that are designed to minimize heat loss. A fireplace insert is basically a box of iron or steel with insulated glass at the front. The box design helps in trapping the heat.
You can opt for an electric, gas, or wood fireplace insert. If you are unsure which type of insert to buy, then consider gas or electricity fireplaces. With a push of a button, you can turn them on, and now they even come with a remote-control option, making your winters completely stress-free.
Wood types are high maintenance, you have to buy the wood, season it, and the ash buildup requires routine cleaning.
What is an Indoor-Outdoor Fireplace?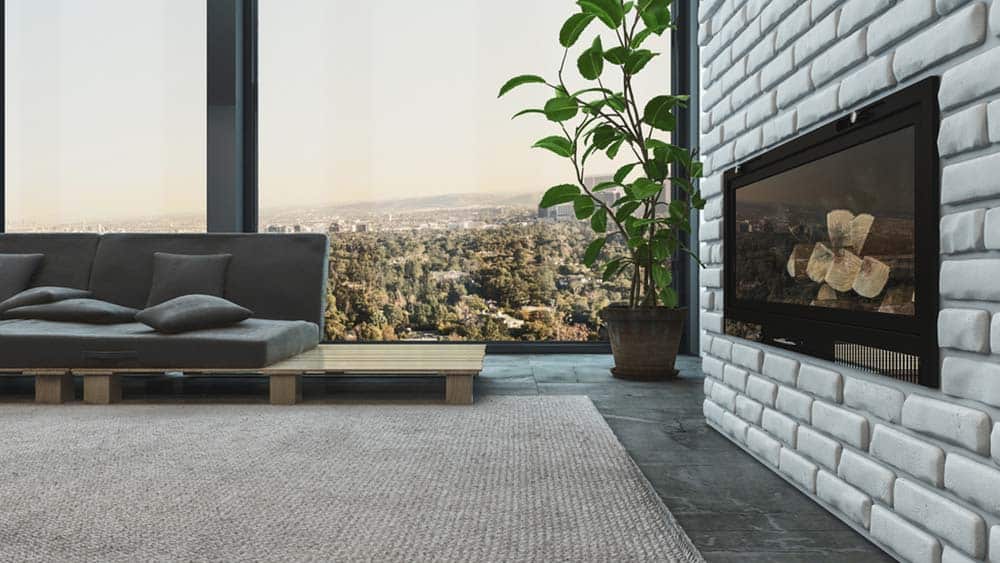 Winter evenings call for a cozy get-together outside around a warm fire. But does installing an outside fireplace seem like a hassle that you don't have the energy for? Well, now you can combine both an indoor and outdoor fireplace to make a double-sided fireplace. Cool, right?
An indoor-outdoor fireplace is built in the exterior wall of the house that opens to an outdoor area. Its installation process is not complicated as there is no vent required for the indoor part as the outdoor part acts as a vent if you are using gas or the electric type. The wood one, however, would require a chimney, so keep that in mind.
These can make for a great renovation project. Make your winter evenings enjoyable by snuggling near a fireplace on your patios, decks, or terraces!
Smart Fireplaces – Combination of Technology, Comfort & Design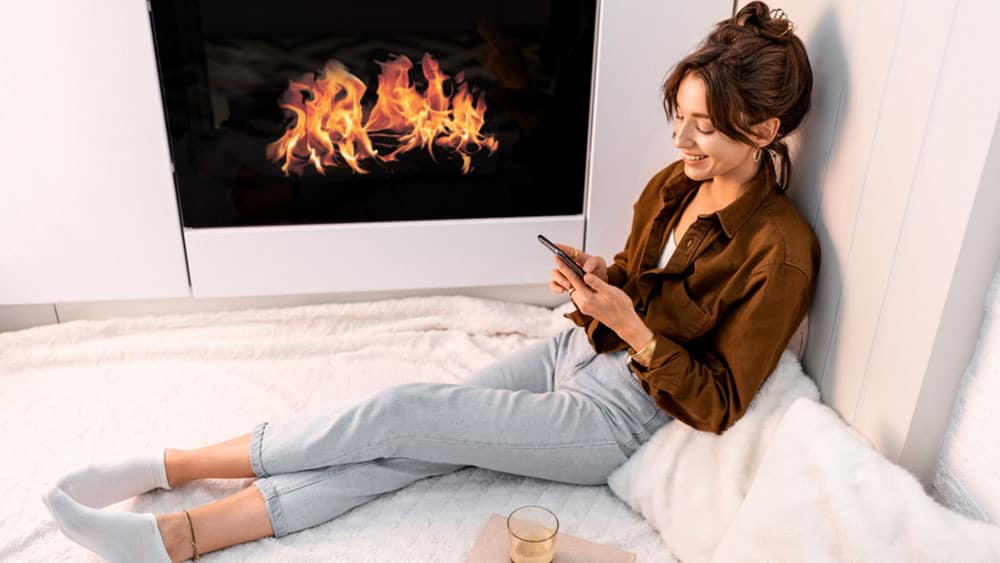 This era is all about smart technology, and smart heating is greatly adding comfort and convenience! Thanks to IoT, our things can now be connected, adding convenience and comfort to our lives along with energy savings. And, this all holds true for fireplaces also! 
With smart technology, you can control an electric indoor fireplace from anywhere, using your phone and WiFi. With just a tap or a simple voice command, your fireplace can ignite! Smart fireplaces come with numerous features depending on the model.
The most interesting feature is safety control, where the system will stop automatically in case of a buildup of carbon dioxide or lack of oxygen. Scheduling is another useful feature using which you can set timers for your fireplace to switch on or off at a specific time.
Costs of an Indoor Fireplace
While the first-time costs are typically high, the operational cost depends on the type of fireplace and fuel used.
According to HomeGuide, electric fireplaces start at $100 but can go to around mid $2000. Though if you opt 2 or 3-sides fireplaces, indoor-outdoor, etc., this cost will definitely be much higher!  Gas fireplaces start at around $2000 and can go about $4000; masonry fireplaces can even go up to $6000.
The price for a cord of firewood can range between $120 to $400. It can even go higher in some instances to up to $600. The price greatly depends on the type of wood, how long it has been seasoned for, how clean or dry it is, or its length.
11 Must Read Indoor Fireplace Safety Tips
To have the best possible experience, indoor fireplace safety tips are important to keep in mind when using a fireplace:
1. Maintain Proper Air Circulation
Slightly open a window when using a fireplace to prevent excess smoke from collecting in the room. Open the window a couple of inches to maintain proper air circulation; you can lose the heat if too wide. Check our winterization guide to help retain as much heat as possible.
2. Chimney Inspection Every Season
Besides having a professional chimney inspection every season, keep checking it on your own for blockage or high creosote buildup, as it can be hazardous.
3. Take Note of When to Open and Close the Damper
When starting a fire, open the damper as it helps ignition, but leaving it open makes the fireplace less efficient as heat continuously escapes. Instead, close it partially; this will help keep the fire running for an extended period.
4. Use Dry, Seasoned Wood
Green, wet and non-seasoned wood causes a lot of smoke, increasing creosote buildup, hazardous for health. So always use well-seasoned wood for your wood-burning fireplace.
5. Install Carbon Monoxide Detectors
Smart fireplaces and even simple ventless fireplaces have carbon dioxide and carbon monoxide detectors. But if your indoor fireplace does not have this facility, consider installing them separately,
6. Keep a Fire Extinguisher in Your Home
A fire extinguisher is an essential aspect of home safety. It should be placed where your fireplace is installed, not near it but at a safe distance. A fire extinguisher is of no use in inexperienced hands, so try to take classes and learn as much as you can!
7. Never Leave Children and Pets Unattended
When going out of the room where your fireplace is installed, take your children with you as it is never a good idea to leave children attended near a fire. Safety screens in front of the fireplace can also be installed for children and pets.
8. Remove Ashes From Previous Fire
A thick layer of ash hampers the air supply needed for ignition, so remove the ashes from the previous fire and keep it to 1 inch or less. Always wear a mask while cleaning.
9. Make Use of Air Purifiers
The smoke emission from indoor fireplaces, particularly wood types, contain many dangerous particles; investing in a good air purifier should be on your list. You can also place air-purifying plants to clean the air.
10. Never Forget Fire Starter Safety
Always start a fire with safe materials like paper, newspaper, or use dry kindling. Never use kerosene oil or gasoline.
11. Remove Flammable Items Near the Fireplace
Flammable substances like DVDs, curtains, newspapers, books could catch fire if lying close to a fireplace. So, remove the flammable items before turning on the fire.
Now that you know all about different fireplaces get ready to install your favorite one so you can snuggle up in front of a warm fire with a book and hot cocoa in no time!