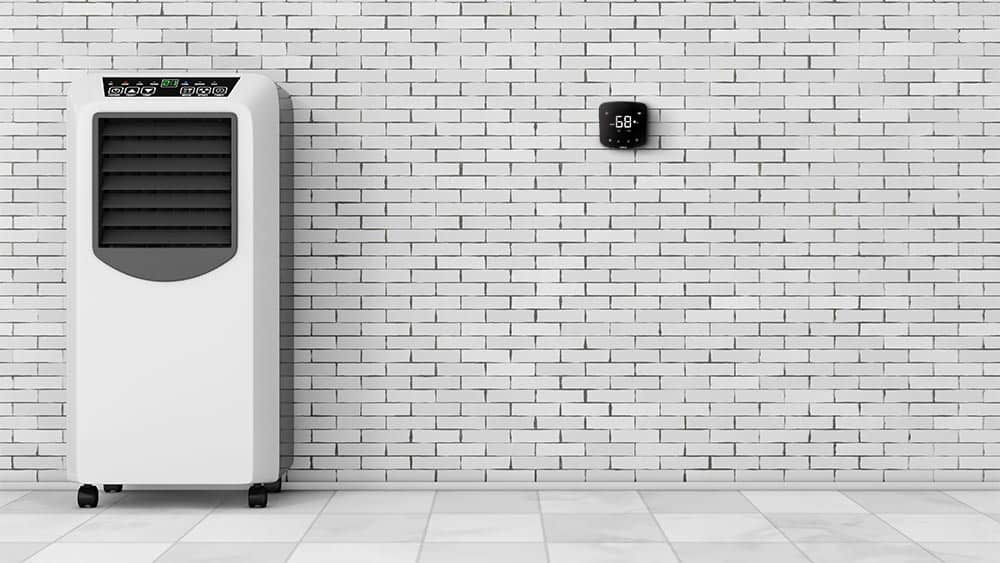 Portable heat pumps or reversible portable air conditioners are nifty home appliances. They can heat or cool your home just like a regular heat pump, but with the additional advantage of being transportable. You can move them around the house and keep the indoor temperature precisely as you want it.
Much safer and more energy-efficient than a space heater, a portable heat pump also has lower energy consumption. You can achieve personalized spot heating and cooling (during the summer season) without needing to waste energy on heating or cooling unoccupied areas of your home.
How do Portable Heat Pumps Work?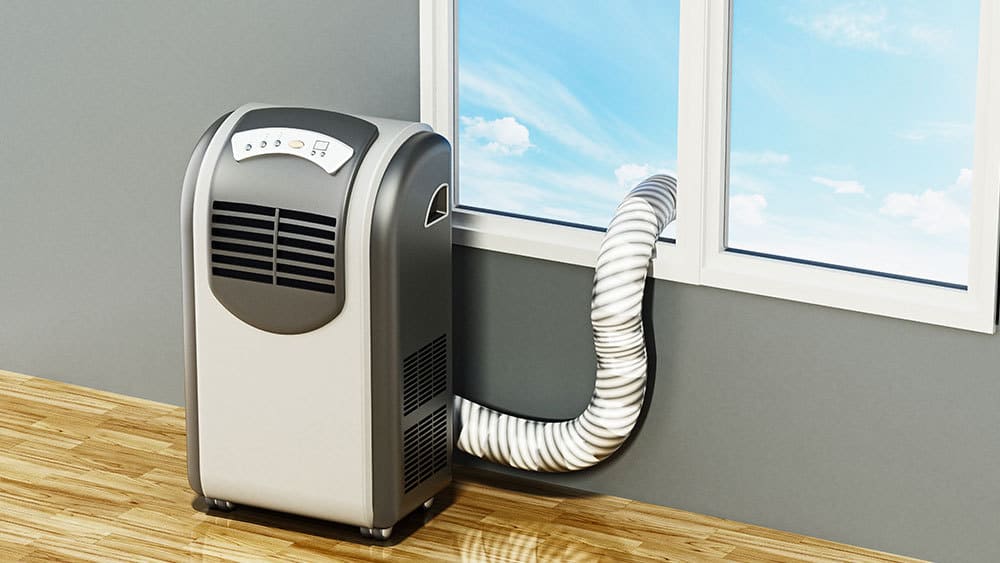 Portable air conditioners with heat pumps work on the same principles as any other heat pump. Note that they have a much more compact form factor. The whole heating and cooling mechanism are fitted inside a sleek and small-sized container, which can then be conveniently moved around the home.
The most common type of portable heat pump is an air-source heat pump, just like your mini-split or ducted systems. For cooling, the heat pump follows the simple refrigeration cycle. A refrigerant is compressed and then blown over in the condenser. It is then rapidly expanded, cooling it down even further. This cooled refrigerant is then passed over the evaporator coils, absorbing heat from the indoor space. In a portable heat pump, the exhaust heat from the condenser, which would otherwise be directly ejected outside to the environment, is routed through an exhaust pipe and then out.
For using a portable heat pump in heating mode during winter, the same process is reversed. Heat is absorbed from the environment and ejected into the indoor space, making your room warm & cozy.
Cielo Smart AC Controllers
Your best choice to make any mini-split, window,
or portable AC smart. Enhance your comfort and savings.
Shop Now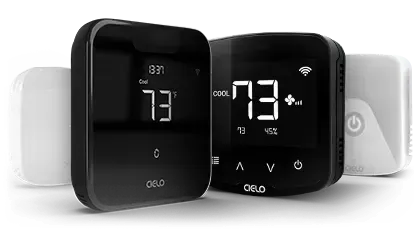 Single vs. Dual Host Heat Pumps
Portable ACs take in air from one area and exhaust it from another. While single hose heat pumps only drain the air outdoors from one hose, dual hose pumps use the additional hose to draw in air. While one is more efficient, it is also more expensive!
Single-Hose Heat Pumps
These are the most basic types of portable heat pumps, with only one hose that needs to be extended to the outside. This heat pump sucks in air from inside the room and cools or heats it through the compressor. The moisture and heat which needs to be expelled from the room are then routed outdoors through the hose.
A disadvantage of such a system is that with air continually being pulled into the portable heat pump, the room creates negative air pressure and needs to be continuously replenished with more air. This is warm air (or cold air during winter), which can seep in through small gaps under the doors or windows.
These units are lower in cost and are much easier to move around. They are adequate for small areas.
Dual-Hose Heat Pumps
As evident from the name, a dual-hose portable heat pump uses two separate hoses, one for the exhaust air and one for the inlet air. Instead of pulling air in from within the room like a single-hose heat pump, the dual-hose heat pump gets its air from the outside. When the indoor air has been cooled down, the compressor and other heat pump components heat up.
To cool down the components, the outside air is pulled through the intake hose and used to cool the compressor. This air is then ejected outside through the exhaust hose, leading to much greater efficiency than a single-hose heat pump.
If you wish to cool or heat a larger room, then a dual hose heat pump is your ideal choice. These portable air conditioners cost more and use more energy, but they are also more efficient.
Why You Should Get a Portable Heat Pump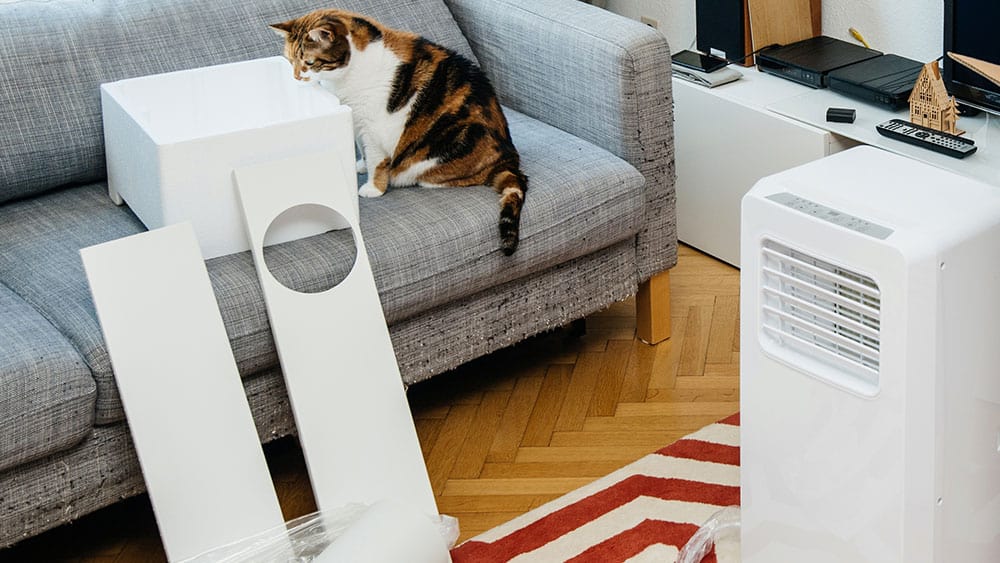 You might wonder why to get a portable heat pump when I can easily get a mini-split or a window heat pump. The answer to this is pretty simple. A window heat pump or a mini-split requires an installation process and are often semi-permanent installations. This holds especially true for mini-split heat pumps as the installation process is usually costly and can go up to thousands of dollars. Once installed, a mini-split cannot be moved around unless it is completely taken off of its mountings.
You would need to make some space in your windows or even in your wall for a window heat pump. That is not the most eye-pleasing arrangement for your heating or cooling needs. Moreover, if you have small windows, a heat pump can occupy the whole of it and not leave enough room for light to enter.
This is where a portable heat pump comes to the rescue. They are plug and play appliances, which do not need a lengthy installation process. You do not even need to call a third-party contractor to install your heat pump. Instead, you can do it all at home by yourself, as easy as that! All you need to do is plug in the portable heat pump to the power outlet and direct the exhaust pipe outside through the window.
If you have a small-sized room, are short in window space, or want to save up on installation costs for mini-splits, then a portable heat pump is the way to go! Portable heat pumps are also ideal for areas such as a dog house or a bathroom. The best part is that you can easily take your portable heat pump anywhere you wish and move it near your beloved couch for some tailored heating or cooling!
Portable Heat Pump Efficiency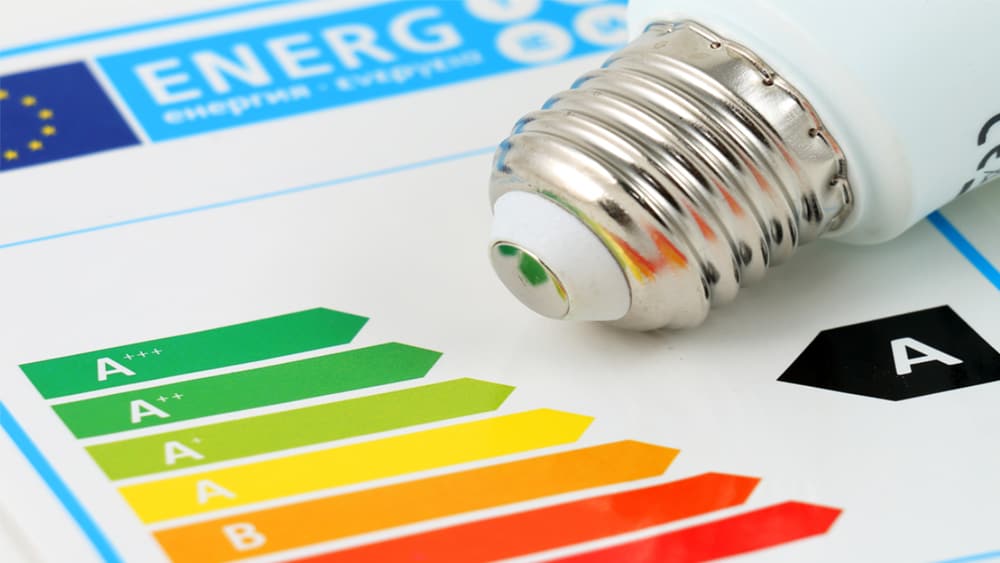 Portable heat pumps are very efficient for small areas. With one heat pump, you can achieve both cooling and heating without using separate appliances with varying efficiencies.
When buying a portable air conditioner with a heat pump, make sure the appliance is Energy Star certified. An Energy Star certified appliance fulfills the stringent energy efficiency measures put in place by the US Department of Energy and Environmental Protection Agency. This further increases the SEER of the device, saving on your utility bills.
Advantages of Portable Heat Pumps With AC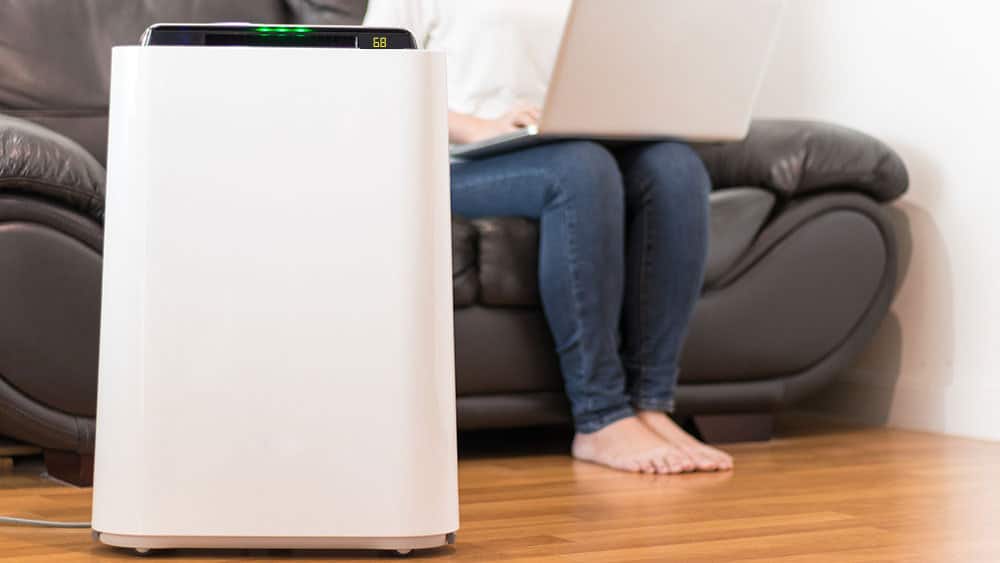 We've listed some benefits to make it simple for you to decide if portable heat pumps are the best option for you!
High Portability
This is the hallmark of portable heat pumps. They are compact, lightweight, and easily movable. With underbody wheels available on most portable heat pumps, they can be easily moved around the home.
Minimal Size
As discussed before, a window heat pump can take up valuable space in the window. Conversely, having a separate heating and cooling appliance in your room at the same time is also a hassle and takes up place, which can be utilized otherwise. A portable heat pump with air conditioning can do both jobs in one package, saving you plenty of space.
Can Heat and Cool a Room
Compare the cost of purchases and storing two units, one for the colder months and one for summer, with simply one unit which can operate all year round at your desired temperature! This should be obvious by now, but the coolest part about heat pumps is that they can provide cool and warm air!
Energy Efficiency​
A portable AC/heater combo uses much less energy than running two units separately. Therefore, you are sure to save a decent amount of money on your electricity bills when you invest in this unit. Purchasing an energy star appliance stands for an even higher efficiency!
Hassle-Free Installation
Portable air conditioners with heat pumps need no installation process. These heat pumps do not need to be made operational by an HVAC contractor. You do not need to modify your windows or drill holes in walls. Just extend a flexible hose through your window to vent the air outside, and you are set. You can literally install portable air conditioners anywhere, at no cost.
Disadvantages of Portable Heat Pumps
Unfortunately, nothing is perfect. Portable heat pumps do come with some cons which prevent them from being the ideal solution in every case.
Portability
While the portability of these pumps is definitely pro, it's important to note that for some models, it's not as easy as moving your pump to your bedroom at night, the bathroom in the morning, the living room during the day, and so on. If your portable heat pumps come with a hose, it is large and heavy; it's not super convenient to move it multiple times during the day.
Limited coverage for cooling or heating
Portable heat pumps are meant to cool or heat small areas. They do not work well in large spaces and are ideal for spot cooling.
Can be Noisy
Compared with central units or mini-splits, portable heat pumps have everything boxed in one compact package, all of which are inside your house. This can be noisy and an annoyance for some. 
Placement
To be able to expel the collected moisture out from your home, portable ACs must be placed near a window. Some heat pumps come with a pan that collects water that you'd need to replace. This can limit where you can place your unit.
Making Your Portable Heat Pump Smart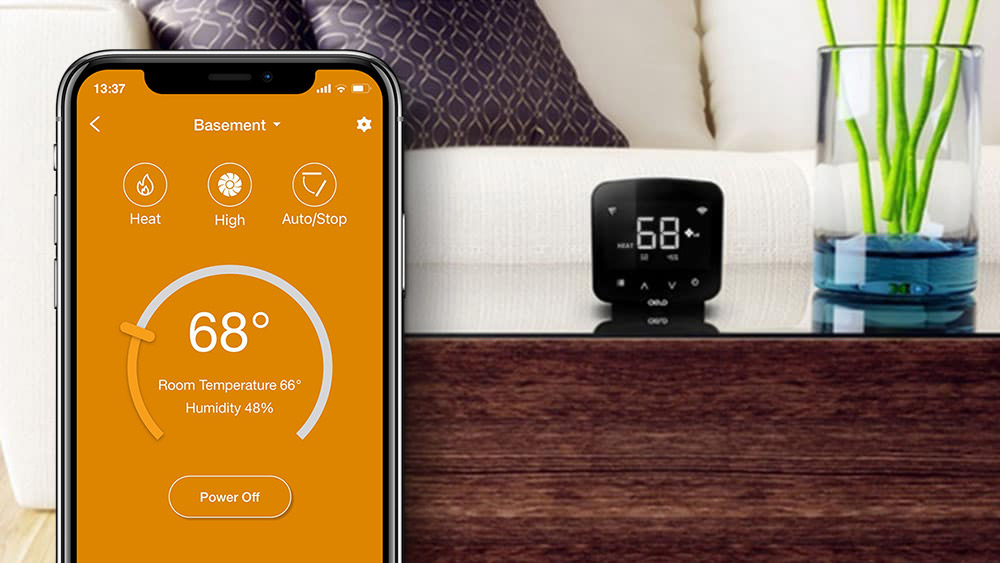 Portable heat pumps are very convenient appliances, which can be suited to tailor your environment. But what if you want to go the extra step? This is something made possible by smart AC controllers. They can control any ductless heat pump or air conditioner (that comes with an IR remote control), giving you the controls on your smartphone. Wherever you are in the world, whatever the time, you have full control over your heating and cooling.
The Cielo Breez line of smart controllers provides unparalleled functions to a user, through which they can achieve the exact indoor environment they want. Some features of Cielo Breez smart AC controllers are:
In-built humidity and temperature sensors, allowing you to keep an accurate check on room environment. Intelligent triggers will enable you to maintain temperature and humidity within your desired range at all times.
Smart AC controllers let you set up week-long schedules for your heat pump. Just set up a schedule, and forget about turning your heat pump on or off for the whole week.
Geo-fencing automatically detects your proximity to your heat pump and automatically turns it off if you are going away from your home. Similarly, the heat pump can turn on as you are about to reach so that the home environment is just as you want it.
Control your portable heat pumps with Google Assistant, Amazon Alexa, Siri Shortcuts, or Samsung SmartThings. Use voice commands, and sync your heat pump with other appliances across your home.
Is It Time to Get a Portable Heat Pump?
If you live in a small apartment and have limited space within the room, then a portable heat pump with AC is something you should definitely consider. The space savings, energy efficiency, and convenience are well worth the initial investment and can keep you comfortable all year round. Though if your needs differ, there are multiple heat pump options to consider.