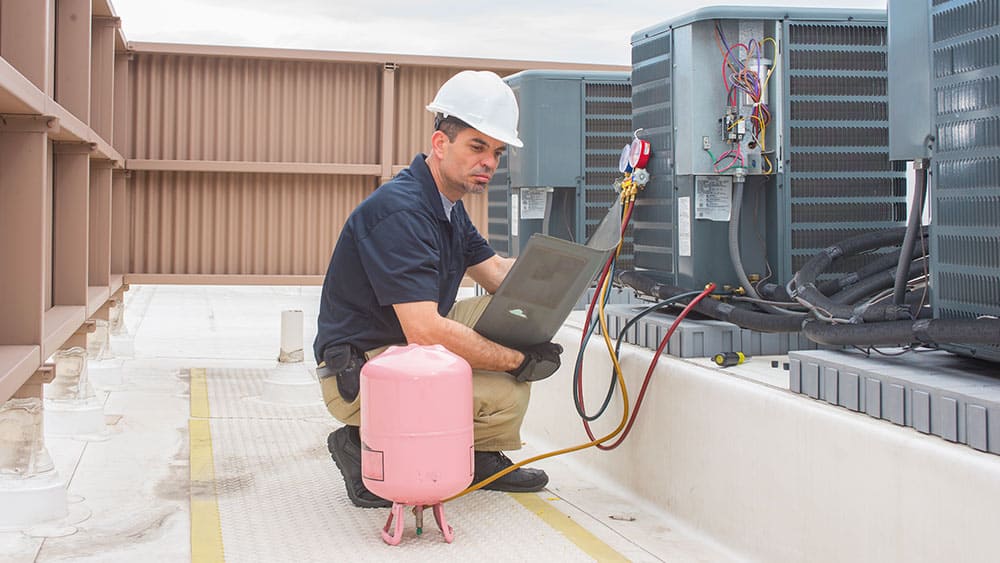 AC refrigerants are the invisible force behind the working of your air conditioner. The ability of your air conditioner to cool is dependent on it. Refrigerants absorb the heat and provide cool air as it runs through the compressor and the evaporator.
HVAC maintenance often requires the need to check your HVAC system's refrigerant level. If the refrigerant level is not adequate your system will have to work harder and will not be able to cool as desired.
If you are dependent on your air conditioner or heat pump, it is good to brush up on your HVAC knowledge. Read up and get to know your AC refrigerants and be able to identify and fix any potential issues straight away.
What Is an AC Refrigerant?
As you may have guessed, an AC refrigerant helps with the cooling function of not only your air conditioner, but also a refrigerator, freezer, or any other appliance which uses cooling.
To know more about the function of an AC refrigerant, it is important to know how an air conditioner works. An air conditioner works by using the refrigerant, which is inside copper coils in the evaporator and condenser, to absorb heat in the room, and expel it to the outside environment. During this process, the refrigerant changes from a low-pressure gas into a high-pressure liquid.
This is the simplest explanation for the refrigeration cycle. The high-pressure liquid then blows over with a fan to expel the heat to the environment. To begin the next cycle, this liquid further compresses, and then rapidly ejects from a special nozzle to convert it into a gas again. This cold gas then blows over with another fan to inject cold air into the room, and the cycle continues.
The History of AC Refrigerants
The first attempt at an AC refrigerant was in 1928, by Thomas Midgley, Albert Henne, and Robert McNary's joint effort. They discovered these compounds while working at the air conditioning division of General Motors. General Motors sought to produce a non-toxic, non-flammable alternative to other refrigerants of the time, such as Sulphur Dioxide or Ammonia. Their refrigerants were of the chlorofluorocarbon (CFC) class of refrigerants, known by their brand name, Freon.
Cielo Smart AC Controllers
Your best choice to make any mini-split, window,
or portable AC smart. Enhance your comfort and savings.
Shop Now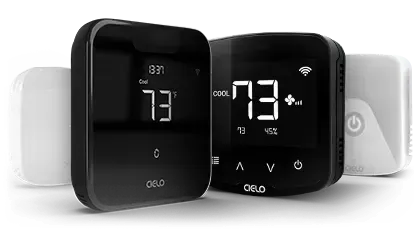 The primary AC refrigerant which was discovered was R-22, a hydrofluorocarbon (HCFC). It found widespread use as a refrigerant in the coming decades as the refrigerant of choice due to its favorable properties.
In the late '80s, as the world drew its attention to the increasing rates of global warming and other environmental factors, CFCs and HCFCs came under greater scrutiny. They were damaging the Ozone layer and were banned due to their devastating effects. In 1987, they were placed on the Montreal Protocol list of banned substances and slowly phased out.
Types of AC Refrigerants
Chlorofluorocarbons (CFCs)
The production of CFCs, also known as Freon, was phased out by 1995.  Some examples of these refrigerants are R11, R12 and R115. They were deemed unsafe for the environment contributing towards the depletion of the ozone layer and the greenhouse effect.
R22 Refrigerant
R22 or Freon 22 is an HCFC refrigerant which is basically a chlorofluorocarbon but with a hydrogen atom to decrease its lifespan in the environment. After CFCs they became the standard use in air conditioners from 1960 to being completely phased out in by being banned for use in new air conditioners in 2010.
If your air conditioner was installed before January 1st 2010 it probably used R22, while you may have been able to get this at an increasing cost before, it is completely ceased in 2020.
R22 is also linked with environmental damage which is the reason behind its ban by the Environmental Protection Agency (EPA).
R410A Refrigerant
The ban on R22 necessitated the introduction of a new AC refrigerant R410A, also known as Puron. R-410A is a chlorine-free refrigerant making it much less harmful to the environment without losing its cooling characteristics.   
It is essential to be careful since HVAC appliances intended for R-22 cannot be used with R-410A, considering its higher operating pressures.
Moreover, R-410A permits higher for an HVAC system, as compared to one using R-22 as well as better air quality and comfort. With higher SEER and lower power consumption there is an added benefit of lowering the total demand for power plants, thus reducing greenhouse emissions.
Replacing R-22 With R-410A
With R-410A being mandated by the government, the phase-out for R-22 has been a concern for many homeowners. If you already have an air conditioning system using R-22, worry not; you won't have to throw it out.
The government protocols only concern manufacturers and bans them from making R-22 compatible air conditioners or R-22 itself after January 2020. You can keep on using your old air conditioner as it is. If there is a need to recharge it with refrigerant after 2020, your HVAC technician will have to source recycled R-22 for replenishment.
At the end of your old conditioner's lifecycle and when the time comes to replace it, you will be restricted to only buying R-410A compatible air conditioners.
But it might just be better to make the switch early. R-410A  is safer for the environment and gives you much greater energy efficiency as compared to R-22 thus reducing your energy bills.
Refrigerants are not the only way of saving energy, though. Read on about the 101 tips through which you can reduce your energy expenses.
R32 – The Future of Refrigerants
With time, refrigerants have been making progress, and now it is time for a new class of AC refrigerants, known as R-32. The result? Lower energy consumption and even lower environmental impact. Let's see how.
R-32 is the talk of the town these days, and for a good reason. For one, it has a Global Warming Potential (GWP) which is 32% that of R-410A. The GWP is a measure of how much emissions a chemical substance is contributing to the environment. A lower GWP means fewer emissions and more environmentally friendly refrigeration.
Moreover, systems that use R-32 consume up to 20% less refrigerant in the system, saving up on costs even further.
Even though there is still some time in the widespread adoption of R-32, the future is very bright for this class of refrigerants. With countries such as Japan and China already implementing it, it is only a matter of time before the world at large moves towards these higher efficiencies. In the US reports suggest half of window ACs sold in 2018 used R32.
Which Refrigerant Does My Air Conditioner Use?
If your air conditioning system was built before 2010, there is a high chance that your AC has R-22. But there's an even more authentic way to find out. You can look at the appliance description sticker on the side of the air conditioner's outdoor unit. The type of AC refrigerant is written there. You can find it on the user manual, or you can contact your HVAC service representative and find out!
How Do I Tell If My AC Refrigerant Needs Work?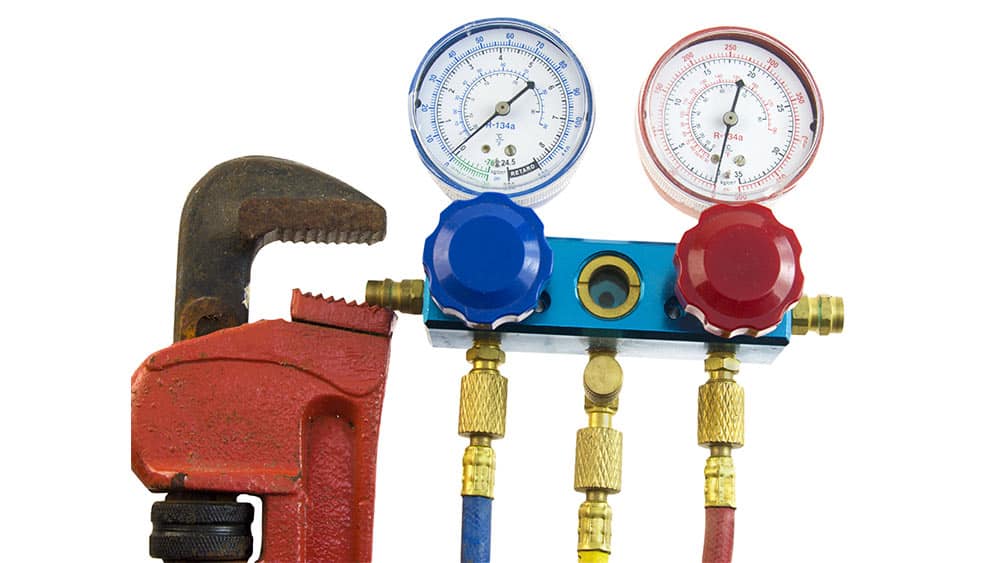 Now that you have a brief background on refrigerants and what they do, it helps be aware of some of the . The refrigerant in an AC is not something that you should generally worry about. They are built to outlast your air conditioner. But in rare cases, there can be a leak of the refrigerant, and you would need to top it up. We'll go over some of the common problems below:
Cool Air Not Coming Out of AC Vents:
If your AC is in cool mode, but there is room temperature air being blown out, you need to look at your refrigerant. This is by far the most common problem. An AC refrigerant is required to provide cooling, and without a refrigerant, it would not be able to do so.
There can be other causes for such a problem too, but a sudden shift from cool air to room temperature air is a tell-tale sign that your AC refrigerant leaks.
If you take a glance within your ductless indoor unit, you will see a network of copper coils, dark gold in color. The refrigerant flows to provide cooling within these coils. These coils are very icy to touch, but they should not be having frost over them in regular operation. If you see signs of frost on the coils, there is a high chance that the refrigerant could be leaking.
It is better to have , especially before the start of a busy season. For air conditioners, this is just before summers start. At this time, a good HVAC technician can spot an AC refrigerant leak, and propose remedial measures.
The cause of leaks can be various. It can be a manufacturing defect, which has surfaced after prolonged usage, or because of damage encountered during use.
What Is the Solution to an AC Refrigerant Leak?
AC refrigerant leaks can be worrying, but they are extremely common. Let's look at how to solve this common issue and keep your air conditioner running in top shape.
Recharging Your Refrigerant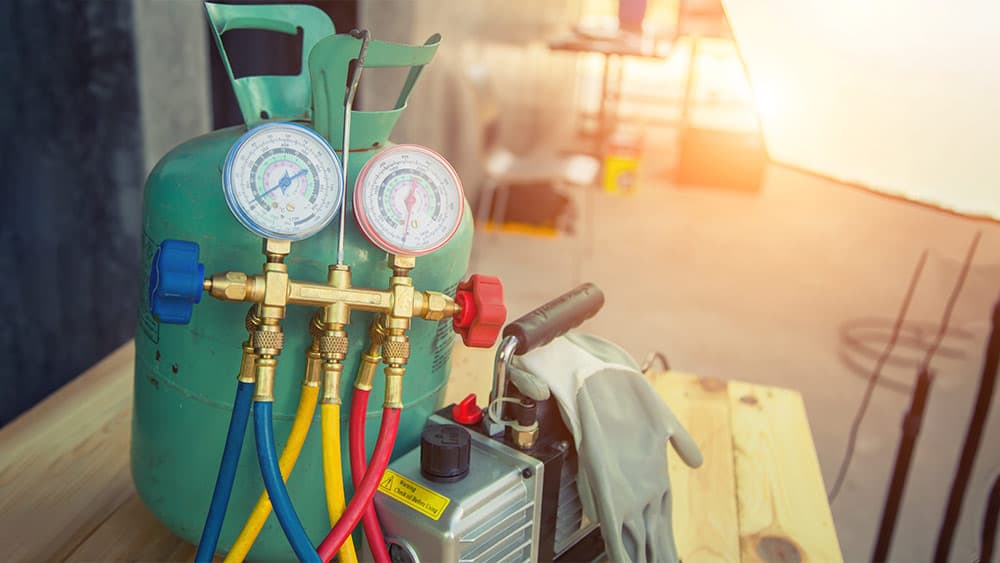 Recharging means to top up your air conditioner with more refrigerant. If your system is low on refrigerant, you won't get enough cool air coming out of your vent. Thus, recharge is imperative.
A recharge should only be done by a professional contractor due to the high levels of pressure involved. Moreover, there is increased risk of damage to your air conditioner, which can result in an even higher bill.
Your professional contractor will also find out any major underlying problem, such as a much larger leak, or loose fittings. These can cause problems further down the road as well. He will fix any minor leaks or issues on the spot, and recharge your air conditioner with refrigerant. Your AC will be functional in no time again!