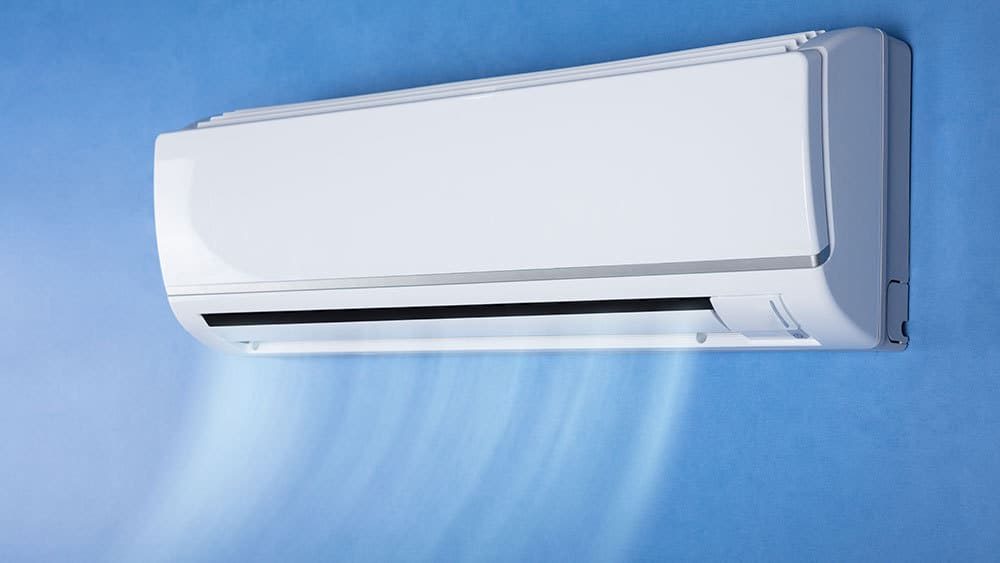 Ductless heat pumps, such as mini-split, portable, and window air conditioners are an excellent option for contemporary homes. They work without relying on a network of ducts. Their multiple benefits make them quite popular in comparison to ducted systems.
Be it winter or summer, ductless heat pumps keep the indoor temperature and environment at comfortable levels. They are a practical solution to a home's heating and cooling needs, without the need for an extended teardown or installation process. Moreover, ductless HVAC units are more energy efficient hence saving you a lot on your energy bills.
Ductless heat pumps have numerous advantages, and this guide has all the information needed to buy the best ductless heat pump to suit your needs.
How Ductless Heat Pumps Work and their Components?
Heat pumps are seemingly simple machines; however, a heat pump's actual working requires a complex arrangement of different components.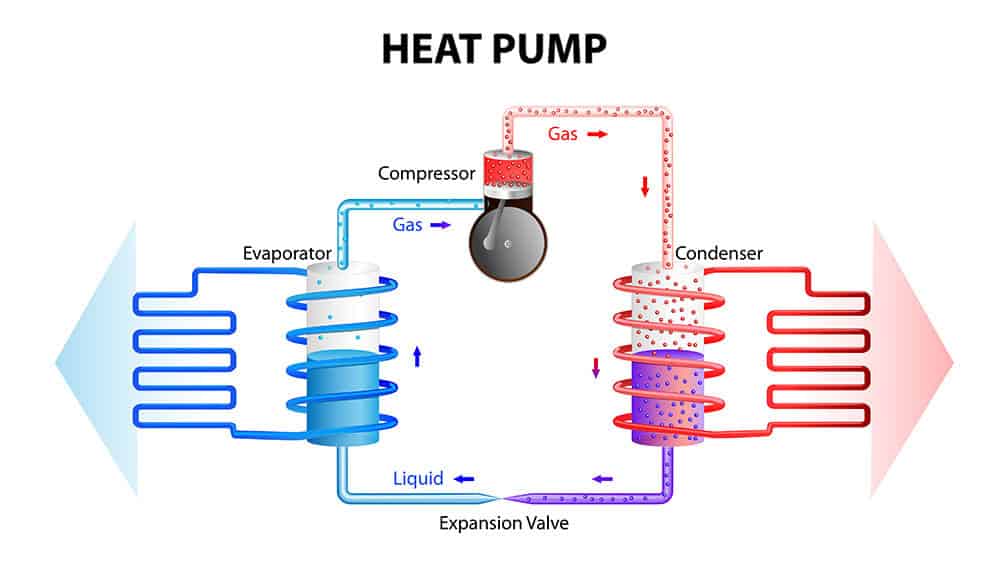 Components of Ductless Heat Pumps
To understand how does ductless heating and cooling work, let's go over each component in detail to get an idea of how they function as a whole.
In essence, an evaporator coil extracts heat from the indoor air and expel it onto the refrigerant. Evaporators are most commonly arranged in coils of copper tubing. In the case of mini-split heat pumps, it is inside the indoor unit. Indoor air is constantly pulled in and passed over the evaporator coils. Heat is absorbed by the refrigerant, which is in a cold gaseous state at this stage.
Once the heat is extracted from the air and sufficiently cool, it is recirculated into the room. Blower fans in the indoor unit push the warm air out and cool down the room. Along with heat extraction, another step of this process is the extraction of moisture from the air. When warm air contacts the cold evaporator coils, moisture accumulates on them, and the result is dry air. This is a true example of air "conditioning," as it was designed by Willis Carrier over a hundred years ago.
Cielo Smart AC Controllers
Your best choice to make any mini-split, window,
or portable AC smart. Enhance your comfort and savings.
Shop Now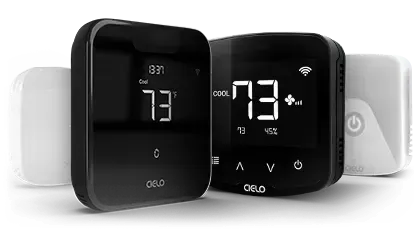 Once the refrigerant has absorbed heat from the air, it passes through a tube to the outdoor unit, usually located on the other side of the wall.
Very similar to the evaporator coil, a condenser essentially works in reverse. As opposed to the evaporator coils that absorb heat from the air, the condenser coil releases the heat absorbed by the refrigerant to the outside air. After the absorption of heat from the room, the refrigerant is compressed and converted to hot gas. The refrigerant is then circulated through the condenser coils, where a fan blows ambient air over them. This process cools down the refrigerant, condensing it to liquid form. This is the warm air that you often experience when standing next to your heat pumps' outdoor units.
As the name suggests, a compressor increases the gaseous refrigerant's pressure and temperature by compressing it. This process is done when the refrigerant leaves the evaporator coil.
But why do we need to increase the pressure of the refrigerant? The simple answer is to create a pressure difference. Just like how water flows from a higher point to a lower one, gas flows from high to low pressure. The compressor raises the gas pressure and flows towards the low-pressure region in the evaporator coil.
As a consequence of the increase in pressure, the temperature of the gaseous refrigerant also rises. The compressor raising the pressure will also increase the temperature. It is important to increase the temperature because, as is the case with pressure, temperature flows from high to low. The temperature of the refrigerant is higher than the ambient air facing the outdoor unit. As a result, the refrigerant can transfer the heat to the outside air and cool down.
After passing through the condenser and before going on to the evaporator, the refrigerant must be cooled down to a low-pressure liquid state. This is where the expansion valve plays its role. An expansion valve rapidly expands the liquid and reduces both the temperature and pressure.
The refrigerant is the heat pump's working horse, extracting heat from the inside air and ejecting it outside in the summers. Conversely, during the winters, a refrigerant pumps the heat into the room by absorbing it from the outside air.
Common refrigerants currently in use within the refrigeration industry are R-22, R-410A, and R-32, with the latter gaining prominence lately.
The first refrigerants for the heat pump industry were made in 1928 by a group of engineers working at General Motors. These refrigerants belonged to the chlorofluorocarbon (CFC) class of refrigerants. Over time, these refrigerants were known to harm the environment in the form of ozone depletion. By 1987, the CFC and HCFC class of refrigerants were placed on the Montreal Protocol list of banned substances and scheduled for phase-out.
The current refrigerant in use, R-410A, works at a higher temperature than R-22. This is why heat pumps for R-22 cannot use R-410A. Moreover, R-410A permits higher SEER ratings for an HVAC system, as compared to one using R-22. Systems that use R-32 consume up to 20% less refrigerant, saving up on costs even further. Lower power consumption then has the added benefit of lowering the total demand for power plants, thus reducing greenhouse emissions.
How Does a Ductless Heat Pump Work?
Now that we have an idea about a heat pump's major components let's see how they all work together.
A heat pump moves the refrigerant through its various components, as discussed in detail above. During the summer months, the refrigerant absorbs heat from the room and expels it out into the environment.
The refrigerant is passed through an expansion valve, which converts the previously liquid-formed refrigerant into a gas. The expansion cools down the refrigerant. It is then passed through the evaporator coils. A fan blows air over these coils, which is introduced into the room. In this process, the refrigerant absorbs the heat and warms up.
The refrigerant is now compressed and pressurized. The condenser is then used to extract heat out of the refrigerant. This heat is ejected into the outside air. Now, the liquid refrigerant passes through the expansion valve. It is then again converted to a gas, ready to go through the full refrigeration cycle again.
In winter, this whole process is reversed. Your heat pump extracts heat from the outside air, which is dispersed indoors to achieve your ideal room temperature.
Types of Ductless Heat Pumps
Ductless heat pumps come in many forms. You can find a ductless heat pump for your own needs and appropriate to your room size.
Ductless Mini-Split Heat Pump
By far, the most common type of ductless heat pump, wall-mounted mini-split heat pumps, presents the future of air conditioning. These sleek and ultra-efficient appliances come in two separate units, an outdoor unit housing a condenser & compressor and an indoor unit with the evaporator. The indoor unit can be mounted high up on the inside wall, spreading conditioned air across the room. The outdoor unit is usually placed right outside, opposite the indoor unit. A small hidden hole through the wall carries the pipes, and electrical cables are needed to connect both the units. These pipes consist of a refrigerant pipe and a pipe to carry the condensed water from the indoor unit and expel it outside.
Ductless mini-split heat pumps provide many advantages over other types of heat pumps. These include the benefit of high energy efficiency and easy installation.
Wall Mounted Multi-Split Heat Pumps
Much like mini-split heat pumps, multi-split heat pumps have an indoor and an outdoor unit. But instead of one outdoor connected to one indoor unit, a single outdoor unit can power up multiple indoor units. A larger outdoor unit is then needed to be sufficient for the indoor units.
Window or Through-The-Wall Heat Pumps
Window heat pumps and through-the-wall heat pumps are small packaged air conditioners, with all the components assembled in one single unit. They may be smaller in size than mini-splits but can still pack a punch. Typically, window air conditioners come up to 12,500 BTU, but some manufacturers also provide higher capacity ratings. These units are often used to cool down a single room or at most two.
They are easy to install, requiring only a 15-minute process. You can mount window heat pumps upon window frames, and for through-the-wall units, you can make a hole in your wall and fit it in there. But be careful; making a permanent fixture in the wall means that when you take your heat pump out, there will be a gaping hole that needs to be filled. While installing these types of heat pumps, be sure to caulk out the air conditioner's edges, so no air escapes outside.
Portable Heat Pumps
As the name suggests, portable heat pumps are another type of small and compact heat pump unit. The whole air conditioning system is packed inside a single container. Portable heat pumps come in two types: single hose and double hose. Single hose heat pumps only drain the air outdoors from one hose, and dual hose pumps use the additional hose to draw in air.
The primary feature of this type of heat pump is that they are portable, able to be carried anywhere in the home, as long as you have a power supply nearby.
Efficiency of Ductless Heat Pumps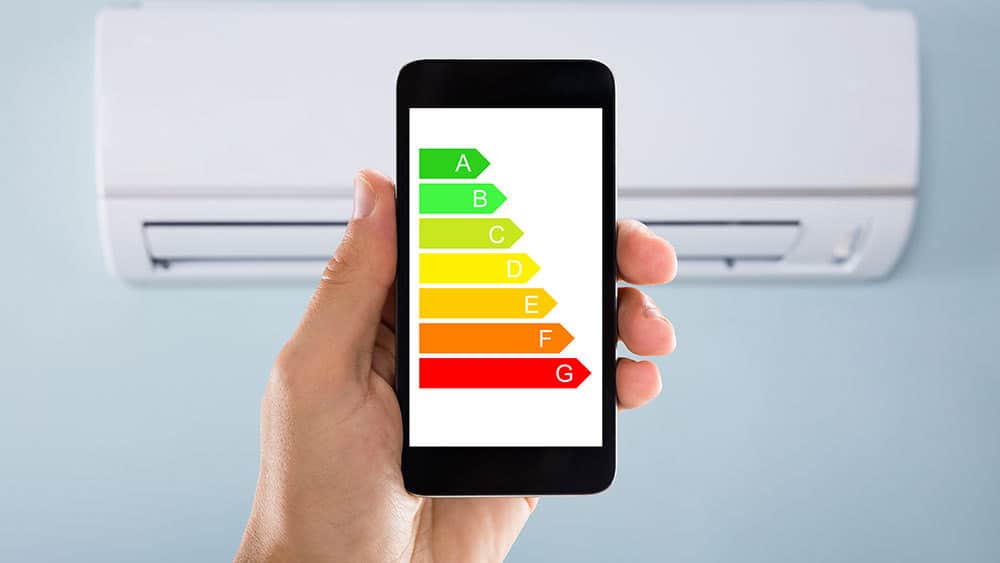 Energy consumption is one of the primary factors to consider when buying a heat pump.
But how do we measure the efficiency of a heat pump?
It is obtained by dividing the cooling output with the electrical input of the heat pump. Doing this for the total consumption and total input for the cooling season gives us the Season Energy Efficiency Ratio (SEER).
Over the years, heat pump efficiency has been increasing exponentially. There are ductless heat pump systems with a SEER as high as the mid-20s. This is partly due to the introduction of Energy Star ratings, done jointly by the United States Environmental Protection Agency and the Department of Energy.
Another term for efficiency that you might have heard about is EER or Energy Efficiency Ratio. Put simply, the EER is the efficiency of the heat pump at an instant, for a single moment of time. The indoor and outdoor temperature for this calculation is constant. The outside temperature is kept at 95o, while the indoor temperature is 80o with a relative humidity of 50%. Even though it is a somewhat sufficient energy efficiency measure, it does not give an accurate picture of energy consumption for the full season.
On the contrary, to calculate the SEER, a constant indoor temperature is used throughout the season, while the outdoor temperatures vary from a low of 60 °F to a high of 100 °F. The seasonal temperature variations are accurately simulated this way and can give a true picture of a heat pump's efficiency over a longer period of time.
Heating Seasonal Performance Factor (HSPF) is another measure of efficiency that is used during winter. As with the SEER, HSPF is obtained by dividing the heat output (in BTUs) by electricity consumption (in Watt-hours) during the heating season.
A higher HSPF rating directly means a more energy-efficient unit. Usually, an HSPF of greater than 8 means that it is a high energy efficiency system. Depending on your local utility, a high HSPF heat pump can also be eligible for a tax credit or rebate.
But how is this energy efficiency then increased? It is done by the use of advanced materials, better insulation techniques, high-end components in the compressors, and strict quality controls. Copper pipes within the evaporator and condenser coils are made with higher thermal conductivity. Moreover, sound insulation techniques are improved so that there is minimal vibration within the system components.
Choosing a Ductless Heat Pump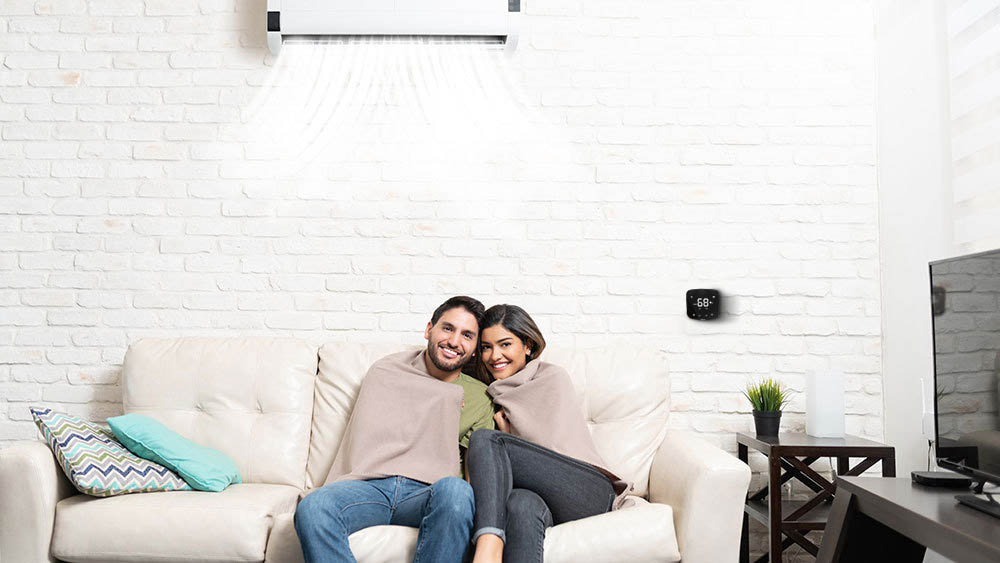 While buying a ductless HVAC unit, you need to consider many factors that will affect the cost and the efficiency of your unit.  To be able to select the most appropriate unit for your needs, here are various factors that you must look into:
Heat Pump Manufacturer
This is a very important consideration to keep in mind. With numerous heat pump manufacturers currently in the market, from high-end big brand names to industry newcomers, you can quickly become confused and often make the wrong choice. High-end brands offer more features, a modern-looking design, and, more often than not, higher efficiency figures. But the high cost is a big disadvantage.
Low-end manufacturers can sometimes skip out on quality controls and modern features, lowering the heat pump's efficiency and longevity. The upside is the lower cost, though.
You can even browse mid-tier manufacturers when buying a new heat pump. You would not have to spend a good chunk of your money on a heat pump with all the bells and whistles. After this hassle, you'd be able to compromise on some features for a good cost.
You can always equip any ductless heat pump (that comes with an IR remote control) with a smart AC controller such as Cielo Breez. This will add features such as scheduling, geofencing, and Comfy Mode, plus allow you to control your unit using your phone!
Names such as MRCOOL, Daikin, Mitsubishi, LG, Friedrich, Fujitsu, etc., are definitely going to catch your eye. Choose the best ductless heat pump depending on your requirements, features offered, and the cost.
Heat Pump Cost
The initial and installation cost is often the primary factor when buying a new heat pump. Even though the exact amount can vary, generally, ducted systems require a larger amount for installation, especially if the ductwork needs to be installed from scratch or requires maintenance.
With ductless systems, the installation cost can be lower since there is no need for a drawn-out installation process. In most cases, you can install them in a single day.
Ductless air source heat pumps such as mini-splits can range from around $1,500 to $5000, including the installation costs. Window heat pumps on the other hand are much cheaper, ranging from the low hundreds to around $1,000. They also do not warrant a high installation cost, with the installation merely requiring the window to be popped open.
If you want to go with a feature-loaded ductless heat pump air conditioner, having all the latest tech and Wi-Fi connectivity, then you might want to plan the budget in advance. More basic heat pumps can come in around a third of the price, but then there are other considerations that need to be kept in mind, such as reliability, features, and after-sales support.
Heat Pump Size
Choosing the appropriate heat pump size for your space is crucial to achieving the right cooling and heating level.
Heat pump sizing means using a heat pump with the appropriate BTU capacity that can effectively cool or heat the interior space. By choosing the proper heat pump size, you get a suitable indoor environment and save on energy bills.
So, how do you measure the size of your heat pump? There are a couple of different ways to go about this, but the most common and widely accepted method is to calculate the BTUs/hour of the heat pump.
A BTU stands for British Thermal Unit. In scientific terms, a BTU is the amount of heat required to raise one pound of water temperature by one Fahrenheit. Without getting into the nitty-gritty of it all, what is important for you is that a higher BTU rating of your heat pump means more cooling and heating power, ensuring a comfortable indoor environment.
As a rule of thumb, you can get an idea of the required air conditioner size by calculating the size of your room in square feet. If you want to get an exact determination, a host of other factors then needs to be included. These include the material of the walls, wall insulation, airflow into the room and out of the room, location of the home, whether the room is facing the sun or not, outside temperatures, electronic devices in the room, humidity levels of the location, flooring and ceiling material, whether the room is located upstairs or downstairs, and much more.
Knowing your room size is pretty simple; just multiply your room's length and width, and you will have the area.
Even if your room is not a single cube and made up of different little spaces, you can still follow the same method. Simply divide the room into little chunks, and calculate the area for each chunk separately. Then add them all up together. Here is a useful room area calculator to help find out the area of your room.
The next step now is finding the right amount of BTUs for the room. As a rule of thumb, simply multiply the total area of the room by 25, and you will get the number of BTUs required.
With this figure, you do not need to consider other technicalities in your calculations. The factor of 25 already caters to the weather conditions, room conditions, and other factors. As an example, in a room with a length of 9 feet and a width of 12 feet, the total area comes out to be 108 square feet. Multiplying this number with 25 gives us a total required BTU of 2,700. This is the heat pump capacity you should go for.
Another thing to keep in mind is the amount of sunshine that falls into your room. If the room is exposed to the sun all day, you will have to increase the required BTUs by 10%. If it is in the shade for a major part of the day, reduce it by 10%.
While you must have calculated your room's area by now, you haven't considered its height yet. The height of a room also plays a part in determining how effective a certain cooling capacity is.
A higher than average room will have more air that needs to be cooled or heated, requiring more power. This makes it vital to consider the height of your room also!
Your room's air stays cool for a longer period of time if you have thermally insulated walls. The same is the case with warm air in the winters, which allows you to minimize your air conditioning. If you have insulated walls in your home, you will probably not need a lot of cooling/heating power.
A location with high humidity will generally feel hotter than a place with low humidity levels. If you are living in humid places like Florida or Louisiana, you might need a high BTU heat pump to take away the humidity.
Moreover, if you are planning to have your air conditioner in your kitchen, increase the required BTUs by 4,000. A kitchen has additional heat sources, and that only increases the temperature of the room.
Why is it important to get the sizing exactly, right? You must think that just going for a high BTU heat pump and be on the safe side, right? No, that is not the case! Although this sounds ideal, there are a few problems with this sort of thought.
A heat pump with more BTUs than your requirement only wastes energy and increases your energy bills. On the other hand, a small-sized air conditioner would not cool or heat your room as required and be running at full power all the time without the required effect.
Energy Star Certification
Always look out that your new heat pump has Energy Star certification. As discussed before, Energy Star compliant appliances are more energy-efficient and can save you money in the long run through reduced energy bills.
Ductless Heat Pump Installation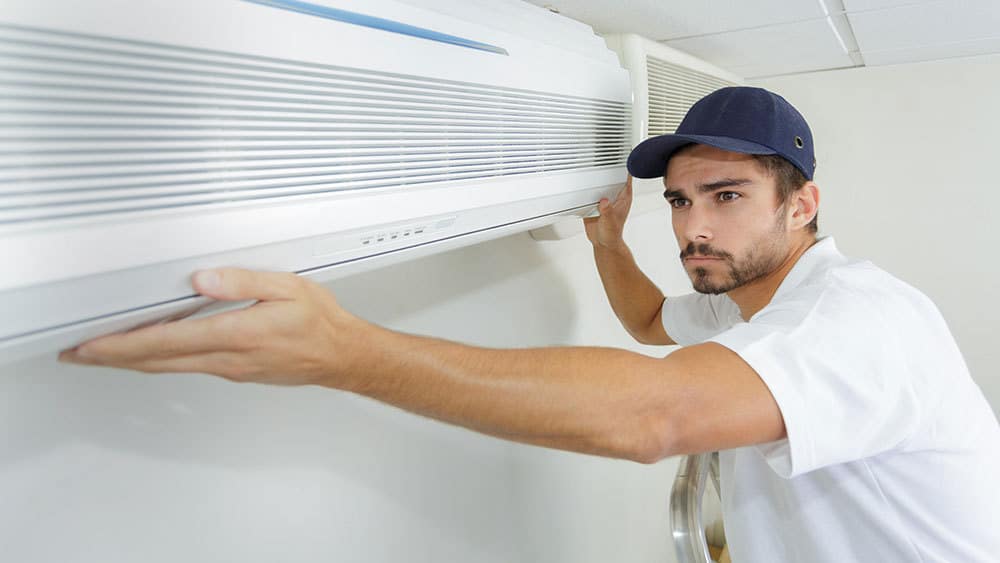 Ductless heat pump installation process is very easy as compared to its ducted counterparts. You do not have to make large-scale changes to your home or spend weeks during the installation. Often, an experienced installer can finish the whole process in an hour or even less. Let us see the installation procedures for the different types of ductless heat pumps.
Ductless Mini-Split Heat Pumps
Ductless mini-split heat pumps come in two parts: an outdoor unit and an indoor unit. For the indoor unit, a bracket is mounted high up on the wall, and a small hole is drilled right beside it. The indoor unit then simply latches on to the bracket, with a pipe bundle passed through the hole in the wall and going outside.
You can place the outdoor unit right opposite the indoor unit, on the wall's exterior, or on the ground. Next, simply connect the pipes for refrigerant, power, and condensed water, and you are good to go.
Here is our detailed guide on mini-split installation.
Window Heat Pumps
Window heat pumps require only a cutout in the wall, with approximately the same dimensions as your heat pump. You can also very easily mount them on the wall. There are no separate units that you need to join together. All you have to do is fit your window heat pump onto the window or wall and then connect the power plug.
Be sure to seal the edges of the window heat pump with caulk so that the room is as airtight as possible.
Refer to this step-by-step guide for installing a window heat pump.
Portable Heat Pumps
By far, the easiest of the heat pumps to use is portable heat pumps; all you need is to put the appliance wherever you want and plug it in. You will also need to extend an exhaust hose outdoors, but this is not tedious. Portable heat pumps are practically plug-and-play heat pumps and can be wheeled anywhere in the home.
Advantages & Disadvantages of Ductless Heat Pumps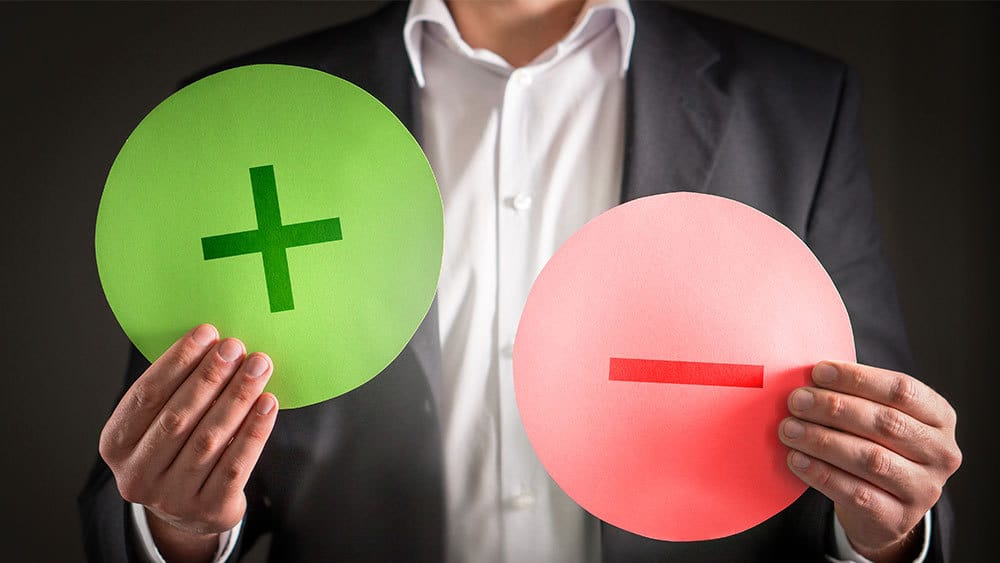 Advantages
Ductless heat pumps do not take up as much space as ducted heat pumps. There is no need for a dedicated ducting system in the house. Moreover, you do not need to set aside a large amount of space.
You can create multiple zones in a house using ductless heat pumps. Instead of heating or cooling the entire house, you can control various zones as per your preference. While zoning with ducted systems is expensive, it is quite simple with ductless, and you can heat or cool individual rooms as per your requirement.
Ductless heat pumps have higher efficiency as compared to ducted heat pumps. Some manufacturers provide a SEER of as high as 30.
By installing a ductless mini-split, you could be eligible for a rebate on your purchase. Moreover, tax incentives are also provided by electric utilities.
Modern ductless heat pumps come with DC inverter technology. This controls the heat pump's energy usage. The compressor can then speed up or slow down accordingly, resulting in decreased power use.
Ductless heat pumps can dramatically improve the air quality of your room. Air Filters within the heat pump trap any contaminants in the air, removing dust and allergens.
Disadvantages
Ductless heat pumps have an indoor unit, which can sometimes not fit in with the general outlook of the room.
Ductless heat pumps do not provide a high enough level of airflow as compared to ducted heat pumps. The air handler units are smaller in size and cannot put in high volumes of air.
Common Heat Pump Problems and Solutions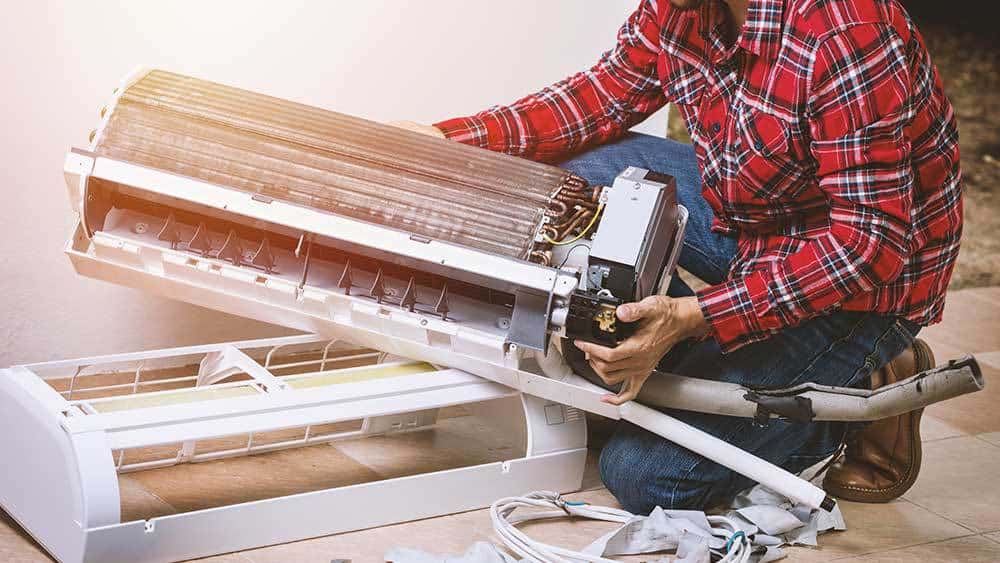 Every appliance can run into some problems now and then, and heat pumps are no exception. Let us go over some of the common air conditioner problems and learn how to solve them.
1. Water Leak (Indoors)
The most common reason for water leakages in the indoor unit is that the condensate drain gets clogged up, not letting the condensed water from the evaporator drain out. This overflowing water makes its way out of the indoor unit and drips down your walls and onto the floor below.
This is an easy problem to fix, and you can easily do it yourself! Turn the heat pump off, take apart the front cover, and unclog the drain using a cloth or a dry vacuum. A little bit of vinegar in the drain can help to kill the algae and fungi in the drain, too, eliminating any smell.
Water Leak (Outdoors)
You can often see a puddle of water right beside the outdoor unit. There can be multiple reasons for this, including but not limited to a broken condensate pan, bad AC seal, improper installation, etc.
Quickly turn the heat pump off, and call an AC technician to solve the problem. It is best not to DIY this sort of a challenge.
2. Refrigerant Leak
AC refrigerants can sometimes leak through the piping network and emit a pungent smell. Moreover, the heat pump's cooling or heating power can also take a hit, and you will not feel any difference in the indoor temperature.
You can top up the refrigerant to easily repair a minor leak. If there is a major fault, though, you might need to replace the whole refrigerant pipe. Consult with your HVAC professional on the proper solution to this problem.
3. Dirty Filter
A clogged air filter can force your heat pump to work harder to provide the same level of airflow. Your system's efficiency can then take a hit, and your heat pump will not achieve the required heating or cooling. It is a good practice to replace the filter of your heat pump every three months or so.
You can clean a clogged or dirty filter by sliding it out of your indoor unit and washing it under running water. Leave it out to dry, and then place it back into the heat pump.
4. Frozen Evaporator Coil
A heat pump might stop heating and cooling because of a frozen evaporator coil. This problem can occur if your heat pump does not receive the required amount of airflow. It can be due to the accumulation of dust, dirt, and grime on the evaporator coil or a blocked air inlet.
To solve this problem, turn off the heat pump and let the evaporator coil defrost. You could also use a hairdryer if needed. After the ice has melted, clean the evaporator coils thoroughly with compressed air, making sure there is no blockage in inlet and filter.
5. AC Fan Failure
The outside unit of the heat pump removes heat from the refrigerant and expels it to the environment. A fan inside the unit blows over the condenser coils and cools the refrigerant down. If this fan does not work as intended, the heat transfer process becomes disrupted, and the heat pump does not heat or cool down as effectively. Damage can occur to the compressor if it trips.
If the fan has stopped, unplug the heat pump, and remove the outer casing of the outdoor unit. Check if there is any debris or rodents in the unit, clean them up. If a visual examination does not turn anything up, it would be a good idea to consult a professional.
5. Heat Pump Is Giving off Bad Odor
Bad odor from a heat pump is a very common problem. The solution to this common problem can either be very easy or very tricky. The smell can be due to many reasons, including wet filters, clogging in the condensate drain, refrigerant leak, or fungus buildup.
You can check out the article on AC smells and find out more about this problem.
Using Heat Pumps in Winters & Summers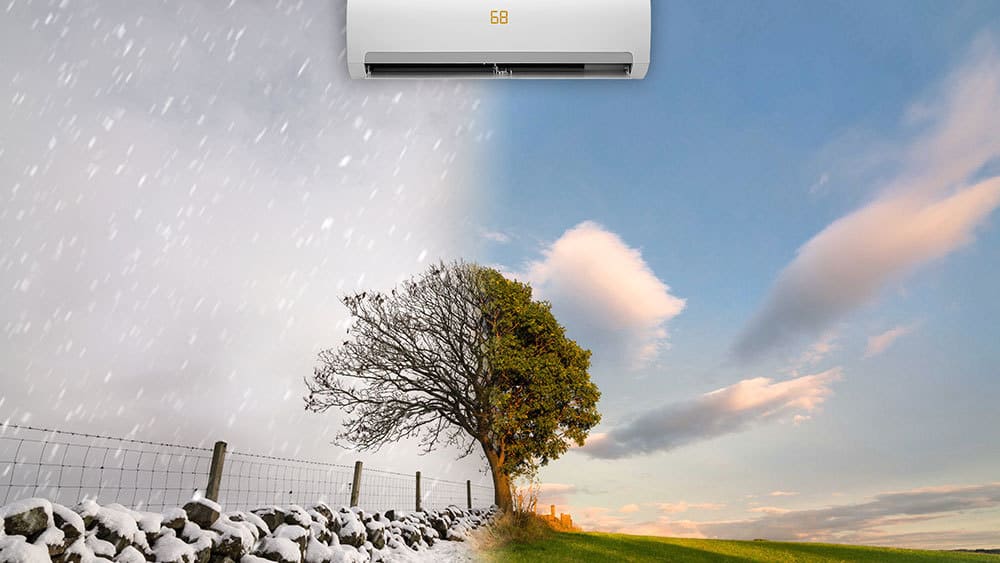 A heat pump is an appliance that transfers heat from one place to another. This applies to moving heat from a hotter place to a colder one, as well as from a colder one to a hotter one. Consequently, a heat pump can work both in the summer and winter seasons.
The only requirement for a heat pump to work in both climates is a reversing valve pre-installed in the heat pump. Air conditioners are also a type of heat pump, but without a reversing valve, and you can only use them for cooling.
If you live in a very cold climate, be sure to check out the specifications and minimum operating temperatures of your heat pump. Some heat pumps do not work quite as well in extremely cold temperatures.
This is because it takes a lot more energy to transfer heat from a cold area to a hotter one. If the temperature difference between the two places is not as extreme, it is much easier to do so. In moderate temperature zones, the outside environment still has enough heat so that the unit can extract it easily and move it indoors. With extremely cold outside temperatures, the heat pump cannot extract enough heat from the air, thus becoming less effective.
Making Ductless Heat Pumps Smart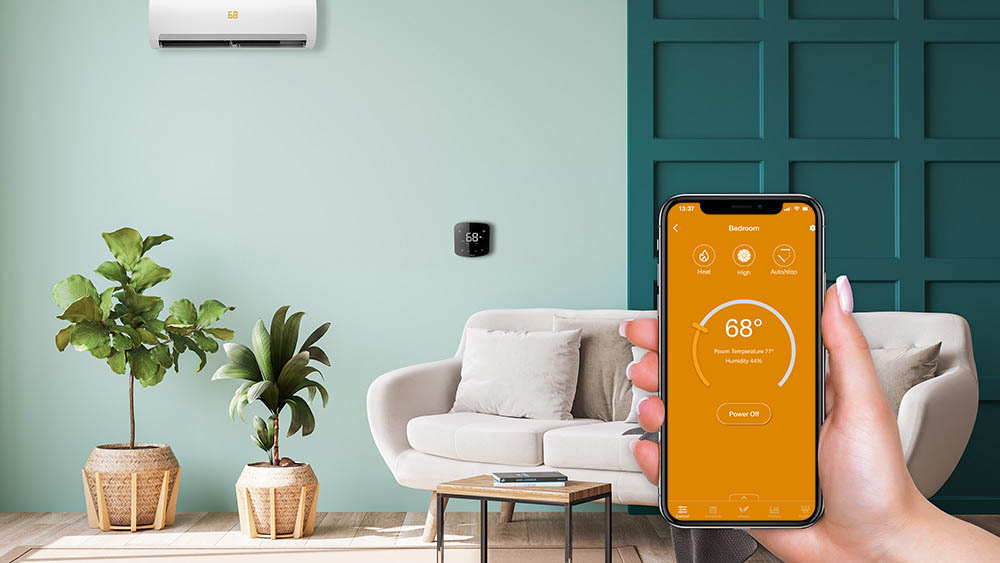 Smart AC controllers such as Cielo Breez Plus enable you to alter your heat pump settings from your smartphone, browser, or voice! This next level of comfort allows you to tailor the air conditioning as per your needs. With such smart controllers, you can equip your heat pumps with smart features such as global control, geofencing or location-based triggers, temperature- and humidity-based automation, air filter status, usage history, timelines of actions, and much more. You can adjust your heat pump settings, whether you are returning from a long vacation or just too tired after a long day's work.
Smart AC controllers give you much more than remote controls. They are truly intelligent devices that provide a host of different features and functions. Energy-saving is a prime concern for any heat pump owner, and smart AC controllers reduce power consumption by up to 25%.
The Cielo Breez line of smart AC controllers gives unparalleled user experience and comfort. Let us see some of the main functions of Cielo smart controllers.
Comfy Mode
The flagship Comfy Mode uses intelligent humidity- and temperature-based triggers to control the room environment. You can set up the Cielo Breez device to maintain a specific temperature or humidity range, and the smart controller will command your ductless heat pump system accordingly. In-built temperature and humidity sensors in the device help it to keep the room environment as required. You can easily go to sleep or keep pets at home without worrying about the temperature or humidity.
Weekly Scheduling
With this feature, you can set up your device to perform pre-set functions according to the time of the day. In the morning, you could be having a comfortable 70 degrees. But then, at 8 AM before leaving for office, it moves up a notch to 74 degrees. When you come home, it'll already have the temperature set to 68 degrees before gradually settling in at 70. It gives you complete control over your day without even having to think about it. You can set weekly schedules and forget about temperature worries altogether.
Geofencing
Geofencing is the location-based functionality to manage your air conditioners. The device can sense your location through your smartphone and automatically turn your AC on or off. It does so by depending upon your proximity to your home. This way, when you arrive, the home environment is already perfect.
Smart Home Platforms Integration
All Cielo Breez devices work with Amazon Alexa, Google Home, Siri Shortcuts, and Samsung SmartThings. Through voice commands, you can turn the AC unit on/off or switch between modes along with temperature controls. For the full array of personalization options, you can still use the Cielo Home app.
Are Ductless Heat Pumps The Right Choice for Your Home?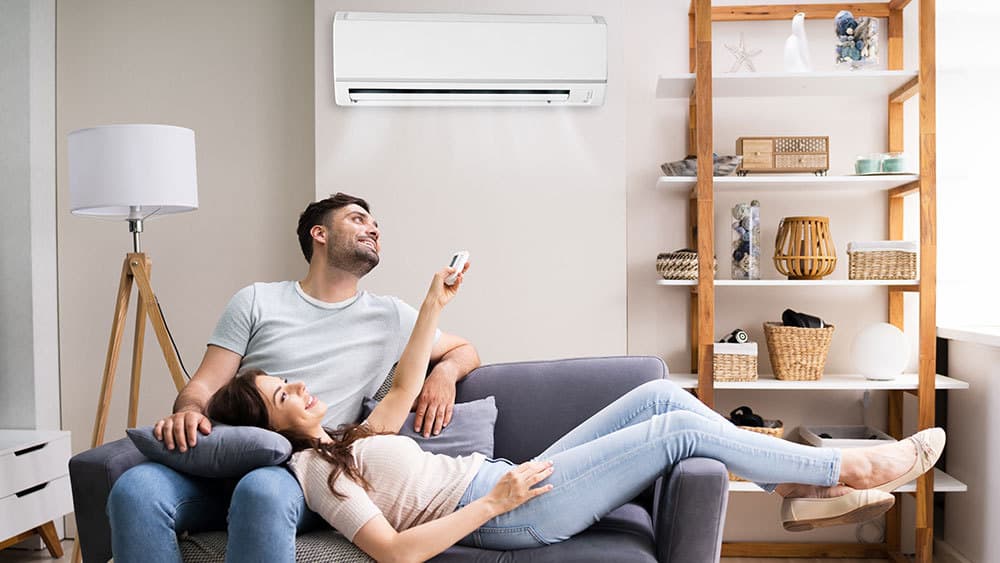 Ductless heat pumps give you complete comfort, control, and convenience; moreover, you save up to 25% of energy by enjoying smart air conditioning via Cielo Breez.
If you're concerned about maintaining a healthy indoor climate without having a dent in your energy bills, then a ductless heat pump systems should be number 1 on your bucket list. Low maintenance cost, hassle-free & flexible operations, and smart functionality of ductless heat pumps are what you should be looking at to keep your household environment comfortable.
Stay warm and save energy this winter by efficiently heating your home!