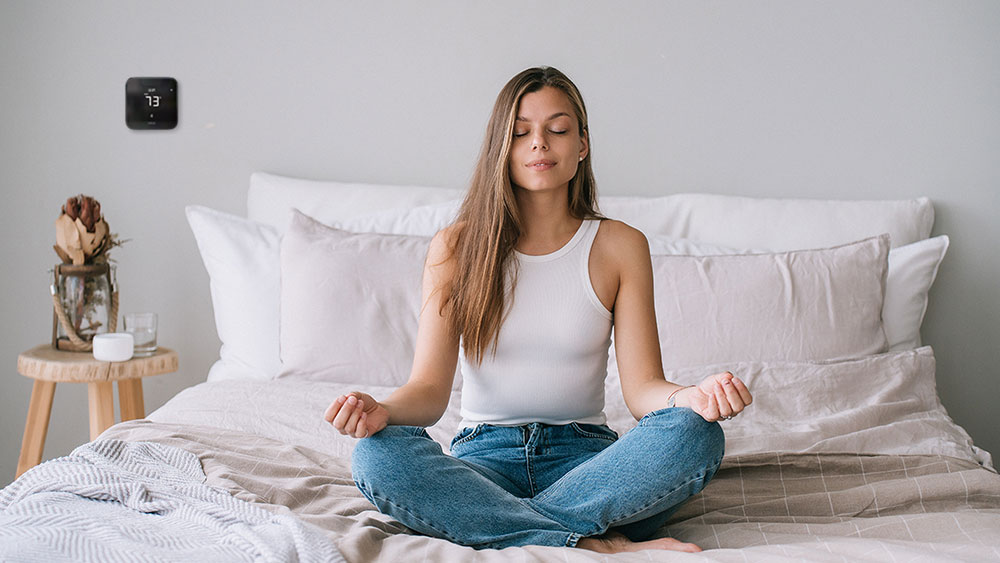 Cielo Breez Max, has already become a favorite with a 4.8 star rating on Amazon. This highly anticipated award-winning smart AC controller, with its cutting-edge technology has not only met but exceeded customers' lofty expectations.
With its advanced AI-backed features, seamless integration, and intuitive controls, Cielo Breez Max is revolutionizing home climate control and providing unparalleled comfort and convenience.
One of the most thrilling features of the Cielo Breez Max is its revolutionary AI-backed Comfy Max Mode which offers its customer a true thermostat-like experience. But what exactly does this mean?
In this blog, we delve into the intricacies of the innovative Comfy Max Mode, how it differs from the traditional and widely favored Comfy Mode, and uncover how it redefines home comfort.
Understanding the Pain Point
In recent years, mini-split air conditioning systems have gained significant popularity in the US. However, the transition from conventional central HVAC systems to mini-splits can be disorienting for some users who are accustomed to the familiarity of centralized cooling and heating.
Central air conditioning systems and mini-split systems both serve the crucial purpose of maintaining indoor comfort by regulating temperature. However, they employ distinct approaches when it comes to temperature control, which can lead to varying levels of efficiency and consistency in maintaining desired temperatures making the transition between the two challenging for users.
Central air conditioning relies on a thermostat typically placed within the room it serves. This allows the system to directly measure and respond to the temperature in that specific space.
On the other hand, mini-split systems have their thermostat integrated into the indoor unit, which is usually mounted on the wall.
While the thermostat can respond quickly to temperature changes near the indoor unit, there may still be challenges in maintaining a consistent temperature throughout the entire room.
This is because the proximity of the thermostat to the indoor unit might cause it to register the temperature of the air surrounding the unit, which would be cooler than the rest of the room. This often leads to temperature fluctuations, hot and cold spots, and general discomfort.
To bridge the gap and create a smoother transition between the benefits of both systems, Comfy Max has been devised. This solution aims to leverage advanced sensor technologies to ensure that temperature readings taken from the mini-split system's indoor head are intelligently interpreted and fine-tuned.
Furthermore, Breez Max has ingeniously incorporated novel functionalities, to effectively tackle the issues that often arise when adapting to mini-split air conditioning systems.
Comfy Max Mode aims to provide users with a seamless and familiar experience akin to their previous use of smart central HVAC systems by eliminating the need for manual temperature adjustments.
By doing so, users are able to enjoy a hassle-free and intuitive experience, while simultaneously benefiting from an automated and optimized cooling environment.
Cielo Smart AC Controllers
Your best choice to make any mini-split, window,
or portable AC smart. Enhance your comfort and savings.
Shop Now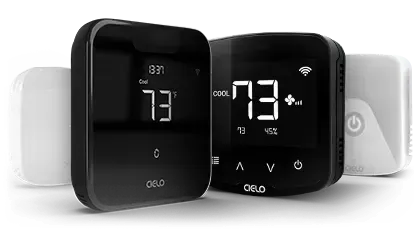 Introducing Comfy Max Mode
With the aim to bridge the gap between the working of central HVAC and mini-split ACs, Comfy Max Mode is a revolutionary feature designed to provide its users a true smart thermostat-like experience. Say farewell to the hassle of constantly tinkering with your AC settings to find the ideal temperature.
Comfy Max Mode transforms Cielo Breez Max into a fully-fledged thermostat for your room air conditioner, replicating the functionality of Auto mode in a central system. With this feature, you have the flexibility to set your preferred upper and lower room temperature limits.
Your air conditioner will intelligently activate only when the room temperature exceeds or falls below the specified limits to achieve and maintain the room temperature exactly according to your preferred range.
How Does Comfy Max Mode Work?
Comfy Max mode makes your room air conditioner work like the Auto mode in central heat pumps. It works by intelligently adjusting your AC settings to maintain your pre-defined room temperature range.
When your room temperature exceeds or falls below your preferred range, Comfy Max automatically switches to the best possible settings to quickly reach your desired comfort levels.
For instance, let's take an example of the following scenario:
Your preferred room temperature window is between 70 to 75°, and your current room temperature is 72° (which is inside your defined range, and your AC does not need to cool or heat your room).
Suppose Comfy Max changes the set point to 80° and sets the AC in Cool mode, it does not mean the AC will start cooling. With these settings in place, the AC's compressor will stay shutdown, however the fan can either keep circulating the air or may go off depending on your preferred settings.
Please note that in some cases fan may not go off completely even if you have selected it to go off. This can be due to the OEM settings of your AC.
Let's take another example of the following scenario:
Your preferred room temperature window is between 70 to 75°, and your current room temperature is at 77° (which is above your defined range, and the AC needs to cool the room). Suppose Comfy Max changes the set point to 72°, it does not mean the AC will cool the room to bring the room temperature down to 72°. The cooling will be cut off as soon the room temperature reaches 75°, or vice versa in the case of heat.
Here's how you can set Comfy Max Mode on the Cielo Home app:
Step 1: On the Home screen, tap on the air conditioner you want to set Comfy Max on.
Step 2: Tap on 'eSaver' in the navigation bar.
Step 3: Tap on 'Comfy Max'.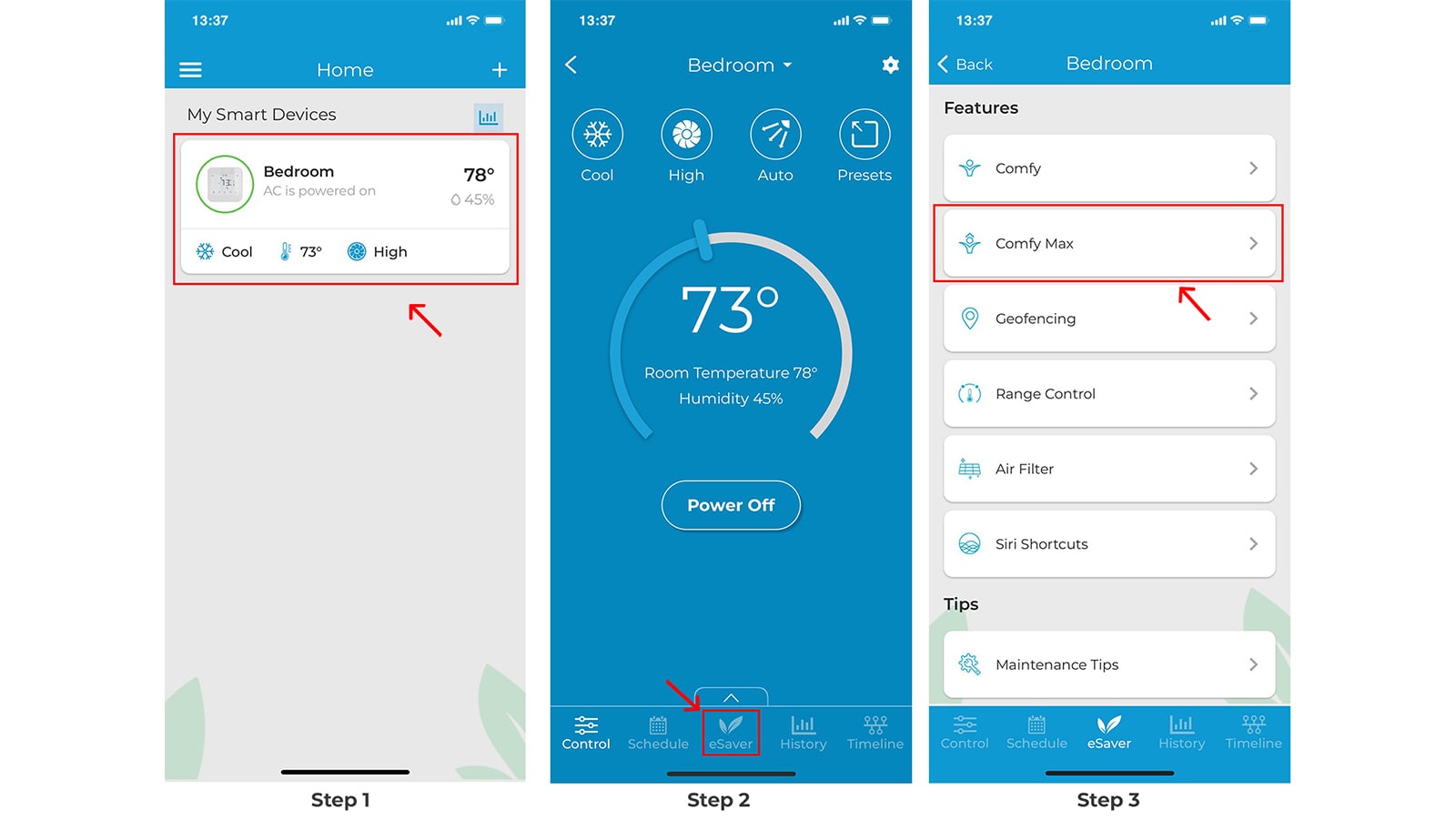 Step 4: Choose your preferred temperature window, and select whether you want the fan to run after your desired cooling or heating temperature is reached. Tap 'Done'.
Step 5:  Your Comfy Max settings are now saved. It is disabled as a default setting. You can turn Comfy Max Mode 'On' from the toggle next to the name of the Comfy Max template.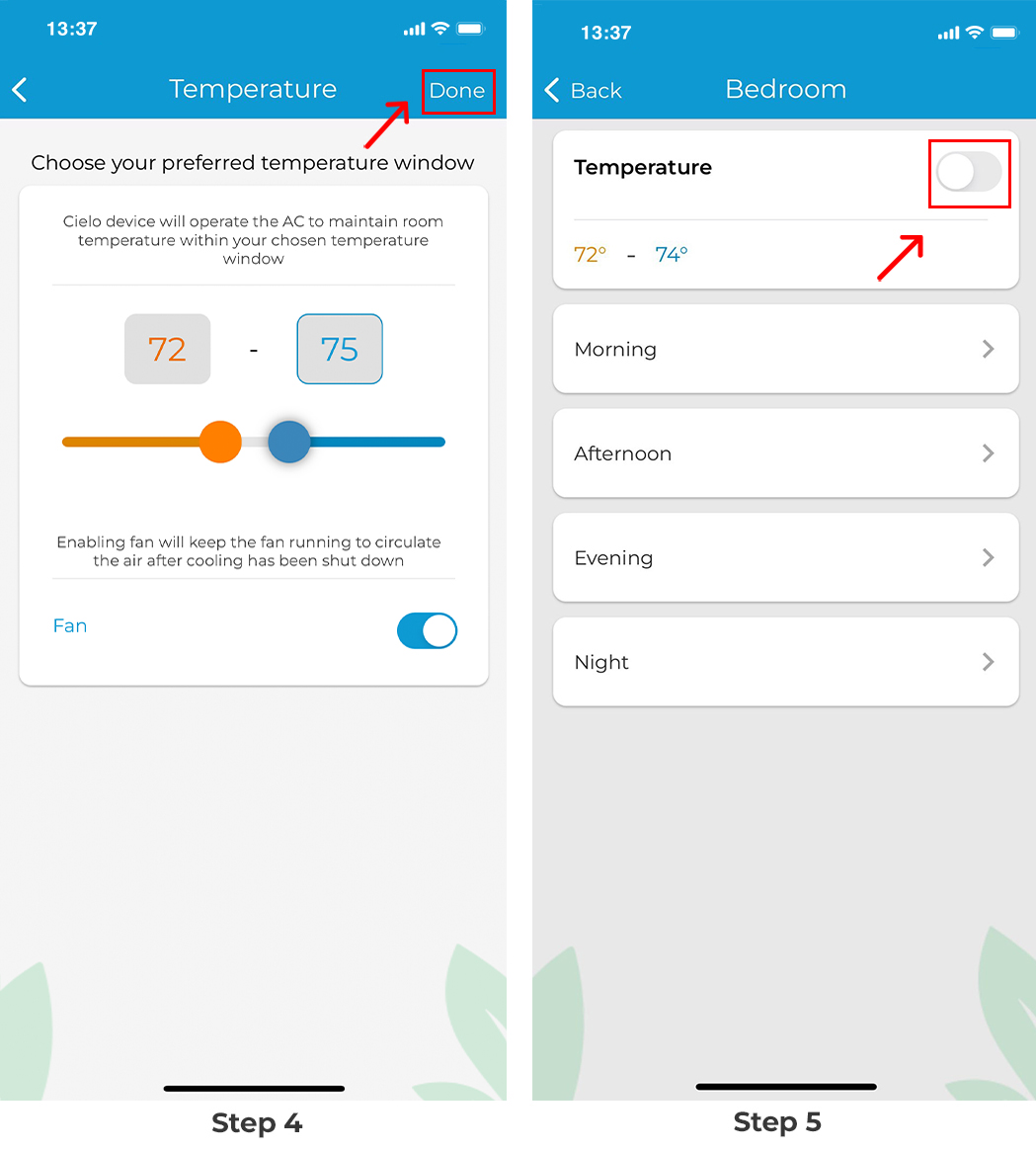 Comfy Max Mode: Taking Comfy Mode Up a Notch
The introduction of the innovative Comfy Max Mode in Cielo Breez Max has sparked curiosity about its distinctions from the previous Comfy Mode.
While the previous Comfy Mode offered a strategic solution to achieve your ideal temperature throughout the day, Comfy Max Mode takes it to the next level with enhanced capabilities.
Both Comfy and Comfy Max modes are designed to automatically regulate your comfort settings. However, the key distinction lies in their approach to temperature control.
In Comfy Max mode, powered by advanced AI-backed technology, Cielo Breez Max intelligently adjusts your AC settings to maintain your defined temperature values.
It introduces a dynamic approach to temperature control. By setting your desired higher and lower temperature values, your air conditioner becomes responsive to your comfort needs.
When the room temperature exceeds your higher set value, the air conditioner kicks in to cool the space. Similarly, the system switches to heat mode if the temperature falls below your lower set value. This dynamic control ensures that your room always maintains the perfect temperature.
Note: It is however important to note that the setpoint of your AC can be out of your predefined range. The range is your preferred room temperature and not the setpoint. With the Comfy Max mode, your system is optimized to choose the best possible setpoint to quickly reach your desired settings.
Other than this, with Comfy Max mode, energy efficiency is a priority. As soon as your room temperature falls within the range of your preferred values, the compressor stops, and the heating or cooling function automatically turns off.
This is where you are provided with additional control over fan operation. Choose either to turn the fan on or off according to your liking. This level of control enables you to enhance air circulation, create the perfect ambiance for your comfort needs, and prevent unnecessary energy consumption.
On the other hand, the previous Comfy Mode allows you to select a temperature/humidity range for your room. However, users are required to manually input the AC settings (such as AC mode, temperature set point, and fan speed) at which they want the unit to operate when the room temperature falls outside their desired comfort range.
Enjoy The Best of Both Worlds with Cielo Breez Max
Comfy Max Mode caters to the diverse preferences of its users, offering ultimate customization and control over temperature management. Whether you desire complete control over every aspect of your air conditioner or prefer to let smart technology take the reins and do all the heavy lifting while you relax, Cielo Breez Max has you covered.
Embrace the power of Cielo Breez Max and transform your air conditioning experience into one that is intelligent, efficient, and tailored to your unique needs.