Finding the correct type of air conditioner for your home is one of the most challenging tasks. The right choice depends on several technical factors and your personal preference. Air conditioning systems are of utmost importance and only the right choice of air conditioning lets you enjoy the most benefits. They maintain the indoor climate of home during summer & winter and have a significant effect on your health.
There are several types of air conditioners available in the market.  
 One of them is through the wall air conditioners, which are often confused or overlapped with window air conditioners. Let's clear the difference and dig into what through the wall ACs are and if they are the right choice for your home.
What Is a Through the Wall Air Conditioner?
You may be familiar with window ACs or heat pumps. They are almost everywhere, from small apartments to condos. Through the wall air conditioners are very much similar to window ACs or heat pumps. The main difference is that while window air conditioners are designed to sit inside your window frame, through the wall ACs are intended to sit in an opening made in your building's wall.
While window ACs tend to obstruct your view from the window, through the wall ACs free up your window space. However, more work is required as you need to create an opening in your wall. Let's take a look at the major differences in detail.
Differences Between Window Air Conditioners and Through the Wall Air Conditioners
Let's take a look at the major differences between the window and through the wall ACs in detail.
1. Location and Installation
A major difference between through the wall air conditioners and window air conditioners is the location to install both the air conditioners. Through the wall air conditioners are installed into an exterior wall. They require a permanent opening in a wall and thus are not suitable if you're renting a place.
On the other hand, window air conditioners are installed within the boundaries of the window frame, but they block your view from the window. These air conditioners do not require permanent installation and can be removed easily.
2. Flexibility
While through the wall ACs are permanent, window air conditioners can be removed when you don't need them. You can store them away during winter and free up your window space, making them very flexible!
3. Energy-Efficiency
Energy efficiency is an important factor when it comes to air conditioning. Both the air conditioners are energy efficient and help to cool or heat a small room or space. But due to installation differences, wall air conditioners are more energy-efficient than window air conditioners.
Air conditioners are installed in the window frames tend to have more leaks and gaps. Regardless of how well you seal the leaks, cool air may still escape. Due to this, window ACs have to run for a long period to keep the room cool or warm. While wall air conditioners perfectly fit into the wall and do not allow much cool/warm air to leak out through the window.
4. Noise
If you are a light sleeper and wake up due to disruption easily, then through the wall air conditioners are the right choice for you. Wall air conditioners are less noisy, while window air conditioners tend to be loud and can cause irritation.
5. Interchangeability
Depending on the design, some wall air conditioners can be interchanged with window air conditioners. This rule does not apply to through the wall air conditioners in reverse, though, since they are heavy and not suitable to be installed within the window frames. Moreover, the installers sometimes do not follow the manufacturers' instructions, trying to fit the air conditioner in a space for which they were not designed for, compromising the air conditioners' warranty.
Improper installation and unsuitable location can cause your air conditioner to work inefficiently, leaving you all sweaty during high temperatures!
The Similarities Between Through the Wall and Window Air Conditioners
The wall air conditioners and window air conditioners are different in many ways, but they share some similarities. The purpose of both air conditioners is to cool one room or two smaller rooms at a time. They are designed for smaller spaces.
Moreover, through the wall and window air conditioners have built-in thermostats that regulate the temperature. Both air conditioners also come with year-round options to provide cooling in summer and heating during winter.  
How Does a Through the Wall Air Conditioner Work?
Through the wall air conditioner is a self-contained device. A wall air conditioner's primary function is to take in hot air, cool it down, and release it back like any other AC. The unit sucks in hot air from inside the room. This hot air is brought to the condenser to cool it down as per the set temperature. This conditioned air is then released back into the room. As a result of this process, the motor also produces hot air, which is pushed out through the vents back into the surrounding environment.
Features of Through the Wall Air Conditioner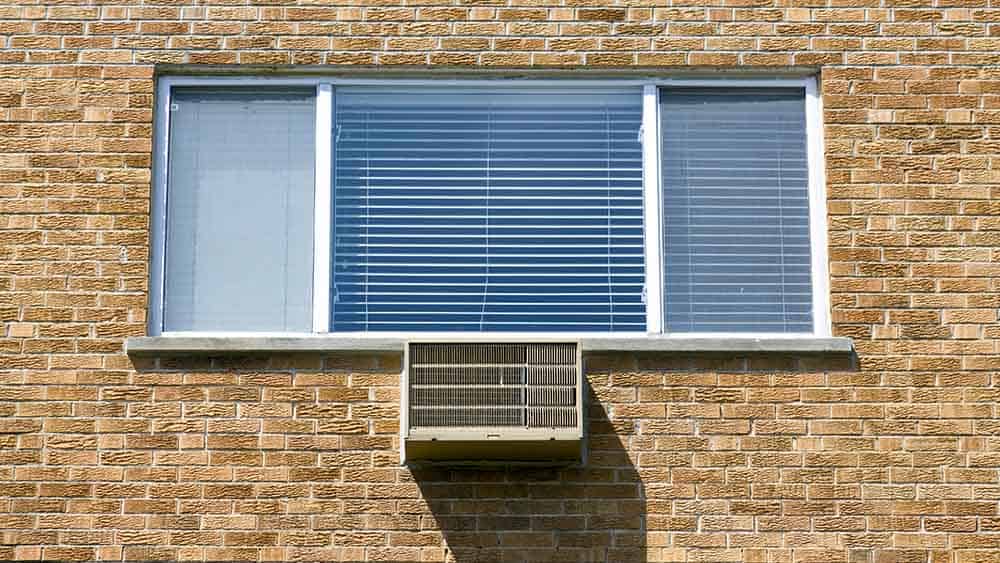 Through the wall air containers have a range of features to offer. While making a purchase, you should look for the following:
Digital Controls
Digital controls allow you to make changes to your temperature settings. They help you set a more accurate temperature using specific numbers instead of a dial.
Washable Air Filter
Air filters collect dust and other particles, reducing the air conditioners' efficiency. Through the wall air conditioners come with washable air filters and save you money on AC filter replacements.
Remote Control
Unlike old models, new through the wall air conditioners come with remote controls that help you change the AC settings conveniently. You can also pair these ACs with a smart AC controller for automation and global control using your phone.
Auto Restart
In case of a power outage, auto restart mode automatically restarts the motor. When the power restores, the air conditioner operates in the last programmed setting.
Louvers Adjustment
You can adjust the lovers in any specific location that you want. Some models come with automatic swing louvers and move cool air around the room, maintaining the room's perfect temperature!
Heat Mode
Many models offer the option to heat as well. They can be pretty useful and convenient in winters as well.
Programmable Timer
If a model has an option to program your AC, you can set it to turn on prior to when you need it. This will allow you to come home to a conditioned room. If your window or wall AC is missing this feature, you can use a smart AC controller to set weekly schedules from your phone.
Energy Efficiency
In addition to the above-mentioned features, you should also purchase a model that is Energy Star certified. Also, choose a model with a higher EER (Energy Efficiency Rating) since they are more energy-efficient. Generally, a model with a 9.7 or greater EER value is considered to provide you excellent cooling at the lowest possible operational cost.
Through the Wall AC Sizing Guide
Many factors are taken into account while choosing the size of air conditioners for your home. Choosing the right size according to your space is crucial. A size too large would use more energy adding up in the monthly bills and a size too small would make the unit work harder.
The more the British Thermal Units (BTUs) your AC has, the more will be its cooling capacity. This means larger rooms will require a higher BTU. Here is a sizing guide for room air conditioners as recommended by the US Department of Energy. Opt for the correct AC size for your room to achieve the highest efficiency.
Why Choose a Through the Wall Air Conditioner?
Initially, you might be confused about which air conditioner to choose for your room, but it all boils down to your personal preference and needs. Through the wall ACs tend to be more efficient than window air conditioners because they create an air-tight seal in the room, not allowing the cooled/warm air to escape.
Moreover, a window air conditioner is preferred by those who want to keep their air conditioning equipment removable. It might get hot in the summer season, but when it gets chilly, you want your windows to be as sealed as possible. In this case, you might want to take out your window air conditioner and store your air conditioner away for the winter season.
Doing this every season might be a hassle; that is why you want a permanent solution, but one which does not compromise your room sealing. This is where a through the wall air conditioner comes in. Another advantage that it offers is that your window view does not get obstructed, giving you the maximum amount of sunlight in the room and saving even more energy!
Make Through the Wall Air Conditioners Smart!
There is a very convenient way of making your though the wall air conditioner smart if it comes with an IR remote control. Smartness includes controlling your air conditioner from anywhere, anytime, using your mobile phone. Setting an ideal temperature range when you don't have to deal with the hassle of maintaining the perfect temperature at home while sleeping or during a small gathering. How can you do that? By simply buying a smart AC controller.
Smart AC controllers allow you to enjoy these features and much more. One of the most prominent features is the Comfy Mode in Cielo Breez controllers.  You can maintain desired temperature or humidity range, and your air conditioner will run according to the settings you make. Not only this, smart AC controllers help you save up to 25% of energy!
Here's how to DIY a smart air conditioner!
How to Install Through the Wall Air Conditioner?
Through the wall air conditioner installation might seem pretty straightforward, but cutting through a wall can get tricky. It's best to take help from a professional for the process to be as smooth and neat as possible.
The first step is to choose a wall. Since wall ACs need to be vented outside, you have to select an exterior wall. Also, keep your wall's thickness in mind; checking the sleeve and your AC's dimensions can help make the best decision. Also, make sure that there is an electrical connection nearby.
Choose a suitable spot on your wall, making sure there is no plumbing or electrical wiring inside. Take great care that the wall is not made of gypsum board or any other light material and is solid concrete or wooden wall that can support the weight of the air conditioner.
Use a stud finder to locate 3-4 studs in the wall. They are placed 16 inches apart. Find the studs on your wall. Studs are structural supports for the wall and are thick wooden beams. Ideally, you'd want your wall-mounted air conditioner to be placed between two studs and not through them. Usually, such air conditioners come with a guide and help you with the unit's propositions.
Since you choose the wall with electrical connections, it is important to take some precautionary measures. Switch off the main power before you start the process.
Cut a hole in your wall. Be sure to take the proper dimensions of your air conditioner and the sleeve. Outline first, then cut through the wall. Take adequate safety precautions, and have a respirator at hand as well.
After the first outline, draw another outline that is roughly 2.5 inches larger than the original outline. The second outline will help you create a supporting frame.
Make the frame for the air conditioner. Measure and cut 2×4 limber pieces and join them to make a sturdy frame for your unit. Slide it in the wall opening and secure it in place.
Cut a hole in the exterior wall. Drill through the four corners of the wall's interior. Use these holes as a guide, and cut a similar rectangular frame on the outside wall.
Slide through the sleeve into the wall, and then slide the air conditioner into the sleeve.
Make sure to seal off all the openings before you turn on the air conditioner. Use drywall to fill the large gaps. Use caulking once you have filled the larger gaps. Touchups can be done using paint.
Plugin the power outlet and turn on the power mains. You should be able to enjoy a cool summer with your through the wall AC!
In case of any inconvenience or issue, please contact an HVAC expert to review the installation process.
Do Through the Wall Air Conditioners Need a Sleeve?
Through the wall air conditioners do need a sleeve. A sleeve functions as a support for the air conditioner, making sure that it does not deform the wall. Without a sleeve, there is a great chance that the wall might buckle because of the extra weight.
Sleeves can be slid into the wall opening and then fixed in place.
Sleeves can either come along with the air conditioner or be bought separately. Newer air conditioners usually have a sleeve as part of the package. If you are getting an older air conditioner, you might have to purchase it separately according to your air conditioner's size. Be sure to take proper measurements of your air conditioner and get the correct sleeve size.
Cost to Install a Through the Wall Air Conditioner
The total cost for installing a wall air conditioner starts from $1,300 but can go up depending on several factors. A large chunk of this cost is taken up by the air conditioner and can vary depending on the air conditioner size or BTUs.
The installation costs about $500 on average, with the whole process taking around 8-10 hours to complete. With a DIY, you can eliminate this cost and would be left only with the purchasing cost of the through the wall air conditioner. However, if you're not handy with tools, then it's best to contact a professional.
The Downside of Having a Wall AC
Although wall ACs are a convenient solution for smaller spaces, they require a long-term commitment. You'll be cutting a large hole in a wall, and it'd have to be filled and repainted when you decide to replace your through the wall AC with perhaps another type of air conditioning system. Another thing to keep in mind is proper insulation. If the hole isn't insulated, your room will be exposed to drafts along with insects.
Through the wall air conditioners are a comfortable solution for your home. They are designed for situations where a lower noise level is essential. They can be installed in bedrooms, dorm rooms, hotel rooms, assisted living facilities, etc. If such an air conditioner fits your requirements criteria, get it today.