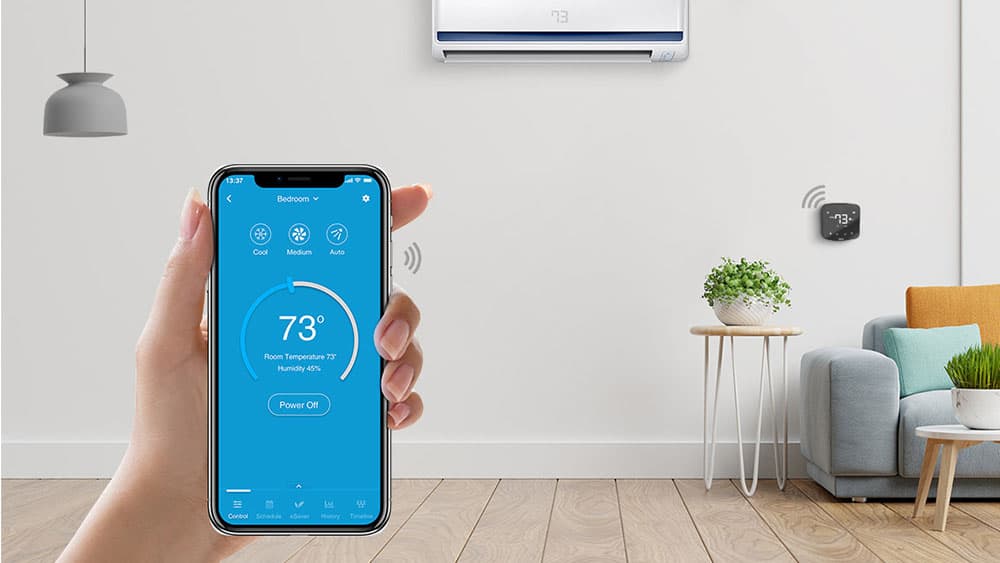 The turn of the decade brings with it new technologies, and one such piece of innovation is smart air conditioners. An increasing number of smart air conditioners are now coming into the market with built-in Wi-Fi connectivity, providing enhanced smart features such as geo-fencing, scheduling, and global controls. These features make air conditioning very convenient.
The convenience and energy savings provided by these smart appliances is second to none. But with their costs increasing every year, overhauling your current air conditioning equipment to a brand-new smart one might be worth a second thought. So how can you then make your current, 'dumb' air conditioner smart? You don't want to throw away your perfect air conditioner just because it isn't smart. So, what do you do?
You go for a smart AC controller, like the Cielo Breez. These smart AC controllers can make your conventional air conditioner a smart one without you having to spend a fortune. Plug in your smart AC controller, and within minutes you are good to go.
Let's see some of the advantages of smart air conditioning and how you can make your old air conditioner smart!
Make Any Air Conditioner Smart
Increase Efficiency, Save Money!
The costs of cooling or heating homes in the height of summer and winter season are enough to make anyone sweat if the money is tight.  You can easily avail the luxury of smart heating and cooling by getting smart home devices and following some energy-saving tips so that you can save money in the longer run.
You could manually control your temperature and other settings; however, doing this manually each day can be monotonous, not to mention a homeowner's likelihood of forgetting to do it. A smart AC controller eliminates both of these problems. Moreover, it is essential to consider the SEER rating of an air conditioner since it plays a vital role in saving money. If you have an air conditioner with a low SEER rating, then a smart AC controller will reduce the energy consumption multi-fold.
The Effect of SEER Rating on AC Efficiency
SEER stands for Seasonal Energy Efficiency Ratio. It is a measure of how efficient an air conditioner is: the lower the SEER rating, the more inefficient the air conditioning unit.  The SEER rating represents the efficiency of the air conditioner over the whole cooling season. There are several reasons why the SEER rating should be checked while looking for any air conditioner. One of the primary reasons is that a SEER rating above 13 helps you significantly cut down your bills. Old and antiquated air conditioners use a SEER rating of 10 or under, while today's more efficient air conditioning systems have SEER ratings way over that, often going into the mid-'20s.
If you bought an air conditioner after 2005, the chances are that it has a SEER rating above 13. This is because, in the United States, residential air conditioning systems manufactured after 2005 must have a minimum SEER rating of 13. Window units are exempt from this particular law. If you want to check the SEER rating of your air conditioner, you can look for a yellow and black energy guide sticker, and it has the SEER rating mentioned on it.
Cielo Smart AC Controllers
Your best choice to make any mini-split, window,
or portable AC smart. Enhance your comfort and savings.
Shop Now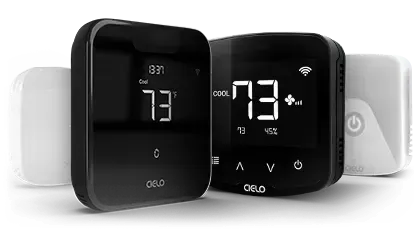 Does Changing Your AC Unit Save Money?
The short answer, yes. A modern air conditioner will definitely save you money as compared to an older one. A new smart air conditioner with a high SEER rating will be even more energy-efficient. This is achieved through better materials, improved design, and modern manufacturing techniques.
Coupled with fewer repair calls, parts, and emergency service calls, your savings can increment faster than you might think for a piece of machinery that should last thirty years.
Think about your current AC unit and consider the following:
How often does your AC unit need maintenance and fixes from a repair technician?
How high are your utility bills?
If both of those numbers are higher than you think they should be, then you should consider replacing your AC with a smart air conditioner.
In addition to saving money, other benefits include improved airflow and healthier air. A new system can do a better job than an older unit of controlling dirt, dust, pollen, and other common debris and airborne pathogens that nobody wants to inhale.
But a brand-new smart air conditioner can be pretty heavy on the pocket, not something you would want if your old air conditioner is working fine otherwise.
Don't worry, though; if you are in a situation where you cannot buy a smart air conditioner, we have a solution!
DIY Your Smart Air Conditioner!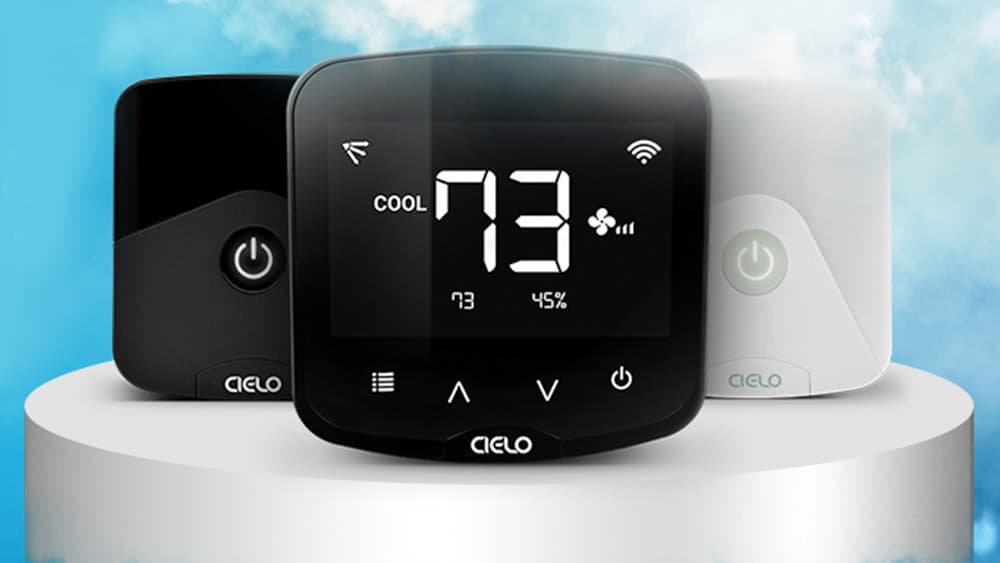 Some people have an old air conditioner which lacks smart features. While smart air conditioners can be heavy on the pocket, there is still a way to DIY your smart air conditioner without a hassle. Smart AC controllers like the Cielo Breez can make your old air conditioner smart. It is a plug-and-play device, which can connect to your ductless air conditioner in a matter of minutes. You don't need any lengthy installation process or complicated wire configurations.
Smart AC controllers are for individuals who desire more control and flexibility to manage not only the air conditioning but energy costs, thanks to using Wi-Fi control. One difference is that they work brilliantly for split and window air conditioners.
Equipped with temperature and humidity sensors, these smart AC controllers offer an array of features that make a conventional air conditioner smart. Moreover, If the SEER rating of your old air conditioner is low, and it is consuming a tremendous amount of electricity. As a result, the smart AC controller will reduce energy consumption drastically. The SEER rating of the air conditioner itself won't change, but it will feel like so through intelligent air conditioner use.
Thus, this could be construed as the most straightforward solution for households with portable or standard window air conditioning units.
Let's delve into the features of Cielo Breez smart AC controllers!
Global Controls
Control your AC from anywhere, anytime, with enhanced convenience and comfort. No need to have your AC remote with you at all times. Open the smartphone app of your smart AC controller from anywhere in the world, and enjoy the full range of AC controls in the palm of your hands.
Geofencing
With geo-fencing, let the air conditioner know how far you are from home so that it can turn on or off automatically before you even step inside your home. If you are going away from home, it will automatically turn the air conditioner off to save energy.
In-built Temperature and Humidity Sensors
Smart AC controllers come with built-in temperature and humidity sensors. They provide accurate reading with high precision, which means you can have an indoor environment just the way you like it.
Comfy Mode
Through humidity and temperature-based triggers, you can keep your environment within your preferred range. Comfy Mode allows you to set up the range you want your air conditioner to operate in, and then the smart AC controller will automatically apply the settings.
For example, through Comfy Mode, you can set your air conditioner to turn on in cool mode with a high fan speed at 73 degrees. If the temperature goes above 75 degrees and turns on in fan mode at low fan speed, the temperature drops below 71 degrees. This way, the room temperature range can be maintained between 71 and 75 degrees, and you don't even have to touch your remote control or smart AC controller even once.
A similar setting can also be applied for humidity. Sit back, and relax!
Weekly Scheduling
With 7-day scheduling, set up weekly schedules to automate your air conditioning. Your air conditioner will now turn on or off at the set times of day without any intervention. i.e., set the AC to turn on at 6 PM when you return from your office, and then turn it off just before you go to bed.
Energy Savings
Using a smart AC controller can help you save up to 25% on your energy bills. These controllers reduce your air conditioner usage without compromising on your comfort. This is achieved through the intelligent use of air conditioning, smart usage alerts, and history audits.
Smart Home Compatibility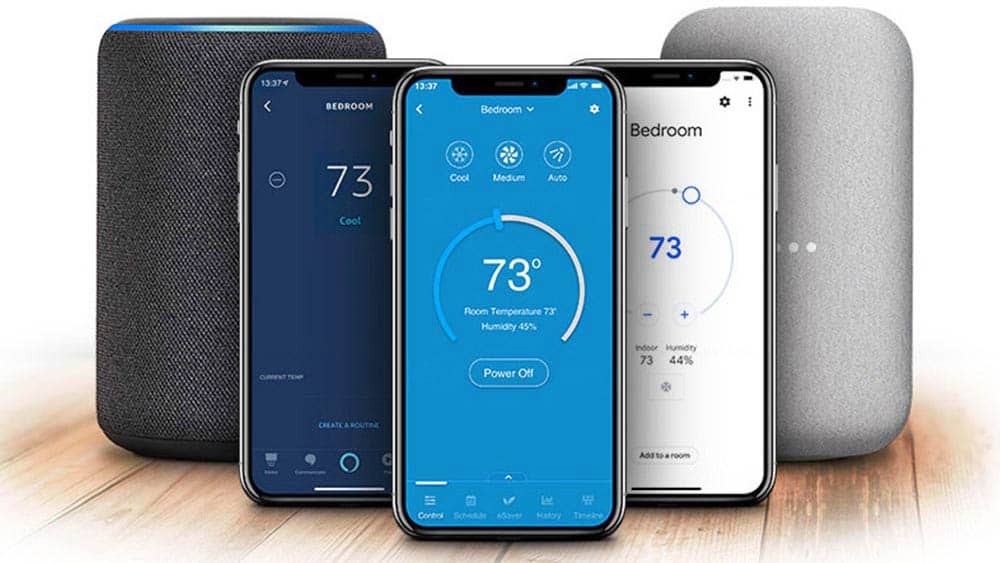 With the Cielo Breez smart AC controller, you can integrate your air conditioning controls with smart home assistants such as:
Siri Shortcuts
Samsung SmartThings
Control all your home smart devices with the tap of a single button, or set up routines; the choice is yours.
Preventive Maintenance Alerts
Smart AC controllers can let you know when your AC is due for maintenance. The air filter alerts remind you when you have to clean up your AC filter so that your air conditioner keeps on functioning with top efficiency.
Final Thoughts
Automation technology plays a critical role in promoting a home's heating and cooling efficiency. With smart automation, homeowners can easily adjust temperature settings in different parts of their home throughout the day via their smart device.
Energy savings, comfort, and convenience are just some of the plethora of reasons why you should DIY your air conditioner to make it smart. YOU can do it yourself. With the minimal initial investment, you can save a significant amount of money in the long run and enjoy all the benefits of 21st century smart HVAC technology without spending a fortune.
So, what are you waiting for? Get your smart AC controller today, and make your AC smart!