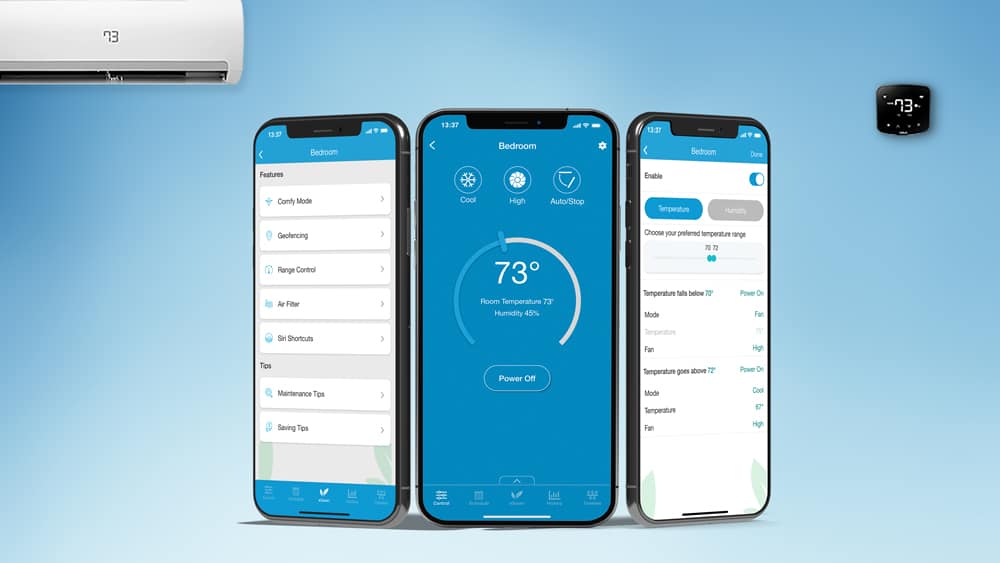 Controlling your air conditioner with your phone is a no-brainer in today's era of smart technology. You can control anything with just a single tap on your mobile screen! You can either opt for a smart AC that comes with built-in smart functionality, but they are quite costly and come with limited features on the downside. Or, you can make it smart with a smart AC controller or thermostat for ductless ACs!
Paired with Cielo Breez smart AC controllers, the free Cielo Home app makes any room AC smart, allowing you to control your air conditioner using your iOS or Android phone! Now, with a few taps on the screen, you can achieve the temperature of your choice, set up schedules, maintain specific temperature ranges, and keep a close eye on your AC's usage. In essence, you can control your air conditioner using your phone from anywhere and at any time to achieve the next level in smart air conditioning.
Achieving mere control of your air conditioner might seem impressive, but at Cielo, it is just the initial step in giving you complete control and smartness.
App Download for Android & iOS
To control AC with phone, the Cielo Home app can be used,  available on the Android Play Store and the iOS App Store. All Cielo Breez devices can work with the free Cielo Home app to connect your mini-split, window, or portable AC to your smartphone. The app provides various sign-in options using Facebook, Apple, or Google ID. Users can also choose to sign in by creating a new account on the app itself.
A Breeze to Set Up
Soon after signing in to the app, users can register their Breez devices by tapping on the 'Add Device' button. The device registration process is easily laid out for the user. It is completed within minutes allowing you to enjoy the comforts of smartphone air conditioning. The device connects to the Wi-Fi network in your home and communicates with the mobile app through it.
Registration is a snap and takes only 1 to 2 minutes. While users can manually register their air conditioner using the model numbers on the back of their AC remote, you also have the option to select the advanced auto-detect option! This feature automatically detects and sets-up your AC within seconds. All it requires is a simple push of a button on your AC remote control!
Cielo Smart AC Controllers
Your best choice to make any mini-split, window,
or portable AC smart. Enhance your comfort and savings.
Shop Now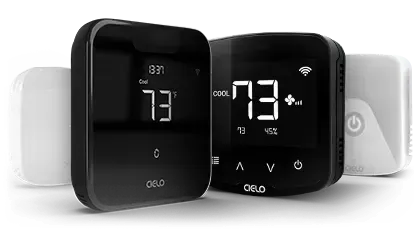 Control Multiple ACs with 1 App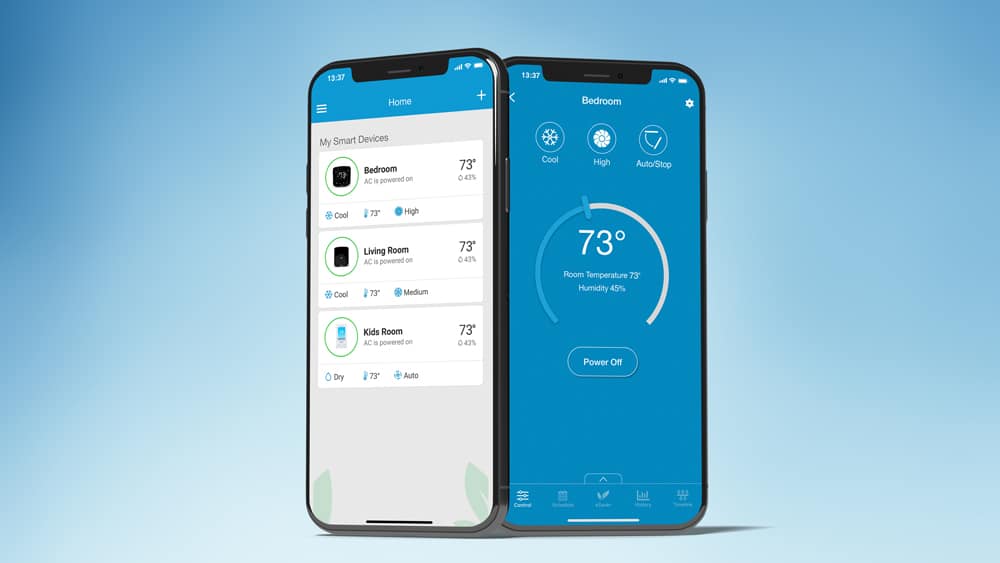 Thanks to global control, you can control multiple air conditioners from your phone, from anywhere in the world! This means you do not need to have a different app or a different user profile for each of your Cielo Breez devices. A single user profile can accommodate controllers for the whole home. Moreover, if you have any installed in your office, rental, or vacation home, they can be controlled from the same app! Devices can be named bedroom, kitchen, lounge, ' 'kid's room, and so on as per your preference.
Control Screen for Your Favorite Options
The main control screen for the Cielo Home app gives you complete command over every function of your AC from your phone. After clicking on the specific AC that you want to control, you can control the major functions from the control screen without navigating around the whole app. Functions such as swing, fan speed, temperature control, operating modes, main power on/off, and some miscellaneous features (depending on AC model) such as the light on your AC unit can all be controlled from one screen!
Monitor Your AC Temperature from Your Phone
Smartphone air conditioning not only lets you change your air conditioner settings from your phone, but you can also keep an eye on the current room and humidity levels! This is great if 'you're not at home but would still like to monitor the temperature. You can turn your AC on beforehand if need be, based on these readings, and arrive home to the perfect room conditions. This feature is also useful if you have a beloved pet at home and you wish to maintain the perfect temperature for your furry friends, or if you have elderly people at home and want the ideal room temperature.
Comfy Mode for Ultimate Comfort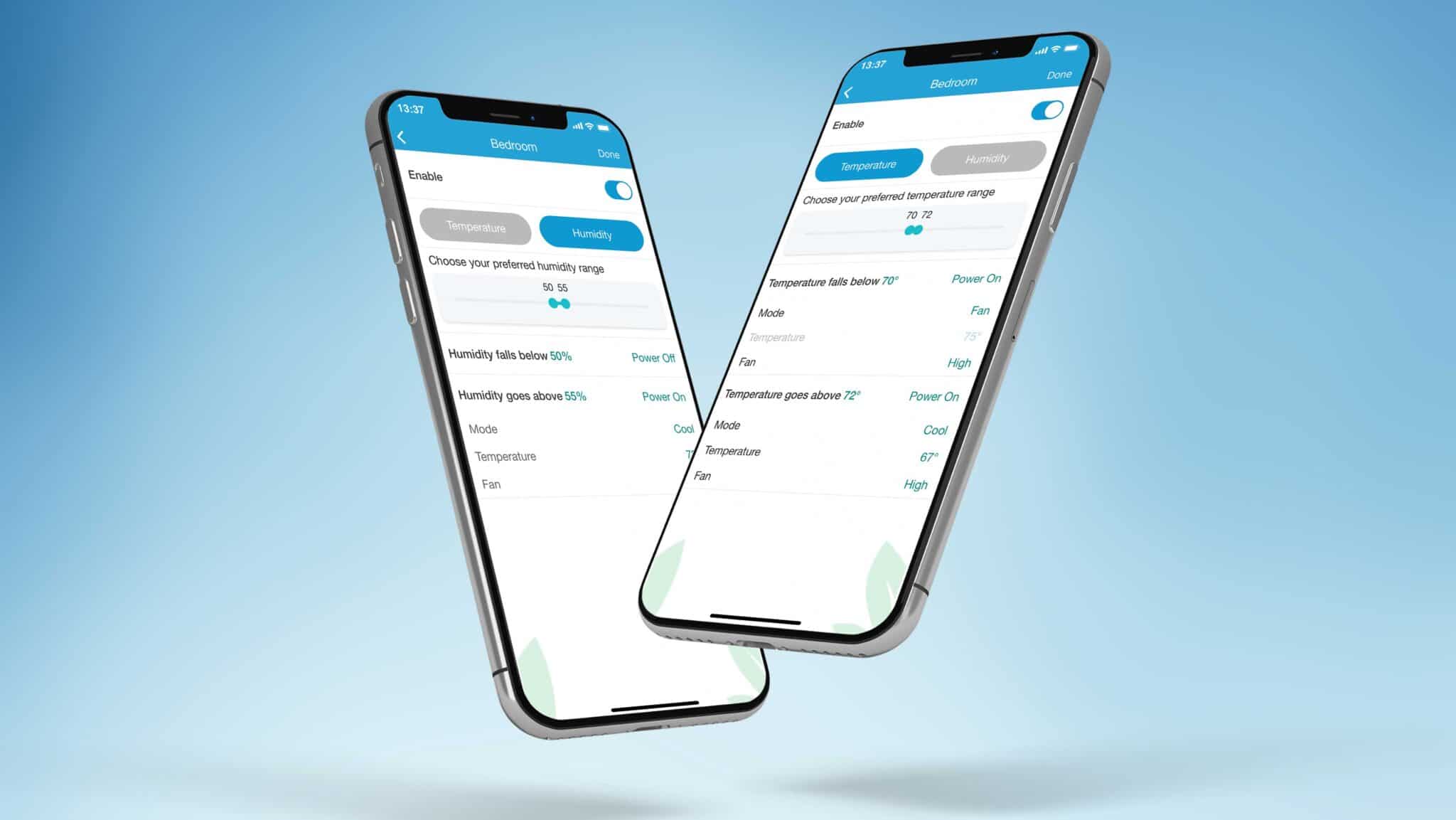 The flagship Comfy Mode by Cielo WiGle enables a user to automate their room environment based on the temperature or humidity settings, by setting intelligent triggers. These preset triggers are constantly monitored by the on-device sensors and activate once the required level has been reached.
As an example, a user can tune their Comfy Mode so that when the temperature reaches below 72o, the AC will turn off, and if it goes above 77o, then the AC will turn on in cooling mode. Additional settings, such as the fan speed, AC modes, swing settings, and much more, can also be specified. The same can be adjusted for your ideal humidity levels.
Some real-world applications of Comfy Mode are where you can set your preferred triggers for bedtime. Comfy automatically adjusts your room temperature or humidity while 'you're asleep, keeping your environment comfortable. Moreover, with Comfy's intelligent triggers, you can preset an ideal environment for your pets and let the triggers maintain their perfect environment even when you are not home. Comfy Mode limits inefficient and overuse of air conditioning by making automatic adjustments, keeping your home comfortable, and saving energy at the same time.
This feature is available under the "eSaver" tab on the navigation bar in your Cielo Home app.
Weekly Scheduling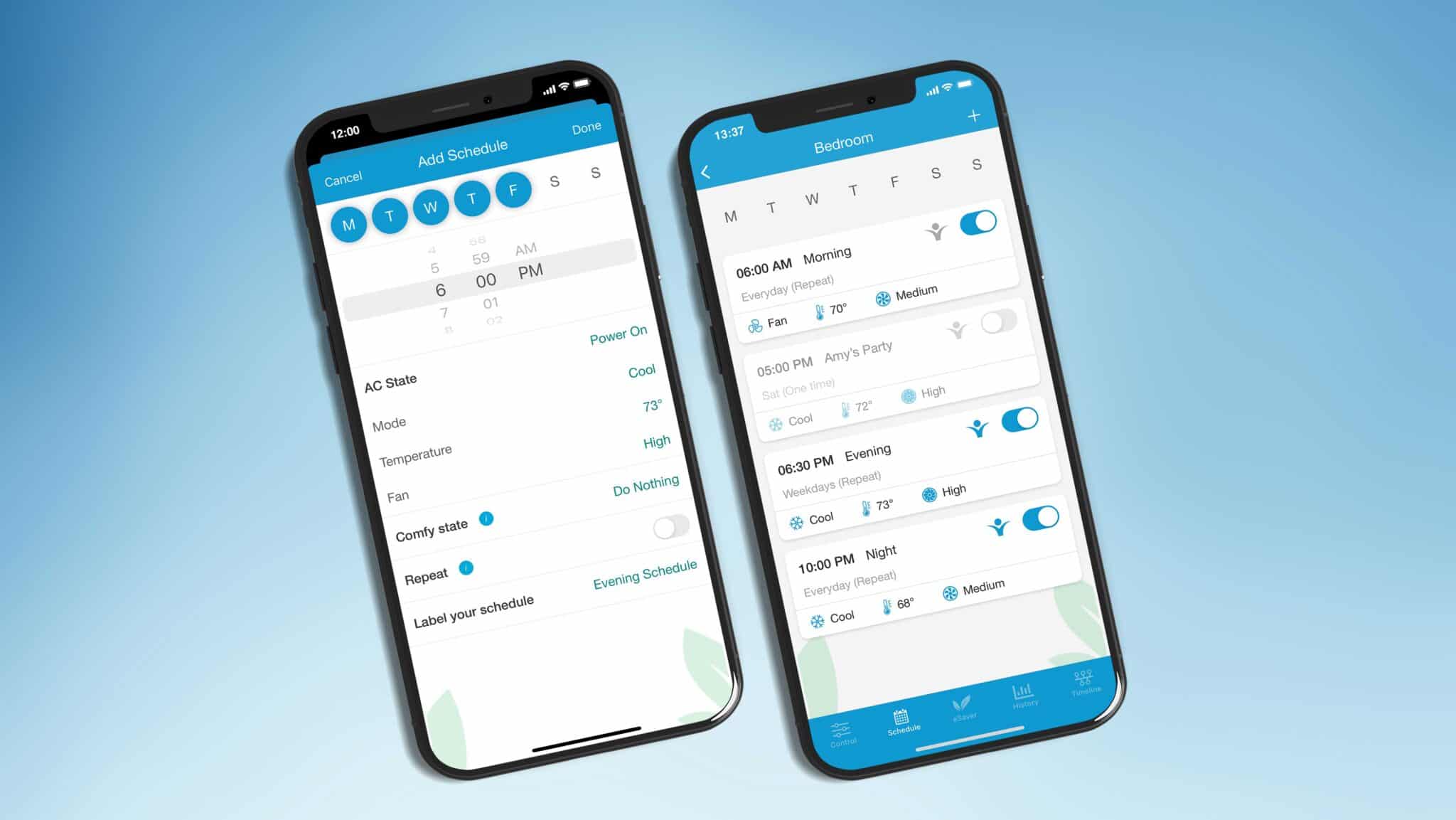 Weekly schedules can be set if 'you're controlling your AC with your smartphone! In other words, you can select multiple timers for your AC. These schedules can be tuned to automatically perform preset actions throughout the week. For instance, you could set your AC to operate in cool mode from midday until evening and then go into fan mode for the night. Specific hours can be set for each mode of operation.
You can fine-tune the temperature, operating mode, fan speeds, swing positions, and much more. An example of weekly scheduling is setting up your AC to operate in heat mode from 7 AM to 8 AM. This way, when you wake up on a chilly morning at 7:15 AM, the room is already sufficiently heated up!
Related: How to Set up a Daily/Weekly Schedule for Your Mini-Split, Window, and Portable Air Conditioner?
Location-Based Controls with Geofencing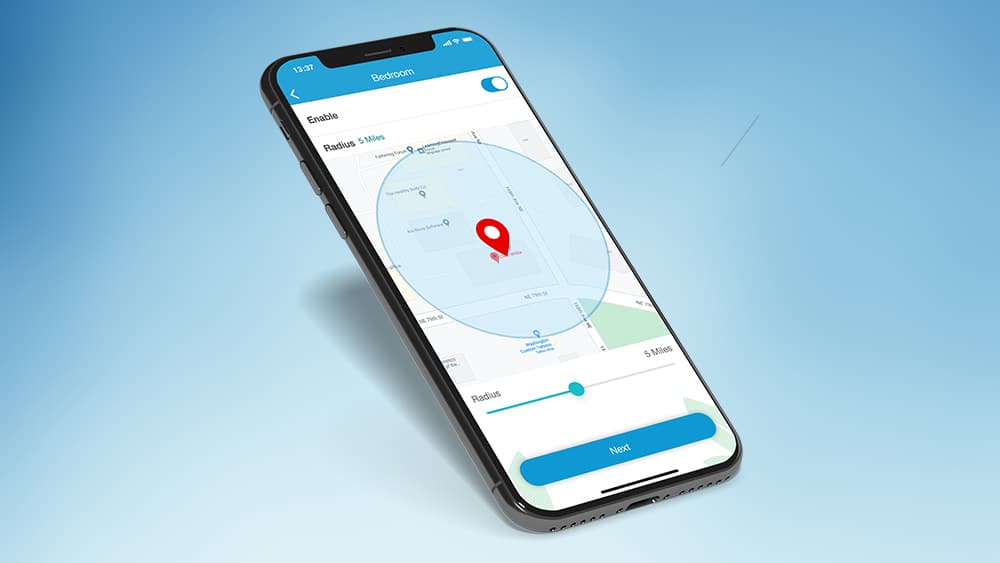 Leaving the home in a hurry? Forgot to turn off the AC? No need to worry. Control AC with your phone and turn your air conditioner off even when you are away. When activated, the geofencing mode works to automatically turn your AC on or off (as per your preferences) when you are a certain distance from your home. This distance can be changed as per your convenience, from as little as 1 mile to 10 miles. This makes your life a whole lot easier! Never forget to leave your AC running when controlling AC with an Android or iOS phone.
Turbo Mode for Turbo Cooling or Heating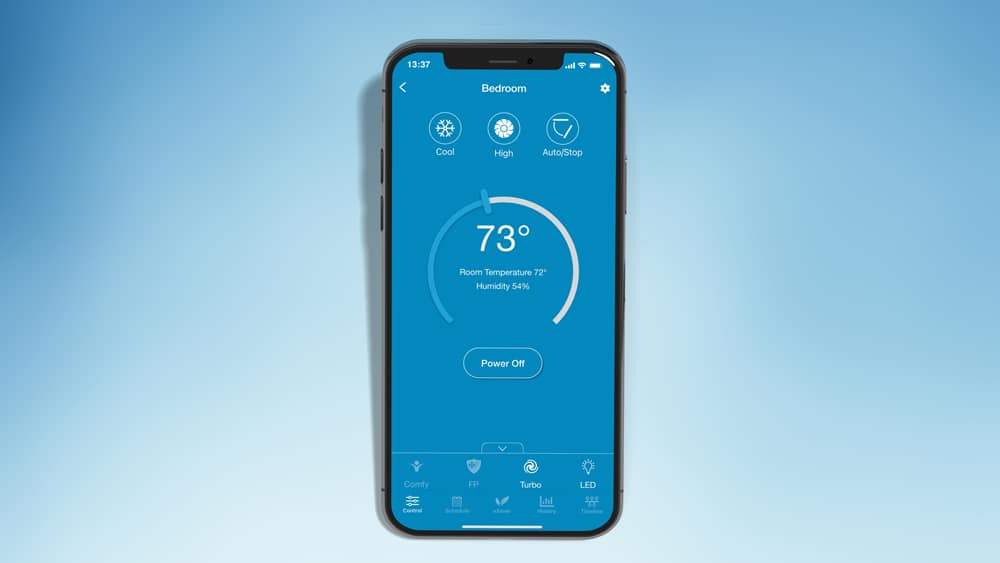 Turbo mode lets you instantly bring your room to the desired temperature with a single push of a button. The Cielo Home app conveniently allows you to operate your air ' 'conditioner's turbo mode from your phone!
The AC works overtime in this mode, working at full fan speed at the lowest or highest temperature. This mode is compatible only with those air conditioner models which offer turbo mode as a built-in feature. Even though turbo mode is most closely associated with cooling, you can also achieve maximum heating power. Check out the user manual of your air conditioner, and if your AC offers turbo mode, the Cielo Home app will have a turbo icon on the ' 'appliance's control screen.
Freeze Protection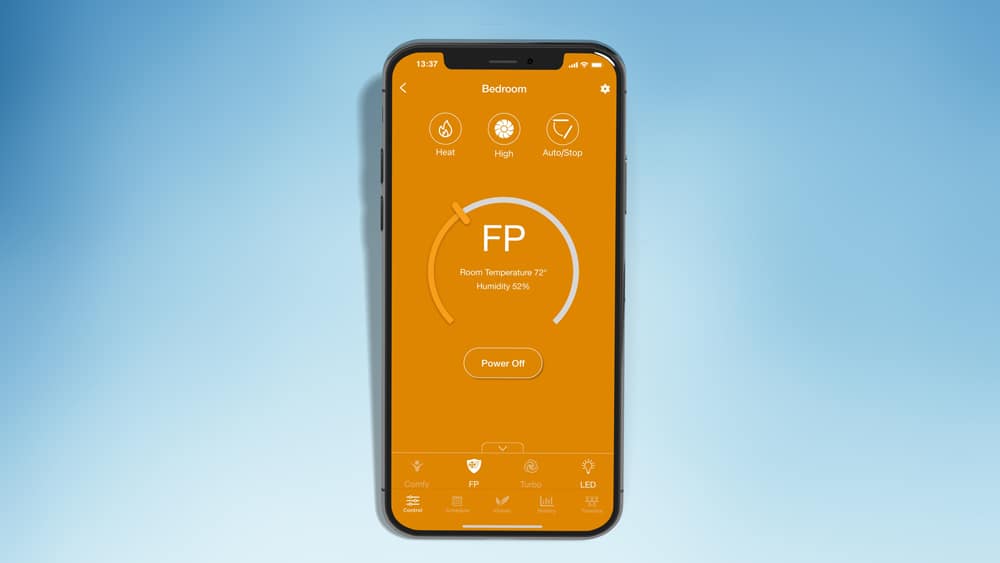 Freeze Protection mode is another new addition to the Cielo app to control your AC from your phone. It is used to prevent freezing temperatures in extremely cold conditions. FP can be used in heat mode, making your air conditioner run on minimum power to maintain the indoor temperature at a suitable value such as 46° F to prevent freezing. This is extremely useful for rooms or vacation homes that are not in use during winter and are susceptible to damages like freezing and/or bursting of water pipes. As with the turbo mode, if your air conditioner supports freeze protection, you can benefit from it through your phone!
Air Filter Status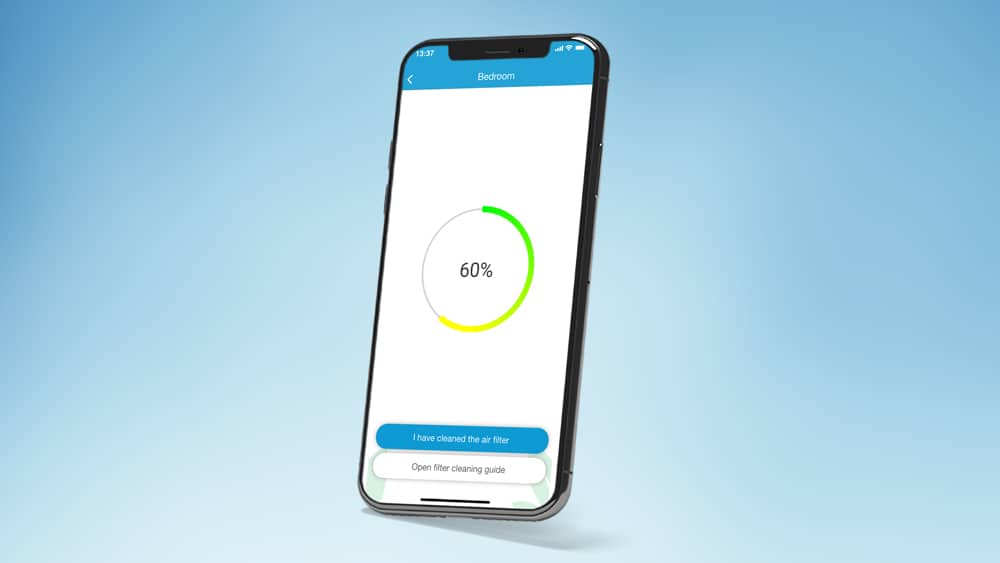 It's important to keep your AC in top condition! When controlling your AC using your phone, the Cielo Home app tracks your AC air filter usage and reminds you when it needs cleaning. The air filter's status is critical to keep a fresh environment in your home. Moreover, a dirty air filter can reduce your air conditioner's efficiency and require it to consume more power.
Action Timelines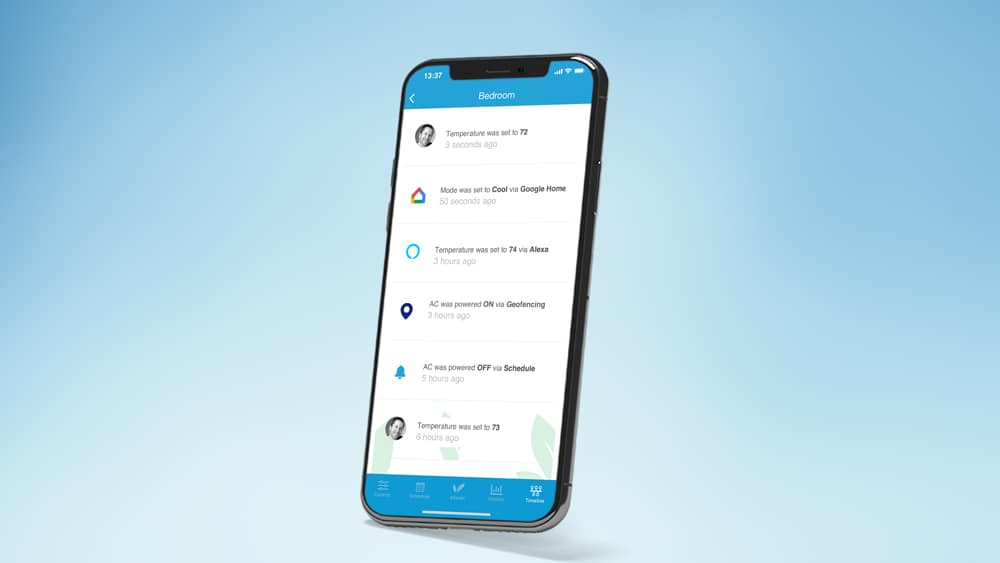 It is so convenient to keep a track of your usage habits using smartphone air conditioning, thanks to features such as action timelines! With an air conditioner app for your phone, you can keep track of all actions performed on your AC. Whichever platform you use to perform the command, a detailed history will be provided. Actions can be performed through the app, remote control, Amazon Alexa, Google Assistant, Siri Shortcuts, Samsung SmartThings or preset schedules. You have the total control and complete knowledge of your actions within a single platform.
Usage Statistics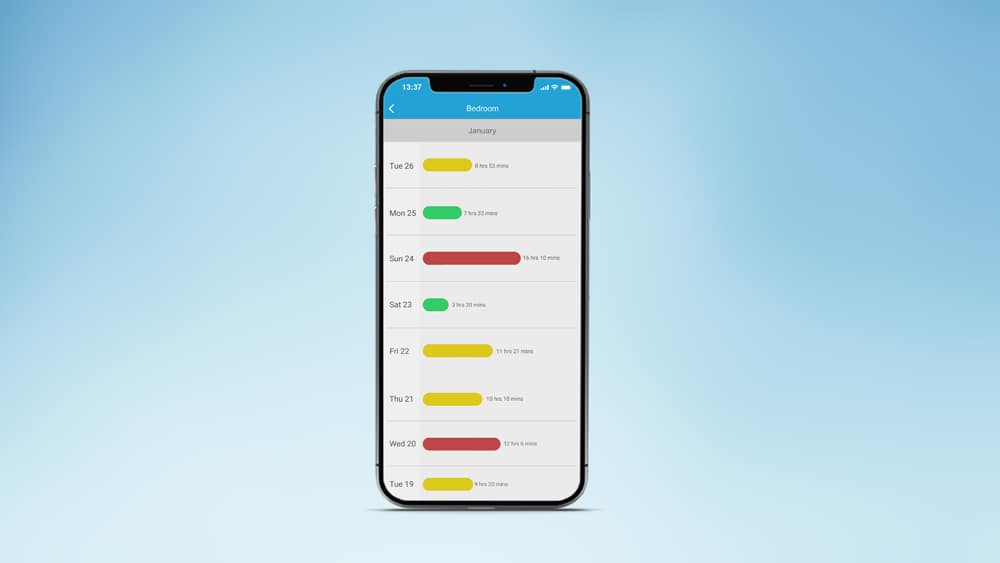 Through this tab, you can perform a usage audit of your connected ACs / Heat Pumps. By getting a ' 'bird's eye view of your usage, you can be aware of the energy usage patterns throughout the season and fine-tune your activities to keep the bills on the lower side. Through the app, daily, weekly, and monthly usage statistics are available to be viewed.
Smart Home Integration
In this day & age where convenience is a must, Cielo Smart AC controllers, along with the 'Cielo Home' app, let you control your air conditioner or heat pump with simple voice commands. You can connect your AC with Google Assistant, Amazon Alexa, Siri Shortcuts, and Samsung SmartThings. You can also set up routines with Alexa and Google Home and use your AC as part of a complete smart home package.
Temperature Range Control for Home and Vacation Rentals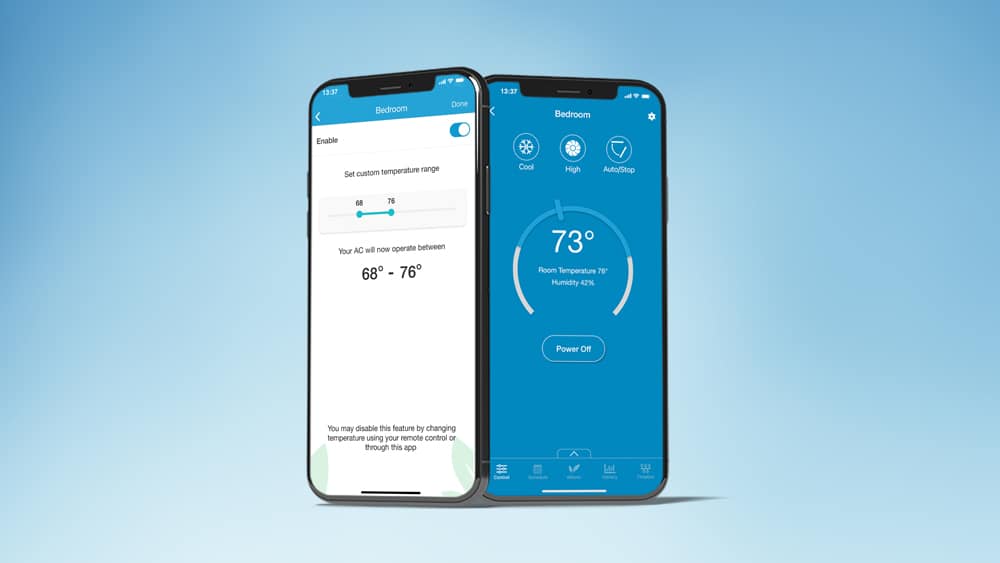 The Cielo Home app provides the perfect solution for tenants, parents, pet owners, and vacation rentals. The app provides the flexibility to restrict the end-user within a certain temperature range.
For instance, being a rental homeowner, you might not want the AC to be running at 68 degrees all day and night. So, using your phone, you can restrict the temperature of your air conditioner to operate only between  68 and 76 degrees. This way, the end-user will not be able to operate your AC at any other temperature. Control AC with phone, smartly!
Stay Informed with Notifications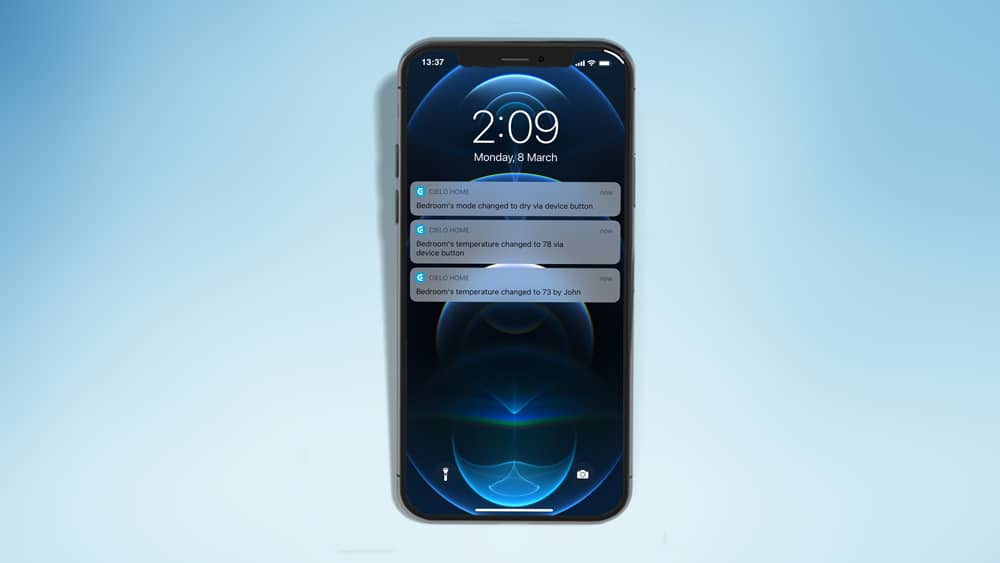 No one wants to miss out on important notifications, and smartphone air conditioning with the Cielo Home app. Convenient notifications and popups keep you up to date with your ' 'AC's daily operations. 'You'll be notified when your air conditioner is turned on if ' 'you've set intelligent triggers, when ' 'it's turned off when the temperature was changed when your air filter needs to be changed, and much more.
Zone Control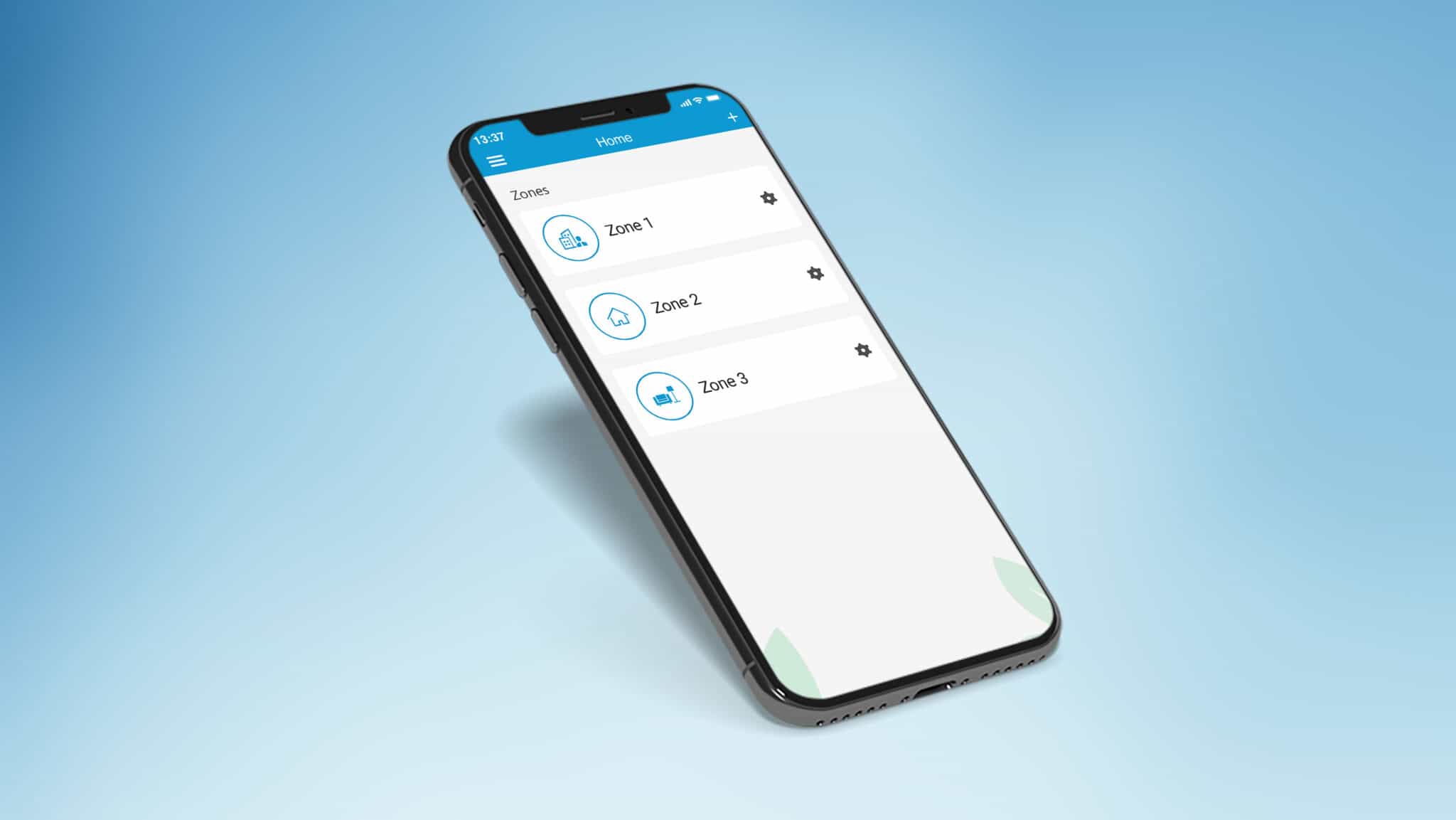 In a home, the heating or cooling preferences of the family members always differ. Similarly, different rooms in a building have different temperature requirements. You might want it a bit cooler; your parents would want it a bit toasty. Your basement is always colder than you like, while the loft is just perfect. These are examples of heating and cooling challenges that a standard HVAC 'can't always handle, thus bringing the need for HVAC zoning systems.
With the Cielo app, adding zones to your home or workspace is made convenient. Multiple devices across your home can be grouped in a few easy steps. Then with one tap of an icon, multiple ' 'AC's in a certain zone can be turned on or off at once!
An Overview of Benefits & Features of Smart AC Controllers
Controlling your AC with your phone using smart AC controllers helps you easily make any AC smart. The multiple features offer multiple benefits. Let's have a quick overview!
• You can control your AC from anywhere in the world using Cielo Home App, which means complete comfort and peace of mind.
• Cielo Breez range of smart AC controllers help you save up to 25% energy.
• The Comfy Mode helps you maintain your desired temperature or humidity range.
• Location-based controls change AC settings based on proximity from home, turning off the AC when you are not around.
• Weekly scheduling allows you to plan your week in advance and set air conditioning modes and settings beforehand.
• The air filter status helps you keep your AC in top-notch condition.
• Usage history helps track your AC usage and change the habit pattern if required.
• Restrict temperature ranges with temperature range control.
After reading all the benefits and features of controlling your AC from your phone, Android, or iOS, you would be tempted to get your hands on the Cielo Home app to start controlling your AC using your phone.
Get your Cielo Breez device now, download the app, and enjoy the convenience and savings on your air conditioning, and control your AC with your phone at anytime from anywhere!