You are on a couch reading a book; the temperature is set to 73F. Your partner walks in and adjusts the thermostat settings to 70F. A few hours later, your daughter comes home from her track practice and lowers the temperature to 68F.
Normally, you are one happy family, but this entire thermostat situation transforms your home into a battleground.
You see a similar situation at work – your office HR gets numerous complaints about thermostat settings being too cold or too hot. 
These circumstances can be summed up under the term 'thermostat war' and unfortunately, in the US, thermostat wars are quite common. According to a survey by Vivint solar, 75% of American couples fight over the thermostat temperature!  The main reason is that mostly a single thermostat governs the temperature of every room in your house or the entire office space. 
So, how can you end the thermostat conflict?
To bring an end to this unfavorable era of thermostat wars, you need to know the science behind temperature choices and explore short-term and permanent solutions that you can incorporate in your home and office. 
No More Wars On Thermostat Temperature Setting
Thermostat Wars At Home
Your partner likes to keep the temperature at 74F, which is too warm for you. You have had your fair share of arguments, and they never end well, so now you have resorted to compromise. And sometimes, you turn to sneaky thermostat adjustments. If you've children, their needs are entirely poles apart.
I realize I'm opening Pandora's box with this question, but: At what temp do you keep your thermostat? We're having an AC war at my house. I say 70. My teenagers change it back to 68 or below.

— Jeannie Roberts (@ajeannieroberts) June 23, 2021
These constant changes impact your home environment and take a toll on your HVAC unit as well as your electricity bills.
When a single thermostat decides the temperature of every room in the house, it only makes one person happy – the person who controls the temperature in your home or the last person to change the settings.
Temporary Solutions to End Thermostat War at Home
Individual needs differ considerably for each family member. Still, there are a few solutions you can try to put an end to the thermostat war. While these are some temporary solutions, keep scrolling for permanent solutions.
Try talking to your partner about how you feel when it's too cold or too warm for your liking. Give them a chance to explain their view, and together you can come up with a solution.  
Determine what temperature you and your family members prefer and choose a middle number to end the thermostat fight.
Consider investing in a space heater if your house is chilled all the time. You can put it in your immediate space and take a break from the unabating air conditioning debate.  
Go for a portable fan or a mini-split, window, or portable AC to cool down your room when other family members like it warm.
You can also dress according to your home climate. Put on a comfy sweater or cover yourself with a blanket to keep warm. Wear socks in the house as feet are the biggest area contributing to heat loss.
During winter, you can open the curtains to let the sunshine in, which can nicely warm up the room.
If you feel hot, you can wear light clothes and eat cold beverages to ward off the heat. Also, try out these tips to stay cool without AC.
Cielo Smart AC Controllers
Your best choice to make any mini-split, window,
or portable AC smart. Enhance your comfort and savings.
Shop Now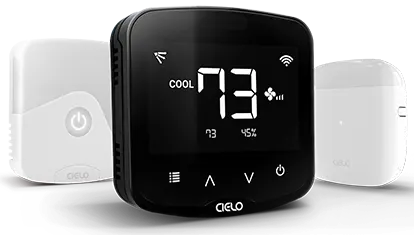 Thermostat Wars at Work
You need to feel comfortable in your office, especially since your comfort level determines your productivity.
Your body is constantly working to maintain a normal temperature of 98.6 F. For instance, if you feel cold, your body starts making changes by keeping the blood closer to the vital organs and leaving your hands and feet cold and numb. Consequently, you would feel the need to drink hot beverages and put on a sweater.
All this temperature regulation consumes energy, and if your body is constantly fighting to maintain a normal body temperature, you won't be left with enough to be productive.
Moreover, studies suggest that people tend to make more mistakes in a chilly office atmosphere as it takes a dip in their concentration levels. So, if you keep sweating or shivering at your office desk, you won't be able to focus much on work.
This is the reason why companies are concerned about the effects of temperature on their employees' productivity and what it means for their financial standing.
How to Settle a Thermostat War at Work?
Individual temperature needs vary, and it is impossible to set the preferred temperature of every single person in your office. In this case, a middle ground has to be sought to prevent a thermostat war.
According to Ernest Orlando Lawrence Berkeley National Laboratory, the ideal office temperature is 71.6F, showing the highest productivity.
US Occupational Safety and Health Administration (OSHA) recommends keeping it between 68 and 76F to alleviate indoor air quality problems.
If you are an employer, you should address temperature problems with your employees, so they know you have not turned a blind eye to the issue. You can use the mentioned figures as a guideline or contact an HVAC professional to help you determine your optimal office temperature.
When solving thermostat feuds, common sense should prevail. Setting the thermostat to either extreme should be avoided. Going below 60 and above 80 is out of the equation.
Staying between 60 and 80, there should be a consensus. Then, you can vote and use the mean value to cater to everybody's needs.
After deciding on a set temperature, the employer should enforce a company temperature policy, requiring employees to stick to it.
If you are an employee and fall in the majority, then it's great for you. However, if you happen to land in a minority area, you need to take practical measures to make yourself comfortable at work.
Achieving Personal Comfort at Work
If your office has a set temperature policy that is not up to your liking, you don't have to stay uncomfortable. Instead, try to understand that not all preferences can be met, and it is now your responsibility to take care of your comfort.
Following are some steps that you can take: 
Keep a light jacket with you if your office temperature is lower than your preferred choice.
You can also wear a scarf or socks to keep yourself warm.
If you like cooler temperatures, try to wear breathable fabrics. You can also dress in layers to easily remove the upper piece if needed.
Gadgets such as a small fan or space heater can be utilized as well.
Read this article for the perfect temperature to increase work from home productivity. 
Solutions to End Thermostat Wars for Good
While temporary solutions can decrease the intensity of the thermostat battle, it can still get frustrating.
The good news is there are some permanent solutions that can make everyone happy. 
1. HVAC Zoning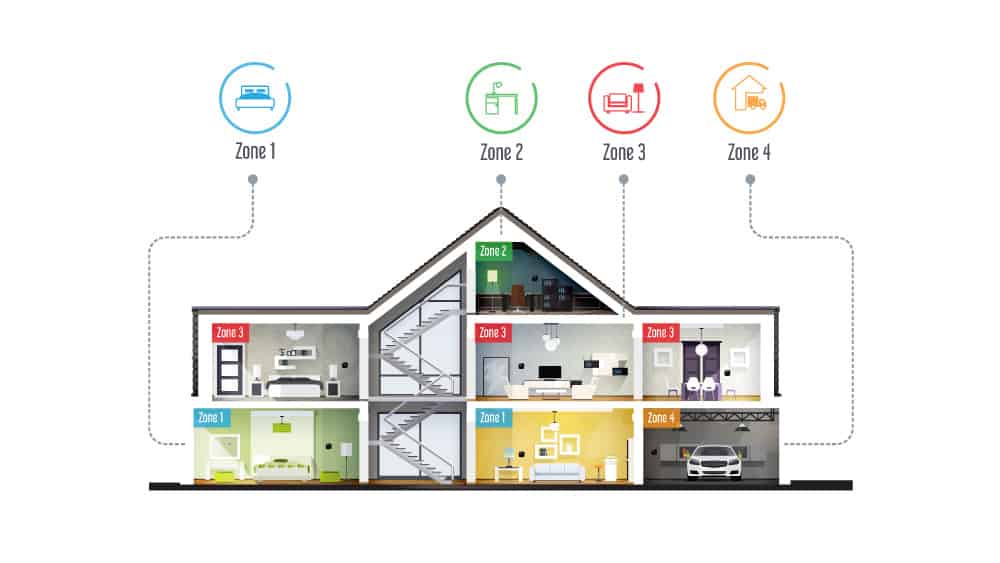 The idea of HVAC zoning is that there won't be one set temperature for the whole house. Zoning allows you to divide your house into different sections and control each zone via a smart thermostat or smart AC controller. 
Each person can set their desired temperature and AC mode in the zone they spend most of the time in.
With dual or multi-zoning, your bedroom can be set to a warmer temperature. The kitchen can be a little cooler, and the living room can have a moderate temperature so that everyone feels comfortable. 
While this may not solve the battle in a certain room, it definitely can be an ideal solution to end the thermostat battle in a home!
HVAC zoning not only adds to your comfort but also helps reduce AC bills. For example, if one area is too hot in the summer, instead of cranking up the thermostat for the whole house, you can only change the setting in that zone while setting an energy-conserving temperature everywhere else. This reduces energy consumption and lowers your bills.
For more information on HVAC zoning for ducted (central) and ductless (mini-split, window, or portable) systems, read our guide on HVAC zoning.
2. Smart Thermostat or Smart AC Controllers
You can automate your home climate considering individual preferences using a smart AC controller or a smart thermostat.
For example, if you like your mornings a little warm and your kids like it cool in the afternoon, you can set schedules for different times, and your smart device will do the rest. Similarly, if your partner goes to work when you're home, you can have your preferred settings and get them changed when it's time for them to get back, all through a single app.   
This might not sound like a perfect solution, but it is a compromise that can make everyone happy.
The solution to ending thermostat wars lies in talking it out. Tell the involved party your preferences and hear what they have to say. This way, you can come to a conclusion with a consensus. Moreover, zoning and smart devices can provide long-term solutions to end this debate for good.