COVID-19 has resulted in a remarkable shift in the way organizations work. An increasing number of companies are now opting to let their workforce stay at home and work remotely. 
It looks like that all of us would be following this trend until the pandemic bids us farewell for good, but hey, we are not complaining! It is like going from bed to a desk within the same room – no commute or issues waking up early.
Working from home is an enticing idea for some, and it is very convenient for several people. No matter where you are, i.e., office or home, it is all about the environment that has you at your productive best. The indoor environment is a significant factor that should not be overlooked when discussing the perfect work from home conditions. 
While you are thinking about the best office chair, workstation, or seating place for your work from home routine, variables like temperature, humidity, and indoor air quality should also be part of the equation. Why? These variables combine to either make you as bright and energetic as a butterfly or as lazy as a sloth.
The Ideal Temperature, Humidity Levels, and Indoor Air Quality to Get You on Your Toes!
Let's see how these factors affect your work from home routine and what you can do to increase your work from home productivity. 
How Temperature Affects Productivity?
You might have struggled with the ideal temperature at the office; it is nothing new. Some like it cold while some like it hot, and this battle goes on and on throughout the day. Banters over the temperature keep raging on while the air conditioner is being turned ON and OFF multiple times a day.
While working from home, you must have realized that the correct temperature is not all about comfort – it's about your performance, mood, and health too. The temperature has a significant effect on your mood and productivity; it can make you bright and fresh or make you sluggish.  It can also impact how you perform specific tasks; warm temperatures, for instance, are better for creative tasks, temperatures on the cooler spectrum tend to help with focus when doing monotonous tasks and temperature above 86 F is not suitable for performing mathematical calculations. 
Without any doubt, the perfect temperature helps in setting your mood, and there is a fair chance that your productivity would decrease if the temperature is not ideal, especially around your WFH desk. So, it is vital to maintain a perfect temperature to increase WFH productivity.
Cielo Smart AC Controllers
Your best choice to make any mini-split, window,
or portable AC smart. Enhance your comfort and savings.
Shop Now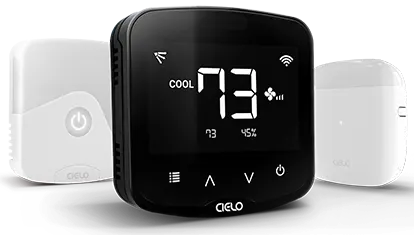 Ideal Temperature for WFH & How to Maintain It?
Several studies have shown that productivity is highest when the temperature ranges from 69.8 degrees to 71.6 degrees Fahrenheit. The highest productivity is observed at 71.6 degrees Fahrenheit. 
Knowing the ideal temperature for enhanced productivity is only one part of the story. The other is achieving it and then maintaining it. This is where you need to take help from technology and make your life easier.
Smart heating and cooling devices like smart AC controllers and smart thermostats can maintain your desired temperature for you through intelligent temperature triggers. Some modes can help you set the upper and lower limit of the temperature you want in your room. You can also specify the operating modes, fan speeds, and much more.
Another way to keep yourself cool is by using a ceiling fan. A ceiling fan is an economical cooling option, which can reduce the temperature by a few degrees without extra energy costs. One thing that you need to keep in mind is that fans do not introduce cold air into the room, like an air conditioner. On the contrary, they circulate air already present, resulting in a cooling effect on the body. If the outside temperature is too high, then a ceiling fan alone won't be sufficient to cool you down.
You can even make use of blinds to maintain perfect temperatures. If you feel cold and the sun is shining outside, open your blinds or curtains and take full advantage of the heat from the sunlight. The opposite can be done if you are feeling warm. Close the blinds, and you will immediately notice a drop in temperature.
How Humidity Can Affect Your Work from Home Productivity?
When discussing indoor environments, conversations mostly center around temperature and sunlight. But an often neglected yet significantly important variable is that of indoor humidity. It can have a significant effect on your mood, and consequently, your work productivity. Factors that affect working from home productivity need to be catered to be more productive and efficient!
A temperature that is too hot or too cold will only make you feel uncomfortable. On the other hand, high humidity will make you lazy and sleepy, and of course, sweaty. Increased perspiration, stuffiness, difficulty breathing, migraines, and even hallucinations also accompany high humidity levels. On the contrary, low humidity can cause skin problems and dryness, which are equally distracting. Respiratory issues are also often encountered, especially in those with sinusitis.
Ideal Humidity Levels for Work from Home Productivity
As with other environmental factors, there isn't an absolute value for the perfect indoor humidity levels. The comfort zone for humidity is subjective, but it has been found to be between 30 and 50%. This number can also vary with the seasons, with a higher humidity level generally preferred in the winters. These levels can have an impact on your working from home productivity.
Below are some of the ways that can help you maintain ideal humidity levels. Let's go over them!
Use humidifiers or dehumidifiers to increase or decrease humidity.
Use smart AC controllers to measure and maintain humidity levels through the air conditioner, using intelligent humidity triggers.
Keep the room well ventilated if there is a heat source in the room, such as an open fireplace or during the summers. Exhaust fans can be used for this purpose.
How Indoor Air Quality Affects Productivity?
An often-neglected HVAC component, indoor air quality, can significantly affect your working from home productivity levels. Poor air quality can be present in the form of a high number of harmful gases such as carbon dioxide and nitrogen dioxide, biological contaminants like mold, bacteria, pollen, or chemical pollutants from cleaning products.
A combination of these pollutants can interfere with your ability to focus and concentrate, resulting in a marked drop in productivity. After all, you do not want to be coughing and sneezing all day long, nor do you want your head feeling heavy during work hours.
Ideal Indoor Air Quality for Work from Home Productivity
There is no definite scale that can tell you about your indoor air quality. An indoor air quality sensor monitors different air parameters such as CO2 levels, oxygen levels, and others, presenting a broader picture of your home's air quality. 
Perfect indoor air quality levels can be a great aid in increasing working from home productivity. Let's go over some steps that you can take to ensure a healthy atmosphere in your home office.
Keep the room well ventilated. Open the door slightly, or keep your HVAC system running on fan mode constantly. Ventilation can dilute the concentration of pollutants in the room, significantly reducing their effect.
Clean your HVAC ducts from mold or algae which might have grown inside.
Dust your room with a clean, slightly damp cloth to remove airborne particles that might have settled on your furniture.
Regularly check your AC filters and clean them if necessary.
Indoor plants are a must-have to improve air quality. Use the ones recommended by NASA that remove toxins from your home and boosts air quality. 
Get an indoor air quality sensor and regularly measure CO2 or NO2 levels, especially if you have a fireplace in the room.
Automate Temperature and Humidity Controls!
To conclude, temperature, humidity, and indoor air quality have a significant impact on your performance. They can either increase or decrease your working from home productivity levels, and it is essential to keep them in check.
To maintain the temperature range or humidity levels, you can use smart AC controllers. Cielo Breez smart AC controllers come with Comfy Mode, which allows you to set the temperature and humidity range according to your preferences without making you change the settings constantly. 
By following these simple tips, you can significantly increase your work productivity and ensure that you are getting your work done on time, with better efficiency and without any hassle!