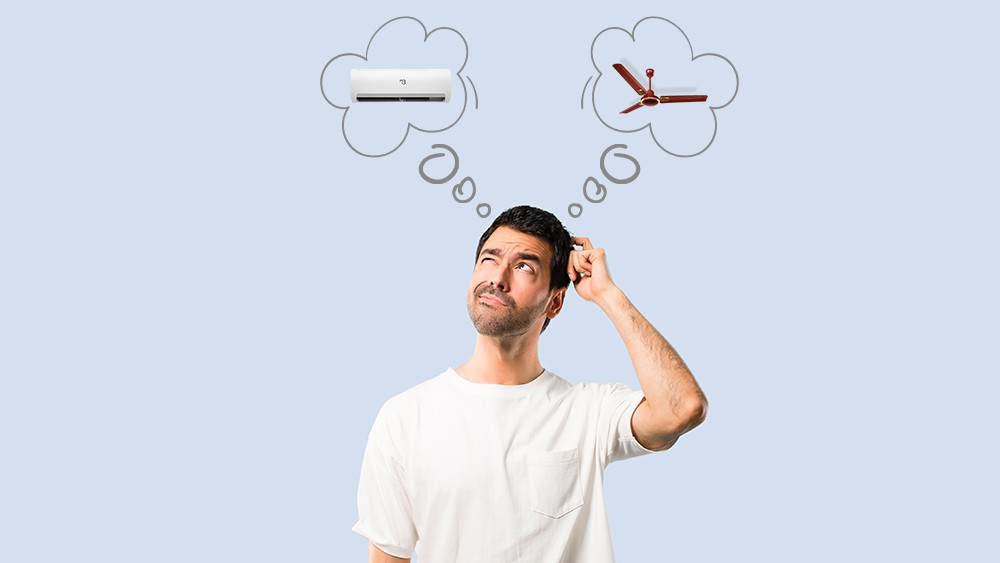 Among the many ways of achieving space cooling, the most prominent ones are either air conditioners or ceiling fans – Fan Vs AC. Both these cooling mediums have found widespread use among homeowners, with the earliest forms of ceiling fans in use since 500 BC. In comparison, air conditioners are a relatively new invention, thanks to Mr. Willis Carrier. Though new in use, air conditioners have become very popular throughout the US, with around 90% of homes having air conditioning compared to 47% in 1973.
The Fan vs. AC debate has been raging for quite some time. Fans always make the list of energy-saving tips in summer, while air conditioning provides such great cooling!
Proponents of both have put forward different reasons for the use of each appliance. For example, ceiling fans provide light to moderate cooling through another mechanism compared to an air conditioner, but at a much lower cost. Air conditioners, in contrast, give much greater cooling power but at a disproportionately higher cost. So, are fans better than air conditioning? Let us go over the pros and cons of both, and find out which works best in your house.
AC vs Fan: How Much Do They Cost to Run?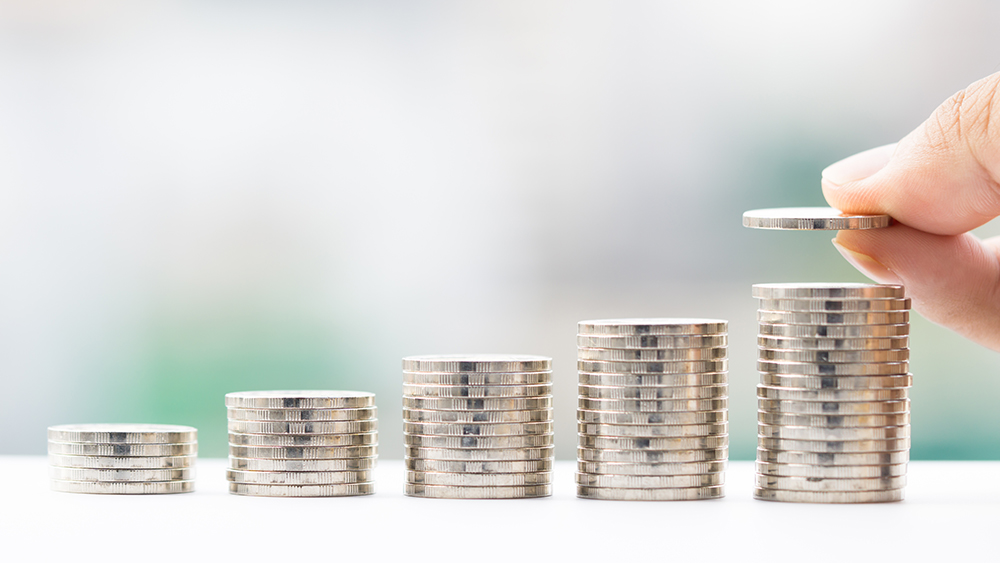 The major factor for everyone is the fan vs. AC cost. Some questions that keep arising – how much does a fan cost? What is the cost to run a fan all day? Is running an air conditioner expensive?
The cost of running a fan vs air conditioner is something that comprises a lot of variables. It includes initial cost, operating and maintenance cost. So let's have a look:
Ceiling Fans- Types & Cost of Use
There are two types of fans, AC and DC. An AC fan runs on electricity straight from the power outlet in your home, which is 110 Volts alternating current. On the other hand, DC fans convert the alternating current to a direct current and then function. Newer DC fans use two-thirds less energy than comparable AC fans.
But this low running cost comes with a caveat, the initial cost. DC fans are more expensive than AC fans. But in the longer run, they save you money in operating expenses. For example, a DC ceiling fan usually runs on 30 Watts, which comes out to about 1 cent per hour. Extending this usage to the whole month, the cost comes out to be around $1.20 per month. That is less than a soda!
Fans do not require heavy maintenance. You just need to clean the blades, tighten the screws and lubricate the motor bearings once every season.  You can do all this maintenance yourself to save on maintenance costs.
Cost of Using Air Conditioning
Air conditioners, on the other hand, are a major source of energy consumption. According to the US Energy Information Agency, air conditioners account for about 17% of all energy used in homes in the United States. Within warmer regions, this energy consumption drastically rises.
According to a survey by an AC installation company in California, air conditioners account for nearly 50% of all home energy costs in the summers, which translates to a value of around $400. Of course, air conditioners with higher SEER and EER will use less energy than others, but this serves as a general benchmark.
The AC annual maintenance, on average, costs between $100 and $150.
Smart air conditioning is also great on the rise! While smart ACs might be more expensive initially, but in the long run, they offer multiple benefits, including energy and cost savings! An even better option is to opt for a smart AC controller, making any mini-split, window, or portable AC smart to result in automation and continuous energy savings!
Cielo Smart AC Controllers
Your best choice to make any mini-split, window,
or portable AC smart. Enhance your comfort and savings.
Shop Now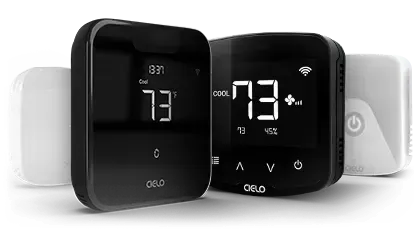 Read this article to learn more about the benefits of smart air conditioning.
Pros and Cons of Using Fans vs an AC
Pros and Cons of Using Fans
| | |
| --- | --- |
| Pros | Cons |
| Fans do have a lower upfront cost and are also less costly to operate. In addition to this, they usually have none to little operating expenses and work for a long time. | It does not provide the same level of cooling as an air conditioner. Even the cooling which a fan does provide is not spread out over a large area. Multiple fans have to be used in conjunction to cover a large extent. |
| Fans do not produce any harmful gases except counting those which are emitted while producing electricity to operate the fans. This means less carbon footprint and better indoor air quality. | Fans only work when there is light to moderate heat, not when it is smoldering hot. Moreover, if a room receives a lot of direct sunlight, the effect of fans is even more reduced. |
| Portable fans can be moved around the home and placed according to usage rather than be fixed to a single location. | The blades of a fan can be a safety hazard, especially if it is a table or pedestal fan. |
| Fans do not need to be installed through a lengthy process. Instead, the installation is quick and easy compared to the major effort required to install an air conditioner. | Fans do not filter the air of any pollutants or contaminants. |
| Fans do not need to be regularly maintained and have their filters and refrigerants replaced. | Fans do not reduce or remove humidity from the air. |
Pros and Cons of Using Air Conditioners
| | |
| --- | --- |
| Pros | Cons |
| An air conditioner is almost always the only choice if a large area needs to be cooled, especially in cases of high temperature and humidity. | The operating and initial costs of air conditioners are much higher than ceiling fans. It can come out to be more than 100 times expensive as ceiling fans. |
| To cool the room down to a reasonable temperature, an air conditioner has to be used to cool the air. | Air conditioners need to be planned while designing a house, especially in the case of central air conditioners. The positing of ductwork and vents has to be taken into account. Ductless air conditioners need to have holes punched through walls. The installation costs can be pretty high. |
| Air conditioners work as dehumidifiers. During the evaporator part of the cycle, humidity is absorbed by the coils in the unit and thus removed from the air. In areas with high humidity, this feature is especially handy in reducing the temperature. | Air conditioners have potentially harmful refrigerants in them. In the case of older air conditioners, this concern is even more amplified, with the gases becoming a source of damage to the ozone layer. |
|   | Air conditioners require regular maintenance and a lengthy installation procedure. |
How Does a Ceiling Fan Work?
While this can be the boring part, it might be interesting to know how to do fans and ACs work. This can greatly help you decide which is the most suitable option for your home.
A fan, in contrast, works on the simple process of evaporation. The fan constantly cycles fresh air over your body, increasing the rate of moisture evaporation. Constant recycling of air ensures that the air which is nearer to your body gets removed quickly enough so that the process of heat removal continues.
Bear in mind; a ceiling fan does not introduce cooler air into the room; rather, it only moves the same air over your body. This is one reason for the efficiency of a ceiling fan; it does not cool the whole room but only your body.
How does an Air Conditioner Work?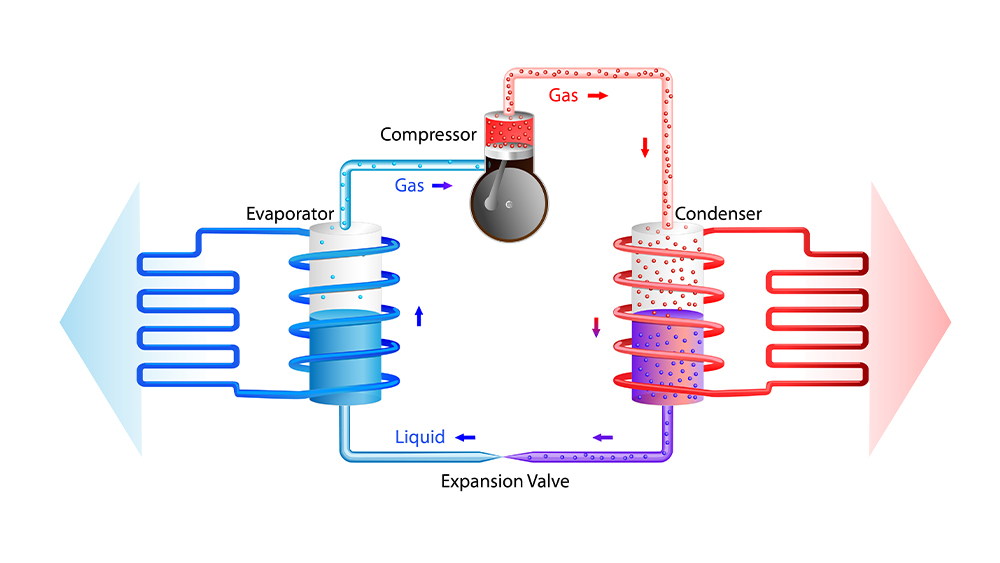 An air conditioner works according to somewhat complex principles. It removes the excess heat within the room and transferring it to the outside air. It seems simple, right? But the way this result is achieved is complicated.
In its essence, an air conditioner has four main parts, namely the evaporator, condenser, compressor, and expansion valve.
The indoor unit of a ductless mini-split or the part of any air conditioner which is located inside the home is called the evaporator. This component evaporates the refrigerant—the evaporation of the refrigerant results in the cooling of the evaporator coils. Fans located behind the evaporator then blow over the coils and introduce the cold air into the room. Do not think of this as the AC fan vs. ceiling fan! In this process, the evaporated refrigerant absorbs the heat from inside the home and thus becomes heated.
The refrigerant and the ambient air exchange their temperatures. The cold liquid refrigerant turns into a hot gas, while the hot room air turns into cool air.
This refrigerant is then moved on to the compressor, which compresses this gas, increasing the pressure and temperature. This high temperature and pressure gas is then cooled down within the condenser section. Next, fans within the condenser blow over coils containing the hot gas and eject the heat to the outside atmosphere. The hot gas is now cooled down sufficiently and is turned into a liquid state. This process occurs in the air conditioner's outdoor unit, often located adjacent to the indoor unit but outside.
This relatively cool liquid is then passed through an expansion valve located within the indoor unit. The liquid is then rapidly expanded and converted to a gaseous state. During this expansion, the liquid turns into a cool gas. This gas is then passed through the evaporator, and the cycle repeats.
Fan vs AC: Which One to Go For?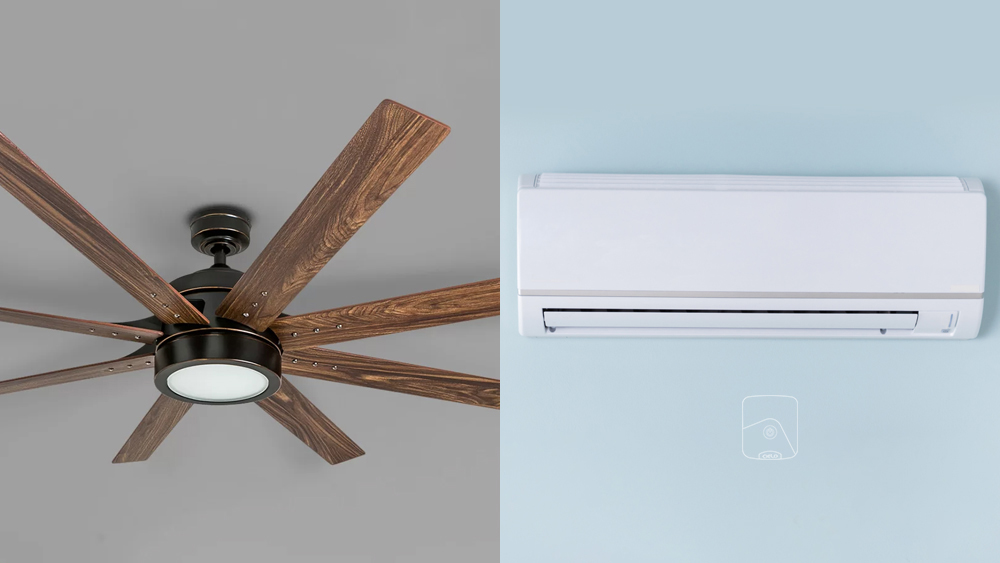 So, the comparison is between fan and AC. Which one to choose? The comparison between fans and ACs is one of apples and oranges. Even though both appliances are used for cooling, they are in no way similar. A fan does not lower the room temperature; rather only moves the air around. This leads to faster evaporation of moisture on your skin to achieve the cooling effect. In extreme heat, this won't have any noticeable impact. In a room with air at 88 degrees, the air is still going to be 88 degrees. While with an AC, that air can be cooled down to 74 degrees or even below.
A more efficient way to simultaneously achieve energy-saving and cooling is to use both air conditioners and fan together. Because of the cooling effect of the fan, you can set your AC at a temperature a few degrees higher than usual. Instead of the typical 74 degrees, you can have your AC at 78 degrees and still feel comfortable. For each degree raised on the AC thermostat, there is a 1% reduction in energy used. By increasing the temperature to 78 degrees from 74 degrees, the energy bill can come down from $400 per month to $384 per month. This is the ideal way you can get the best of both worlds!