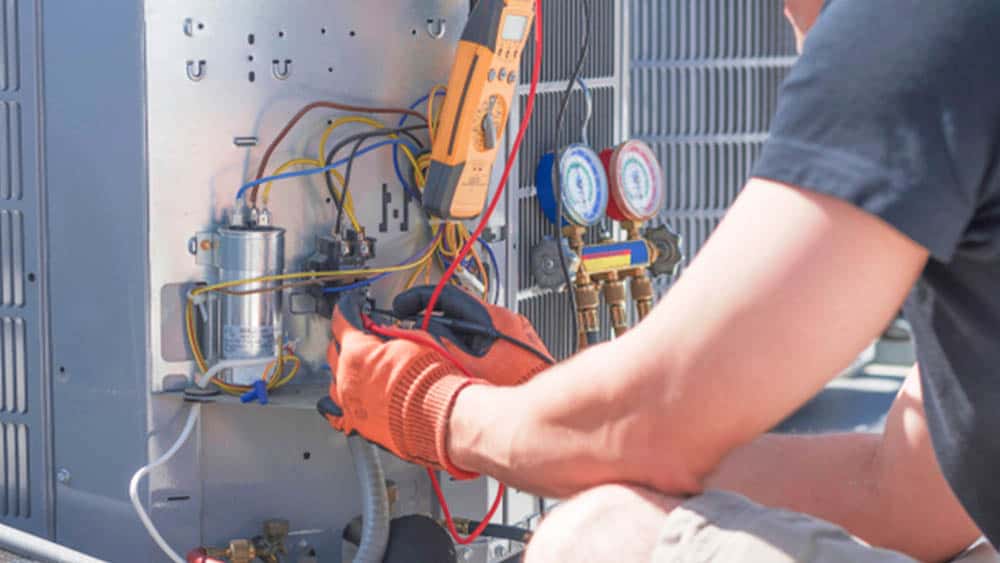 An air conditioner is like an orchestra, with many different parts working together in symphony to achieve the end result and provide cool or hot air to the room. When everything is working fine, you do not even notice that there are multiple components inside the unassuming box, making up your air conditioner work smoothly. However, when you delve deeper, you'll find an interconnected maze of air conditioner components.
What are they? How do they work? And what is their role? 
What Are the Main Parts of an Air Conditioner?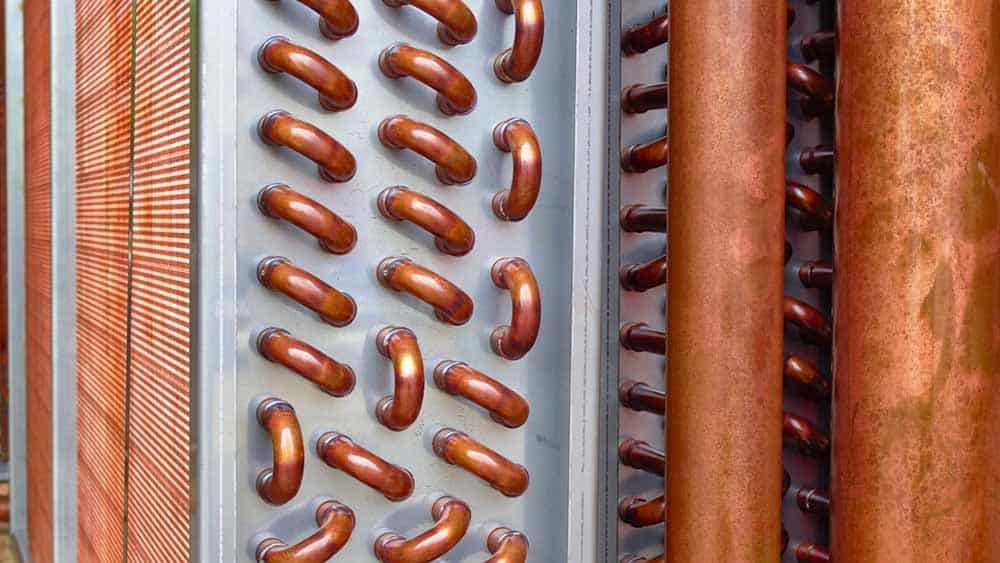 There are four major components of an air conditioning system. They are the evaporator, condenser, compressor, and expansion valve. Each of these air conditioner components functions in sync with each other and has a specific job to do – to keep your air conditioner running like a well-oiled machine.
1. Evaporator Coil
In a mini-split air conditioner, the evaporator coil is found in the indoor unit, while in a central system, it is located in the air handler. Refrigerant, which is flowing through the system, is cooled to a low temperature just before entering the evaporator coils. As warm air from your home is drawn in your HVAC unit, it is blown over the cool evaporator coils which extract the heat and cool the air down. Fans located behind the evaporator coil then blow this cool air back inside, reducing your home temperature.
These coils are usually made out of copper but can also be made of steel or aluminum. Copper is the preferred choice because it has better thermal conductivity, is easier to work with, and is effortless to maintain.
Be sure to keep your coils clean, though, as over time, dirt and dust can build upon them and reduce their efficiency. A build-up of this dust can also block the condensation drain and result in refrigerant leaks. While it is protected by the air filter, yearly cleaning will help keep your evaporator coils in the best condition.
Cielo Smart AC Controllers
Your best choice to make any mini-split, window,
or portable AC smart. Enhance your comfort and savings.
Shop Now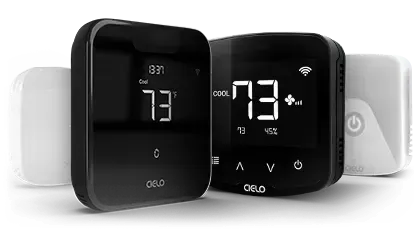 2. Compressor
Perhaps the most important of all air conditioner components, the compressor is the workhorse of air conditioning. For central and split systems, the compressor is located in the outdoor unit. The majority of an air conditioner's energy consumption is because of the compressor, and it is generally the most expensive part of the system.
The purpose of the compressor is, as the name suggests, to compress the refrigerant, which is a warm vapor as it reached the compressor, to a hot compressed liquid. As the air conditioning process continues, this is then cooled down and expanded again to remove heat from the indoor air. More on this later in the article.
Based on the size of your air conditioner, the size of the compressor will vary. You can keep the most important AC component healthy by often checking for refrigerant leaks, preventing dirt & contamination, keeping the condenser coils cleaned, and keeping your AC well oiled.
3. Condenser Coil
The opposite of the evaporator, the condenser coil, pulls away heat from the refrigerant and ejects it to the outside environment. It is located in the outdoor unit of your air conditioner.
The evaporator coil works effectively in reverse to the condenser, with a fan blowing heat away from it. If you stand outside the outdoor unit of your air conditioner, you will feel hot air blowing out from it. This is the heat that the condenser is expelling during the process when changing the refrigerant from hot vapor to a hot liquid.
4. Expansion Valve
In between the condenser and evaporator, there is another little gadget called an expansion valve. As the refrigerant is now a liquid, it will be unable to absorb the heat. In the expansion valve, the refrigerant expands into gas after facing a drop in pressure and is also rapidly cooled. This gaseous, cooled refrigerant then goes into the evaporator coils to repeat the air conditioning process.
How Do Air Conditioner Components Function Together?
Now that you have an idea about the major parts of air conditioners, it is prudent to know how they all work with each other.
Let's start with the cooling cycle. The refrigerant is compressed in the compressor and turned into a hot, high-pressure liquid. This liquid flows towards the condenser coils and is cooled down with the help of a large fan. Next comes the expansion valve, which rapidly expands the refrigerant, converting it into a cool, low-pressure gas. This cooled gas is what cools down your room. That is done in the evaporator coils. The coils get cold, and a fan in the indoor unit blows the warm indoor air over them, turning down the temperature. That was simple, wasn't it!
What Other AC Unit Components Are There?
The AC unit components discussed above are the main ones, but there are some more as well.
An Air Filter
An air conditioner filter is like a screen mesh, keeping the dirt and dust, and other airborne particles away from the air conditioner. It is located in the indoor unit.
Refrigerant
We've mentioned refrigerant a lot above, and you might be wondering what it is. It is the substance that actually does the cooling. It runs within a network of copper or steel tubes within the air conditioner and has certain properties that make it able to be compressed and expanded to cool or heat a room.
Common refrigerants include R-410A and R-22, the latter of which is slowly becoming obsolete. Check out our article on AC refrigerants for more information on them.
Fan
A fan is used to move the air around from one component to another and to blow your conditioned air into your rooms. Fans are also essential to prevent your outdoor unit from overheating by blowing the heat away.
Thermostat
The thermostat is responsible for maintaining your desired indoor temperature. This is where you inform your AC unit of your cooling preference, and it accordingly switches the AC on or off to maintain the best indoor temperature. With in-built temperature and humidity sensors, it can easily read your room's temperature.
With programmable or smart thermostats, you can control your AC temperature from your phone and set intelligent commands such as schedules or geofencing. If you have a ducted AC such as a mini-split or window unit, you can use a smart AC controller that works just like a thermostat for central systems.
Common Problems With Air Conditioner Components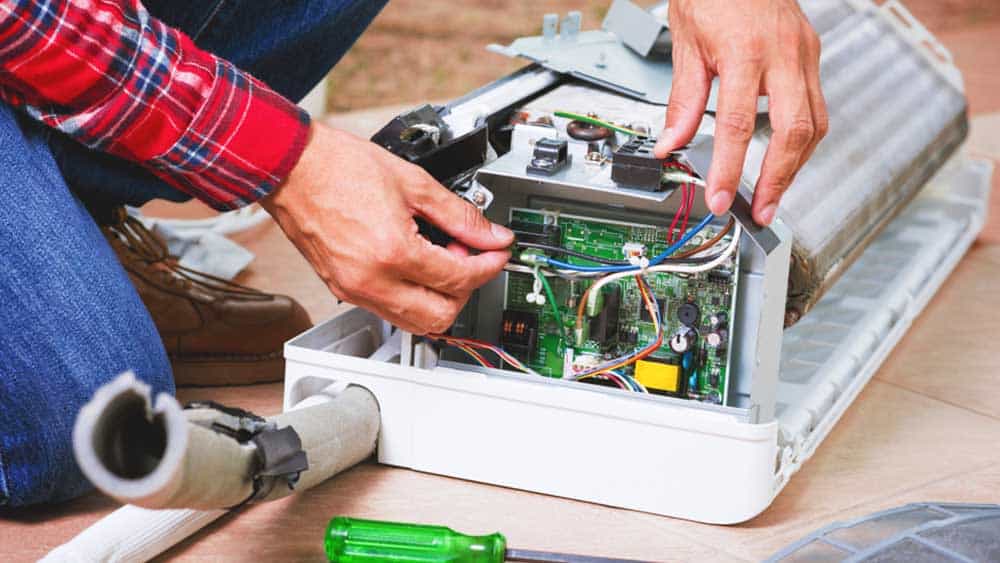 As we all know, mechanical equipment does not always like to remain functioning smoothly for eternity, even though we'd like that very much.
There are some common problems with air conditioner components that can cause the AC to function below optimum levels or stop working altogether.
These problems can be various. Common ones include:
Air filter blocked
Water leaking from the indoor unit
Cold air not coming out of AC – this is a refrigerant problem
Apart from the inconvenience caused, these problems can also result in higher energy bills for your home. It is thus better to get these fixed as soon as possible by a qualified professional.
With this newfound knowledge about air conditioner components, you should be able to understand the workings of your air conditioner better. Moreover, now you are better positioned to pinpoint any potential problems with your AC and know when a tune-up is due. After all, knowledge is power!