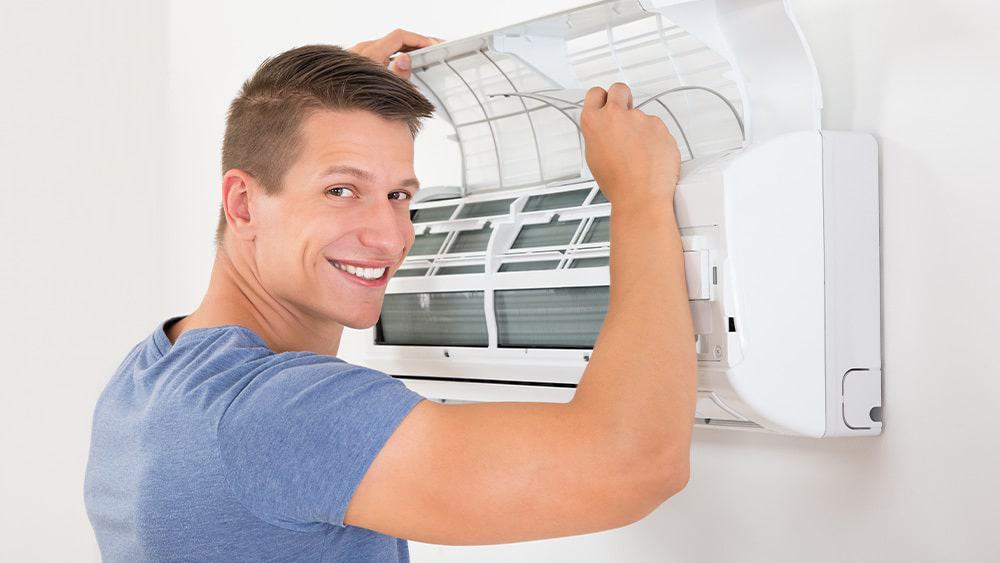 Many people today are choosing mini-split air conditioners as the preferred cooling devices for their homes ⁠— and for good reason. For one, mini-split air conditioners do not necessitate air ducts, which are a costly installation project for homes that don't have it. But the main reason why most homeowners go for mini-split air conditioners despite having a high upfront cost is that they're significantly more efficient in the long run and are easier to maintain.
To extend the life of your mini-split air conditioner and keep it in tip-top shape. You should know how to properly clean it. With that being said, we're going to discuss why you should clean your mini-split air conditioner, how often you should do it, and what steps you need to take to correctly clean it.
Keep Your AC Clean for Better Cooling
The Importance of Cleaning Your Mini-Split Air Conditioner
For the most part, cleaning your mini-split air conditioner sounds like a bothersome and boring task. And besides, you shouldn't tinker with it as long as it's working fine and cooling down your home, right? Wrong. Below, we've listed down the reasons why It's important to regularly clean your mini-split air conditioner.
A Well Maintained & Properly Cleaned Minisplit Helps to Ensure Better Indoor Air Quality
Aside from cooling your home, mini-split air conditioners also purify the air circulating inside your rooms. If you forego cleaning your unit, you create an environment inside your AC where bacteria, germs, and mold will thrive. These microorganisms are then circulated around your home every time you turn on your unit, exposing the people in your house to respiratory infections and diseases.
A Clean AC Keeps Things Efficient
As we've mentioned, a lot of people decide to go for mini-split air conditioners because of how efficient these are. Some mini-split air conditioners often reach Seasonal Energy Efficiency Ratings (SEER) of around low to mid-30s ⁠— an impressive rating considering that the Department of Energy only requires a SEER rating of 14 for most cooling units.
Cielo Smart AC Controllers
Your best choice to make any mini-split, window,
or portable AC smart. Enhance your comfort and savings.
Shop Now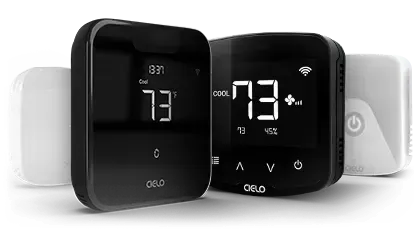 If you don't clean your mini-split air conditioner unit, dust and debris will build up inside. When this happens, the air conditioner filters get clogged and the flow of air is disrupted. This issue forces your unit to work harder. This, then, renders your mini-split air conditioner's SEER rating useless, as a harder-working unit is inefficient and consumes more energy.
A Stich in Time; Saves Nine: Avoid Expensive Repairs
If you continuously leave your mini-split air conditioner running without cleaning it, it will eventually run into issues and problems. For one, letting the dust and dirt build up in your unit will lead to overheating issues as the evaporator coils won't be able to effectively disperse heat. Another common problem with dirty units is that these develop nasty ice build-up, which will further restrict your unit's air flow.
How Often Should You Clean Your Mini-Split Air Conditioner?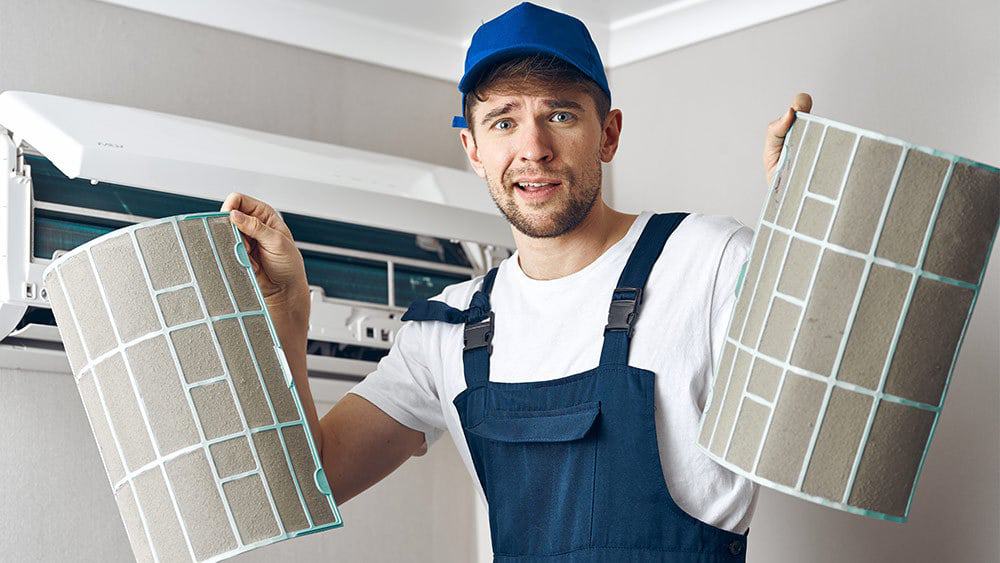 Usually, your unit's filters should be cleaned once a month. Additionally, it'll also do you well to have a professional come in to do a routine clean-up service twice a year. However, be sure to look for warning signs that can let you know it's time to clean your AC.
An indicator that your unit needs cleaning is if there's a foul smell emanating from it when it runs, as mentioned in our post '5 Reasons Why an Air Conditioner Smells & the Best Solutions'. Smells range from rotten eggs and mold to vehicle exhaust fumes. Other than that, blockage in the vents, a reduced airflow, dusty air blasts, and unusual noises can mean that it's time for you to check out the inside of your mini-split air conditioner and clean it.
Homeowners with smart ACs can cut out the guesswork, as a key feature of these units is that they let you know exactly when your mini-split AC needs cleaning. Smart appliances come with extra sensors and software that allow machines to communicate with each other as well as with smart hubs like Amazon Echo or Google Home. Through this, a smart AC can then automatically track the usage of your air filter and remind you when it would need cleaning. Smart AC units truly are a convenient investment, as these can intelligently remind you when to clean your AC or if it's running into issues that need immediate attention.
Any mini-split air conditioner can be made smart by using a smart AC controller such as Cielo Breez controllers. These can monitor your air conditioner's usage and send notifications when it's nearly time for your AC's filter cleaning!
Here's how to DIY a smart air conditioner!
A Step-By-Step Process to Cleaning Your Mini-Split Air Conditioner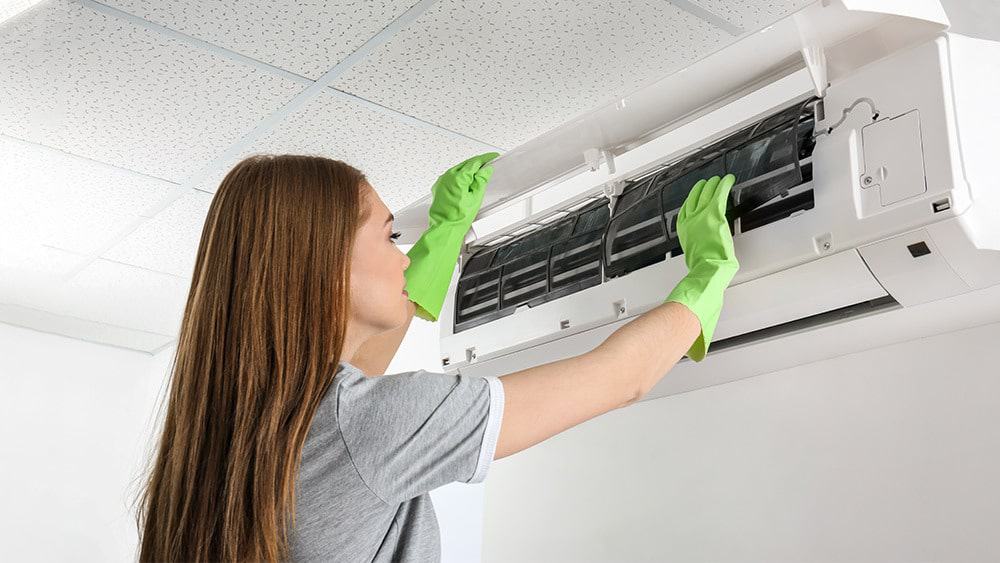 1. Gather Your Tools
First things first! Prepare the tools that you're going to need prior to starting the cleaning process. Since we're doing an extensive clean-up for your mini-split, you're going to need special cleaning items and tools, like an antifungal cleaning spray, AC flush kit, a fin comb and an AC coil cleaner. You can also do alright without any special tools and simply use dish washing soap instead of a special spray. They are recommended, but not compulsory.
So before you start the actual procedure and open up your unit, be sure that you have a working vacuum, a soft brush, soap, a full spray bottle, AC fin comb and an antifungal cleaning spray. Other items that can help with your task of mini-split cleaning can include rubber gloves, a face mask and tools such a flash light or a head light!
2. Be Sure to Turn Your Unit Off
Have all your tools handy? Next, turn off your mini-split air conditioner. In the interest of safety, ensure that your AC unit is disconnected from any power supply. You can also isolate a specific unit by turning off the electricity for the room where a unit needs cleaning by flipping the switch on a circuit breaker. Carefully unplug it from the outlet to further ensure your safety.
3. Clean Your AC's Outdoor Unit
Check the surrounding area of the part of the unit that's outside your house. Rid it free of grass, leaves, and trash that might have accumulated near the vicinity of the unit. Then, with a damp cloth, wipe the exterior of the outdoor cabinet. Feel free to use a cleaning solution like soapy water to remove any hard-to-clean evidence of dirt and dust.
While still focusing on the outdoor part of your mini-split air conditioner, use a hose to remove dirt from the grilles or fan cage. Then open up the unit to find the fan blades. Be gentle with the blades by wiping them with a damp cloth. Set aside and let dry. You can use a fin comb to straighten out any bent fins. The soft bristles on this brush will help clean the fins precisely. Then, clean the rest of the interior of your unit by gently using the vacuum to suck up the dirt and dust that might have settled inside your unit. Lastly, carefully piece back together this part of your unit afterward.
4. Clean Your Air Conditioner's Indoor Unit
For the indoor part of your mini-split air conditioner, start by wiping the surface with a damp cloth. Then, open the front panel of the unit, which has two air filters behind it. Carefully remove the air filters and then gently wash with soapy water. You can let your filters air dry or use a clean, dry cloth to remove all the moisture from it.
You will notice that the air fins behind the air filters would likely have been blocked with dust. To clean this, use your vacuum to blow the air outwards and remove the dust from the fins. Be sure to not let the blower attachment of your vacuum touch the fins, or you risk damaging your unit. Move to evaporator coils after cleaning the fins. These are the rounded metal pieces that run across the center of your unit.
If your evaporator coils have accumulated a lot of gunk, use a makeshift home cleaner with water and mild detergent. Combine the mixture in a spray bottle and apply it to your unit's coils. Then, let it soak for a few minutes to loosen the debris. You can also use a no-rinse coil cleaner which is extremely easy to use and highly effective. Afterward, use a soft cloth to gently wipe away the gunk from the coils. Spray the antifungal cleaning solution to help prevent spores and toxic fungi from growing inside your unit.
To flush out your drain line, disconnect the hose that runs from the indoor to the outdoor part of your unit. Then, use the pressurized flush kit to force water or a soapy solution down the hose. This will rid your AC pipe of any clogs. Be sure to let the line air dry first for an hour before reconnecting the hose. If you don't wish to use a pressurized flush kit, a hack is to simply mix bleach with soapy water in half parts and put the solution down the drain. You may need to repeat the process 2 to 3 times if your drain is quite dirty to begin with.
Finally, put the indoor part of your unit back together. Turn it on to make sure that everything is working.
Overall, it's not that hard to clean your mini-split air conditioner. All you need is patience and a bucketful of cleaning materials, plus a few tools. Air conditioners can be very expensive and systems that are clogged with debris can also be expensive to run! It's in your best interest to clean your mini-split regularly and avoid exorbitant maintenance and repair costs.