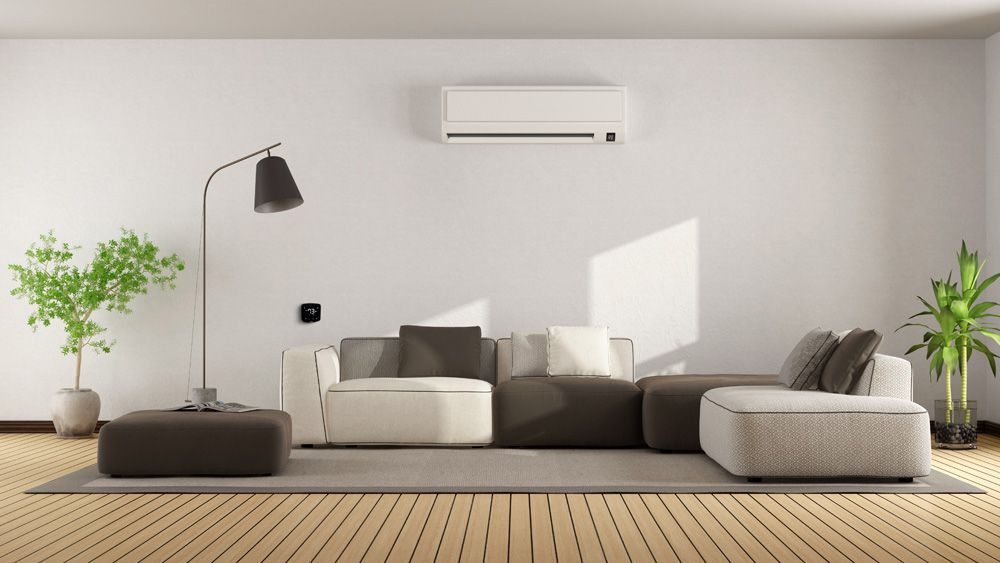 Seeing water drip down your air conditioning unit can be very unsettling. The last thing you want is a messy puddle indoors, not to mention the dreaded cost of AC repairs! Even though your AC unit removes moisture from the air, this scenario is not normal. Instead, an AC leaking water can indicate a serious issue.
When you notice your air conditioner leaking water, turn off the unit immediately and contact HVAC support as soon as you can. If you continue using your AC, it can break down due to water accumulation.
While an indoor AC unit that is leaking water needs your immediate attention, there is no need to panic. An HVAC technician can quickly fix most AC leaks, and it may not require extremely expensive repairs.
Read on to discover the most common causes for an air conditioner leak, along with their immediate fixes. 
Air Conditioner Water Leaking Problem Solved
Why Does an AC Collect Water? 
In addition to temperature, your HVAC can also control humidity levels. The indoor AC unit consists of evaporator coils. As the warm air from your home is drawn in your HVAC unit, it is blown over the cold evaporator coils, which causes it to condense, thus making it less humid.
The resulting moisture drips into a drain pan that leads to a condensate drain line. This line leads out of your home and drains the water outside. 
The problem occurs when there is excessive moisture accumulation in your air conditioner, and it is having a hard time removing the extra water. This can lead to your AC leaking water inside your home.    
Can You Use Your AC When Water Is Leaking?
Your air conditioning unit will keep working even when it is leaking water. However, you may notice a decrease in its ability to cool down your house. Since you don't know the reason behind the leak, it is always a good idea to turn your unit off as soon as you spot water dripping from your air conditioner.
In some cases, the damage to the internal AC components can be severe, and if your unit keeps running, it can lead to a compressor failure. Indoor AC unit leaking water also poses a potential threat to your walls, ceilings, furniture, and other household items. Excessive moisture can also lead to mold growth.
Related: Is Mold in Your Air Conditioner Dangerous?
8 Reasons Why Your AC is Leaking Water Inside Your House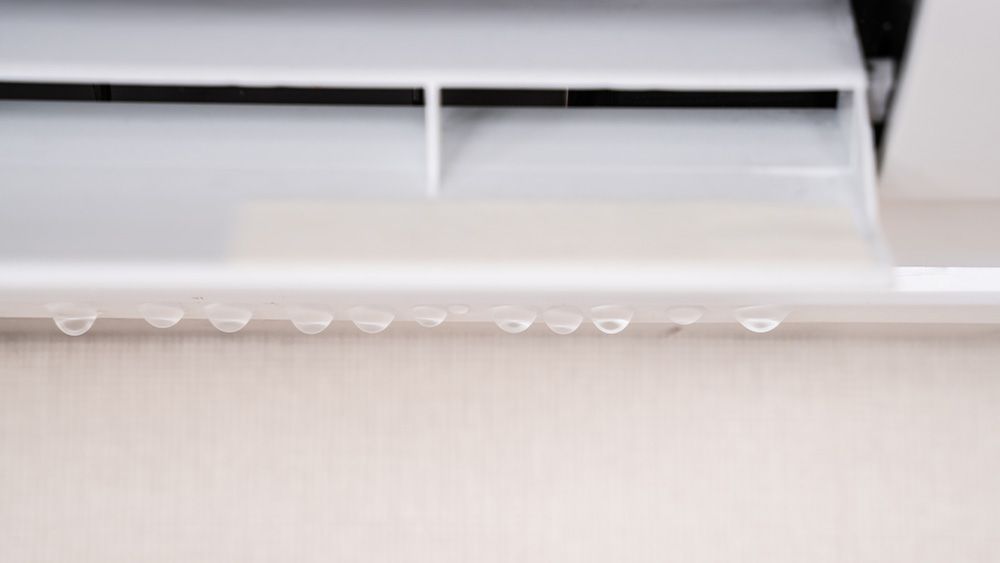 From clogged drain lines to dirty air filters, there can be many reasons why your AC cannot remove the moisture through the proper channel. Let's look at common AC problems that can cause your air conditioner to leak water:
1. Clogged Condensate Drain Line
This is one of the most common reasons for an AC leaking water. The moisture collected by your unit during the dehumidification process contains dirt and debris.  Over time, if the condensate drain line is not cleaned, this can accumulate and cause a blockage. Eventually, water will start collecting in your unit, causing it to spill out of the drain pan right inside your house. 
Some modern air conditioners have a cutoff switch that shuts down the unit if it detects a clogged drain line. This is a great option to protect your house from water damage. However, if your unit doesn't have this option, you will have to take action yourself.
Solutions for a clogged drain line:
Shut down your unit and locate the drain pan to check for standing water. Empty the drain pan and thoroughly clean it to prevent mold growth.
Locate the drain line and check how clogged it is. Next, take a long wire brush and scrub the line thoroughly to remove any gunk. If it is severely clogged, a special pump or vacuum may be required. To make sure it is clean, pour a small amount of water and make sure it seamlessly flows out of the other end.  If you have a window AC unit, here's a guide on how to locate window AC drain hole and how you can unclog it.
As a preventative measure, focusing on regular HVAC maintenance should be on your priority list. As a part of your maintenance routine, pour bleach down the drain line every six months to clean the condensate drain line. This will also help remove germs and prevent mold. However, do not increase the frequency as it can increase the chances of corrosion. 
2. Rusted or Damaged Drain Pan
A drain pan is located underneath your AC's evaporator coils or in the air handler to catch condensation as it drips. From here, the water flows into the drain line and outdoors. Now, if the drain pan is damaged or rusted, the water will start to leak instead of traveling into the drain line.
When your air conditioning unit is around 15-20+ years old, it will start showing signs of aging, and a rusted drain is one common occurrence. Drain pan can rust and corrode over time, causing your AC to leak water.
Solution:
A cracked drain pan will need to be carefully and securely sealed. First, clean the drain pan well, and next, using a flashlight and pouring water, identify the cracks. Use a good quality water-resistant sealant to patch the cracks and test the repair by pouring down the water again.  
It is best to replace a rusted drain pan. Any kind of drain pan won't do; it has to be the right size for your AC to work properly.
Related: Rusty HVAC? Here's How to Deal With Rust On Air Conditioner
3. Drain Line Disconnect
If your drain line is not attached properly, it will disconnect and result in your AC leaking water. The drain line can disconnect due to improper installation, after an improper repair, or it can become loose over time.  
In case of a disconnected drain line, water can pool on the floor or leak through the ceiling. The leakage source can vary depending upon the location of your AC unit.
Solution:
Contact HVAC support to reconnect the drain line. To avoid this problem in the future, make sure to always call a professional for repair and installation work.
4. Broken Condensate Pump or Float Switch
If your central HVAC unit is placed in a location such as the basement or far away attic, it's not always very easy for water to flow out of your drain line. Here, the condensate pump plays an essential role in removing water from the system.
When the water level in the condensate pump reservoir rises, the float switch on the pump is turned on. It then triggers the condensate pump to drain water outside of your home.
If the condensate pump is broken or the float switch has malfunctioned, it won't pump water outside the unit. As a result, the water will accumulate and start spilling from your air conditioner.
Solution:
You cannot fix this problem yourself. Contact a technician to have the condensate pump repaired or replaced, depending on the damage.
5. Condensation Build-up
Condensation is a normal part of your air conditioner's dehumidifying process. However, excess condensation buildup can result in AC leaking water from air ducts or vents. Water can drip on your home insulation and cause damage. Further, it can cause the growth of mold in air ducts and deteriorate your indoor air quality.
Condensation buildup can occur due to multiple reasons:
Warm air can reach the cold surface of air ducts if they are not properly insulated and lead to condensation. The same problem can occur when your ductwork passes through an attic that lacks insulation or is poorly insulated.
Clogged ducts, dirty air filters, and a blocked drain pump can also result in water leaking from air ducts. When air cannot circulate freely throughout your system because of blockage, it will become colder inside the ducts, increasing the chances of ductwork sweating (condensation in your ducts).
High humidity in summer increases the chances of condensation buildup. Roof leaks and lack of ventilation can further increase the humidity levels. Ideally, your home humidity should be between 30-50%. Read this guide on how to achieve ideal humidity levels in your house.
Solutions:
Start by insulating your ductwork. When the ductwork is covered with insulating material, the warm air won't be able to reach the cold ducts. If your ductwork is already insulated, check for any damages and repair them as soon as possible. The insulation should be fitted around the ducts to prevent outside air from seeping in.
Make sure to insulate your attic, especially if the ductwork passes through it.
Fix the leaking roof by contacting a roofing contractor to prevent the increased risk of condensation.
Staying on top of your AC maintenance can also help prevent water leaking issues as it removes dirt and debris from your system.  
6. Frozen Evaporator Coils
Evaporator coils are a part of your indoor unit and due to a refrigerant leak or blocked airflow, they can freeze up. This can lead to moisture buildup, causing the drain pan to overflow and water to leak out.
Solution:
If your air conditioner is freezing up, you need to find the source of the problem and cater to it.
If there is an airflow blockage, you need to check the air filters, return vents, ducts, and fin coils, etc. Cleaning them restores the airflow and can help fix the freezing and your AC unit leaking water.
If cleaning your AC's filters doesn't solve the problem, then your unit may be low on refrigerant. If there is not enough refrigerant, the evaporator coils become too cold, resulting in ice formation. When it melts, water starts dripping from your unit.
Unfortunately, you cannot fix this issue on your own, and an HVAC technician will need to identify the cause of the leak, fix it and refill the refrigerant.
Related: A DIY Guide to Cleaning Your AC Coils
7. Debris Filled Air Filters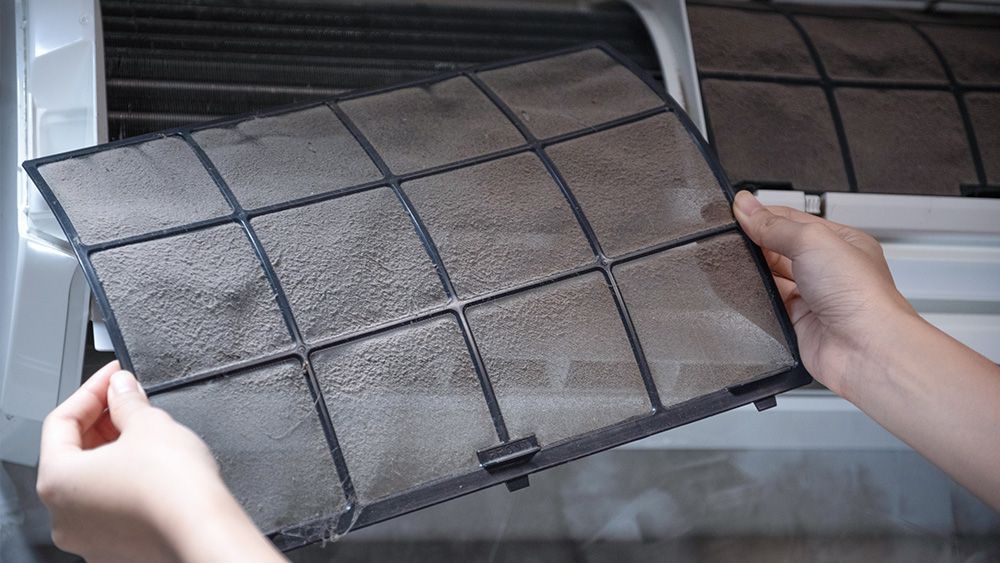 As mentioned above, dirty air filters can also cause evaporator coils to freeze, leading to your AC leaking water.
The filters ensure proper air circulation. They trap air pollutants and allow clean air to enter your house.  However, these particles combined with dust can accumulate within the filters and clog them completely over time. Their blockage is detrimental to your indoor air quality and can also cause harm to your unit. It also leads to weak HVAC airflow.  
Moreover, when air filters are clogged, warm air does not pass through easily. As a result, the refrigerant won't absorb the heat, causing the evaporator coils to freeze after some time.
When they start to thaw, you may notice a puddle of leaking water inside your house.
Solutions:
First of all, make sure to collect the dripping water properly. Do not let it damage your floor or walls. After that, start cleaning your filters. Let the filters dry completely before putting them back in your unit.
It is advised to clean the air filter more often during the peak season when your air conditioning system is used for extended periods. You should clean them every two weeks and replace them every 3-4 months.
You can set reminders, or a better option is to use a smart AC controller if you have a mini-split, window, or portable AC. Cielo Breez smart AC controller, for instance, can help you monitor your air filter cleanliness levels and notify when the next cleaning is due.
Cielo Smart AC Controllers

Your best choice to make any mini-split, window,
or portable AC smart. Enhance your comfort and savings.

Shop Now
8. Incorrect AC Installation
If you have recently installed a new unit and it has started dripping water, you might be wondering why your new AC is leaking water.
The issue can be due to incorrect installation. For example, when your AC and drain pipes are not proportional, it disrupts the water flow from the drain pan. As a result, your unit starts leaking water. 
Similarly, when a central air conditioner is not leveled, it can spill water inside the house. The same can happen, if a window unit is installed completely flat, water will start dripping indoors, causing a lot of mess.  
Solutions:
The central air conditioner needs to be on a flat surface. If it is on an uneven surface, use an AC pad to solve this problem.
For window AC, the front should be tilted upwards from the front so that the water drains outside instead of spilling inside.
When installing a new unit, always ensure that an experienced professional is doing the job.  
Now you know all the causes that could lead to your AC unit leaking water. But with proper maintenance, most of your air conditioner leaking water issues can be prevented. While tuning your indoor and outdoor units, the technician examines major components for any potential problems. Annual tune-ups also help your air conditioner operate at peak performance, which keeps your home comfortable throughout the year!