If you have ever dealt with a broken AC in extreme weather, you know it can be a total nuisance. However, problems are inevitable when it comes to your air conditioning unit. 
The issue can be inefficient cooling or your AC unit not turning on at all.  However, sometimes the reason behind an AC malfunction might be as basic as having a clogged AC drain line. It may sound nonthreatening, but it can cause severe damage to your AC unit and your house. Hence, it is essential to know why your AC drain line gets clogged and what you can do to get rid of these clogs.   
What Is an AC Drain Line?
Air conditioners remove humidity and heat from your home. The moisture in the air is collected on the metal coils inside your AC unit. This water drips down into the drain pan from the coils in the form of droplets. Then through a PVC pipe, often called an AC drain line or condensate line, this water is taken out of the house.
The air conditioner drain line is responsible for expelling excess moisture by draining it outside your home. 
Why Does the AC Drain Line Get Clogged?
Before moving on to the details of repairing the clogged condensate drain lines, let's talk about the reason an AC drain line gets clogged.  
The AC drain line constantly stays moist, which can cause mold and algae growth. If they are allowed to fester for long, they can eventually cause a blockage.  
Moreover, there are several pollutants in the air, like pet dander and dust particles. As this air passes through your air conditioner, these pollutants can make their way into your AC drain pan over time and start to build up in the drain line. 
It's best to continuously maintain your AC and clean up any clogs in the drain line before the clog gets worse and ends up covering the entire pipe. 
Symptoms of a Clogged AC Drain Line
You can easily detect a clogged condensate drain line by the accumulation of water in it. However, some other signs that your AC drain line is clogged are:
1. AC Unit Not Working
If your air conditioner is not turning on or it suddenly shuts off while working, a clogged AC drain line can be the reason behind it.
2. Water Damage in Areas Near the AC Unit 
A clogged condensate line will cause your drain pan to fill up, and the water sitting in the drain pan will eventually overflow and trickle down the walls. So, water damage near an AC is a clear indication that there is a clog in the AC drain pipe. 
3. AC System Not Cooling Properly
The cooling efficiency considerably drops when an AC drain line gets clogged. This happens because your system would have to work harder than usual to cool a space, and it will also raise your bills.
4. Unusually High Humidity Levels
If your AC is not removing moisture from the air, it is another indication of a clogged AC drain line. The water sitting in a drain pan, because of a clog, can evaporate back into the air, thus causing humidity levels to soar. 
5. Moldy Smell Near the Indoor Unit 
Standing water provides the perfect habitat for molds and algae to grow. You can sense a clogged condensate line from the moldy smell coming from AC. 
Cielo Smart AC Controllers
Your best choice to make any mini-split, window,
or portable AC smart. Enhance your comfort and savings.
Shop Now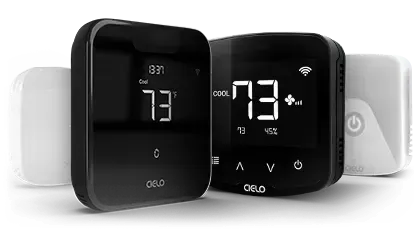 What Happens if an AC Drain Line Is Clogged?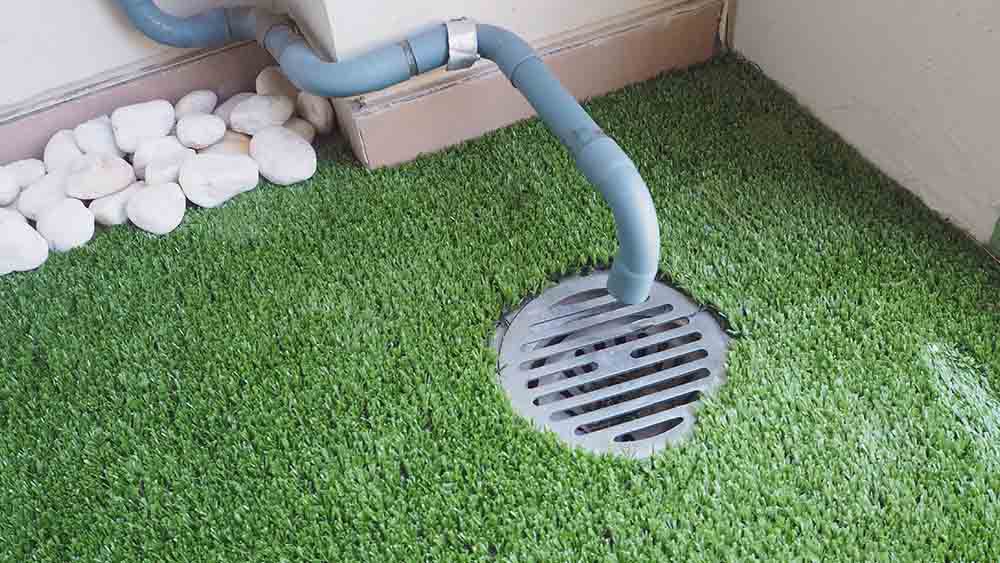 You might think having your AC drain line clogged is not something serious until you, unfortunately, have to deal with it. It can cause your AC to stop working altogether! It also poses several risks for your home and environment.
1. Home Damage 
If you do not unclog the AC drain line, the water will not drain out and accumulate in the drain pan. The more moisture your air conditioner will extract from the atmosphere, the more water will drip down in the AC drip pan. Eventually, it will cause the AC's drain pan to overflow. This spilled water can damage your home. 
The overflowing water can weaken or stain your walls and damage your furniture. If this water comes in contact with an exposed wire, it can corrupt your electrical system as well.  
2. Increased Humidity Levels
When an AC drain is clogged, the water produced by the air conditioner has nowhere to go. This water then sits in the drip pan or air conditioner drain line. It can evaporate slowly into the atmosphere, making the humidity level of your home slightly higher. In addition to that, a clogged AC drain line makes your air conditioner less efficient, so it does not properly remove the humidity from your home. This makes your house more susceptible to mold growth which can result in an unhealthy environment. 
3. Corrosion or Rust
If your air conditioning unit has standing water in the drain pan, this can cause rust or corrosion in the AC. Rust can cut the life cycle of your air conditioners short and you should take measures to prevent it. 
10 Steps to Unclog the AC Drain Line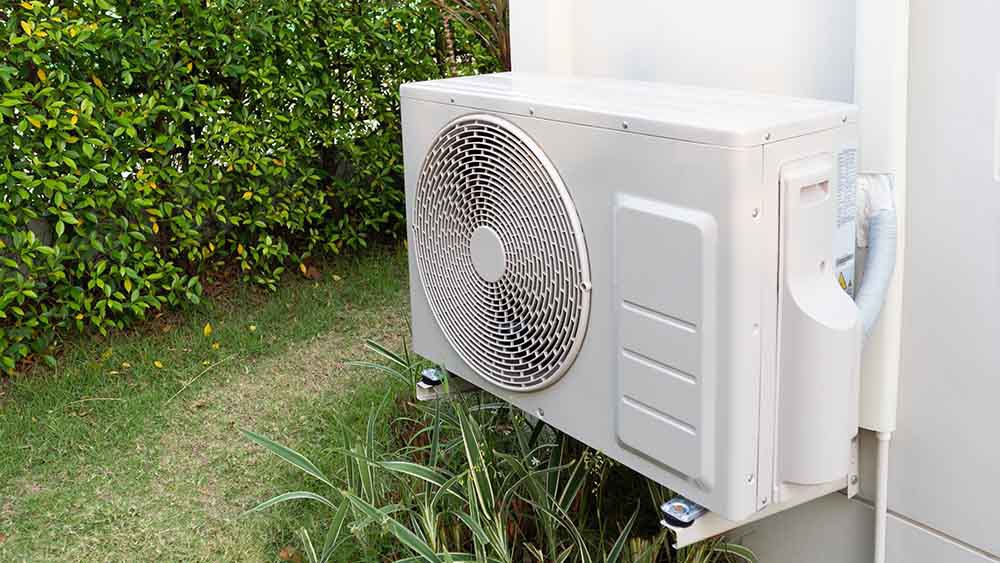 Clearing a condensate line is easier than you think. To unclog it, you would need some basic equipment you might already have lying around in your house.
Here's the toolkit that you would need to unclog an AC drain line:
Duct tape
AC drain line snake/snake wire
Vinegar
Wet-dry vacuum
Water
Garden hose
Following is a step-by-step guide to help you get rid of the blockage in the drainpipe of your AC:
1. Switch Off the AC
To avoid any electrical damage or shock, switch off your air conditioner and circuit breaker panel. This ensures the safety of the system and the person doing the AC maintenance.
2. Open the Front Panel
Now open the air conditioner panel, which is the outer cover on the front of your AC. You will see the evaporator coil attached to the air handler and an AC drain pan underneath the evaporator coil.
3. Clean the Drain Pan
In case of a blockage in your AC's drain, the pan will be filled with water. Use towels to carefully soak up this accumulated water. Clean the pan if there is any mold or debris present with soap or vinegar. This will also help the drain pan stay free of mold and algae in the future.
4. Check the Drain Line & Clean It 
You will also notice a hole in the drain pan which is called the drain hole. Do a visual inspection of this part. If you notice a clog or dirt stuck here, then push a thin wire brush into the drain hole. It will help clean off the dirt and mold that is clogging this point.  Alternatively, you can use your bare hands to remove the debris. Make sure to clean it carefully so the debris does not get pushed down further. 
5. Locate the Drainpipe
Attached to the drain hole will be a PVC pipe called the drain line. One end of this pipe is connected to the condensate pan, and the other end is located near the outdoor AC unit. 
6. Loosen the Clogs in the Drain Line
Using the same wire brush, clean the clogged drain line of the AC manually by pushing it inside the drain pipe and twisting it. 
7. Completely Break All the Clogs
You can use any of the following three methods to further unclog the AC drain line. 
Use a wet-dry vacuum and seal it to the access point of the AC drain line using duct tape. Now turn on the vacuum and let it run for a few minutes. This will allow the vacuum to suck out the clogs.
Take an AC drain line snake and run it down the direction of the pipe's exit. Twist and turn to break the clogs. Make sure not to push the drain snake in the direction of the air handler, as it can damage the evaporator coils of your AC.  
Take a garden hose and place it near the pipe opening. The quick bursts of water will help break clogs and clean out the AC drain line. 
8. Pour Vinegar Into the Condensate Line
Dilute 1-2 cups of distilled white vinegar and pour it into the AC drain line and wait for a few hours. It will help further clear out the blockage caused by clogs.
9. Flush with Water
You must run water through the HVAC drain line after breaking the clogs. This will provide a good rinse! Pour water into the drain line from the end that is connected to the drain pan. You can place a bucket on the exit point or ask someone to stand and watch. The clog is gone if water flows out of the exit point well. Woohoo!
10.  Reassemble Your Air Conditioner
Now, close the drain vent by putting a PVC cap on it. Reattach the AC panel back to your AC unit. Turn your AC on, and it should work smoothly.
If you fail to clear an intense clog or your AC drain line keeps clogging repeatedly, then contact an HVAC professional for help. It's best to clean your drain line once every month or two to prevent clogs.
How to Prevent a Clogged AC Drain Line?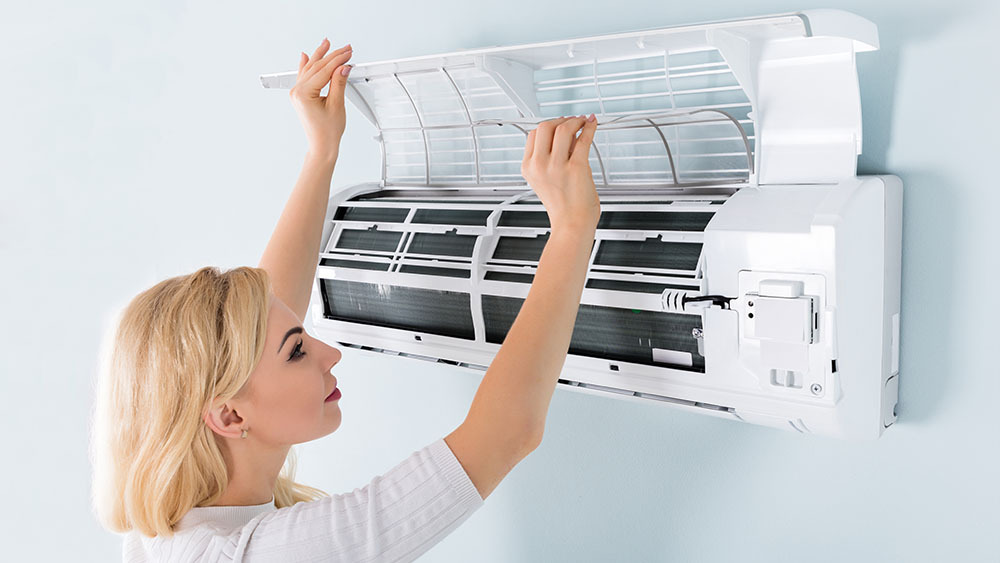 Here are a few things you can do that will keep the AC drain line from getting clogged again and help you attain the perfect temperature and ideal humidity levels for your home. 
1. Regular Maintenance
Regular HVAC maintenance is the only thing that will keep your condensation line from getting clogged. It is suggested to flush drain lines regularly with warm water or with a  mixture of vinegar and water. As vinegar is generally a good cleaning agent, using it will also prevent mold growth in the future.
2. Fix AC Drain Line Pipes
Your AC drain line can be clogged because the drain pipes were not correctly installed. If your AC drain pipes are sloped improperly, there are more chances of clog formation. You need to get your pipes checked by an HVAC professional to re-install the lines. 
3. Changing Air Filters Regularly
Dust is one of the leading factors that can cause a clogged condensate drain line. Using air filters that work efficiently can prevent dust accumulation on evaporator coils. Hence,  you should not only be using good quality air filters, but you also need to change them regularly. 
Let's Sum it Up
A clogged AC drain line can pose severe risks to your HVAC system and the structure of your house as it can damage walls and floors. It also causes mold growth and humidity issues. Following some simple steps, using readily available home equipment, you can get rid of this problem on your own. If you still face condensate drain line clogging issues, seeking help from an HVAC expert is the right choice.