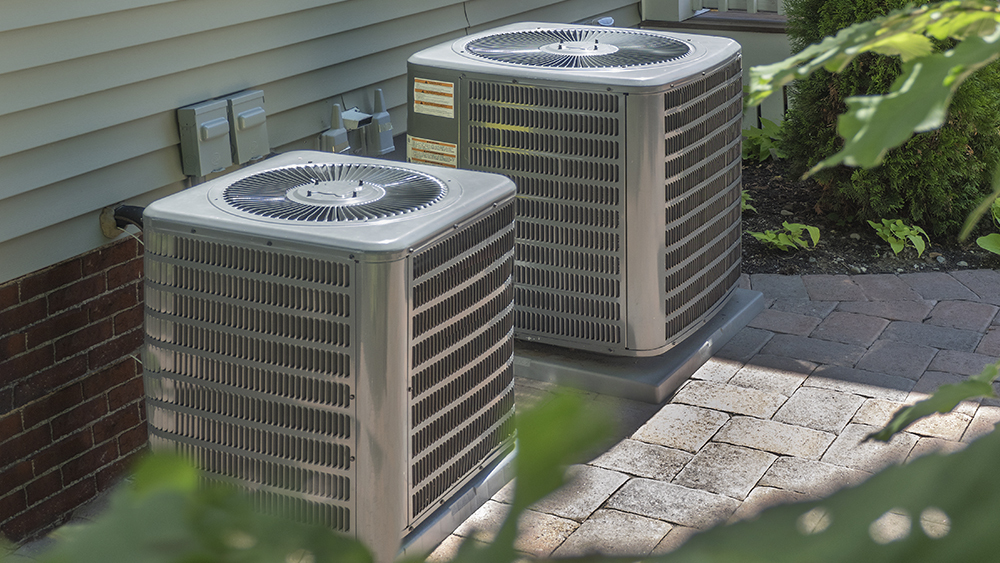 Your air conditioner is subjected to a lot of wear and tear over the course of its life. Although modern units are highly durable and are designed to withstand harsh conditions, they still require regular AC tune-ups for effective functioning. High moisture content and lack of maintenance can lead to issues such as rusting. 
Not only is a rusty air conditioner a cosmetic eyesore, but it can also affect your unit's functioning. A rusty HVAC may take longer to cool or heat your home, and this can result in high energy bills. In addition, if the rust is not removed on time, it can spread and deteriorate various AC components, leading to costly repairs and even premature failure.
Let's look at what leads to a rusty AC and how to prevent it!  
Get Rid of A Rusty AC Unit
Top Causes of Rust on Air Conditioner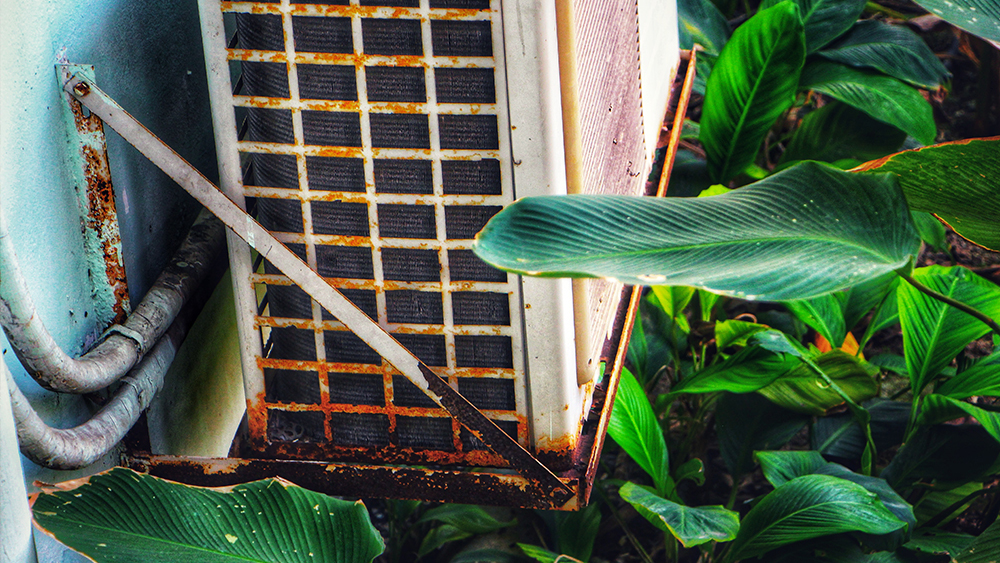 Rust forms when metals such as steel or iron are exposed to oxygen and water for a certain period. Once rust starts to form, it can quickly spread and cause damage to the metal surface. Some of the AC parts that are likely to be affected include the coils, air filters, drain pan, compressor, refrigerant lines, fan blades, and ductwork. 
Following are some of the most common causes that lead to rust on AC:
1. Excessive Moisture
The most common cause of rust is moisture, which can come from condensation, rain, or even humid air. Your air conditioner deals with moisture in its daily functioning. For instance, when the system draws warm air from your home to be cooled, moisture from the air condenses on the evaporator coils and then drips into the drain pan. This moisture content is part of the normal functioning of your AC and isn't harmful. However, the problem develops when excessive moisture stays in contact with your air conditioner components for an extended period. This happens when the drain pan becomes clogged. As a result, water overflows and sometimes even enters the unit.
If you live in a coastal area, the salty humid air may also lead to corrosive conditions for your outdoor unit. In addition, if your outdoor unit is surrounded by plants or shrubs, it can come in contact with water and harsh chemical fertilizers that can corrode the metal. Rain falling directly on your outdoor unit can also accelerate the rusting process.
2. Volatile Organic Compounds
Volatile organic compounds (VOC) are present in air fresheners, paints, and common household cleaners. If these compounds are present in your indoor air, they can easily enter your air conditioner when it takes in the air for cooling. Over time, these harmful compounds can corrode the copper refrigerant tubing resulting in refrigerant leakage.
3. Lack of Maintenance 
Ignoring air conditioner maintenance creates numerous problems for your AC unit. AC filter removes dust and any other contaminants from the air. If you ignore air filter cleaning for longer, the moisture and debris build-up can cause rust to develop. Dirty filters also lead to rusted coils. 
The moisture removed from indoor air as part of your AC's cooling process is collected in the drain pan. If you don't clean the drain pan regularly, it can result in blockage. This causes the indoor AC unit to leak water inside your home. Water can also back up in the unit, which is a perfect recipe for rust. 
The outdoor AC unit also requires periodic cleaning. Leaves, twigs, and other dust particles can collect in the condenser and impact its performance. They can also clog the drain system, leading to rust formation.
4. Air Conditioner Aging
Your air conditioner has a lifespan of 10-15 years, and rusting is a normal part of aging. As your unit nears the end of its life, it will start to degrade due to regular wear and tear. You will notice signs like decreased airflow, high energy bills, and weird AC noises in addition to rusting components.
Here are eight ways to extend the average life of your AC unit.
Cielo Smart AC Controllers
Your best choice to make any mini-split, window,
or portable AC smart. Enhance your comfort and savings.
Shop Now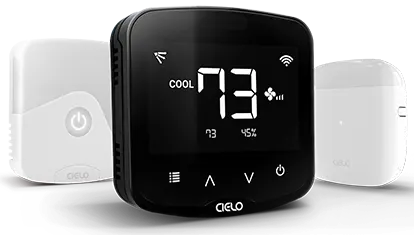 How to Remove Rust from Air Conditioner Condenser?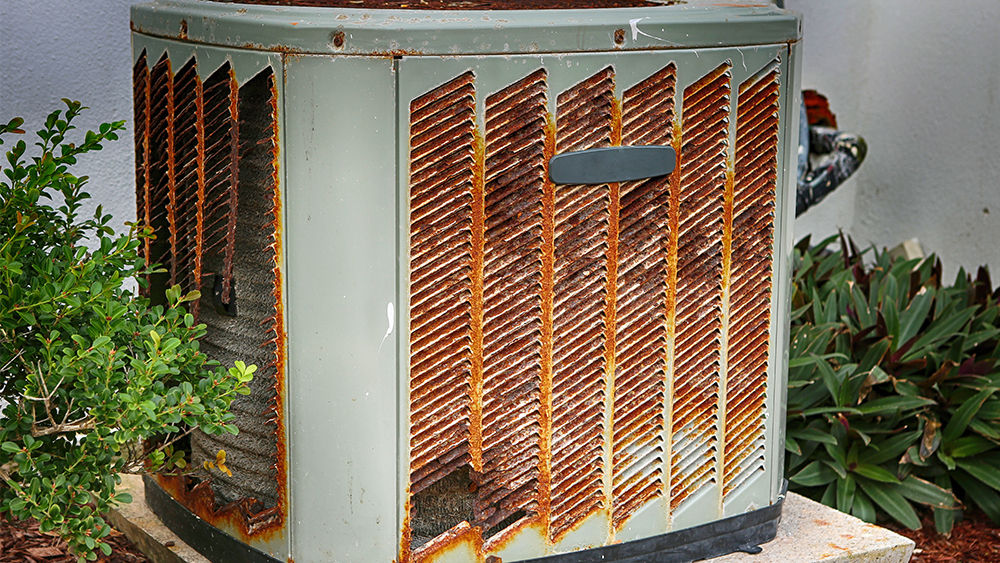 If you caught your air conditioner rusting early on, it is easy to remove the rust yourself. However, if it has started spreading to critical components, you should contact an HVAC professional immediately.
Here's how you can remove rust from your outdoor AC unit:
Turn off your air conditioner circuit breaker. Use a circuit tester to make sure it's properly off.
Take a screwdriver and remove the screws on the outdoor unit side panel. Refer to your air conditioner manual to find where exactly the screws are located on your specific AC model.
After that, lift the outdoor unit cover to access the condenser. If the lid is heavy, ask someone for help. The AC condenser will look like a square or rectangular panel with coils and fins.
After locating the condenser, spray it with a condenser coil spray. The foamy liquid should cover every inch so that the rust can be dissolved and removed easily.
The coil spray is usually not rinsed, and it will drip into the drain pan.
In case some rust remains, take a soft nylon brush and scrub it away.
To prevent the drain pan from clogging, prepare a mixture of 50 parts water with 50 parts bleach and run it down the pan.
For air conditioner rust protection, paint the areas which you have just cleaned with a rust-proof primer.
Then, assemble the outdoor unit and resume normal functioning.
How Can You Prevent A Rusty HVAC?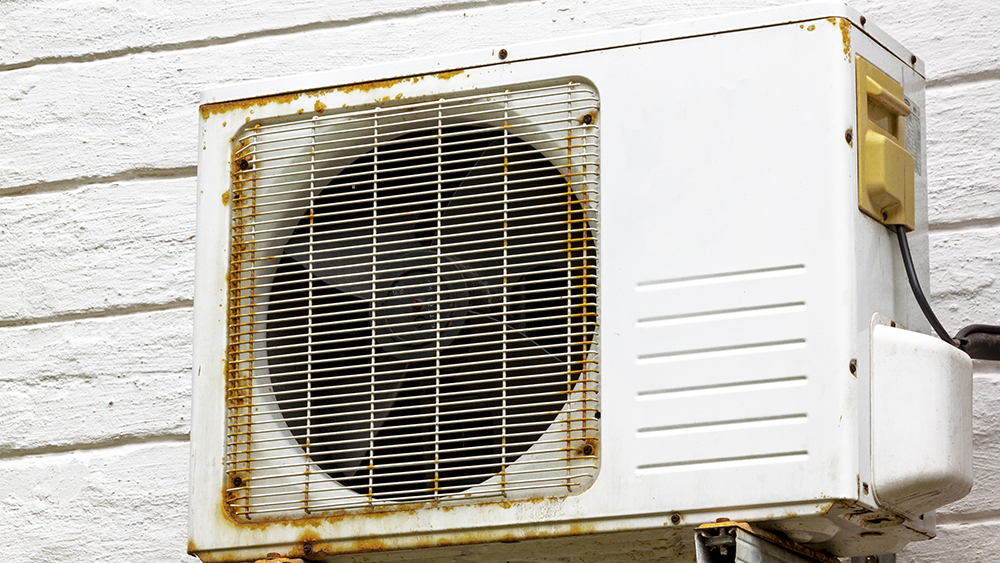 The best way to prevent rust is by focusing on preventative HVAC maintenance. Regular cleaning and inspection of your unit will help remove any dirt or debris build-up that could speed up the rusting process.
Clean AC Filters – You should focus on cleaning your AC filters once in two weeks. If you forget to clean them frequently, you can use smart gadgets such as smart thermostats or smart AC controllers that work with mini-split, window, and portable ACs. These devices keep track of your filter cleanliness levels and send alerts on your phone when the next cleaning is due.
AC Coil Maintenance – Clean your AC coils every two months. You can use a soft brush, a commercial cleaner, or a homemade cleaner made with soap and water.
Check Outdoor Unit – Every now and then, take a look around your outdoor unit and see if any leaves or debris are stuck on the top or sides. Also, regularly clean the area around the unit and trim any vegetation around it.
Clean Drain Lines – Excess moisture can clog the drain pan over time, leading to rust formation. Use a long wire brush and scrub the line thoroughly. You can also pour bleach down the drainpipe every six months to clean the condensate drain line.
Coating – If you live near the coastal side where moisture content is high, you should go for units with a rust-prohibitive coating.
Annual Professional Inspection – HVAC technicians will thoroughly examine your system and ensure its optimum performance. Annual check-ups ensure that filters are not filled with debris, coils are cleaned, and the condenser is performing at its best. The inspection also involves measures to detect rusting and stop it from spreading. The professionals will try to find out the exact cause of rusting and prevent it from happening again.
Opt for a Cover – You can put on a waterproof air conditioner cover when your unit is not in use to prevent rust that comes with excessive moisture in the surrounding air.
In Conclusion
Rust can cause all sorts of problems for your unit, from decreased efficiency to a complete breakdown. Rust on air conditioners can be caused by a variety of factors, most commonly high moisture and lack of maintenance. Fortunately, you can prevent most cases of rust by focusing on regular AC tune-ups. Make sure to clean the filters and coils regularly, remove any debris from the unit's exterior and get your AC checked by a professional at least once a year. It will help keep your air conditioner in good condition for years – without any unsightly rust patches!