As soon as temperatures start to drop around fall, we start thinking about winterizing our homes. While, weatherproofing and home insulation etc. are the most popular factors on this list, covering your air conditioner is an often debated topic. Similarly, during summer extreme heat can decrease an air conditioner's efficiency and many people plan to tackle this with AC covers or shades. On the other hand, though, some think this will do more harm than good.
It can be confusing whether or not you should put on an air conditioner cover and there is no direct answer. It would be best to weigh the benefits and risks of covering the AC outdoor unit so you can make an informed decision.
All About AC Cover for Outside Unit
Should You Cover Your Air Conditioner's Outdoor Unit?
Some argue that there is no need for an AC cover. Outdoor units are built strong enough to withstand all conditions. However, while modern ACs are highly efficient and durable, covering your outdoor AC unit under some circumstances can be very useful.
Extreme weather conditions and temperatures speed up the process of wear and tear of your air conditioner. This, in turn, stops your AC from working effectively and can also lead to higher electricity bills.
It's advisable to cover your air conditioner during fall for instance. The winds facilitate trees in the shedding process and carry leaves and twigs to your AC unit. These organic materials can collect in your HVAC system and interfere with its functionality. They can also clog your drain system, which won't flow properly when you use your AC unit in the next season. 
Moreover, when your AC's outer unit is not in use during winter, you can protect it from dust and debris to keep it in good condition. If the dirt settles on the outdoor unit, it will get sucked in when you turn the air conditioner on in summer and block the drainage or clog the air filters. Dirty filters can profoundly affect your indoor air quality and reduce the efficiency of your air conditioning unit.
Heavy rain can also cause damage if the water enters your outdoor unit and oxidizes. Oxidation is a process that speeds up rusting. The water can also get in the condenser coils, leading to corrosion in the long run.
Cielo Smart AC Controllers
Your best choice to make any mini-split, window,
or portable AC smart. Enhance your comfort and savings.
Shop Now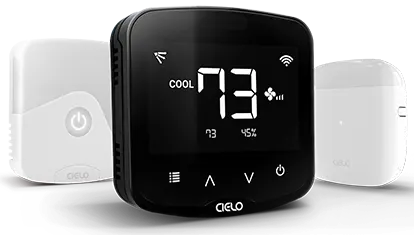 If you live in an area that experiences high snowdrifts or blizzards, snow can pile up on your system. You would not want snow melting and causing moisture to build up in your unit. It can have severe consequences for the overall health of your air conditioner. Heavy storms can cause small objects like stones to strike your outdoor unit and cause severe damage. During a hailstorm, small gravels can enter your unit and obstruct the fan movement. In this situation, consider putting on an AC cover during the winter.
During summer, if you are on vacation and your AC is turned off, its outdoor unit can become vulnerable if it is in an area that receives direct sunlight. The hot afternoon sun can have an impact on how your condenser coils dissipate heat and may hinder their performance.
If your unit serves both heating and cooling purposes and runs all year round, you would think there is no need for an air conditioner cover. However, you don't necessarily have to cover the unit. You can choose to add a shade for protection or conceal the outdoor unit for aesthetic purposes if it's turning out to be an eyesore in your backyard.
Air conditioners are durable; they can withstand the varying climate, but extreme conditions like high snowdrifts and hot afternoon sun can be destructive, and it is best to take the required measures and apply a cover.
Note: If your unit is prone to capturing dust and debris, you also need to keep your AC maintenance checks in order. If you forget about cleaning your air filters, you can invest in a smart AC controller that works with a mini-split, window and portable heat pump. It automatically notifies you about your air filter status and when it needs to be cleaned. 
Risks Involved When Choosing an Air Conditioner Cover
While covering an air conditioner can be a great choice in some cases, it cannot provide absolute protection. Covering an air conditioner comes with its own set of disadvantages that also need to be considered. Using the right cover and using it properly can help minimize the shortcomings.
Mold & Mildew Growth
Moisture is unavoidable. It can penetrate the unit to some extent even with a cover due to humidity being carried by wind and becoming trapped. This can lead to mold infestation and accelerated corrosion. Mildew growth can interfere with HVAC airflow and can hinder the functioning of the condenser. Furthermore, mold and mildew can easily infiltrate your home which can impact the indoor air quality.
Choosing a breathable cover can help tackle this situation.
Pest Infiltration
Putting on a cover on your HVAC unit can also invite some unwelcome guests like pests and rodents. Birds can also make a nest in your air conditioner. During the winter they are looking for shelter and can find solace in your well protected AC unit.
Mice can chew the wires and make room for their nest inside the unit. This can lead to costly repairs. 
These problems can be avoided by covering your unit only during fall when twigs and dirt are most likely to enter your unit. If your area doesn't experience heavy storms during winter then only covering the top of your unit can also work.
Depending on the climate, an AC cover for your outdoor unit may be necessary. The type of cover you choose can greatly help counter the negative affects.
Things to Consider When Selecting the Best AC Outdoor Unit Cover
People seeking to protect their air conditioning units might put on a cover made of plastic or rubber, but this can suffocate your unit and cause more harm than good. Air conditioner covers help in keeping your AC in its best condition for the next season but a cover is only helpful if it is the right cover. 
We have listed some factors that would help you in making the right choice: 
1. Waterproof AC Cover
Since moisture is the root cause of many issues, using a waterproof cover that does not allow water to seep in is recommended. It will ensure that moisture does not get trapped in and will prevent mold growth. 
2. Air Conditioner Cover's Size
The size of the cover should match the size of your outdoor unit. Measure the dimensions of your air conditioner before purchasing the cover. If you don't find your measurements listed then choose the cover with the closest dimensions. Also, choose a cover that is slightly shorter in height than your AC. A cover that touches the ground can provide a place for rodents to hide. 
3. Breathable Fabric
Don't put plastic covers on your air conditioner. You'll suffocate your air conditioner. Instead, use covers made from breathable and porous fabric that allows air circulation, such as mesh. This maximizes airflow and avoids moisture from creeping in.
4. Durability of Cover
When selecting a cover, go for a sturdy material such as PVC or woven polyester. These types of materials are highly durable and can withstand extreme conditions. 
5. AC Cover Must be Easy to Install
Look for covers that are easy to put on and remain firmly attached to the AC. For example, padded handles make it easy to put on and take off when not in use. Further, look for plastic hems that will hold the cover in its place so it does not get blown away by heavy winds. 
6. Warranty 
An AC cover should have a warranty that you can ensure that it will last a few seasons. Look for manufacturers that give at least a 2-year warranty. 
7. UV Protection
An air conditioner cover outdoors that protects against harsh ultraviolet rays will inhibit fading and prevent it from becoming brittle over time. 
8. Shelters & Coverings
If you want to simply shield your air conditioner from snow falling directly, you don't have to cover the entire unit. You can also just place a plywood cover on top of it. Another option is to install a shelter attached to your home building that covers most of your unit. In this way, you can get away with not putting on a cover. But remember, you still need to protect your air conditioner and prepare it for the winter.
6 Best Central AC Covers For 2021
If you decide that you absolutely need a cover for your air conditioner during fall and winter, we have a list of best covers that you can purchase from Amazon. They have most of the features that will ensure your AC's durability. You can check these out and see which one best suits your requirements:
1. Covermates Air Conditioner Cover
This is one of the highest-rated air conditioner covers available on Amazon. 85% of people have given it a 5-star rating that signifies its popularity among the homeowners.
It has 14 different sizes to ensure that maximum units are catered. Made up of thick 12-gauge vinyl material, it offers water and dirt resistance. It has buckle straps to secure it on your outdoor unit firmly, so you don't have to worry about strong wind taking it off.
2. Cosfly Air Conditioner Cover
Cosfly's central air conditioner cover is made up of high-quality 600D polyester material, which provides extra insulation and protects against moisture, snow, hailstorm, and debris. It also has strong drawstrings that securely cover your AC. Cosfly claims that the cover will protect the outdoor unit from rusting and can help extend your unit's life by 20 percent. Like other covers on the list, this has air vents that help with ventilation, thus preventing moisture buildup in your HVAC unit.
3. Duck Air Conditioner Cover
This air conditioner cover can cater to most square-shaped outdoor units. The fabric is designed to be breathable & water-resistant and can easily keep molds at bay. Moreover, the cover is UV treated, which means you don't have to worry about its color fading and material becoming brittle due to direct sunlight falling on top of the cover. 
4. Kylinlucky Air Conditioner Cover
Kylinlucky's central air conditioner cover is created using 600D polyester, waterproof material to prevent rust that comes with excessive moisture. It comes with padded handles for easy fitting. Moreover, it claims to protect your AC from rain, sun damage, snow, debris buildup, and leaves.
5.  Mesh Air Conditioner Cover
AC mesh cover by Sturdy Covers only stays on the top part of your outdoor unit. Moreover, it is designed to repel moisture and prevents condensation. The mesh material has the added advantage of not providing a cozy environment that attracts rodents and pests.
The mesh design also ensures ample airflow to create a dry environment for electrical components in your unit. Installation involves four bungee hooks to fasten to each side of your AC unit, which keeps it secure in its place throughout the season.
6. Ravenna Air Conditioner Cover 
This central air conditioner cover is created using Gardella woven polyester fabric with UV and water protection. Furthermore, it comes with a 2-year warranty so you can rest assured that it will last quite a while. Fully equipped with mesh air vents, it helps to minimize condensation and increase airflow. It is rated relatively high for sturdiness so if it is something that you are looking for, you should consider going for this one.  
| | | | |
| --- | --- | --- | --- |
| Product | Features | Price | Amazon Rating |
| Covermates Air Conditioner Cover | Water-resistant materialOffers dirt, water, and UV protection2-year warranty | $44.99 | 4.8 |
| Cosfly Air Conditioner Cover | Air vents to prevent moisture buildupProtection from rain, snow, dirt, sun damage, debris, and hail stormsAnti-wind design – drawstring hems allow protection against winds | $29.99 | 4.75 |
| Duck Air Conditioner Cover | Water-proof, breathable fabricOffers protection against UV rays2-year warranty | $22 | 4.7 |
| Kylinlucky Air Conditioner Cover | Water-resistant fabricProtection from rain, sun damage, snow, debris buildup, and leaves   | $26.99 | 4.7 |
| Mesh Air Conditioner Cover   | The PVC-coated mesh material provides airflowProtects against dirt and moistureLight-weight material | $29.99 | 4.7 |
| Classic Ravenna Water-Resistant Air Conditioner | Water-resistant and UV stabilized outer coatingAir vents for ventilation | $38 | 4.7 |
Choosing whether to cover or not highly depends on where you live. For example, if you live in a climate where the temperature falls below freezing points, it is best to opt for an air conditioner cover for winter. On the other hand, if you live in an area where air conditioning is required for most of the year, there is really no need for an air conditioner cover except if you find the outdoor unit unsightly. Further, it also depends on your model. The quality of the materials used in newer models makes it unnecessary to put on an air conditioner cover in the off-season. But keep in mind that excessive snow and moisture buildup can damage the coils over time, no matter how durable your unit is.