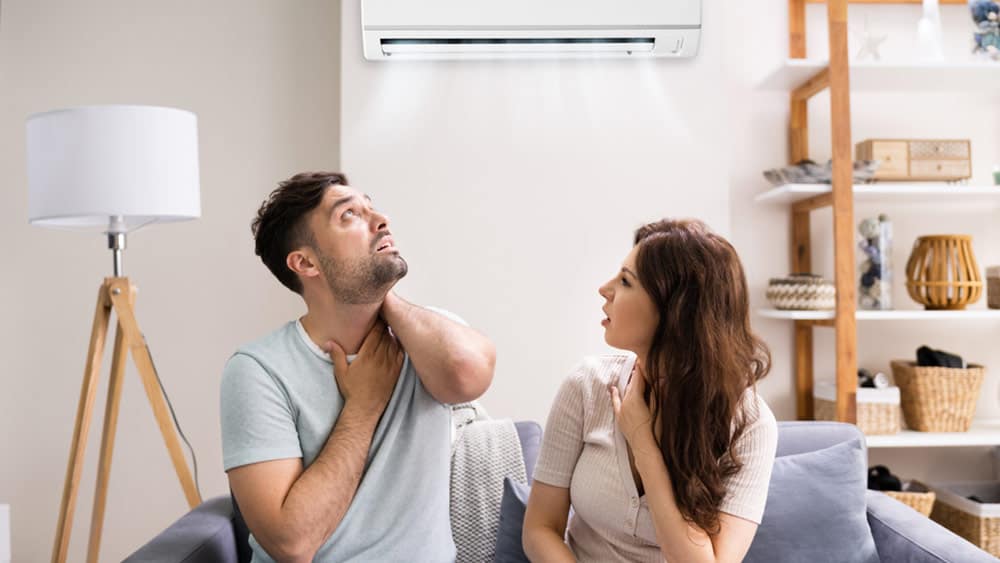 Have you been noticing that some rooms in your house are warmer or colder than others? You change your AC settings but still feel no difference? You put your hands in front of the vents and feel that your air conditioner airflow is weak and almost non-existent. Perhaps the air is warm when it should be cool, and you notice air drafts in your home. 
Well, your unit might be dealing with airflow issues. Weak HVAC airflow is one of the most annoying problems, not only because it's uncomfortable but also because you cannot pinpoint the exact cause.
From dirty air filters to leaking ducts, there are many reasons for your air conditioner airflow to be weak. Some are easy to fix, while others require professional help. 
If airflow issues go untreated, they can result in air conditioner problems such as compressor failure, which is quite expensive to repair. In some cases, you might even have to replace it. To help you effectively deal with HVAC airflow issues before they get worse, we have prepared this guide covering: 
Top Airflow Problems & How to Fix
Symptoms of Weak HVAC Airflow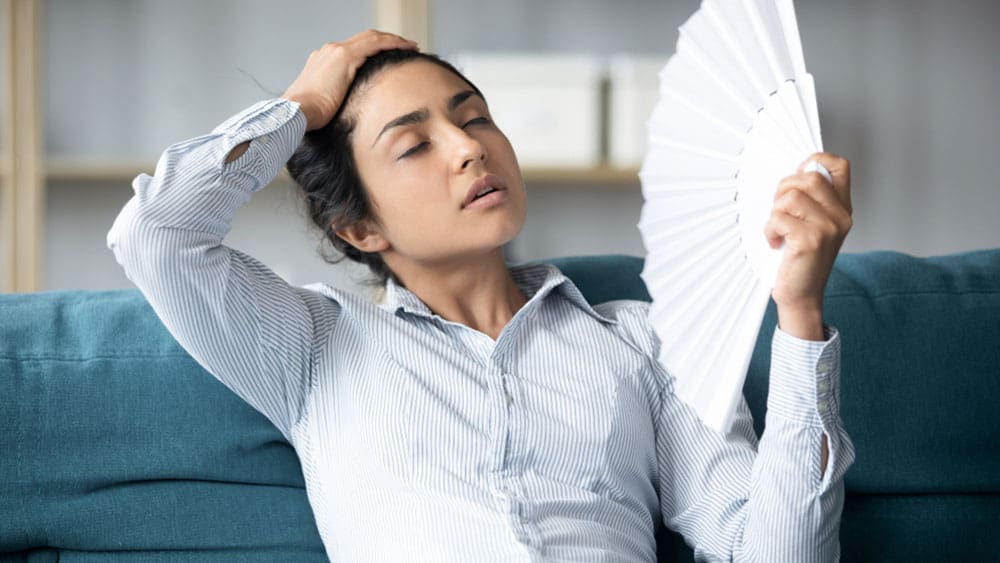 When there is a problem with the airflow, your air conditioning unit will usually give you warning signs. You might start experiencing hot and cold spots or no air blowing from vents in your house. The vents might give out little to no air, or you might face pressure imbalance in your home. So, it is important to learn about these signs to get to the bottom of the issue. 
1. Your Home is Experiencing Hot & Cold Spots
If you have set your thermostat to the same setting throughout your house, you might be wondering why certain rooms feel hot while others feel cold. Temperature variations in your home are a vital sign, indicating that there is something wrong with your HVAC airflow.
2. Weak HVAC Airflow from the Vents
You have set your unit in the lowest setting, but your room remains hot, and you barely feel any air circulation.  So, you put your hand under the vents but feel little to no air blowing out. This indicates an airflow problem. 
3. Pressure Imbalance
If you are experiencing air drafts in your home, which are noticeable if the doors start rattling or shutting on their own, you might be dealing with unequal pressure created by poor airflow.
4. Your Air Conditioning Unit is Blowing Warm Air
When an AC unit starts blowing warm air while it's above 100F outside, you are dealing with a poor HVAC airflow issue that needs to be fixed immediately to avoid further damage.  
12 Causes of HVAC Airflow Problems & Their Solutions
Let's explore some of the common reasons for HVAC airflow problems and how to prevent or fix them.
1. Clogged Air Filters
If you have ignored your AC maintenance for quite a while, clogged air filters can be the culprit of your HVAC airflow problem.  
The air filters are responsible for keeping the air clean in your home. They filter out the mold, pollen, dust, pet dander, and outdoor pollutants. In order to function optimally, they need to be cleaned monthly, depending on your usage. If they are filled with debris, they can block the airflow, resulting in weak airflow or hot & cold spots in your home. Clogged filters can even stop your AC from working altogether if you go too long without maintenance.
To solve this HVAC airflow issue, you need to change the air filters. Ideally, you should clean your filters after around 250 hours of use and change at least once every 3-4 months or more than that if you live in a humid climate or a highly polluted area.
Keeping a check on air filters can be a hassle, and that is where smart climate control devices come to play. You can use a smart thermostat or a smart AC controller if you have mini-split, window, or portable AC units to monitor your air filter cleanliness level.
Cielo Smart AC Controllers
Your best choice to make any mini-split, window,
or portable AC smart. Enhance your comfort and savings.
Shop Now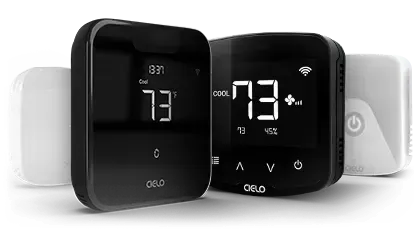 2. Oversized & Undersized HVAC Unit
If you bought an oversized air conditioner, thinking that a bigger unit would provide more efficient cooling, well, that is not how it works.
A unit that is larger than required short cycles, meaning that it turns on and off frequently. These increase wear and tear, and your AC won't be able to provide sufficient airflow. Moreover, it never runs long enough to remove excess moisture from your home.
Similarly, an undersized HVAC unit has to work harder to cool down your home, which can cause overheating of its components, especially the capacitor. 
If you notice these signs, go for a professional evaluation to determine the right size of air conditioner for your home.
3. Accumulation of Debris in the Outdoor Unit
Leaves are debris that can easily get stuck in your air conditioner's outdoor unit, especially if you use shrubs or other plants to hide or cover it up.  It will have to work harder to disperse the heat and impact your air conditioner's airflow. Your system can also overheat due to weak airflow. It would be best to commit to a regular cleaning routine to avoid this problem in the future.
4. Low Refrigerant Levels in Your Unit
The refrigerant in your HVAC is in charge of providing cool air, and if its levels are down, it won't do its job well.  You will notice low or no air blowing from vents in the house and reduced cooling when there is a shortage of refrigerants.
Leakage is mostly responsible for low levels of refrigerant in your air conditioner. The cracks and holes in your AC coil can cause leakage. A corrosion buildup due to lack of AC maintenance can also cause this issue.
Contact an HVAC expert to refill the refrigerant; the levels should match exactly with the levels specified by your AC's manufacturer.
5. Blocked or Leaking Ducts
Your AC's ductwork is responsible for delivering cold air to the rest of your house. Over time, due to lack of maintenance, dust and debris can clog your ductwork. It can also develop holes and cracks, leading to reduced HVAC airflow. If you live in an old building, birds and rodents can build their nests over time, contributing to clogged ducts.
Not only does a leaking duct reduce the airflow, but it can also impact your home's air quality by sucking up dirt and other pollutants. Moreover, it can result in energy wastage, causing your electricity bills to soar. You would know you have a blocked or leaking duct problem if you notice uneven cooling, dust in the air, or your ductwork looks twisted.
You can contact a professional or inspect the ductwork yourself. Look for cracks and holes. Most leaks are where the two ducts are joined; you can place your hand near those joints to feel the air.
After finding the leaks, use foil-faced tape or a mastic air duct sealant. Duct sealant is a better option than tape. It is a sticky substance that you apply to the holes and gaps, and it hardens after drying.
For ductwork blockage, check the vents in each room for airflow, note the amount of airflow, and check which ones are not blowing air at all. Removing the debris on your own can get tricky, so if you have never done it before, it's always best to call a professional.
6. Vents Blockage
If you feel no air is blowing from vents in your house, vent blockage is most likely to be the issue. You might be blocking your air vents unknowingly; a piece of furniture might be in front and blocking the airflow, or you might have closed some vents on a chilly day and forgotten to open them again.
This action compromises the HVAC airflow, leaving you stuffy and uncomfortable in hot summers.
Fortunately, this issue is easy to fix; all you have to do is inspect all the vents in your house and open the closed ones or remove any obstructions that are in the way.
7. Faulty Thermostat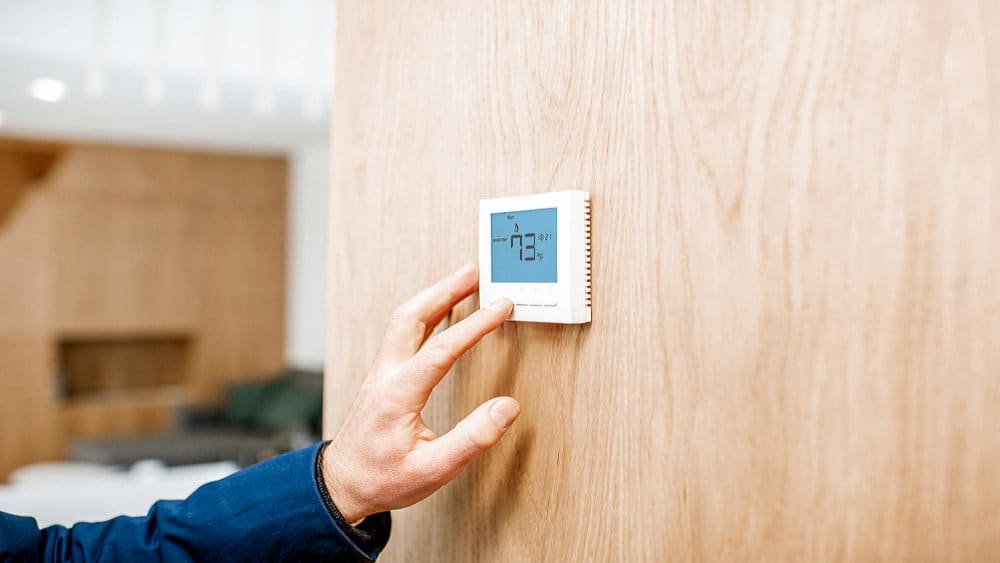 Have you checked everything and still can't figure out the issue for low airflow? Your thermostat could be the culprit! It may seem like there is no connection, but if your thermostat is not calibrated correctly or has malfunctioned, it can impact your HVAC airflow.
To solve this problem, check the batteries if you have a battery-operated thermostat. If batteries are working fine, proceed to open the cover and check for dust and debris. Take a soft brush to remove all the grime sitting inside your thermostat. Sometimes, elements inside it get bent that can also cause problems.
To find out if your thermostat is incorrectly calibrated, take a glass thermometer and place it next to your thermostat. After 15 minutes, check the reading of the thermometer and thermostat. If there's a discrepancy of more than one degree, you should recalibrate your thermostat.
8. Oversized & Undersized Ductwork
Similar to AC sizing, taking into account the ductwork size is also important. The ductwork that is too big will not maintain the air pressure, resulting in low pressure, and cool/hot air will not reach its destination.
In the case of smaller ductwork, the airflow will be heavily restricted and will not be able to distribute evenly in your house, resulting in weak HVAC airflow.
Unfortunately, you may have to replace your entire ductwork in case of wrong sizing. Contact a professional; they will further guide you after inspection.
9. AC Blower Not Working
Your AC blower pushes the cold air through the ductwork into your house. Without a strong push by a blower, the HVAC airflow is considerably reduced.
An excessive amount of dust on the blower blades and the malfunctioning blower motor can reduce the air conditioner airflow.
To fix this issue, turn off the AC and open your indoor unit to locate the AC blower. Gently wipe it to remove any grime. Be careful while doing this, and protect your fingers from the blades. After that, turn it on and check the airflow. If it is still weak, call a professional over for a detailed inspection. 
10. Dirty Coils
Your HVAC works by passing the air over the cold evaporator coils to cool your house. However, if they are unclean, it can pose a lot of problems. When coils are covered with dirt, they cannot release heat, interfering with air conditioner airflow. The unit then has to work extra hard to cool your space and can cause compressor failure.
Here's a detailed guide on how you can clean your AC coils. However, if you have no prior experience of cleaning AC parts, it's best to leave this job to the professionals. Coil fins are quite sensitive, and abrasive cleaning can lead to severe damage.
11. Limited Return Air Vents
If the return air vents in your home are not enough, then the air conditioning process will not work efficiently. When your HVAC unit distributes cool air to your house, the same amount of air has to return to be reconditioned and redistributed. If your home has few return air vents, your HVAC will receive limited airflow. In this scenario, you will feel congested and uncomfortable in your home.
Contact an HVAC expert for a thorough inspection.
12. Old HVAC Unit
If you notice a significant decrease in your air conditioner airflow, then your unit might be near the end of its life. In old age, the unit does not work efficiently and cannot maintain the optimum airflow. HVAC units typically last 10-15 years, and if your system is more than a decade old, then you surely need to replace it.
Have an HVAC technician thoroughly check your unit before replacing it with a new one.
How to Improve HVAC Airflow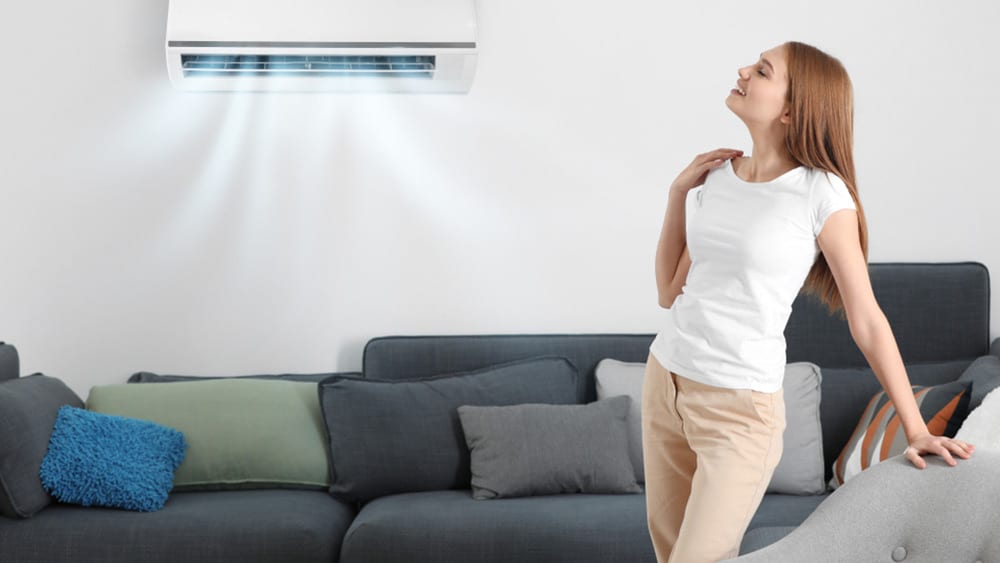 You know how frustrating it can be when your HVAC airflow is not up to the mark on a hot summer day. This not only impacts the comfort level but can also cost you high bills as your system is working harder to achieve the set temperature.
Here are some simple ways to improve weak air conditioner airflow:
Clean your air filters regularly. You can make it a part of your cleaning home appliances process to minimize the chances of dust accumulation and ensure proper air circulation.
Check your AC vents to see if they are not obstructed in any way. Remove any furniture or drapes blocking the airflow. While you are checking all the vents in your home, take a piece of cloth to clean the dust off the vents' grills.
Fix any leaks and holes in your HVAC ductwork. Leaks let the air escape, which lowers the pressure in the air vents, resulting in decreased airflow in your house. You can inspect the leaks yourself or call a professional as sometimes, they can be hard to find without special equipment.
Clean your fan blades regularly with a soft cloth. 
Schedule regular AC tune-ups to help your unit run smoothly. Weak airflow can be a sign of your AC system developing problems, so with regular tune-ups, an expert can find out the issue before it gets worse.
How to Calculate Your HVAC Airflow
HVAC airflow is measured in cubic feet per meter (CFM). There are two ways to calculate CFM for ensuring adequate airflow in your home.
1.  Air Flow Calculation for a Room
Calculate the CFM by finding out the size of your room and the number of air changes per hour. The frequency with which the air changes is different for different rooms. For instance, the air in the living room should be exchanged every 10 minutes.
So, first, calculate the room volume. Multiply the length, width, and height to get the volume. Next, divide the volume by the number of air changes. Suppose if the volume of a living room is 2000, then CFM would be 2000/10= 200
2. Air Flow Calculation Based on HVAC Capacity
This calculation is important when trying to find the right AC size as well as the correct duct size. The airflow capacity of an AC is measured in CFM per square foot. To calculate it, you should know your AC output in tons, where 1 ton is equal to 12,000 BTUs. Multiply the ton value by 400 (average output of an HVAC unit) and divide by square footage of the area.
How to Balance HVAC Airflow
Air balancing is a method to test your HVAC unit to determine what is causing uneven airflow or negative air pressure. Balancing your HVAC airflow is all about ensuring optimal airflow in all the rooms of your house. It increases air circulation and enhances indoor air quality. Air balancing also helps lower your energy bills as hot and cold spots in your home cause stress to your unit.
To balance the HVAC airflow, here are some tips that you can follow:
Keep electronic equipment that generates heat away from your thermostat.
Make sure your windows and doors are sealed properly to avoid drafts.
Do not block your vents with furniture and other obstructions as it restricts airflow.
Moreover, you can contact a qualified technician who can use Manual J or some other calculating techniques to find the required airflow in each of your rooms. After that, he/she will balance the airflow by adjusting internal dampers or correcting issues such as duct leakage.
If you suspect you have any of the problems mentioned above, it's time to get your unit fixed before it collapses and stops working altogether. And remember, with regular maintenance and annual professional inspection, HVAC airflow problems are preventable!