Your dependency on air conditioning increases as temperatures continue to climb. Coming home from a long day at work to find out your air conditioner has let you down is frustrating in the scorching summer heat. You may discover that your air conditioner is blowing warm air in a daring act of rebellion.
Hot and sweaty, you are desperate to find some solution to your woes. Worry not, below you will find 12 possible reasons your air conditioner is blowing hot air and their solutions.
Fix the Warm Air Coming Out of Your AC
How Does an Air Conditioner Work?
Before you start troubleshooting, you need to know how an air conditioner works.
An AC unit has three main components: a condenser coil, an evaporator coil, and a compressor. It also uses a chemical or cooling agent known as refrigerant, which can change from liquid to gas quickly and vice versa. The evaporator coil contains the cool, gaseous refrigerant. The evaporator blows indoor air on the cool evaporator coil, cooling the air due to heat exchange. Then, the chilled air is blown back into your room.
The refrigerant is now sent to the compressor, where it is converted into a high-temperature liquid. Then it is sent to the condenser coils and cooled down by fans blowing over it. Hot air is transferred outdoors and the refrigerant is cooled. Next, the cold, liquid refrigerant is passed through an expansion valve, where it is converted into a cool gas and sent to the evaporator coil.
It is important to understand the components and the process because if there is an issue with any of these parts in the cycle, your AC will blow warm air.
12 Reasons Why Your AC Is Blowing Warm Air
If you have been experiencing a similar situation, then first take a look at this article to learn about different ways to cool without an AC. Because fixing the problem might take a little while, and you wouldn't want to make your home feel like a desert in the meanwhile.
There can be many reasons behind your AC blowing warm air.  Here are 12 of the most common reasons why your air conditioning unit is betraying you:
1. Incorrectly Calibrated Thermostat
Sometimes your air conditioner is blowing hot air because it has been set incorrectly.
For instance, if your blower fan is set to ON, it is blowing air all the time, even when it's not cooling. Thus, it blows warm air in between cooling cycles. Other reason could be that you might have accidentally set your AC on heat mode. Also, check if the setpoint is too high. Another possibility is that your thermostat is incorrectly calibrated and cannot set your desired room temperature. You should also check the batteries of your thermostat or smart AC controller.
Cielo Smart AC Controllers
Your best choice to make any mini-split, window,
or portable AC smart. Enhance your comfort and savings.
Shop Now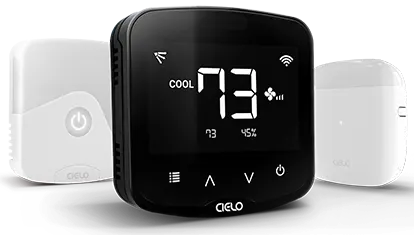 Solution:
Check your thermostat and see if the blower fan is set to ON. If yes, then change it to AUTO, so it only runs during cooling cycles.
You should also double-check whether the thermostat is not on heat mode. Sometimes old dial-type thermostats are incorrectly calibrated. An improperly calibrated thermostat reads the temperature incorrectly. Since it is unable to maintain the correct temperature, you must readjust the thermostat frequently. If you suspect your thermostat is incorrectly calibrated, you can have it replaced or recalibrated by a professional.
For ductless air conditioners, such as mini-splits, you should also consider investing in smart AC controllers like Cielo Breez Plus to keep the temperature inside your home consistent and accurate. If you have a central air conditioner, you should consider getting a smart thermostat. These smart climate control devices make your life a lot convenient with their smart features, and you don't have to worry about changing the settings manually.
2. Return Vents Are Closed
Another reason your air conditioner is blowing hot air is that you may have closed the top return registers. Since hot air rises and cold air sinks, closing the top return registers means hot air will stay inside your room and is not being sent to the HVAC unit for cooling.
If you have a central air conditioner, you may have opened the bottom return vents in winter and closed the top return vents. There is a chance that you may have forgotten to reopen the return vents. Sometimes, furniture, dirt, and debris can also block return vents.
Solution:
Walk around your house and check if all the return registers are open. If you're having trouble figuring out if your return vents are open, hold a tissue six inches away. If your return registers are open, you will feel the tissue being pulled into the return vent.
3. Refrigerant Leak
Refrigerant is the fluid inside your AC that absorbs heat from the air and cools down your room. If you have a refrigerant leak, your unit will gradually become low on its cooling agent. As a result, the remaining refrigerant fluid might not be enough to cool your room.
Low refrigerant fluid levels can also lead to your air conditioner blowing hot air. If your AC is not cooling properly, a refrigerant leak is one of the first things to check.
You can spot a refrigerant leak by looking at the evaporator and condenser coils. Though they should be cold to the touch, they should not be frozen. Another tell-tale sign of a refrigerant leak is hissing noises and inexplicably high energy bills.
Solution:
Never attempt to fix a refrigerant leak yourself. A leaking refrigerant is a health and safety hazard. Call your HVAC technician immediately as soon as you suspect a refrigerant leak.
4. Dirty Air Filters
A dirty air filter is another common reason behind an AC blowing hot air. Dirty air filters lead to airflow problems throughout the system and can overheat the fan motor. They also increase energy usage since they force your HVAC unit to work at a higher power setting. So if your AC is blowing warm air, keep an eye out for dirty air filters.
Usually, a visual inspection is more than enough to see if your air filters are dirty. Remove the air filters and hold them up. If you can see through them, your air filters are clean. If they are clogged with dirt, they need to be cleaned or replaced.
Solution:
On average, you should clean your air filters every two weeks and replace them after every 3-4 months. First, clean your air filters by washing them with soapy water. Then let them air dry or use a soft dry cloth to remove moisture.
Here is a complete guide to cleaning your air conditioner, so you always stay on top of maintenance.
5. Dirty Evaporator Coils
An evaporator coil holds chilled refrigerant inside. This chilled refrigerant in the evaporator coil removes heat from your room when air from the blower fan moves over it. A natural by-product of this process is condensation.
When there is moisture on the coils, they become more prone to getting dirty because dust particles stick to them. Since the evaporator coil works through absorption, it loses its cooling ability if covered in dust. Hence, dirty evaporator coils can lead to your air conditioner blowing warm air.
A dirty evaporator coil also causes more wear and tear on your HVAC unit and can reduce its lifespan. Debris on evaporator coils can also lead to ice buildup.
Solution:
Turn off power to your AC unit and, to be on the safe side, turn off the circuit breaker as well. Locate the indoor access panel and unscrew it. Look at the evaporator coils and see if there is any dust or debris on them.
On average, you should be cleaning your evaporator coils every two months. Use a soft-bristled brush to remove any dust particles or debris. Use a coil comb to clean the area between the coil fins, taking great care not to bend the fins. If you do see any bent fins, gently straighten them with a fin comb. You can also use other methods to clean evaporator coils, such as the compressed air technique.
6. Frozen Evaporator Coils
When the evaporator coil removes heat from the air to chill your room, it leads to condensation. Air conditioners have a condensate drain to remove this moisture from the system. When too much water collects on the evaporator coil, it can freeze over. A frozen evaporator coil prevents heat transfer which can lead to your home AC blowing warm air.
Solution:
To check if you have frozen evaporator coils first shut off power to your AC unit. For extra safety, also turn off the circuit breaker. Then open the indoor access panel and check for any frost or ice on the evaporator coil. To find out where the access panel is located, consult your AC's instruction manual, then remove any screws or fasteners to gain entry to the access panel.
If you see any frost or ice on your evaporator coils, let them thaw. Do not turn the AC on until any frost has melted completely.
If letting them thaw in the open air is taking too much time, you can use a hairdryer over the coils at the lowest setting. Keep the hairdryer at a safe distance from the evaporator coils, so you don't damage them.
If the problem reoccurs, you will have to contact a seasoned HVAC professional.
7. Dirty Condenser Coils
Condenser coils are located inside your AC's outdoor unit. The condenser's job is to release the hot air from your room outside. Since the condenser coils are in the outside unit, they gather a lot of dust and debris and become clogged with leaves and small branches.
If your condenser coils are dirty, it may result in AC blowing hot air because it cannot effectively expel heat outside.
Solution:
Turn off your AC unit and the circuit breaker. Then remove the condenser cover. Inside, you will see a cage. Unscrew the cage and remove it. After you have removed the cage, you will see the condenser coils. Inspect to see if you find any leaves, dust, or debris.
Manually remove any leaves or small branches. Then, use a soft-bristled brush to clean condenser coils.
8. Lack of Electricity to the Outside Unit
Both your indoor and outdoor AC units need electricity to run. If electricity to your outdoor unit is interrupted, your indoor unit will blow warm air since the outdoor unit can no longer release heat outside. Therefore, if your home AC is blowing warm air, you should check whether the outdoor unit is getting power.
Solution:
Locate your electrical panel and check your circuit breaker to see if it has tripped. Also, keep an eye out for any blown fuses. You can identify a blown fuse using these steps:
Turn off electrical power to the unit.
Remove the fuse from its holder.
Look at the fuse wire. If you can see a visible gap or a dark smear in the glass, you have a blown fuse.
Use a multimeter if you cannot visually confirm whether the fuse is blown,
If the circuit breaker has tripped, first turn it off completely, then turn it back on. Replace any blown fuses. However, if the fuse keeps blowing repeatedly or the circuit breaker keeps tripping, it is a sign that something more is wrong. In that case, consult a certified electrician.
9. Fan Problems
The fan in your outdoor unit is responsible for transferring indoor heat outside your home. If this fan is damaged, proper heat transfer does not take place. Lack of suitable heat transfer can then lead to your AC blowing warm air.
Solution:
Fan problems can be due to a wiring issue or dirt and debris stuck in the fan. Turn off the power and remove the outside cover. Manually remove any dust you may see.
If your fan problems do not resolve after cleaning, consult a certified HVAC professional.
10. Clogged Drainpipe
The AC condensate drain removes water collected during the cooling process. This water is collected in the drain pan and then flows into the drainpipe. Over time the drainpipe can become clogged with debris and mold. When this happens, water can overflow and damage your aircon unit.
Solution:
Signs of a clogged drain line include water damage near your indoor unit and a musty, moldy scent. Some clogs can be removed by hand while wearing protective gloves. For deeper clogs, use a wet dry vacuum. Attach it to the end of the drainpipe and seal it securely with duct tape. Turn the vacuum on to suck any clogs.
For stubborn clogs, prepare a mixture of one cup bleach and one cup water. Pour it down the drainpipe to dissolve any debris. After cleaning the drainpipe, empty the drain pan and wipe it down. Make sure there is no moisture left; otherwise, it can lead to mold growth.
11. Leaking Ducts
If none of the above-mentioned reasons sort out your problem and you're still wondering why your AC is blowing warm air, you may want to take a look at your ducts.
There may be a leak in your ductwork caused by rodents or poor installation. If there are holes in the ducts, cold air will not reach you and may get lost on its way. Leaking ducts can cause you to lose roughly 20 to 30 percent of conditioned air, resulting in insufficient cooling and high energy costs.
Solution:
Use mastic sealant or metal tape to seal any air leaks. Further, seal vents and registers where they meet any surface, such as the ceiling. However, since most of your ductwork is hidden, if you suspect a leak deep inside, you will have to contact a professional to locate the leak and fix it.
Faulty ducts are frequently the reason behind your air conditioner blowing hot air; therefore, it is a good idea to conduct proper inspection after some time.
12. Faulty Compressor
The compressor, also considered the heart of your HVAC unit, handles refrigerant circulation within the unit. If the compressor isn't working properly, your air conditioning unit will not cool as it should.
Signs of compressor failure include weak or warm airflow, loud banging noises, etc. A faulty compressor is one of the main reasons why your AC blows warm air.
Solution:
Repairing an AC compressor is not doable for the average layperson. Consult a certified HVAC technician who will diagnose the problem and decide whether it is fixable. Repairing AC compressors is often cost-ineffective and sometimes replacing the whole unit is cheaper. You should carry out regular maintenance of your AC to prevent costly repairs such as compressor failure.
Your AC blowing warm air can ruin your whole mood and day, especially if you live in an area prone to heat waves. However, with these troubleshooting tips at your disposal, you are sure to remain cool and relaxed throughout the summers and beat the heat.