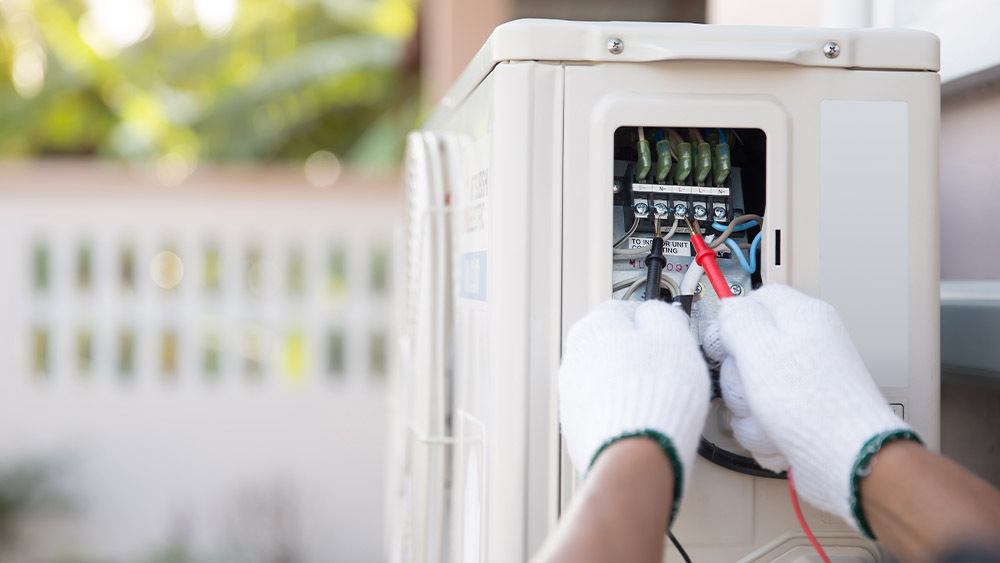 Consider this scenario: it's a hot summer weekend, and you are unwinding with a book in your living room. Your house is cool just the way you like it but suddenly your AC trips and turns off.
You think it's just some power fluctuation and turn it back on. But it trips again. Now you are worried because something's wrong with your air conditioner.
When your air conditioner circuit breaker keeps tripping repeatedly, it signals a problem that you should never ignore. 
How to Stop AC from Tripping the Circuit Breaker
What Is AC Circuit Breaker?
A circuit breaker is a crucial safety component. It helps protect your AC from the damage caused by overload or short circuits. When too much current flows through the electrical wiring, the circuit breaker cuts off the power until the problem is fixed and it is reset. AC circuit breaker also protects your safety as the heavy current flow can result in fire.
What to Do When Your Air Conditioner Keeps Tripping Circuit Breaker?
When your air conditioner keeps tripping the circuit breaker, some issue inside your unit could be causing a surge of excess current. It might also be due to a malfunction in the circuit breaker itself. A power surge in your area due to a thunderstorm may also trip the circuit breaker. 
Never try to reset the breaker that is repeatedly tripping; doing so can cause a fire.
There are few things that you can do to find out if there's a problem with your AC or it is tripping due to external power fluctuations:
1. Turn off your air conditioner and thermostat.
2. Turn on the circuit breaker.
3. Wait at least 30 minutes. The thermostat should remain off so that the circuit breaker can reset.
4. After that, turn on your air conditioner and set it to cool.
If your AC unit starts working fine, there isn't anything wrong with it, and you are good to go. However, if it trips again, turn it off immediately and seek professional guidance.
Cielo Smart AC Controllers
Your best choice to make any mini-split, window,
or portable AC smart. Enhance your comfort and savings.
Shop Now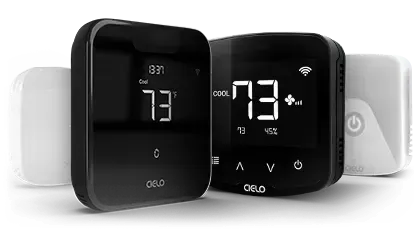 10 Reasons Why Your Air Conditioner Circuit Breaker Keeps Tripping
From loose wiring to dirty condenser coils; there can be many reasons behind a tripping AC circuit breaker. Let's look at them in detail below:
1. Capacitor Malfunction
If your air conditioner is having trouble turning on before the circuit breaker trips, it is likely due to a bad capacitor.
The capacitor is a significant component of your HVAC system responsible for giving the motor an initial push to start working.
When the motor malfunctions, the capacitor overloads, and your air conditioning unit trips as a result. Moreover, power fluctuations can also cause the capacitor to fail.
Your AC capacitor is also susceptible to overheating. During hot summer days, your unit has to work hard to cool down your house. Your capacitor can overheat in the process. With an overheated capacitor, your air conditioner will draw more power than required. It can especially happen when your outdoor unit is installed in an area where it gets direct sunlight.
You should instantly contact a technician to get the capacitor replaced.
Note: Never try to change the capacitor yourself, as it can cause an electric shock.
2. Loose Wiring
When your air conditioner starts to age and is near the end of its life, the wiring inside it can start to loosen. A loose wiring issue or electrical problems within the unit can cause the circuit breaker to trip repeatedly. The wires can also become loose due to contractions and expansions when the weather changes.
To solve this problem, you can contact your electrician, and they can tighten the loose connections.
3. Dirty Condenser Coils
If you haven't paid attention to your air conditioner maintenance in a while, your condenser coils can get dirty and cause internal issues for your unit.
Air conditioner coils filled with dust and grime can be the reason why your AC circuit breaker keeps tripping. Dirt, leaves, and debris can sometimes accumulate on the coils, especially if you haven't covered your outdoor unit.
The condenser coils are responsible for releasing the captured heat outside. However, when they are dirty, they cannot perform efficiently, resulting in your unit drawing excess power. This causes your air conditioner to overheat and trip the breaker.
The good news is that a simple cleaning job can prevent this issue. It is best to clean your AC coils every two months, but that can change depending on your usage.
4. Bad Circuit Breaker
When your air conditioner circuit breaker keeps tripping repeatedly, the breaker itself can be the culprit.
The circuit breaker can become defective due to regular wear and tear. The wires connected to it can get loose, interfering with its functionality. Sometimes, the capacitor inside the AC circuit breaker can fail and cause problems.
The solution for this issue is a simple replacement. Call your technician, and they'll replace it in no time.
5. Air Filters Filled With Debris
Your AC removes indoor air pollutants using its air filters. However, when you forget to clean them, they become clogged, which leads to reduced airflow. Consequently, your system takes longer to reach your set temperature and make your home comfortable. In this situation, your unit is under a lot of stress which causes it to overheat and trip the circuit breaker.
Regular cleaning of air filters maintains its health and increases its lifespan. It also prevents dangerous issues such as air conditioners tripping the circuit breaker. As a rule of thumb, clean your unit's filters after every 250 hours of usage.
Tip: If you often forget to clean your filters, connect your air conditioner with a smart thermostat (for central) or a smart AC controller (for mini-split, window, or portable AC). These smart devices allow you to set reminders for when the next cleaning is due.
6. Fan Motor Issues
A faulty motor can be the reason why your air conditioner circuit breaker keeps tripping. You might not be aware of it, but your fan motor also needs to be cleaned for proper functionality. When the fan blades are covered in dirt, it stresses out your AC's motor.
A thorough cleaning can do the work, but if you are unsure how to clean the blades, it's best to leave this task to a professional.
Moreover, over time with high usage, the insulation in the motor can break down. When bare wiring is exposed, a short circuit is created. This allows more current to pass through the wires than they can handle, causing your air conditioner to trip the circuit breaker.
7. Low Refrigerant Levels
Refrigerant levels decrease when cracks and holes on the evaporator coils cause it to leak. The refrigerant is a cooling substance, and when it runs low, your system cannot remove heat from your home effectively. Over time, due to lack of maintenance or if your unit is very old, corrosion can lead to cracks on the coils. Refrigerant can leak through these cracks over time, and cause low refrigerant levels.
When your system runs without adequate refrigerant, it starts drawing too much power, which trips your circuit breaker.
Call your HVAC technician; they will fill the refrigerant and seal the leaks.
8. Compressor Failure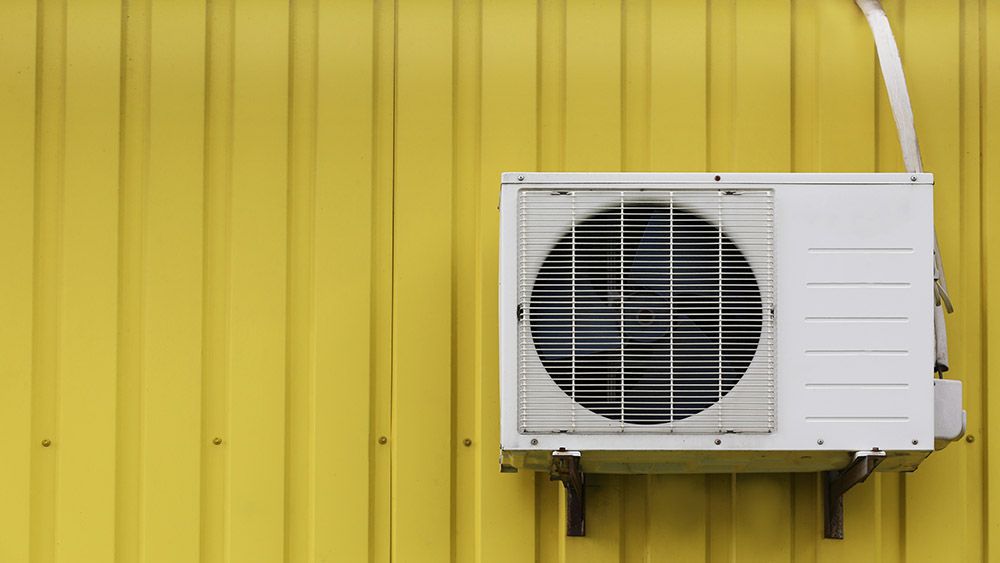 A compressor is an integral part of your air conditioning unit that helps in the cooling process. It can last quite a long time. However, issues can arise if you neglect maintenance, leading to an early compressor failure.
A faulty compressor can have trouble starting which causes it to pull more power than actually needed. It can also draw more electricity and overheat. A power surge can trip your AC circuit breaker as well.
As mentioned above, don't attempt to turn on the circuit breaker again and again. It can put a burden on your system and damage the compressor.
A compressor repair or replacement on average can cost around $1200, so it is recommended to go for a professional checkup without any delay.
Since the replacement is expensive, it's always best to choose a home warranty for your HVAC. It can cover the heavy expenses provided the damage is not due to your lack of maintenance.
9. Frozen Evaporator Coils
If you notice a weak HVAC airflow and then your air conditioner starts tripping the circuit after a few days, you might be dealing with frozen evaporator coils.
The evaporator coils are found in your indoor unit, and they hold the refrigerant. When warm air from your house does not find its way through the filters to the evaporator coils, they become so cold that any moisture on them freezes. It can happen when you don't clean the coils regularly or occur due to a problem in the refrigeration system.
The ice makes it difficult for the refrigerant to absorb heat from your home. Your HVAC unit has to work quite hard in this case. It also starts drawing excess power, which results in your air conditioner tripping circuit breaker.
Focusing on your AC maintenance and cleaning the AC coils is key to avoiding this problem.
10. Grounded Compressor
When the windings inside a compressor break down and hit the side of the compressor, it causes a direct short to the ground. This can ignite the oil in the compressor, causing burnouts and circuit breaker trips due to a sudden power surge.
Shut down your air conditioner immediately and contact an HVAC expert. In most cases, the damage is irreversible, and you would have to replace the compressor or your unit.
Many causes of air conditioners tripping the circuit breaker, as mentioned above, are preventable with regular maintenance. You would want to avoid this issue because once the circuit breaker starts tripping, there's nothing much you can do on your own. 
You can clean the air filters and condenser coils yourself, but most problems associated with your circuit breaker should be dealt with by an expert. Your air conditioner tripping the circuit breaker is a sensitive matter and can result in electric shock or fire if not handled professionally and timely.