During a hot and humid summer evening, you are relaxing on your couch, watching a nice movie in the comfort of your chilled room, and suddenly your air conditioning stops working. There is no cold air coming out of the appliance, and you are forced to investigate the issue with great stress. In the midst of summer, to your surprise, you find your air conditioner freezing up!
You may start to wonder how your air conditioner is freezing in the scorching summer heat. Although it is a rare event of misfortune, air conditioners do occasionally freeze up in hotter months.
How to Unfreeze Your AC Fast
What to Do When Your Air Conditioner Freezes Up?
When you notice your AC freezing up, you should immediately take action to unfreeze it to avoid further damage. Here are the three steps you need to follow to that a frozen air conditioner.
Step 1 – Thaw Your Air Conditioner
Unfreezing your AC can take anywhere between 1 to 24 hours, depending on the amount of ice formed.
As a first step, your need to switch your thermostat from cool to off. While it's hot and this is the last thing you want to do, frozen AC coils can be quite dangerous for your compressor – one of the most valuable and expensive parts of your HVAC system!
You need to shut down your unit to thaw the ice, and turning the fan on will help blow warm air over the frozen AC coils, thus speeding up the entire unfreezing process.
However, if you notice frost on fans, do not use fan mode. This will, however, be longer, but be patient. Do not try to break the ice with a sharp object, as it can damage your AC components, causing more harm than good.
If you want to unfreeze your air conditioner fast, you can even use a blow dryer. If you notice water dripping outside the drain pan and going in ducts and other parts, use a wet vacuum to clean it up. Although there can be numerous explanations for your indoor AC unit leaking water, frozen evaporator coils are one primary reason.
Cielo Smart AC Controllers
Your best choice to make any mini-split, window,
or portable AC smart. Enhance your comfort and savings.
Shop Now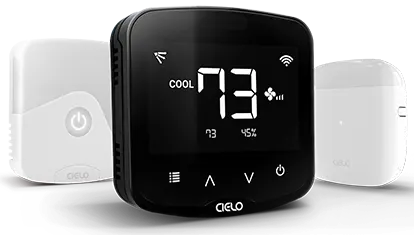 Step 2 – Dry Your AC
Once the ice has completed thawed, you need to let the coils dry before switching the unit back on. Take off the cover and allow the air conditioner to air dry.
Step 3 – Find the Cause and Fix It
There can be several reasons causing your air conditioner to freeze up. First, find the cause, else your AC coils will continue to freeze up again. Once solved and fixed, switch the HVAC system back on and turn the thermostat to the 'cool mode.' If you notice cooler air blowing in your room, everything's fine!
Let's dig into why air conditioners freeze up.
What Causes an Air Conditioner to Freeze Up?
To understand what causes an air conditioner to freeze up, you need to know the basic science of how an air conditioner works.  
Your AC takes in warm air from your home, which is blown over the evaporator coils. The liquid refrigerant which resides in the coils absorbs the heat and moisture from the air. It changes its state from liquid to gas and is taken to the outdoor unit, where the heat is removed. The excess moisture is also drained out through the condensate drain pan located underneath the evaporator coils.
For a regular operation, your AC needs a continuous supply of warm air. If warm air from your house does not reach the refrigerant, it becomes so cold that any moisture on the coils freezes.
So, problems hindering the airflow inside the air conditioning unit or issues with the refrigerant flow can result in your AC unit freezing up.  Let's explore some of the causes, along with how you can keep your air conditioner from freezing up:
1. Dirty Filters Causing a Blockage
Your AC's air filters ensure clean air circulation in your home. They trap indoor air pollutants and allow fresh air to enter. To function optimally, they need periodic cleaning, and failure to do can accumulate dust and debris. In perfect conditions, the warmer air passing through the filter prevents ice formation on the coils. But when it is clogged, there is a lack of airflow, which leads to an air conditioner freezing up.
Solution:
The obvious solution to this problem is to check your air filters, and if it is dirty or clogged up, give it a thorough clean-up. But be sure to completely dry it off before putting it back in for use.
If the filter has too much dirt or debris, it might be a good idea to get a new filter altogether rather than cleaning up the old one.
During peak seasons, you should be cleaning your AC filters every two weeks and replace them every 3-4 months. 
Prevention:
Tune-up your air conditioner, especially at the start of the season and every few months or so, depending on your usage. Moreover, you can use a smart AC controller to be notified when your filter likely requires cleaning. This will help keep your unit in excellent condition and prevent any air conditioner freezing issues!
2. Incorrect Thermostat & Fan Settings
Keeping the temperature and fan speed low can affect how your AC transfers heat from inside to the outside.
When the temperature outside is quite high in the summer months, the fan needs to run at high speed to lower the inside temperature. This is because the low fan speed can strain the unit, and it will have a hard time maintaining the temperature.    
In such an instance, low air circulation combined with a cold refrigerant circulating the unit causes the ice to form on the coils.
Solution:
Increasing the fan speed and providing the necessary airflow is the key here. You can also raise the thermostat settings to avoid cold refrigerant flowing through the system.
Prevention:
It's best to avoid running your AC for extended periods at extremely low temperatures to keep your air conditioner from freezing up.
3. Bad Compressor
A compressor is considered the heart of an HVAC unit and is responsible for compressing the refrigerant and removing the heat from your home.
Not taking care of your AC's maintenance can affect the functioning of your compressor and can even cause its failure.
A worn-out compressor can't effectively pump the refrigerant, which in turn leads to frozen AC coils. In this situation, the coils continuously stay cool, and any condensation on them turns to ice.
Solution:
You cannot fix a bad compressor, and it is recommended that you replace it on a priority basis. Contact the HVAC support and have them evaluate your compressor.
Prevention:
Staying on top of your HVAC maintenance is the key to preventing AC unit freezing up issues. 
4. Running AC on Cold Nights
As explained before, the air around the evaporator coils can get cold during operation, and a constant supply of warm air is needed so that they do not freeze over.
When the temperatures drop pretty low, the refrigerant gets so cold that it freezes any moisture in the air before it can even circulate the coils.
Solution:
To avoid this problem, turn your air conditioner to fan mode and keep it running for a while until the ice thaws.
Prevention:
Avoid using your air conditioner on cold nights. Instead, open the windows to get the cool, breezy effect when the temperature drops at night.
Moreover, you can use a smart thermostat or a smart AC controller to program your unit to shut down once the temperature drops below a certain level.
5. Dirt and Dust Clogging up the Evaporator Coil
When was the last time you went for AC tune-up?
If you can't recall, chances are dust and debris have collected on the evaporator coils themselves, and they require severe cleaning. Moreover, if you have an old air conditioner, which has not been serviced in a while and is covered in dust and gunk, then there's a high chance it would lead to frozen AC coils after prolonged use.
The buildup of dirt on the coil hinders the heat transfer between the coil and refrigerant. With the refrigerant making the coil extremely cold and without enough heat transfer taking place, the temperature eventually falls, leading to frozen AC coils.
Solution:
The immediate solution is to run the air conditioner in fan mode for a while and let the ice thaw.  It is recommended that you don't run the unit unless you have thoroughly cleaned your AC coils. Take out the front cover of your evaporator coil, and clean them with a soft brush or cloth. You will have to do this after the ice thaws, though.
Prevention:
Regularly service your unit and keep it in top shape! The better you take care of your appliance, the longer it will run.
6. Low Refrigerant Levels Cause AC Coils to Freeze
Low refrigerant is a big problem in itself for air conditioners, but it can cause air conditioner freezing as well. As the refrigerant in your system is relatively low, it must expand more during its transition from liquid to gas. More expansion leads to a lower temperature inside the unit that can quickly freeze any moisture on the coils.
In this scenario, there is most probably a refrigerant leak somewhere in the system, or your refrigerant lines are damaged.
Solution:
In the case of a leak or a mechanical problem, it is better to call over an HVAC professional who will thoroughly go over your air conditioner and then identify and fix the leak.  The technician will also top up the refrigerant to the recommended levels, ensuring your air conditioner is working in perfect condition.
Prevention:
Again, the best way to keep your air conditioner from freezing up is to focus on its maintenance. Regular upkeep will help identify early warning signs such as cracks and corrosion buildup that causes refrigerant leakage.
7. Clogged Drain System
Your HVAC system not only maintains the temperature but also removes humidity from your home. In addition, it has a drainage system that allows this excess moisture to drain outside your house.
However, in case of blockage in the drain pan or condensate drain line, the water backs in the system and freezes on the coils when the refrigerant absorbs heat. Therefore, the accumulation of debris and neglecting maintenance is the reason for the clogged drain system.   
Solution:
Turn off your system and locate your drain pan. Empty it and clean it with soap and water solution. After that, check the drain line and use a wire brush to scrub it thoroughly. It may require wet/dry vacuuming if it's completely blocked.
Prevention:
Regular AC maintenance is essential to prevent this issue in the future. It is recommended that you pour bleach and water solution down the drain line every six months for a thorough cleaning and to avoid any mold growth.
8. Faulty Blower Fan Motor
The blower fan is designed to blow the air in your AC unit, which then allows for the distribution of the air throughout your home. It takes the heated or cooled air from the unit and circulates it in your house by spinning the fan.
When your blower fan is broken or malfunctioning, this negatively impacts the airflow and results in the air conditioner freezing up. Sometimes, it ceases to operate, and in this case, the moisture on the coils can quickly freeze up as there is essentially no air moving through the system.
Solution:
Call an HVAC technician to have a good look at the blower fan. In addition to checking the overall functioning of your fan, they will also check the fan's rotation speed and power output. You may require repair or replacement depending on the damage.
Prevention:
Having a regular inspection by HVAC professionals can prevent this issue.
9. Vent Blockage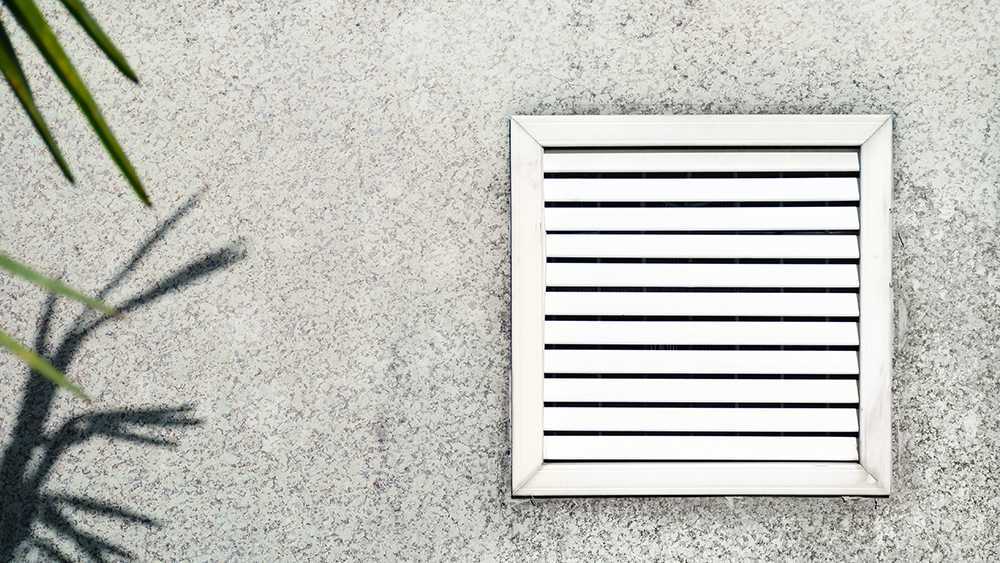 Most homeowners are not aware that a simple issue of vent blockage can lead to their AC freezing up.
Sometimes, you unknowingly block the air vents, which can interfere with your HVAC airflow. For example, large furniture pieces, shades, or draperies can obstruct the airflow and cause air conditioner freezing. You may also close the ones not in use but keep in mind that closing too many vents can lead to the air conditioner freezing up.   
Solution & Prevention:
This problem is quite easy to fix. First, check all your vents and see if anything is blocking them. Next, move aside anything that's in front of the vents. Finally, make sure there is ample space near the vents for free air circulation.
By now, you should have all your answers to your AC freezing up problems. So give your air conditioner a good clean-up, take care of your AC filters, and enjoy a comfortable home environment!