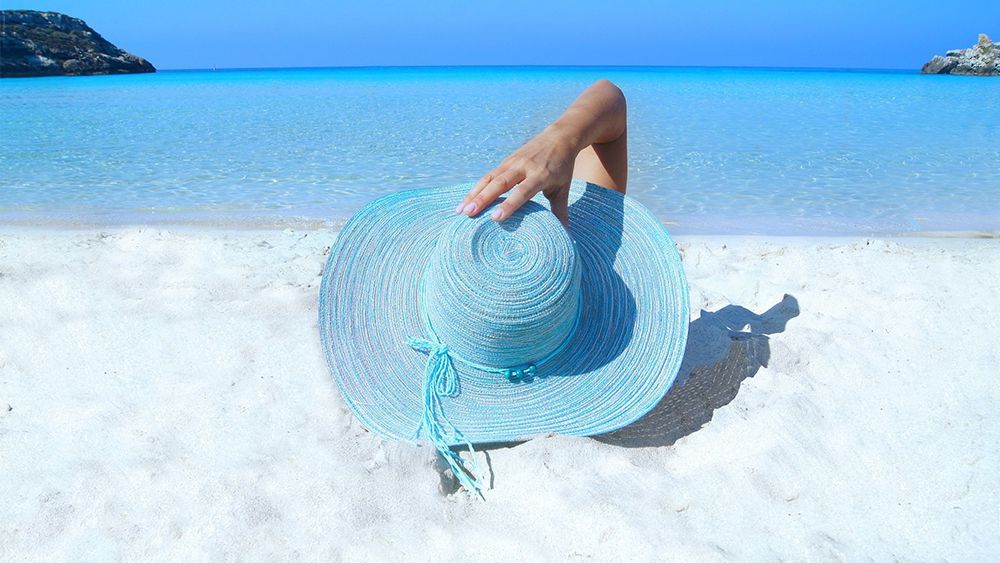 The Earth's temperature is rising every year, resulting in longer and hotter summers. While it may sound great for having fun outdoors after a harsh winter but when the temperature goes above 85F, you want nothing more than to retreat to a cool, comfortable spot in your home. 
However, beating the sweltering summer heat and maintaining an ideal home temperature can be challenging.
Sure, there's always the option of cranking up your air conditioner, but with high bills and wastage of energy, it's worth considering other options as well.  
Several factors add up to make you comfortable on a hot summer day. Mostly, people just focus on changing their thermostat setting and ignore other things that can help them cool down and enjoy a pleasant day.
1. Keep Yourself Hydrated
You might have heard it many times, but ignoring it is not an option to beat the heat this summer! Drinking plenty of water is crucial to avoid heatstroke and dehydration. In summers, you continuously lose water due to perspiration, and it is essential that you replace the lost fluids to keep your body cool and hydrated.
Over usage of air conditioning can also cause dryness and dehumidification. Hydration can help reduce fatigue and keep your energy levels stable throughout the day.
On a hot day, increase your intake of fluids. Opt for water or other hydrating drinks such as fresh juices.
Avoid caffeinated beverages, sugary sodas, and energy drinks. They are dehydrating as they remove sodium and water from the body tissues. 
2. Use Smart Climate Control Appliances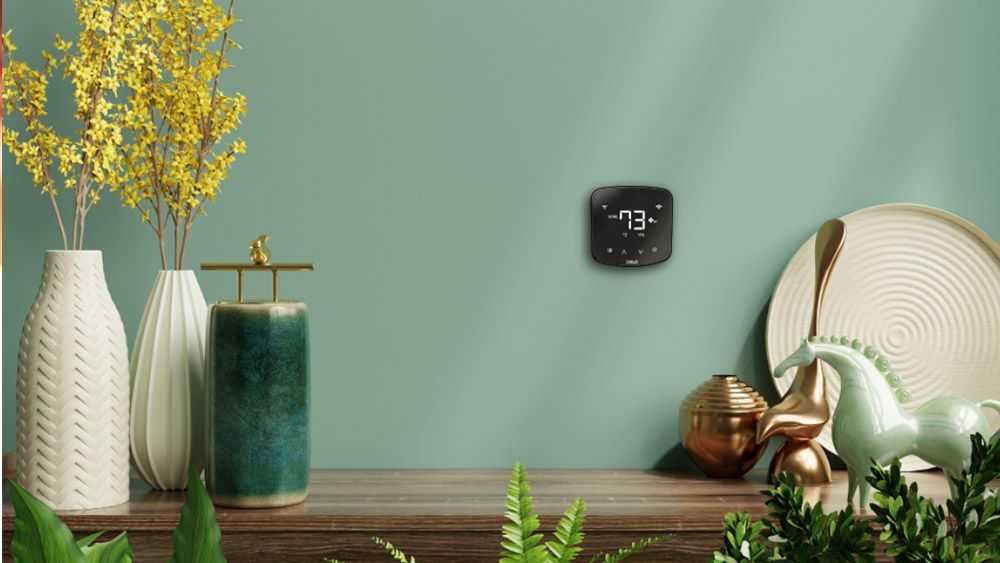 Deciding whether to leave your air conditioning on before going to work every morning is a task in itself. You have to consider the weather condition of the whole day and not to mention the energy wastage and the burden on your wallet if you decide to leave it on.
However, coming home to a hot, humid place doesn't sound feasible either.
In this scenario, going smart is the best alternative!
Consider investing in a smart thermostat (for central air conditioning) or a smart AC controller (for a mini-split, window, or portable ACs) to beat the summer heat efficiently.
Cielo Smart AC Controllers
Your best choice to make any mini-split, window,
or portable AC smart. Enhance your comfort and savings.
Shop Now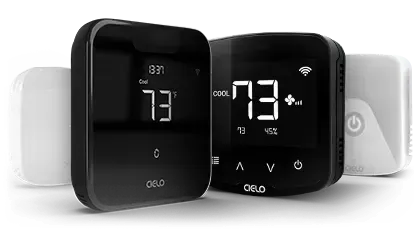 These smart climate control devices are not just for temperature regulation; you can control humidity levels, set weekly schedules in advance, and remotely control your AC using your phone. Moreover, you get alerts about HVAC system maintenance, and they even send you reports about your energy usage.
These features provide convenience and save money on cooling bills ensuring your AC is never running unnecessarily.
3. Use Landscaping to Beat the Heat
Making smart choices outside of your house can also help your home stay cool during the summer.
According to the U.S. Department of Energy, planting trees and shrubs outside your home can save up to 25% energy. Trees provide shade against the harsh sun rays during hot days and bring in a cool breeze during nighttime.  
Plant shorter trees on the west side of your house. These will help deflect the late afternoon sun that is low on the horizon, away from your walls. Tall, mature trees with wide canopies are more suitable for the south side as they will provide most of their shade when the sun is higher in the sky.
4. Make Sure Your AC Is in Top-Notch Condition
You would not want your AC to break down in the middle of a hot summer day, so keeping it in top condition is essential for beating the heat. Neglecting annual AC tune-ups leads to poor performance and unnecessarily high energy consumption.
In addition to getting an annual inspection, you should be cleaning your air filters every two weeks to avoid any HVAC airflow issues. Moreover, vacuum air vents regularly to remove any dust buildup.
5. Eat Light, Healthy Foods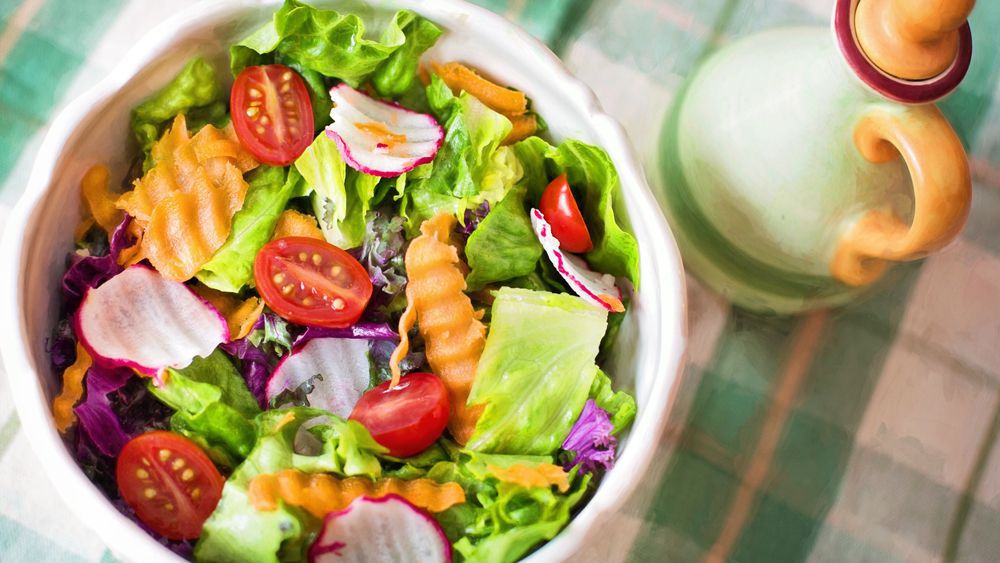 Taking a light diet with high water content is the key to beat the heat during summers.
Incorporate watermelon, mint, lemon, cucumber, strawberries, pomegranate, and green leafy vegetables into your daily routine. These fruits have high liquid content and loads of antioxidants, therefore, leave a refreshing effect to help you deal with the summer heat. Increase usage of mint in your meals as it has menthol that tricks our body into feeling cold even when it's not.
Also, add fresh salads to your diet. They are light and easy to digest. Avoid eating hot, spicy food as it won't do any good and will only amplify the impact of the heat.
6. Ventilate When the Outside Temperature Decreases
When the outdoor temperature decreases during the early morning or at night, you will want to capitalize on the cooler hours.
Opening windows and doors during these times expels the indoor heat and allows the cooler air inside. You can also facilitate cross-ventilation by opening windows on the opposite sides of the house. This system also brings in the fresh air and improves indoor air quality.
Read this article to learn more about home ventilation.
7.  Take a Dip
Swimming in cold water reduces your body's temperature and relaxes your mind. If working out in the heat stresses you out, you can always opt for a swim. It helps burn more calories and helps you stay fit without increasing your body temperature.
8. Use Exhaust Fans to Beat the Summer Heat
Your kitchen can heat up in summers, particularly after you fry or boil something. You can try cooling it down by installing an exhaust fan.
Using exhaust fans in high humid areas such as the kitchen, laundry area, and bathrooms draw excess heat and humidity out of these areas. Exhaust fans also help in reducing heat transfer to the other parts of your home.
9. Opt for LED Lights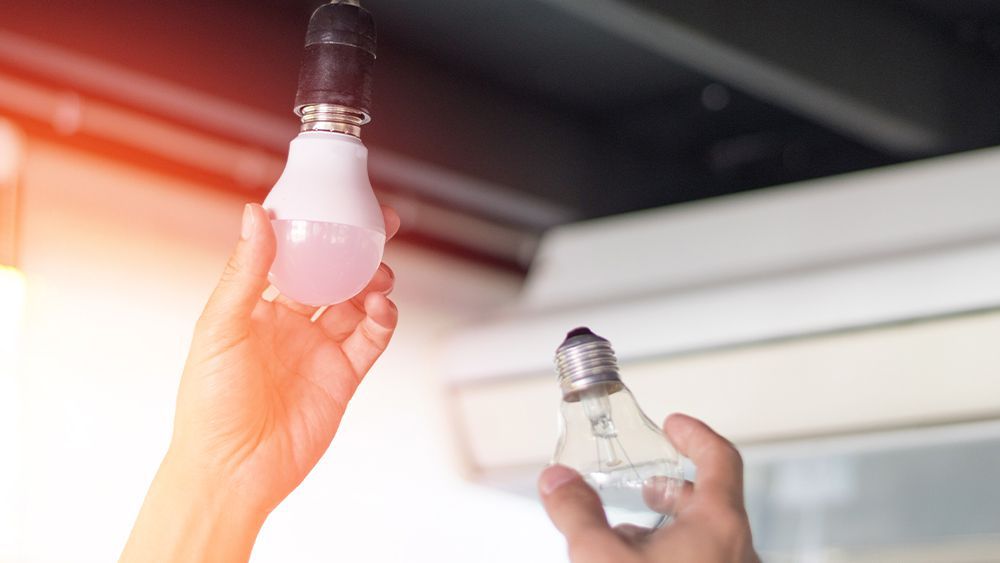 If you are still using incandescent lighting, it's time to make a switch. Not only are they the least energy-efficient option, but they also generate a lot of heat. 90% of their energy is wasted as heat, and only 10% is used in light.
On the other hand, LED lights consume less energy and are much cooler than old-fashioned incandescent lights. 
10.  Keep the Curtains Closed During Daytime
To keep your house cool during the summers, you should close your windows and cover them with blinds/curtains to reduce unnecessary heat gain. This really helps during the peak sunlight hours. 76% of the sunlight that hits your standard double-pane windows enters your home as heat.
Another thing that you can do is install white or light-colored blinds/curtains as they reflect heat as opposed to dark colors that trap heat. Further, installing insulated cellular shades can block 80% of solar heat.
11. Maintain a Perfect Daytime & Sleeping Temperature
In summers, the ideal thermostat setting when you are at home is recommended to be at 78F. You can go a few degrees higher when using a ceiling fan or dehumidifier.
At night, experts recommend setting your thermostat between 60F to 67F but keep in mind that each person has different needs, and the comfortable temperature may vary from person to person.
You can opt for smart thermostats or smart AC controllers like Cielo Breez Plus to automate your daytime and sleeping temperature. 
12. Beat the Heat with Ceiling Fans
Fans don't actually cool your room, but they improve air circulation.
Using a ceiling fan reduces the need for air conditioning at all times. Moreover, you can also use it in conjunction with your unit to maintain a consistent temperature. Combining both devices can help you set your temperature to a high setting without compromising on your comfort.
You should set your ceiling fans to rotate counter-clockwise during summers. The rotation in this direction pushes the cool air downward and creates a chilling sensation.
13. Apply Ice on Pulse Points
You've probably heard that pouring cold water on your wrist or neck is a way to cool your body. Isn't that what we're told to do when someone has a fever?
It sounds weird, but there's a science behind it.
You can feel your pulse in your neck and wrists as blood vessels are close to the surface of your skin. These areas are called pulse points. Since the vessels are quite close, these parts cool down quite quickly. Your knees, elbows, and temples are other pulse points in your body.
You can put ice packs on your wrists and back of your neck or wear a damp bandana on your forehead when going outdoors to ward off the heat.
14. Make a Delicious Summer Smoothie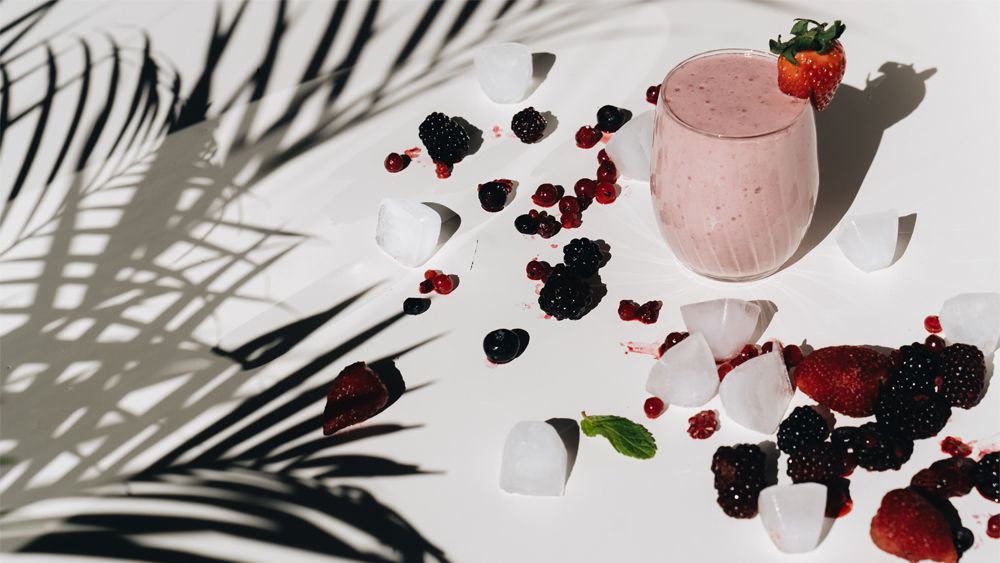 To counter the hot, humid atmosphere, summer smoothies should be on your list. You can use different combinations as per your liking.
Mix peach and green vegetables such as kale, spinach, cucumber to make a perfect green smoothie and give your body a soothing effect.
Whip together grapes, blueberries, and greek yogurt to give yourself an antioxidant boost. 
Combine mint, strawberries, and coconut water for the ultimate cooling effect.  Coconut water has tons of electrolytes which help regulate fluid levels in the body and prevents dehydration. 
To boost the nutritional value of your summer smoothies, you can also add chia seeds or flax seeds. Just one tablespoon of any of these two seeds provides a good amount of omega 3 fats, proteins, and fibers. Because of their high soluble water content, Chia seeds can absorb up to 10-12 times their weight in water, which helps keep the body hydrated.
15. Avoid Heat During Workout
Exercising in the heat is a big no. The temperature and the exercise itself raise your core body temperature, which increases the chances of heat cramps or heat stroke.
 If you are someone who goes for a run at 8 am, consider changing your timings. The morning sun during summers is harsh, and it's best to avoid it. Either go at 6 am or at night when the temperature has cooled down a bit.
You can also get a gym membership or create a small gym in your home to avoid exercising in the heat altogether.
16. Try Breathing Meditation to Beat the Heat
Specific breathing patterns can deliver cool energy to your body and can relax your mind. 
Sitali and Sitkari are breathing techniques that have a cooling effect on our bodies. They can be particularly helpful when you are down with fever or suffering from hot flushes. 
Soaring temperatures can stress you out, so try one of these meditating techniques for relaxed cooling breaths the next time you feel hot. 
17.  Ensure Adequate Air Flow Around the Air Conditioner's Outdoor Unit
Your outdoor HVAC unit is responsible for releasing the heat. So, it needs optimum airflow and proper ventilation to work efficiently. If you have planted shrubs too close to the unit or put a tight cover over it, it will have a hard time removing heat from your home.
If you want to hide your outdoor unit, you can place plants or other accessories but make sure it is at a distance specified by your AC's manufacturer.
18. Wear Light Clothes
In addition to keeping yourself hydrated, your clothes also play a part in beating the heat when temperatures soar.  
Opt for loose clothing that allows room for air circulation. Choose cotton, linen, chambray, and other materials that have moisture-wicking ability to allow the sweat to evaporate easily.
Further, light-colored clothes are always recommended during summers as they reflect the heat away from your body.
19. Be Safe in the Sun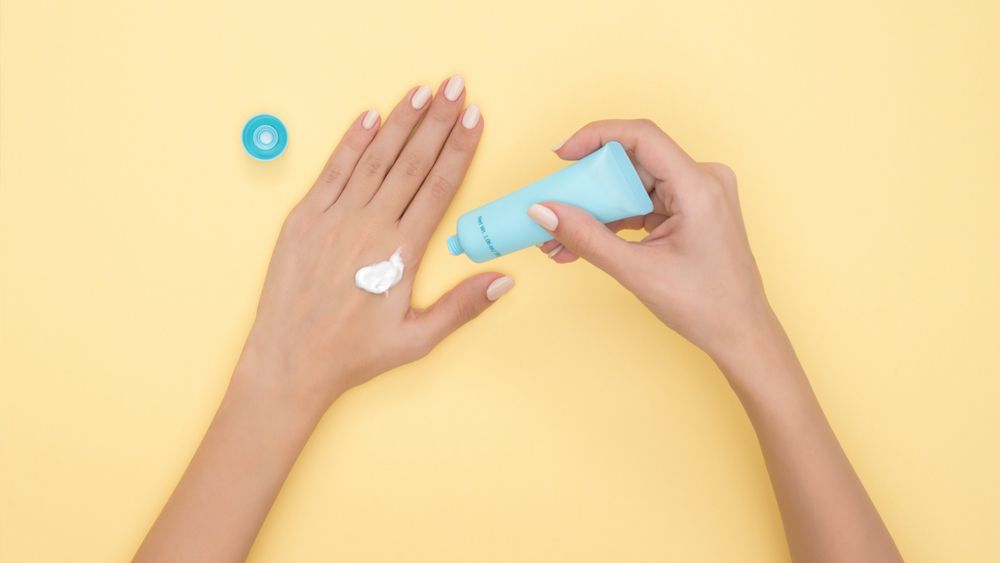 There's no way you can entirely avoid the harsh summer sun; you have to run errands, take a walk to the nearest station, or maybe you have a field job.
What you can do is take measures to stay safe and protect yourself from the harsh UV sun rays.
Make use of accessories such as sunglasses and hats. Sunscreen is extremely important; it can't help you beat the heat, but it can surely help you avoid sunburn.
In the scorching summer heat, the chances of getting a burn increase manifold. Applying and reapplying sunscreen for any extended outdoor activity is the key to prevent it.
Make sure your sunscreen has at least SPF 30, and you keep layering it throughout the day.
20. Make Use of Essential Oils
Essential oils such as eucalyptus, peppermint, and spearmint contain menthol, which has cooling properties.
You can mix these oils with water to create a body mist and store it in the refrigerator. When you are running hot, just spray the mist on your body. You can also add these oils to your diffuser to create a calming environment inside your home.
Note: If you're prone to skin allergies, do not use the mist on your face, as these essential oils can irritate your skin.  
Dealing with summer heat can get quite tricky. We hope the tips mentioned above will help you minimize its impact and avoid heat stress. Remember, keeping yourself hydrated, wearing light, comfortable clothes, and using smart technology are the key factors to stay cool during the summers. If you have any other tips to beat the heat, let us know!