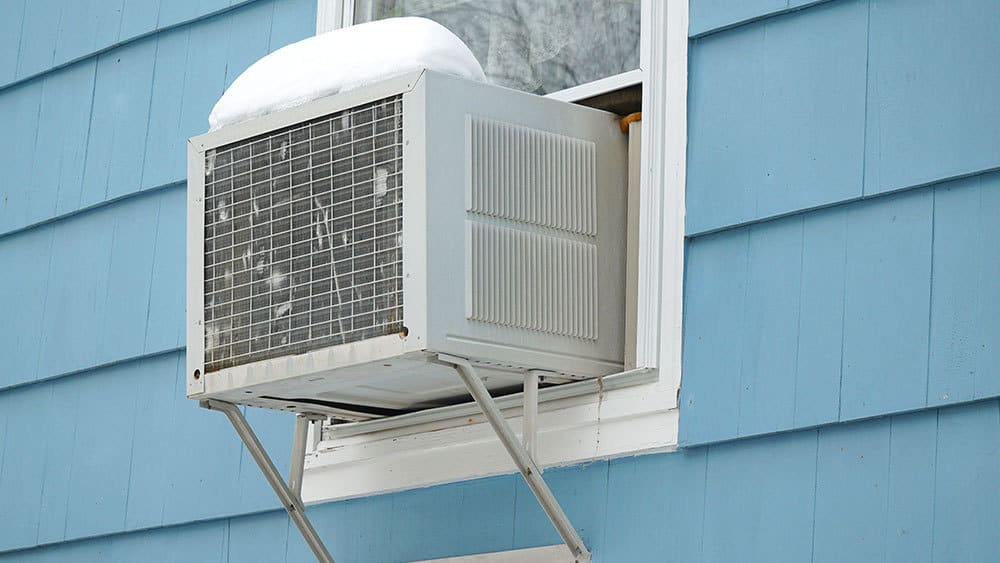 It's best to start a post-summer ritual for your AC during the fall unless you plan to use your reversible air conditioner during the winter. This is the time to unload, cover, and properly store air conditioners until the next season.
Storing your window air conditioner may seem like a lengthy and troublesome process. However, by doing this, you not only keep your air conditioners in top shape during the winter season but also save on your utility bills. You might be wondering how one can save on the utility bills by this. 
Storing Your AC is This Easy!
Why Should You Store Your Air Conditioner?
Air conditioner storage is essential for a couple of reasons. The first reason is pretty obvious; you prevent exposing it to the off-season elements, avoiding any damage to it. Components like the outdoor fan, compressor, and refrigerant pipes can be damaged during extended shutdown periods.
The second reason is to prevent heat loss in the winters. When you have an air conditioner installed, especially a window air conditioner, there is a small gap between the air conditioner itself and the window frame. If not sealed properly, air can leak out through this gap and be a cause for concern. Removing the air conditioner and shutting down the empty cut-out can then prevent warm air from leaking out of the room.
Another reason is that you want the maximum light to be coming into your room in winter. Window air conditioners take up space in the window and block a considerable amount of light from coming into the room. Removing the air conditioner when it is not in use frees up valuable space, allowing you to enjoy the maximum sunlight during day time, helping to keep the room warm.
How to Store Your Air Conditioner During Winter
Let us go through some of the pre-storage considerations for your air conditioner, and then see how you can go about putting your air conditioner in storage.
1. Pre-Removal Checks for AC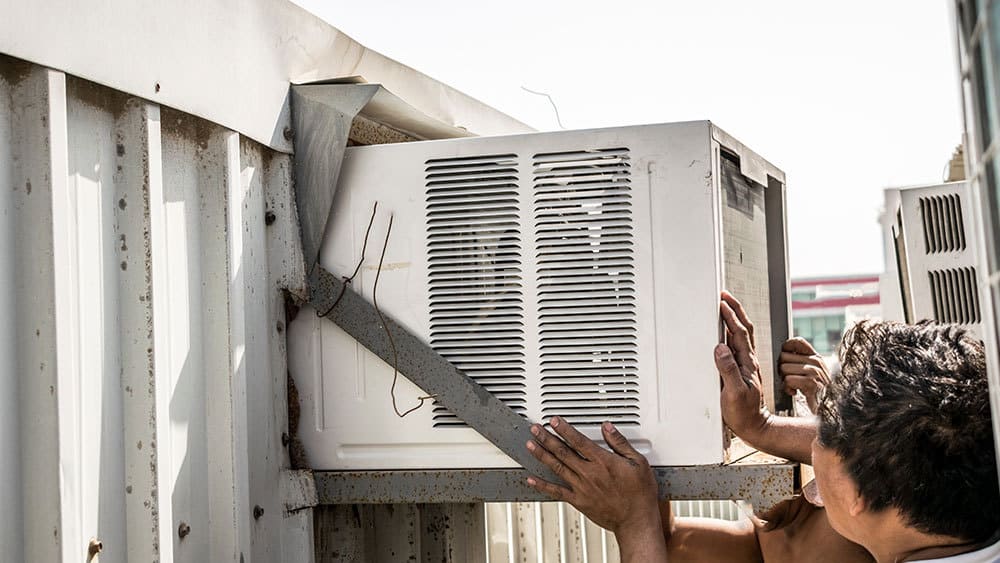 Every successful DIY job starts with planning and preparation. Ensure you have the proper tools needed for the job, such as a screwdriver, pliers, and adjustable wrenches. It is wise to enlist a friend's help to assist you with the removal and storage, as air conditioners do tend to be heavy. If you are confident of your physical strength, then you can proceed on your own too.
Cielo Smart AC Controllers
Your best choice to make any mini-split, window,
or portable AC smart. Enhance your comfort and savings.
Shop Now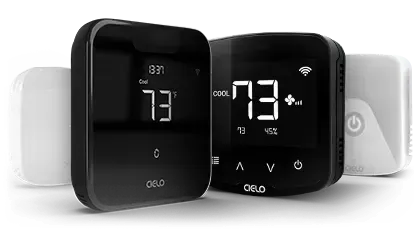 Safety always comes first, and the first step in the whole process is to unplug your air conditioner from the power socket. Moreover, you can also turn the circuit breaker off from the main switchboard but only do this if you know the proper switch. Make sure the work area is clean of any furniture items or tripping hazards. It is best to place a towel or sheet on the floor to prevent any drip tray spills from getting onto the floor.
2. Remove the Air Conditioner Before Putting It in Store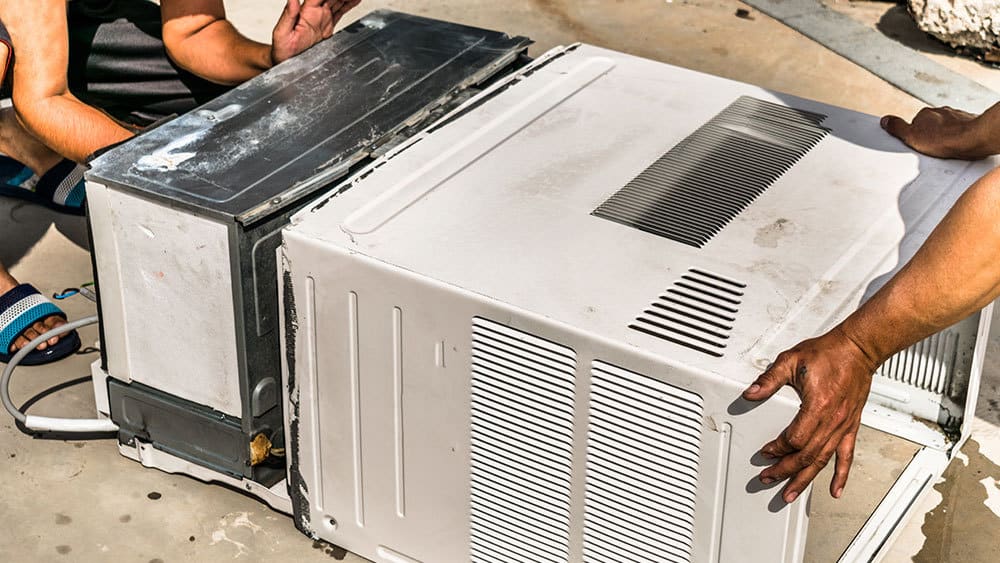 As discussed before, air conditioners are heavy pieces of equipment. Get the help of your friend, and do not do this job alone. Remove any sealant on the edges of your window AC, and gently pry it loose. Pull-on the air conditioner and slide it out of the space. Be sure to support it from underneath and not let it fall down. This is where your friend or your muscles will come in handy.
When the air conditioner is sufficiently loose, tilt it away from you and towards the outside so that any residual water in the drip tray will fall. Finally, pull the air conditioner all the way out, and lower your window back down. If the air conditioner was in a cut-out cavity, cover it back up. These steps lay down the foundation for window air conditioner storage.
3. Give Your AC a Good Wash!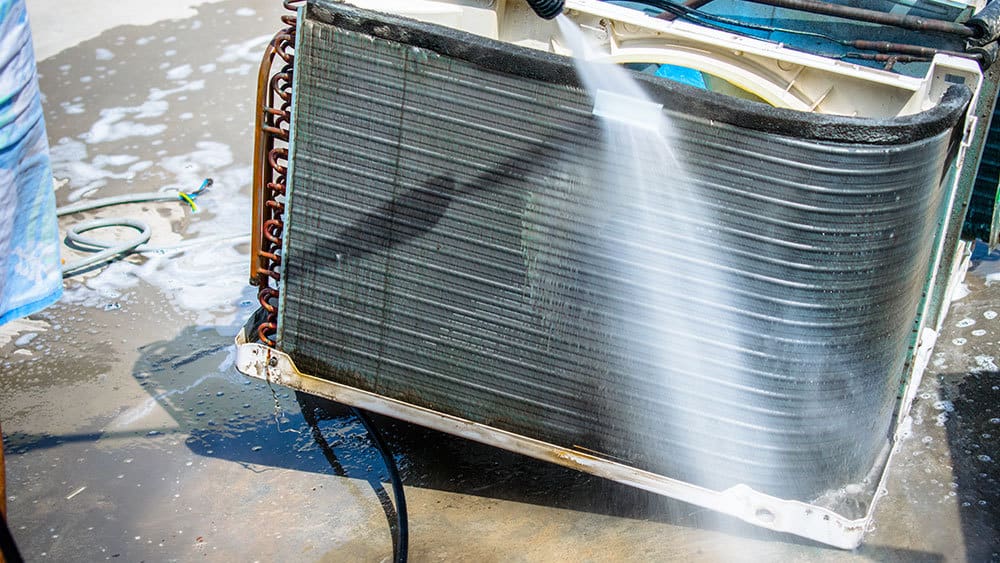 Storing a dirty air conditioner can be harmful and lead to damage. Moreover, mold and fungus can build up if water has accumulated in the drip trays. Thus, it is a good idea to give your air conditioner a thorough clean-up before you store air conditioners away for winter.
The first step is cleaning the filter in air conditioner storing process:
Place it under running water
Using a soft brush, clean away the dirt and dust that is settled on the filter
Add a soap and vinegar solution if the dirt isn't able to be brushed off
Rinse again with water
Put the filter aside and leave to dry
Next come the condenser coil and drip tray.
Removing the front cover of the air conditioner will reveal the condenser fins. Spray water onto the coils mixed with soap, and let it soak for a while. Using a soft brush, brush the coils thoroughly and get all the dirt out. Using a hose or running water, clean the coils and fins until all the dirt is removed. Wash the drip tray in a similar fashion and thoroughly rinse.
Let everything dry before going on to the next step, or else your air conditioner will smell.
For the exterior, use a moist rag to give it a thorough once-over. For persistent dirt spots, use a brush and then rinse with water.
4. Pack Away Your Air Conditioner Before Storing It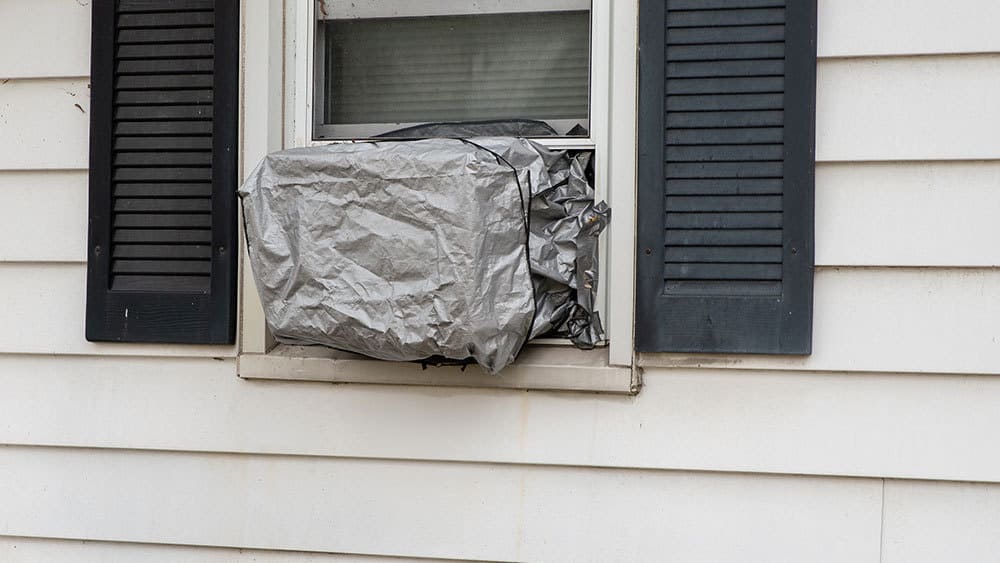 For storing your air conditioner, dry off all the components, lay them out together and reassemble them. You can consult the user manual if you are unsure of anything. Once reassembled, use an AC cover for winter to wrap up the air conditioner. This keeps the air conditioner free from any more dust or insects which might get inside. For this purpose, you can use a window AC cover for winter.
Once done, place the air conditioner in a dry place, ensuring that there is no moisture within the air conditioner or in the room. Excess moisture can promote bacteria and algae's growth, which will be tough to remove later on when you get the air conditioner out in the summers. Do not store air conditioners outside in the extreme cold; there is a chance that the fins or plastic get damaged or cracked due to the thermal differences. It is preferable to keep the air conditioner in a dry and moderate environment.
Be sure to store your air conditioner in an upright position so that the internal components do not dangle around (which they shouldn't ideally) and the refrigerant does not leak. Otherwise, there is a chance of compressor damage, which is expensive.
If you have the original box in which the air conditioner came, that is the perfect storage medium.
Storing an air conditioner during winter can also save you energy bills. Having an unused air conditioner on your window during winters leaves a little space for the cold air drafts to come in, necessitating the use of higher heating settings. Closing this draft source solves this problem and reduces the amount of cold air coming into the room; hence storing air conditioners is important.
Post AC Storage Considerations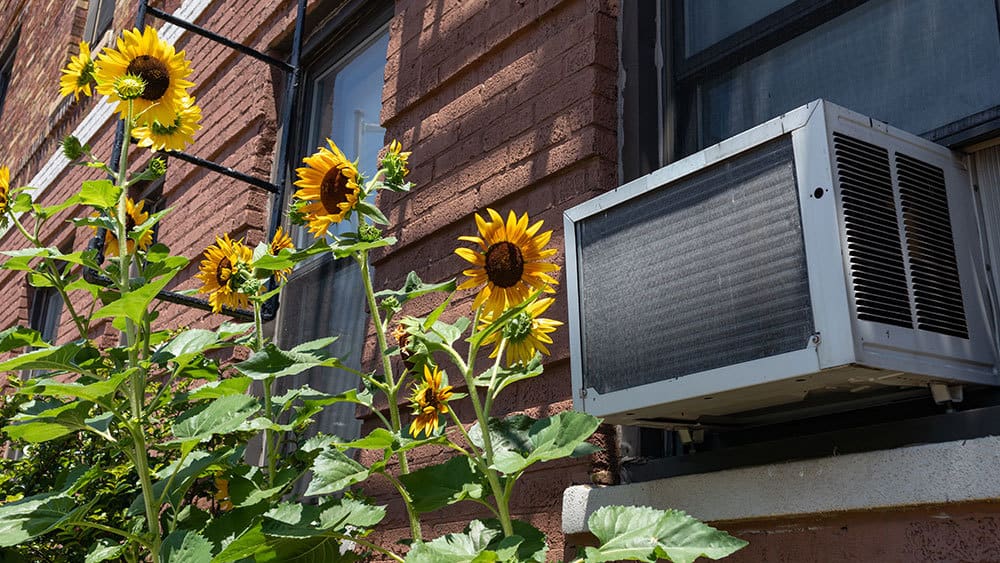 Winters have gone, and it's time to welcome the bright and shining sun. But with it, temperatures can soar, and you need your air conditioner back. Take out the air conditioner from the wrapping it was covered in, and let it soak the sun for a while. Take out the filter and front cover before this process. Using pressurized air, blow off some of the dust that might have accumulated on the air conditioner, and you are good to go.
Air conditioners are expensive, and it is wise to take care of them and keep them running for years to come. Taking care of your air conditioner during the winter season, and using an AC cover for winter when they are not in use, is just one step in ensuring that your air conditioner stays in excellent condition. Regular maintenance checks are another way to keep them healthy and prevent costly repairs. In the case of reversible air conditioners, you do not need to store them instead of using their heating in winters. With the help of smart AC controllers, you can even enjoy smart heating for maximum comfort, convenience, and energy saving in winter.
So next time when you ask yourself about storing air conditioner, you know the answer to the question and also how to do it. Follow the above-mentioned simple steps to keep your air conditioners in perfect shape throughout the year.