You must've heard people saying, "It's not the heat, it's the humidity." This is especially the case when your home feels like 100 degrees when the actual temperature is 80 or when the real feel is much higher than the actual temperature. This happens because of high indoor humidity during the summer season, making you feel all sweaty and sluggish.
The moisture level during the summer is considerably high. This is because warm air has the capability to hold a higher amount of water vapor. Moreover, increased moisture in the surrounding air during summer makes it difficult to evaporate the sweat from your body. As a result, you feel warmer in humid environments.
High humidity does not only make you feel hot but can leave you feeling drained and your body fatigued & exhausted. But this is going to change after you're done reading this article.
Manage the Perfect Home Humidity This Summer
Ideal Indoor Humidity for Summer
According to most experts, indoor humidity during summers should be around 40-50%. It is recommended not to let the moisture level go beyond 45%, as dust mites thrive in a damp environment.
The exact level of moisture in the air is heavily affected by the outdoor temperature. To determine the exact number you need to maintain inside your home, refer to this article and take a look at the ideal indoor humidity chart. When the outdoor temperature is above 50 F, indoor humidity should be maximum of 50%. For 25-50 degrees, 40% is the maximum indoor humidity level.
7 Tips to Maintain or Reduce Indoor Humidity During Summer
Increased humidity poses great damage to your health and home. You need to tackle it as soon as you realize your home's humidity levels are not optimal. Here are seven tips to help you maintain and bring down high humidity levels during summers inside your home.
1. Use a Dehumidifier
Dehumidifier is a device used to remove moisture from the air inside your home. You can invest in a portable dehumidifier and place it anywhere to bring down humidity levels. If you live in a high humid area and need a solution for your entire home, then you can opt for a whole-house dehumidifier.
Cielo Smart AC Controllers
Your best choice to make any mini-split, window,
or portable AC smart. Enhance your comfort and savings.
Shop Now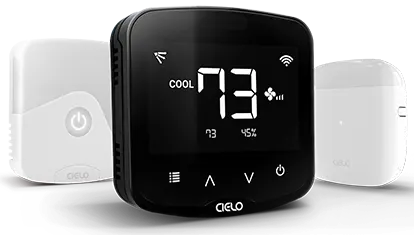 While air conditioners also dehumidify the air, dehumidifiers are essential if you experience very high humidity in summer. This article compares dehumidifiers with air conditioners explaining which one is a better option based on your needs.
Modern dehumidifiers are smart, allowing you control from anywhere using your phone. You can also view and set home humidity levels using your phone and be notified when the water bucket needs to be changed. You can also control them from smart home systems such as Google Assistant or Amazon Alexa.
2. Use Smart Thermostats or Smart AC Controllers
You can pair your central air conditioner or mini-split, window, or portable units with a smart thermostat or smart AC controller, respectively. These smart devices, like the Cielo Breez Plus, have in-built humidity sensors. You can set your desired humidity range, and your aircon will run to maintain it.
These smart climate control devices can also be controlled from anywhere using your phone. Moreover, you can view your room's live current humidity level and set triggers for your air conditioner to maintain the desired range. You can simply set your preferences, sit back, and relax while these smart devices take care of your home temperature and humidity.
3. Use Exhaust Fans
Exhaust fans help to maintain optimal humidity levels during summers. They are mostly installed in the bathroom and kitchen, as the moisture is usually high there. The vapors added to the air due to cooking, boiling water, or showers can be removed effectively by running exhaust fans. 
4. Take Cold Showers
Even though hot showers are really soothing after a long tiring day, the steam buildup can, unfortunately, increase the humidity inside your home. Try to bring the heat down and take cold showers whenever you can. In summers, cold showers can be really refreshing and can help to beat the heat.
5. Avoid Boiling Water
On days when humidity is really high, avoid boiling water for vegetables or pasta. The steam can take the already high vapor count to an extreme level. If you must have to boil water, make sure to vent out the steam properly.
6. Grow Moisture-Absorbing Plants
Houseplants act as natural dehumidifiers while adding to the aesthetics of your home. They absorb water from the air through their leaves. Hence, providing you with an attractive solution to lower humidity indoors. Be sure to do your research before buying houseplants, as not all of them help reduce the humidity. Some houseplants that help bring the moisture count low include orchids, palms, cactus, and spider plants.
7. Open Windows for Ventilation
Ventilating your house properly also helps in maintaining optimal humidity levels. Air circulation helps to reduce the sticky and moist feeling indoors. Try to open windows to let the fresh air in, especially in the evening.
To learn more about managing humidity throughout the year, read this article.
Why Is the Human Body so Sensitive to Humidity?
Humidity is the number that represents the moisture or vapor count in the atmosphere. During perspiration, your body depends on the surrounding air to lose the sweat. This evaporation of sweat from your body allows it to cool down.
In a humid environment, the process of evaporation slows down. The warm moisture stays on your body for longer, and you feel hotter. The phenomenon is referred to as the heat index in terms of meteorology.
The heat index is often commonly known as the real-feel or apparent temperature. It combines air temperature and relative humidity to give a human-perceived equivalent temperature. You must have seen it on your weather app, referred to as "feels like."
Assume the temperature as indicated by your thermostat is 96F and the humidity is 65%. Then the heat index or what your body would feel would be 121F.
Take a look at the National Weather Service heat index chart. It details what heat index can lead to heat disorders with prolonged exposure. Indicated by the darker colors, high temperatures coupled with high humidity in summer can be quite dangerous.
Effects of High Humidity in Summer
As mentioned above, during summers, the vapor count in the atmosphere remains high. High humidity levels mean the moisture in your home has exceeded the required number. This not only results in discomfort but also affects your health and damages your home. Let's take a look at some of the drawbacks of high summer humidity levels inside your home.
Mold Growth
High humidity in summer provides a perfect environment for mold production. It can also spread bacteria, fungi, and other airborne contaminants present indoors. These indoor air pollutants damage your home environment and affect your health. This is why it is recommended not to let the humidity levels exceed 50% inside your home.
Condensation on Walls
High humidity levels inside your home cause condensation as humid air comes in contact with a cold surface. If you see any visible sign of condensation on your walls or windows, check the moisture level. If it's high, immediately try to bring it down.
Increased Allergy and Asthma Symptoms
High moisture promotes the growth of contaminants. Moreover, it decreases indoor air quality. People who already suffer from allergies and asthma are the most affected in this case. An increased amount of water vapor in the air triggers allergies. It can cause other respiratory problems as well.
If you experience allergy-like symptoms from your air conditioning, read this article to learn the reason behind it.
Musty Smell
Another sign indicating the high amount of water vapor inside your home is a musty smell. It may especially be noticeable when you run your HVAC unit. If the smell is persistent and isn't going away, you need to manage your home's humidity levels.
Here's our guide to achieving the ideal home humidity levels.
Excessive sweating
Are you tired of maintaining the temperature of your home but never feel comfortable? Do you experience excessive sweating or overheating? It may be due to the high summer humidity level. It often gets ignored when managing a perfect home atmosphere. Have a look at the moisture count and bring it down to the numbers as recommended.
You can use any of the tips mentioned above to maintain the best humidity level during summers. Try and test these methods and stick to the ones that work out the best for you. It is also worth mentioning here that some areas are more humid than others. So, in high humid areas, you'd need to put in extra effort to manage summer humidity. If you find it challenging to deal with high humidity on your own, better consult a professional.