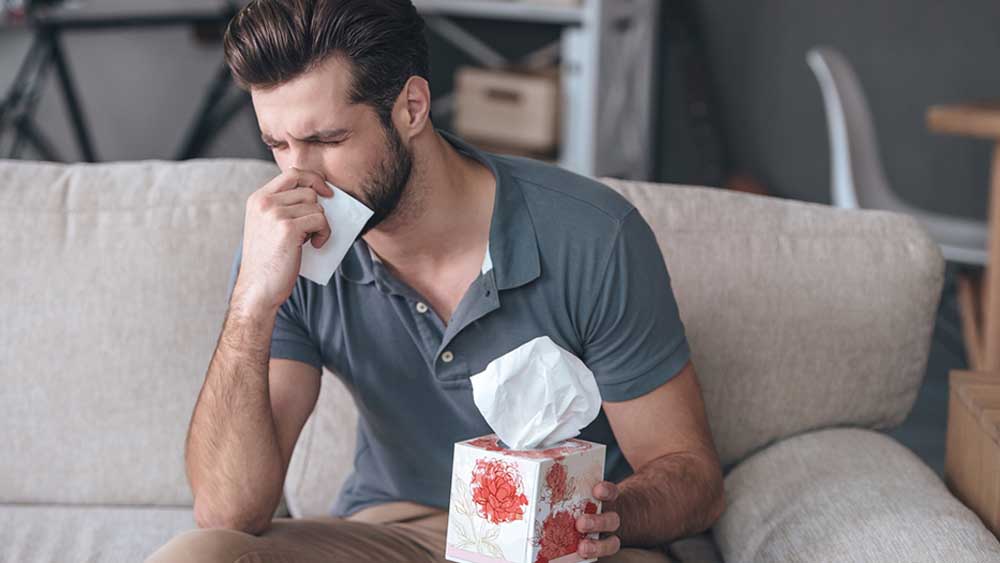 With the soaring temperatures in the summer season, the only thing you want is to run your air conditioner at full blast. Imagine you are coming home from a hot day out in the sun, and your Cielo Breez Plus smart AC controller or thermostat turns your cooling on when you are at a 2 miles distance. You come home, sit on the couch to relax, but as soon as that cool air hits your face, you start sneezing, coughing, or sniffling. Your nose feels stifled, and there is a persistent irritation in your throat.
The first thought to hit your mind may be: Is my air conditioner making me sick?
While the answer is not a definite yes, it isn't a no either.
To help you get a clear picture, let's see what an air conditioner allergy is and how you can tackle it.
What Is an Air Conditioner Allergy?
Wondering if you can be allergic to air conditioning? If you start to feel sick as soon as you turn on your air conditioner and feel better when away, it may certainly feel like you are allergic to your air conditioner. However, the fact is that your air conditioner is circulating several airborne allergens indoors.
This is especially a source of discomfort if you suffer from seasonal allergies. Because an air conditioner only becomes a source to circulate airborne particles that you are already allergic to. Hence, you start feeling sick.
To your relief, the seemingly "air conditioner allergies" are nothing permanent, and you can have control over them.
Symptoms of an Air Conditioner Allergy
There can be many manifestations of an air conditioner allergy.
In households, there are a range of factors that can trigger an allergic reaction. These can be induced by the presence of flowers in the house to more serious seasonal factors such as pollen or dander. Human skin, which naturally sheds and becomes airborne in the room, dust, and pet fur are other common allergens.
These indoor airborne allergens settle inside your home and when you run your air conditioner, they become the cause of your discomfort. If you have air ducts within your home, then bacteria, mold, and fungus can accumulate in them and at times make their way into the air entering your room.  
Cielo Smart AC Controllers
Your best choice to make any mini-split, window,
or portable AC smart. Enhance your comfort and savings.
Shop Now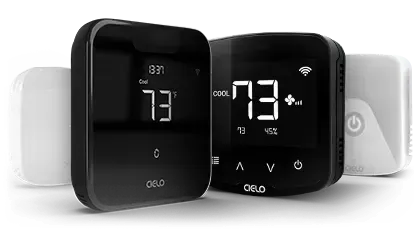 Due to all of the reasons above, allergy symptoms can start to trigger. They can be minor inconveniences such as an occasional sneeze or cough or more significant problems such as an asthma attack or difficulty breathing. Other side effects can also appear, such as swelling, redness or rashes, watery eyes or burning sensation, itchy throat, and digestive issues. Some of these symptoms can be eliminated by simple over-the-counter medications or even by taking steam; for others, though, you might need to get professional medical advice.
Reasons for Air Conditioner Allergy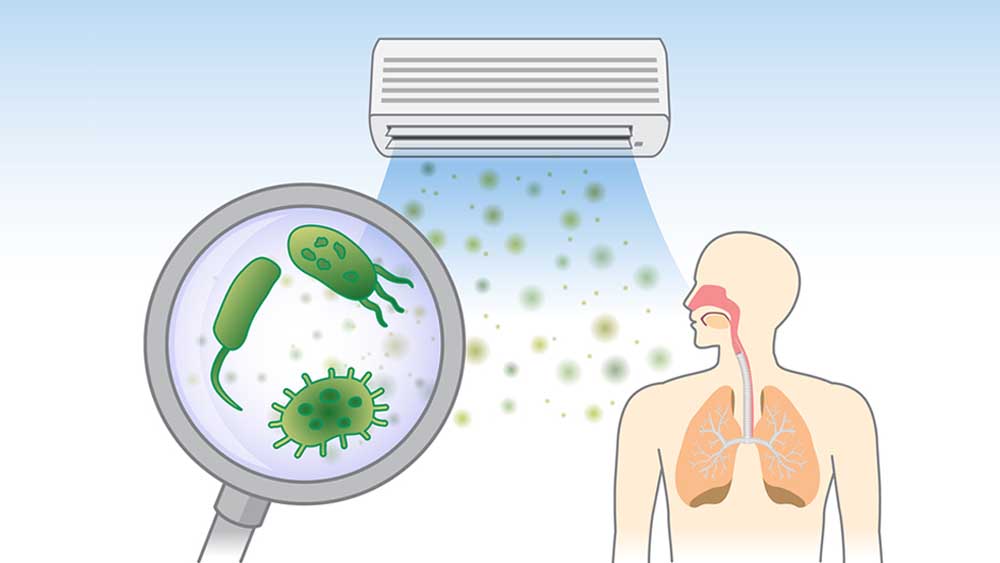 There are several reasons why your air conditioning might be making you sick. Let's have a look at some of the main causes!
1.     Pollen
As discussed, the reasons for air conditioner allergies are multiple. Pollen is one of the most common reasons to cause an allergy. This is most frequent in cities where there is a high percentage of flowers and trees, as they eject pollen during the spring season. Pollen can find its way inside homes through doors and windows. It can also get stuck to your clothing and transfer onto other household items. Once inside, it can mix with indoor dust, pet dander, and other irritants and become a nuisance by being circulated by your AC.
2.     Mold and Mildew
A very common problem with ducted HVAC systems is that mold and mildew can grow in the damp and dark conditions inside HVAC ducts. When the air conditioner is turned on, mold particles can mix in with the air stream. These particles then start circulating freely in the air, making you sick. They can also grow inside your home if indoor humidity levels are not maintained.  
3.     Pet Dander
Pet dander is another reason for allergies. According to the Asthma and Allergy Foundation of America, about three in 10 people in the US with pre-existing allergies are also allergic to cats and dogs. If you're a pet lover and can't even think of living without your cat or dog, don't worry! There are other methods available to reduce the effect of pet dander on your allergies. Regularly give your pet a good wash and frequently comb their hair to remove loose hair and dead skin. Moreover, if you are getting a new pet, opt for one with a minimal fur coat.
Read our guide to learn more about pet comfort and air conditioning.
4.     Dust Mites
No matter where your house is located, city or suburb, it is extremely difficult to keep your home safe from dust mites. Dust mites are microscopic insect-like pests that dwell on dust. They can trigger allergies or asthma in people. Pollen and dust mites are two very common allergens that trigger allergic reactions in people, and they reproduce in damp and warm conditions. They can breed inside your AC ducts or air conditioners as they provide the perfect environment for their growth.
5.     Pollution
The impact of pollution cannot be denied when it comes to air quality and subsequent allergies. Indoor air is more polluted than outdoor air and becomes a cause of serious respiratory problems, and it is also linked with air conditioner allergies.
According to the EPA, Americans spend approximately 90% of their time indoors, and the concentration of pollutants is almost two to five times higher than typical outdoor concentrations. Outdoor pollutants make their way indoors and circulate with the conditioned air making you think your air conditioner is causing allergies.
6.     Virus and Bacteria
Different viruses and bacteria can be present outdoors that you can carry inside your home. They are also present in soil and debris and can enter your home. Many of these viruses and bacteria are airborne and can enter your body when your air conditioner circulates the air. These may include coronavirus, influenza, measles, and chickenpox, among many others.  
7.     Volatile Organic Compounds
With a whole host of dangerous chemicals all around us, they are sure to become a source of respiratory problems and allergies. Volatile Organic Compounds (VOCs) are chemicals that are emitted from everyday household items and appliances. These can include cleaning supplies, paint, pesticides, stationary equipment such as markers, printer ink, gasoline, and cigarettes, to name a few.
8.     Humidity Levels
High and low humidity levels can also leave adverse effects on your health. An extreme amount of vapors in the indoor atmosphere can trigger your pre-existing allergies. Mold and dust mites also grow in high humid areas. Similarly, low humidity levels irritate your nasal passage and throat, causing inflammation.
Read our guide to learn more about managing indoor humidity levels.
How Does an Air Conditioner Play a Role in Triggering Your Allergy?
Your air conditioner introduces conditioned air and controls the air circulation inside your home. In the case of a ducted system, the air is introduced through a system of ductworks. Suppose there is a high concentration of allergens in any part of the ducts. The air conditioning will transfer it to your home, making you more susceptible to an air conditioner allergy.
Moreover, an air conditioner functions like an air circulation device. It moves air within the room and introduces a draft. This can make any potential allergens in the room airborne and can leave adverse effects on your health.
Tactics to Prevent Air Conditioner Allergies
Now that you know about air conditioner allergies and how they're triggered, it is important to understand how they can be avoided and what part the air conditioner can play in keeping you safe.
1.     AC Air Filter – A Game Changer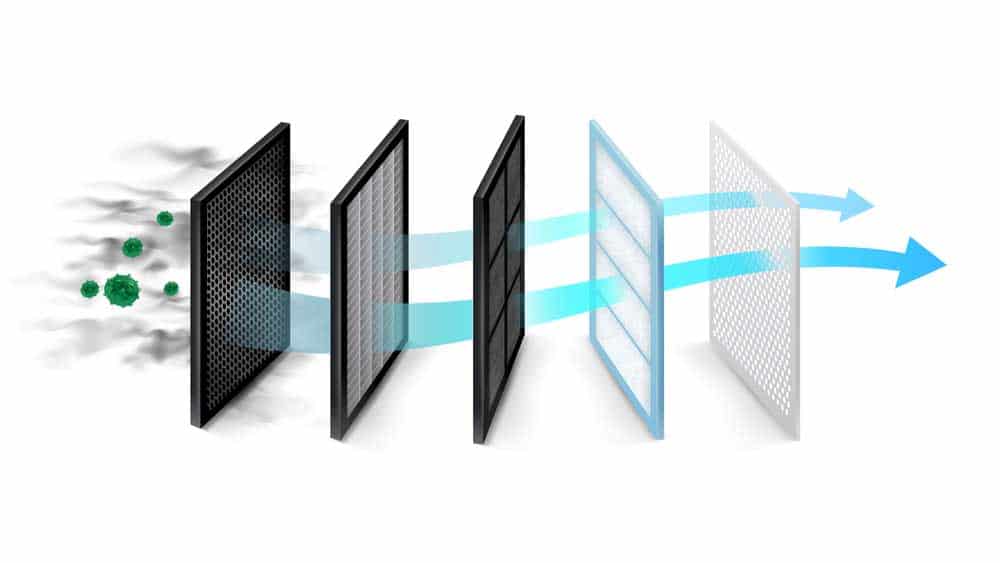 The first and foremost thing that can keep you safe from allergens is an air conditioner air filter. An air filter can serve as a shield against air pollutants, and they come in many forms and ratings. A good way to measure the effectiveness of a filter is by looking at its Minimum Efficiency Reporting Value, or MERV rating. A higher MERV rating means the filter is more effective at blocking out harmful particles.
A filter with an MERV of at least eight should be used. For applications in more sensitive areas, a HEPA filter, sometimes also known as an air conditioner allergy filter, can be used to block out more than 99.9% of the harmful particles in the air. It is the best air conditioner filter for allergies.
Getting the right filter is only part of the story. You should also check it regularly and clean it if needed. Air conditioner filters should be cleaned/routinely washed as part of routine maintenance. It is recommended to clean air filters after 250 hours of usage and change your air filters after every 3-4 months, depending on your use.
2.     Maintain Humidity Levels
The growth of dust mites and mold is a serious issue. While regular maintenance can sometimes get delayed, one of the easiest things you can do is keep the humidity levels below 50. Keeping humidity levels below 50 can help minimize dust mite and mold growth indoors.
An air conditioner or a dehumidifier can help you maintain the humidity levels. If you are using a smart AC controller like the Cielo Breez, you can use the Comfy Mode to maintain the humidity levels. Moreover, on a dry day, you can also open the windows to maintain the ideal home humidity levels.
3.     Get an Air Purifier
If you want to stay healthy and save yourself from any allergic reaction caused by an air conditioner, make sure to get an air purifier. They use HEPA filters and electrostatic fields to remove large and microparticles from the air. Air purifiers help you remove particles like dust, mold, bacteria, etc., from the air that can cause an allergic reaction or any breathing issue. They also help you maintain the air quality at home – keeping you healthy.
4.     Clean Your HVAC System
As mentioned before, mold and mildew can grow inside of your HVAC ducts. If you have a mini-split, then it can grow around the drainage pans and evaporator coils. This is especially true if there is a leak in the indoor unit, as this is a very common air conditioner problem.
For ducted systems, be sure to carry out routine maintenance and clean any mold or dirt which might have gathered and settled inside. You can use this guide to clean your ducts properly.
No matter what type of HVAC system you have, routine maintenance is critical for its proper functioning. With regular maintenance, you can clean your ducts, outdoor unit, indoor air handler, replace dirty filters, and much more to remove any chance of air conditioner allergy. Not only this, but routine maintenance also increases the life of your air conditioner!
5.     Schedule a Professional Maintenance Check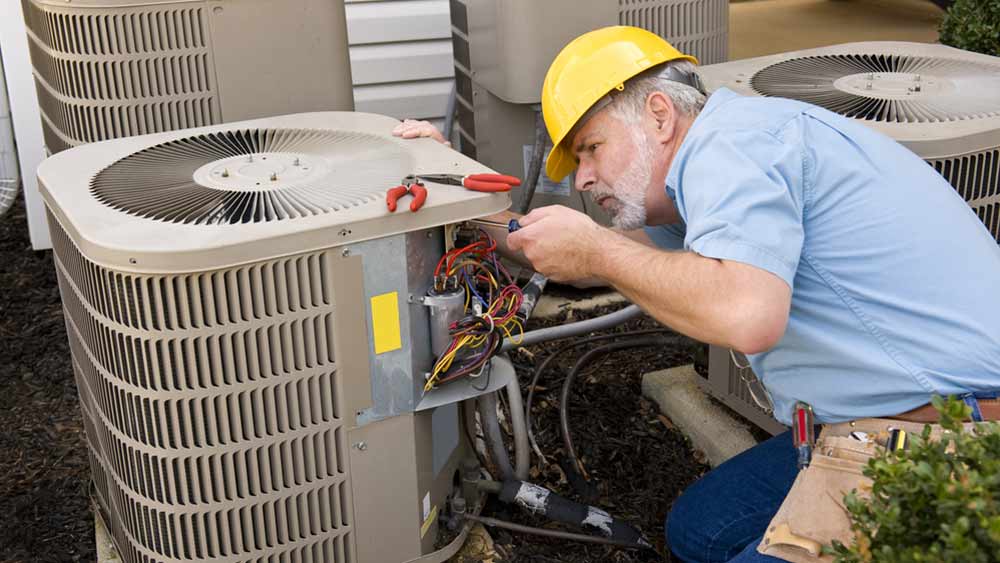 While you are looking out for mold and making sure your HVAC system is clean, it is always good to have your HVAC system checked by a professional. It does not only help you avoid air conditioner allergies but other health issues that you can miss while inspecting your system. Moreover, regular checks also help you improve your home conditions for better air conditioning and energy savings!
6.     Wash Beddings and Linens Regularly
Airborne allergens present indoor can stick to your bed, curtains, and even clothes. If you're experiencing any allergy symptoms or the concentration of pollen is high in your area, you should wash your beddings and linens with hot water on a regular basis. It helps eliminate any allergen accumulation on their surface.
Is Air Conditioning Good or Bad For Allergies?
An air conditioner can actually help people with pre-existing seasonal allergies breathe clean air! In the warmer months, opening doors or windows can introduce pollen and other allergens indoors. Using an air conditioner with a good quality air filter (HEPA filter) can improve the quality of the air you breathe in.
However, it only becomes a threat and triggers your allergies if not maintained and properly cleaned, as explained above.
These are some of the tips you can follow to keep yourself healthy and away from air conditioner allergies. Let's get to work and enjoy air conditioning in peace, without coughing and sneezing!