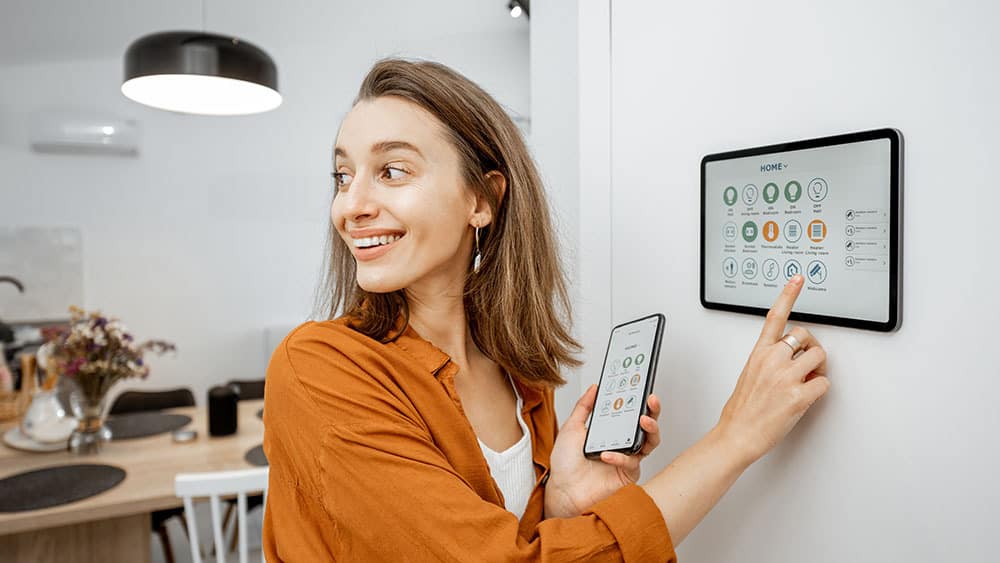 For most people, home climate control refers to wrestling with temperature settings to achieve the perfect room climate. Thanks to the emergence of smart technology, climate control appliances have come a long way! You can simply set your preferences, and your smart HVAC technology can manage the climate for you, just the way you want it. No more struggling with the controls!
With global market revenue for the smart home market expected to reach USD 53.45 Billion by 2022, a sizable chunk will be owned by automated climate controls. The market not only accounts for added convenience and comfort but also energy saving, causing it to grow at an exponential rate.
Smart home climate control appliances help to regulate your home's heating and cooling. This is carried out in an automated fashion to ensure a comfortable atmosphere at all times. Modern systems put a strong focus on energy conservation tactics, and with over 50% energy use in homes being spent on heating and air conditioning, this is a vital consideration. Smart climate control systems are also able to monitor and display live temperature conditions.
Another great thing about climate control appliances is that they do not rely on traditional remote controls or on-device buttons. You can also manage your device from a smartphone or a smart home hub! Moreover, you can set automated triggers and smart settings such as geofencing to operate your appliance. Thanks to smart features, your air conditioner for example can automatically turn off when you leave the house or automatically turn on at the perfect setting when you say, "Alexa, good morning".
Multiple devices have been designed to meet the climate control needs in homes. Let's go through the world of home climate control systems.
Smart Home Climate Control Appliances at a Glance
Smart Home Thermostat
With the right climate control appliances, your smart home climate control system learns your habits and operates accordingly. Similarly, a smart thermostat helps automate your climate control and interact with other smart devices such as blinds or lights. You can set schedules, use various modes for automated temperature control, lock temperature settings for certain zones, save energy, control your heating and cooling even when away from home, and much more!
Smart thermostats are compatible with ducted air conditioning systems and consist of three basic components: One component is plugged directly into the HVAC system; this component communicates directly with the second component, i.e., the thermostat control itself. The third component is a smart app that enables you to utilize the features of your smart thermostat.
Smart thermostats start from $130, and the price goes up depending on the features, company, and model you choose.
Smart AC Controller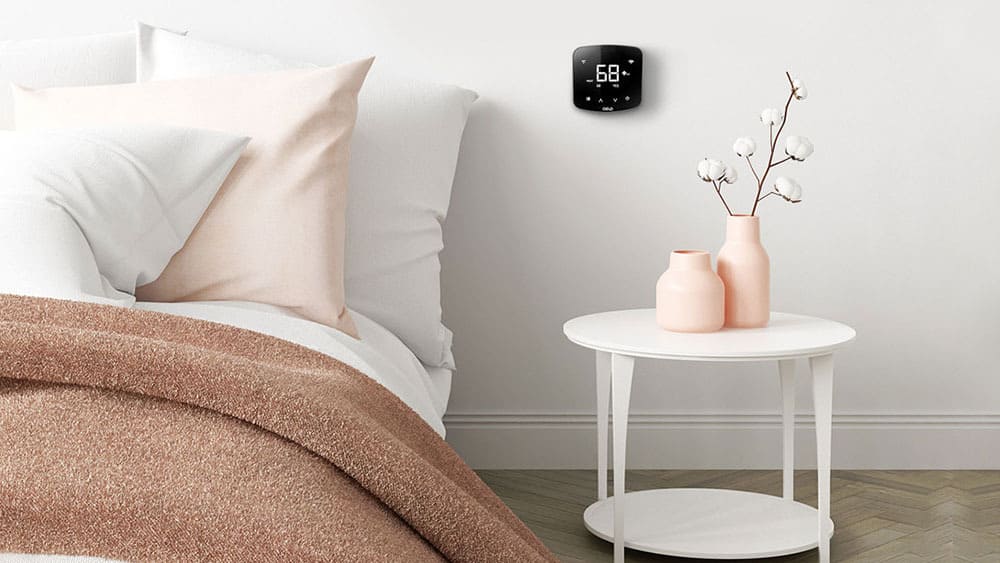 If you own a ductless air conditioner, then a smart AC controller is a must-have. This climate control appliance makes any standard air conditioner smart. Smart AC controllers allow you to control your AC from anywhere in the world, via your smartphone. They let you control temperature and humidity levels, among other things, right from your phone.
Cielo Smart AC Controllers
Your best choice to make any mini-split, window,
or portable AC smart. Enhance your comfort and savings.
Shop Now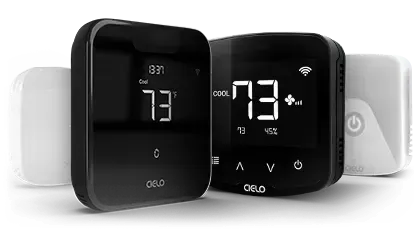 Advanced AC controllers allow for geofencing, temperature scheduling and offer automated temperature control modes. Utilizing these modes, the controller maintains the temperature for you within a set range to achieve the perfect atmosphere at all times. Apart from comfort, enabling smart features also helps save energy.
Basically, your conventional air conditioner is equipped with all the features and benefits of a smart AC and more!
These controllers can be mounted on the wall or can be placed on a tabletop. While some also offer on-device controls or voice commands, they all can be controlled via a smartphone.
Smart AC controllers start from $68, and the price increases as the features increase. This is an excellent price for smart home climate control automation devices, considering the array of features they offer. They are also at a bargain when compared to smart air conditioners.
Related: Top 7 Air Conditioner Accessories That You Need This Summer!
Smart Air Purifier
Healthy air is vital for a healthy lifestyle! Smart air purifiers are one of the most important smart home climate control devices. It is important to keep indoor air quality in check and an air purifier does exactly this. It constantly tracks your air quality, and adjusts the fan speed accordingly. This feature helps you spot trends and shows which time of the day the air quality is at its best and worst. You can easily discover the type of toxins that are prevalent inside your home.
Air purifiers protect you from airborne particles and chemicals. They remove dust, pollen, smoke, odor, mold spores, and dander from the air and push back clean air into the living space. These indoor climate control appliances can help avoid asthma or other respiratory problems.
The best part about a smart air purifier is that you can track your 'home's air quality. Smart air purifiers also offer multiple smart features that include smart scheduling and smart automated options. They consist of different modes that filter out a particular contaminant in the air, such as an 'allergen mode.' The automatic filtering category adjusts the purifier to keep your home contaminant-free at all times.
The cost of smart air purifiers starts from $170. The better the functions and the modes, the higher the price goes.
For a more budget-friendly solution, try adding air-purifying plants.
Smart Home Humidifier
Humidifiers can be great for your well being! They help in preventing the potential adverse effects of bad air quality on your health. The lack of properly humidified air can lead to a dry throat, dry skin or scalp, sinus problems, and more. Some humidifiers offer aromatherapy, which has been proven beneficial in lifting up the mood, and alleviating symptoms of depression and anxiety. You can also add essential oils to the humidifier to give a refreshing vibe to your living area!
Smart humidifiers measure humidity levels of the surrounding areas and maintain ideal humidity levels. It shuts off automatically when the desired humidity levels are reached. Once they decrease, it starts operating again.
Smart humidifiers also offer a plethora of other useful features such as smart scheduling, notifications related to air quality, and more. It is an excellent smart home climate control device if you live in a dry area or experience bad air quality in your home.
Smart humidifiers retail price starts at $60.
Smart Home Dehumidifier
With smart home climate control systems, regulating home humidity and temperature levels is a no brainer. The main difference between a humidifier and a dehumidifier is that a humidifier increases the humidity level in any dry indoor area. In contrast, a dehumidifier reduces the humidity level in case of a high moisture level. One thing that is common in both the units is that they both help in eliminating respiratory ailments such as asthma and chest congestion.
The dehumidifier takes up moisture from the air, and the water is collected in a bucket. It can offer multiple benefits in your household by preventing dampness.
Smart dehumidifiers can be easily controlled with your phone through Wi-Fi. Mode, speed, humidity levels, etc., can easily be set from anywhere. Auto-shutdown feature ensures that the device turns off when the water reservoir is full or after a certain period through smart scheduling.
Dehumidifiers can be easy on the pocket and start from $45.
Smart Air Conditioner or Heat Pump
If you are someone who lives in an apartment or a house where a central heating system cannot be installed, then smart air conditioners are your best pick. They are one of the most important smart climate control appliances for your 'room's cooling or heating needs. They help you to control the temperature and cater to individual rooms instead of the entire building. Smart air conditioners connect with Wi-Fi and can be controlled using your smartphone.
Smart ACs can also have multiple smart modes and features to make them more convenient or help save energy through automated controls. You can set cooling or heating schedules, monitor AC filter status, and set geolocation commands. If a smart AC lacks certain features, they use of a smart AC controller can provide additional functionalities such as setting intelligent triggers for temperature maintenance.
Smart air conditioners start from $300, and the price increases based on the model you choose.
Smart Weather Station
Everyone has their own routine and this routine can be disturbed due to weather conditions. Weather forecasts provide you with weather updates but the remote station that is installed miles away may not always inform you about your area. For this purpose, smart home weather stations have been designed to keep an eye on the climate exactly where they are installed. The sensors installed can track wind, air pressure, local rainfall and even UV levels in real-time.
The great thing about smart weather stations is not just that they collect data, but utilizing that data they can trigger other home appliances to act accordingly. For example, if it's dark early, lights can automatically turn on. Similarly, your HVAC unit can behave in a certain way according to the temperature outdoors. A smart weather station can be controlled remotely via a smartphone app and you can share the data with others as well.
The cost of a smart weather station starts from $180.
Smart Space Heater
To give your heating system a little boost, smart space heaters are ideal climate control appliances. No matter where you are, a space heater can make the environment warm and cozy. Space heaters are portable and cater to small and large rooms. If you forget to switch it off, the timer setting does that for you and can save you from potential harm. These kinds of heaters do not require frequent maintenance and are easy to manage.
Smart space heaters also operate via a wireless connection allowing multiple users to adjust the temperature according to their comfort. They may come with power-saving features and can be controlled via a smartphone app.  Smart space heaters are equipped with a thermostat to prevent them from exceeding your targeted temperatures. They also allow for scheduling, and some models even show your 'home's air quality in depth – an in-built air purifier can be automatically turned on if the air quality drops.
If you're interested in other heating options that can benefit you around the year you might enjoy reading types of heat pumps.
The smart space heaters start from $130.
Smart Fans
While talking about a smart home climate control system, how can we forget smart fans? Fans are cheaper to purchase and operate than air conditioning systems and thus are a favorite. Smart fans are in the market and consist of relative humidity and temperature sensors along with Wi-Fi connectivity and integration with Google Assistant and Alexa. You can control them from anywhere using your smartphone. With the help of motion sensors, the fan can automatically turn itself on when you enter a room and off when you leave. It is one of the coolest climate control appliances.
A smart fan can adjust the speed and direction according to your preference and room conditions to maintain a comfortable environment. It can also be coupled with other smart home climate control devices such as your thermostat to aid in heating or to cool your space much faster while saving energy.
A smart scheduling feature allows you to set schedules according to your routine. Some fans are designed to adapt to the 'homeowner's routine to help save energy.
Various options of smart fans are available starting from $120.
Smart Blinds
Who would have thought that one day you could control your curtains using your phone – moreover, they would automatically open or close depending on weather conditions! With smart blinds, you can control your shades with a single click while automated schedules free you from the hassle of setting the blinds multiple times a day.
Smart blinds come with light sensors  that allow you to control the blinds based on the lighting outdoors. If it's extremely sunny, smart blinds can save your home from heating up by perhaps automatically closing halfway.
Siri, Alexa or Google home climate control routines can be set, such as quickly waking up in the morning with the blinds automatically raising a little. Smart blinds also help you save money on your heating and cooling bills. They are powered by batteries but come with solar panels as well, so that you 'don't have to worry about charging batteries.
Smart blinds start from $170, and the price goes up as the features increase.
Benefits of Smart Home Climate Control Devices
Life is meant to be simple, and smart home climate control devices have made our lives easier, considering we don't have to struggle with maintaining the temperature or humidity levels manually. They have not only made living so much more convenient but also help us save energy.