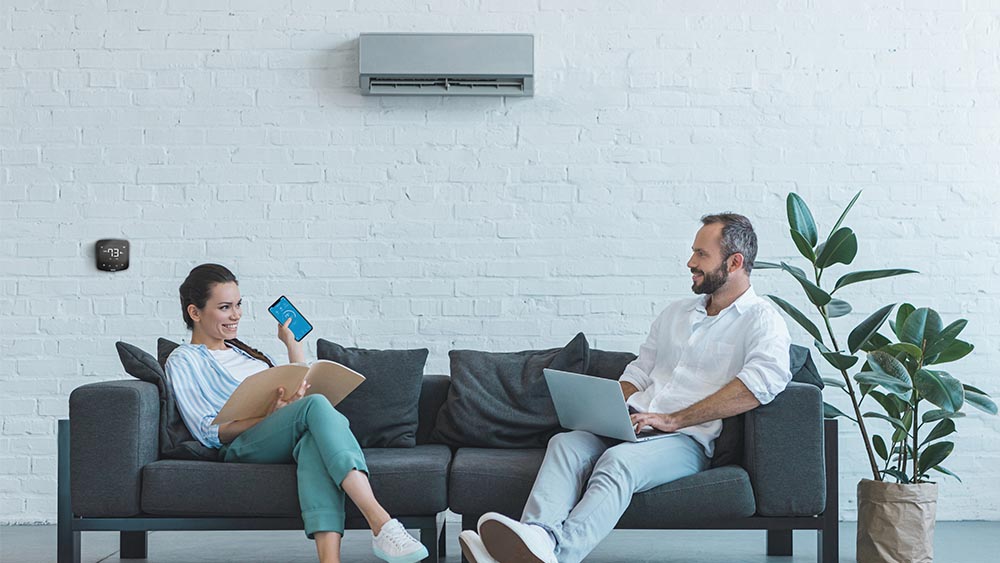 Imagine a home where you don't have to worry about accidentally leaving your AC running when leaving the house in a hurry. Or coming back to a home where you find the perfect room temperature, automatically set in your absence. Heck, did you know you can even achieve better sleep with smart air conditioning!?
While basic smart air conditioning is controlling your air conditioner from anywhere; the real smart air conditioning is a combination of smart features. These features add convenience to your heating and cooling needs and gives a boost to your home energy savings.
Wi-Fi connected smart air conditioners are equipped with cutting-edge technology, allowing you to easily maintain the perfect room environment. Convenience is the name of the game these days, and smart air conditioners bring you exactly that. They provide complete control over your air conditioner from anywhere via your smartphone.
Multiple smart AC options are available and navigating the smart air conditioner market can be a bit daunting. We'll try to help you out and go over some of the best offerings in the market. We shall cover window ACs, high wall mounted split air conditioners and portable units. Moreover, we will let you know exactly what to keep in mind when buying your new smart air conditioner.
Here is a comprehensive guide, detailing the features that you need to consider for your next air conditioner purchase.
What to Look Out for While Buying Your Smart Air Conditioner?
There are certain features that are a must have in a smart air conditioner. Before making the big purchase, you need to be well informed to be able to make the best possible decision. Here is a list of what you need to be on the lookout for before making the leap into the future, and throwing out your old AC:
Smart AC Feature Set
Smart Home Integration
Ease of Use
Energy Consumption and Ratings
Cost of Smart Air Conditioner
1. Smart AC Feature Set
Depending on the AC manufacturer and the model, there are multiple features on offer. All smart air conditioners provide Wi-Fi functionality, allowing you to control them using a mobile phone or web app. Other functionalities that you can greatly benefit from include, geofencing which allows you to provide your location to the smart device so that it can make decisions based on where you are; such as turn off when you exit the house.
Scheduling, usage history tracking, air filter status or specialized energy saving modes are some other features that you must give special emphasis to. These features can ensure that the ROI on your new smart air conditioner is great. Standard features such as temperature control, control over fan speed, vent position, swing position, etc. should be possible from anywhere through your smartphone.
You can also make any air conditioner smart using a smart AC controller.
We have a great resource on the benefits of smart air conditioning.
2. Smart Home Integration
If you are looking for a smart air conditioner, you are definitely inside the IoT sphere. You might have other smart home devices such as Amazon Alexa or Google Home. You would want your AC to be controlled using voice control through any one of those devices, and very rightly so. Any smart air conditioning system, which is not compatible with these major voice assistant platforms is at a great disadvantage.
Cielo Smart AC Controllers
Your best choice to make any mini-split, window,
or portable AC smart. Enhance your comfort and savings.
Shop Now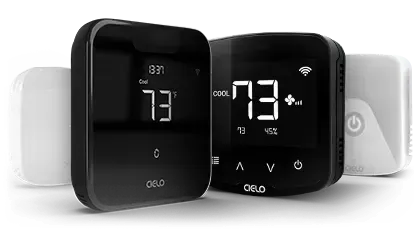 3. Ease of Use
Most manufacturers now provide mobile and web apps to remotely control your smart AC, as long as it is connected to your Wi-Fi. This gives you global control over your appliance. A major concern when buying such an appliance is the ease of use of the apps, their design, features, responsiveness, etc. You must make sure that you can easily control the air conditioner and access the smart features through a user-friendly app.
Another point to ponder over is the installation process. Some manufacturers use third-party apps for use with their appliances, which can occasionally result in software and usage issues. Be careful to check this beforehand, and get a feel for the app before making the final decision.
4. AC Energy Consumption and Ratings
This feature or spec is not applicable to smart ACs only but to any type of air conditioner that you are about to buy. We've all heard of BTUs, but what are they? British Thermal Units are a measure of an air conditioner's cooling or heating capacity. The higher the BTUs the more cooling or heating power a unit has. Common BTU capacities range from 6,000 to 12,000 which are suitable for a common sized living room. You must look for an AC that is suitable for the size of your room. This will help consume the least amount of energy while proving the best amount of cooling or heating.
Here is a handy chart based on the information provided by Energy Star.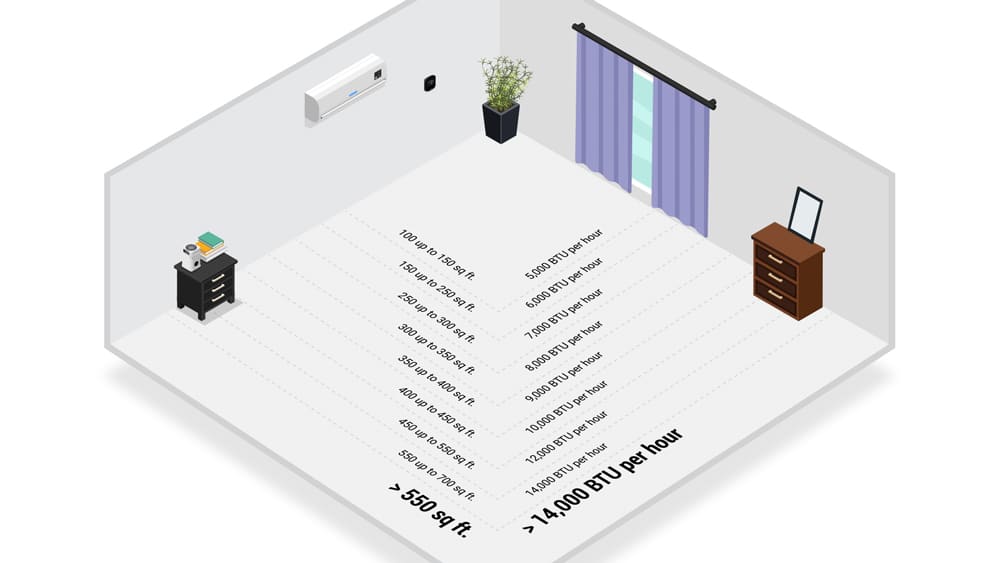 Another factor to look out for is whether an air conditioner is Energy Star certified or not? An Energy Star compliant appliance indicates the implementation of more environmentally friendly, and energy saving features within the device. This results in a marked reduction in cooling and heating bills. According to the US EPA, Energy Star qualified room air conditioners are at least 10% more energy efficient than the minimum U.S. federal government standards.
So, while buying your perfect smart AC, do consider the BTU rating and energy certifications.
5. Cost of the Smart Air Conditioner
Cost is one of the most decisive factors when deciding whether to buy a new appliance or not. Prices vary greatly, depending on cooling capacity, and functionalities. Prices for such products range from $300 to $3000 and can go even higher.
The initial investment on smart ACs is of course more than their "dumb" counterparts, but this initial cost can be easily offset. Energy savings across the lifetime of the AC greatly makes up for the cost. You can also opt for cheaper options and utilize a smart controller to gain the desired smart functionalities.
Give your Old Air Conditioner the Smartness it Deserves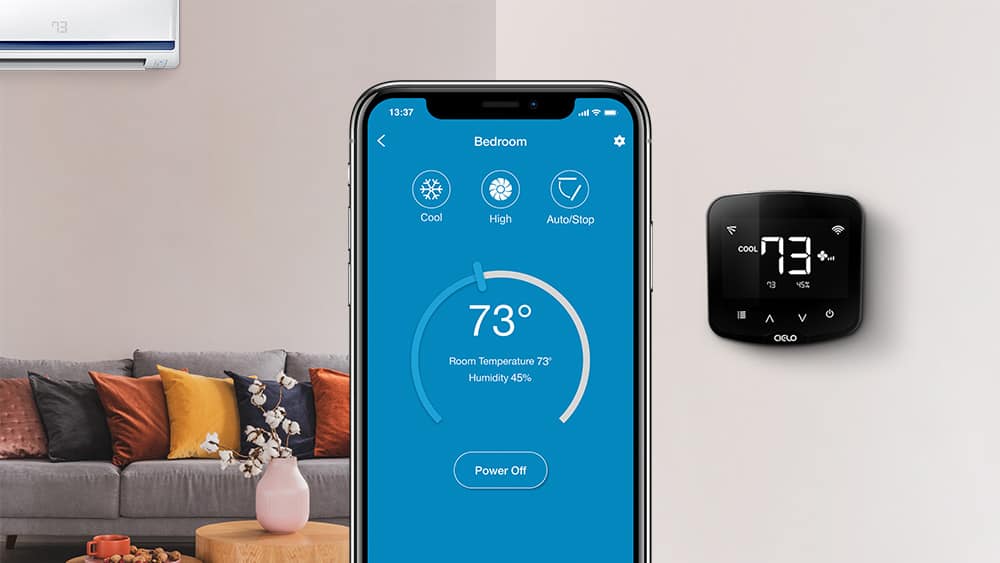 In case you are not yet ready to invest in a completely new air conditioner, you can easily make your old AC smart! Aftermarket "smart AC controllers" are third party add-ons, which make your dumb air conditioner smart. These nifty little devices are quick to set up, ergonomically designed, and pack a host of extra features as compared to their in-built counterparts. The best part, they are priced around $100 only.
With the use of smart controllers, any old air conditioner can be provided with all the power of smart ACs and even more. In fact, aftermarket smart AC controllers can give enhanced functions than a smart AC. These include super cool features such as humidity and temperature-based triggers, geofencing, air filter status monitoring and much more.
Not all smart AC's have home assistant compatibility. But smart AC controllers such as the Cielo Breez make complete smart home integration a Breez (pun intended). Google Assistant, Amazon Alexa, Siri Shortcuts, and Samsung SmartThings all are fully compatible with the Cielo Breez smart AC controllers, enabling the complete smart home experience.
Top Smart Window Air Conditioners
Let's go over some of the best picks for smart air conditioners in the market. This shall help you decide the best unit for you!
1. LG Dual Inverter Smart Window Air Conditioner
LG dual inverter window air conditioners product line is an established name in this field. The DUAL Inverter CompressorTM technology by LG provides for up to 25% energy savings on top of the ENERGY STAR ratings. This is achieved through the use of an inverter. This feature also eliminates excessive noise and allows the appliance to work at super low sound levels of just 44dB.
This specific model comes with a 14,000 BTU cooling capacity. This LG model is not on our list because of its inverter technology, but because it is smart! Through the SmartThinQ app, your Wi-Fi air conditioner can be controlled from any room in your home. Or, anywhere in the world!
2. Kuhl Smart Window Air Conditioner
This product by Friedrich caters to a host of different cooling requirements. Even though we are discussing the 8,000 BTU model, it comes in various other models as well, including 6000, 10,000, and even 35,000 BTUs. Friedrich claims that through its Quietmaster® Technology, which incorporates vibration dampening and sound insulation materials, users experience 45% lower noise levels than competitor products. Friedrich also provides ENERGY STAR ratings on select models, including the 8,000 BTU KCQ08A10A.
The Friedrich Connect™ app provides for global controls of your Wi-Fi enabled air conditioner. Your smartphone becomes a control hub for your Friedrich device, which also enables voice control. The app lets the user put up a 7-day schedule, with the AC programmed to turn or off at specific times of the day and week. The app isn't user specific, this means that you can let other users, such as family members, also control your air conditioner through the app installed on their phones.
​3. Frigidaire Gallery 10,000 BTU Cool Connect Smart Air Conditioner
If you want your air conditioner to not only be smart but also look futuristic, then this is the one for you. With a sleek design, and touch-sensitive buttons along its stylish top and an under-the-covers LED temperature display, this Frigidaire offering definitely looks the part. It comes in a few different BTU ratings, from 6,000 BTU all the way to 12,000 BTU for larger spaces.
The simple and minimalist app gives you smart AC control, where you can change temperature, control modes (including a sleep mode), and adapt fan speeds. The app also lets you set schedules for your day, so you don't have to alter the settings again and again. It is also compatible with Alexa and Google Assistant.
4.
Midea Smart Inverter Window Air Conditioner
This Midea smart window air conditioner can cool areas up to 350 sq. ft. with its 8000 BTU cooling capacity. It is a WiFi-enabled unit which means you can control all its settings using your MideaAir app. You can also connect it to Alexa or Google Assistant.
One of the biggest advantages of purchasing this unit is energy savings. The Midea unit obtained ENERGY STAR most efficient 2022 certification. Midea claims that this unit can provide more than 35% energy savings due to its inverter technology.
Other benefits include ultra-quiet operation and a simple installation method for both single-hung and double-hung windows.
Top Smart High Wall Ductless Mini Splits
1. Mr Cool 12,000 BTU Wall Mounted Mini Split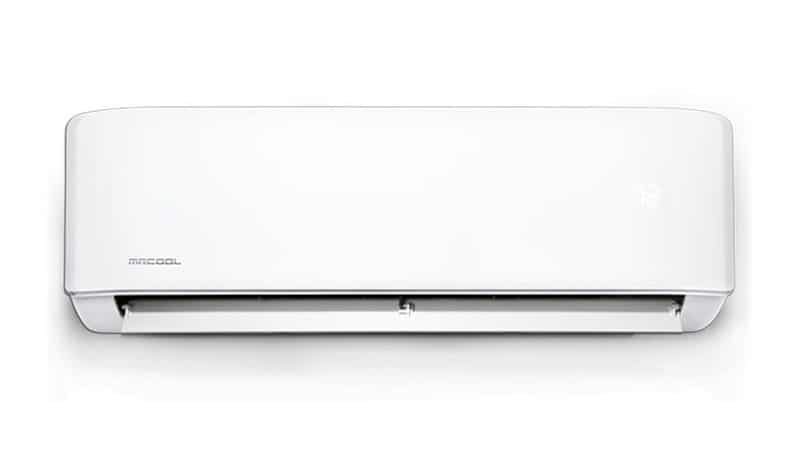 Now, this is a smart air conditioner which you want. Complete with its own app, this wall mounted air conditioner by Mr Cool is not only smart but also feature-rich. Corrosion-resistant Gold fin condenser ensures you get the maximum life out of your air conditioner, even in coastal areas. Variable-speed DC inverter compressor technology increases energy efficiency compared to other mini-split air conditioning units. Sleep mode automatically adjusts the temperature to maximize comfort during night time sleep.
Moreover, this AC comes with leakage detection. When the unit detects low coolant, an alarm will sound to alert you to the problem. This will prevent damage to the compressor while you maintain high air comfort.
2. Fujitsu Halcyon Wall Mounted Split Smart Air Conditioner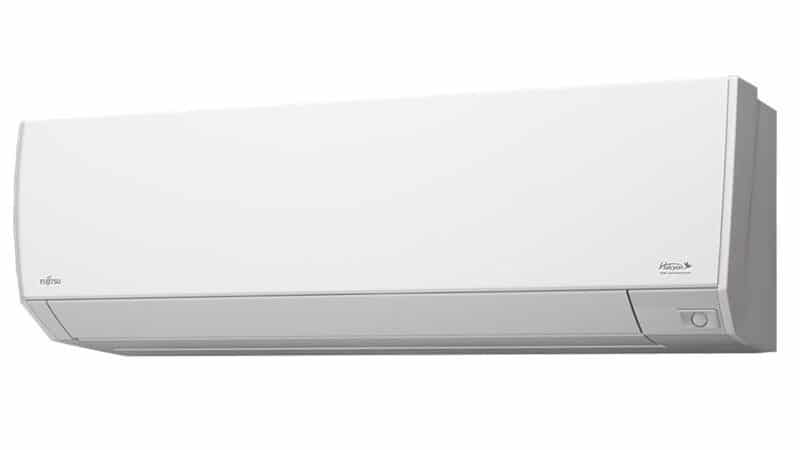 Wi-Fi enabled systems from Fujitsu, such as the RLS3Y and RLS3YH series can be controlled from anywhere using Fujitsu's own FGL air app. Wall-mounted air conditioners within these series, such as the 9RLS3Y (9,000 BTU), 12RLS3Y (12,000 BTU) and 15RLS3Y (14,500 BTU) are one of the world's most efficient mini-splits in North America, with Seasonal Energy Efficiency Ratio ratings of up to 33.0*.
These systems also come along with inverter technology and a host of other energy-saving measures such as the Energy Saving Program by Fujitsu. With the ESP, the air conditioner knows when you have left the room, and after 20 minutes automatically increases the setpoint by 4o F when cooling and 8o F when heating. As soon as you enter the room, the setpoint reverts back to the original setting.
3. Samsung Smart Whisper Split Room Air Conditioner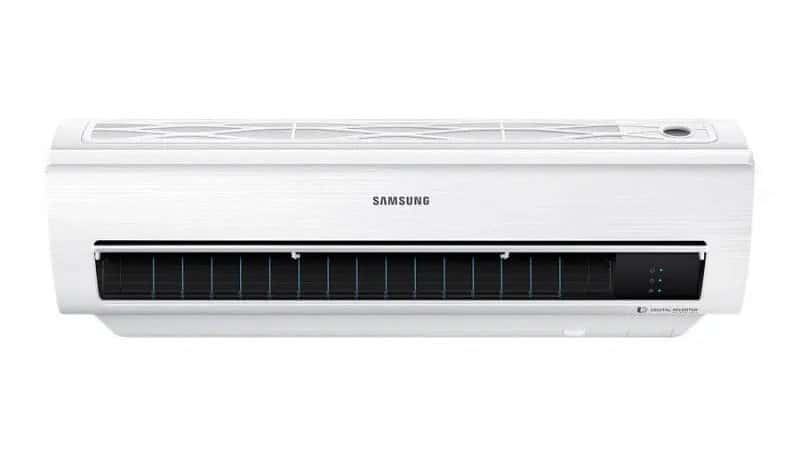 Samsung is another established name in the field of air conditioning. It's the latest offering, the Smart Whisper series, brings with it the smarts. Available in 9,000, 12,000, 18,000, and 24,000 BTU, this product brings with it a premium feel. A notable difference from the other entrants in the list is that this model is a mini-split, wall-mounted type.
The unique triangular design by Samsung, coupled with the v-blades, allows more air to be thrown out into the room much farther than before. Compatible with the Samsung Smart Things app, this wall mounted AC brings with it a host of functions, ranging from energy saver modes, to self-diagnostic capabilities, which can tell you if the air conditioner is not functioning properly.
Top Smart Portable Air Conditioners
1. Frigidaire 12,000 BTU Cool Connect Smart Portable Air Conditioner
If portability is what you are looking for, along with the smarts, then this is the Wi-Fi compatible smart air conditioner for you. Frigidaire has brought the best features of the Gallery product line to this portable appliance. It parts from the traditional boxy design of an air conditioner, instead opting for a tall cylindrical, free-standing model. It retains the LED temperature display from its fixed counterpart but forgoes the touch-sensitive buttons with the hard type.
A remote control is provided through a cylindrical remote with the most basic functions, with added capability provided by the mobile app. Alexa and Google Assistance integration is also supported. The complete package weighs in at 77 pounds. With small wheels, it can be just a tad bit difficult to move around, but this is by no means a deal-breaker.
2. JHS Smart Portable Air Conditioner
 Here's another portable smart air conditioner on our list, alongside the Frigidaire. The JHS A016 comes in an ergonomic and portable design, with a remote, LCD display on the appliance itself, and also a mobile app for global controls over the Wi-Fi. It is more than ample for indoor use, with a 10,000 BTU cooling capacity rating.
To sum it up, the world of home appliances is now going to the internet cloud. Remote access is often the first thing that a user demands, and Wi-Fi connectivity is just one step in that domain. More and more manufacturers are now incorporating built-in connectivity features, mobile based apps, and functions within them to enable a complete experience for the user.
3. Midea Smartcool Portable Air Conditioner
If you are in a small apartment, and do not want to invest heavily in a permanent fixture, then a portable air conditioner is what you want to go with. Next on our list of smart portable air conditioners is the Midea Smartcool.
This smart air conditioner comes with all the technological advances you would expect. Compatibility with smart home assistants such as Amazon Alexa, and Google Assistant, and an intuitive mobile app. The mobile app enables remote connectivity, from anywhere in the world as long as you have Wi-Fi.
The air conditioner comes with wheels underneath, so you can easily move it around. Advanced technology and the best quality standards provide quiet operation. The appliance comes with a washable filter, and also motions sensors, so that it works when you are in the room.
This particular model comes in two cooling capacities, a 10,000 BTU and a 5,800 BTU version. Installation is extremely simple. All you have to do is extend the exhaust hose out the window, plug in the power cord, and you are good to go.
Welcome to the World of Smart Air Conditioning!
There are plenty of options to be had in the ductless smart air conditioning category, with portable, high wall mounted, or window air conditioners available from a plethora of manufacturers. But what about the millions of already installed dumb air conditioners or the new air conditioners, which are not smart? The Cielo Breez Plus provides an aftermarket solution for existing customers who would want to get an upgrade, but without the large investment of a new ductless system.