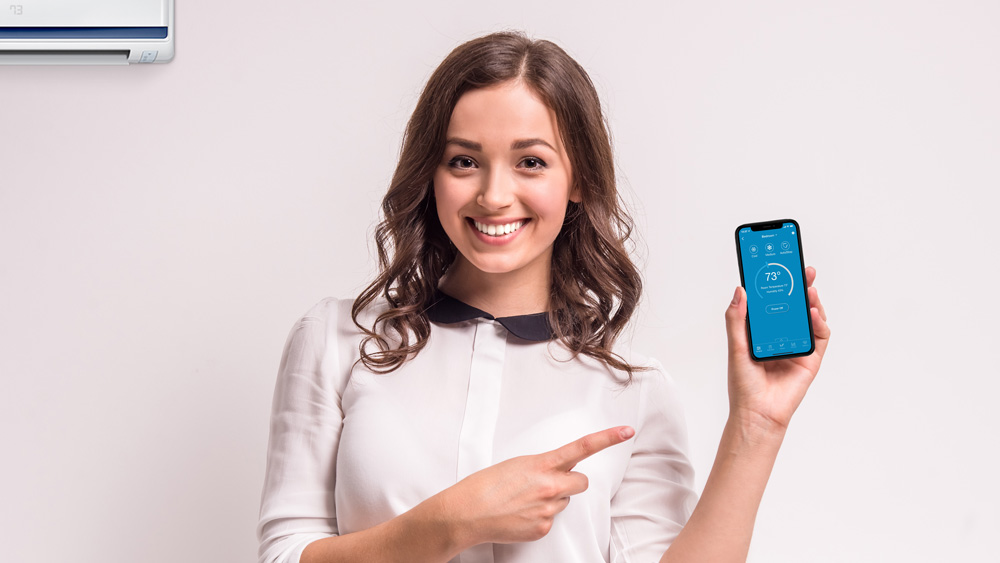 Let's accept this – smart technology has transformed our behavior. It all started with smartphones at the turn of the century. Ever since then, the word smart has gradually been associated with almost every type of technology we can lay our hands on i.e. smart microwaves, smart televisions, smart fans, smart bells, smart doors, smart cars, and the list goes on. One such innovation within the past decade has been the widespread introduction of smart technology within the HVAC industry, more specifically air conditioners. More and more companies, startups, and legacy organizations are heading towards this market and there is no sign of slowing down. As per Zion Market Research, the market of smart HVAC controls is projected to touch USD 28.3 billion by 2025, up from USD 8.3 billion in 2018.
But what exactly is smart air conditioning? Simply put, it is the incorporation of Wi-Fi capabilities within your air conditioner, which enables it to function through your smartphone. This is the most basic implementation of smart air conditioning. More advanced smart AC controllers and thermostats provide multiple enhanced functions, such as smart scheduling, location-based features, temperature/humidity triggers, and usage history tracking.
Switch to Smart Air Conditioning
Reasons Why Smart Air Conditioning is on the Rise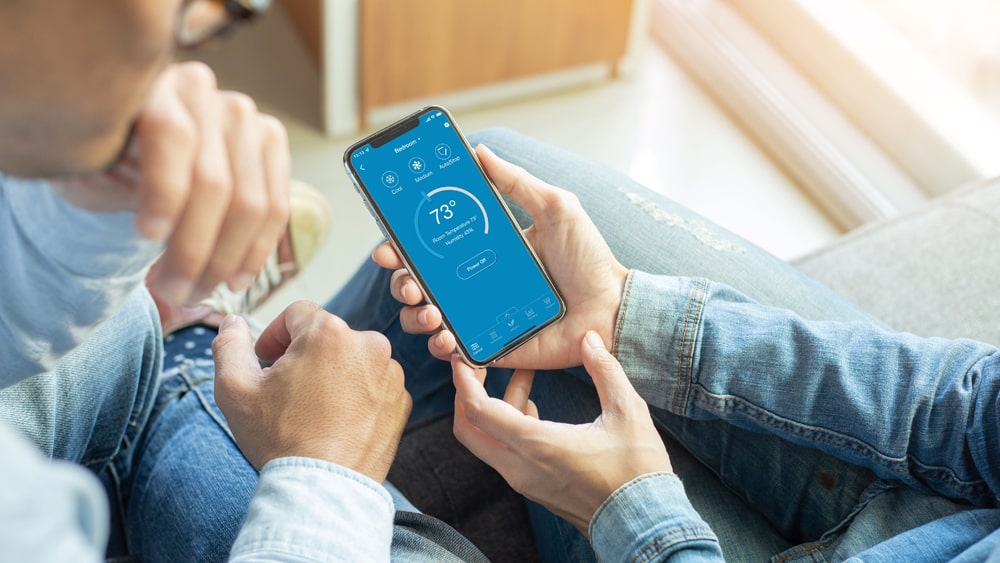 Smart air conditioners, thermostats, and controllers have brought immense value to the daily operations of any household. Comfort and convenience with efficient energy usage make it the must-have technology in the contemporary world.
1. Smart Air Conditioning Technology: AC Controllers and Thermostats
The presence of smart air conditioning technology such as smart ACs, smart AC controllers, and smart thermostats make our lives easier with automation! They provide advanced features and are highly cost-effective due to their energy-saving results and are thus gaining continuous popularity.
Devices such as a smart AC controller give brains to any simple ductless air conditioner at a fraction of the cost of a smart AC. They connect with the Wi-Fi allowing you to control your air conditioning from anywhere.
A major advantage of smart AC controllers, such as the Cielo Breez Plus, is the ability to work with already existing or old air conditioners. They do not need extensive installation or the latest AC models. Smart AC controllers can work with wall-mounted mini-splits, windows, portable, or any ductless AC that comes with an IR remote control. They in fact can also work with smart AC's to enhance their functionalities.
2. Easy Access
Smart air conditioning gives the user complete and total control over their air conditioners. Even if you are on the opposite side of the world, you can manage and operate your air conditioning through your smartphone!
Cielo Smart AC Controllers
Your best choice to make any mini-split, window,
or portable AC smart. Enhance your comfort and savings.
Shop Now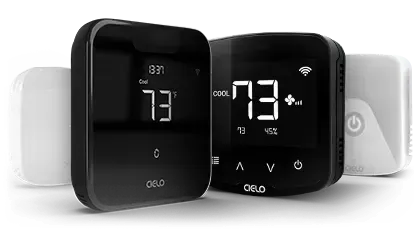 This is especially useful if you have pets at home or any unique goods which need to be temperature controlled. If you are at the office and have a pet at home, you can keep the temperature of the AC at a comfortable 76 degrees in the morning. As the day gets hotter, you can lower the temperature to 74 or 72 degrees from the confines of your office, only with the tap of a few buttons from your phone. This versatility is something that is a mainstay of smart air conditioners.
3. Improved Comfort
Automated modes, such as smart scheduling and intelligent temperature triggers add comfort that was unimaginable before the invention of this technology. These features eliminate the need to constantly fidget with the temperatures and operating modes throughout the day.
With modes such as Comfy, the smart air conditioner or controller can detect if the temperature is too hot or too cold according to the initial inputs the users have entered. The controller or air conditioner then automatically adjusts the temperature and operating modes so that the required temperature range is achieved, without any human input.
Moreover, smart scheduling lets you set specific timelines in which the AC performs specific tasks. From morning till noon, the AC can be in the fan mode at a comfortable 77 degrees. As the day gets hotter, it can be set to cool at 74 degrees from midday until evening. The temperature can then again be brought down to 76 degrees for the night, to get a good night sleep! All done automatically!
Other features such as geofencing automatically turn the AC off when you leave your home, and turn it on when you are nearby. All these features of smart air conditioning control increase your convenience and comfort.
4. Energy Saving
6% of all electricity produced in the United States is used for air conditioners, releasing 117 million metric tons of carbon dioxide in the air. With this in mind, energy-saving is paramount for homeowners. Energy bills can run as high as $400 in the summer season, taking up a sizeable chunk of monthly utility expenses. Other than the cost considerations, greenhouse gases and carbon emissions are other adverse effects of air conditioning. It is then in the benefit of everyone that air conditioning usage is reduced. This is where smart air conditioning comes in. They greatly help in saving energy without compromising on cooling.
A smart AC intelligently uses the operating modes and temperature points to achieve the desired environment without having the AC run at full power. Once the required temperature is achieved, the controller can lower the power consumption of the AC. Cielo Breez smart controllers can save up to 25% in energy usage.
Energy audits and usage history tracking also lets you keep an eye on your AC usage, and fine-tune your schedules to lower power consumption.
5. Smart Home Integration
Smart air conditioners and controllers can be coupled with other smart home devices such as Google Home and Amazon Alexa. This enables the air conditioners to be controlled using voice commands or in conjunction with other smart appliances. Routines can be integrated with the smart AC controllers so that the AC turns on when a certain activity is initiated. This is where smart air conditioning can be a part of a much broader smart ecosystem. This interconnectivity of appliances throughout the home is something that is the hallmark of convenience for a smart home system.
6. Maintenance Alerts
Air conditioners are appliances that need regular maintenance to keep them operating in top-notch condition. Smart air conditioners and controllers can let you know when the next maintenance cycle is due, and this prevents the situation from getting worse. An example is AC filter cleanup tracking. Smart ACs and controllers let you know when your AC filter is due for a replacement, and a notification can then pop up on your smartphone and let you know that it's time to change it.
Your Top Questions on Smart Air Conditioning Answered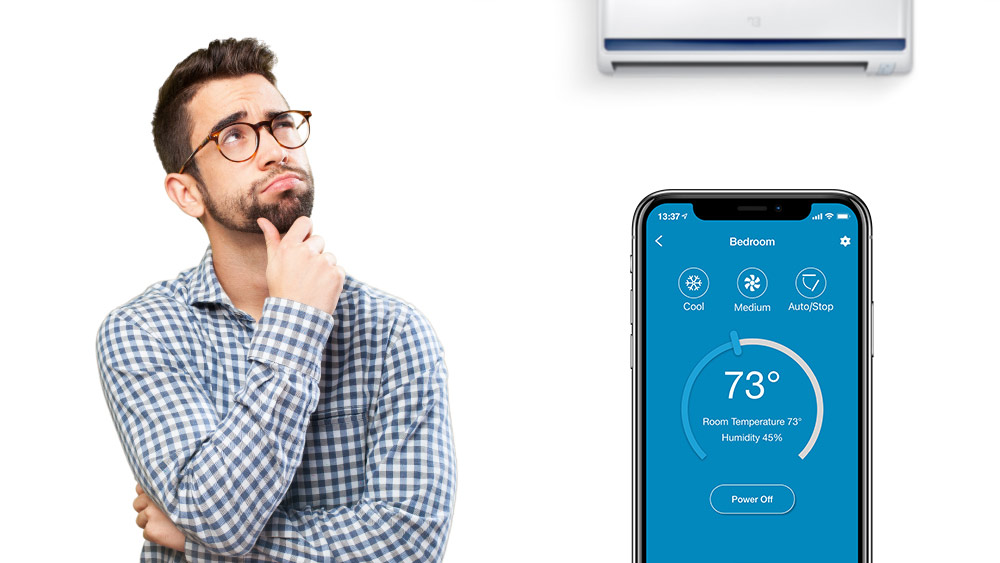 Let us go over some of the most commonly and frequently asked questions regarding smart air conditioning, and dispel some confusion:
How can I control my air conditioner with my Android phone?
Android phones, and indeed iOS phones can easily control any ductless air conditioner! All you need is a smart AC controller and a free mobile app. For Cielo Breez devices, you can download both the Cielo Home Android application or the iOS application to control your air conditioner.
Apart from controlling your temperature and turning your air conditioner on or off, you can also set intelligent triggers from your iOS or Android phone!
How can I control my AC with Wi-Fi?
Air conditioners can be controlled through Wi-Fi by using a smart AC controller if the AC does not already have a smart functionality. These smart controls for air conditioners easily connect to your AC using the Cielo Home mobile app. They allow you to control your AC by sending commands over Wi-Fi, either through your mobile phone or through desktop apps.
How can I control my air conditioner remotely?       
You can easily control your air conditioner from anywhere, anytime using your smartphone! Wherever you are in the globe, you can monitor your room's live temperature and set your air conditioning unit to operate accordingly.
All you need is to deploy a smart air conditioning control such as Cielo Breez Eco or Plus. These take 2 minutes to set up and provide remote access to your AC, using your smartphone.
How can I make my AC smarter?
Is your AC standard and old? While purchasing a new, intelligent air conditioner may seem like a huge investment, you can make any existing air conditioning unit smart with a smart air conditioning control! These are also sometimes known as mini-split thermostats because they work like a smart thermostat for your ductless AC!
The controller brings with it numerous features such as location-based controls, scheduling, temperature/humidity triggers, notifications, usage tracking, and more. All these features and much more help make your AC smart.
How can I control my air conditioner with Amazon Alexa?
For an air conditioner to be controlled by Amazon Alexa, it needs to be smart! And smart air conditioning functionalities can be easily achieved by a smart AC controller or smart AC. You'd next need to register your device in the Alexa database.
Once it's done then the setup is easy and breezy! Go to the Alexa app, search for your smart AC controller, and follow the on-screen instructions. For a more detailed guide, read more here.
How do I control my air conditioner with Google Home?
For the air conditioner to be controlled by Google Home, the smart AC or controller needs to be compatible with the Google Home ecosystem. If it is, the setup is very easy. Simply go to the Google Home app, and select the smart AC controller app from the list of available integrations and follow the steps. For a more detailed guide, read more from here.
Does smart air conditioning help me save energy?
Absolutely! Smart air conditioning does help you save energy, by reducing the amount of time your air conditioner runs for. This is due to the automated schedules and temperature ranges. The set temperature on the AC can also be raised by a few degrees due to smart algorithms, reducing the energy bills even further. Smart AC controllers like the Cielo Breez Plus can save up to 25% in energy bills. You get the advantage to constantly monitor your air conditioner usage and adjust your energy consumption accordingly.
How does smart air conditioning help me with maintenance?
Smart air conditioners can perform self-checks periodically, and whenever an error or a problem is encountered, a notification can be shown to the user. These problems can be minor things such as air filter replacement or low refrigerant, to major problems such as the AC fan not working or issues with the compressor.
How secure is smart air conditioning?
Smart air conditioning and introduction of IoT in the HVAC industry have given rise to these questions, but manufacturers ensure that the user data is strictly controlled and transmitted securely. Online cloud hosting services use the latest communication protocols ensuring personal privacy and confidentiality.
What is the difference between a smart AC controller and a smart air conditioner?
A smart air conditioner has Wi-Fi capabilities built-in by the manufacturer. You do not need any third-party add-ons. Smart AC controllers on the other hand are next-gen innovations used to make previously dumb air conditioners smart.
You can however also use a smart AC controller with an already smart AC for additional smart functionalities. If, for example, a smart air conditioning unit does not offer geofencing, a smart AC controller can be used instead!
Other than my smartphone, how else can I control my smart AC?
Most smart AC manufacturers and smart AC controller providers also have desktop apps, which can be used to control the AC from your web browsers. The Cielo World enterprise web app is ideal if you wish to operate the air conditioning in a large area.
You can also control your smart air conditioning with smart home assistants such as Google Home or Amazon Alexa.
How does a smart AC controller communicate with the AC?
Smart AC controllers communicate with the AC through infrared signals. There are transmitters within the controller, just like your normal AC remote, which transmits commands as needed to the AC.
Can I control multiple ACs at once?
Yes, you can! It can be a hassle to have to operate each and every air conditioner separately. Let's say you operate a motel or wish to cool only one portion of your house. You wouldn't want to spend valuable time turning each AC on or off manually!
Most smart AC controllers provide the option of zoning for smart air conditioning!. With just one tap you can turn multiple AC's on/off at once. Households or business corporations utilize this feature to manage multiple air conditioners at once through their smartphone.
The integration of technology in traditionally low-tech appliances is growing at a rapid pace. A growing middle class with increased income also bodes well for the ubiquitous use of smart technologies. Air conditioning is one of the industries that is rapidly embracing smart technology, through both integrated smart controls and also third-party add-ons. As mentioned before, the smart AC industry is expected to grow at around a quarter of its value in the next five years. This gives enormous room for more competitors to come into the field, and also for more innovative solutions to be introduced.
Smart air conditioners provide convenience, comfort, energy-saving, reduced emissions, and peace of mind to the consumers. They can be used in homes, schools, offices, vacation rentals, and many more instances. Smart air conditioning is the way to go forward, and the sooner everyone embraces the lifestyle, the quicker they can reap the benefits!