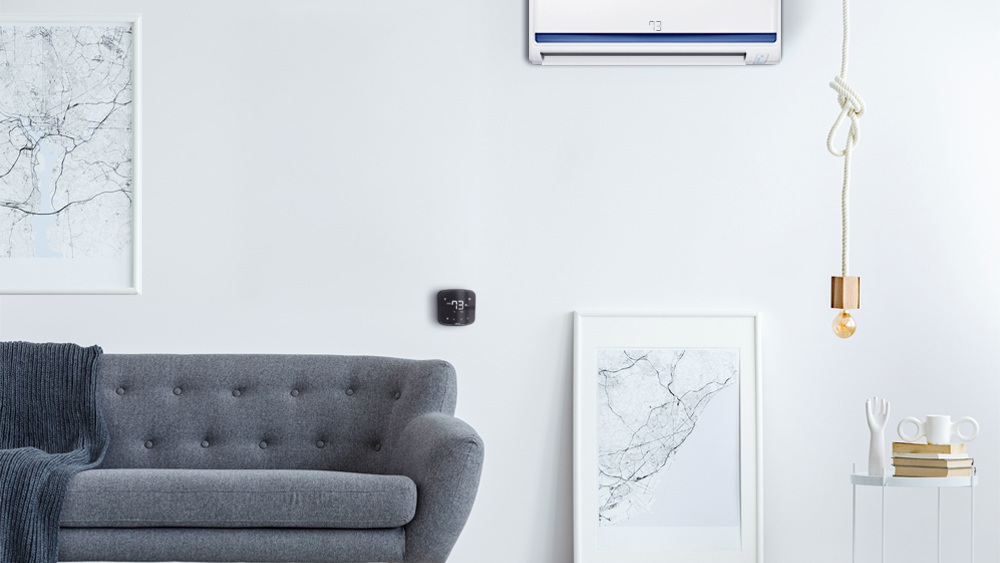 Mini-split air conditioners are a great option for many homes, providing efficient heating and cooling capabilities. But while various smart thermostats are available for operating central or ducted units, what about mini-split thermostats?  
Despite the efficient heating and cooling capabilities of mini-split heat pumps, there are times when you might desire more in terms of control and efficiency. Do you have to make do with your remote control? Can you set schedules and control a mini-split from your phone? Can you maintain your desired room temperature without cranking the AC?
Using Cielo mini-split thermostats or smart AC controllers, you can transform any dumb mini-split air conditioner into a much smarter unit in just minutes.
In addition, with thermostats for mini-splits, you get access to an array of handy features, apart from controlling your air conditioner using your phone. Multiple smart features are part of the deal, including location-based controls, weekly scheduling, intelligent temperature triggers, and even voice-based controls connected with Alexa or Google Assistant. All contribute towards energy savings, and you can also view how much energy your unit consumes over time to keep your bills in check!
Read on to learn about mini-split air conditioners and the features & benefits of mini-split thermostats.
What are Mini-Split Air Conditioners?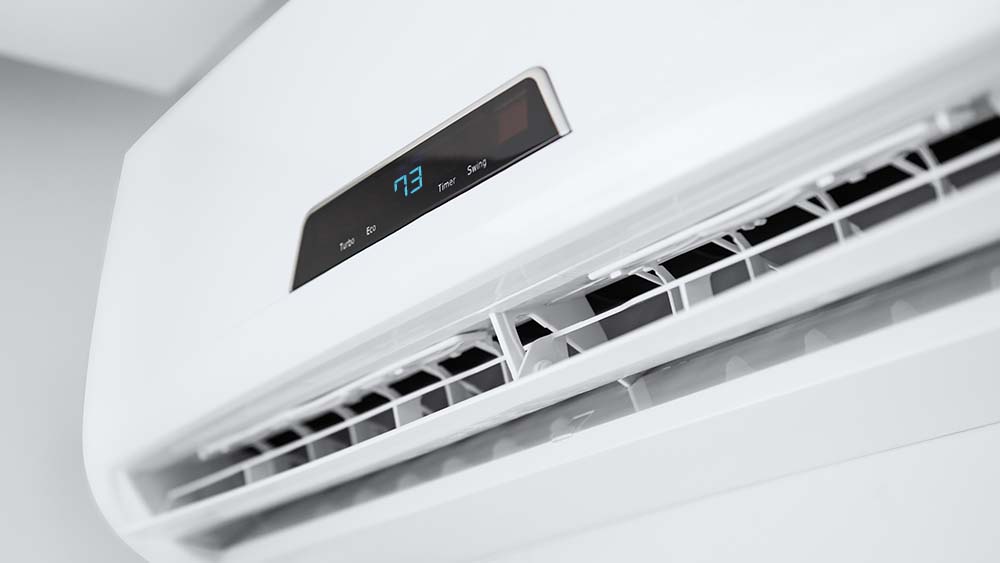 Mini-split air conditioners, as the name suggests, consist of two separate units, usually called an indoor unit and an outdoor unit. The outdoor unit houses the compressor and condenser fans, while the indoor unit has an air-handling unit responsible for introducing conditioned air into the room.
There are different types of mini-splits, including but not limited to wall-mounted mini-splits, cassette-type mini-splits, and free-standing mini-splits. As long as they come with an IR remote control, you can connect them with a smart mini-split thermostat in minutes!
Advantages of Mini-Split Air Conditioners
Mini-split heat pumps provide both heating and cooling capabilities, keeping your home comfortable all year round.
Inverter technology incorporated in ductless systems enables the compressor to speed up or slow down as needed, resulting in decreased energy usage.
As mini-splits do not require any ductwork, you can easily add a unit to any place without ducts, be it a garage or a new room. Plus, it's ideal when renovating a space with minimal room for ducts.
Multi-zoning can be achieved using mini-splits. You can alter each room's temperature as needed without changing the entire home's temperature. This functionality may be provided with ducted systems, but it can get expensive.
Due to their higher efficiencies, an increasing number of electric utility companies are now providing rebates and financial incentives to homeowners to install mini-splits.
Better indoor air quality can be obtained using ductless systems. The absence of ducts removes any potential for dust and contaminants to grow. Filters of a mini-split can be easily removed and cleaned. Newer models even have built-in air purifying technology.
Cielo Smart AC Controllers
Your best choice to make any mini-split, window,
or portable AC smart. Enhance your comfort and savings.
Shop Now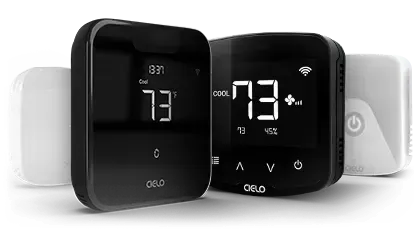 How Efficient Are Mini-Split Units?
Ductless mini-splits provide enhanced efficiency as compared to their ducted counterparts. The SEER ratings can be as high as 30 for some systems. Loss of air-conditioned air due to ductwork can lead to 30% more energy consumption. Due to the absence of ducts, mini splits are more efficient than traditional ducted systems. Ductless units deliver air straight from the unit to the focused area. This minimizes the loss of cool/hot air and thus results in increased efficiency.
Another way ductless mini-splits provide efficient heating/cooling is through zoning capability. Each room in your home gets individualized air conditioning, eliminating energy wastage and hot/cold spots. You can also opt for multiple mini-splits in which 2 or more indoor units are connected to one outdoor unit. Each indoor unit has its own controls, so you only need to condition each space when occupied. This can also help settle thermostat wars in your home.
Each unit will be connected to a separate mini-split thermostat; you can control them all using a single app on your phone. In addition, you can set different schedules and commands for each based on your requirements.
What is a Mini-Split Smart Thermostat?
Currently, most mini-splits come with a simple hand-held infrared remote control, just like the ones that come with your TV. These remotes can make simple on/off commands, change operating modes, and alter fan speeds. Some may have a few more options, such as turbo mode.
What these standard remotes lack are the smart capabilities that are expected in a tech-savvy world.
What if you want to control your air conditioning from a far-away location? Such as from your office or your holiday destination? You may have pets at home for whom you may like to monitor the temperature at all times. You may be interested in maintaining garage temperature during extreme winter to prevent pipes from freezing. What if you want to keep track of your usage statistics? Or want to set intelligent triggers for temperature and humidity?
A mini-split smart thermostat is the answer!
This smart device allows you to control your air conditioning using your smartphone. You can perform a one-time operation and let the thermostat take care of your air conditioning throughout the day or even the entire week!
Related: Wi-Fi Thermostats – Are They Worth The Investment?
How do Mini-Split Smart Thermostats Work?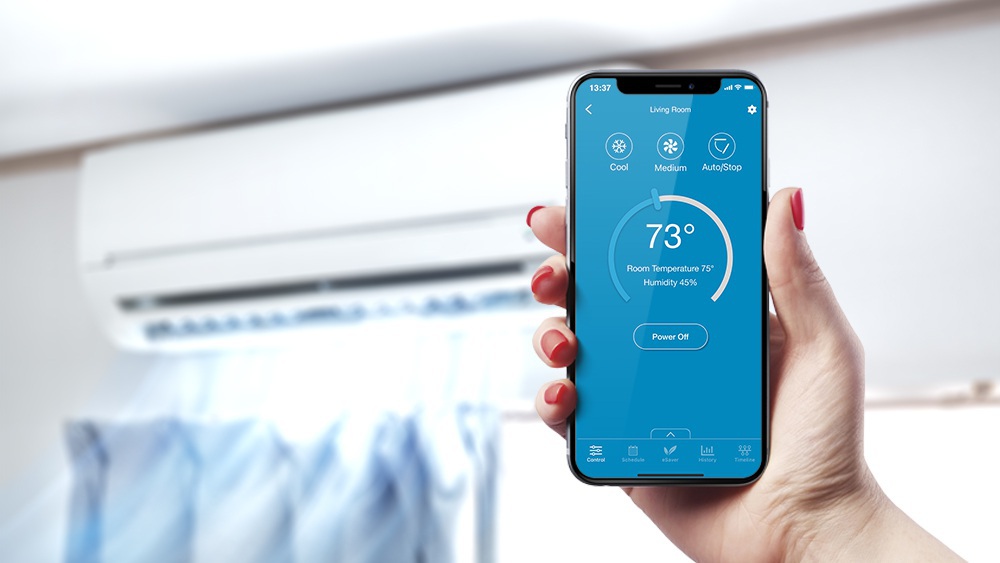 Ductless mini-split thermostats are a modern tech marvel, allowing indoor temperatures to be adjusted easily without any physical connection to the air conditioner. Instead, the two communicate via infrared rays like your TV remote.
Setup is simple and easy; you just have to plug your smart device into the electric outlet. Then install the mini-split thermostat app on your smartphone, connect it with the smart AC controller, and you are all set to explore its amazing features!
Behind the scenes, in a matter of milliseconds, your commands are sent to the thermostat and relayed straight to your AC unit through cloud networks like Microsoft Azure or Amazon AWS – giving you seamless mini-split Wi-Fi control!
With a thermostat for mini-splits, you can customize your air conditioning according to the time of day. For instance, based on the time of day, whether you're just waking up in the morning, coming home from work, or going to bed at night, your temperature will be automatically adjusted just the way you want it – without even having to press the button!
Main Features of Mini-Split Smart Thermostats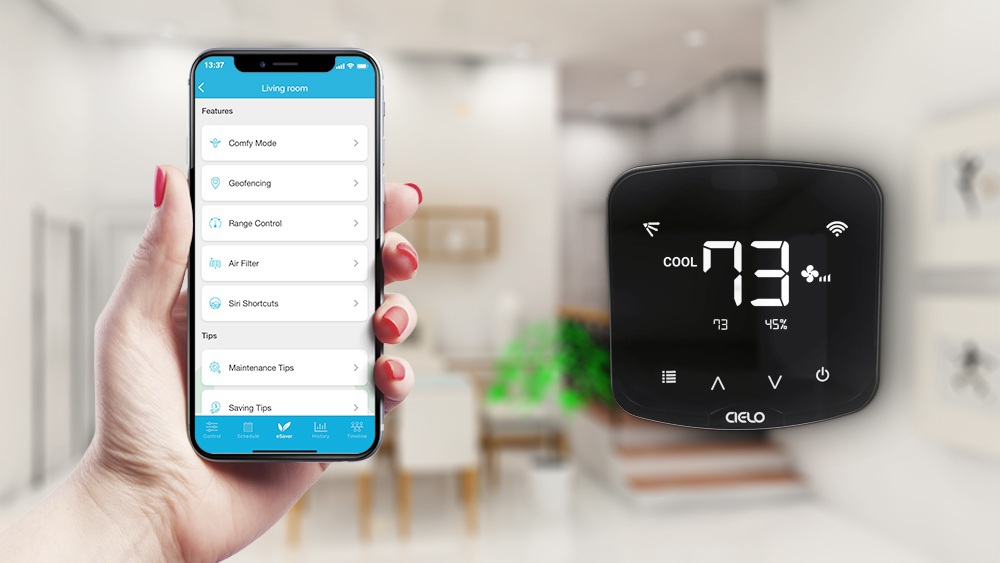 Control From Anywhere, Anytime
Worried about leaving your pets at home while you take a long-distance trip?
Well, now, with a mini-split thermostat and an internet connection, you can monitor and easily adjust multiple AC settings no matter where you are using your phone or laptop.
In-Built Temperature & Humidity Sensors
Mini-split smart thermostats contain built-in humidity and temperature sensors. These can sense your live room temperature or humidity level and analyze to decide if your cooling should be switched on/off depending on your set preference. This feature is critical to maintaining a comfortable room environment.
Display Screen and Device Buttons
Not all mini-split thermostats come with display screens, but some, like Cielo Breez Plus or Breez Max, have an LED screen featuring an intuitive touch interface.
You can view your live room temperature and humidity on the device, along with which AC settings are active. Moreover, you can also adjust the temperature settings, switch between the modes and set schedules, and more using the on-display controls.
Some mini-split Wi-Fi thermostats have an on/off button, while others can be controlled using an app.
Daily and Weekly Scheduling for Your Cooling or Heating
Smart mini-split thermostats can also program schedules. You can set timetables for your AC to operate at different times of the day or week.
Is there an exact time that you go to bed? Have your bedroom cooled in time every day and save energy by preventing your AC from running unnecessarily!
Some options you can schedule include the temperature setting, fan speed, and AC's operation mode.
Intelligent Air Conditioner Modes
Some mini-split smart AC controllers have an advanced feature known as Comfy Mode. Using this, you can set your preferred temperature/humidity range. The thermostat will then automatically make changes if the set temperature/humidity levels deviate from your preset value.
Modes such as this ensure ultimate comfort with the ideal room temperature and keep your mini-split energy usage at a minimum. You may even couple this mode with weekly scheduling!
Location-Based Controls
The geofencing feature enables you to command your AC to shut off automatically when traveling a certain distance from your home. Similarly, your mini-split can turn on when you are near your home.
Monitor Air Filter Status
A dirty air filter will result in inefficient airflow, poor indoor air quality, and higher power usage. A smart thermostat can monitor live AC filter status and give a timely reminder to clean the air filter.
This is imperative if people within your household suffer from allergies or other airborne pathogens. Moreover, it helps keep your AC maintenance in check!
Usage History
Smart mini-split thermostats can track usage history, allowing users to monitor their saving goals. You can obtain daily, weekly, or even monthly usage, which can help you reduce energy consumption.
Zoning Features
Another key feature that a mini-split smart thermostat offers is the option to group multiple devices into zones and then manage them from the web or mobile app. This is an invaluable feature for bigger homes and hotels.
Voice Controls
Voice-control compatibility is a must-have within a smart home. For example, with a mini-split smart thermostat, you can send voice commands to Alexa, Google Assistant, SmartThings, IFTTT, or Siri shortcuts for maximum convenience.
Related: 13 Tips to Make the Most of Your Smart Air Conditioner Controller
Energy Savings with Mini-Split Smart Thermostats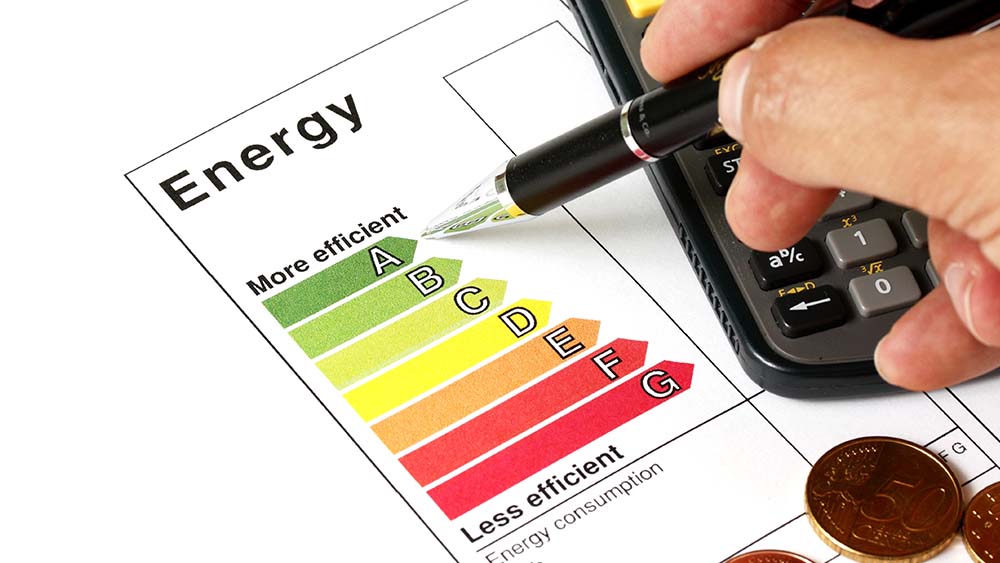 Mini-split Wi-Fi thermostat offers multiple advantages, and the major one is energy savings!
Once you automate your air conditioning, your AC will turn off when you leave your house. This means you will never 'forget' to turn your AC off. Similarly, you can turn your AC off when the desired temperature has reached. This means that your unit does not have to run unnecessarily at all times.
These devices also allow you to track how much energy your AC is using. By understanding precise energy consumption patterns, you can set goals to lower your electricity bill. You can also utilize energy-efficient thermostat settings for maximum savings.
According to the U.S. Department of Energy, you can save, on average, at least 10% annually with a programmable control versus a traditional AC remote control. But remember, this is the least; some smart AC controllers offer up to 25% savings!
Lower energy usage translates into savings. In other words, your smart mini-split thermostat pays for itself and also helps to save further in a short amount of time. This also greatly helps you to lower your carbon footprint and take action against climate change.
Related: Do Smart Thermostats Save Money? – Your Thermostat Energy Saving Guide
Mini-Split Thermostat Location
When setting up your device, it's important to select the optimal mini-split thermostat location. This ensures that your mini-split thermostat can successfully send commands to your air conditioner, allowing for accurate temperature readings.
Points to consider:
Line of sight
Distance to mini-split air conditioner
Interior wall
Avoid direct sunlight or drafts
Make sure to install your mini-split thermostat in the line of sight of your mini-split air conditioner or heat pump. If there is a wall or any other blockage in between, infrared signals will not be able to reach your AC, and it won't be able to process the command.
The best location for your mini-split thermostat is 2-4 meters away from the unit, on an interior wall. Exterior walls can work, but they will likely get heated/cooled depending on the outdoor environment, affecting the temperature reading.
Avoid placing your thermostat in an area where sunlight falls directly, such as near windows. Also, avoid drafty locations, which may result in inconsistent and unreliable reading. Moreover, avoid areas where the device may be exposed to excessive heat, such as near a stove!
Should You Get a Mini-Split Thermostat?
The answer to this is invariably yes! Aside from the novelty factor and convenience, the energy savings the mini-split Wi-Fi thermostat offers make this an easy decision.
Consider a situation where you work all day, but wish to return home to a perfect temperature. Previously, you would have had to leave the air conditioner on throughout the day to ensure that your home was fresh and relaxed by the time you got home. With a mini-split smart thermostat, now the air conditioner is off when no one is at home and automatically turns on 10 minutes before you arrive, providing a relaxing home environment.
The time is now to embrace smartness!