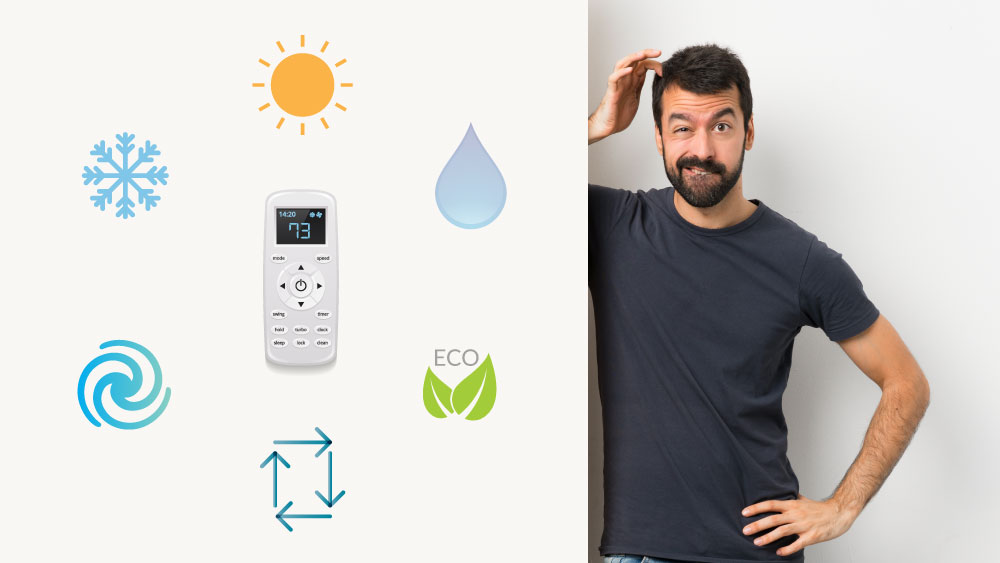 With numerous advancements in air conditioner technologies, you might be forgiven if you get confused by all the complex names and symbols on your air conditioner remote control. Unless you are very particular about your home environment, or you have read the manual, chances are you will only be aware of the heating and cooling modes of your air conditioner.
Currently air conditioner remote controls are equipped with a number of features for your convenience. Apart from the standard cool modes, fan speeds, vane control etc., there are many more symbols that can be extremely confusing! Yet, learning about them can greatly help in maintaining the perfect home temperature.
In this blog post, we will run over a few of the AC modes that are often found on an AC remote, along with other modern features that your unit might possess. Plus some tips on making your AC smart!
Bear in mind, that there are literally hundreds of AC manufacturers in the world, with dozens of remotes offered by every manufacturer. Each air conditioner remote control comes with its own technical jargon and patented names. Even though most of them use common functions, the exact labeling may vary. Hence, it wouldn't be possible to cover each and every function offered by each manufacturer, or else this blog would turn into a thesis, and no one wants to read that!
With this little disclaimer, let's dive right into it.
AC Modes on Your Remote Control
These are some common or standard modes that nearly all air conditioner manufacturers offer. This is by no means the final word though, AC modes greatly depend on the air conditioning firm. Here are some common ones that you must know and utilize to your benefit.
Cool Mode
This is the setting most of us associate with air conditioners. In this mode, your air conditioner turns on the compressor and pushes cold air into the room. When the internal temperature sensor within the AC senses that the desired temperature has been reached, the compressor will switch off and only the fan will run.
This is the most energy-intensive mode on your air conditioner remote control. The lower the temperature is set, the higher the amount of time for which the compressor will run.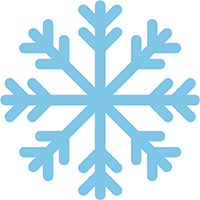 Fan Mode
When the fan mode is activated, the internal fan within the AC circulates air within a room. This is carried out without any cooling, much like a normal fan.
The major advantage of using the fan mode in ACs is the obvious energy saving due to the absence of the compressor function. Unfortunately it does not offer any cold air but rather circulates or blows air.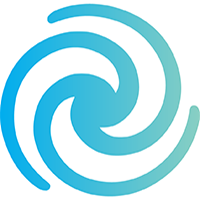 Dry Mode
If you're living in a humid area, you will definitely be familiar with the dry mode setting in your AC. When it is a particularly humid day, but not too hot, and you have sweat rolling down your forehead, this is your go-to mode.
Cielo Smart AC Controllers
Your best choice to make any mini-split, window,
or portable AC smart. Enhance your comfort and savings.
Shop Now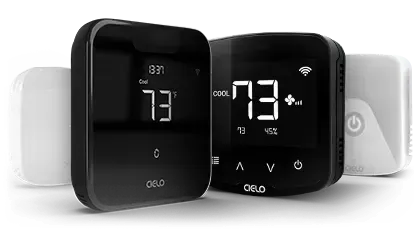 Dry mode removes the extra humidity in your room by cycling the compressor on and off for short periods of time. In the meanwhile, the fan is constantly running at a low speed. The compressor run-time is adjusted so that when the internal humidity sensor of the AC detects a low enough humidity level, it is turned off.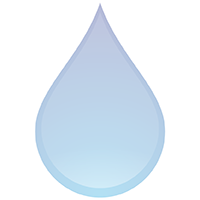 Heat Mode
In this mode, the airflow within the air conditioning unit is reversed. This means that hot air is introduced into the room, instead of being blown out to the environment. Cold air on the other hand is ejected outside.
The warm air is provided by the compressor, which is already in operation. Instead of cool air, the compressor now supplies warm air making it a perfect setting for the colder months.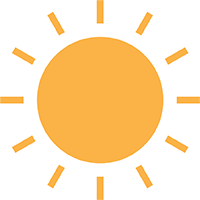 Auto Mode
Similar to the cool mode, the auto mode available on your air conditioner remote control serves to achieve a specified temperature set point and maintain it. The AC automatically adjusts the compressor and fan speed in relation to the current room temperature.
Once the desired temperature has been achieved, the compressor is turned off, and the fan speed is also automatically adjusted by the AC. Once the temperature again changes from the setpoint, the compressor is again turned on and the fan is adjusted so that the desired temperature is achieved immediately.
Sometimes, even the fan is turned off after the desired temperature is reached, saving even more energy.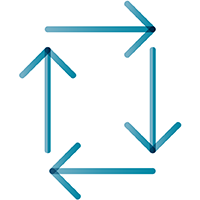 Eco Mode
This is the mode we all love! Almost every modern air conditioner remote control has it now. It works by efficiently using your compressor and fan so that minimal energy is consumed to achieve the desired temperature.
Different manufacturers use different techniques to bring this about. Some set the desired temperature a few degrees above higher than your selection. When the AC achieves this temperature, the compressor is turned off but the fan speed is maintained. This serves to achieve and maintain the desired temperature, but without extra energy usage.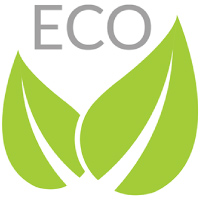 Turbo Mode
The exact opposite of eco mode, turbo mode goes all out in achieving the desired temperature in the shortest time possible. Maximum power is used in this mode, with the compressor and fan operating at full tilt. This mode is also known as jet, powerful, fast, or high power.
As you may guess, energy usage is very high in this setting, and it would be wise to use it only for a short period of time. This can be ideal when it is extremely hot or extremely cold and once the temperature settles down you can turn it off.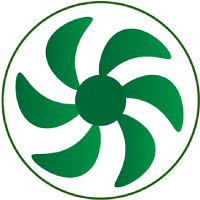 Freeze Protection (FP) Mode
This mode is also known as Min. Heat, 8C, or Low Heat (LH). In this operating mode, the air conditioner runs at minimum power, on heat mode to blow warm air in a room. It maintains a temperature of around 46 F (depending on the AC manufacturer) to prevent freezing points.
Such a feature is well-suited for homes in extremely cold climates, and where the indoor space is not occupied for longer periods. Upon activation, the freeze protection mode will prevent the interior temperature of the room from coming close to a freezing point. Air conditioners run at the lowest capacity, ensuring minimum use of electricity.
This mode helps prevent damage to sensitive electrical equipment and water pipes during extreme cold. The above freezing ambient temperature would prevent that. This makes it ideal for applications in garages or outhouses/sheds, where occupancy is minimal but above freezing, temperature is essential.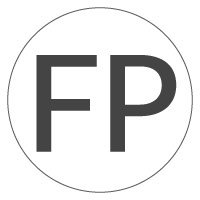 Self-Clean Mode
With continuous use, dirt can accumulate inside your air conditioning unit, resulting in the transmission of harmful microorganisms in the air.
Self-cleaning or auto clean mode prevents the growth of airborne bacteria by removing moisture inside your heating/cooling unit. This mode is a savior in high humidity climates. It cleans and dries your evaporator keeping your AC fresh for the next operation.
The self-clean mode in your HVAC unit gives you the satisfaction that the air you breathe in is clean.   
The self-clean function can be used in Cool and Dry modes and in some models Heat too. Once the mode is activated the AC will run for around 30 minutes after which it will automatically turn off. The timing can vary per manufacturer and you can refer to your unit's user manual for the exact duration.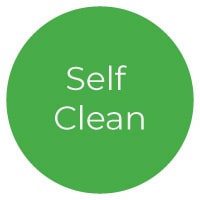 Follow-Me Mode
With new HVAC technology, you don't have to deal with inconsistent room temperature or warm air spots. With the Follow-Me mode, in air conditioners such as Midea, your AC remote acts as a thermostat.
Normally a temperature sensor is located in your AC, but with a Follow-Me remote, there is also a built-in thermostat in your AC's remote control. Once the Follow-Me mode is activated, the air conditioning unit reads the temperature of the area where the remote is located and cools/heats accordingly.
This is great as the room temperature can greatly vary from one end of the room to another. By correctly sensing the temperature of the area you want to cool/heat, you can better reach your desired temperature level. The AC will cool/heat according to the temperature around your AC's remote control.
Cielo Breez Plus, a smart AC controller, supports this feature. Once you activate the Follow-Me mode using the Cielo Home app, your smart controller acts as the thermostat.
In some air conditioners, this mode has a slightly different function. Here, you don't have to wait until the entire room cools/heats down to feel comfortable. The Follow-Me AC mode directs the airflow towards you. This mode is also referred to as i-Feel in some air conditioner models.
In these air conditioners, a built-in dual sensor technology senses the motion and then changes the airflow direction accordingly. The direction is updated after every 3 minutes. To activate this feature, use your remote and press the Follow-Me button, pointing at your unit.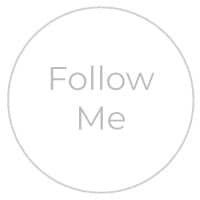 Functions Available on Your Air Conditioner Remote Control
Apart from various AC modes there are multiple settings that you can control using an air conditioner remote control. These help to achieve the perfect temperature and bring about convenience.
AC Fan Speed
The air conditioner fan is the actual component that throws out the cool or hot air into your room. Adjusting this setting allows you to control the speed with which you can control the cooling or heating of your room.
Most AC's have 4 settings for the fan: low, medium, high, and auto. The auto fan setting automatically regulates the fan speed as per the current temperature and the desired temperature to be achieved. It is not necessary for the fan mode in an AC to be turned on to use this function.
AC Timer Setting
Most modern AC's have timers built in. They allow you to set the run time of an AC, thus saving energy. A particularly useful case can be during your sleep, where you can set the timer for a few hours, and when you are deep asleep, the AC will automatically turn off.
Some timers work based upon the 24-hour clock, where you can set the time an AC has to be on or off. Others allow you to set a specific number of hours for which the AC will be operational.
Ionizer Function
Who doesn't want clean air? The ionizer function is not really ubiquitous in air conditioner remote controls, but still a fairly useful one. When activated, a high voltage electronic mesh is activated within the indoor unit, which serves to ionize the air with negative ions. Particles of dust and other contaminants are attracted to these ions, and this ensures their removal from the air.
Swing Control
You can control the position of the swing louver with this mode. There are different angles to choose from to adjust the blow of air in the exact direction that you like. Previous AC models only allowed for vertical swing controls but now you are also able to control the swing vertically.
There is also an auto-swing function, which continuously varies the angle of your AC's vanes. This continuously blows the air in different directions.
Quiet Mode
This AC setting can also be termed as the silent setting. When set, the unit functions as quietly as possible. This is achieved by reducing the fan speed to the bare minimum.
Types of Air Conditioner Remote Controls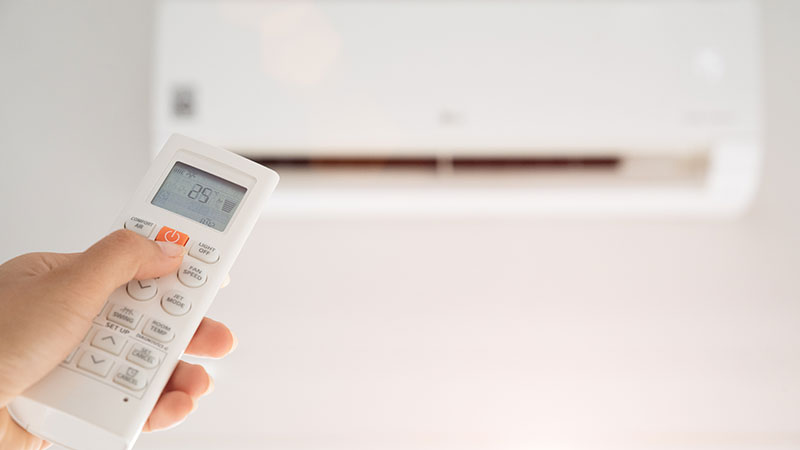 There are a number of air conditioner remote controls that are present in the market. While you may be aware of the standard ones, universal and smart AC remotes can be extremely useful!
Standard AC Remotes
This is a basic AC remote that you receive with your air conditioner. However, some companies are also manufacturing more advanced controls nowadays.
A standard air conditioner remote control may have a display and number of buttons through which you can switch the AC modes and functions. The display type may vary from remote to remote. Currently, there are three configurations on offer:
Full state display: This is the most popular type of remote on the market currently. Such a display has all the information available on the screen. Temperature, fan modes, operating modes, swing positions, timers, and any other auxiliary features your AC might boast.
Temperature only display: Such a display only shows the current room temperature. These kinds of remotes are now going out of favor, and would only be found on older models. It's more convenient to view each and every setting right on the display.
No display: Most commonly found in older establishments and hotels, this type of air conditioner remote control has no display, and often the only information you can see is the current temperature on the AC unit itself.
Universal AC Remotes
Lost your AC remote? Can't control your AC? Do not worry, since universal AC remote controls are just the thing for you. These remotes work with almost every AC brand you can think of. This is possible due to the unique electronic signature of every AC brand.
An important consideration here is that, it is not necessary that all the modes that are present on a universal air conditioner remote control will work with your AC. Some AC models may not have the capability to run every mode that may be present on your universal remote.
Smart AC Remote Controls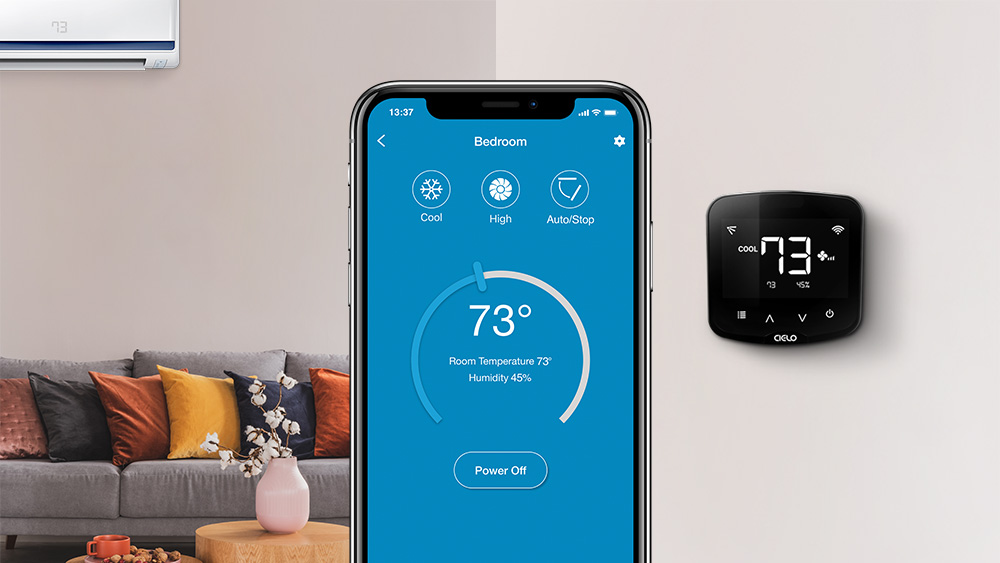 This era is about smart technologies and more AC manufacturers are now launching smart air conditioners. These units offer Wi-Fi compatibility within their appliances. While these units are on the pricey side anyone can purchase a smart AC remote control which is universal and equips any air conditioner with smart functionalities.
Contrary to universal remotes, even if an AC manufacturer does not offer smart features, these smart remotes can add those features to your unit. Using a smart AC remote control you can control your AC using your smartphone, no matter where you are, as long as you have Wi-Fi. Moreover, depending upon the manufacturer and model, smart AC controls can come with additional features such as weekly scheduling or location-based controls among many others.
The remotes for such AC's usually do not have additional functionalities within them. To unlock the full set of functions, you would have to download the manufacturer's mobile application which is mostly free of charge. Smart air conditioner remote controls are great if you require extra options, more functionalities, or Wi-Fi control.  Cielo's Smart AC controllers are compatible with 2000+ AC models.
Possible Reasons Your AC Remote Is Not Working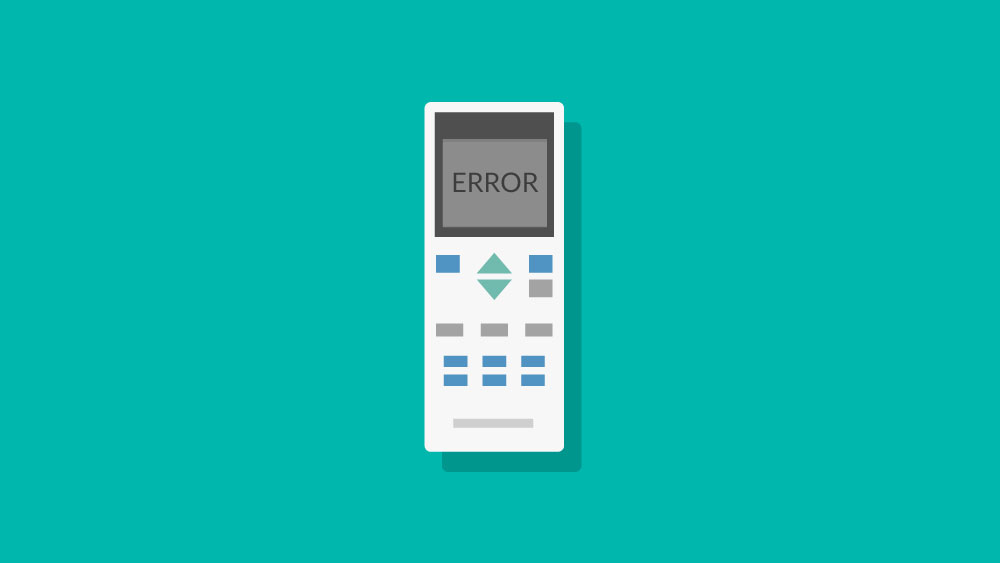 This is the single most common complaint of air conditioner owners, using an AC remote control. The reason for your AC remote not working can vary, but we'll go over some of the common ones:
Batteries not inserted properly
When inserting new batteries, make sure to double check the polarity of the batteries. The negative terminal of the battery should be attached to the negative terminal in the remote and the same with the positive. The batteries should be in place and should not be loose. This may seem obvious, but it is a very common reason that users often miss!  
Infrared transmitter is not working
Your air conditioner remote controls work by transmitting an IR beam towards the AC. If your remote is old or has had a few drops of liquid fall on it, chances are the IR transmitter is not working properly. You can easily diagnose this problem at home. Simply point your mobile phone camera at the transmitter and give a command. The transmitter gives out a short blink then the transmitter is working fine. If not, then you may need to have the remote repaired, or may just need to replace it.
Error Codes in Remote Control
If you receive an error code on the display of your remote, consult your AC's owner's manual. It would have a listing of all the error codes you may encounter along with troubleshooting instructions. The AC manufacturers website or support helpline may be of assistance in case the manual has been misplaced.
What to do if Your AC Remote is Lost or Broken?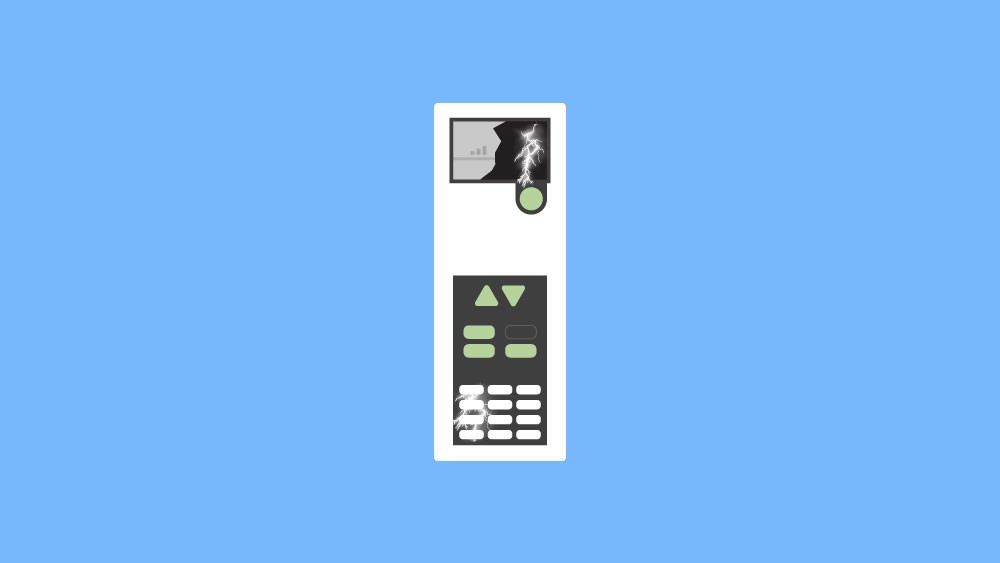 If you need to replace a lost or unfixable AC remote control you easily have a few options to control your air conditioner without any problems. As a first step you can contact your air conditioner manufacturer for a replacement.
An easier option would be to make a small investment in a smart air conditioner control. You simply need to provide Wi-Fi access to the smart controller, input your AC's model number and the device will automatically make itself compatible. Moreover, it will make your air conditioner smart!
Smart controllers let you control your AC from anywhere in the world and provide additional features such as geofencing, scheduling, temperature, and humidity triggers, energy-saving options, and more. They are sure to be a welcome addition to your home comfort needs.