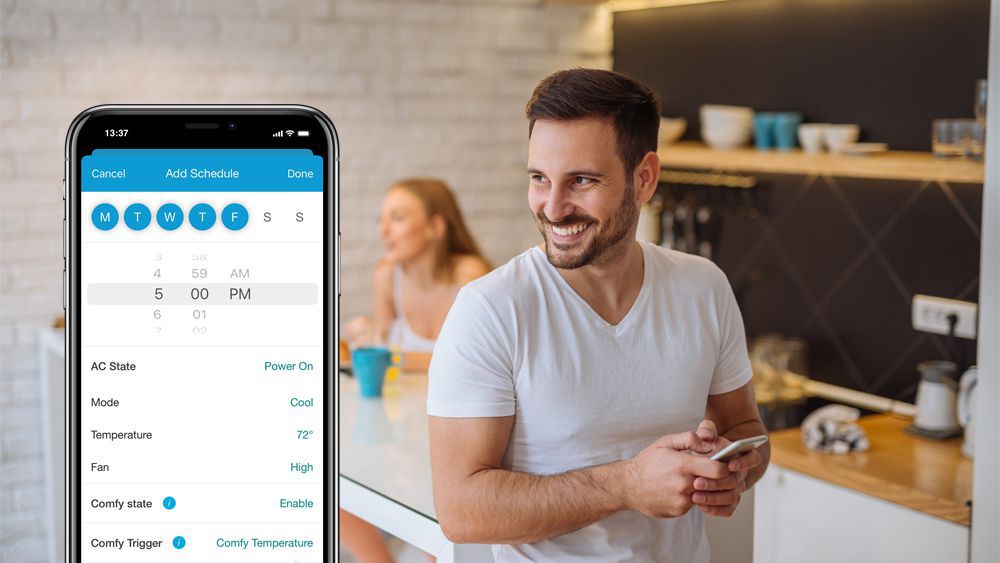 In the sweltering summer months, air conditioning is a life-saver. It helps us to keep our environment cool and allows us to focus on our day-to-day activities. Moreover, an air conditioner also helps regulate room temperature and humidity levels to give us the ideal indoor air quality.
Of course, we are familiar with AC modes, fan speed functions, and swing, but what is an air conditioner timer?
Many households have mini-splits or window air conditioners to combat the heat during the summer season. Irrespective of the air conditioner models, most air conditioners have a few things in common on their remote controls.
Operating modes such as cool, heat, dry, swing modes, fan speeds, etc., are the most popular features. One other extremely important feature is the air conditioner timer function.
Air conditioner timers can help control your air conditioner operating times and help save energy! This function keeps a check on the amount of time an air conditioner runs.
In case you are looking for something more advanced and user-friendly than the basic AC timer function, you can always use smart scheduling via the Cielo Breez line of smart AC controllers. These controllers not only give you the timer function for your air conditioner but also allow you to be in control of your air conditioning from anywhere in the world, through a mobile app and WiFi connectivity.
How to Set up Your Air Conditioner Timer?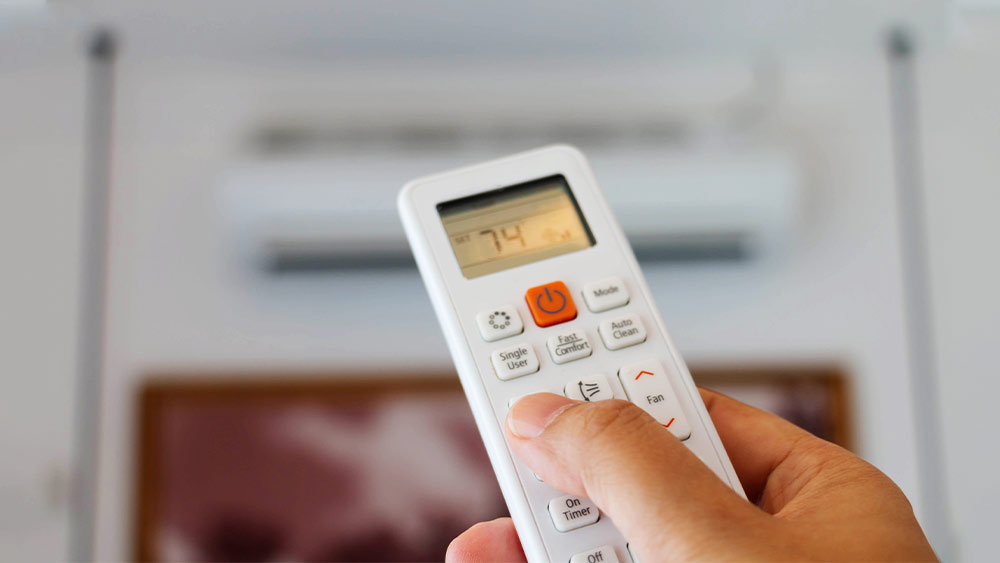 Let's first look at the old or, as we believe, complicated ways of setting up timers on your air conditioner:
1.The most basic way is to use the AC timer function on your air conditioner's remote control. But this is only possible if your air conditioner has this functionality included from the start. These simple timers only allow you to set the total time for which the air conditioner would run. For example, once you have turned on your air conditioner, you can set the timer so that the air conditioner runs for 1 hour or 2 hours or whatever the amount of time you want it to run for.
First, turn on your air conditioner. Next, locate the timer button on your remote and use the up and down arrows to select the time period of your choice. Next, hit the set button, and you're all set. This can be quite complicated, and you may need to refer to your air conditioner's manual for details.
2. A second way is to get yourself a timer switch. It functions as a timed-power supply. You connect the power cord of your air conditioner to the timer switch, which then plugs into the wall. Time can be set on the switch to turn the air conditioner on or off after the required time has elapsed. These types of switches are very basic and easy to use, with a shallow learning curve. But the downside is the limited functionality, and more often than not, these switches develop a fault. This can lead to further air conditioner problems down the line.
3. The third and most sensible way is to get yourself a smart AC controller.
Setting Timer Using Cielo Breez Smart AC Controllers
While you can set the timer on your air conditioner using a remote but it can be baffling. You'd need to look in the manual, read instructions and remember the steps involved. On the other hand, if you have connected your AC with a smart AC controller like Cielo Breez, you can do it in just two taps.
Cielo Smart AC Controllers
Your best choice to make any mini-split, window,
or portable AC smart. Enhance your comfort and savings.
Shop Now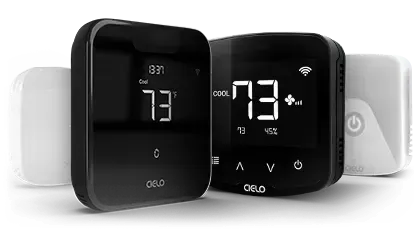 You can effortlessly set any timer from anywhere you want using your smartphone.
Just open the Cielo Home app, tap on the timer icon, and set the period using the dial. Yes, it's that easy! Refer to this step-by-step guide and make the most out of this timer function.
Now, you won't have to come to a hot home after a hectic day at work. Just set the timer and turn your AC on for the time it takes to cool your home.
You know what? There's more you can do with a smart AC controller! Let's learn about setting weekly schedules below.
Schedule Your Cooling With Smart AC Controllers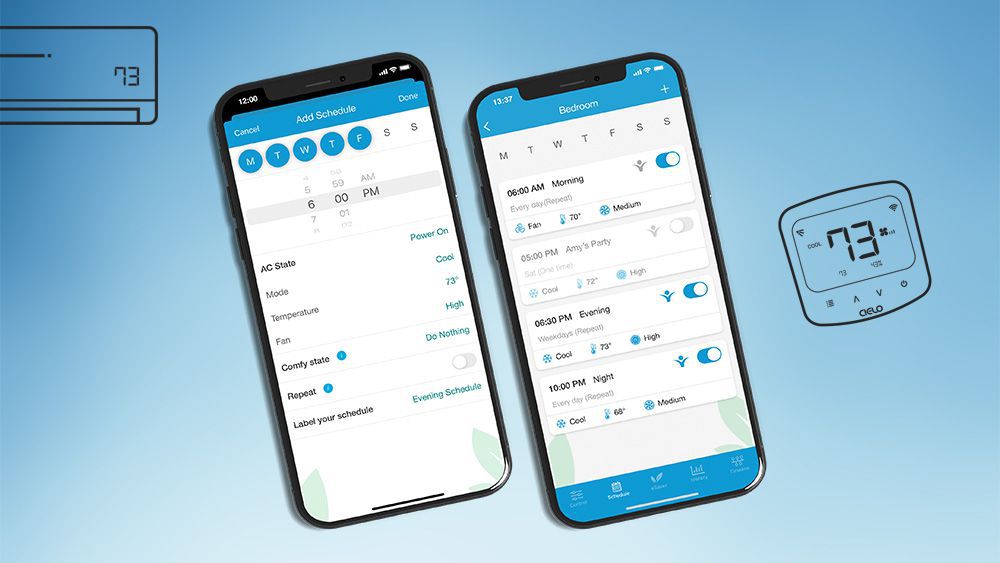 The best part about using a smart AC control to set AC timings is that it is pretty easy to use with a user-friendly interface for your mobile. If you're running later than usual, you can easily access your air conditioner's timing or schedule and edit it on the go to return home to the perfect temperature and save energy! Moreover, you can set schedules for the entire week from anywhere using your phone!
Smart AC controllers like the Cielo Breez can not only function as a timer for your air conditioner but also enables numerous smart functionalities.
The smart scheduling feature of Cielo Breez smart AC controllers lets you set up a schedule on your air conditioner for the whole week. What's more, the schedule does not have to be simply on/off (depending on the sort of settings your AC allows).
With schedules, pre-programmed functions can be executed throughout the week. The air conditioner can be set up to work on fan mode during the early hours of the day and then turn off while everyone is at the office or out of the home. The air conditioner can then be programmed to turn on in cool mode at 72 degrees just before you reach home and function like this until the night sets in. Before you sleep at 11:00, the controller then sets the air conditioner to a comfortable 74 degrees until the morning. Additionally, specific hours can be set for each mode of operation.
As mentioned before, with Cielo Breez Smart controllers, your air conditioner's temperature, operating mode, fan speeds, swing positions, and much more can be fine-tuned. The same schedule can repeat for the whole week without you even touching the remote control. All of this can be achieved easily through the Cielo Home app. You not only get an air conditioner timer but a whole host of added functions.
Cielo Breez smart AC controllers also offer a proprietary Comfy Mode. This allows for automated temperature control and energy savings. You can set your room's preferred temperature range, and your AC will only operate as needed to maintain your desired temperature. This mode can be linked to your air conditioner's timer function, allowing you to maintain the best temperature for you, right when you need it!
Why Do You Need an AC Timer?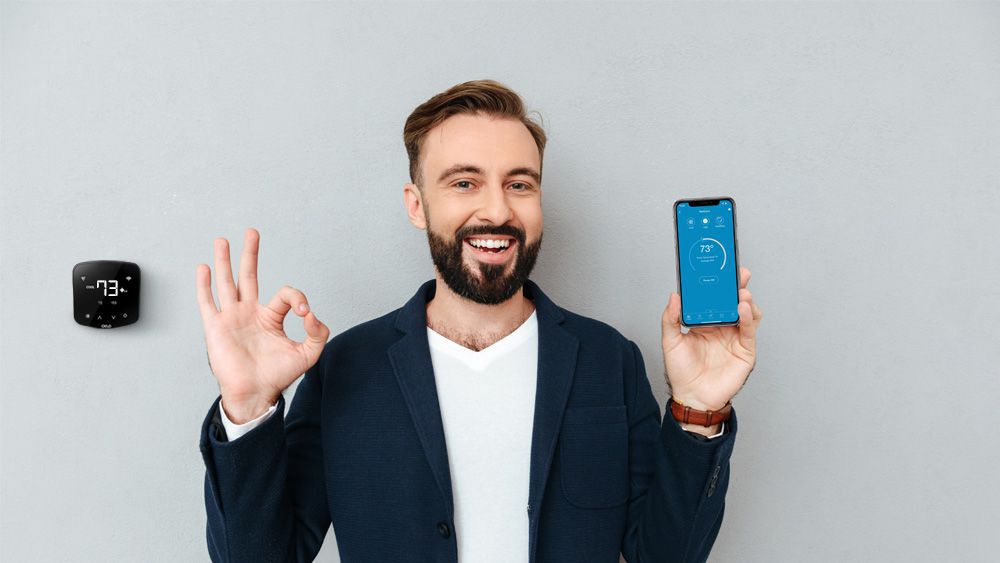 Setting a timer or schedule on your air conditioner has multiple benefits! You can just set your AC schedule and forget. Your AC will automatically be in charge of your AC control at your preferred timings.
Be Carefree
Once a timer for your air conditioning schedule is set, you can forget about switching your unit on or off. Your air conditioner will take care of this for you automatically.
Plan in Advance
Know you'll get home by 8:00 PM? Set a timer/schedule to switch on your air conditioner for 1 hour or at 07:30 PM! This will pre-cool your home to the perfect temperature. For winter, you can set your heat pump to switch on in the morning, so you get out of bed to a toasty home climate.
Energy Savings
Planning ahead and never forgetting to switch your AC off will always take a load off your electricity bills! Increase your savings while adding to your comfort with AC timers.
Weekly Scheduling
Using most AC remotes, you may be able to only set when to turn your AC on or off. But, by using a smart AC controller, you can plan air conditioning schedules for the entire week! You wake up at a certain time on Sundays, which may be different than Mondays. You may go to bed later on a Friday night. It can be a hassle to operate an AC timer using a remote each time – however, you can easily make an AC smart and set weekly timings!
Taking Care of Your Timing Needs
Want a window air conditioner timer? Want a mini-split air conditioner timer? Want any sort of AC timer? Cielo Breez devices are your go-to solution for solving this problem and getting you into the world of smart air conditioning. So, what are you waiting for? Get your device now, and get scheduling!