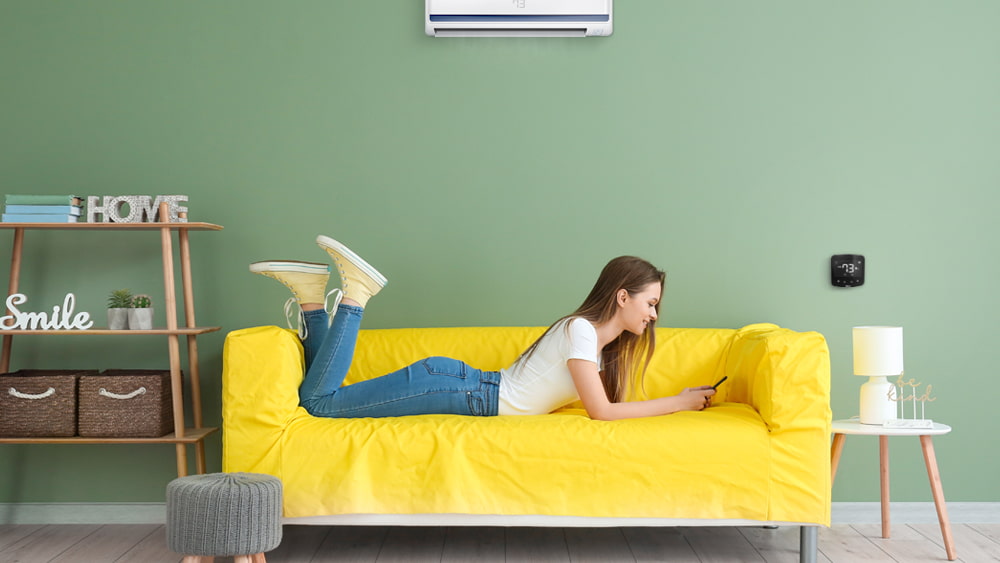 While room air conditioners provide a comfortable climate be it scorching summer or freezing winter, it can be a hassle to change settings using the AC remote control. Moreover, remote controls don't offer advanced Wi-Fi controls like scheduling to automate home climate.
Fortunately, you can make your dumb mini-split, window, or portable AC smart in minutes with the help of smart AC controllers. These smart devices allow you to control your unit from anywhere using your phone. You can also set up a heating and cooling schedule, making it super convenient to maintain an ideal climate without manual adjustments.
Whether you want to improve your home comfort or lower your electricity bill, customized schedules have you covered. This blog will discuss smart scheduling and how you can set up a schedule for your room AC/heat pump with Cielo Breez smart AC controllers.
Setting up Schedules With Cielo Breez
Smart Scheduling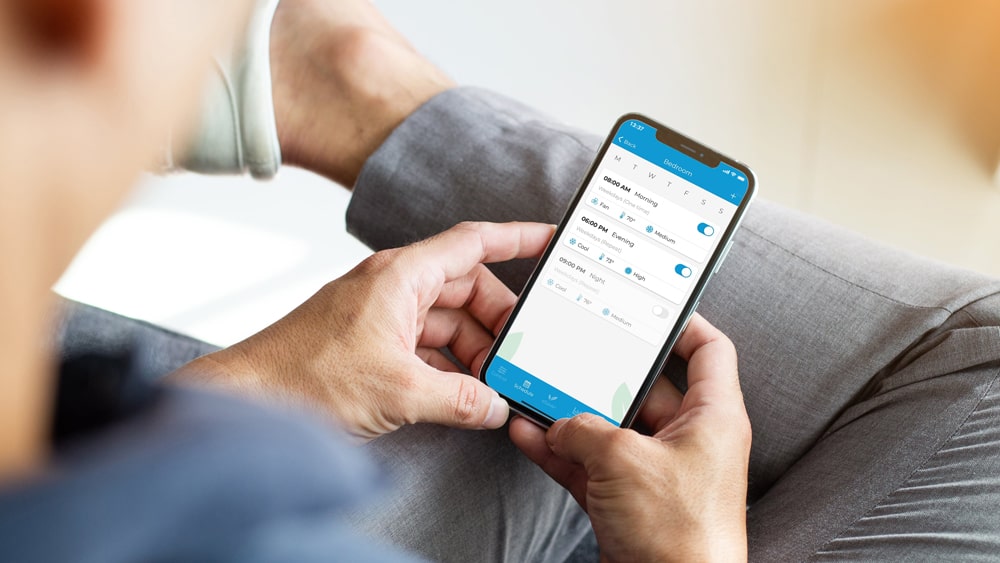 One  of the best features of smart AC controllers is the ability to set schedules based on your routine. You can set up an automated schedule that adjusts the temperature and other AC settings according to your preference.
With scheduling, you can program different thermostat settings for each day. You don't even need to adjust it every week if your routine stays the same. Just turn on the repeat mode, and the same schedule will continue next week. Moreover, you can also have various schedules set up in a single day, depending on your routine and requirements.
For instance, if you prefer a cooler room temperature to sleep in but dread leaving the comfy bed in the morning, you can have your unit switch to heat mode 30 minutes before waking up. This sets the right tone for your entire day as you wake up to comfortable room temperature.
When heading out for work, you can have your unit turn off or keep it running using a thermostat setback approach. In this method, you set your temperature 7-10 degrees back from your routine settings to minimize energy consumption. Then before you return from work, your AC will automatically switch back to your regular comfort settings.
Cielo Smart AC Controllers
Your best choice to make any mini-split, window,
or portable AC smart. Enhance your comfort and savings.
Shop Now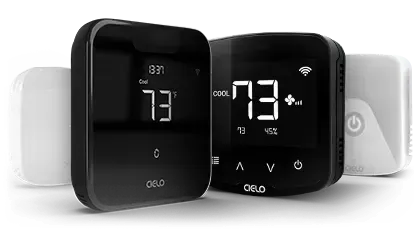 Moreover, with scheduling, your vacation can be stress-free! For instance, you can prevent frozen pipes in your home by implementing low heat settings before you leave – then come back to your cozy home as it heats up and reverts to your regular temperature. No worries while you are away; your schedule has got it all taken care of.
Related: How to Achieve Ideal AC Temperature With Smart AC Controllers
How to Set up a Schedule for Your Room Air Conditioner/Heat Pump With Cielo Breez
Programming your temperature settings is super easy with smart AC controllers. With a few taps, you can have the schedule set up in no time using the app. Here is a step-by-step guide on setting up a temperature schedule for your room air conditioner.
Setting up the Schedule
1. Go to the Cielo Home app. Select the device you want to add the schedule for.
2. Then tap on 'Schedule' in the navigation bar at the bottom.
3. Click  on the '+' icon to add your schedule.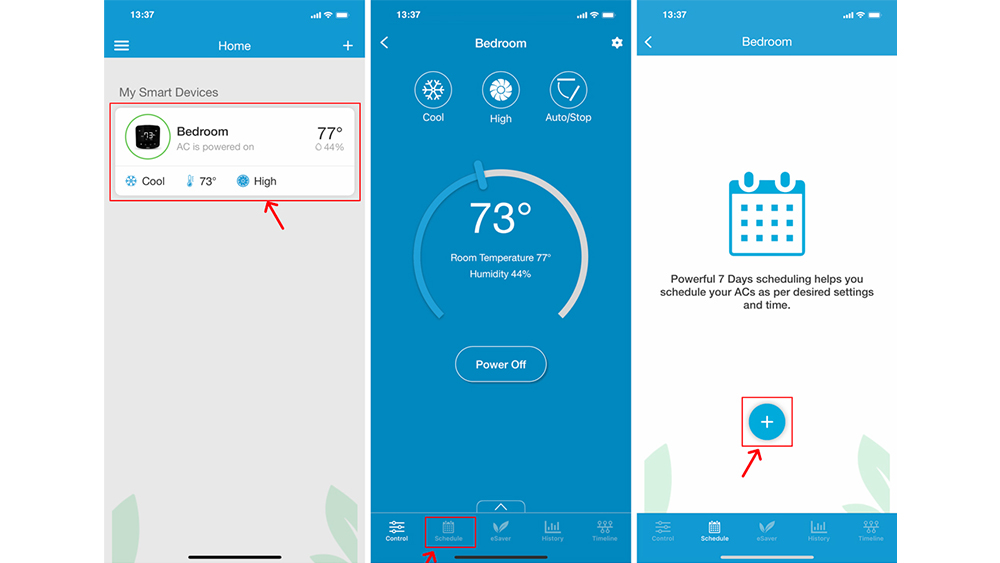 4. Here, you can add the day, time, AC state (power on/off), heat or cool mode, temperature, and fan speed. You can also select if you want the schedule to repeat or not at the same time and day next week.
5. Once you have added all the details, tap 'Done,' and your schedule will be set up.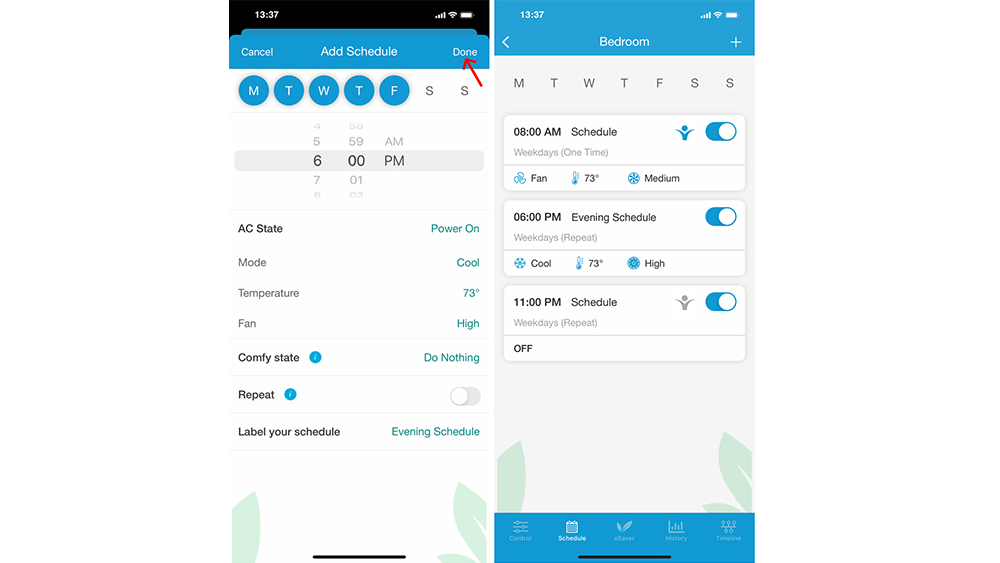 6. All your schedules will be listed on the scheduling screen, and you can quickly toggle them on/off from there.
Editing or Deleting the Schedule
1. On the device control screen, tap on 'Schedule.' Here, you will see all the schedules you have added.
2. Swipe left on the schedule you want to edit or delete. Both options will appear.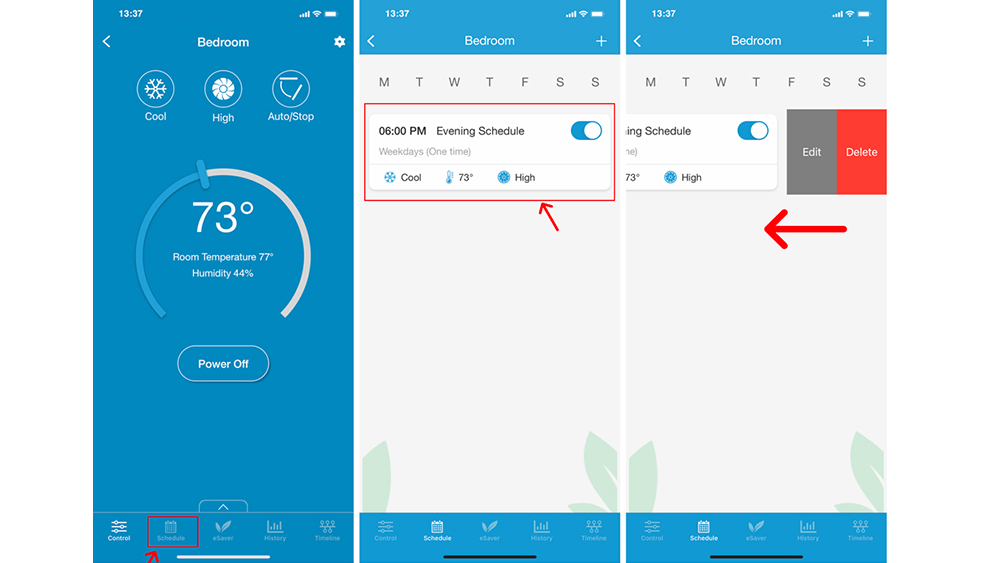 3. Select the desired option to proceed.
Achieve Comfort & Convenience With Smart Scheduling
Opting for smart air conditioning can make all the difference in the level of comfort that you experience. Smart AC controllers allow you to set schedules to keep your home comfortable 24/7. With smart scheduling, you can easily set when and to what temperature your system will operate without constant adjustments throughout the day, saving valuable time and energy. Moreover, you can benefit from the other great features that smart AC controllers offer, like location-based controls, tracking energy usage, helpful cleanliness reminders, and more.
If you haven't gotten your hands on this smart device yet, shop here now!