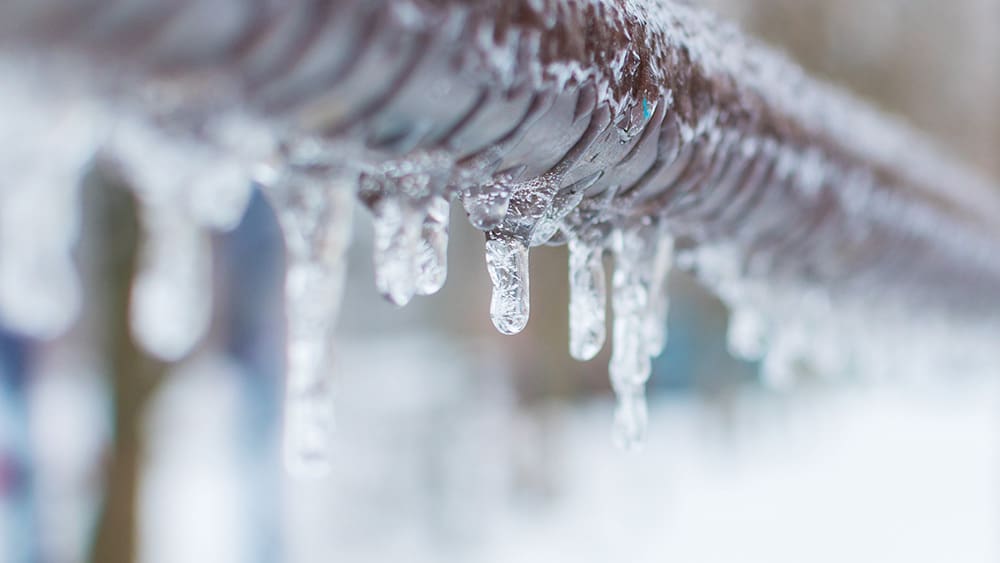 The Winter season is all about cold, snow, and freezing temperatures. Even though almost everyone enjoys the onset of winters, there is much work to do as well. Homeowners get working on winterizing their homes, taking care of little improvements and changes which need to be done around the house for a cozy winter. One of them is taking care of water pipes and protecting them from freezing during the onslaught of harsh cold wave.
If you are in a cold climate, you will most probably be familiar with frozen water pipes. The problem shows its face every year, and if left unattended, can result in great damage to your home. Because of this reason, it is advisable to learn how pipes freeze over, and what you can do to prevent it.
Let's start by understanding why pipes freeze followed by how you can beat the freeze!
Protect Your Pipes From Freezing & Bursting
Why Do Pipes Freeze?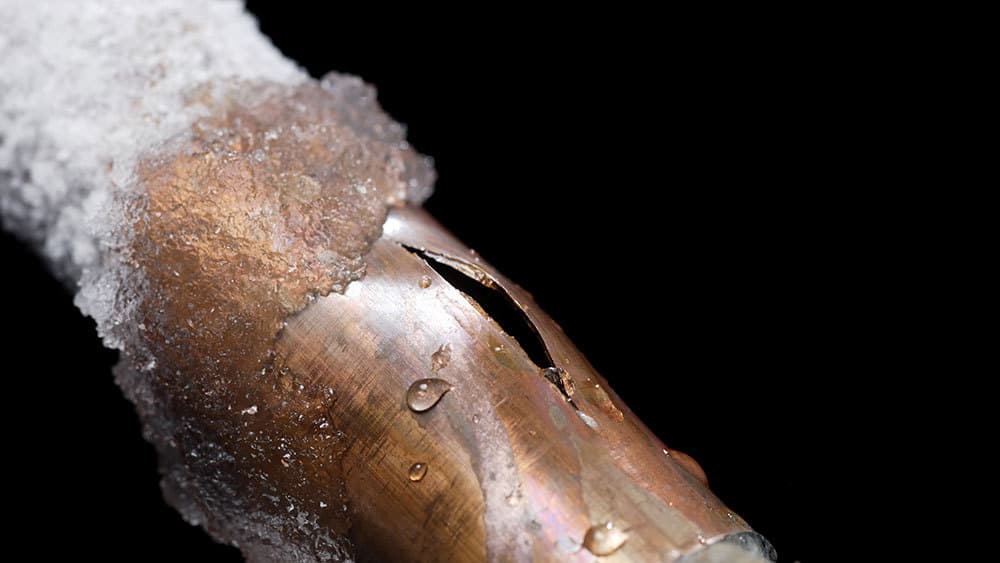 With a drop in temperature, the water present in pipes is prone to freezing. As a result, you won't have free flowing water from your faucets and will be in for a nasty surprise. Frozen pipes might seem like a small inconvenience, but they have much greater repercussions. If left unattended, a frozen pipe can often mean a burst pipe, leading to flooding and a much more significant repair cost.
But why does water in pipes freeze? And why do pipes burst? And how to get pipe freeze protection? When you leave the water faucets closed, water remains stagnant in the pipes, and freezes over quickly as temperatures approach freezing point. On the contrary, running water won't freeze as quickly, if at all. As we all learned in high school, and forgot, water expands when it freezes. This explains why the water you put in your freezer spills over the ice tray. Enclosed objects, like soda cans and bottles, can explode or slice open exactly due to this reason.
With the faucets closed and water stagnant, the pipe acts just like a soda can. The freezing water inside the pipes expands, and puts tremendous pressure on the pipes. If a sufficient amount of water freezes, it will expand causing your pipe to burst. This often happens at joints between the pipes.
Cielo Smart AC Controllers
Your best choice to make any mini-split, window,
or portable AC smart. Enhance your comfort and savings.
Shop Now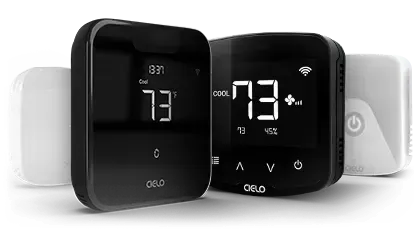 Believe it or not, pipes in cold indoor spaces are more prone to bursting than those located outside. Up to 37 percent of all pipe freezing occurs in basements. The exact reason for this phenomenon is a bit technical though. The most common locations for indoor water pipes are kitchen cabinets, bathroom fixtures, under-sink cabinets and it's essential to protect them from freezing!
How to Protect Pipes From Freezing?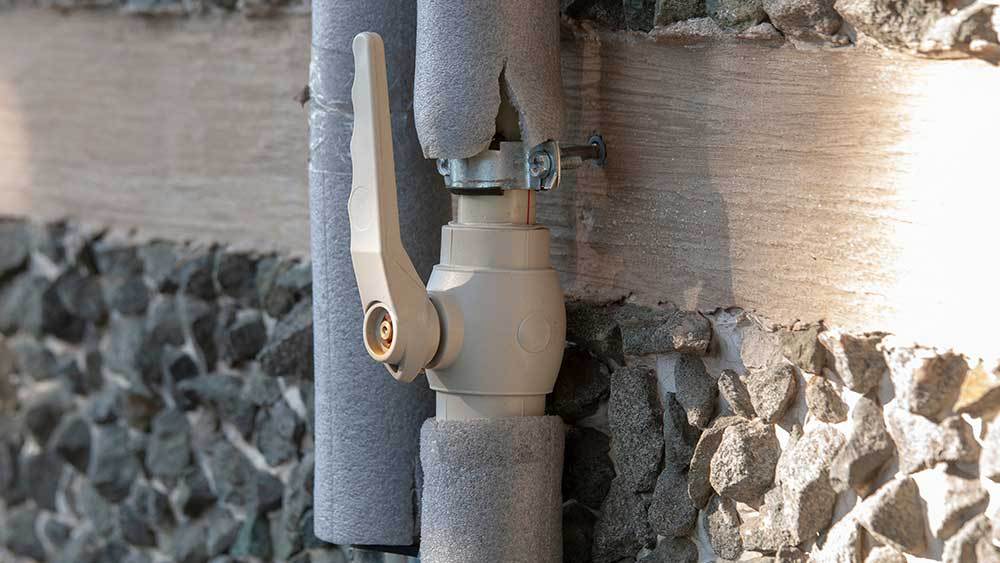 There are multiple ways to go about protecting your pipes from freezing in winter. Let's see the main ones.
1. Freeze Protection Mode on Heat Pumps
The perfect solution for pipe freeze protection, is the "Freeze Protection" mode! It keeps your  heat pump working at a low power mode at around 46 F. Using this mode, your home temperature will not fall below freezing.
Functioning almost like heat mode, FP blows out a steady stream of hot air while consuming minimum power. This mode may not be very comfortable to sit down in and take your coat off, but it perfectly does the job of preventing your pipes from freezing.
If your indoor space is not in use for long periods, such as a garage or attic, you can set your heat pump to work on FP mode. Moreover, if you are going on a long vacation, and have sensitive equipment or art work in your living area, you can utilize FP mode to prevent damage to your belongings.
Before buying a heat pump, consult the AC's operations manual to find out if your AC model supports this feature. Min. Heat (MH), 8o C, or Low Heat (LH) are also sometimes used as a name for "Freeze Protection / FP", depending on the AC manufacturer, so do not be surprised!
Pro Tip: In conjunction with ductless heat pumps like mini-splits, Cielo smart controllers work as a freeze protection thermostat. Moreover, if you're away you can operate the FP setting using your phone from any location.
2. Insulating Your Pipes
Insulation is perhaps the most common method on how to protect pipes from freezing. It is cheap, yet an effective way to prevent larger damage.
The most obvious pipe sections to insulate are those in unheated areas of the house, such as your garage, attic, washrooms, kitchen cabinets, and basement.
Installing faucet covers on exposed faucets outside the house is also a common technique. Incredibly easy to install and low in cost, faucet covers can run for many season, and be an easy way to keep your pipes from freezing.
Insulation material most commonly consists of polyethylene, foam, or fiberglass. For most general applications in moderately cold areas, foam insulation can do the job perfectly. Moreover,  a quick insulation DIY is to wrap the pipes up in newspaper and place duct tape on them, but this does not last as long as foam insulation in extreme temperatures.
3. Heat Tape to Keep the Pipes Warm
Let's put out a disclaimer first. It isn't really tape, but a piece of wire.
Heat tape is a long piece of electrical cable, which when hooked up to a power socket, radiates small amounts of heat along its length. When wrapped around a water pipe, it provides pipe freeze protection by preventing the water inside from dropping below freezing.
A heat tape is a very effective way to prevent pipes from freezing, but it is expensive to buy. Moreover, a constant electricity supply is also needed, albeit a low amount.
4. Prevent Cold Air From Seeping Inside
If the weather is severely cold and you have small openings such as window gaps, or leaks that can allow the cold air inside it can very easily cause your pipes to freeze. Make sure to check all areas such as doors, windows, gaps etc. around your pipe to prevent room for any cold air to enter.
If you find openings seal them up with insulation or caulk to maintain a stable room environment.
5. Keeping the Faucets Open
When you are going to bed, or even going away from your home for an extended period of time, keep the faucets very slightly open. Just enough to allow water to drip. As discussed before, flowing water does not freeze, and keeping the faucets open helps in that aspect. A small amount of water may be wasted thus this is not our favorite method. It is much better though than having expensive repairs from your pipes freezing – you can perhaps collect and recycle this water/ice.
What to do if Your Pipes Are Frozen?
You didn't take the necessary precautions, or the cold wave was just too strong, and you are left with frozen pipes. Let's get to solving this problem.
Shut off the water supply of the house as an initial step, and there's a good reason for this. When the frozen water thaws, the sudden release of pressure can force the unfrozen water to gush out of any potential cracks in the pipes, and cause an even bigger mess.
Once you have closed the water supply, let's start with the thawing. There are a few different options available for this. You can use an electronic heating pad, hair dryer, heat tape, or even warm towels wrapped around the pipe to thaw the ice formed inside. But before you do, open the faucets from the end. Once started, it's just a matter of time before the ice thaws and the pipe becomes unfrozen again.
Be careful not to use propane torches. They can pose a fire hazard, or even damage the integrity of the pipe. Similarly, space heaters should be avoided unless absolutely necessary, and even then should only be used under supervision, and not left unattended.
How to protect pipes from freezing might seem like a daunting task, but with only a minor investment and some forward-thinking, you can take sufficient safeguards to provide freeze protection to your water pipes, and not have a single worry during the winter season!