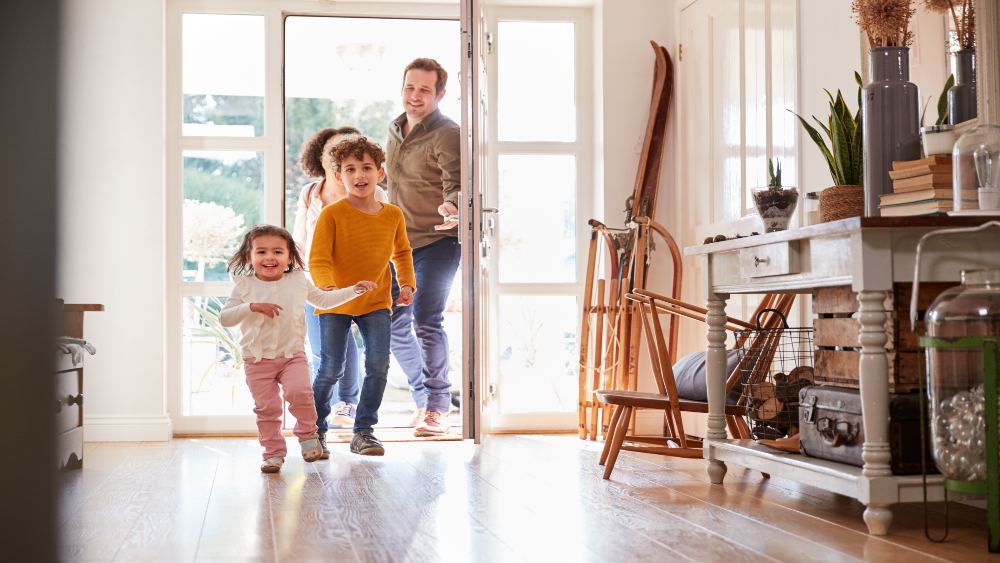 As the demand for smart home technology continues to rise, tech giants are striving to enhance daily life automation. One notable example is the popular geofencing feature, especially in smart thermostats.
Imagine this: You're rushing to the office when you suddenly realize you forgot to turn off your AC. There's no way you go back to make adjustments and make it to the office in time. Later, when you return from work, your home is icy cold, and you can't help but worry about the expensive energy bill that awaits you.
This is where the geofencing feature in smart thermostats and smart AC controllers comes to your rescue!
They have a geofencing feature that automatically makes adjustments to save money when you leave and powers back on at your desired temperature upon your return. You'll always come to a perfectly chilled or heated home without worrying about high electricity bills!
This blog discusses the geofencing feature in detail and how you can enable geofencing for your mini-split, window, and portable AC with Cielo Breez smart AC controllers and central system with Cielo Smart Thermostat.
What Is Geofencing Mode & How Does it Work?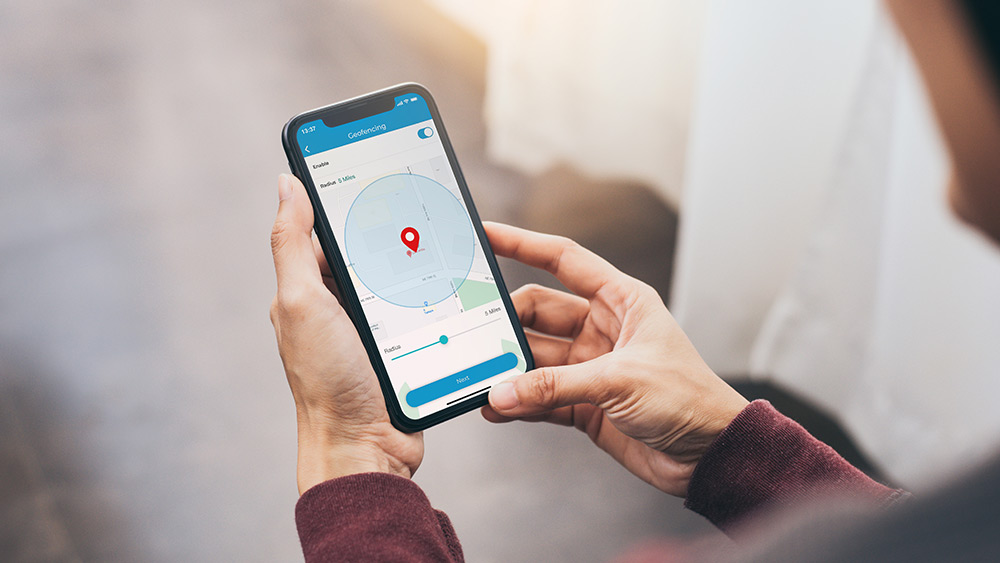 Geofencing thermostats and smart AC controllers enable your HVAC to turn to temperature setback settings when you leave and switch back on upon arrival.
Picture an invisible boundary that encompasses your home – once you step inside, you enter a cozy haven personalized just for you. When you venture beyond this border, your AC is switched off automatically, helping you conserve energy and save money.
This is how geofencing mode works in your smart climate control devices.
It creates a boundary or a radius around your home using your location. This feature tracks your location via your phone's GPS, but only if you have granted permission to access your phone's location. After that, your smart thermostat knows whether you are inside or outside the zone.
Using this feature, you can have your AC unit automatically off when you move a certain distance away from your house and turn it on when you are near the set parameters.
For instance, when you move 5 miles away from your home, the geofencing mode will signal your bedroom mini-split to turn off. When you travel back within 5 miles, your smart AC controller will turn the AC on and implement your desired temperature settings, like turning on your AC in cool mode at 73F.
How to Setup Geofencing for Your Central HVAC System With Cielo Smart Thermostat
Here is a step-by-step guide on setting up geofencing for your central HVAC unit using the Cielo Smart Thermostat in the Cielo Home app.
Cielo Smart Thermostat
Equip your HVAC system with smart features and achieve the perfect balance between comfort & savings.
Shop Now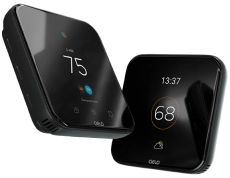 1. Go to Cielo Home app. Select Cielo Thermostat on the home screen.
2. Tap on 'eSaver' in the navigation bar at the bottom.
3. A list of smart features will be displayed. Tap on geofencing.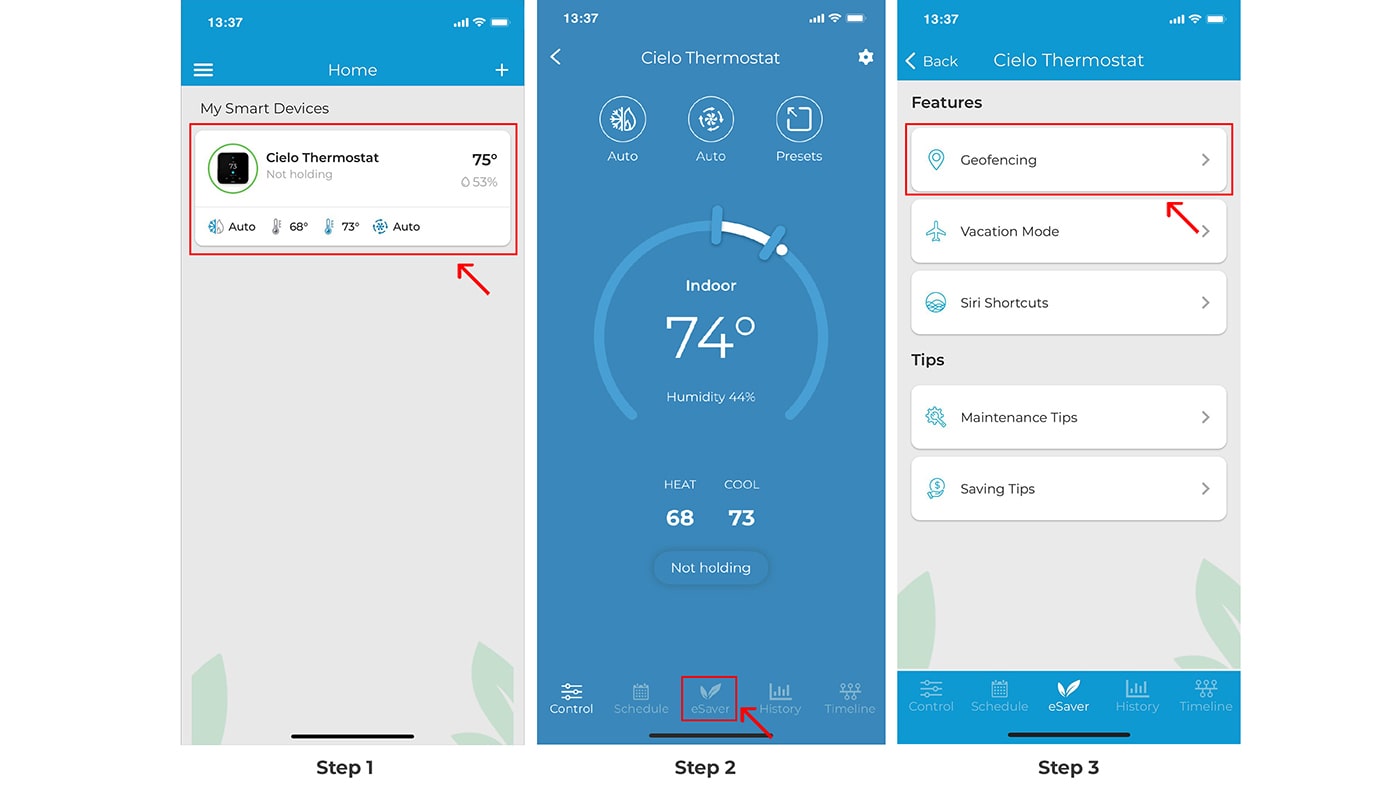 4. Toggle the slider to enable geofencing. A map showing your current location will be displayed.
5. Using the slider, set your radius. You can set between 1-10 miles.
6. After that, tap on 'Next.'
7. Choose from Home or Sleep presets for when you arrive and Away or Pets when you leave your defined location.
8. Tap 'Done' at the top right once you have chosen your desired settings.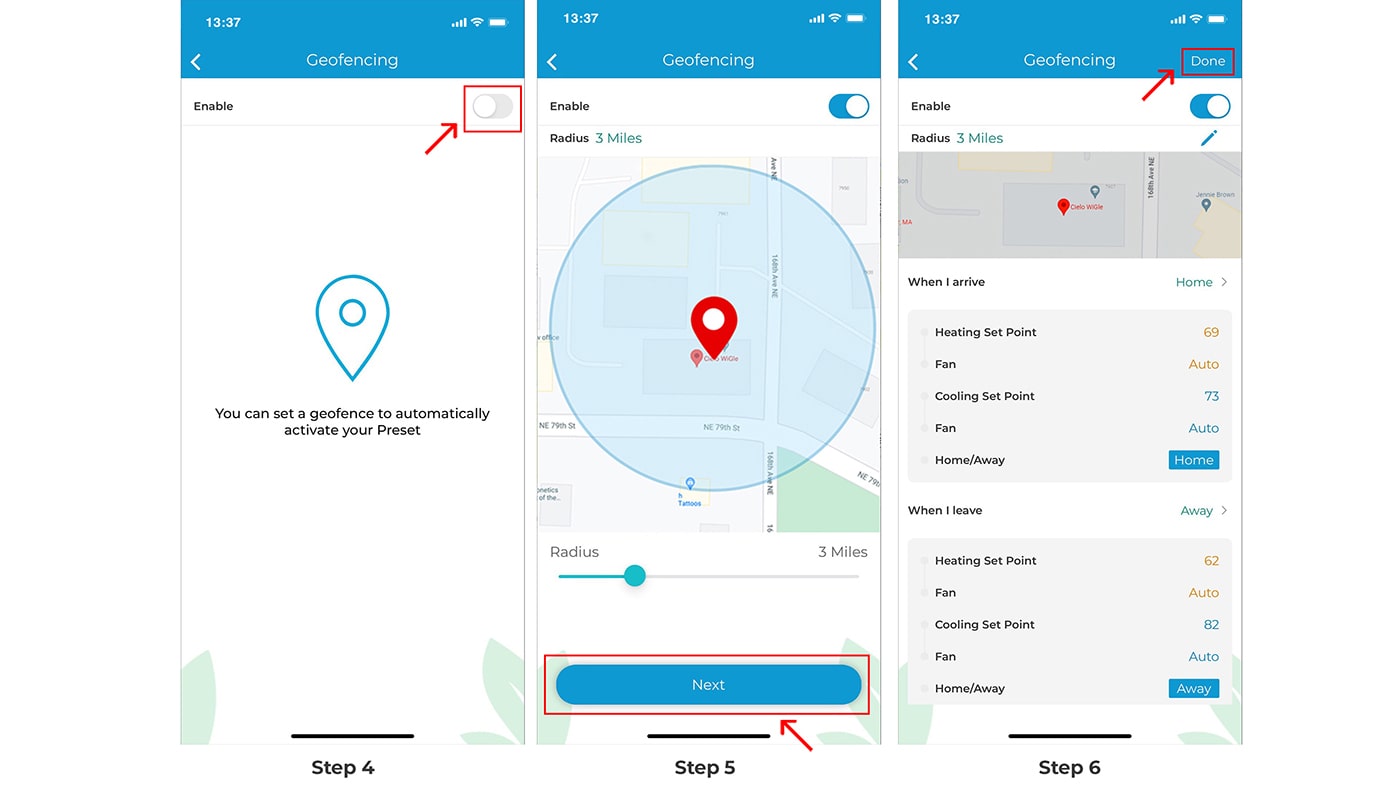 How to Set Up Geofencing for Your Mini-Split, Window, and Portable AC With Cielo Breez?
Cielo Breez smart AC controllers allow you to control the temperature in your home and other features on your phone.
Cielo Smart AC Controllers
Your best choice to make any mini-split, window,
or portable AC smart. Enhance your comfort and savings.
Shop Now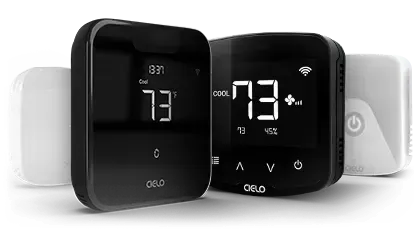 Here's how you can set up geofencing for your room AC in the Cielo Home app.
1. Go to Cielo Home app. Select the Cielo device you want to add geofencing to.
2. Tap on 'eSaver' in the navigation bar at the bottom.
3. A list of smart features will be displayed. Tap on geofencing.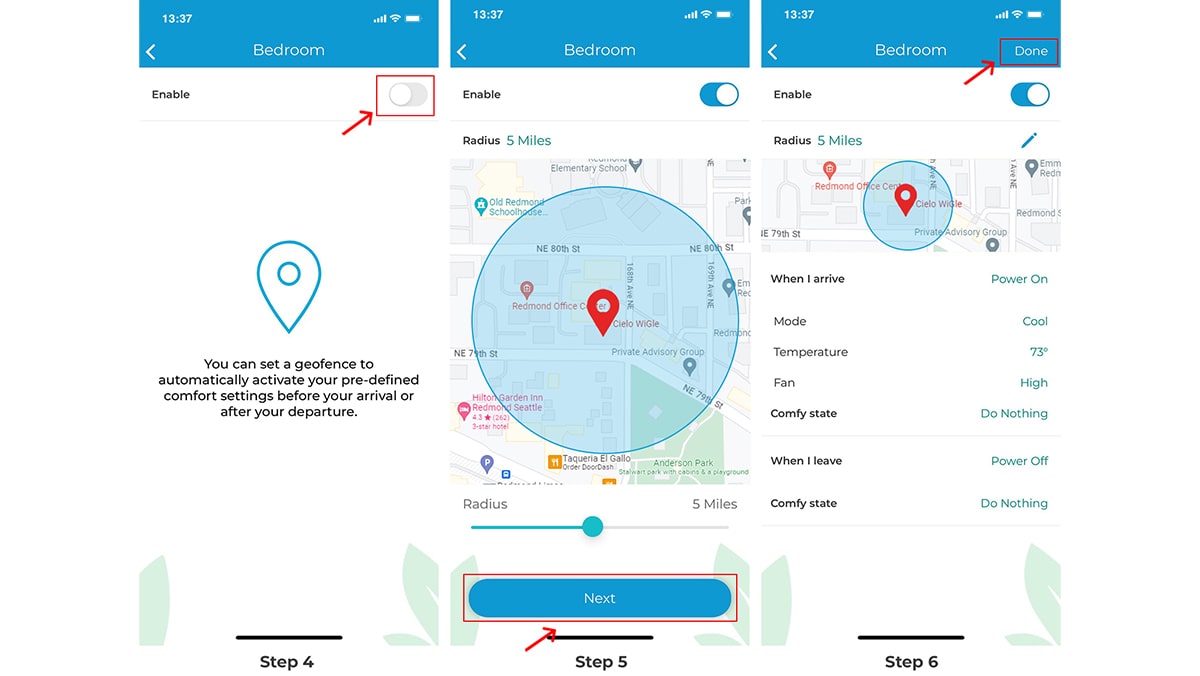 4. Toggle the slider to enable geofencing.
5. Once you have enabled it, you will see a map indicating your current location. Using the slider, you can set a geofence range for your AC/heat pump between 1-10 miles.
6. After you have selected your range, choose the AC settings you want when you enter and exit your defined location.
7. Tap 'Done' and your geofencing is all set!
8. Once location controls are triggered, you will get a notification in your app timeline.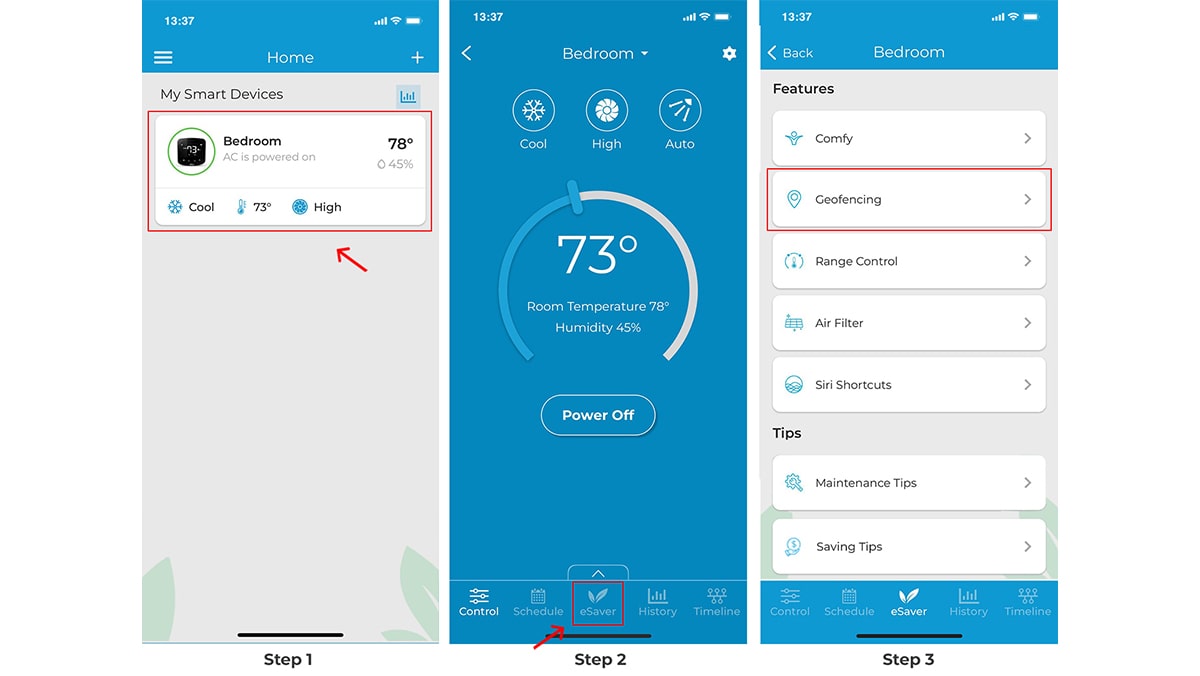 Benefits of Geofencing Thermostat
From savings, comfort, and convenience, here are the top advantages of using the geofencing feature in your thermostat:
● Energy Savings
If you are always forgetting to turn off your heating/cooling before heading out, geofencing is for you. By automatically turning off the AC when you're away from home, the geofencing feature reduces energy consumption, resulting in significant cost savings. Bid farewell to high bills and say hello to efficient, eco-friendly living.
● Personalized Comfort
With the geofencing mode turned on, your smart thermostat or smart AC controller adapts to your preferred settings as soon as you enter the geofence radius. Now, you can always come back to a perfect home environment!
Related: How to Achieve Ideal AC Temperature With Smart AC Controllers
● Convenience
If you're a busy person with no set schedule, then geofencing mode can add convenience to your life. You won't have to make manual adjustments whenever you leave or enter your house. The geofencing mode will adapt to your whereabouts, making temperature changes based on your location without you having to lift a finger.
Maximize Energy Efficiency With Geofencing Thermostat
Smart air conditioning is a game-changer for homeowners wanting to regulate their home climate. You can control your home cooling and heating from your phone, set smart schedules, track energy usage, and much more. Features such as geofencing can significantly enhance convenience and savings. It can automatically turn on/off your AC based on your location.  When you leave, geofencing automatically turns your unit off so that you are not wasting money heating or cooling an empty house. When you return, your AC switches on again at your preferred temperature, creating a comfortable and welcoming environment.