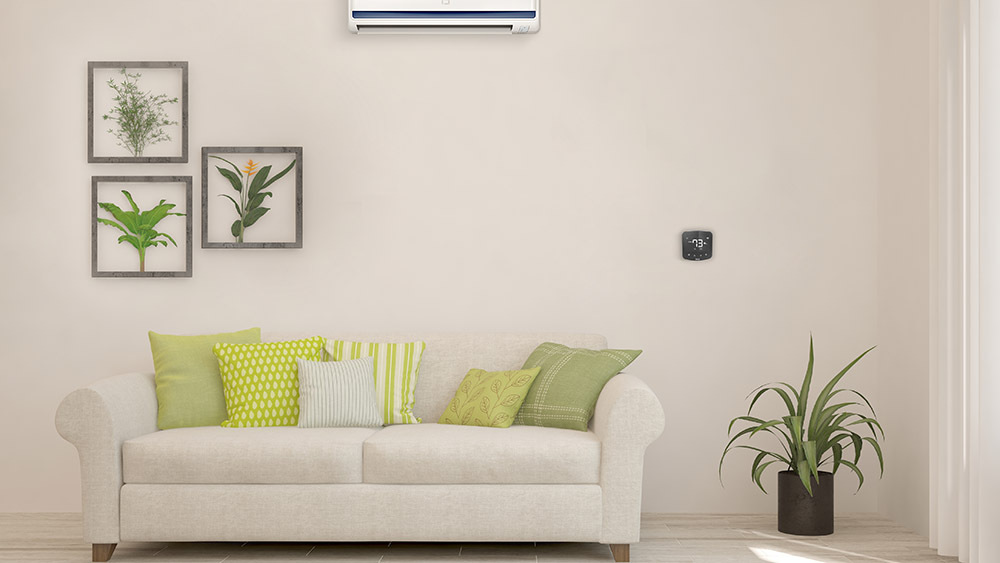 A smart AC is undoubtedly an appealing solution to combat the soaring heat, but it comes with a limitation; a steep price tag. However, instead of paying a heavy price for availing features of a smart air conditioner, you can still benefit from these and much more in just a fraction of the cost. How? A smart air conditioning controller is an all-around solution to enjoy an ideal AC temperature at all times.
A smart AC controller connects any regular air conditioner, including mini-splits, window, and portable units, to Wi-Fi, making them smart! You simply sync your phone and get a plethora of benefits and features of smart AC  that can be monitored, controlled, and commanded right from your screens.
The controller optimizes your convenience and helps set the ideal AC temperature regardless of where you are! How, you might ask? There are some excellent gadgets that can be a real game-changer, especially during this weather. Let's consider Cielo Breez Smart AC controllers, which have impeccable features like geofencing, smart scheduling, Comfy Mode, range control, and usage history. They are designed keeping in mind the needs of a modern customer. Not only do these smart devices help cut down expenses but also alleviate your burden by automating your home climate. On top of this, these smart controllers are compatible with some of the most popular smart home systems, bringing you an ultimate smart experience.
Your Ideal AC Temperature with Cielo Breez
What Are Ideal AC Temperatures Like?
The scorching heat wave is leading to skyrocketing energy consumption levels, making it almost impossible to meet saving goals. Surviving without air conditioning seems to be out of the question. One common query among users today is regarding ideal AC temperature and if it affects their energy billing.
Keeping the conflicting situation in mind, running your air conditioner to the lowest setting might be intriguing yet not in your best interest. Running your AC on a higher setting can slash your electricity bill by 3-5% for every degree. An ideal temperature should be a value that keeps your home environment pleasant without your bills going through the roof.
According to the U.S. Department of Energy, the recommended temperature for when you're at home in summers is anywhere around 78 degrees. This is not set in stone and may vary according to your comfort level and personal preference. However, try keeping it on the higher side to save money. You can also try out different tips and tricks to save money on air conditioning while maintaining a comfortable environment.
Related: What Temperature Should I Set My Air Conditioner In Summer & How to Maintain It?
How Cielo Breez Smart AC Controllers Help You Achieve Ideal AC Temperatures?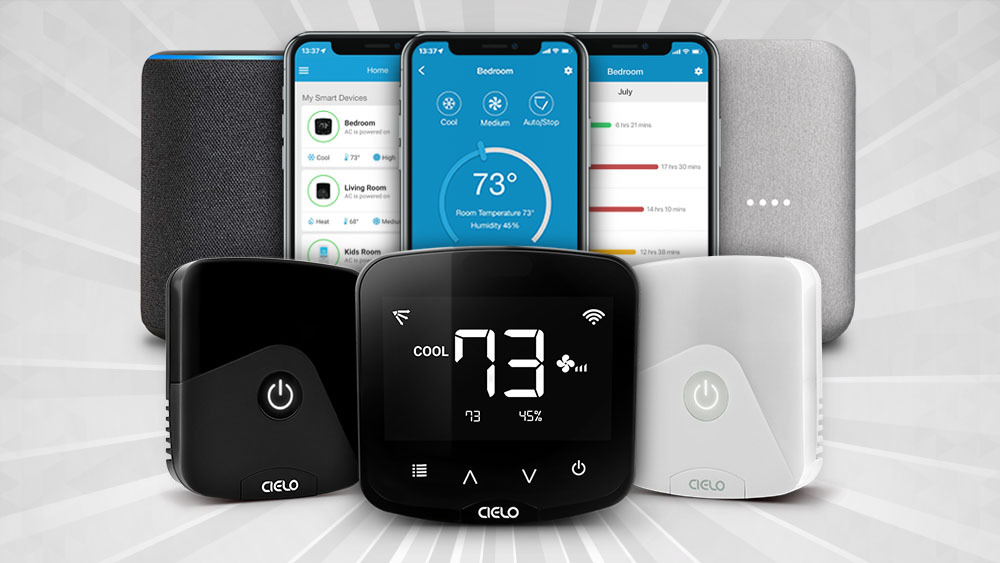 Cielo Breez Smart AC controllers upgrade your new or old air conditioner. You are able to control all the features from your smartphone making it extremely simple to achieve the best temperature for AC. Having compatibility with ductless units, including mini-splits, portable and window ACs, these controllers provide smart functionalities, eliminating the need to pay exorbitant prices for a new smart air conditioner.
The smart features that will surely make your life easier include:
Complete Control Via Your Phone
View this post on Instagram
Have you ever found yourself in a frustrating situation, searching for your AC remote, rummaging through your drawers, and still failing to find it? If yes, you are not alone! However, Cielo Breez Smart AC controllers perfectly remedy this stressful situation.
Setting up the device is fairly easy and hardly takes a couple of minutes. Once that's done, the rest of the steps are self-explanatory. In addition, you can enjoy all the regular features of your air conditioner and more right from your phone's screen anywhere, anytime!
This means no more remote hunting. Too good to be true, right? Well, there's a lot more in store for you.
View this post on Instagram

Cielo Breez smart controllers save the extra time and effort that goes daily in adjusting your AC temperature as per your preference. Whether you have a fixed daily routine or not, this feature is a perfect fit for you.
If you are an office going individual who has all decisions pre-planned, this will take your organization skills up a notch. You can easily select when to turn the AC on/off depending on when you leave and come back. The next time you step back into your home, expect to be welcomed by your ideally comfortable home. Just sit back, unwind and let the controller do all the work.
Similarly, if you spontaneously decide to host a party at your place, this device can help you schedule the entire night. How about reducing the temperature two hours after the party starts when the living room starts getting crowded? Just set the schedule and enjoy your party!
Choose your desired combination of settings ahead of time and leave it to the Cielo Smart controller to adjust them to your liking. You can even schedule these for up to a whole week, making your life convenient and saving you considerable time. 
Comfy Mode for the Comfiest You
View this post on Instagram

Consider this scenario; you are about to doze off and are exhausted to find the AC remote to turn it off. Unfortunately, the AC keeps on working the whole night, forcing you to seek refuge under the duvet to prevent yourself from freezing. Or, on the contrary, if you deliberately turn off the AC before the sweet sleep kicks in, only to be awoken prematurely by the droplets of sweat running down your back.
There is nothing worse than restless sleep.
Cielo Smart AC Controllers
Your best choice to make any mini-split, window,
or portable AC smart. Enhance your comfort and savings.
Shop Now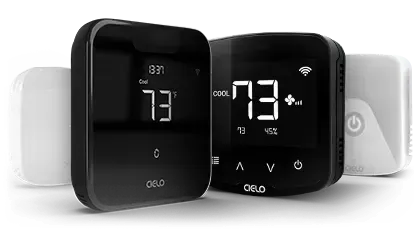 Comfy Mode, on the other hand, allows you to personalize your ideal AC temperature and humidity levels using intelligent triggers. You can set rules based on your preferred temperature or humidity range and the AC will run automatically to maintain it. For instance, you want the room temperature to stay between 73-75F. You can set a rule that'll turn the AC on as soon as the room temperature exceeds 75F while turning it back off when it falls below 73F. With Comfy, your room is always at a comfortable temperature.
This means you are also playing the responsible role of conserving energy by cutting down unnecessary usage and bidding farewell to sleepless nights. Talk about killing two birds with one stone!
View this post on Instagram

Do you always have a lot on your plate, and juggling different responsibilities makes you forgetful? For example, it is not uncommon for people to forget to turn off home appliances when leaving their homes.
If you too tend to forget to turn off your air conditioners only to realize it later when it is very late to do anything about it, you now have a solution. With Cielo Breez, your AC will automatically switch off as you leave your house and turn back on when you are just a few miles away!
You can conveniently select a pre-defined radius around your home (up to 10 miles), and based on your location the Cielo Home app will signal the smart controller to turn off the AC upon crossing it.  No more wasting energy or money on unnecessary piled-up electricity bills. Similarly, it'll turn your AC on as you enter the set radius so you'll always come back home to a perfectly cooled home. Ain't that cool?! 
Informed Decision-Making with Air Conditioning Insights
View this post on Instagram

The features just keep getting better! Save up to 25% on your energy bills simply by balancing your consumption patterns and the best temperature for AC. You also get all the information regarding the previously performed actions with the timeline of actions.
In addition, usage history gives complete AC usage stats that you can use to strategically plan when and how to control your energy consumption. In this way, you can minimize wastage, keep the bills in check and achieve optimal efficiency goals.
Moreover, you'll get notifications for when your air conditioner filter need cleaning. Cleaning your filters regularly ensure that your AC is working efficiently.
You can achieve this by monitoring energy usage and pinpointing areas where you might be making inefficient use of your air conditioners, either by keeping them on for extended hours or by forgetting to adjust the temperature settings.
With these air conditioning insights, get control back in your hands and start making smart decisions. Your ideal AC temperature is just a few clicks away!
Temperature Range Control
You might often think about utilizing a vacant space by renting it out via Airbnb. It makes you quick money, but what benefit will it bring you if the guests end up mounting your electricity bills by blasting the temperature to the lowest settings?
Well, you have a quick fix now! With range control, avail the flexibility to set a minimum and maximum temperature at which the AC can be operated. This range can only be unlocked and changed via an authorized user.
Hence, it puts you in charge of monitoring and setting the range for the ideal AC temperature. The guests will not be able to go past this predetermined bracket, preventing them from going reckless with electricity consumption. It is a very useful feature if you want to set foot in the hospitality business.
Besides, even if you want to keep your children from fiddling with the remote, changing the AC temperature settings once you are away, range control is an excellent feature to utilize.
Harmonization With Smart Home Systems
View this post on Instagram

Consider Cielo Breez a perfect addition to your smart home. With its high compatibility with other systems, you can delegate some of the most important features via simple voice commands by syncing Cielo Breez smart AC controllers to your smart home systems like Amazon Alexa and Hey Google.
Furthermore you can set various routines such as the AC powering on to 72 when you say good morning along with your coffee pot firing away!
The convenience factor here is enormous; you will experience enhanced appliance functionality alongside usage flexibility. The modern touch to your home is just the icing on the cake!
Is a Smart AC Controller Worth Your Investment?
With IoT taking over the world, it has made a significant mark on the smart home industry. Air conditioning is one element that is crucial for any household. Adjusting the settings and achieving ideal AC temperature according to the humidity, heat, and weather conditions makes a home hospitable and comfortable, especially during heatwaves.
On the contrary, AC is one appliance that makes a significant chunk of the overall electricity bill. Therefore, purchasing this revolutionary piece of technology is an investment that will make your life easier, help you reduce your AC costs, and become mindful of your electricity consumption.
Shape your modern-day home through smart technology and enjoy the best of both worlds; convenience and sustainability.