Inconsistent home temperatures can be a bummer.
Walking from one corner of the room to the other and feeling like you've walked through three different climates can bring down your comfort. Fortunately, there's a very simple solution – the 'Follow Me' feature on your Cielo smart AC controller!
Get the Best of the Follow Me Mode with Cielo Breez
What Is the 'Follow Me' Mode?
The 'Follow Me' mode is an innovative feature that can help extend your air conditioner's or heat pump's cooling/heating range and maintain a consistent temperature throughout your living space.
This feature works by using a set of in-built sensors in the AC remote to read the temperature in the area where the remote is. The unit will then cool or heat to adjust the climate in that area.
While many newer air conditioner models support this feature, you can take it a step further with your Cielo Breez Plus smart AC controller.
To understand how you can use this feature with your Cielo device, let's first look at how the 'Follow Me' mode works.
How Does 'Follow Me' Work with Cielo Breez Plus?
Your air conditioner or heat pump uses in-built sensors to detect the temperature around the unit and make adjustments based on your preferred settings. However, the reading on these sensors can be a little off sometimes since temperatures across a room can vary drastically, and the sensors only measure the climate conditions in the area around the unit.
For instance, ductless units like mini-splits are usually installed near the ceiling to evenly disperse conditioned air. However, the temperature at the top can be different from the rest of your room. Since the sensors only work at a close range, the unit works based on the temperature readings around the AC unit, leaving the rest of the room uncomfortable.
This results in the inevitable hot and cold spots around your home or temperatures that don't match your required settings. That's where the 'Follow Me' feature on your air conditioner or Cielo smart AC controller comes into play!
While the 'Follow Me' feature can also be turned on using the AC remote, it has its own set of disadvantages. The remote is somehow always misplaced, and for the 'Follow Me' feature to function properly, it should always be in the line of sight. Hence, your best bet to utilize this feature to its fullest is by pairing your unit with Cielo Breez Plus.
 

 

View this post on Instagram

 
Your Cielo Breez Plus device comes with in-built temperature and humidity sensors of its own. When you use the 'Follow Me' mode from the Cielo Home app, your air conditioner unit relies on these sensors to read the temperature of the area where your Breez Plus is located, adjusting the temperature accordingly.
Unlike your air conditioner remote, you can place your smart AC controller anywhere in the room (as long as it's in the line of sight of your AC and only up to 4 meters away from it). Since your Cielo device is normally closer to you, the temperature sensors offer a better measure of the climate around you. This ensures that the temperature will be as per your requirements. It also guarantees a more consistent home temperature.
How To Access the 'Follow Me' Function on Your Cielo Home Mobile Application?
Now that you know what the 'Follow Me' feature is and how it works let's talk about how you can use it. The process is straightforward and only involves a few easy steps.
Open the Home screen and select the device on which you want to activate the 'Follow Me' feature.
Click the arrow icon to move to the navigation bar.
Tap on the 'Follow Me' icon in the navigation bar. The icon will turn white, indicating that the 'Follow Me' feature is now active.
4. To turn the feature off, tap on the 'Follow Me' icon again, and it will turn grey, indicating it is now off.
If you can't find the 'Follow Me' icon in the Cielo Home App, your air conditioner unit might not support this feature. This feature is only available to users with air conditioner units that are already compatible with this feature.
Benefits Of Using 'Follow Me' with Cielo Breez Plus
Of course, you can continue to use the 'Follow Me' mode on your air conditioner's traditional remote, but it would mean missing out on all these cool perks!
1. Harder To Lose
Most air conditioners that come with 'Follow Me' functionality use temperature sensors in the remote to give you consistent home temperatures. However, remotes tend to fall under the couch or somehow mysteriously end up in other hard-to-access spots. On the other hand, you can install your Cielo Breez Plus device on a wall or put it on a table and be sure that it'll always stay put!
2. Install The Cielo Device Anywhere
You can install the Cielo smart AC control wherever you want without affecting its ability to function. Since the 'Follow Me' feature will use the device's in-built sensors, you can place the device close to where you normally hang out and ensure that your spot will always be cozy! Just be sure to keep the recommended placement instructions for Cielo devices in mind.
Cielo Smart AC Controllers
Your best choice to make any mini-split, window,
or portable AC smart. Enhance your comfort and savings.
Shop Now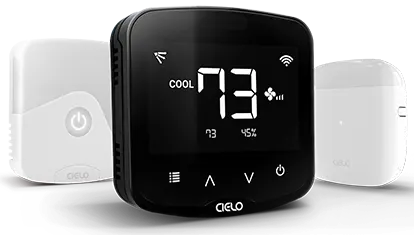 3. Easier Access
While remotes often get lost, our cell phones are always right at hand. You can pair your air conditioner with Cielo Breez Plus to activate the 'Follow Me' mode from your mobile phone. You can access a bunch of other cool features like global control that lets you control your home climate from anywhere in the world; weekly schedules that allow you to set smart schedules for climate control; geofencing that uses location triggers to turn your AC on or off based on whether you're home or not; and so much more!
4. Comfort
 

 

View this post on Instagram

 
Nothing disrupts your home's comfort like hot and cold spots do! By using the 'Follow Me' mode on your Cielo Breez Plus device, you can enjoy even temperatures around your home. The best part? You don't have to go looking for your remote every time you sit down in your usual spot. Just install your Cielo Breez Plus on the wall behind your favorite couch, and you're good to go!
Maintaining a perfect indoor environment was never this easy! Just connect your air conditioner with your Cielo Breez Plus, activate the 'Follow Me' mode through the mobile app, and you're all set!