One of the most important devices in your home is the thermostat. It controls your home temperature and keeps you comfortable all year long. Traditionally, thermostats have been controlled by a physical knob or buttons, but now there are WiFi thermostats that can also be controlled from your phone or computer.
Thanks to their built-in WiFi capability, these thermostats allow controlling your home climate anytime, from anywhere! You can be halfway across the world on vacation and still have full access to your home's heating and cooling settings. This can really come in handy when you require freeze protection or need to abruptly adjust temperature settings for any reason.
With just a few taps on your phone, you can easily edit schedules to implement your settings automatically on your chosen day or time. This ensures a perfect temperature all day, all night without driving up your electricity bills.
If you're still wondering if it's worth switching to a WiFi thermostat, here's everything you need to know.
What Is a WiFi Thermostat & How Does It Work?
A WiFi thermostat, also known as a wireless thermostat, is a type of thermostat that connects your HVAC system to the internet, allowing you to control your unit using your smartphone. As you enter a command using your phone, it travels via WiFi to your thermostat, which then signals your HVAC unit to make the required changes. (The thermostat is connected to your HVAC system via wiring or infrared in the case of ductless units).
Using the mobile app, you can adjust the thermostat temperature settings, set your heating and cooling schedules, track usage history, and a lot more.
As this type of thermostat communicates wirelessly, you will require a stable internet connection in order for it to function properly. You may also have to ensure that your HVAC and home's electrical system are compatible with the WiFi thermostat.
Related: How Do Smart Thermostats Work?
What's the Difference Between WiFi Thermostat and a Smart Thermostat?
At first glance, a WiFi thermostat and a smart thermostat may seem quite similar. They both connect your HVAC system to the internet and allow for remote control. However, there are some key differences between these two types of thermostats.
One of the primary differences between WiFi and smart thermostats is their level of control and automation.
Advanced smart thermostat models have sensors that enable them to adjust the temperature automatically based on factors like occupancy, live room temperature, usage patterns, and weather conditions without needing manual intervention.
For instance, if you are out for work during the day, a wireless smart thermostat can detect that no one is home and automatically enter energy-saving mode or your 'Away' settings during those hours. And once you are back, it returns to your usual preferred 'Home' setting. This provides an added layer of convenience and takes climate control to the next level.
A simple WiFi thermostat, on the other hand, cannot be programmed to make changes on its own and needs you to make adjustments using the app. You can set your wireless thermostat to notify you when your home temperature goes above or below a certain level, but it cannot change the temperature automatically. It also does not come with learning features, so it will not adapt to your routine and preferences.
All smart thermostats are WiFi thermostats, but not all wireless thermostats have smart capabilities.
| | | |
| --- | --- | --- |
| Features | Smart Thermostat | Wi-Fi Thermostat |
| Wi-Fi connection | Yes | Yes |
| Control using app | Yes | Yes |
| Automatic adjustments | Yes | No |
| Energy usage tracking | Yes | Some |
| Learning behavior | Yes | No |
| Geofencing | Yes | No |
Top 5 Reasons You Should Invest in a Wi-Fi Thermostat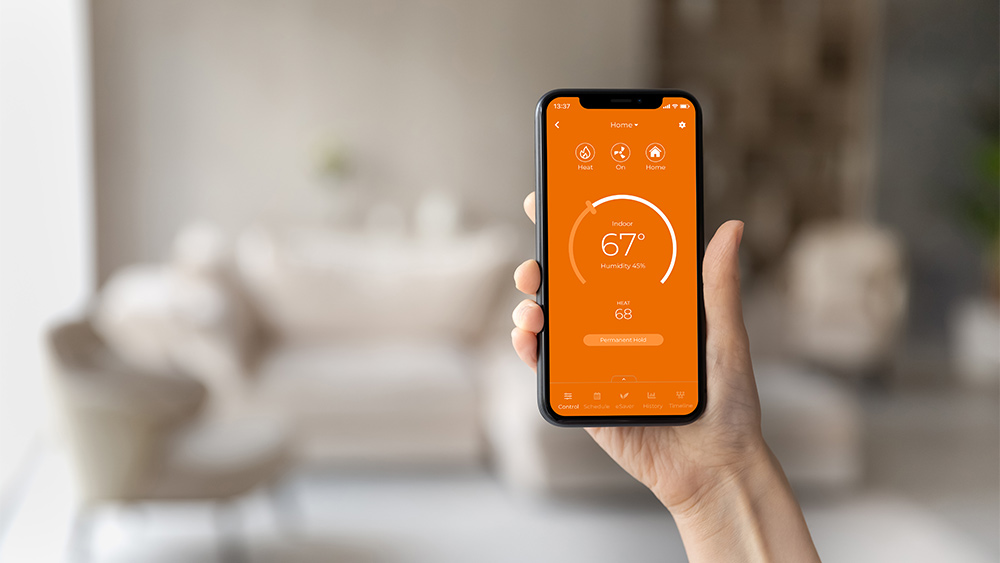 There are numerous reasons why you might want to choose a wireless home thermostat. These devices offer all kinds of benefits, from improving your home's energy efficiency to lowering your cooling/heating costs.
Perhaps the most compelling reason to invest in a Wi-Fi-controlled thermostat is that it allows you to easily control your home's temperature from anywhere in the world. With just a few clicks on the mobile app, you can adjust the temperature from anywhere and make sure that the climate in your home is always exactly how you want it.
In addition to temperature control, WiFi smart thermostats offer additional features like humidity control, air quality monitoring, and geofencing, which can all make your home a comfort haven.
Here are some things to look out for in your next purchase of a Wi-Fi thermostat.
Related: Top Reasons Why Smart Thermostats Are Worth Buying
1. Energy Savings
Smart Wifi thermostats have various features, such as scheduling or geofencing mode, that help reduce heating and cooling usage when not needed. This lowers your energy usage and, in turn, saves money on your bills. The smart wireless thermostats make it much easier to keep track of your household's energy usage. This gives you more insight into how you are managing your home's energy needs, helping you make adjustments to decrease energy costs even more.
Related: Do Smart Thermostats Save Money?
2. Easy Scheduling
WiFi-enabled thermostats often have a simple scheduling feature that allows complete home HVAC automation. You can set a temperature schedule based on your routine.
For instance, if you like your mornings on the warmer side, you can set the temperature to 72 then you can set the thermostat to automatically change it to 68 in the evening when you return from work. At night, you can have a different setting depending on your preferred sleeping temperature. The best part is you only have to do it once, which will automatically repeat daily.
A learning smart WiFi thermostat takes things to the next level by learning your heating and cooling preferences and creating a schedule for you so you don't have to do the programming yourself.
Cielo Smart Thermostat
Equip your HVAC system with smart features and achieve the perfect balance between comfort & savings.
Shop Now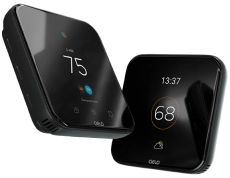 3. Location-Based Controls
No more coming home to a bone-chilled or warm, stuffy house with location-based controls. Smart WiFi thermostats have a cool geofencing feature that can automatically turn your unit off as you leave your home and back on before you return.
This feature is excellent for energy saving without compromising on comfort. It really comes in handy if you always forget to turn off your AC on your way out. Your unit will automatically switch off, helping you reduce energy consumption and save some bucks.
4. HVAC Monitoring
With a Wifi controlled thermostat, keeping track of your HVAC maintenance has never been easier. You get helpful air filter cleanliness reminders on your phone. Moreover, with smart Wifi thermostats, if there is any issue with your unit, like taking longer to heat or cool, you can get an alert that your system may have clogged coils, low refrigerant levels, or dirty filters.
5. Home Protection
A Wi-Fi thermostat is a must-have if you live in an area that experiences harsh weather conditions and can pose damage to your home.
With a smart thermostat, you can easily travel during the winter holidays without worrying about freezing temperatures back home. When you are on vacation, you can easily turn on the freeze protection mode using your phone. In this mode, your unit will blow out warm air while running on low power to protect the pipes from freezing.
Similarly, in summer, your thermostat can turn on cool mode automatically in your absence when it detects that your home temperature is going above your set safety limit.
Wireless thermostats are ideal for:
Anyone interested in smart home tech or automating their daily routine using a more hi-tech one.
Homeowners who are looking to save on energy amidst rising electricity costs.
Green living enthusiasts who want to reduce their carbon footprint by cutting back on energy consumption.
Rental vacation owners who are looking to control the temperature remotely or lock the settings to avoid high bills. Here is a handy guide on saving money for vacation rentals.
Factors to Consider Before Purchasing a Wireless Thermostat
Here are some things to consider when choosing a Wi-Fi thermostat for your home.
1. HVAC Compatibility
Before buying a thermostat, it is essential to consider its compatibility with your existing HVAC system. For instance, if you have a heat pump or a baseboard heater, thermostats are specially designed for these units, and other models won't work.
Check the different thermostat manufacturer websites to see which one is compatible with your unit. You will need your HVAC model number for that. You can refer to your manual or search for it online.
Related: How to Pick the Best Smart Thermostat
2. Wiring System
To check the wiring, turn off your existing thermostat and remove the base plate. If you notice thin 18-gauge wires, you have a low-voltage thermostat, and a WiFi thermostat can work with this wiring system. If there are 2 thick wires, you have a 220-volt system, and a wireless thermostat won't work here.
Also, check if there is a common wire, also called C-wire. It provides a constant power source for your WiFi-enabled thermostat to operate and is usually required when installing the thermostat. If there is a wire attached to a C-terminal, any wireless thermostat can work. If there isn't, you can either
Opt for a Wi-Fi thermostat with no C wire requirements.
Or you can purchase a wiring adapter that can power your thermostat.
3. Room Sensors
Some WiFi-enabled thermostats use sensors for better home climate management. If you live in a two-story house and your second story is warmer than the first, sensors can come in handy.
You can create HVAC zones to set a different temperature for each part of your house and install sensors in each zone. You can use a dual-zone smart thermostat with your central AC or mini-split thermostats with your ductless systems to create zones.
4. Cost of WiFi Thermostat
A wireless thermostat can cost you between $70 to $200 for the device. If you opt for professional installation, you will have to pay an additional $100 to $200.
5. Home Automation
Most WiFi-controlled thermostats are compatible with other smart devices, such as Alexa or Google Home. If you use any of the smart home systems, be sure to choose a wireless thermostat that is compatible with your system.
6. WiFi Strength
Since a wireless thermostat uses the internet, you require a strong connection to operate it. To test the strength of your WiFi, stream a YouTube video or a Netflix show. If there's no buffering, the signal strength is adequate enough for a thermostat to function.
How to Install a Wireless Thermostat?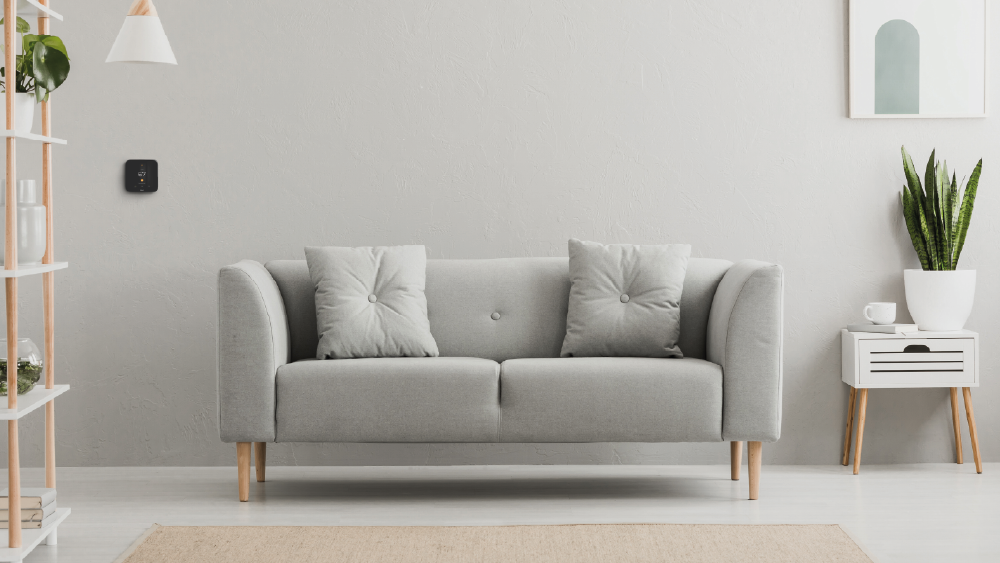 Wifi thermostats are generally easy to install. You can save the installation costs if you DIY the process. Keep in mind that the steps will vary depending on your model and manufacturer, so be sure to check your WiFi thermostat manual beforehand.
As you will be working with electrical wires, turn off your entire HVAC system at the circuit breaker.
Remove the face plate of your existing thermostat. If it doesn't come off easily, look for screws and remove them.
You will now see all the thermostat wiring systems. Take a picture, so you know which wires connect to which terminals.
 After that, remove the backplate using a screwdriver.
Now, it's time to add a C-wire. If your thermostat already has this wire, you can skip this step. If not, C-wire installation is required. You can also add a C-wire adapter if your Wi-Fi thermostat is compatible with that.
If you're not comfortable adding a wire yourself, it's best to hire an HVAC technician to avoid damaging the AC unit.
Take the new thermostat's backplate and trace its outline on the wall. Pull the wires through the backplate before screwing the plate into the wall.
Next, connect the wires to their terminal; refer to the picture you took earlier for reference. Some thermostats also have labeled wires, making it easy to connect to the terminals.
 Once you are done, snap the new thermostat faceplate onto the mounting base.
Turn on the breaker and power on your wireless thermostat.
Check the manual to connect it to the Wi-Fi and your phone.
Once the setup is complete, you can start enjoying a perfect home climate in no time!
The Bottom Line
WiFi thermostats are becoming increasingly popular as more and more homeowners seek ways to optimize their energy usage and save on their energy bills. These advanced thermostats offer a range of useful features, from automatic home climate adjustments based on user preferences to remote control via a mobile app.
After taking into consideration factors like HVAC compatibility and wiring system, go for the thermostat model that best fits your home requirements. For example, if you are looking for a geofencing feature, or integration with other smart devices, then choosing a WiFi smart thermostat rather than a simple wireless model would be the best option. Ultimately, the best thermostat for your home will depend on your individual needs and budget. But whatever your requirements may be, investing in a high-quality wireless thermostat is an excellent way to take control of your home's temperature and reduce your carbon footprint.