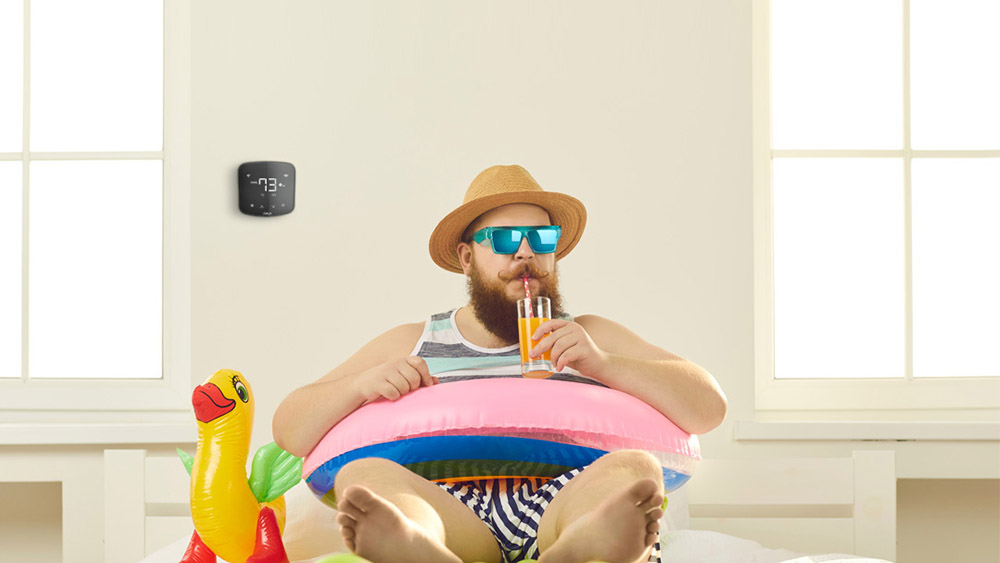 Have you ever stepped out and felt way hotter than the predicted temperature? If so, blame the heat index. It measures what the body actually feels due to the combined effect of temperature and humidity. For example, with relative humidity as high as 70%, 75 degrees Fahrenheit can feel like 77 degrees! 
You cannot control the external environment, but you sure have a solution to get the perfect atmosphere with home HVAC automation without breaking the bank! You can combat both underlying reasons for this searing heat; air temperature and humidity. HVAC technology is continuously evolving and adapting to unprecedented environmental changes to make your lives easier and more comfortable. 
With smart temperature air conditioning controllers, such as Cielo Breez, you can equip your mini-split, window, and portable air conditioner with various useful features that optimize your home climate and comfort. One such amazing feature by Cielo Breez is the Comfy Mode. As the name suggests, it is aimed at enhancing your comfort regardless of what time of the day it might be. 
HVAC Home Automation With Cielo Breez Comfy Mode
What is Comfy Mode?
Comfy Mode by Cielo Breez smart air conditioner controllers is an amazing addition to the mix of features that make smart  controllers worth the hype. With this mode, intelligent triggers automate your home's climate by maintaining your preferred temperature and humidity level to achieve a perfect combination of both for a suitable environment. 
It can be especially useful in some scenarios, such as when:
You have a lot on your plate, and you want the AC to adjust to your needs without manual input.
During spring and fall when the temperature keeps fluctuating throughout the day.
You have guests coming over, and you do not want the crowd to make the living space stuffy all of a sudden.
You have plants that need specific temperature and humidity levels to survive.
And a lot more depending on your specific needs. Let's look at how Comfy Mode works in detail: 
Comfy Mode for Temperature
Comfy Mode allows you to set a range of preferred temperature for your living space. The intelligent triggers ensure this level is maintained at all times without any manual input. 
For instance, you want your room temperature to stay between 73-78F at all times. As soon as your room temperature falls below 73F, your aircon will automatically turn off (or switch to fan mode – as per your defined settings). Similarly, when the room temperature will go beyond 78F, the unit will turn back on. This rule-based setting ensures that you stay comfy all day long without worrying about manually adjusting the temperature of your air conditioner. 
Note: While operating in Heat mode, ensure you select the upper-temperature limit to be one degree lower than your 'Set Point Temperature' to activate the trigger. For Cool mode, select the lower temperature limit to be one degree higher than your 'Set Point Temperature.'
Comfy Mode for Humidity
Since humidity plays a significant role in maintaining the home climate, Comfy humidity comes in really handy. It gives you even greater control and flexibility to ensure your room humidity always stays at an ideal level. With this super cool yet simplistic feature, you can pre-set a range of values for the humidity, and your air conditioner will automatically run to maintain it. 
Let's suppose your preferred humidity range is 30-45%. When it falls below 30%, your smart AC controller will switch the AC to your desired mode until the humidity range is back in your ideal range. Similarly, if humidity exceeds 45% and you start to feel stickiness in the air, your AC will turn on at your desired temperature and mode.  
Note: You are recommended to use the dry mode to get rid of the humidity as soon as possible. 
How to Make the Best Out of Comfy Mode?
Cielo Breez Comfy Mode can be used at any time of the day. We've listed down a few common instances to help you get started.  
Taking Care of Kids and the Elderly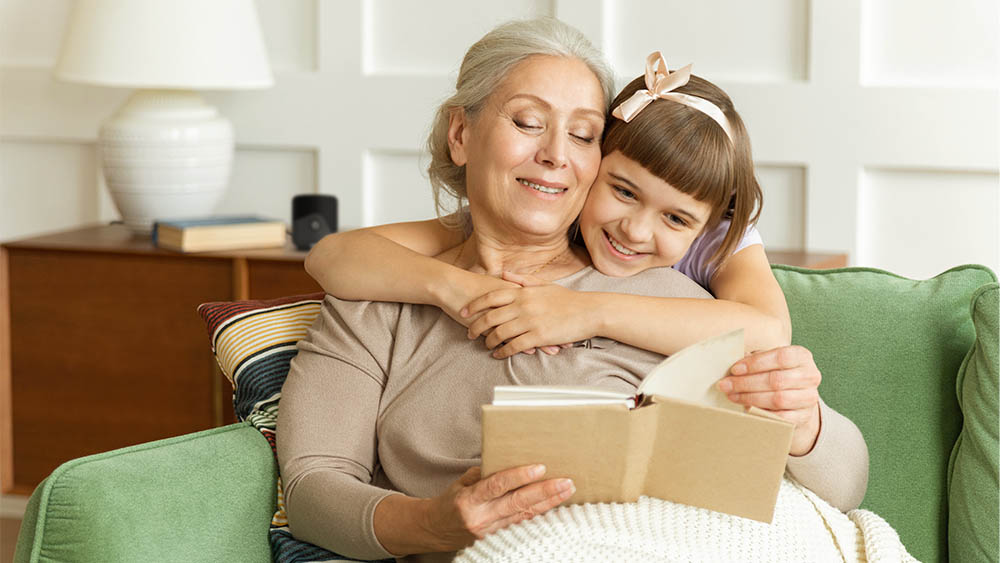 Kids and the elderly sometimes can have a hard time getting the hang of technology. Neither do you want them to be fiddling around with the remote only to mess up the settings, nor can you turn the AC on/off at a specific setting and leave. 
In this case, Comfy Mode comes to your rescue. You can set a comfortable temperature range for your parents or kids at home. Your AC will automatically turn on/off to maintain that temperature range providing perfect climate conditions for your loved ones.
Getting Sound Sleep
Adults are recommended to get an average of 8-hour sleep every night. While this has amazing health benefits, it can make a substantial proportion of your electricity bills if you tend to keep your AC working the entire night. 
That said, it doesn't mean you should disturb your sleep every couple of hours just to adjust the temperature or turn it off or on. Home HVAC automation gadgets like Cielo Breez smart AC controllers enable you to get uninterrupted sleep by ensuring the temperature remains comfortable throughout the night. 
You can set Comfy Mode before going to sleep and enjoy a sound, peaceful sleep without any temperature-related worries. Another great tip is to utilize the Comfy Night template and link it with a schedule. Choose your preferred settings once, and achieve the ideal sleeping temperature for the entire week without having to do it manually. 
Ultimate Comfort for Your Furry Pals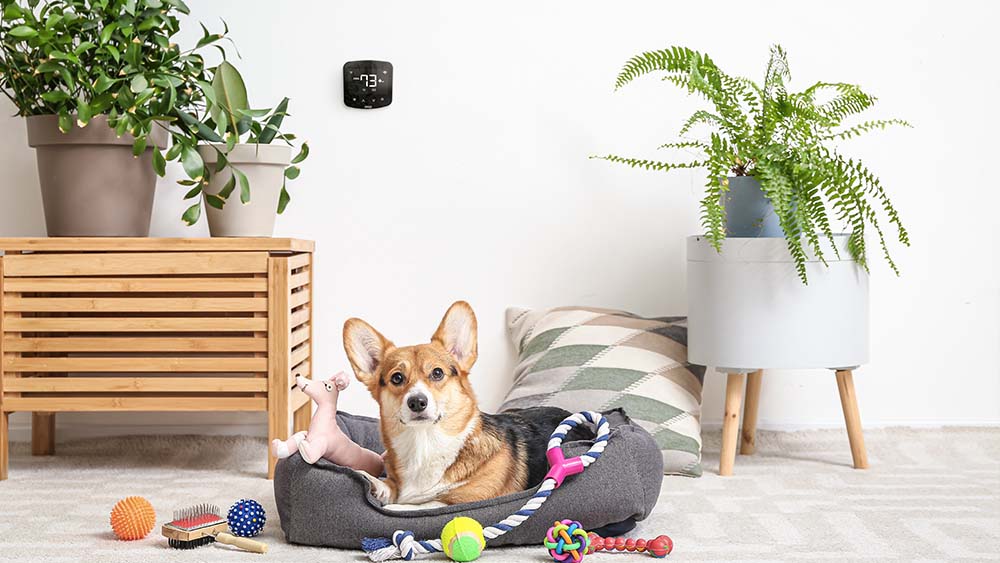 Having a pet can be a source of immense joy and stress relief; however, being a pet owner comes with great responsibility. Your four-legged companions depend on you to take care of them. One rising mutual concern for pet owners all around the globe is pet safety during this record-breaking heat. 
Animals like cats and dogs do not have sweat glands to cool down, and exposure to severe climate conditions for extended periods can lead to potentially dire consequences. So a general rule of thumb here is that if you are feeling very hot or cold, so are your furry friends. 
Even if you have stepped out, it is recommended that you keep the temperature at home, baseline comfortable. If not done right, this can cause your energy bill to go through the roof. Nonetheless, smart AC controllers like Cielo Breez Plus and Cielo Breez Eco can help you out without making a dent in your bank account. Just set the comfortable temperature range as per your pet's need, and Cielo Breez will take care of the rest! 
If you are building a dog house, being concerned about the temperature and comfort of your dog is quite rational. With the temperatures continuing to break the records, installing a dog house air conditioner is a must. Additionally, you can pair the dog house AC with a smart AC controller to manage and monitor the temperature throughout the day. You won't have to be physically present to adjust the temperature, and your dog will stay comfortable all day long. 
Cielo Breez Comfy Mode – The Perfect Home HVAC Automation Hack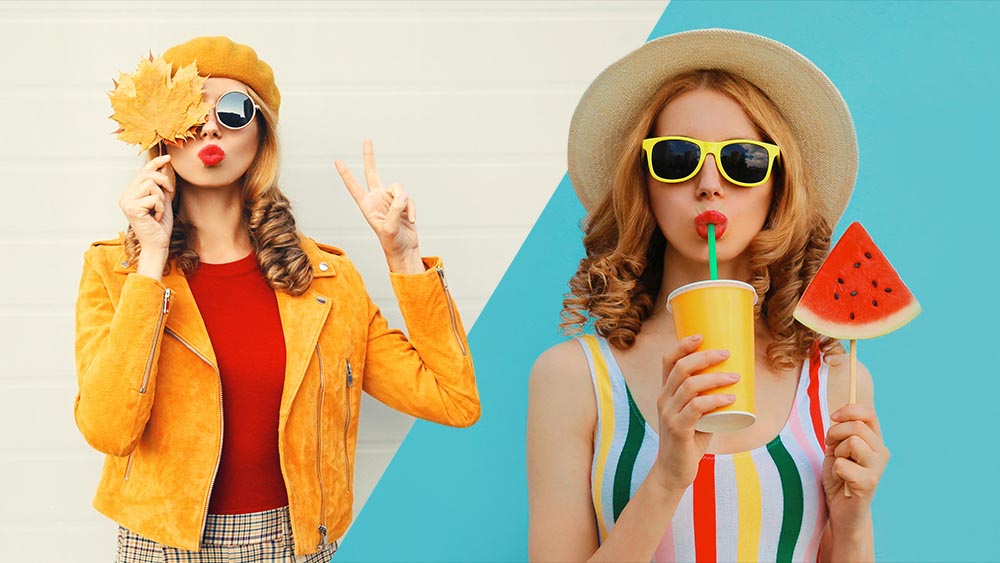 To say the world is overheating is not an overstatement. Global warming is causing the heat waves to be longer, more frequent, and more intense. While air conditioning seems to be a true blessing and the only way to make it through the sweltering temperatures, there is no denying that increased usage also leads to skyrocketing energy bills. 
Similarly, the winters are getting colder and harsher than ever. Investing in home HVAC automation technology is the only possible solution to achieve optimal comfort without creating a dent in your bank account. 
Comfy Mode is specifically designed keeping in mind your convenience along with cost-efficiency. It makes sure your air conditioner is only running when you need it cutting back unnecessary usage and, in return reducing costs. Here's how Comfy works and how you can make the most out of it! 
Intelligent Triggers for Automated Climate Control
Smart AC controllers have in-built sensors that help them detect any changes in temperature and humidity. You can set intelligent triggers to constantly monitor any deviation from your preferred settings in the indoor environment.  These intelligent Comfy triggers ensure your room stays at a perfect temperature always by signaling the AC to turn on/off as required.
Set your ideal temperature or humidity range now and leave the rest to your Cielo Breez smart AC controller. You'll never feel too hot or too cold and always enjoy a perfect indoor climate.
Cielo Smart AC Controllers
Your best choice to make any mini-split, window,
or portable AC smart. Enhance your comfort and savings.
Shop Now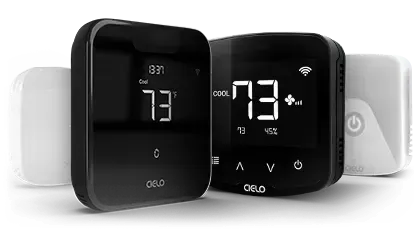 Link Comfy With Schedules for Added Convenience    
One of the many useful features of Cielo Breez smart controllers include smart scheduling. This feature on its own helps minimize the time that goes into micromanaging temperature. With this, you can devise your air conditioning plan for up to the entire next week. This can be extremely helpful, especially if you follow a repetitive routine.
You can select a schedule ahead of time, deciding when your AC turns on, the temperature it cools at,  fan speed, swinging pattern, and operation mode to return to the perfect home environment. Not only will this eliminate the need to fiddle with your remote every few hours, but it will also cut down your AC costs. 
To benefit from this feature to its fullest, you should link Comfy Mode with your schedules. With a schedule in place, your AC will automatically adjust to the air temperature and humidity to make you feel refreshed when needed. You can achieve this simply by tapping on 'Comfy state' and enabling it. Follow the steps as shown in the picture below to synchronize Comfy Mode with your schedule.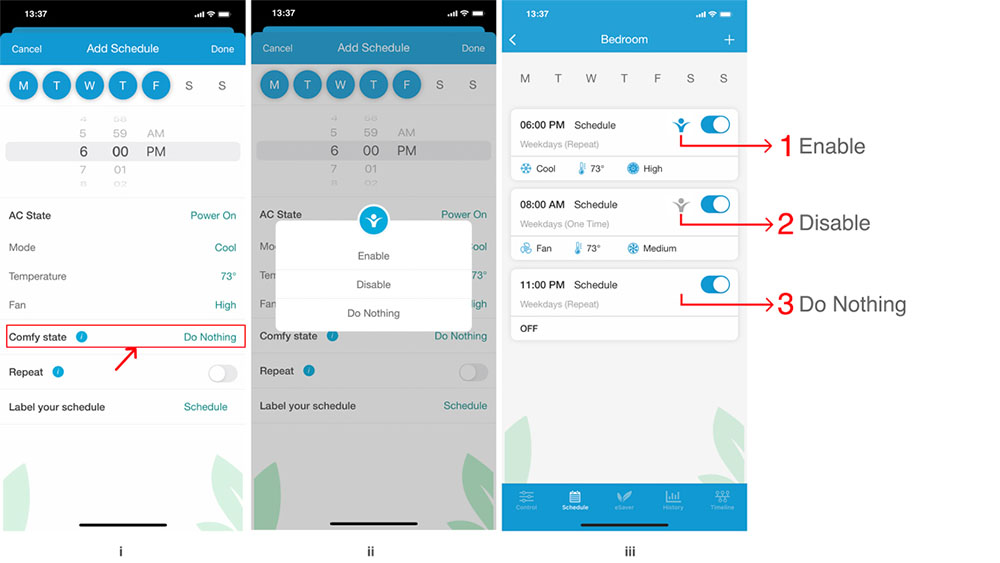 Comfy Templates to Save Time 
While setting up the Comfy Mode, you will come across multiple pre-named templates. These are designed to make the feature even more convenient for you. This eliminates the need to manually set up and change settings every time.
Preset your desired combination of AC settings and switch between these templates according to the time of day. 
Best way to utilize Comfy templates:
You have morning, afternoon, evening, and night templates. Use these templates in conjunction with schedules to enjoy home HVAC automation to its fullest. 
For example, let's suppose you wake up at 8 AM; 'Comfy Morning' will ensure your set temperature range is maintained before you wake up. Similarly, you can schedule 'Comfy Night' so that your AC gets to work 15 minutes before you jump into bed. This way, you will not have to wait for the room to cool down before sleeping. 
Here's a quick tutorial on how to set Comfy templates:
Complete Control With Your Phone Instead of Remote 
You must be well familiarized with the hassle of always losing remotes around the house. It is a common problem among all age groups; however, you've got a smart fix now. Home HVAC automation allows you to do various tasks simultaneously without even getting up. Cielo Breez enables you to operate your AC directly from your phone. The convenience factor here is enormous. Also, features like Comfy Mode aren't accessible through the remote. You can use your phone to set it up and adjust it from anywhere, anytime! 
Here is a step-by-step guide on how you can activate Comfy Mode.
Wrapping It Up
One way to handle extreme changes in temperature is by investing in smart ACs. It can be a reasonable alternative, but their installation requires a considerable investment. An easier and pocket-friendly option is to invest in Cielo Breez controllers to convert your regular air conditioners into smart appliances and save up to 25% on your energy expenses. With rule-based automation using Comfy, your aircon unit will automatically maintain your preferred room temperature. 
Try out Cielo Breez Comfy Mode now and maintain your cool in this scorching heat, quite literally!